Ryoko Nuruki, Home Festival, Dartington (22 & 23/6/12)
Tagged with: Ryoko Nuruki Japan Piano vocals Jazz Classical Experimental Fusion Home Festival Dartington World Music Glyn Phillips WorldMusic.co.uk Review Sir Ali Ali Alizadeh France Asian Bird Integral Bonsai Bop Candid Records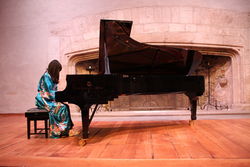 "mercurial ... elfin ... vital"
One of the aspects I most enjoy about operating in the field of world music is the exposure to vast amounts of unfamiliar sounds, instruments, genres, cultures, artists and ways of expression and, far from the familiar, coming across the unexpected… and then being completely blown away.
Such an experience was hearing and meeting the Japanese composer, pianist and singer Ryoko Nuruki for the first time. She is an utterly captivating personality whose music is, at a fundamental level, a direct and immediate expression of her soul. Hyperbole? No, not all. You have to experience a Ryoko Nuruki concert to truly appreciate what I mean, my words can only hint at the emotions her music stirs within. She dips a spiritual paintbrush into the palette of her imagination and paints both huge vistas and delicate blossoms onto our minds.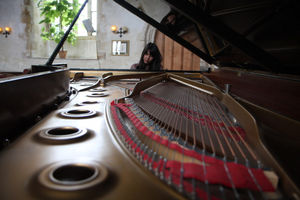 But, I'm getting ahead of myself. When I saw the artist line-up for the 3rd HOME Festival at Dartington Hall in Devon (21-23 June 2012), the name Ryoko Nuruki was completely alien to me. I had no idea who she was or what kind of music she performed, just that she was a Japanese pianist who now lived in the South of France.
I imagined she would be technically excellent but it was unlikely to be music that would speak to me. Ah, imagination! How fickle you are. We allow these stereotypes to nest within us at our peril and they must be winkled out at every available opportunity.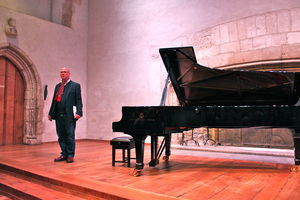 Either way, I tried to clear my mind as I walked into the beautiful, sonically gorgeous 15th Century Great Hall of Dartington (wooden floors, thick ancient stone walls, long Gothic windows, high vaulted roof, hanging banners) to see a single large grand piano set against an enormous medieval fireplace in the subdued light. Front row seat, in the middle. Notepad, pencil, camera. Breathe out. Wait. The concert was due to start at 11.15pm and go on until midnight so there was already a hushed, intimate, expectant atmosphere. This was Nuruki's UK debut and HOME Festival and Dartington had scored a minor triumph in securing her. None of us had any idea what to expect.
After a short delay to seat everybody, the Director of Arts at Dartington, David Francis, came on and introduced Ryoko explaining that she performed original compositions which referenced certain key and famous classical composers. Oh, ok. Not what I expected to hear, but fair enough. The thick oaken doors to the right of the fireplace opened up and on walked a tiny lady in a loosely tied floor-length turquoise silk kimono embroidered with flowers and birds in white, pink and grey. Head down and long jet-black hair falling over her face and shoulders. Polite applause. She sits down at the Steinway and . . .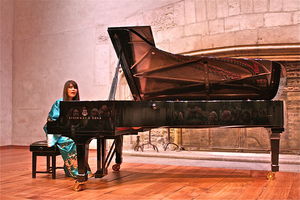 . . . and from the first few notes my skin tingled, a faint tremor ran through me and I could feel myself sitting up, starting to lean towards the piano as this amazing music entered through my ears, wiped all other thoughts out of the way and opened up my head like an easel and canvas, all the better to paint her musical visions across. Wow. For the rest of the concert the audience all seemed to be experiencing something similar, eyes closed, deep in reverie, only coming out as the last notes of each tune faded and with a collective sigh we all came back to enthusiastically applaud this musical magician.
The first number was entitled Gasyjap a piece with a 6/8 feel and legions of rhythmic repeated patterns that ebbed and flowed and played with push and pull and dynamics. The left hand rocked in threes and her right darted around the pattern, sometimes playful and mocking, other times as if at war with the left, before finally running away hand in hand. Throughout Ryoko accompanied herself with bewitching improvised sotto voce vocalisations that came and went like little breezes.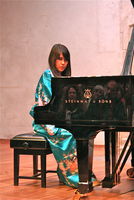 The second track Tokyo Pouse-Pouse was once again highly rhythmic. It was a jazzy, even jaunty, piece that once again showed off the amazing interplay between her left hand (emphasising the last and in particular first beats of the bar: "four …and one!") whilst the right gambolled in between and all around.
Ryoko was obviously enjoying herself immensely! Hands bouncing up and down - all jittery and cheeky! And the track had a very bluesy, almost gospel-cum-spiritual feel. So far I wasn't feeling the classical influence, but could certainly feel a jazz vibe bubbling everywhere. What struck me most though was Ryoko herself. Head back, eyes closed, mouth open - always completely lost in the moment. When she does bends over the piano, it's as if she enters into it. Her straight black hair falls like a curtain around her face and neck and she hides her features whilst simultaneously baring her soul.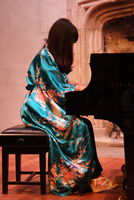 The third number Matakimasu is one of the centrepieces of her sets and begins with a cinematic chase feel as if it's the music from a film noir or a thriller - very dark and jazzy and full of brooding tension, which then suddenly breaks down and effortlessly dips into a deep pool of calm and introspection. Exploring this for a few minutes it feels like we are floating alongside her, sharing her thoughts and inner delights. It moves seamlessly into 6 time again and Nuruki sets up a delicate repeated note: 1 23, 4 56, 1 23, 4 56, on the left hand which keeps the suspense maintained whilst the right explores the emotions both romantic and wild. Her body moves constantly with the emotional pulse of her tunes. Sometimes she looks as if racked with pain and others transported in ecstasy! Utterly engrossed and lost to the music.
And all the time through this nine or ten minute piece that left hand ostinato note is still going, although by now changed to fast 16ths in 4 time. Nuruki seems to really enjoy exploring the trance like qualities of repeated patterns. And that's some technical skill too! The number comes back to the jazzy head and ends suddenly with the spoken title "Matakimasu!"
"pure emotion transmuted into sound"
This is enthusiastically received and we are treated to her coy but dazzling smile. However, still Nuruki does not speak to us. Just turns back to the piano and begins the next number, Charles Trenet's Que Reste-il de Nos Amours (aka "I Wish You Love"). This was a romantic piece, wistful and deeply felt in which she seems to lay bare her inner being. This is pure emotion transmuted into sound. Absolutely exquisite and what an amazing venue to experience it in. The acoustic quality of the Hall is golden and natural. The following piece, I Wish You Hope, (an answer to the previous number) was full of grand, powerful chords which swept it another heart-wrenching paean to… what? Hope? Love? Love lost? Unrequited love? I suppose you can fill in your own gaps. Who knows? For me it was pure romance: lush, decadent, indulgent... just wonderful!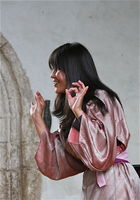 Finally, after five numbers, Ryoko Nuruki turns to us and speaks! In very broken English she tries to tell us about the pieces in the set that she's played so far (I think!); to be fair she had no microphone and English is her third language after Japanese and French, but it was possible only to make out about 20% of what she was saying. I caught something about a sedan chair or rickshaw and the word 'puss-puss'. Eventually, I worked out it was what I know as a 'bici-taxi' (like a rickshaw but powered by a tricycle) and refers to the first song "Tokyo Pouse-Pouse". She also tried to explain that her music mixes traditional Japanese musical ideas with jazz.
As if to illustrate this the next song was a jazz standard, Misty. Well I say a jazz standard, but in the mind and hands of Ryoko Nuruki, nothing is standard! I recognised the melody, but instead of continuing on she kept on coming back to the head and repeating the opening sequence before breaking free and zooming off in various Nurukian directions in yet another pianistic tour-de-force!! At the end of the piece her hands played off the end of the piano into thin air… and I'm sure all of us could hear the notes continuing on into infinity. So beautiful.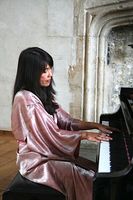 As was the next piece, Ravel@Ryoko (which takes Maurice Ravel's "Pavane For a Dead Princess" as a start point). By this time, my mind had stopped trying to deconstruct and 'understand' the music and all I could do was 'feel' it. My notes for Pavane simply say: "Beautiful! This girl is sublime!". Sometimes that's all that's needed.
The penultimate piece, Tu M'as Dit Que, had a bossa undercurrent and Ryoko produced stunning rumbling thunder effects on the low notes. To finish she treated us to a delicate number called Early Blossom - simple and romantic, short and sweet. Like a little bird perched on a cherry tree, Ryoko sang softly to herself in an unconscious mirror of the embroidery on her kimono.
She had already overrun on the concert and if her manager and partner, the Persian jazz journalist, radio presenter and producer, Sir Ali, hadn't come over and whispered in her ear, I'm sure Ryoko would have played until dawn. This is a woman who lives to play; she breathes in emotions and exhales music…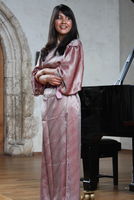 As a postscript to this concert, I did try and catch part of her second performance the following lunchtime. Same venue, different kimono (a curious silver salmon pink). I only got to hear the last two numbers (I had been reviewing another concert), the first of which, Afro Nippon, was not in the previous night's programme. It had a repeated bass figure motif with a halting, tentative, almost stumbling feel. But then it just took off, flying free as a bird. It reminded me of some of the great English pastoral Classical music - airy, light and free. And all of a sudden I found myself up there alongside her, wheeling and gliding, flying high on the currents of air, wide skies around me, wind in my face, clouds above, waves below…
She begins to swing from side to side, swaying with the music, bouncing up and down on her seat, pained expression on her face, trilling little grace notes, and gradually thinning out the texture, simplifying the sound and bringing us back to the intimate inner voice. Ryoko Nuruki is a true romantic. Some people might even think her corny, but for me she makes the elements sing. Ryoko Nuruki is diminutive in stature, but huge in heart - and she unashamedly wears her heart on her sleeve. Ryoko Nuruki is mercurial, elfin and above all vital. What can I say? Is this fanciful language? No, I don't think so. This is music. If it doesn't act on our emotions then it has failed in its purpose.
"Ryoko Nuruki is also a true original"
Ryoko Nuruki is also a true original. She doesn't fit in any particular genre. She just makes music, wherever her imagination, piano and voice take her. Each tune takes us on a journey to wherever her mind decides to flit. More than anything these are mood pieces, often improvised, always heartfelt.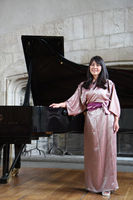 She has studied piano since the age of 5 (she never even had any dolls as a child - through her own choice, she told me) and she plays for 6 hours every day - more for fun than practice. She has absorbed, deconstructed, reconstructed and interpreted all the great Western and Oriental classic composers, all the jazz greats and much more and developed a jaw-dropping technique; and yet all of this is in the service of her own emotions. The music she plays isn't just hers because she has written it; it is her. She plays not for acclaim or money, but because not to play would be to deny her very self. Ryoko Nuruki plays to exist, and exists… to play.
Glyn Phillips
WorldMusic.co.uk
(28 June 2012)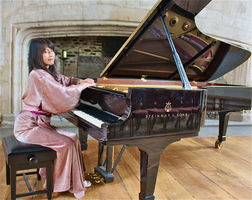 Ryoko Nuruki has a recent album out on the Integral Jazz label entitled "Asian Bird" (2011). It is mostly taken from a 2010 live concert at the Festival de Cap d'Ail Juillet in France.
It includes three of the tracks mentioned above (Tu M'as Dit Que, Matakimasu and two versions of Afro Nippon), but don't expect to hear the exact same elements I describe - I doubt whether she ever plays her own material the same way twice! As well, there are further original pieces and three based on traditional numbers and elements of Ravel and Debussy.
She also has her 2008 debut album out on the British jazz label Candid Records, entitled "Bonsai Bop".
For a photo gallery of some photos taken from the two concerts in the review, click here: www.worldmusic.co.uk/ryoko_nuruki_home_festival_dartington_22-23612