Afro Celt Sound System - "Persistence of Memory" remix (Rae & Christian)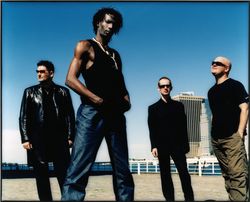 Following the release of the Afro Celt Sound System's new album, the double CD "Capture" (a retrospective of the last 15 years released 6th Sept 2010 on Real World Records), you can also hear the remix version of "Persistence of Memory" (remix by Rae & Christian) at the following link:
soundcloud.com/realworldrecords/persistence-of-memory-rae-christian-remix
The new album (spanning the years 1995 - 2010) cherry-picks 25 of the best tracks from their five studio albums including collaborations with artists like Sinead O'Connor, Peter Gabriel, Robert Plant, Dorothee Munyaneza amongst others. It also includes tracks which have been featured on soundtracks for the films "Gangs Of New York" and "Hotel Rwanda".
The double album is split into vocal tracks ("Verse") and instrumental tracks ("Chorus").
You can also catch the band at the following concert:

Tuesday 2nd November - Barbican, London - www.barbican.org.uk/music/event-detail.asp

(Photo by Kevin Westenberg)