Afro Latin Vintage Orchestra - "Last Odyssey" (Ubiquity)
Tagged with: Afro Latin Vintage Orchestra ALVO Last Odyssey Ubiquity Masta Conga Peyron de Gachons Philipe Vernier jazz world ethio groove Nigeria funk fusion Caribbean Antillean cuban afro-cuban World Music review Glyn Phillips WorldMusic.co.uk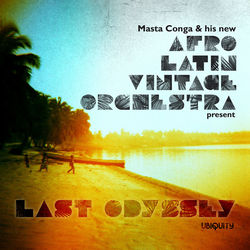 "latin jazz with an afro groove and a retro flavour"
The French collective Afro Latin Vintage Orchestra make latin jazz with an afro groove and a retro flavour. This latest album, "Last Odyssey", (released on 17th July 2012 on the Ubiquity label) contains 15 tracks which are all instrumental, although with some chorus vocals as part of the overall sound.
A.L.V.O. were founded in 2007 and have a core band of 6 members: Masta Conga (perc), Benjamin Peyrot de Gachons (keys), Elvis Martinez Smith, (gtr), Philipe Vernier (sax), Jb Feyt (tpt) and David Battestini Quadri (double bass). Masto describes it as "a space of creation all around of various revolving musicians according to projects". The previous two albums were done live, but in this album Masta recorded all the rhythm pieces first as a base and then invited other musicians to create music over the top. "The result is a surprise."
"from the intimate to the grandiose in seconds"
The music on "Last Odyssey" goes from the intimate to the grandiose in seconds with a band that expands up to 20 members. Lots of influences and creative juices flowing through this album. Their PR describes it as "jazz… laced with strains of Ethio and Nigerian Funk combined with latin percussion and rhythms".
At times there are musical moments reminiscent of the 60s or 70s latin jazz and jazz fusion scenes; at others of 80s and 90s experimentation - but always its own vibe. Elements of Cuban big band swing and charanga orchestras meld with ghetto funk; spacey urban dub leads into an afro-antillean requiem and there are suggestions of orishas and hidden ceremonies in the title track.
"heavy grooves, exploratory conversations, wild solos"
"Hip Hop Definition" stretches that very definition with a very oblique take on it. "Spoken Wild" is, well, some wild spoken word over some free improvisation… Jazz poetry en francais. "Latin Break" does what it says on the tin with Peyrot des Gachon's piano exploring ideas over a lovely groove from the bass, kit and rhythm guitar. Bird-like ocarinas and samba-whistles take us well into the Brazilian tropics, but always just keeping on the jazz side of the path.
"Very cool."
There are some heavy grooves, exploratory conversations and wild solos throughout the album, but it's always about the overall sound of the orchestra and the collective odyssey. This is jazz that honours all the ancestors in some way, but although the band's name looks back, the music take us forward still. Very cool.
Groovers, Funkers and Jazzheads alike should dig this one…
Glyn Phillips
WorldMusic.co.uk