Alejandro and the Magic Tombolinos (Womad - 30/7/11)
Tagged with: Magic Tombolinos Alejandro Toledo Maurizio Pala Nuno Brito Michele Montolli Davide Lufrano Chaves Womad Charlton Park Siam Tent Balkan Jazz Latin Gypsy Glyn Phillips World Music worldmusic.co.uk
Alejandro and the Magic Tombolinos - Sat 30th July 2011 - Siam Tent, Womad
Having seen Alejandro and The Magic Tombolinos a few weeks ago (at the HOME Festival in Devon) I already knew what an amazing band this was. What I wasn't sure was how they'd go down in the world's biggest and best world music festival, the daddy of them all, Womad UK especially as they were playing in the enormous Siam tent.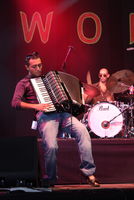 Alejandro and the Magic Tombolinos are a multi-cultural band made up of three Italians, a Portuguese and an Argentine (Alejandro Toledo) who all live in Stoke Newington, London. Their music is similarly sourced from different parts of the world mixing in flavours of Balkan, Klezmer, Jazz, Latin American, Punk, Middle-Eastern, Gypsy, Rock, Classical, Hip-Hop and more but still being uniquely their own sound. No mean feat. Reading their biographies is an impressive experience, each one being very highly trained in their own respective fields with more specialist music degrees than you can comfortably imagine. And yet their music is very much an expression of their own personalities: skilled, clever but full of fun, excitement and joie-de-vivre.
Kicking off the huge Siam Tent at Womad at 12 midday on a Saturday when the sun is blazing away outside and many people were still in bed sleeping off the effects of a crazy late night is not necessarily the preferred slot for most bands, but when the Tombolinos hit the stage with their customary panache the tent filled rapidly to capacity and Alejandro and his lads played as if this were their last ever gig. They filled not just the large stage, but the whole venue with their exuberant personalities and endearing stage presence and had the audience gripped within seconds. A grip they never once let go of during a tour-de-force concert. As Alejandro belted out: "They told me that people at Womad don't like to dance. Well, you've proved them wrong!" The band were obviously very moved and touched by the crowd's reaction throughout, but were still quite humble and were obviously enjoying the whole Womad experience.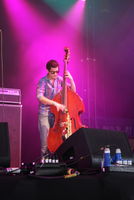 The Tombolinos had the entire tent rocking to their million-miles-an hour tunes. Number followed number in a non-stop show where their fun personae were only exceeded by their evident skill on their chosen instruments. Their music is played with such intensity that even twenty minutes into the show it felt as if they must have been playing for an hour already.
Alejandro Toledo (on saxes and vocals) is very much the front man chasing round the stage, grabbing the microphone stand, his sax jauntily held behind his head, leaping up into the air with sheer joy, falling to his knees during solos, chivvying his fellow Tombolinos along, constantly pulling the audience into their excitement and periodically running off stage and returning to throw CDs into the crowd. The phrase 'infectious excitement' might have been created just for him. But only a fool would ignore the amazing level of musicianship of the rest of the band.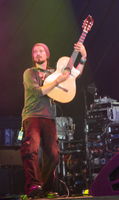 The dapper, cheeky-looking Italian, Maurizio Pala, is a demon on his Piatenesi accordion and as the show went on started rising out of his seat during his solos, his one leg being extended higher and higher with each crescendo. The Italian/Costa Rican, Davide Lufrano Chaves on acoustic guitar, almost seemed a man apart, stood as he was on the far end of the stage, his long hair held back from his forehead with a wide band of material and his guitar often held up into the air, played at the height of his face as he paced back and forward between a single spotlight and the darkness. And yet, his beautiful guitar lines constantly rippled out through the dense textures of the music like sonic flowers - quite exquisite.
Michele Montolli on the double bass, suffers the fate of most bassists - stuck at the back in the shadows and not noticed musically by the mass of people - and yet not only is his contribution as indispensable to the Tombolinos as, say, Alejandro's sax, it's also a rich, beautiful, warm sound, expertly crafted and a musical feast in itself, if only you take time to listen.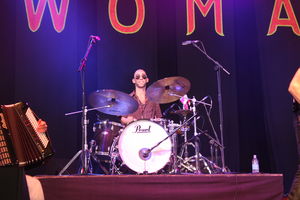 And finally, there's Nuno Brito.
Portuguese kit-drummer, Nuno, is - if like me, you're a drummer and percussionist - worth going to see just on his own merits. He is simply excellent. Technically brilliant, sonically fascinating, he is musically the equal of any member of the band. His control over the dynamics, rhythms and textures of his kit is astounding. You almost feel he can make it sing. Whether it's thundering out jet-fuelled Balkanic pieces or throwing dark edgy jazz-soaked chops or even completely authentic Brazilian batucada accompaniments he never loses control and seems to be like the wily sheep-dog that herds the rest of the Tombolino flock into the direction they need to go. And I've never seen anyone play with cymbals that thin . . . ! During his engaging drum solo (and many drum solos are definitely not that!) he used his time to involve the audience in call-and-response clapping to his breaks and fills rather than showing-off.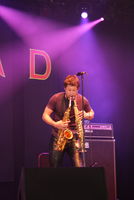 In a show that packed more music into an hour and a quarter than most bands do in an entire week, I can only single out a couple of tracks to illustrate the range of music. One was a lush tango delivered in broad 'porteño' (the accent of Argentina's capital, Buenos Aires) where Maurizio's accordion substituted for the more usual bandoneon and Alejandro played two saxes at the same time. And the other was the final tune which started slow and stately - almost mournfully - and gradually built up, layer upon layer until, with a beguiling ripple from Nuno's kit he moved them all straight up into top gear at breathtaking speed.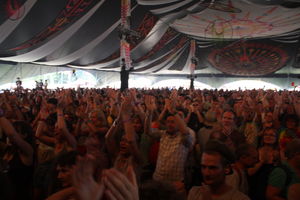 To say that the Tombolinos had captured the hearts of their matinee crowd would be an understatement. They were sold: hook, line and sinker. Even the stewards in front of the stage couldn't help but bounce up and down in their baggy fluorescent jackets with big, fat, smiles spread from ear to ear!
The lads definitely enjoyed their Womad appearance and experience to the hilt. As Alejandro said: "This festival definitely deserves the reputation it has". Amen to that.
The only band at Womad that weekend that could have laid claim to any similar musical territory to the Tombolinos in the breadth of their musical influences and sheer energy were the Sunday headliners, Gogol Bordello (the so-called gypsies of New York). Well, I'll tell you something - I know which band I preferred out of the two, and it definitely wasn't the one attended by a young, wine-soaked prince of this realm.
¡Viva Los Tombolinos!
Glyn Phillips
WorldMusic.co.uk