Bassekou Kouyate & Ngoni ba - New album "Jama ko" out now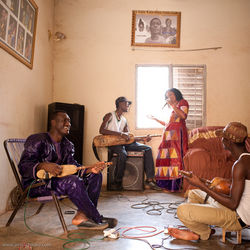 Mali's ngoni ace returns. After his celebrated debut album Segu Blue and the Grammy nominated follow-up I Speak Fula, hundreds of concerts all over the globe, an appearance headlining the AfroCubism project and, just a few months ago, stunning appearances at the latest Africa Express events performing with Sir Paul McCartney, Damon Albarn and many others, Bassekou Kouyate is back with his new album Jama Ko, recorded by Howard Bilerman (Arcade Fire, Godspeed You! Black Emperor, Coeur de Pirate) and out now on Out Here Records (CD/ Download/ Vinyl) / OH021 / UK distribution by Proper).
Watch on YouTube ("Jama ko" music video): youtu.be/t2vQAmySTfw
Album preview video: http://youtu.be/lfU4rxQL4Dw
Listen on SoundCloud: http://soundcloud.com/outhererecords/bassekou-kouyate-ngoni-ba-jama
"Ngoni virtuoso Bassekou Kouyate can make notes bend like light rays in the desert heat." Time Out

"Defiant, angry new music from Mali, by the world's greatest exponent of the ngoni, the ancient West African lute ... Magnificent. "
**** The Guardian

"A brilliant and important album." ***** Evening Standard

"Fed through a wah-wah pedal, Kouyate's serpentine, fleet-fingered lead ngoni lines gain a fresh, assertive power on songs like the title-track and "Ne Me Fatigue Pas", where his band Ngoni Ba's muscular bassline and double-time percussion charges along like the most bullish of rock'n'roll grooves." ***** The Independent
"Jama ko" means 'a big gathering of people'. It is a call for unity, peace and tolerance in a time of crisis: no matter who you are, let us come together and enjoy life, and celebrate the true spirit of Mali.

"Jama ko, c'est pour tout le monde", says Bassekou Kouyate, the celebrated ngoni player and descendant from one of Mali's oldest griot families, explaining the title of his third album, "There are over 90% Muslims in Mali, but our form of Islam here has nothing to do with a radical form of Sharia: that is not our culture. We have been singing praise songs for the Prophet for hundreds of years. If the Islamists stop people music making they will rip the heart out of Mali."

The recording of Jama ko took place in March 2012 in Mali's capital Bamako. It was recorded with an entirely new line-up including Bassekou's two sons Madou and Moustafa Kouyate, ngoni ace Abou Sissoko and a number of other young talented musicians from Bamako.
It became political by accident. In the afternoon of the first day in the studio the military overthrew the president Amadou Toumani Toure (ATT). It was a shock for Bassekou as the former president was a great supporter of his music. Somewhere between power cuts, fuel shortages and the uncertainty of daily curfews the recording went on. Meanwhile the situation in the north of Mali was getting worse and worse by the day. In the studio a musical answer started taking shape: Instead of keeping quiet Bassekou plugged in his wah wah pedal, cranked up his amp and let loose: "Ne me fatigue pas": don't wear me out. You can hear the heartbeat of Malian music pulsing in this music.

Kasse Mady Diabate is featured on the Latin-flavoured "Sinaly" singing about Sinaly Diarra, a Bamana king famous for resisting forced Islamisation in the 19th century. "Kele Magni" is a duet between Bassekou's wife and the group's main vocalist Amy Sacko and Khaira Arby from Timbuktu, calling for peace in Mali. Zoumana Tereta praises the cotton farmers of Mali in "Mali Koori" with a voice that takes you back into the time of the great Bambara warriors. Jama ko also features an incredible duet between Bassekou and Taj Mahal (vocals / electric guitar) and ends with the touching song, "Moustafa", by Bassekou's son Moustafa dedicated to his parents thanking them for all they have done for him.

Howard Bilerman (Arcade Fire, Godspeed You! Black Emperor, Coeur de Pirate) recorded the album in Mali and ended up mixing and co-producing most of it back home in Montreal. Andrew Barr and Brad Barr (Barr Brothers) added drums and guitar. Mocky Salole (Feist, Jamie Lidell) came up with some additional arrangements and played organ and drums.

SoundCloud ("Jama Ko"): http://soundcloud.com/outhererecords/bassekou-kouyate-ngoni-ba-jama
YouTube ("Jama Ko" preview): http://youtu.be/lfU4rxQL4Dw

Bassekou Kouyate online:
Twitter: @Bassekou http://twitter.com/Bassekou
Facebook: http://www.facebook.com/bassekoukouyate

Out Here Records online:
http://www.outhere.de
http://www.outhere.de/homeroots/releases/bassekou-kouyate-ngoni-ba-jama-ko/