Battlefield Band on Tour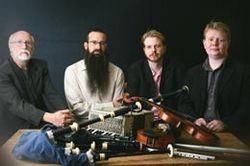 Legendary Scottish folk band The Battlefield Band play the following live dates -

9th Aug - Glasgow Royal Concert Hall (t. 0141 353 8000)
20th Aug - Queens Hall, Edinburgh (t. 0131 668 2019)
17-19 Sep - Music Tryst Festival - Newbattle Abbey

The feisty new album from the Battlefield Band sees them in absolutely peak form....the howling pipes, ululating fiddle and crashing keyboards are as darkly magnificent as anything the Battlefield Band have ever recorded." – Froots

The album has already received airplay on Radio 3's World on 3, Folkcast and Celtic Music Radio, as well as various shows on a host of regional BBC stations, including BBC Scotland, BBC London, BBC Shropshire, BBC Gloucestershire and BBC Leeds. 'Robber Barons', written by Alan Reid, is the first single release from the new album, and looks at greed through the ages, from the 'Robber Barons' of the Middle Ages in Germany to the modern day politicians & bankers. The subject matter is as relevant today as it ever was…

"This album started as a collection of songs and tunes about gold. But as we searched, like the alchemists of old, it turned into a wider idea. In the process we saw the greed, disasters and victories inherent in the search and exploitation of various sources of wealth in this world. Then, as if by demonic serendipity, along comes the worldwide economic crisis. We watched the major banks, insurance companies and Hedge Funds etc. implode, discrediting the entire financial system and many of its managers and advisers - But there was still more to come. We, in Britain, could only stand and watch aghast as many (too many) Members of Parliament, and the House of Lords at Westminster, 'the Mother of Parliaments' were exposed for their cynical misuse of the expenses system, often amounting to fraud.

As we put this album together, with our producer Robin Morton, we have been amazed, amused, angered, depressed and hilariously horrified. Who knew about the Zama Zama Boys? Or Ku'ula-kai, the Hawaiian God of Fish; or the extraordinary folklore and history of Chocolate? We will leave you to mine these extraordinary stories for yourselves." - Alan Reid

With this new album, Battlefield Band offers us songs both old and newly composed. Alongside new songs like 'Robber Barons' are tracks such as Nina Simone's 'Plain Gold Ring'.
As always with Battlefield Band, they produce Contemporary Scottish music - 2000 years in the making.

The release of the album celebrates the 30th Anniversary for Battlefield Band and their label Temple Records. For 30 years they have created and performed traditional Scottish music with a rare passion and joy, delighting audiences around the globe and evolving into what the press have called:

"...a wondrous, perfectly paced display by musicians firmly in command of their art...a Highland jam that rang the rafters."
- The Washington Post

Under their banner Forward With Scotland's Past, Battlefield Band have been distilling their own unique form of the Scottish spirit and exporting it worldwide, with concerts in China, Malaysia, Germany, Hong Kong, Australia, New Zealand, Italy, Austria, Switzerland, Holland, Syria, Jordan, India, Sri Lanka, Egypt, U.S.A., Canada, Uzbekistan and the U.K.

"What the Chieftains have done for Irish traditional music, Battlefield Band are doing for the music of Scotland" - Billboard

Inspired by their rich heritage of Celtic music and fired by the strength and vibrancy of today's Scottish cultural scene, which indeed they have done much to create and fuel, they have led, and been at the forefront, of a great revival in Scottish music. Refusing to be limited musically by suffocating antiquarianism, or the music business' fashions, they have mixed the old songs and music with a new self-penned repertoire, all played on a fusion of ancient and modern instruments - bagpipes, fiddle, synthesiser, guitar, flutes, bodhran and accordion.

'No tricks, no gimmicks, just very fine music' – Mojo