Ben Zabo - "Ben Zabo" - CD Review
Tagged with: BEN ZABO Arouna Moussa Coulibaly Glitterhouse Records Chris Eckman Peter Weber Bamako Mali Afrobeat Africa Sensenbo Studio Bogalan CD Review Glyn Phillips WorldMusic.co.uk world music
Ben Zabo - "Ben Zabo" (GRCD/LP 763 - Glitterhouse Records)
"uptempo, dance-heavy afrobeat"
"Glitterhouse Records might have backed a dancefloor winner with this new album of uptempo, dance-heavy afrobeat from the slightly unusual location of Mali.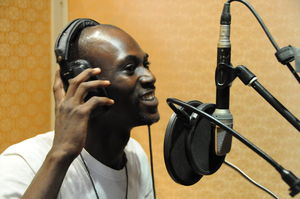 Afrobeat is usually associated with Coastal West Africa (especially Nigeria and Ghana) but is here taken up by Mali's Arouna Moussa Coulibaly aka Ben Zabo.
Originally directed to be a pharmacist by his family, the guitarist/singer-songwriter started work as an assistant at Studio Bogolan in Bamako.
American producer Chris Eckman and Glitterhouse Records owner, Peter Weber, came across Ben Zabo there whilst recording Lobi Traoré and Tuareg desert rockers Tamikrest and were blown away by his enthusiasm, drive and talent.
Eckman explains that Ben Zabo's music is like "a string of firecrackers igniting on the dance floor of a midnight party. It is a music that has been perfected in the loud, sweaty, open-air clubs that line the outskirts of Bamako, places where the competition to get heard is fierce".
He describes it as "unlike any contemporary Malian music that I had heard. Its direct physicality, its polyrhythmic complexity and its raw but focused energy set it apart."
"hits the floor running"
This debut album (simply entitled "Ben Zabo") hits the floor running from the first notes of the first track, "Wari Vo". This is music to rock out to, big time.
"hits the 1 beat like a jack-hammer"
"Sensenbo" starts off with shimmering cymbals and vocals for 50 seconds before the balafon sets up a relentless repeated pattern that just drives the whole piece along - and we fill up the dancefloor again. A drumkit that hits the 1 beat like a jack-hammer, steaming Hammond organ, rock guitar, pumping bass, a chorus line that slaps you around the face - what's not to like?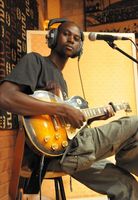 On the more meditative side there's "Dimiyan" with its blues intro that develops into a more Tuareg-sounding slow trancey rock complete with a nicely plucked guitar ostinato underneath the vocals and a retro sub-psychedelic vibe that reminds me of old American rock bands such as Quicksilver Messenger Service.
"keep you grooving well into the small hours."
As another contrast there are dense, repetitious, 6/8 tracks such as "Cinquantenaire" and "Bwa Iri" and the mid-tempo groover "Danna" which features the saxophone.
Finally, there's "Ya Be Ma'e" - a bouncing adrenaline-filled dance track with alternating on-beat and offbeat snare hits to show off your fanciest footwork to and keep you grooving well into the small hours.
"powerhouse African dance music guaranteed to leave no-one in their seats!"
Ben Zabo produce powerhouse African dance music guaranteed to leave no-one in their seats!
Recommended? Mais Bien Sur!
(Glyn Phillips, WorldMusic.co.uk)
.
ALBUM INFO: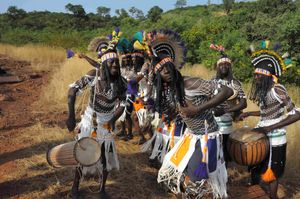 The debut album "Ben Zabo" will be released on 11 June 2012 on CD / Vinyl / Digital. Ben Zabo - "Ben Zabo" - (GRCD/LP 763 / 4030433776322 / 4030433776315) by Glitterhouse Records (UK distribution by Shellshock).
Ben Zabo are:
Ben Zabo (Arouna Moussa Coulibaly) - lead vocal, guitar
Siméon Diarra - bass
Soboua Dieudonné Koïta - lead guitar
Jean Diarra - drums
Kassim Keita - percussion, balafon
Yodé Nepehi Richard - saxophone
Virginie Dembélé - vocals
Patricia Koïta - vocals
with:
Blaž Celarec - percussion
Chris Eckman - organ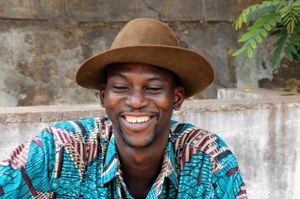 All songs written by Arouna Coulibaly (Ben Zabo).
Produced & mixed by Chris Eckman.
Engineered by Yves Wernert
Recorded at Studio Bogolan, Bamako, Mali, October 4 - 10, 2011.
Mixing & additional recording at Studio Zuma, Ljubljana, Slovenia.
Mastered by Milan Cimfe at Studio Sono, Prague
WATCH/ LISTEN:
Ben Zabo EPK: http://youtu.be/pk25dQHlTFM
"Sènsènbo" music video: http://youtu.be/k4yxgvvIBQI
"Sènsènbo" on SoundCloud: http://soundcloud.com/ben-zabo/s-ns-bo-hommage-a