Benin's Orchestre Poly-Rhythmo release first new album in 20 years!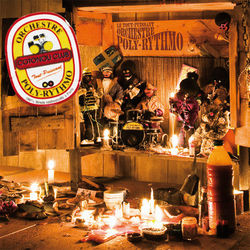 Beninese afrofunk group Orchestre Poly-Rhythmo have just released their first new studio album in 20 years and are set to take it on tour throughout Europe from this month.
The evocatively titled "Cotonou Club" album sees the the legendary musicians return to form in a 10-piece line-up that includes 5 members of the original 1960s band along with 2 additions from the mid-70s and three fresh members. Also joining them are Africa's most famous songstress the afropop diva Angelique Kidjo alongside Real World Records' new signing Fatoumata Diawara from Mali, and Paul Thomson and Nick McCarthy from Franz Ferdinand.
The album released by Strut Records and Sons D'Ailleurs has already been garnering praise from all sides and came about after a year's worth of touring the world including New York's Lincoln Center, WOMAD festival and the Barbican in London. The band hit the studio on top form and produced the "Cotonou Club" album which was produced in Paris by Elodie Maillot entirely on vintage analogue studio equipment.
On the new album Poly-Rythmo refresh such classics as 'Gbeti Madjro' (featuring Angelique Kidjo) alongside a firing selection of brand new compositions. The album also features a song featuring Malian Fatoumata Diwara on "Mariage/Ou C'est Lui" and a special bonus track "Lion Is Burning", an exclusive collaboration between Poly Rythmo and Franz Ferdinand's musicians.
The album is released in four formats – two-disk limited edition, single CD version, double LP gatefold and digital. The limited two disk edition features an exclusive bonus film documenting their new recording sessions and following them band as they undertake their first ever international tour across Europe, USA and Brazil. The bonus disk also includes alternative album mixes and live recordings.
Orchestre Poly-Rhythmo will be playing only one UK date - at Scala in London on the 5th of May 2011.