3 Nov 2012 - What I've been listening to over the last couple of weeks...
Tagged with: Glyn Phillips blog Joe Driscoll Seckou Kouyate Faya Analog Africa Diablos del Ritmo Blick Bassy Hongo Calling Jamie Smith Mabon Windblown Yasmin Levy Libertad Concha Buika Eva Ayllon Kimba Fa Tarkany Muvek Los Destellos C K Mann Fania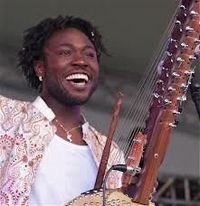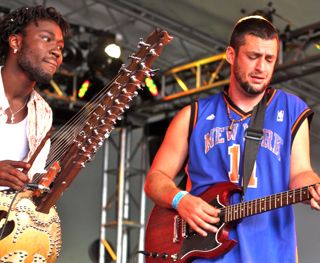 Loads of great music being released currently. Here's just a few things that have been in my cans, on my computer and in my car.
Joe Driscoll and Seckou Kouyate's "Faya" album -
This one's very much on repeated play.
Electric kora meets urban USA.
(see my review of their performance at Womad 2012 in the blog below this ("Womad - The Big Review" or click here:
www.worldmusic.co.uk/womad_2012_the_big_review_glyn_phillips).
.

Analog Africa's great compilation of 60s, 70s and early 80s Colombian music and old fusions: "Diablos del Ritmo - the Colombian Melting Pot (1960-1985)".
A mixture of Caribbean Funk, Puya, Afrobeat, Terapía, Mapalé, Cumbias etc, etc. Fabulously groovy! See review here:
www.worldmusic.co.uk/diablos_del_ritmo_the_colombian_melting_pot_196
.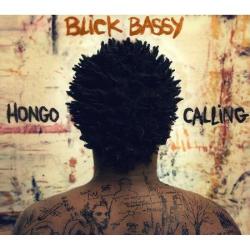 Blick Bassy's "Hongo Calling" -
Smooth yet funky meld of Cameroonian, Beninese, Senegalese, Cape Verdean and Brazilian based tunes with jazz stylings and sensitivity.
.
.
.
.
.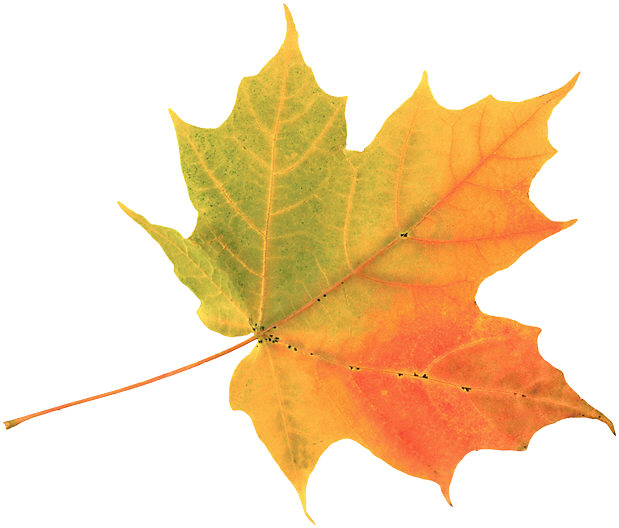 Jamie Smith's Mabon's "Windblown" -
Stylish British interceltic folk (see review of album here:
www.worldmusic.co.uk/jamie_smith039s_mabon_windblown_cd_review)
.
.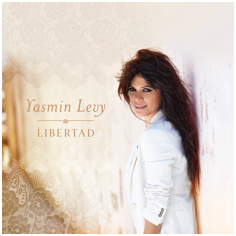 Yasmin Levy's "Libertad" -
The Sephardic singer hits gold with this mix of ladino with flamenco and shades of tango and fado and covers of Persian and Turkish songs.
Beautiful.
And to top it off, a duet with the wonderful Concha Buika! Sublime.
.

Eva Ayllón's "Kimba Fa" -
Three years old now but full of delicious afro-peruvian grooves and achingly romantic criollo music from Peru's coast.
Saw her in concert last month and got to interview her too!
Watch this space...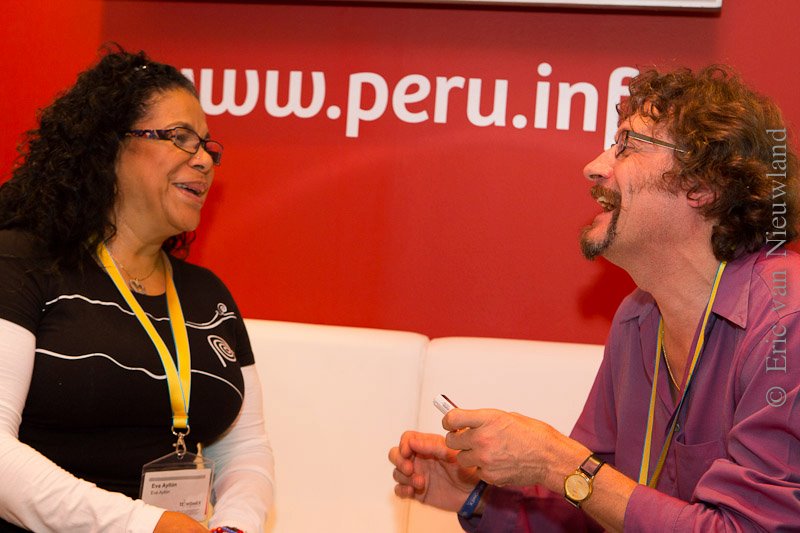 .
.
.
.
.
.
.
Also grooving to Hungary's Tarkany Muvek, Peru's Los Destellos, the funky highlife of C K Mann and his Carousel 7, and the Empresarios dubplate especial of the Fania All Stars "Ponte Duro". Wonderfulness!
So much music, so little time!
Glyn Phillips, WorldMusic.co.uk (3/11/12)
Mid-May Round-up (Part 1) - Boogaloo, Bombay & Pop
Tagged with: Glyn Phillips blog world music worldmusic.co.uk boogaloo bombay pop surinder sandhu funkawallahs karma machine los fulanos barcelona si esto se acaba lovemonk joe bataan vampisoul Bombay Royale You Me Bullets Love Hope Street Bollywood India Katzenjammer
As this cold, wet, truculent, so-called Spring trundles on towards an uncertain Summer, I'm sitting here staring out of the window at a monochrome grey sky, which has just spat hailstones over my poor flowers, complete with thunderous belches (the sky, not me). Really not the most inspiring of days.
However, I think it's time to try and address some of the almighty backlog of music that endlessly flows down my digital river.
Except of course that now my youngest son wants help with his homework . . . And you wonder why I never write about all the things I ought to. Yes, yes, I'm just coming! Hold on, uncompleted maths homework from the previous weekend to do. SuperDad to the rescue. Kind of. Back in a mo. Or two. Or three.
Right I'm back. Oh, bloody hell, now the missus is calling me for dinner. Yeah, I know, I shouldn't complain, especially when someone else is cooking it for me. I'm not. I love the food. I just wish I had a 30 hour day and a 9 day week, that's all.
OK, it's now 'tomorrow' today, so let's try again. Spent last night at the house of my dear friend and ace producer/musician, Surinder Sandhu editing some Spanish language interviews for use as promos for his new project, the Funkawallahs and the forthcoming album, "Karma Machine". Very exciting indeed - but keeping all that under wraps until it's all ready to go . . .
"Spanish heat, urban cool and Nuyorican sabor"
So, now to all these new albums pouring in.
First up, I'm listening to the sounds of Barcelona's Los Fulanos who deliver a modern take on that 60s hybrid boogaloo.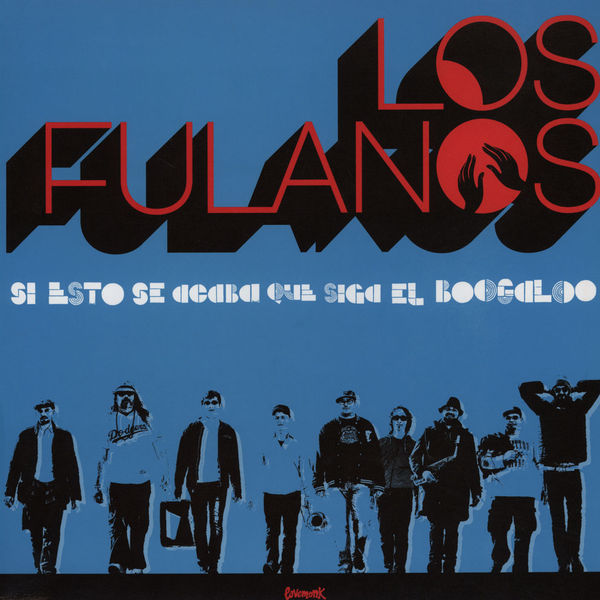 Very tasty indeed, with enough foundations in 60s latin soul groove (a controversial mix itself in its own time!) to be really grounded, some added retro-psychedelia, Spanish heat, urban cool and Nuyorican sabor and all marinated in a rhythm'n'blues salsa.
It might look backwards for inspiration but it all works very well in today's world. Sweet as a nut!
This debut album is entitled "Si Esto Se Acaba Que Siga El Boogaloo" ('If All This Ends, Keep On With The Boogaloo') and it's on the Lovemonk label (LMNK46).
There are 10 tracks (and a prelude) and it's sung in a mixture of English and Spanish with bags of energy and credibility and what I can only describe as a very authentic 'American sound' - especially the horns. Very infectious album indeed.
"great ideas ... well-produced album, all executed with ... clear vision and a big dollop of gusto!"
Mixed in with the boogaloo and disco, there are also plenty of other genres represented. For instance, there is some great rumba and explosive 70s style funk on "El Que No Está Se Lo Pierde" (Parts 1 & 2 respectively), "Sobran Cuero" is a very danceable salsa whilst "Manny" leans more towards rhythm and blues.
There's also a jazzy New Orleans vibe on "Kind of Guy", groovy proto-rock on the New Order tune "Blue Monday","Hold On (Baby Hold Me)" is a bolero underpinned with wonderfully cheesy organ, and we get a nice jazzy montuno on "The End of the World", to name but a few.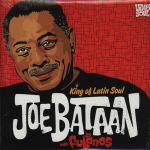 There are lots of great ideas in this well-produced album, and all executed with slick musicianship, clear vision and a big dollop of gusto! The producer is Miguelito Superstar (from Fundación Tony Manero)
I first came across Los Fulanos a few years back when they recorded an album "King of Latin Soul" on the Vampisoul label) with the Latin Soul legend, Joe Bataan ("Subway Joe", "Ordinary Guy", "There's a Riot Going On", "Gipsy Woman", etc) and loved how they'd tastefully updated what I had always considered were anthems so classic that to mess with them would be foolish. So, respect where it's due!
Next up is the Australian band The Bombay Royale from Melbourne, who specialise in bringing to life - and to the live stage - versions of many of the classics of India's Bollywood film industry.
The album's called "You Me Bullets Love" (on Hope Street Recordings), and is a 10 track CD/DL/Vinyl that showcases old songs such as the 1965 chestnut "Jaan Pehechan Ho" (from the film "Gumnaam") as well as entirely new pieces 'in the style of'.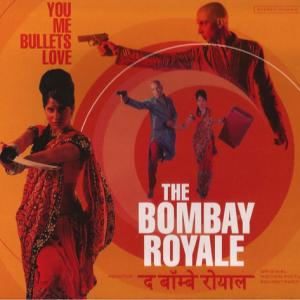 The 'golden years' for Bollywood films are often cited as the 60s and 70s and The Bombay Royale mix these old songs in Hindi and Bengali with newer material they have written themselves (and including some English lyrics) inspired by these classic masterpieces.
In fact "You Me Bullets Love" features eight original numbers and two re-workings of almost forgotten Bollywood production numbers (the other is "Sote Sote Adhi Raat").
"heavy retro vibe ... that - bizarrely - makes it sound very fresh and bang-up-to-date!"
There's a heavy retro vibe to the album that - bizarrely - makes it sound very fresh and bang-up-to-date! (obviously some weird tear in the time-space fabric…).
For instance the opening track "Monkey Fight Snake" features massed brass, swirling organs, siren-like vocals and sarangi in the background, sub-Spaghetti Western blaring trumpet (Spaghetti Eastern anyone?) and wouldn't sound out of place in some kind of drug-induced, trippy dream-sequence scene from The Avengers (the 1960s British series with the bowler-hatted, brolly-wielding Steed, not the Hollywood Marvel heroes one!).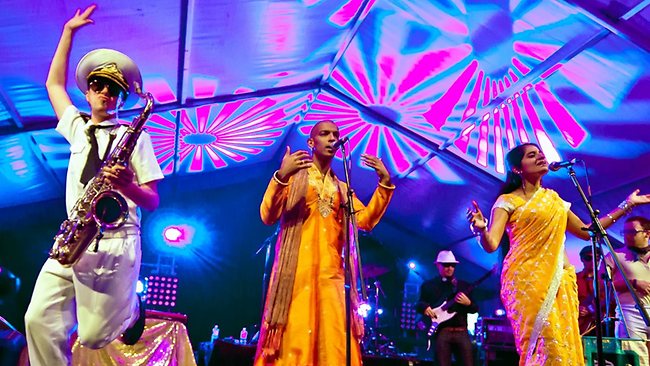 Conversely the title track is drenched in surf music, sort of 'Tarantino goes to Mumbai' (or is it India comes to South Melbourne Beach?).
At times the whole album sounds as if someone's taken a giant cocktail shaker and thrown in some vintage 50s, 60s and 70s Bombay kitsch, a shot of James Bond, a gaggle of Go-Go girls, two slices of Eddie Cochran and Gene Vincent, a pinch of Massive Attack, the serried ranks of saxophones, trumpets and trombones, a veritable forest of violins and yards and yards of orange, pink and turquoise silk, and then recorded the whole lot via the audio-equivalent of a Kodak Instamatic shot through a Dub filter. Someone with more knowledge of Hindi music would probably be able to pick up on the Bollywood strands better than me, but that's about as near as I can get to it at the moment!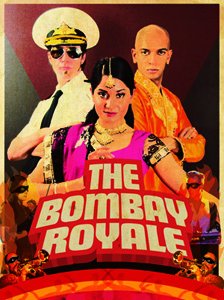 The Australian papers have described it as being "where A R Rahman and Ennio Morricone converge, where Slumdog Millionaire meets Goldfinger head on, with Quentin Tarantino and Indiana Jones lurking in the corner".
Now, what's really weird is that description has some parallels with my preceding paragraph; weird because I deliberately make a point of NOT reading Press Releases or other people's reviews until after I've written my own - so as not to be influenced by anyone else in the initial stage . . .
I just happened to consult the band's Press Release to check the singers names and spotted the above quote.
Well, I must be doing something right! Ha ha! Just noticed they also use the words 'surf' and 'spaghetti' too in another part of it. As I always say: 'Mate Grinds Link Athike'…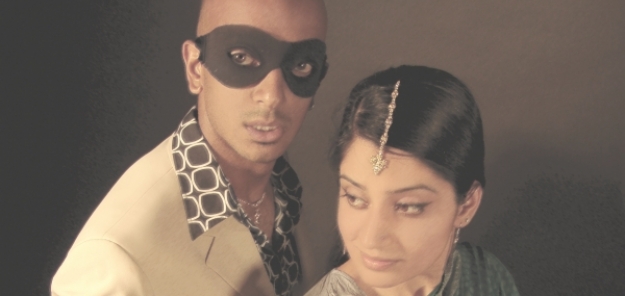 Incidentally the vocalists are Parvyn Kaur Singh and Shourov Bhattacharya. The MD is Andy Williamson.
It's a really fun album. A lot of it is, I'm sure, very tongue-in-cheek, but then again so is much of Bollywood, and it plays with all those elements of East meets West meets East again (and in the case of Australia, South).
So, if you like Bollywood music, or surf music, or the 60s, or trippy music, or just have a predeliction for multicoloured kitsch and musical cheese to let your hair down to and shake your thang, then book yourself a night at The Bombay Royale.
The album was released this week and the website link for The Bombay Royale is:
There's also a groovy video of the title track here:
"highly polished album"
As a real contrast comes the all-girl outfit, Katzenjammer from Norway and their highly polished album "A Kiss Before You Go" (Propellor Recordings - released May 2012).
The whole album is sung in English and comes across as an uplifting blend of pop, folk, acoustic, country, bluegrass and rhythm'n'blues, a sprinkle of balladry, whimsy, acapella and rock, and all laced through with a healthy dose of idiosyncratic eccentricity and sonic cabaret theatricality.
"enough singalong lyrics to keep you going all through the summer"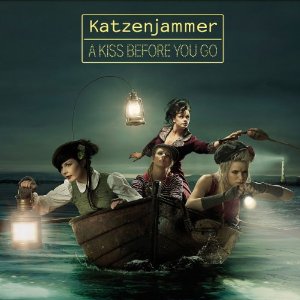 However, it is also all bound together with very credible pop production values, accessible melodies and enough singalong lyrics to keep you going all through this summer's festival season (especially the tracks "Rock-Paper-Scissors" and "I Will Dance When I Walk Away").
I must admit, I was slightly dubious as to whether or not I'd like Katzenjammer at first, since their music is far more 'poppy' than I'm used to writing about or even listening to, but a bit of suspended disbelief paid dividends and I'm now quite happy to recommend them.
Formidable ladies, these Katz . . . !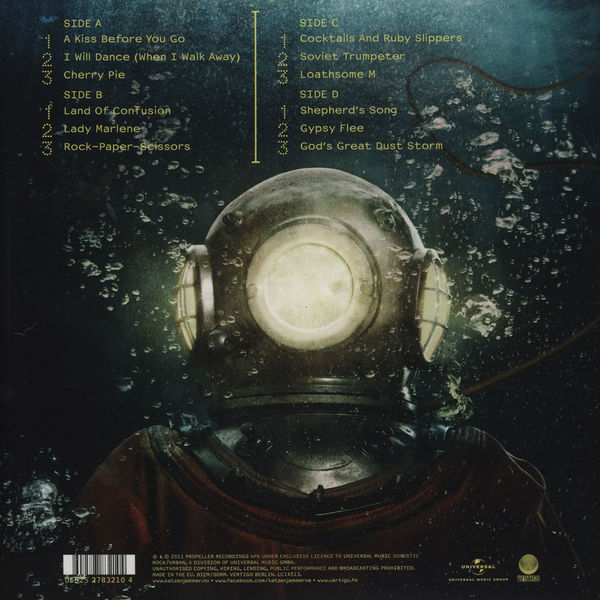 Here's a link to their website and other contact points:
www.facebook.com/katzenjammerne //
and also to some YouTube Videos:
www.youtube.com/watch?v=WqmbqnjbLc
www.youtube.com/watch?v=YZEDMIZZSug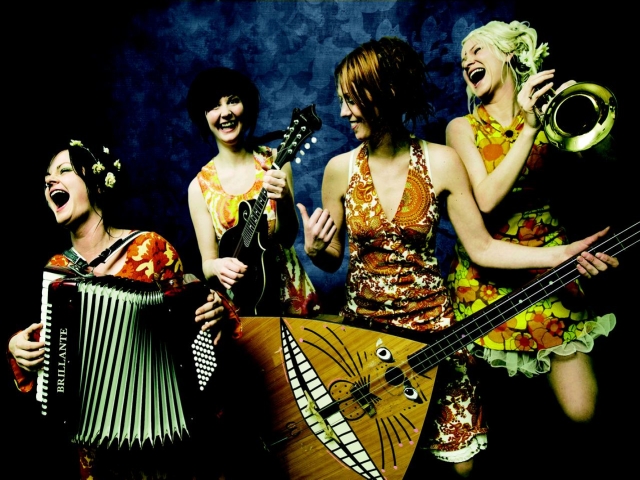 Katzenjammer are touring the UK this month:
Thu 17th BRISTOL, Academy 2
Fri 18th MANCHESTER, Academy 3
Sat 19th GLASGOW, King Tuts
Sun 20th BIRMINGHAM, Academy 2
Tue 22nd BRIGHTON, Concorde 2
Wed 23rd LONDON, XOYO
See the RPS video here: www.youtube.com/watch?v=WqmbqnjbLco
Host RPS here: www.soundcloud.com/yourfriendbam/katzenjammer-rock-paper
and don't forget you can get a Free Download of "Cherry Pie" here:
www.facebook.com/katzenjammerne/app_113345305387225
So there you go - three albums down and only *mumble, mumble, mutter, mutter* to go (I've even taken my shoes and socks off and have still run out of toes to count on).
I'll sign off this blog here and carry on soon. Off to yet another rehearsal with yet another band (sweet reggae, soul and nyabinghi behind some very conscious lyrics). Time to make some music myself now!
Glyn Phillips (WorldMusic.co.uk)
(16/5/12)
Late-March Round-Up (29/3/12) - Fonseca, Folk, Finns & Flu
Tagged with: Glyn Phillips Blog World Music worldmusic.co.uk Roberto Fonseca Ida Kelarova Desiderius Duzda Lelo Nika Indies Scope Poletime? Aulaga Folk A Menos Cuarto Armando Records Urban Folk Quartet Off Beaten Tracks Kardemimmit Introducing World Music Network
Well, after 3 days supine and pretty much comatose in bed with the worst dose of 'man-flu' and eyeball-ache I've had in years and unable even to look at a light source, let alone a computer screen, I'm back on the digital treadmill and trying once again to catch up with the endless river of music that washes through my door . . .
Looking forward to reviewing Roberto Fonseca and band live at Birmingham Town Hall this Sunday (1st April) - an 8-piece stripped-down version of the 15 -piece album band, including Africans Baba Sissoko on percussion and Sekou Kouyate on kora against a fabulous Cuban band. Oh, yes, it's going to be a good one!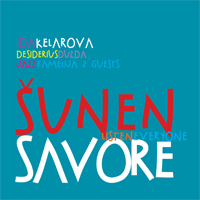 Just been sent some fabulous Roma Jazz from the Czech Republic featuring Czech and Slovak Roma musicians headed up by singer Ida Kelarova and guitarist Desiderius Duzda and the band Jazz Famelija.
The album's called "Sunen Savore" (Listen Everyone) on the Indies Scope label (MAM509 / 2012 Indies Scope - EAN: 8595026650923) to be released on 6th April 2012.
Really beautiful music - sort of bossa meets gypsy meets jazz - very mellow but really gets under your skin without forcing itself - had it on repeat play for ages last night. And can I point out the sumptuous, quivering, heart-string-tugging accordion of Lelo Nika . . .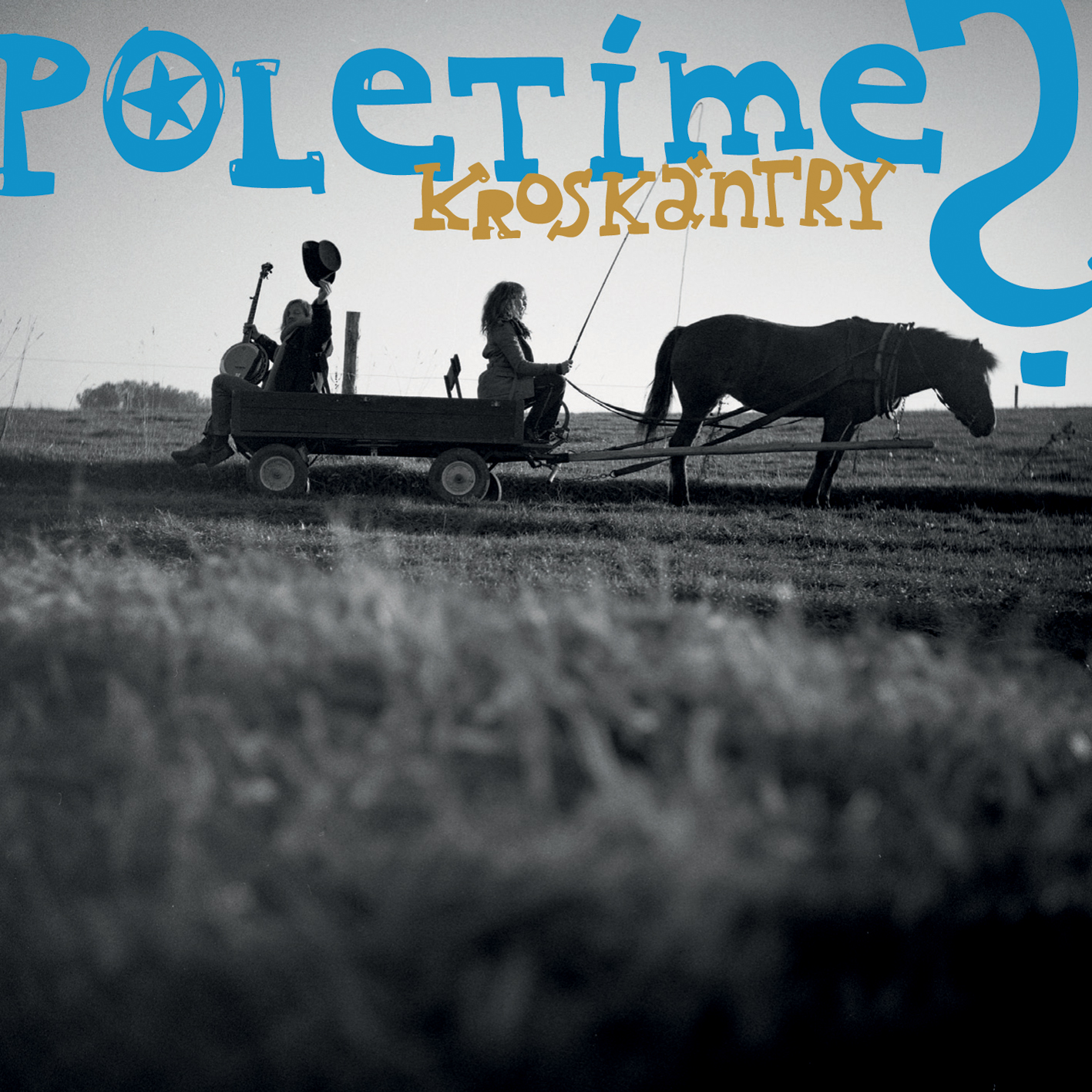 Also from the same label Indies Scope, and already released is something quite different: Polish Country and Western. No, don't laugh! Seriously. And it's not bad either - it's fairly tongue-in-cheek and mixed up with punk and pop elements. The band is called Poletime? and the album (MAM505 - 2012 Indies Scope) is called "Kroskantry" (cross-country - get it?).
The young band from Brno have a 'banjo-punk' ethos and bags of humour even if you don't speak Polish (and trust me, I don't). If you do, you might pick up on the lyrics "which are straightforward, poetic, yet slightly vulgar" according to their liner notes. It also states "they confirm their position of joyful band, full of brisk rhythm and melodic choruses." So now you know!
(info for Ida Kelarova and Poletime? via Indies Scope: www.indies.eu/en/)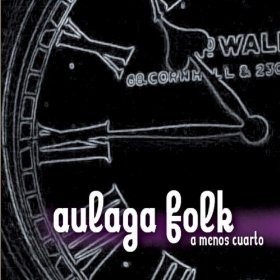 Before I succumbed to whatever damnable virus floored me, I was also checking out a couple of contemporary folk offerings. The first from Spanish band Aulaga Folk and their album/DVD "A Menos Cuarto" on Armando Records (ARD-123).
The album title means literally 'at quarter to' (as in being ready 15 minutes earlier than the agreed time) and refers to their perception of being in the right place at the right time.
The band pride themselves on rejuvenating the traditional folk of their region (the little known area of Extremadura) and mixing it with the Celtic traditions of Galicia and Asturias to the north and elements of rock, latin, jazz, etc. Their facebook link is here: www.facebook.com/pages/AULAGA-FOLK/236668229479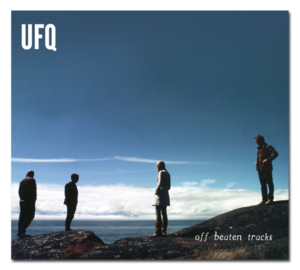 The other folk album comes from closer to home and is Birmingham and the UK's Urban Folk Quartet. This is called "Off Beaten Tracks" and was largely written whilst on the road during their 2011 tour of Europe and North America playing a mixture of venues from 30,000 strong festivals to small coves (many off beaten tracks, I shouldn't wonder).
The 'off beaten tracks' theme really suits their style of music, which although recognisably folk in feel and acoustic orientation sees them running free through the world's diverse musical genres like kids through a summer meadow. The music seamlessly weaves countless threads of varied styles into the whole - going from Celtic folk to reggae to arabic to jazz and elsewhere, almost in a single phrase at times.
It's all quite beautifully done and so natural (I nearly said organic then!) that it's quite easy to miss the plethora of worldwide folk reference points and just treat it as... well, music! No bad thing I suppose.
Their PR has them as "a dozen instruments and four voices coming together to craft a knockout show of globally–influenced, electrifying acoustic music". Yeah, I'll buy that.
Watch out for Frank Moon's quavering oud and soaring fiddle aviatics from Galicia's Paloma Trigas and England's Joe Broughton - all topped of with Tom Chapman's rattling cajón.
The album is described as: "a travelogue of musical snapshots from the road - compositions dedicated to Spanish bus rides or The Vancouver Island coastline, for example - and a collection of highlights from the set that had people dancing the night away at festivals from The Bay of Biscay to edge of The North Pacific."
There you go, does what it says on the tin! For more info check here: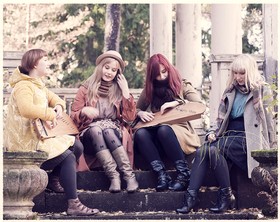 Also been listening to some quite beautiful contemporary Finnish folk from the female vocals-and-kantele quartet: Kardemmimit and their album "Introducing Kardemimmit" on World Music Network. Very chillaxed...
(www.kardemimmit.fi/en/biografia.html)
And if you fancy some mad, mad, but totally brilliant Pakistani jazz - you can't do much better than Sachal Studio's remake of Paul Desmond's "Take Five" (part of their homage to Dave Brubeck). Stunning! I'd first heard it some months ago, but came across it again yesterday and thought it was too good not to include here:
Massed violins and cellos backing some fabulous sitar, acoustic guitar and crazy, crazy tabla-playing . . . Bliss!
OK, gotta go. As ever I start off thinking "I'll just jot a few sentences and thoughts down" - and, as ever, my mind runs away with itself, leaping through those meadows of musical wildflowers into the late afternoon sun . . . What's a man to do?
Glyn Phillips (WorldMusic.co.uk) - Fri 30 March 2012
1