Winter Blues (27/3/13) Luna Lee and The Brothers Groove
Tagged with: Luna Lee Gayageum Voodoo Chile Scuttle Buttin Blues Brothers Groove My Guitar Birmingham Andy Kershaw No Off Switch World Music worldmusic.co.uk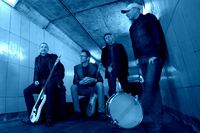 I really don't like Winter - my hands and legs freeze, my mind slows down, my spirits crash. I just don't like it. However, there must be something in the air because this last week or so I've felt a fresh burst of creativity. It might be snowing again outside, there's ice all over the pavements, I'm still waiting for my daffodils and early tulips to appear, but inside me there's something happening - I'm beginning to feel hopeful again! And here's the perfect counterpart to that...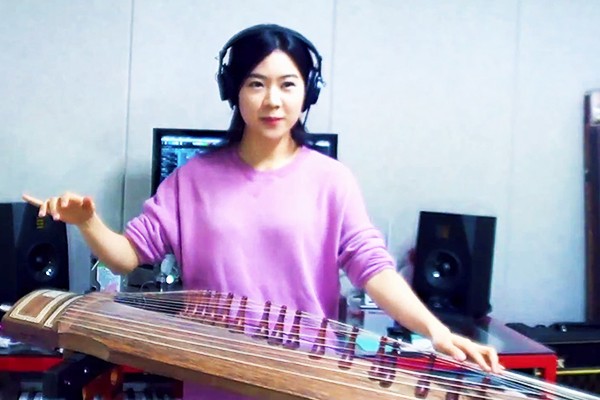 A friend of mine posted a link on Facebook to this YouTube video of a certain Luna Lee (I'm guessing Korean descent?) playing on a gayageum (a Korean 12 string zither similar to the koto and guzheng). OK, very 'world music' you'd say. But check it out, the girl uses it to play blues and rock! Just fabulous!
The first video I heard was a jaw-dropping arrangement of Hendrix's "Voodoo Chile". It starts off all moody and broody and dark - gorgeous, especially the way she bends the notes, all blue and mean. As it carries on to what would normally be a guitar solo she gets all dirty and kick-ass on us! Woah! Somebody get this girl on tour over here! Love it. Here's a link to "Voodoo Chile":
Luna Lee: "Voodoo Chile" - http://youtu.be/NfOHjeI-Bns
But before you click it, WAIT! There's another track I want you to check out too - so come back to this blog page and click the link on this highly addictive rendition of "Scuttle Buttin" - trust me this is one you'll want on repeat play again and again (and again!). Luna Lee's treatment of this is like an intravenous injection of adrenaline and monosodium glutamate! The only fault with it is that it's too short! Check it out:
Luna Lee: - "Scuttle Buttin" - youtu.be/JX-T0eBr31w
I can also recommend her versions of Steve Vai's "Tender Surrender" and a Stevie Ray Vaughan arrangement of "Little Wing". They've all been on the net for a few years - but here in WorldMusic.co.uk, it's all about good music, no matter where or when it was created.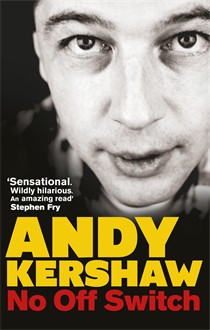 Yep! That's definitely put me in the right frame of mind for Spring! Now will someone just get that bleeding snow and ice to go away and let me flowers poke their heads above ground.
Now, some news just in ace broadcaster/journalist/writer Andy Kershaw has just posted on Facebook. His website is finally up and running after experiencing many difficulties last year. So, here it is:
Use it to find out all about what he's up to, the current speaking tour to promote his BRILLIANT 5* star autobiography "No Off Switch" - and if you haven't got a copy then beg, borrow or buy one (yes, I know, Andy, 'buy' is the important word here... but you know what I mean).
For my full and in-depth review of it just click here: www.worldmusic.co.uk/andy_kershaw_no_off_switch_an_autobiography_rev or scroll down this blog page and find it. Wonderfulness.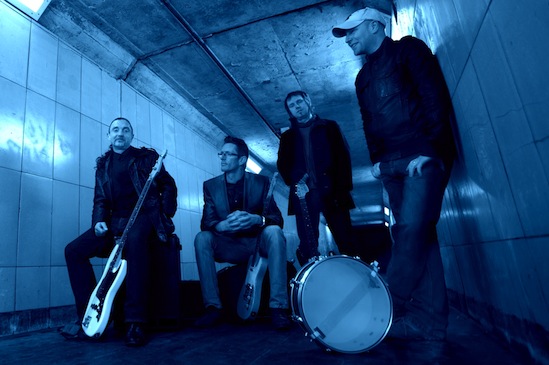 In the meantime, on a bluesey tip, I want to big up a truly talented homegrown blues band from Birmingham (West Midlands, not Alabama): The Brothers Groove (not to be mixed up with the Detroit trio of the same name).
If things happen as they ought to, these guys should go international. Paul Jones on BBC Radio2 is now a fan and the message is spreading...
With a sound all their own and a deep musical and personal connection between them, the four piece have been really hitting their stride recently with electrifying performances to those lucky enought to know about them.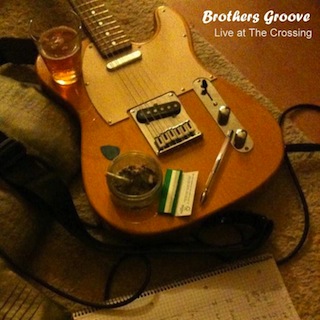 The line up includes a rhythm section of drums and bass, and the two guitarists (Telecaster and Stratocaster) that alternate lead and rhythm parts as well as vocals.
I say 'rhythm section' and 'lead' but it's almost meaningless; the whole band is like an unstoppable rhythm machine and there's no tiresome lead guitar/singer ego trips as in many bands. The Brothers work to one purpose: it's all about the GROOVE.
Their sound is so deep in the groove, not even a JCB would dig them out of it. The rhythm section is so 'in the pocket' it's in danger of smuggling budgies.
The Brothers Groove. Look 'em up, check 'em out and catch 'em while you can.
(their new single "My Guitar" can be found on YouTube here: youtu.be/E4qTBJ1QQfk and here: youtu.be/Xg4ksTSiZbw)
Glyn Phillips, WorldMusic.co.uk (27/3/13)
The Devil's Music
Tagged with: Devil's Music BBC Alexis Korner Blues Booker White Houston Stackhouse Sonny Blake Sam Chatmon Laura Dukes Big Joe Williams Little Brother Montgomery James DeShay Victoria Spivey The Aces Fenton Robinson Good Rockin Charles Henry Townsend Billy Boy Ar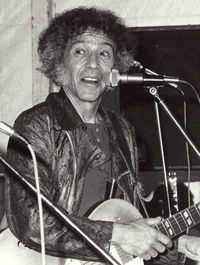 I love those chance happenings, those random, unexpected quirks of fate that lead you to something completely unexpected yet enrich your life. There I was last night, a bit jaded from sitting in front of the computer all day and slowly freezing in this crazy cold wet Spring and I thought "Can't leave it any longer. I'm hungry!". Off to the kitchen, warm up some three-day old food (what? you think I live in luxury?) and back to the computer.
Hmmm. Ok, don't fancy working my way through any more of the 14 CDs that arrived in the post today - just need a little sumtin' to watch while I eat my lentils. To BBC iPlayer, nothing grabbed my eye, looked under Categories, tried the Comedy selection - nah, nothing there to fill 15 minutes of my time, chomp, chomp, chomp, Entertainment, Factual, chomp, chomp, chomp, Films, Lifestyle & Leisure . . . Nada, zilch. Oh God, not back to Music again! Chomp, chomp. Click. Show All Music. Click. Chomp, chomp. Yeah, yeah, yeah... Not interested, seen that already... Uhh? What?? Oh my days! Praise be! It can't be... Really?! I thought I'd never see it again. Hair standing on end, adrenaline coursing through my body, ripples of pleasure and a wild crazy smile from ear to ear.
I'd only stumbled onto a link to a series broadcast back in 1979 (although it might possibly have been actually made in 1976 - anyone know?) and repeated but once since then (in 1982), featuring one of the three or four big musics of my childhood and youth (blues) and presented by my all-time Radio Hero, Alexis Korner: "The Devil's Music". Click.
"curly-haired, lamb-chop sideburned, gravel-and-honey-voiced"
And there it is, the familiar intro music (shamefully not credited anywhere) and then there he is. The man himself, the Father of British Blues, the curly-haired, lamb-chop sideburned, gravel-and-honey-voiced musician, scholar, facilitator, commentator, presenter and all-round 'don' that was Alexis Korner. Unbeknownst to any of us he would be dead within a few years of this recording, but at the time I still hung onto his every word.
Straightaway, I'm transported back in time over 30 years ago, sitting in the front room with my Dad, fingers on the big old cassette recorder (the size and weight of a housebrick!) audio-recording from the telly. For those too young to understand the concept, you turned up the TV volume as loud as possible, pushed the recorder with the built-in microphone pinhole under the telly and hoped that the phone wouldn't ring or that yer Mum wouldn't come in and start talking over it...
"treasured them in the way only true music fanatics can"
For years after me and my Dad would listen to those tapes over and over again. We'd long forgotten the television images that went with them, but the music lived on in our heads and hearts, let alone the words and cadences of Korner's commentary. Magic. We wore those tapes out, yet treasured them in the way only true music fanatics can. This was way before the advent of endless repeats, computers, digitalisation, mass music mobility, file-sharing, archives, etc, etc, even before video (at least for our household). If you missed it, that was it. Hence the cassette tapes.
In the series Alexis Korner gives his idiosyncratic take on the history of the Blues. With only four episodes and only 25 minutes in each one, there's not a lot of time to get it all in and Korner and the producers (Giles Oakley & Maddalena Fagandini) obviously wanted to feature living musicians, so this is no standard, chronological, history book telling of the story. True to Korner's beliefs it focusses on the spirit of the blues rather than the usual big names.
"you'll end up the richer for it"
You won't find Robert Johnson, Sonny Boy Williamson (any of them!), Elmore James, Lightnin Hopkins, John Lee Hooker, Muddy Waters, BB King, etc here. You will find a lot of names you've probably never heard of - but, as ever, you have to just go with Korner and let him lay out his take on it. And you'll end up the richer for it, whether or not you carp on about 'so-and-so' (fill in the name of your favourite blues hero here) being more relevant than whoever Korner uses to illustrate his story.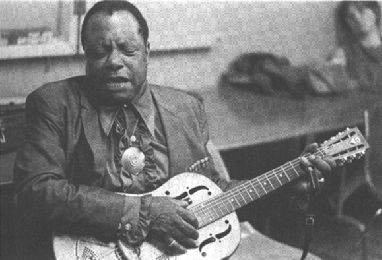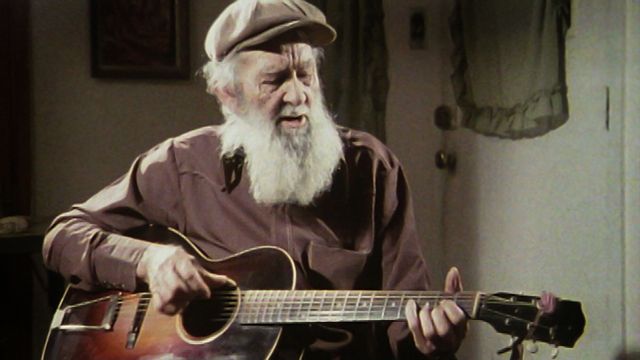 But there's the magic, you see. We get to hear people like Houston Stackhouse (backed by Joe Willie Wilkins) eerily warble through the fantastic "Cool Drink of Water", Booker White steel-slide his way through "Poor Boy" using a knife on his trademark National steel guitar (which he nicknamed Hard Rock - and is now in northern England!) and folk-blues legend Sam Chatmon (looking like Gimli son of Gloin's great-grandfather) singing of his love for his "Brown Skinned Woman".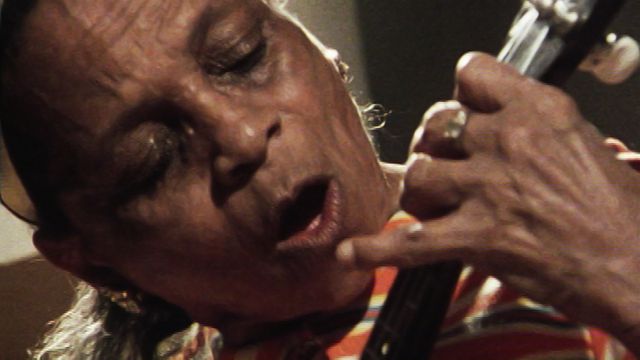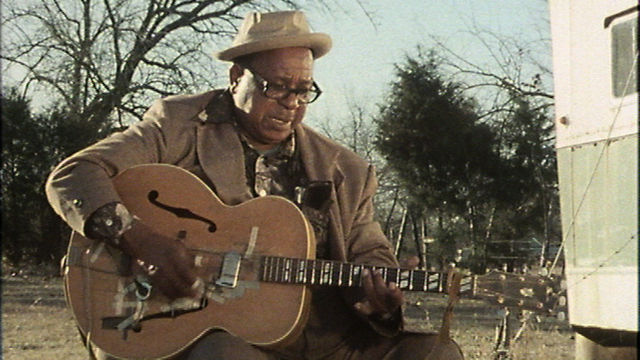 And then there's the tiny Laura Dukes and her ukelele version of "Crawdads", Big Joe Williams getting "Sloppy Drunk" and the highly animated face, coquettish eyes and jet-black wig of Victoria Spivey (who died shortly after the recording) singing the "TB Blues" (yes, a blues about tuberculosis!) whilst playing a woefully out-of-tune piano.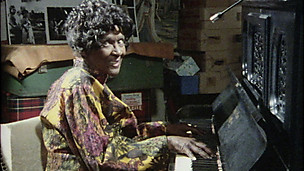 There's also material from Henry Townsend and Sonny Blake. Many of these recordings were actually filmed in 1976 and yet they already seemed to come from another world altogether.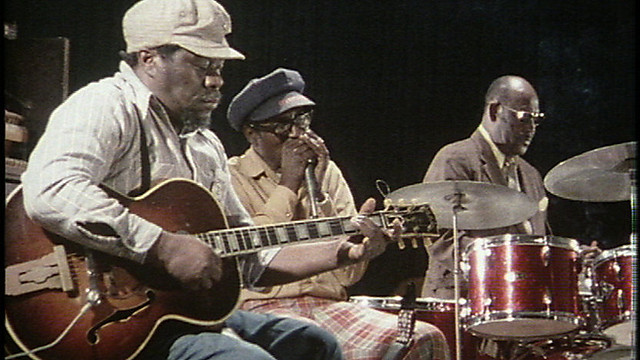 And if that wasn't enough to whet your appetite you get to hear the (then) current state of electric blues emanating from the small clubs of Chicago, with bands like The Aces (featuring the Myers brothers and the legendarily groovy Freddie Below on drums) backing 'young bucks' like Billy Boy Arnold and Charles Edwards aka Good Rockin Charles.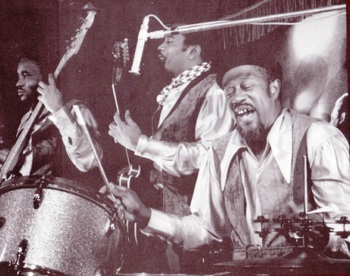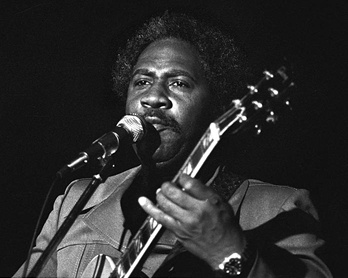 As well as that there's Fenton Robinson and his funky be-hatted band (straight from the imaginary backdrop to a club scene from 'Starksy and Hutch'!) complete with, as Korner puts it, 'the statutory white musician'.
Ironically, although Korner was highlighting the contemporary blues scene at the end of the 70s and indicating its future, it's almost a farewell to it, since apart from a brief renaissance spearheaded by the likes of Robert Cray, Jeff Healey and Bonnie Raitt, blues fell from commercial favour yet again during the 80s.
.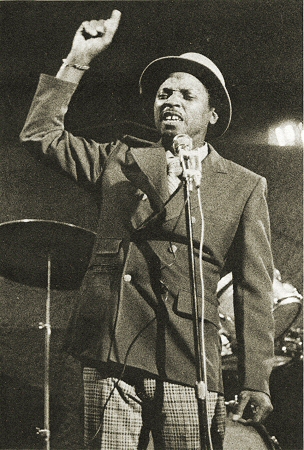 Incidentally, I saw Good Rockin Charles around 1979/80 at Birmingham Town Hall as part of a blues package .
True to his name Charles was nowhere to be found when he was due to perform his numbers. After a while he was tracked down, bottle of spirits prised from his hand and he was shoved on stage (I can picture it now) and he swayed across to the mic - all of us praying he wouldn't veer to his right and walk straight off the front into the stalls - where after a few seconds to focus on where the audience was and fumble around for his harmonica, he launched into his set. Priceless.
What I found out from Korner's documentary is that Charles spent most of his time in Chicago living on Welfare payments and trying to get spots in the Chicago clubs. I guess things don't change much for most of us musicians.
.
"The groove is to die for"
But best of all from this unexpected foray into the music of my past was to hear two performances in particular. The first was James DeShay (playing a V-shaped electric guitar) and his band (which included a poker-faced drummer sporting a Kung Fu headband) and his version of a tune called - I think, since surprisingly none of the tracks featured were actually credited - "Brand New Pony". The groove is to die for, especially when they double it up off the cuff - and so I just sat and drooled, wishing I was right there in the audience that night, lost in a haze of smoke, booze and blues. Sigh!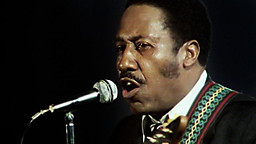 "stupendous rhythmic subtleties"
However, there is one performance from The Devil's Music that stands head and shoulders above the rest. Since we first heard it on that Monday night in July 1979 it occupied a place of awe-full reverence in the musical pantheon of both my father and myself. For years to come we would put on our home-spun audio cassette and be transported to a better place. We would sing, dance and play air-piano to the utterly stupendous rhythmic subtleties of a truly great artist. I almost wish that you could hear it without seeing the film, so that you are entirely dependent on the music to stir your imagination. In my head, I can still hear the hiss of the tape, the rumble of the cassette recorder, the peculiar ambience of our front room and the hum of the television all captured for posterity and mixed in with the music proper.
"this tune has haunted me for decades"
I'm often loathe to recommend certain pieces of music to other people, particularly when they've seeped so deeply into my psyche. I get worried that they won't feel the same way about it - and why should they? Music is a very personal thing, both to performer and listener. Yet, I can only say that this tune has haunted me for decades. It goes straight to my soul. For me, it's that good.
The cassette tape we made of it got lost somewhere along the years, yet I can still hear every note, every pause, every push and pull of the performance in my head. The tune is called "Vicksburg Blues" and the artist is the Louisiana-born, latterly Chicago-based pianist, Little Brother Montgomery. Bliss.
If anyone has or knows how to get hold of the soundtrack to this series - or at least an audio-recording of Little Brother Montgomery performing "Vicksburg Blues", can you let me know? I'd really appreciate it. Off the top of my head, there was a book to accompany the series too.
So what can I say? If you can get BBC iPlayer go and check the series out (The Devil's Music - produced by Maddalena Fagandini and Giles Oakley) - at less than two and half hours in total, it's well worth your time. I've put all the details below (although I've had to guess at many of the titles of the tracks - apologies if I've got any wrong) and also put direct links to each episode. Enjoy!
Devil's Music, Series 2, Ep 1 - http://www.bbc.co.uk/i/p00lk3lz/
(First Broadcast BBC 1, Mon 9 Jul 1979)
Presenter: Alexis Korner
Performers: Booker "Bukka" White (slide steel guitar/vox) - "Poor Boy" and "Aberdeen Mississippi Blues"
Houston Stackhouse (guitar/vox) with Joe Willie Wilkins (gtr) - "Cool Drink of Water"
Sonny Blake (harmonica/vox) with unknown (pno) & LT Lewis (dms) - "One Room Country Shack"
Sam Chatmon (gtr/vox) - "Brown-Skinned Woman" and "That's My Girl"
- - - - - - - - - - - - - - - - - - - - - - - - - - - - - -
Devil's Music, Series 2, Ep 2 - http://www.bbc.co.uk/i/p00lk4rq/
(First Broadcast BBC 1, Mon 16 Jul 1979)
Presenter: Alexis Korner
Performers: Laura Dukes (ukelele/vox) - "Crawdads"
Sam Chatmon (gtr/vox) - "That's All Right"
Big Joe Williams (9-string guitar/vox) - "Sloppy Drunk" and "Highway 49"
Little Brother Mongomery (pno/vox) - "Vicksburg Blues"
James DeShay & Band (elec gtr/vox) and band - "Brand New Pony"
- - - - - - - - - - - - - - - - - - - - - - - - - - - - - -
Devil's Music, Series 2, Ep 3 - http://www.bbc.co.uk/i/p00lk5pk/
(First Broadcast BBC 1, Mon 23 Jul 1979)
Presenter: Alexis Korner
Performers: Big Joe Williams (guitar/vox) - "Providence Help The Poor People"
Henry Townsend (pno/vox) - "I'm Leaving"(?)
Victoria Spivey (pno/vox) - "TB Blues"
James DeShay & Band (elec gtr/vox) and band - "Crossroads" and "Mistake in Life" (?)
- - - - - - - - - - - - - - - - - - - - - - - - - - - - - -
Devil's Music, Series 2, Ep 4 - http://www.bbc.co.uk/i/p00lk5yh/
(First Broadcast BBC 1, Mon 30 Jul 1979)
Presenter: Alexis Korner
Performers: Billy Boy Arnold with The Aces - "She Fooled Me"
Fenton Robinson & Band - "You Don't Know What Love Is"
Sonny Blake (harmonica) with LT Lewis (dms) & Joe Willie Wilkins (gtr) - "Bring It on Home To Me"
Charles Edwards with The Aces (aka Good Rockin Charles) (harmonica) - "Don't Start Me To Talkin"
The Aces: Freddie Below (dms), Dave Myers (bass), Louis Myers (guitar/vox) - "Take a Little Walk"
Fenton Robinson & Band - "Someone Lend Me A Dime"
- - - - - - - - - - - - - - - - - - - - - - - - - - - - - -
Glyn Phillips (WorldMusic.co.uk) - Wed 25th April 2012
1