Interview with Rhythmtree Festival - "the New Wave of World Music"
Tagged with: Rhythmtree Festival Isle of Wight World Music Three Gates Farm Dele Sosimi Electric Jalaba Simo Lagnawi Lokkhi Tera Awale Wara Jungle By Night By The Rivers Skp McDonald London Bulgarian Choir Son of Dave Eugene Bridges Yaaba Funk Prince Fatty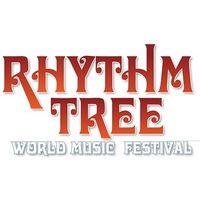 With the end of Winter within sight if not yet here, it felt like a good time to look ahead to the sunnier days of the forthcoming festival season. In this interview the guys from the Isle of Wight's Rhythmtree Festival give us some insight into their vision and motivation and explain what make them different from other world music festivals.
Rhythmtree Festival (19 - 21 July 2013)
So what's happening at the Rhythmtree HQ this year?
"Well the first piece of good news is that we have been granted a three year license for the event. This is great for our forward planning including securing our present site at Three Gates Farm for the next few years at least. We've also been going out a lot more this year to see bands and Djs in action. We have booked some exceptional Rhythmtree bands for 2013.
What do you mean when you say 'Rhythmtree bands'? Aren't they all classified as world music artists?
Well, that is a really interesting one. One thing that has occurred to us is that we should be looking to find a short way of saying, defining, what the Rhythmtree is all about. A strap line, a phrase or slogan that will give an immediate insight into the festival and the music for those who don't yet know anything about us. Not an easy task and it is something we have thought about long and hard.
Well aren't you simply a world music festival?
Well, yes and no. Going back to the question about what is a Rhythmtree band. It is just not possible at the moment to book the many artists and bands that apply from overseas and maybe represent in peoples minds the 'traditional' world music act. The added travel and accommodation costs would sap up a lot of our budget and that is even if we could sort out the visa problems. Most of our artists are based here in the UK and of course that makes things a lot easier. We have been doing a lot of traveling to see gigs, mostly in London, and a couple of things have become very obvious.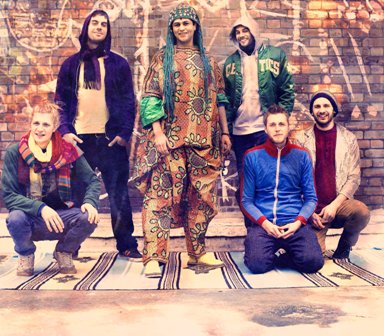 Some of the most exciting bands are those who are taking the concept of world music in a very different direction.
Bands like Electric Jalaba, with Simo Lagnawi, who is singing traditional Gnawa songs, playing a camel skin Guembri yet is surrounded by electric guitars and analogue effects that create a very modern sound but the essence of his Gnawa music heritage is still there.
Bands like Lokkhi Terra, Awale and Wara who are not only retaining various traditional influences in the music but also bringing together a whole cultural mix of both people, instruments and musical genres.
Then there are bands like Jungle by Night and By the Rivers. Very young musicians who are taking genres like afrobeat and reggae and really stamping their own mark on the music. Not just cover bands but musicians creating something new and vital and uniquely their own.
So is this what sets the Rhythmtree apart? Booking bands like those you have described.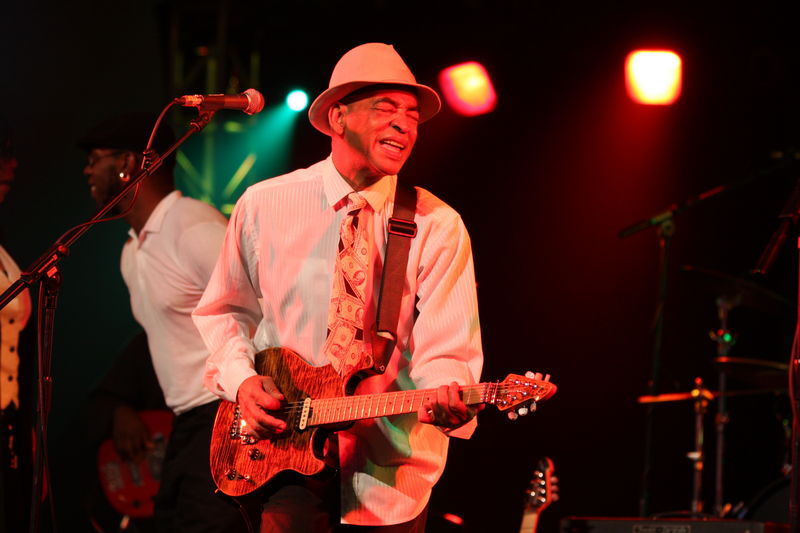 Yes, but of course it is not the whole story.
We are still pleased to book musicians like Dele Sosimi and Skip McDonald who have paid their dues and play exceptional music.
We love Cajun and Zydeco bands and you will see them on the line-up every year.
And then we'll throw in the London Bulgarian Choir and amazing drum bands like Malian djembe master Nahini Doumbia and his ten piece Sankoule Kan.

It looks like you have themed each evening on the main stage this year. What's that all about?
Two reasons. Many of the people who come to the Rhythmtree have little or no knowledge of the bands we are putting on other than somebody has told them what a great festival it is and they're going to see something very different. So we decided to give each day's main stage line- up a name.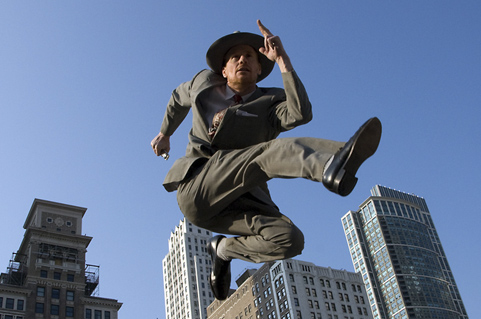 The 'Blue Planet stage' on Friday is our take on blues music with artists like Son of Dave, Eugene Bridges, Skip McDonald.
And then, being the Rhythmtree, we'll programme Senegalese singer Madou Toure and the West African Blues Project.

The 'Outro Mundo' stage on Saturday is a real mix of 'out of this world' music with a very diverse theme for 2013.
Along with Yaaba Funk, By the Rivers, and Soothsayers by contrast you will also hear the unique style of Malagasy guitar player Modeste Hugues, our first main-stage DJ Prince Fatty and the UK afro-pop of AJ Holmes and The Hackney Empire.

Sunday is our big night in more ways than one. It is called the 'Felabration' and includes some amazing bands headed up by the godfather of UK afrobeat (and Fela Kuti's keyboard player for many years) Dele Sosimi lined up with the new young guns Dutch band Jungle by Night, the London Afrobeat Collective and King Porter Stomp.

So have you found that phrase that sums up the Rhythmtree?
Getting closer. For a while it was going to be the 'Out of this World' Music Festival with its obvious double entendre but we're sure others have used it before. What is gradually happening is that the selection of bands this year is really setting the tone and feel of the festival which has not really happened in the past. The young bands, the bands that as we have said are making their own mark and experimenting with world music genres.
So this is our latest effort. 'The New Wave of World Music'. It presses a number of buttons for us. 'New' we are a new festival; 'New Wave' with its wink back to the the 70s and 80s music scene and the underground music of Velvet Underground and later punk; (music that could not and did not want to be classified as main stream) and of course 'World Music'.

So the classic final question. What's new for 2013?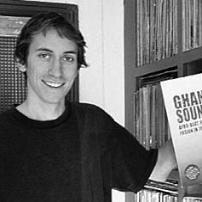 Well beside introducing a no booking fee deal for all our online tickets we think what will be happening in the RhumbaRumBar will be our most exciting development.
We introduced the tent last year with a fruit cocktail bar at one end and local DJs set up in the other. They did a great show and it was very popular so we are investing money in booking some additional main-land DJs this year and we have some surprising people who have agreed to come over.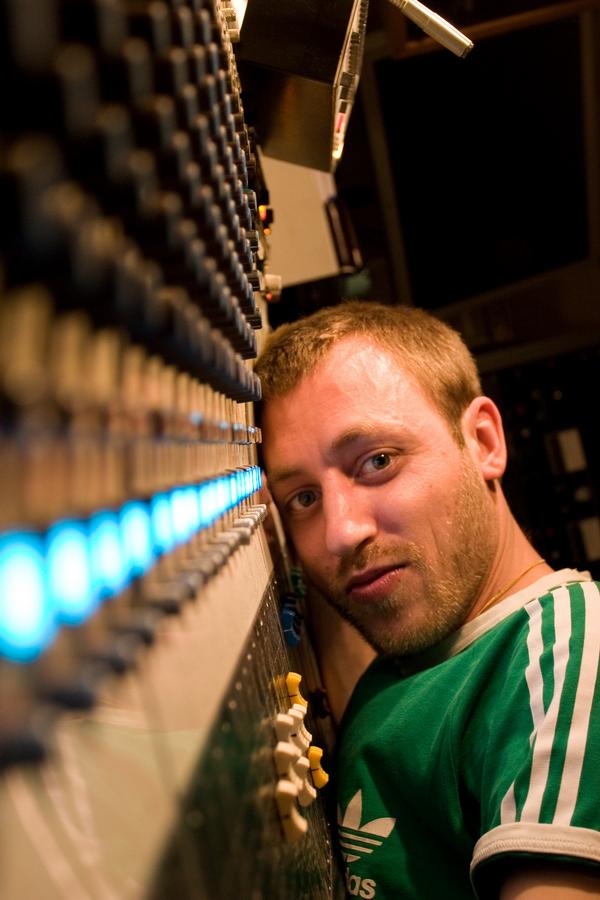 Prince Fatty has already been announced and he is being joined by Miles Cleret owner of Soundway Records, Volta45, Jamie Renton, Cal Jader, Simon Mandala, Koichi Sakai and Karamel, all DJs with long established connections with the world music scene.

We also have exciting news regarding a link between us and another very large festival here on the Isle of Wight. There will be an official press release about that soon."
For more information on the Rhythmtree Festival 2013:
www.facebook.com/RhythmtreeFestival
(25th Feb 2013)
Womad 2012 - The Big Review
Tagged with: Womad Charlton Park Review Glyn Phillips WorldMusic.co.uk world music Festival Masekela Ane Brun Raghu Dixit Vadoinmessico Kayrece Fotso Balkan Beat Box Ska Cubano Deolinda Alaev Joe Driscoll Seckou Kouyate Pine Leaf Keb Mo DJ Yoda Buena Vista Portuondo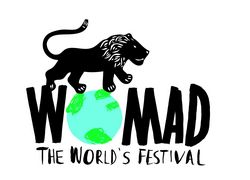 "For size, quality and breadth it's the biggest world music festival on the planet."
I love Womad. For size, quality and breadth it's the biggest world music festival on the planet. Period. However, this naturally brings its own problems, not least being that it's quite impossible to see and hear all the things I want to. Each year I salivate at what's on offer, yet am always forced to make agonising decisions between which favourite artistes to try and savour or which new ones to nibble and taste.
So this review doesn't claim to encapsulate Womad 2012, but it does give a sample of my 2012 Womad experiences. Some of them are covered in great detail in my special in-depth reviews on particular artists (Manganiyar Seduction, Grupo Fantasma, Sensational Space Shifters - see text below for links to them), but here are some of my impressions from the rest of what I managed to see.
"the burning sun of a mini-heatwave."
I arrived at the beautiful Charlton Park on Thursday 26th July in the burning sun of a mini-heatwave. Exhausted after the hot drive, the longs walks to and from the carpark and setting up camp, I managed to miss both Ballet Nimba & the Malmesbury Schools Project and Linton Kwesi Johnson with the Dennis Bovell Dub Band. Yeah, not the best start…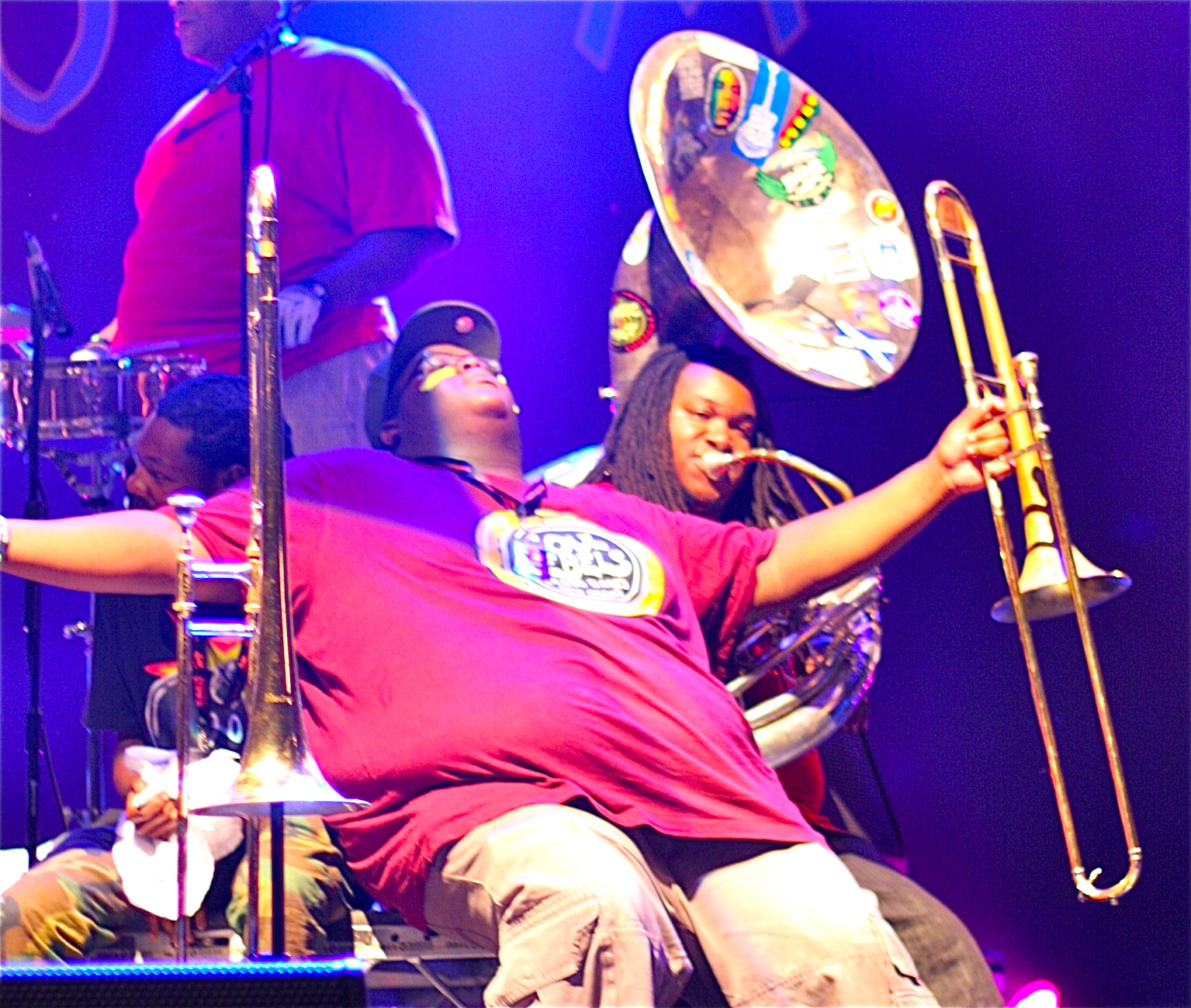 However, being a huge fan of the music of the Crescent City, the one band I was really looking forward to on Thursday were The Soul Rebels from New Orleans!
And what a treat they were! Soc au'lait!!
To describe them as 'where hip-hop joins New Orleans funk' only hints at what they can do.
These guys blew up a storm with rasping trombones, trumpets and sax, huffing, puffing, pumping sousaphone and crazy rattling snare and bass drum combo - one huge gumbo ya-ya. They definitely put the 'PH' into funk and then added an 'O' for good measure!
This is "PHONK!" y'all!
"a brilliant choice for opening night."
Yeah, they rap and lay down some serious hip-hop grooves and you get the feel they've literally just walked off the streets of the Big Easy, but there's still that timeless, matchless N'awlins groove running right through everything they do. They also know how to party! At one point one of the band came down off the large Open Air Stage climbed over the barrier into the crowd and got everyone down onto their haunches ready to leap up on command as the music hit the sweet spot. A great festival band and a brilliant choice for opening night.
So, hoist up the flambeaux, pass a good time y'all, and laissez les bon temps rouler!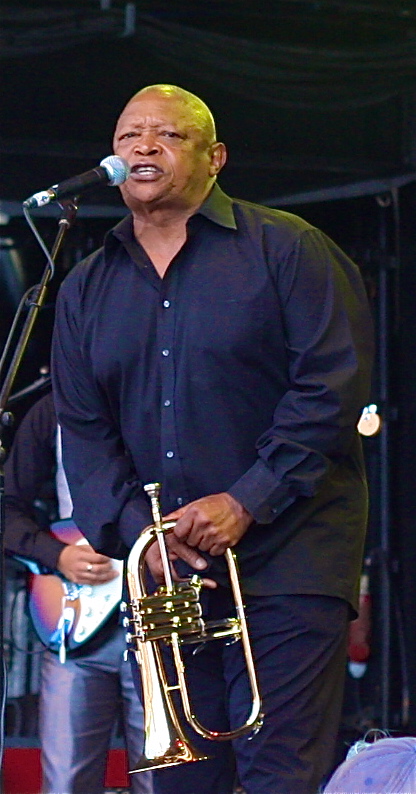 The next day, Friday 27th was the first 'official' full day of Womad 2012 and first up for me was the iconic South African trumpeter and flugelhorn player, Hugh Masekela who was on the Open Air Stage too. There was a huge crowd to see him as you'd expect from someone of his pedigree and musical stature and we were not to be disappointed. After about three songs a relaxed Masekela addressed the audience:
"Thank you very much Womad for receiving us with so much joy and generosity and we're not going to charge you for the sunshine!".
Throughout his one hour set, Hugh was on fire with his trademark fluid flugelhorn and not least his expressive singing (which went from low, gravelly tones to high screaming falsetto). His band were every bit as good as you'd expect, displaying some great guitar solos and percussion work on congas and timbales, salsa bass-lines and tracks with lots of rhythmic chanting and vocal percussion.
Luckily there were very few sound problems on the main stages this year and the engineers made a good job of Masekela's performance - not too loud, nice and clear and good separation of instruments with a lovely bass sound and crisp, sweet-toned congas.
At one point Masekela got the whole crowd engaged in a vigorous call-and-response section that prompted him to ask: "are you sure you're not from Soweto? "Damn, you are bad!". "Give yourselves a hell of a scream - you're bad!"
"still a world class musician at the top of his game."
Hugh might be in his 70s, but he shows no sign of slowing down at all. This is still a world class musician at the top of his game.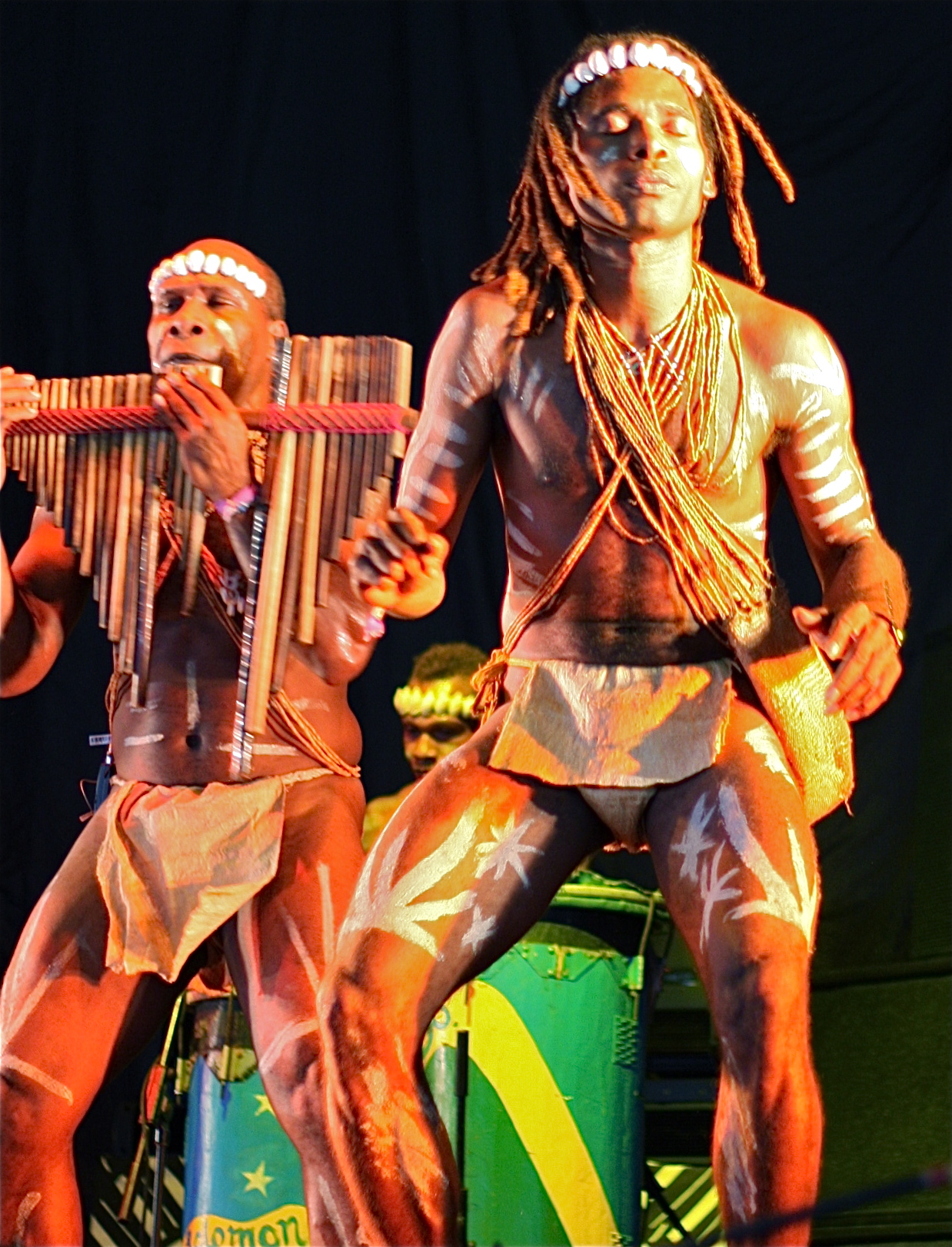 I passed by the Siam Tent and caught some of Narasirato, a band from the Solomon Islands in the South Pacific, who perform on bamboo pipes (both blown and struck) and in costumes that don't leave much to the imagination.
Their panpipes have more pipes than the traditional South American ones most people are familiar with - in fact they look like someone's stuck about three sets of them in a row about 18" to 2 foot wide. But they tend to use them in a more polyrhythmic style that is augmented with song, drums, dance and their large bamboo 'boomwhackers' (a series of thick bamboo pipes mounted on a frame and thwacked with a paddle - or just the end of a flip-flop! - to produce a ghostly note).
I cut short my enjoyment of this to head into the Arboretum to try and see some of the Quebecois trio Genticorum from Canada over at the Radio 3 Stage.
Now, in previous Womads the R3 Stage was, for me, the place to be. I loved the setting, the atmosphere, the green coolness and the choice of acts. I've had some memorable experiences there (see my previous reviews of Womad 2011!).
However, I was stunned and severely disappointed by the siting of the new R3 Stage. It was getting crowded last year as more and more people flocked to it and you needed to be early to get a good spot, so when I'd heard they'd moved it I assumed it was so that more people could enjoy it, with better sightlines and more comfort. Not a bit of it. It's infinitely worse now. The sightline is largely in a tunnel-like effect only visible from right in front of the stage (sight from the wings is negligible due to the severe lack of space) and to make matters worse, they've changed the stage: it's lowered so that it's barely off the ground, there's a barrier in front, and they musicians are way back in the dark under a deep canopy. Crazy. Absolutely crazy. If you're not right in the front few rows of people and standing right in front of the stage, you've no chance of seeing the band. OK, it works for radio, for sure! But not as a visual spectacle at all.
So, not only did you need to get there an hour in advance, once in place it was difficult to get out again due to the log jam of people. Really not impressed with the decision at all. Consequently, after forcing my way through people, sneaking under a shrub, getting mangled by branches and treading on people's feet and hands to try and even get a peek at the band. I reluctantly decided to abandon the R3 Stage for the duration of the entire festival. What an utter shame. Can I comment on Genticorum? No. By the time I'd made it to within camera shooting distance, I realised I needed to leave straightaway to give me enough time to pick my way back to the main arena… Not a happy bunny.
I diverted by the Big Red Tent and whipped in to take a few snaps of the Anglo-Kenyan band Owiny Sigoma and then had to high-tail it right up to the other end of the Arena to the Siam Tent where the Norwegian singer Ane Brun was about to start.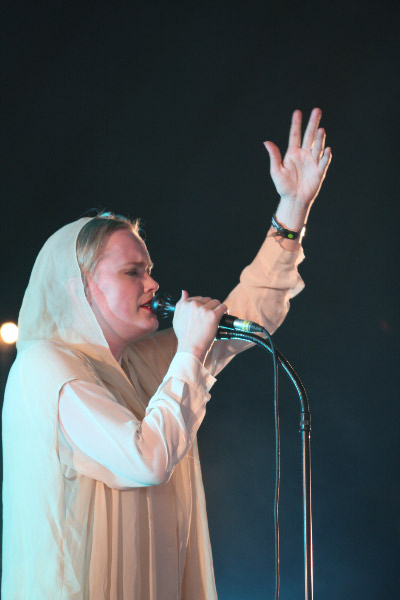 Ane Brun has achieved quite a measure of success in her native country with 8 albums in the last 10 years, all noted for their deep imagination, causing some commentators to compare her to household names like Bjork or Kate Bush. She's receiving a much-needed publicity boost outside of Norway via her inclusion on Peter Gabriel's "New Blood" album, but here she was showcasing her own band and own work.
Even from back in the middle of the large Siam Tent, Ane seemed to dominate the stage with her presence, not least her image - ethereal and floaty in a white, head-to-toe outfit with a shawl covering her hair, (looking halfway between an Arabic singer and the Lady Galadriel). Quite beautiful and it seemed to draw the admiration of many of the women around me.
Most of Ane's songs were sung in English. You could see why she'd been working with Peter Gabriel. There was a similar attention to detail in the soundscape. Her starting band consisted of kitdrums, two percussionists, keyboards and cello.
There were however some sound problems during the first song, soon brought under control by the second song luckily, since what Ane and her band produced was a carefully controlled sonic scape. These were obviously well-constructed, well-crafted, songs.
"well-constructed, well-crafted, songs"
In the third song, which I think was entitled "Devil Worshipping", Ana started to play guitar as well as singing. There were lovely harmonies (sung like an echo) from the percussionists and a backing singer (who had just come on). The male percussionist moved onto kitdrums alongside the drummer.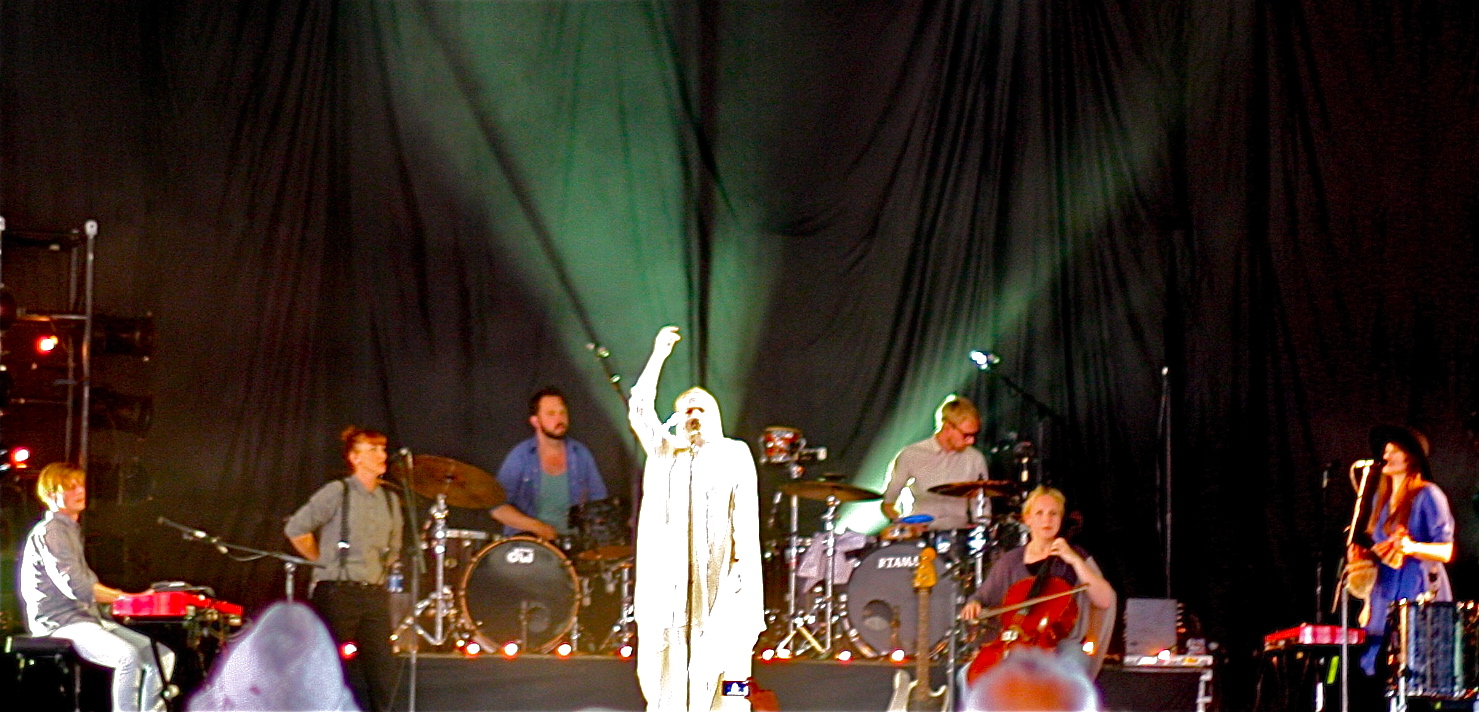 By the fifth song or so a very dramatic almost theatrical sense show had pervaded the set. Ane was often lit in a way that looked as if she emanated light from her flowing clothes.
The drums sounded very 'Peter Gabriel-ish' in their tone, the two kit drummers thundering away. There was also some inventive use of gongs, krotales, shakers, jingles, brushes and cymbals throughout. In fact, the whole band seemed to mutate and expand as new people came on or musicians swapped roles and instruments throughout the show.
During a slow, rather spacey tune with much use of descending arpeggios and vocal "ohs' and 'aahs' (there were now two backing vocalists and the female percussionist had moved onto on keys), the two kit-drummers ended the tune playing in unison on their own - a truly EPIC sound - all rumbling thunder and earthquakes, which earned them a rapturous applause from audience.
Ane eventually treated us to a Norwegian language song, sung in the dialect of her hometown in the south West of Norway. She described it as a "song of comfort".
"full of subtle flavours, delicacy and yearning."
Even though her vocals skills had been effortlessly showcased up till this point, it was now when singing in her own language that I noted a remarkable difference to her voice. There was a new vitality, a freshness, a depth of tone that even surpassed her English language songs. Quite beautiful - full of subtle flavours, delicacy and yearning.
My only criticism was that somehow the whole performance was almost too perfect, too managed. Yes, I know that sounds like I'm nit-picking but I was left with a sense of having witnessed something of great artistry and beauty, but that didn't leave me with the warm glow that such occasions usually engender in me. Maybe it's just me, maybe it was the setting of the cavernous Siam Tent, but I'd have liked to have connected more with the singer somehow.
"one of my unexpected highlights of Womad 2012"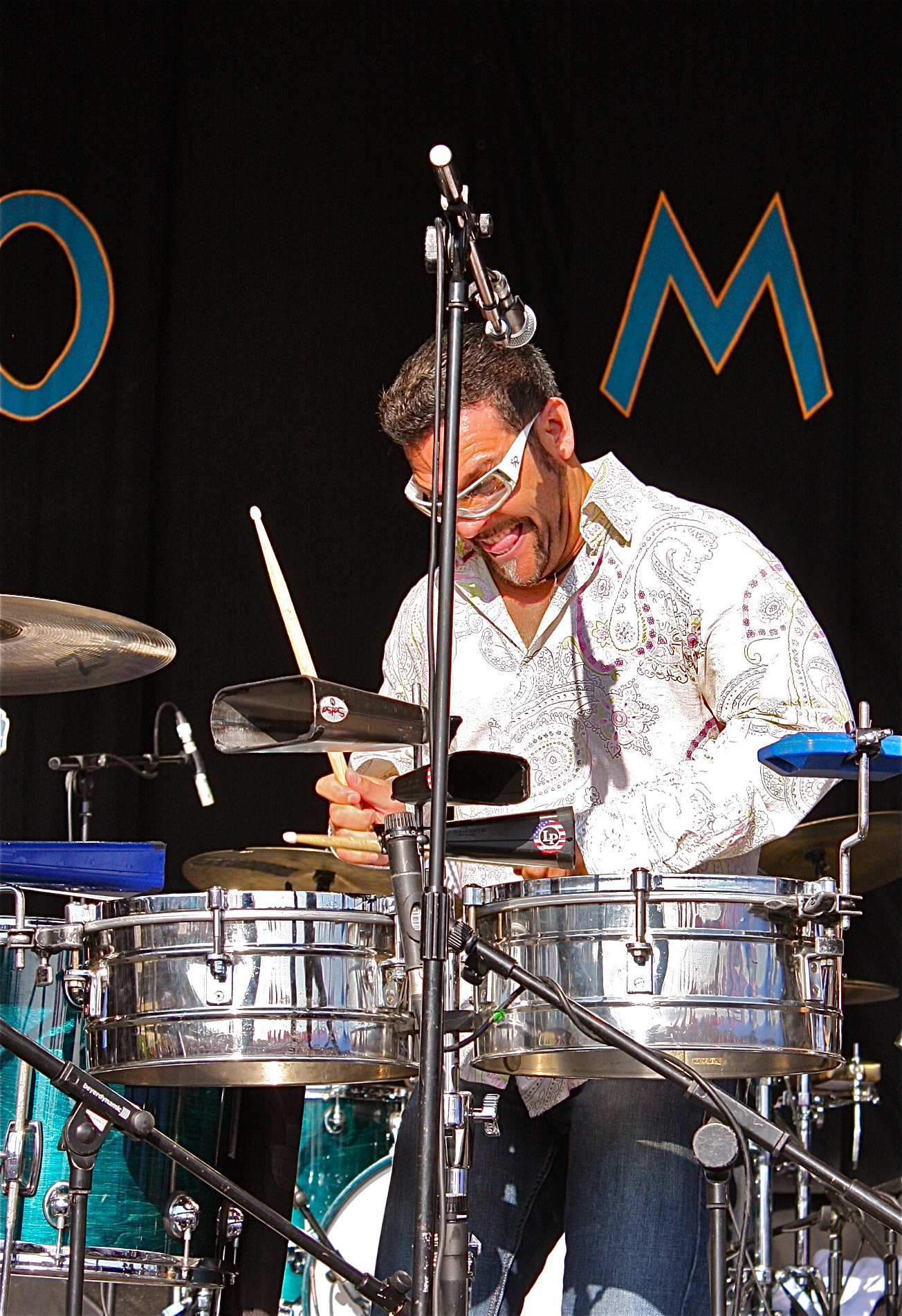 There was no such sense of distance with the next band, even though they were on the towering Open Air Stage.
Grupo Fantasma were one of my unexpected highlights of Womad 2012 and you can read my in-depth review of their performance, plus my interview with them (and I urge you to read both!) in the following links:
http://worldmusic.co.uk/grupo_fantasma_womad_2012_review
and
http://worldmusic.co.uk/grupo_fantasma_interview_at_womad_27712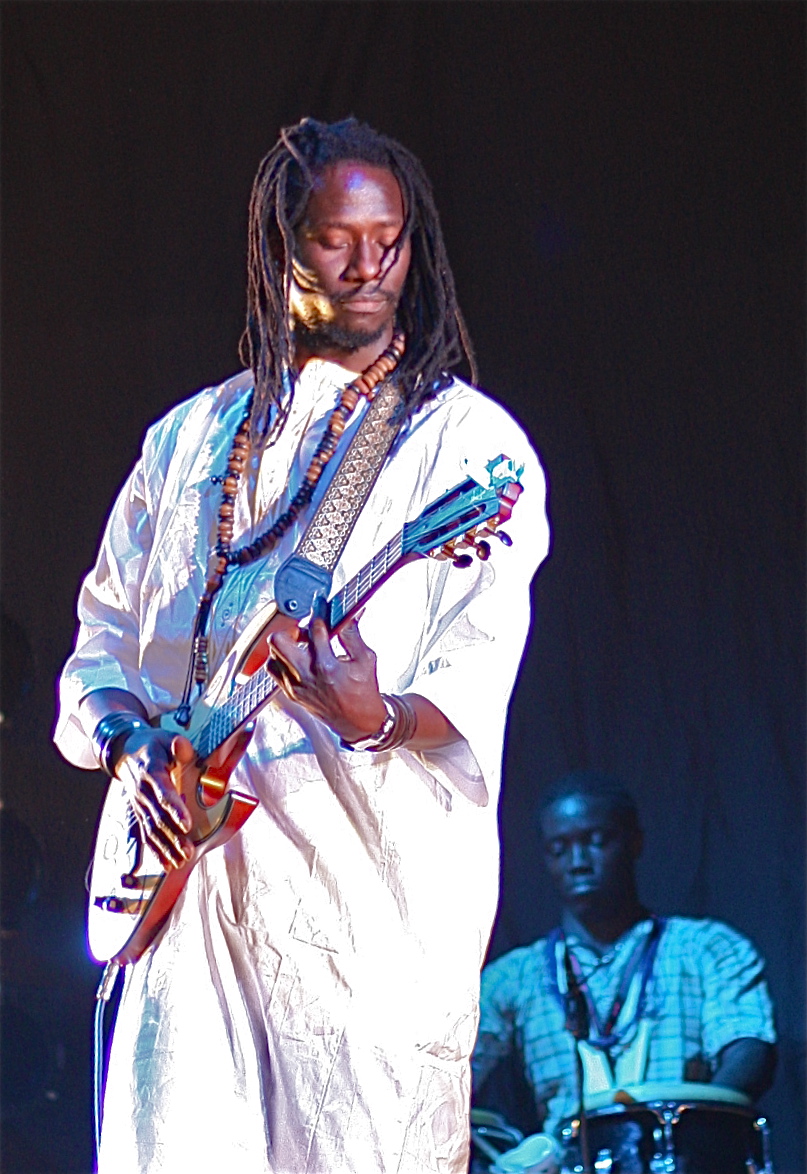 After Grupo Fantasma (and en route to interview them) I paused for a short while in the Siam Tent and caught some of the Senegalese singer and guitarist Carlou D and his band.
They were very good indeed with some complex grooves throughout.
Special mentions must go to his loxed-up electric guitarist who had some great jazz licks and to his bassist for the funky bad-ass riffs.
In particular I enjoyed the combination of Amadou Diagne on kit-drums (drafted in at the last minute - an accomplished guitarist, singer, songwriter and percussionist in his own right) and the amazing hand-percussionist on congas and djembe who delivered some ear-splitting solos that were as sharp as knives!
"total euphoric musical madness"
After a wonderful interview with Grupo Fantasma (see link above), I pegged it back down to the Big Red Tent to try and see the total euphoric musical madness that is the Tokyo Ska Paradise Orchestra - sheer exuberance! But I could barely even get into the tent! No time to do anything apart from smile at the antics of the guys on stage and envy those in the audience who were right down the front being soundly exuberated!
"My absolute highlight performance of Womad 2012."
However, there was one performance more than any at Womad that I was determined not to miss at any cost and that was the delectable promise of the show that had garnered praise from every part of the world that it had been performed. I'm speaking of course of India's The Manganiyar Seduction. I have written a very long, very detailed review of this performance here:
http://worldmusic.co.uk/the_manganiyar_seduction_womad_2012_review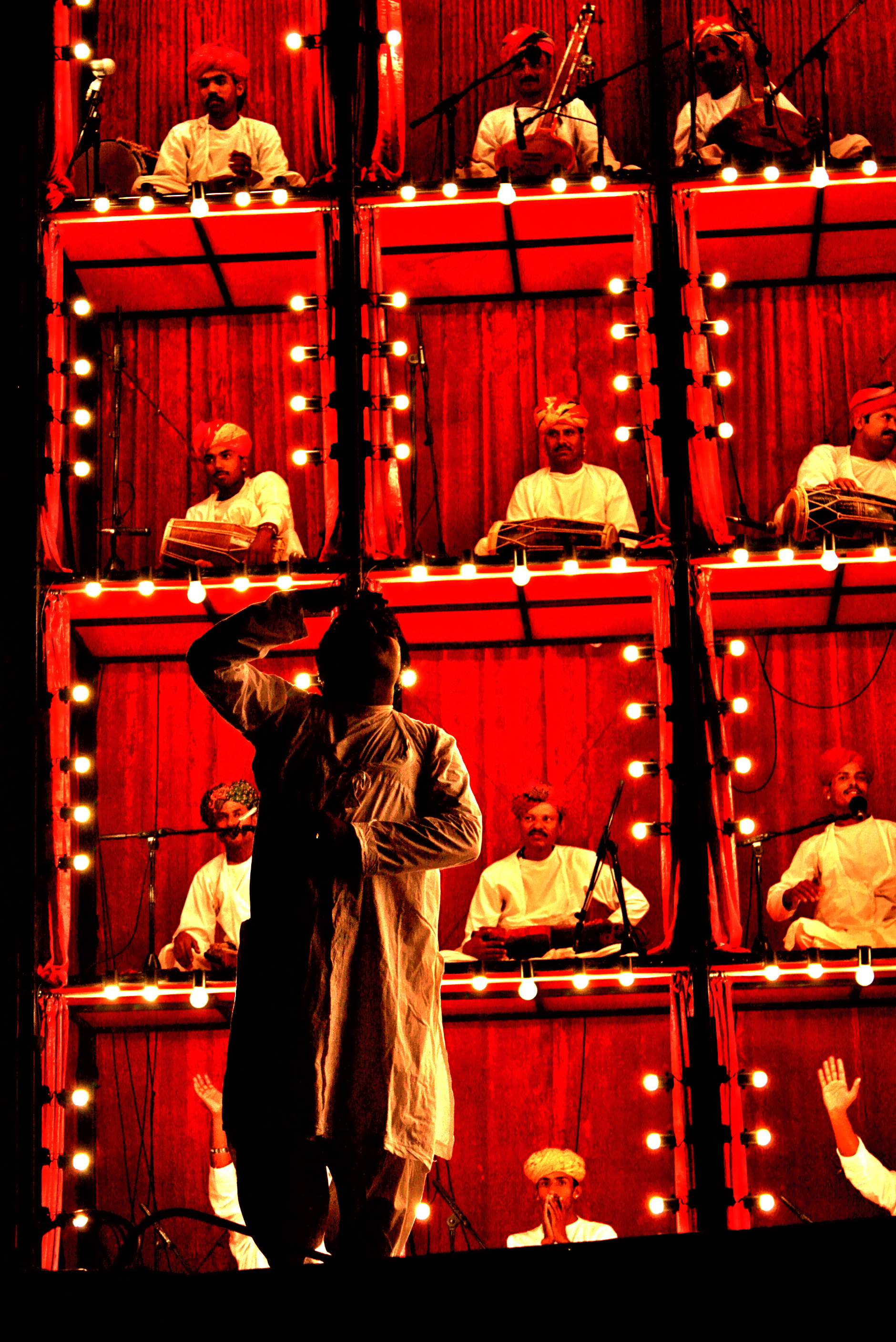 I shall say no more, apart from: read it. Read it and you might begin to understand why this show has caused such a stir worldwide.
My absolute highlight performance of Womad 2012.
So enraptured was I by the Manganiyar Seduction that I didn't even turn up for Jimmy Cliff! Now that should tell you something.
I was completely emotionally sated and couldn't take any more stimulation for a while.
Saturday dawned and with it, my ability to access the photographer's pit. This is a controlled area immediately in front of the stages, only available to accredited press photographers and subject to strictly adhered to rules. You have to be escorted there by Womad PR agents, you have 3 numbers or 15 minutes (whichever is less) to shoot photos from and are not allowed to use flash or otherwise impede on the performance. After that you must be escorted out of the area again. It's how the pros get the close-up shots without other people's heads being in the way.
It does, however, bring a different appreciation of the performance. It emphasises the visual aspect over the musical and means you have to telescope a whole artistic performance into a very short amount of time (usually the first three tunes when many artists are just settling in and warming up).
In fact this 30th Anniversary Womad was quite a strange one for me. At concerts and festivals you can usually find me sitting at the front or on a little stool to the side, notebook on my knee, scribbling away and staring intently at artist, crew and crowd, feeling my way into a performance, trying to capture the essence of the experience as well as analyse the music itself.
However, this year I was having to double-up as photographer as well (keeping my eyes as well as ears open) and trying not to miss photo opportunities - a very different kind of working method. Writing is more sedate, sedentary and contemplative; the latter often frantic and full of movement and adrenaline. So I apologise if anyone's reading this and wondering why much of the article is written from the point of view of the Pits and more concerned with the 'visual'. I can only write what I experienced. I'm not a professional photographer - I'm a writer with a camera, trying to get photos to illustrate my words.
Consequently, my experiences of Womad 2012 were quite fragmented in the main, as if viewing a film through a wicker fence, and it meant I had precious little time - if any at all - to make review notes whilst photographing. Still, you work with what you get and below I offer up what I did experience.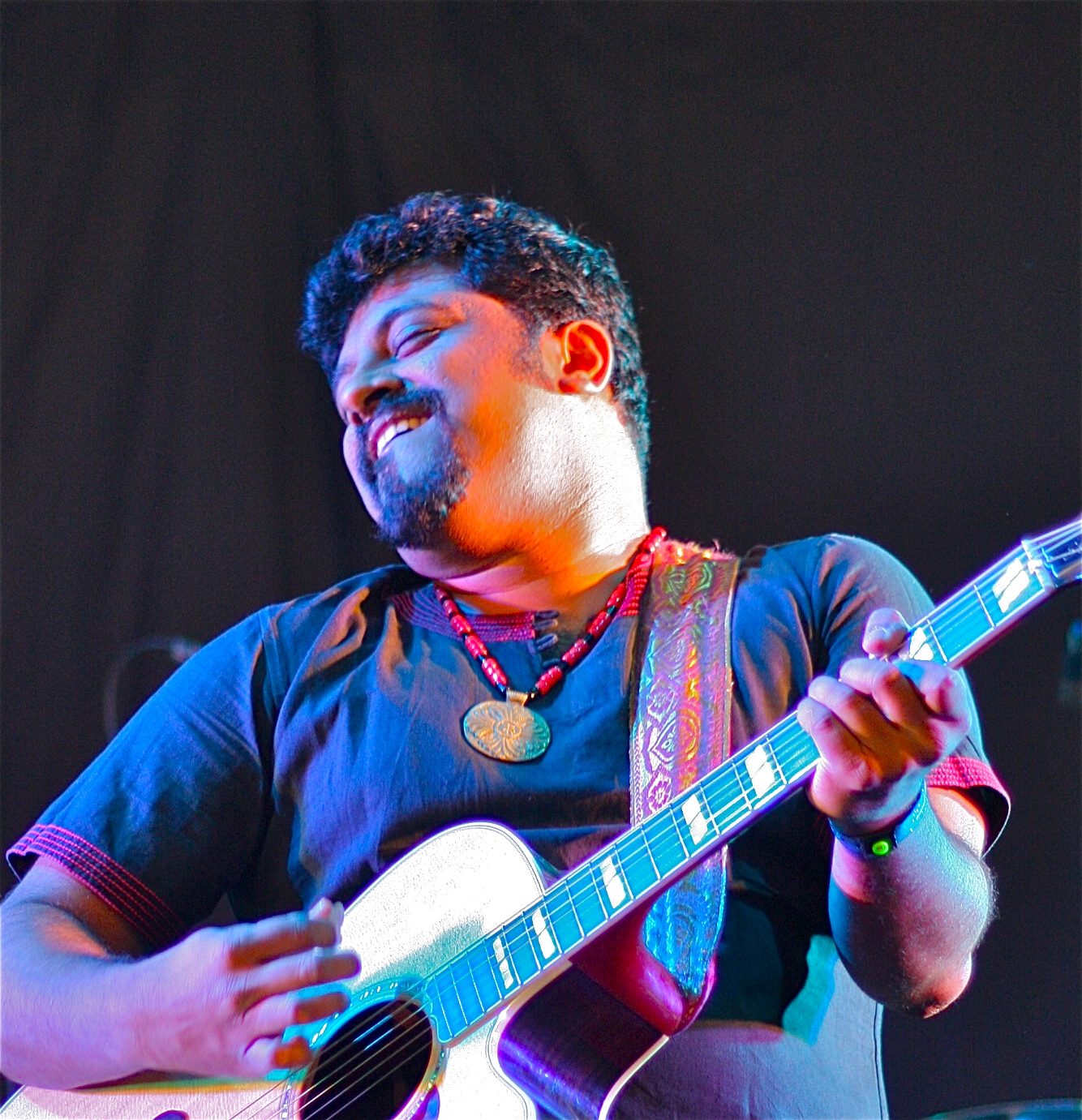 The first act I photographed on Saturday was Raghu Dixit in the Siam Tent at midday.
Always a tough gig, the first one of the day, but Raghu (the Indian folk-rocking singing ex-microbiologist) and band killed it with a storming set and a charming collective personality.
It was very well received by the audience and made a great start to the day.
Race down on foot in the intense heat round the perimeter road of the arena to the other end to the Big Red Tent where the London-based international melange of Italian, Mexican, Austrian and British musicians of Vadoinmessico were about to perform.
Their blurb in the Womad programme has them as 'tropically edged, floaty folk-pop'. No, that doesn't normally float my boat, but I was curious (and that's the nice thing about world music festivals, you can sample all kinds to see if you like the taste).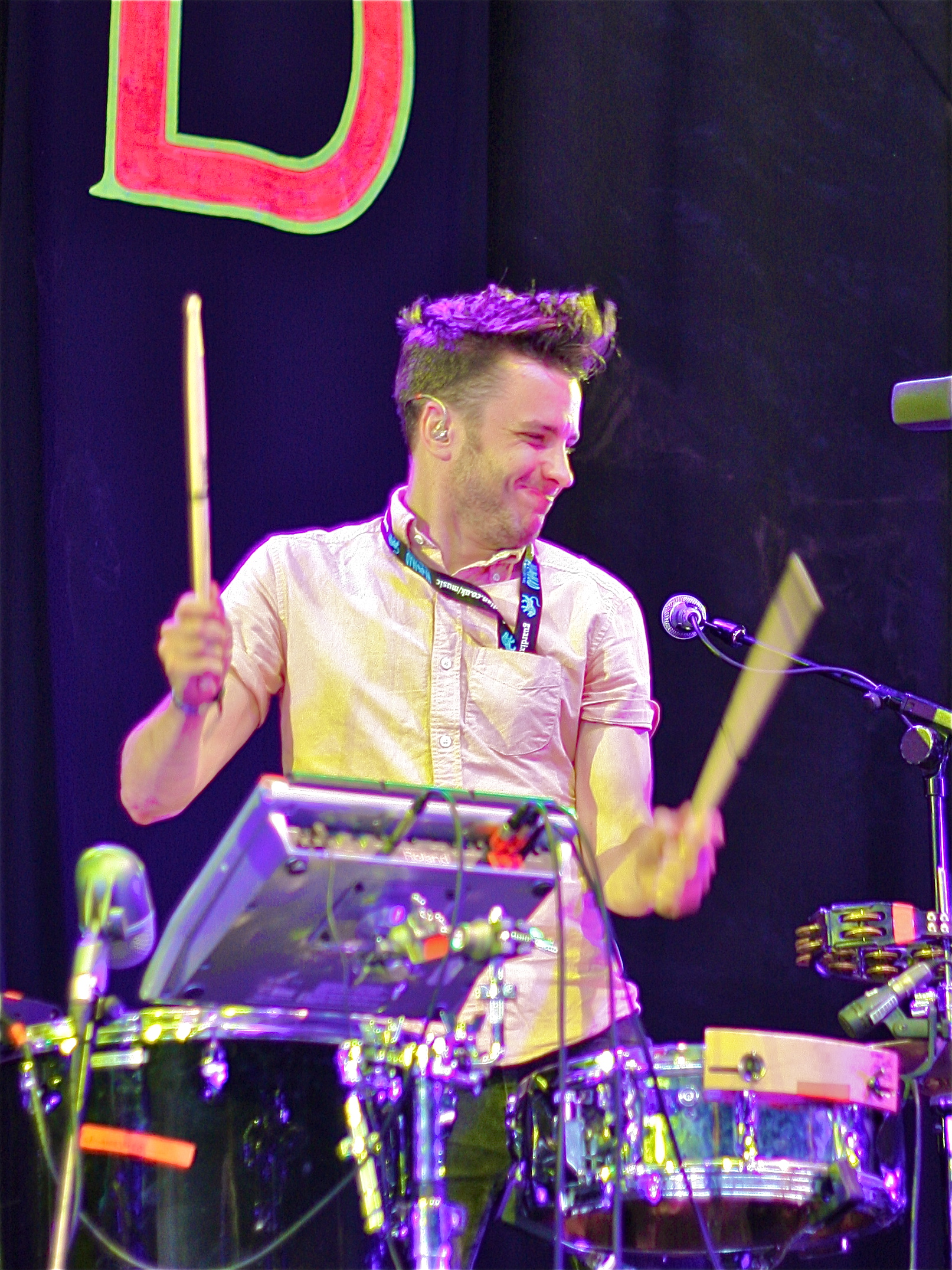 I was a little late getting there, but luckily for me they hadn't started. Unluckily for them they weren't able to start on time due to some kind of unexplained technical problems, during which the lead singer was huddled just off stage with the sound engineer desperately seeking a solution, whilst the other members on guitar, keys, percussion and bass improvised an evocative soundscape. Evocative of what I don't know. But it was evocative…
Anyway, eventually the lights came on, the singer-guitarist came back and they started to play properly.
From the almost lethargic 'mood music' of before, Vadoinmessico started gearing up and layering many different FX and dense textures of sound into their folk-pop creations.
They also injected a lot more energy into their performance - although most of the energy came via the drummer through both his playing and his facial expressions.
"a seductive personality"
The early delay meant I couldn't stay any longer and hotfooted it to the Charlie Gillett Stage halfway up the Arena where the lovely Cameroonian singer Kayrece Fotso was about to perform. This young singer-songwriter (oh, and like Raghu Dixit, from a scientific background - hers being in biochemistry!) came on with just an acoustic guitar and a delicious smile!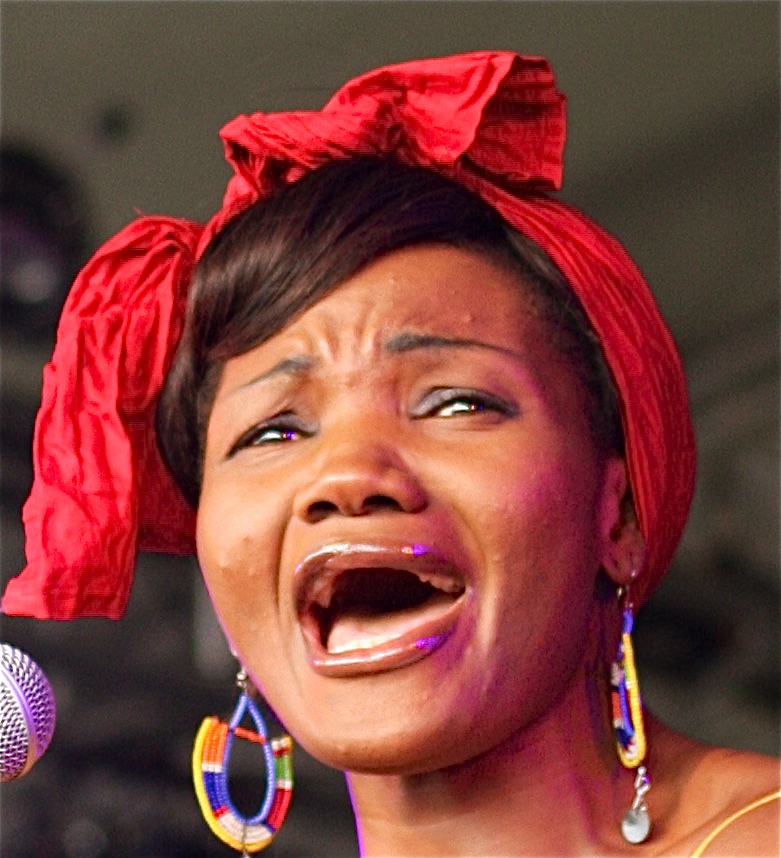 Well, obviously clothes as well - in this case a long ample skirt in pinks, aubergines, reds and golds, with a gold top and an intense russet bow in her hair and some dried fruit shakers tied to her left ankle which she used to accent her second song which was about the living spectre of AIDS destroying all the young population in Africa.
In ¾ time she stomped out a very insistent rhythm on her shaker foot against some very harsh guttural interjections of 'Ah, Oh'. Very simple but very effective.
This was followed by a track sung in both French and English entitled "I Don't Know" - again in ¾ tempo but this time slow and relentless.
Kayrece's songs and subject matter have an intensity and seriousness well-fitting a singer-songwriter of integrity, but it's also worth pointing out that when she sings, and especially when she speaks to the audience, Kareyce has very lively eyes and a seductive personality. It's hard not to be drawn in by her. One to watch.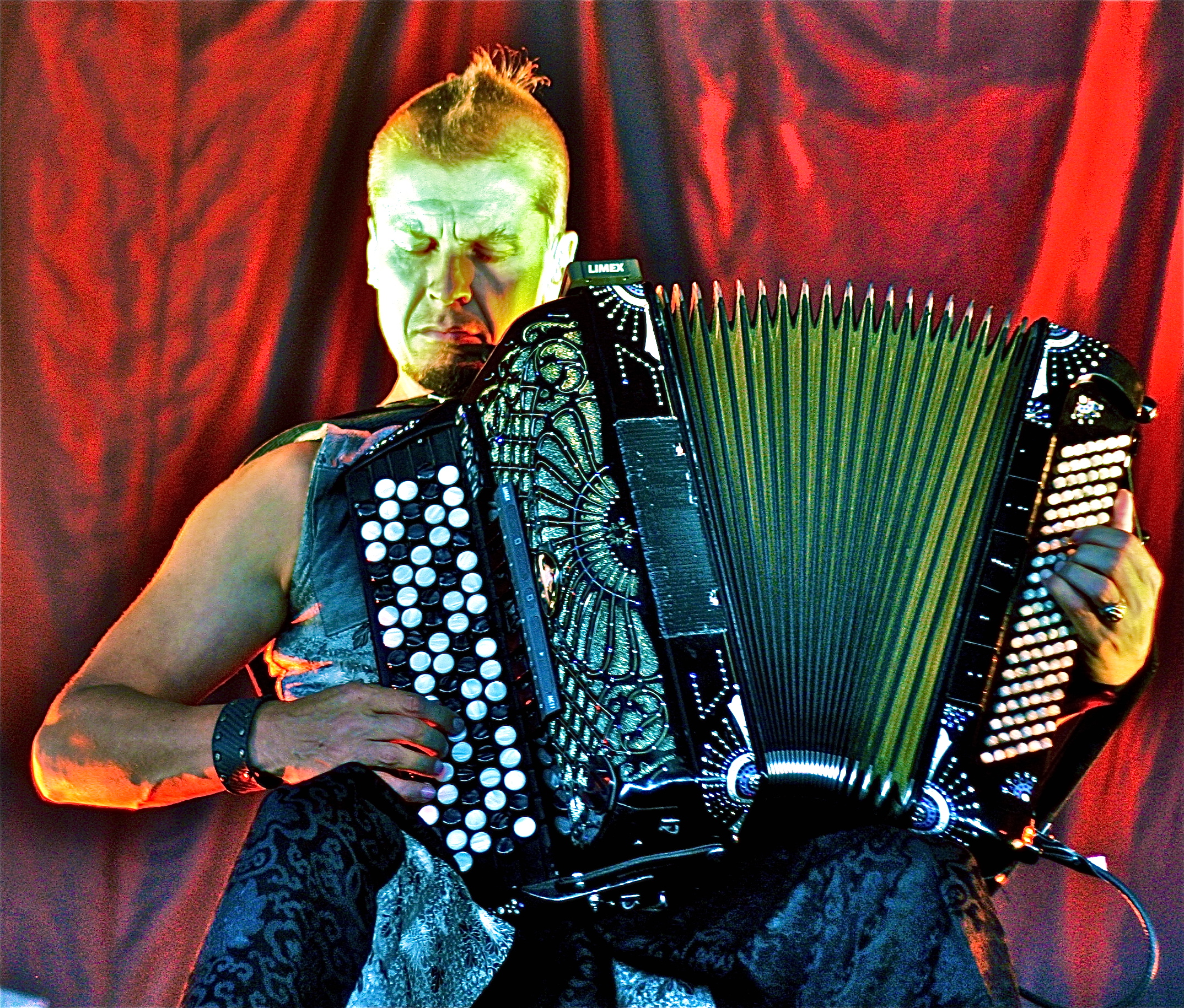 After eating and shooting English instrumental folk fusion band Spiro performing for Radio Womad (and thus, alas, missing the enticing Egyptian frame drum and vocal ensemble Nuba Nour) I caught some of the set of Kimmo Pohjonen the Finnish accordionist in the Siam Tent.
Kimmo's an apocalyptic sight with an apocalyptic sound to match. There's nothing shrinking about this guy and the only violet is the colour of the veins on his head.
The truth is, I'm struggling to remember the music, so overpowering was the physicality of its delivery and the intensity of the sounds created - it sure ain't the Skye Boat Song.
I'll go further: at the End of Days, if there's an orchestra playing at the Restaurant at the End of the Universe, then Kimmo Pohjonen will be in it and centre stage… Check him out.
"Bags of charisma. Utterly exhilarating."
With a quick stop to shoot Raghu Dixit at the Radio Womad stage, it was back to the Open Air Stage to see what the Brooklyn-based band Balkan Beat Box (now renamed - so the announcer told us - as BBB) had to offer.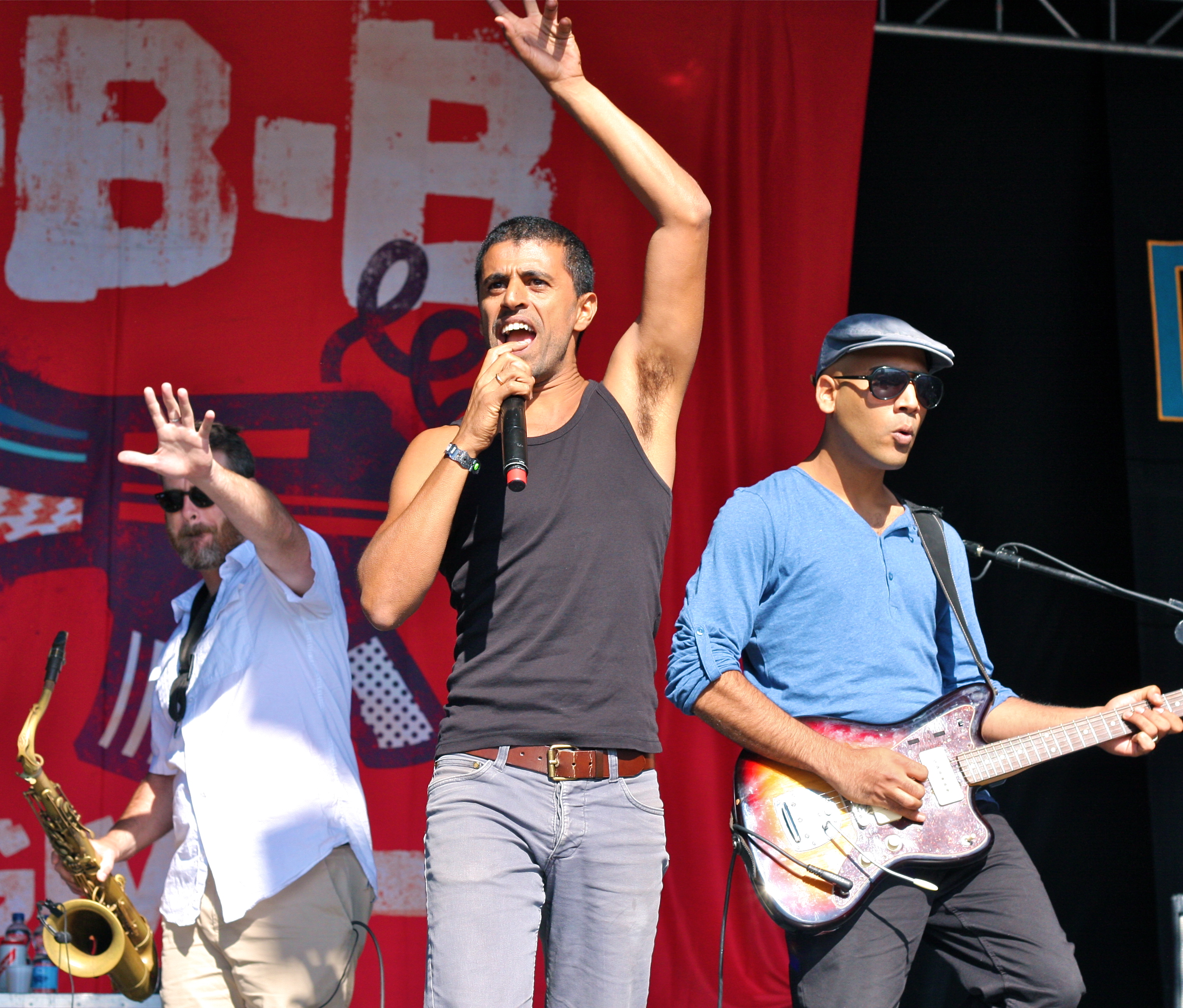 Wow! Offer they did. This was a full-on performance from a high-energy explosive band with bags of charisma. Utterly exhilarating.
I've really nothing more to offer than that. If they're on at a festival near you, grab a ticket!
Another quick photo session at the Radio Womad stage where Nuba Nour were being recorded and interviewed, and then stop for a breather to watch Femi Kuti being interviewed by the BBC World Service, before taking some snaps of Scottish traditionalists Breabach at the Radio Womad stage.
"scintillatingly electric"
As the evening started to turn into a beautiful night I headed off to the Siam Tent to see the UK-based, international festival stormers that are Ska Cubano.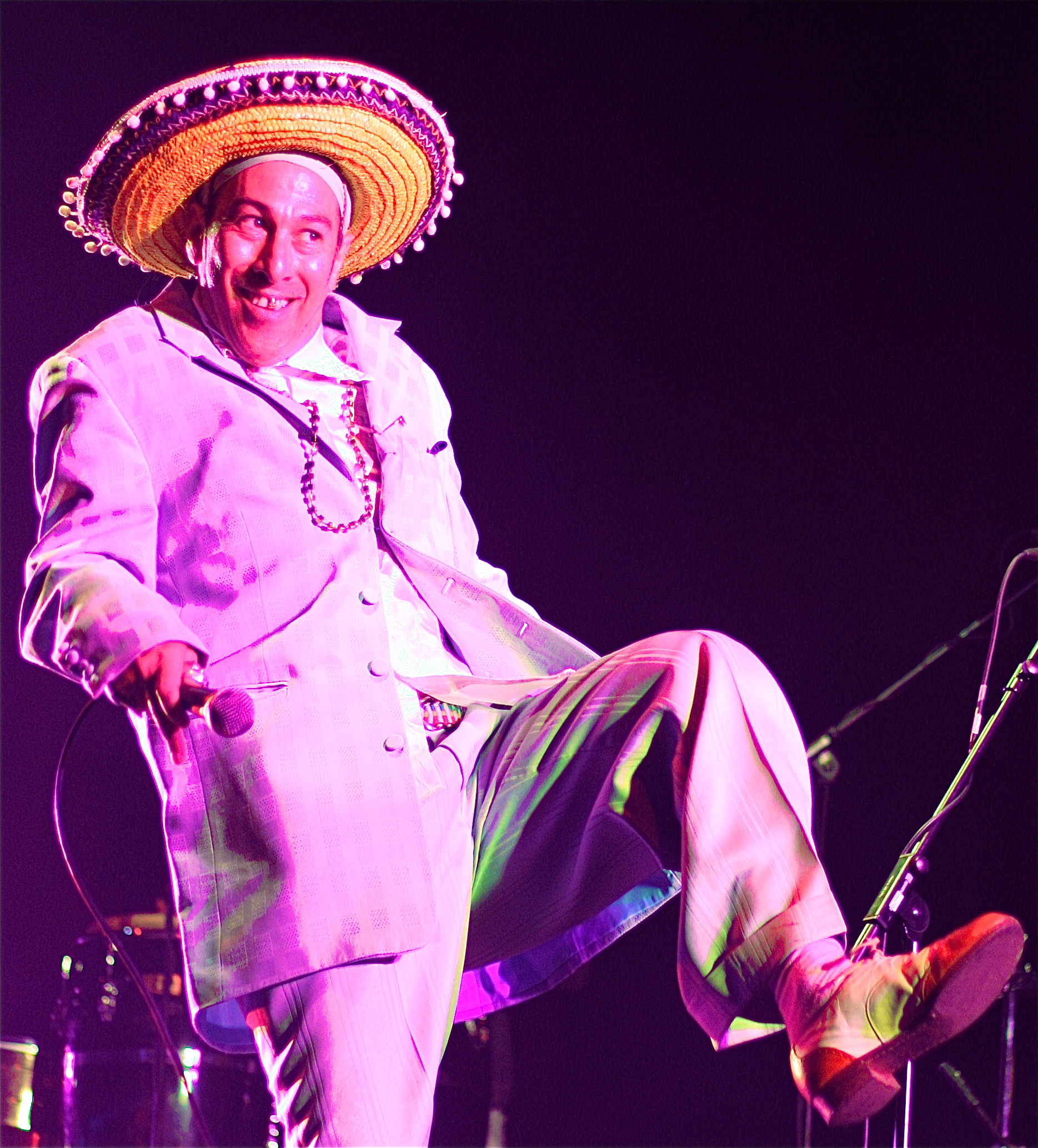 I've seen them on a number of occasions and fully enjoyed myself every time. This was to be no exception - apart from having only 15 minutes to get every ounce of pleasure out of the experience whilst undertaking my photographic duties.
Some 235 photos later - most taken whilst simultaneously dancing to the unstoppable groove of Natty Bo and Co - I had to force myself to leave the pit as per instructions. I couldn't stop dancing.
I've heard their music countless times, DJed it at clubs, presented it on radio shows, seen them live, even done live versions with bands myself - but there's still something scintillatingly electric about a Ska Cubano performance.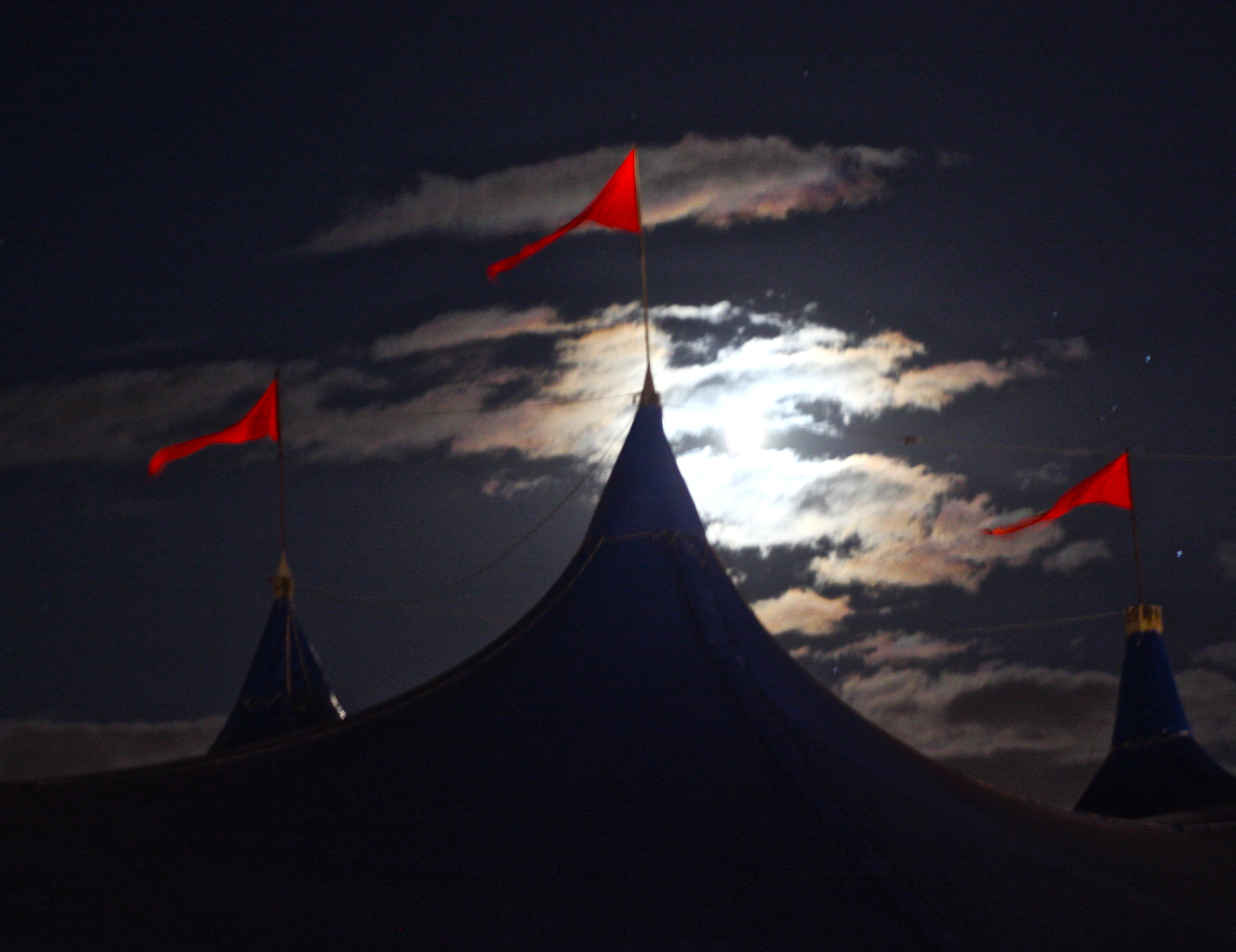 Outside, the sky is almost completely clear, but indigo dark, and the gibbous moon is intense behind the few white clouds there are. It's beautiful.
I can hear Khaled and his band giving it everything they've got over on the Open Air Stage, but food and a trip back to the tent are calling. It's at times like this that you want to clone yourself…
To finish off the night I headed over to the Siam Tent at 11pm to shoot another Cameroonian, Blick Bassy. Smooth, sweet, soft, jazzy fusions of music with roots in the African diaspora worldwide. As some jazz buff on telly once said: "Nice!"
"Coquettish yet commanding"
And the musical equivalent of the mint chocolate and strong, sweet black coffee to round off the evening? The captivating Deolinda from Portugal taking the graveyard shift from 12.30-1.45am.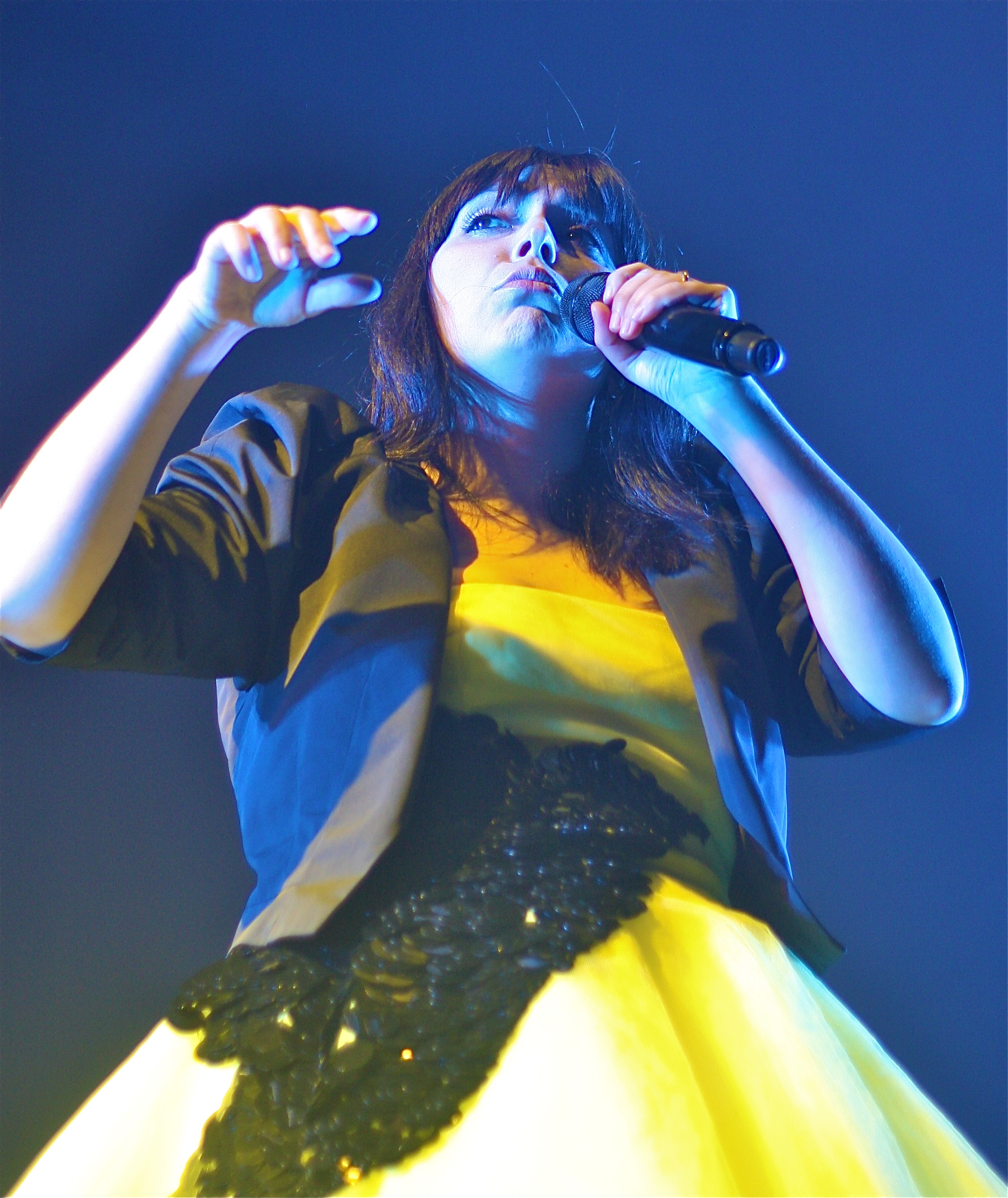 Fado, fado, meu fado. Love this music.
But with Deolinda there is always a lightness, a deftness, a wry smile that just keeps it bobbing above the profoundly melancholic. Fado is not all about doom and gloom. It can also be playful, upbeat and life-affirming and Deolinda is a good ambassadress for this other face of Portugal's most famous music.
Coquettish yet commanding, Deolinda held court in a short black jacket and an almost kitsch, lemon-yellow frock accompanied by her trio of two guitarists and a double-bass player.
A magic way to end Saturday at Womad. What a pity I couldn't stay awake any longer. I spotted a friend of mine supine on the floor snuggled up against one of the huge tent poles, her mind probably already aboard a Lisbon barco heading off under a starlit sky towards the deep dark Atlantic.
And so to bed, and so to bed…
Sunday, the final day, started off much cooler and what was that I could hear hitting my tent? Rain? Really? The drop in temperature was almost welcome, the rain wasn't. Fortunately it was just a shower and by the time I'd walked past the half-hour queue for the shower en route to the loos and back, it had passed over.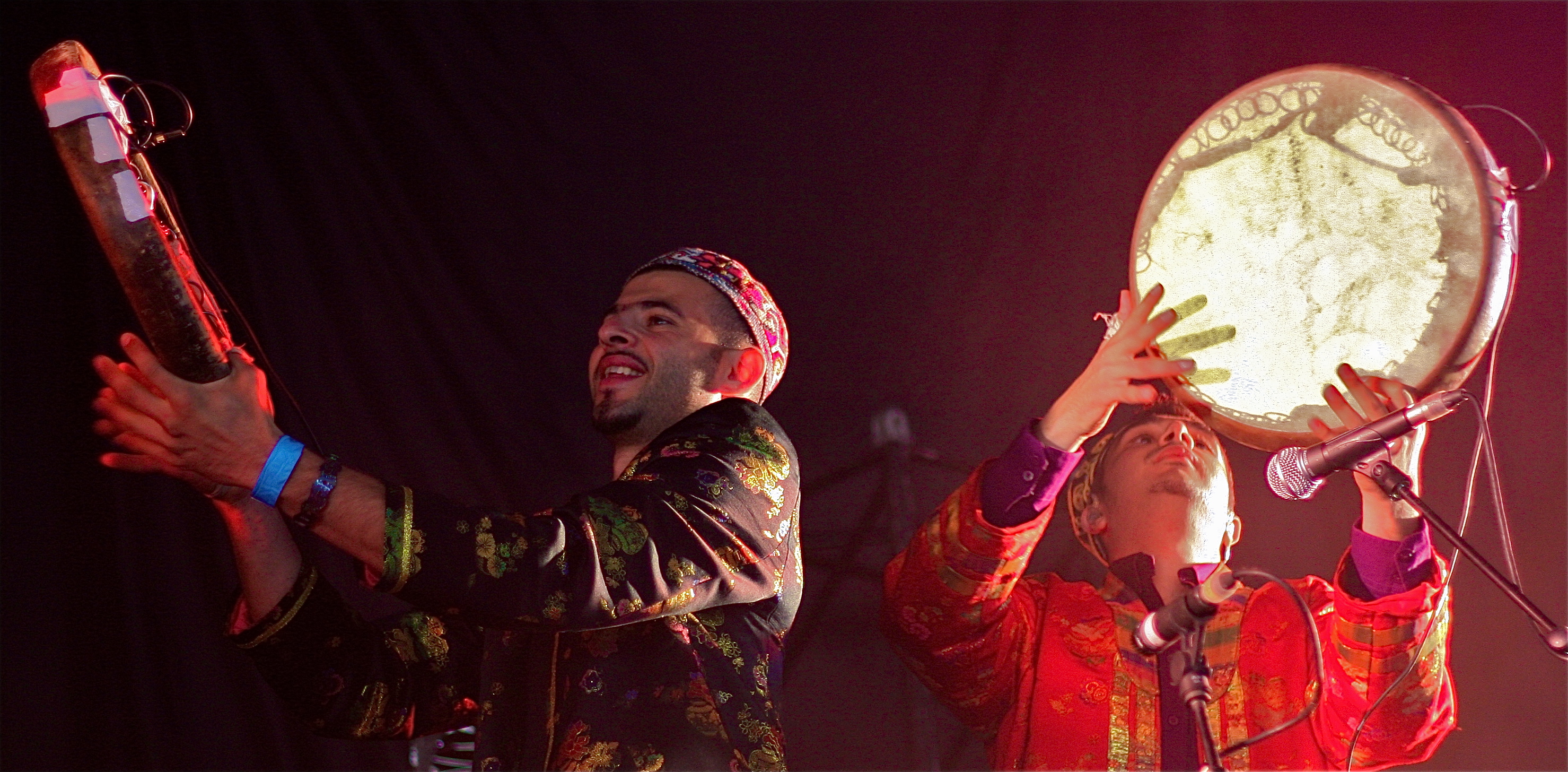 So, final day to cover and it started with the Alaev Family. Didn't know anything about them, but thought it might be a nice gentle way to start the day. Ha ha ha! Beware of assumptions. The Alaev Family were not at all what I thought they'd be. A very pleasant surprise!
Hailing originally from Tajikistan and now resident in Israel, the Alaevs are from a Central Asian Jewish background. Their music draws upon the traditions of both Tajikistan and the neighbouring Bukharan region of Uzbekistan and heavily features vocals and percussion, often played on hand-held frame drums (called doira), although they also incorporate zither, accordion, violin, bass guitar, drumkit, clarinet and timbales.
With each member of the three generation family wearing beautifully embroidered costumes and hats in a dazzling array of rich reds, purples, pinks, burgundy and gold there was a lot to see on stage.
"utterly irresistible"
But it was their amazing energy and spirit that really hit home. Whoa! There was nothing quaint and polite about this, trust me! My head was saying "take photos, take photos" but my body had a completely different agenda, deciding all it wanted to do was thrust my hands in the air and dance till I dropped! The Alaev Family are utterly irresistible once they start playing. Be warned, beware of the music, it'll bewitch your mind and liberate your limbs…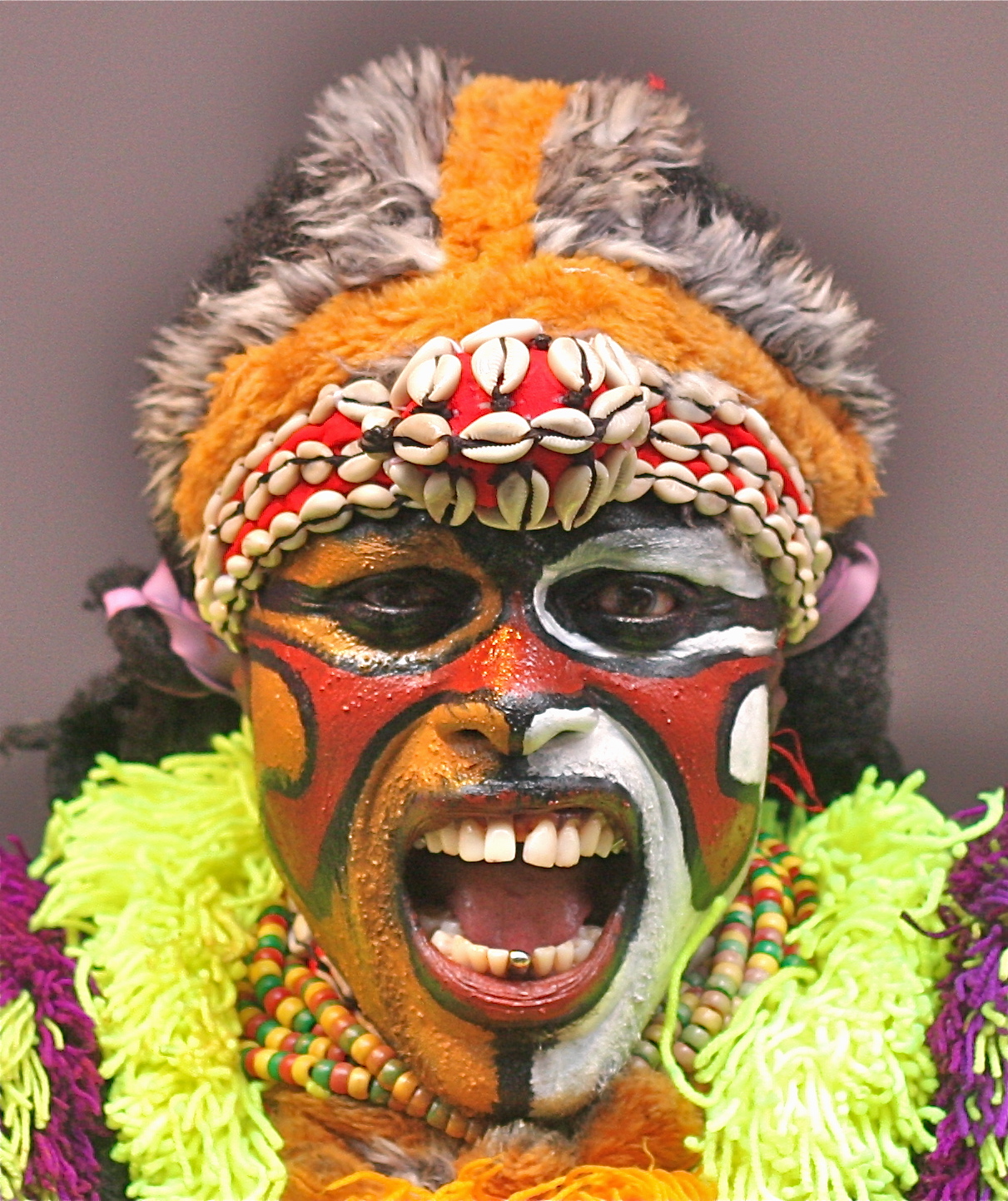 Yet another visual and rhythmic overload was provided by the next act I saw. This was a performance by The Lions of Africa on the Charlie Gillett Stage. It's a mixture of dance and music that recounts the ancient Senegalese tradition of 'simb' or the lion. The blurb states that it's "a magical ritual handed down by griots through the generations" each artist putting their own stamp on the story and the performance.
In this one the Lions of Africa are led by master drummer Modou Diof and two other drummers. These guys alone are worth seeing for their undeniable skills, complex rhythms and electrifying playing. But the stars of the show are the dancers. Dressed as a wild lion who intends to attack a village of terrified villagers the lead dancer is almost demonic in his make-up, facial expressions and acrobatic leaps. These guys are full on and plugged straight into the mains.
The energy levels were ramped up so high, it's surprising the whole ensemble didn't short-circuit themselves! Very impressive. The villagers fight back as the griots start to dance, drum and sing to ward off the lion with feats of strength, artistry, acrobatics and endurance. As ever I could only catch the first 15 minutes of what was a ¾ hour performance; but what I saw was testimony enough to the potency of Senegalese arts.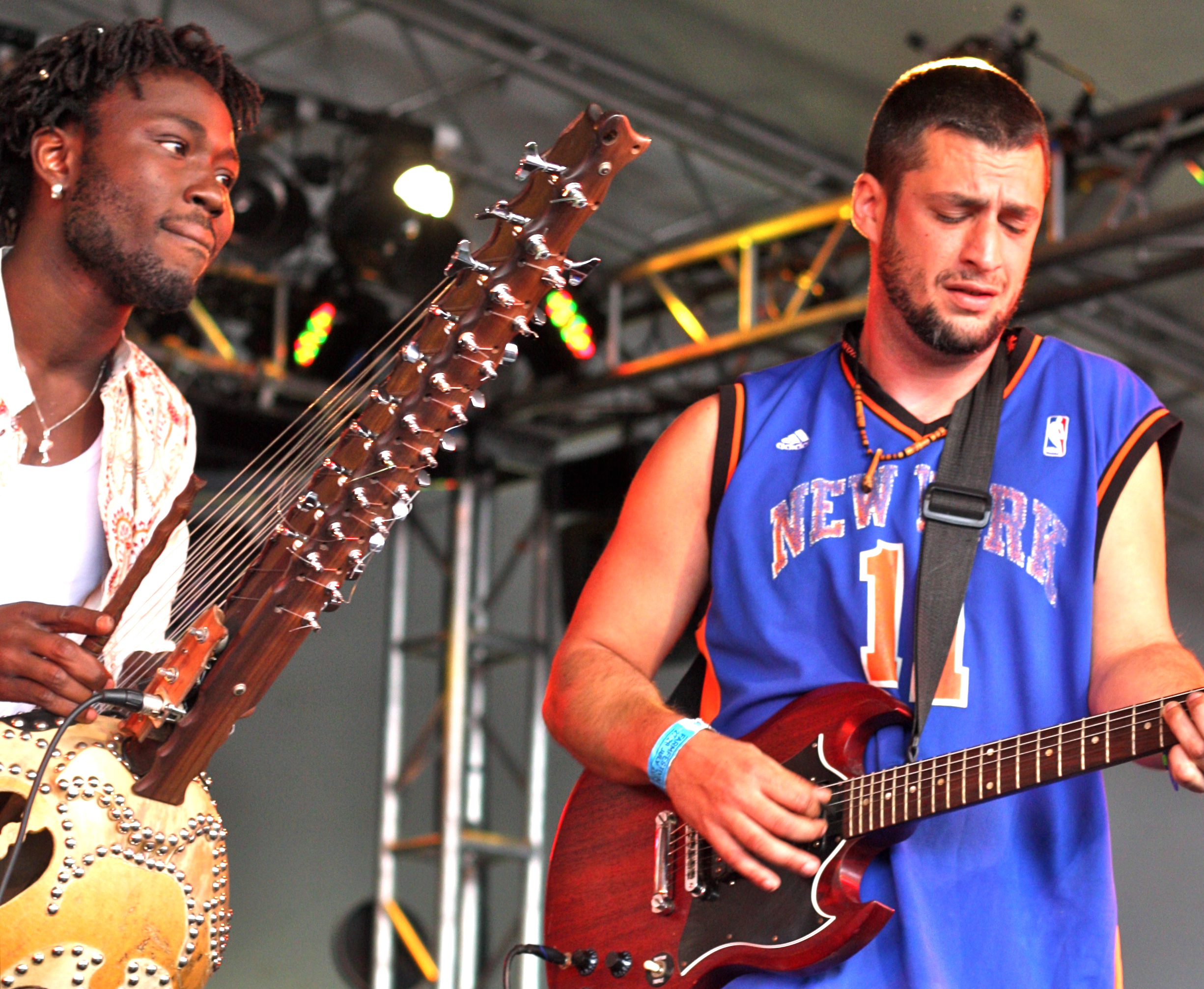 Quick bite to eat and then back to the Charlie Gillett Stage to see a very unusual pairing: Joe Driscoll (from upstate New York) & Seckou Kouyate (from Guinea Conakry).
Collaborations aren't unusual at all in the world music scene, but I suppose it's more the unlikeliness of the personalities. They'd met in Marseilles where they did a performance together, even though neither spoke the other's language. Music, of course, always has a way of sorting these minor problems out though! After some weeks of jamming they realised they were onto something, with music that encompasses influences from folk, reggae, hip-hop and various West African styles, but which falls into none of them.
I'd seen the excellent Seckou Kouyate earlier on this year touring with Cuban pianist Roberto Fonseca and he'd struck me as gifted, but almost painfully shy, barely able to lift his eyes to look at the crowd and then always fleeting and nervous.
"Springsteen meets Electric Griotland!"
On the other hand, Joe Driscoll instantly struck me as, well… very American, if you get my drift. Confident, breezy, outgoing, completely at home in front of a crowd. You could imagine him going to baseball games, sitting in a bar drinking beer with his mates and leaping on and off a subway. Cee-Lo Green described him once as "the gangsta with an iron lung". The rest of the band was made up of bass guitar and drumkit.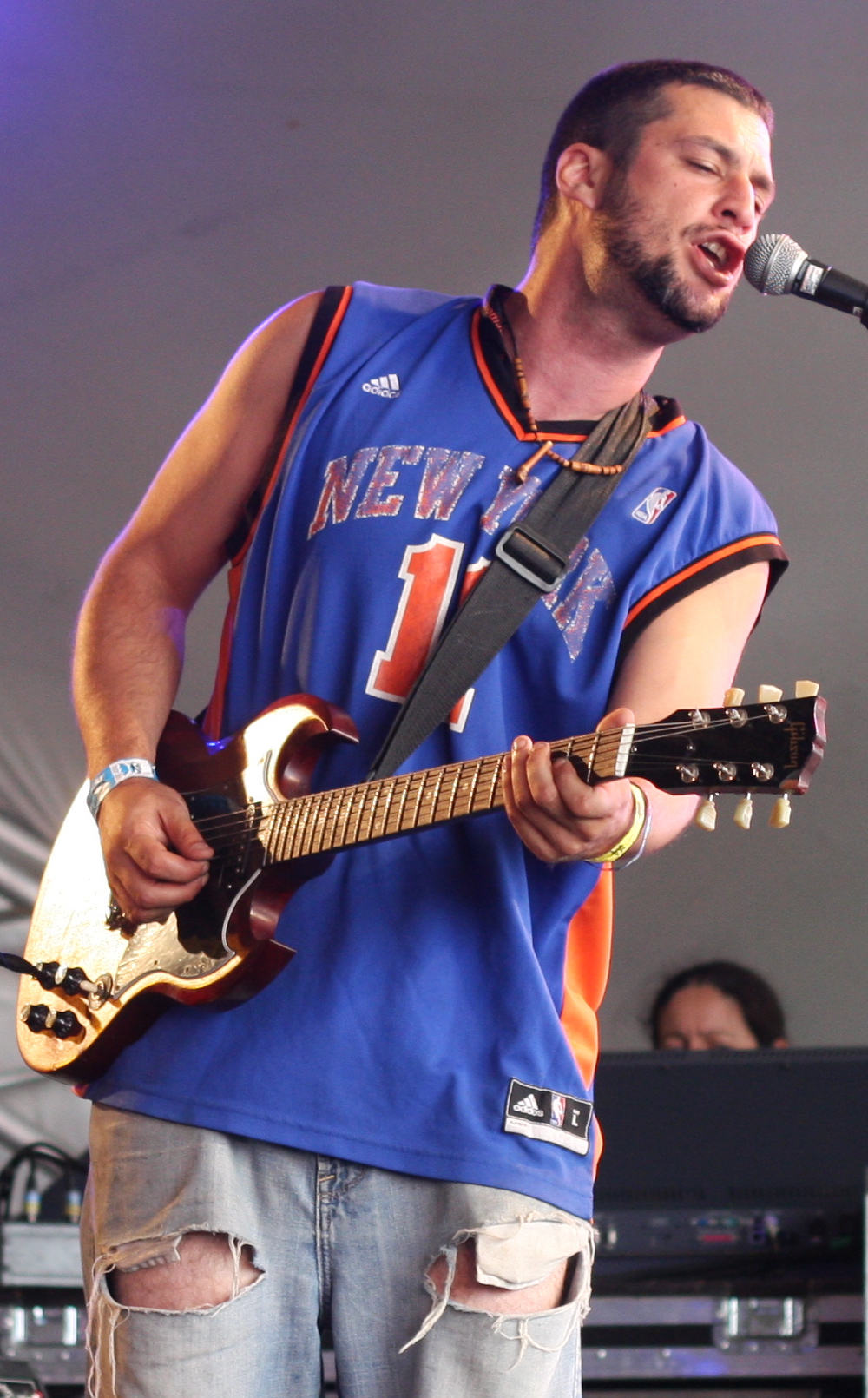 The Womad brochure described them as "rap meets kora", which, if anything, kind of put me off. However, the music and vibe was actually more like Springsteen meets Electric Griotland!
Driscoll has a quirky charm which belies his laddish image (he looked like he'd just grabbed some old clothes back out of the 'to be washed' pile and shoved them on again) and an intriguing way with lyrics, as well as some interesting facial expressions, weird body postures and hands that flapped about when not on the guitar. You definitely warm to him.
Seckou on the other hand was his usual quiet self, standing fairly still and 'apart' on the left of the stage.
Dressed in a knee-length, white jacket that was embroidered with cream, beige, brown, red and gold silks and set with turquoise and amber rhinestones, and some 'designer-ripped' jeans (poles away from Joe's 'how many times have I come off a skateboard-ripped' jeans!), Seckou had a far-away look in his eyes. Even when singing he seemed slightly disengaged.
However, as the songs developed he seemed to relax, occasionally glance over at Driscoll and smile. He even focussed his eyes on the audience and started to move his body to the music.
"slices open your brain and messes with your head!"
And what music! It's very cool in style, but warm in feel. Driscoll's acoustic guitar and vocals (often utilising rap, hip-hop and Jamaican dancehall rhythmic patterns) cradle the song and set up a trance-like rocking that puts your body on auto-pilot and draws you in to where Kouyate's amazing kora just slices open your brain and messes with your head! Wow! Didn't see that coming.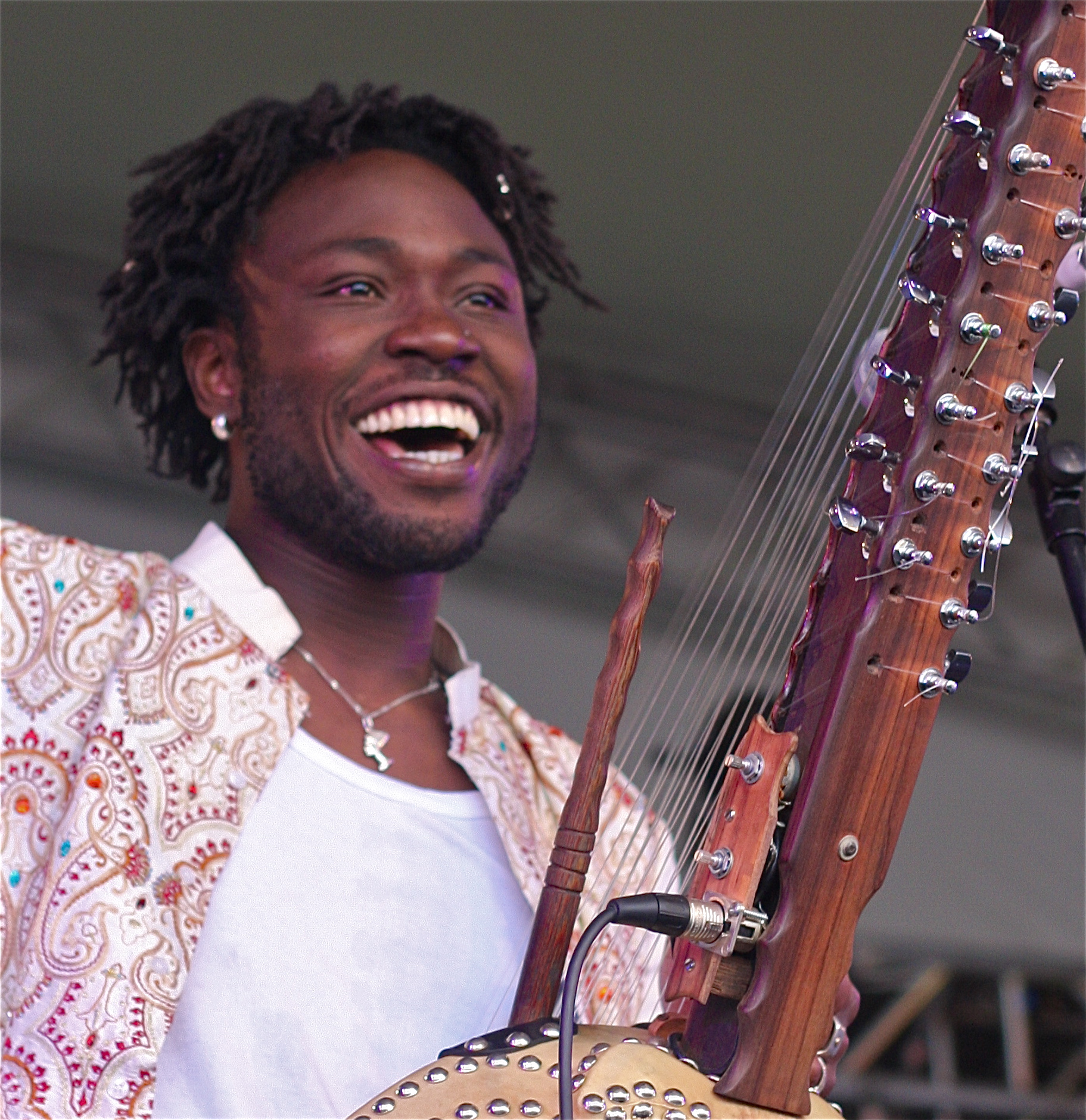 Even better, Kouyate's obviously more relaxed now and begins to smile to himself as he plays, firing off sonic bullets from his kora. But it's when he taps on one of his effects boxes and turns his kora into a fuzzbox inferno that you see why he's known in France as "the Hendrix of the kora". The effect is completely unexpected and instantly electrifying.
There's no stopping these two now. With Driscoll bent over his guitar dancing his butt off and gurning away, Kouyate starts to smile wider and wider. It's as if someone's turned on the floodlights - his teeth are brighter than a roomful of BeeGees!
The whole band are locked into an unstoppable groove and I'm getting that oh so familiar feeling of warmth, adrenaline and dizziness when the music hits and you get lifted up on a natural high…
And then I realise my 15 minutes are up and it's time to move on. Aaaaaargh! Noooooo! Still, this is yet another band to add to my wish list. Catch 'em while you can!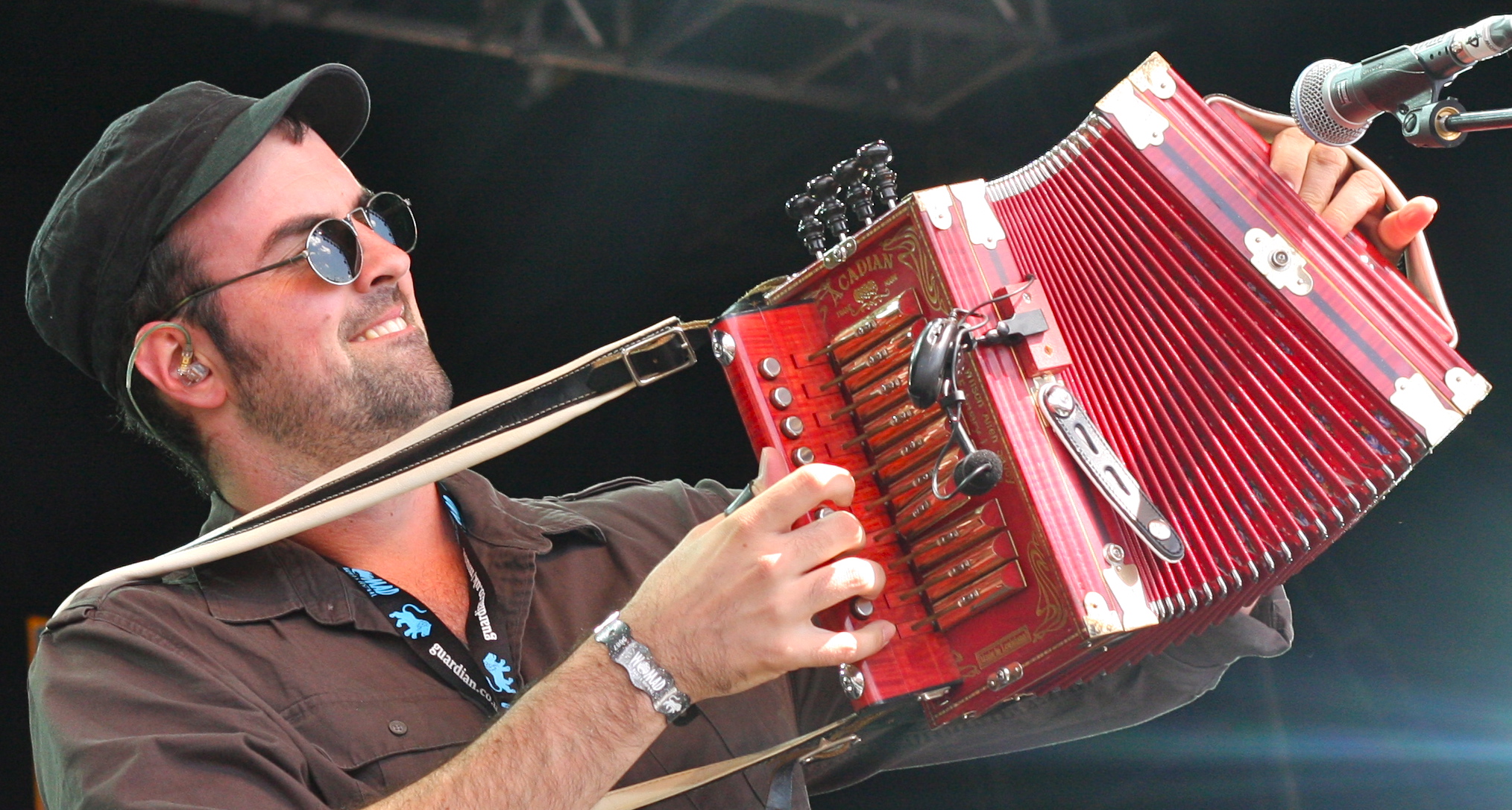 Racing back to the Media Centre I nip round to Radio Womad and shoot a few photos of the Alaev Family being interviewed and then it's round to get in the pit ready for a slice of Cajun heaven from the Pine Leaf Boys.
The five piece play a mix of Cajun and Creole music from their homeland of South Louisiana.
No strangers to Europe and the UK their leader Wilson Savoy (of the famed Savoy Family Band - who also played Womad recently) stated that it was their last day of their UK tour and and this was the gig they all really been looking forward to.
With violin, squeezebox and acoustic guitar at the front, and backed by bass and kitdrums, the boys delivered a faultless set of classic cajun music, with even the drummer handling some of the vocals.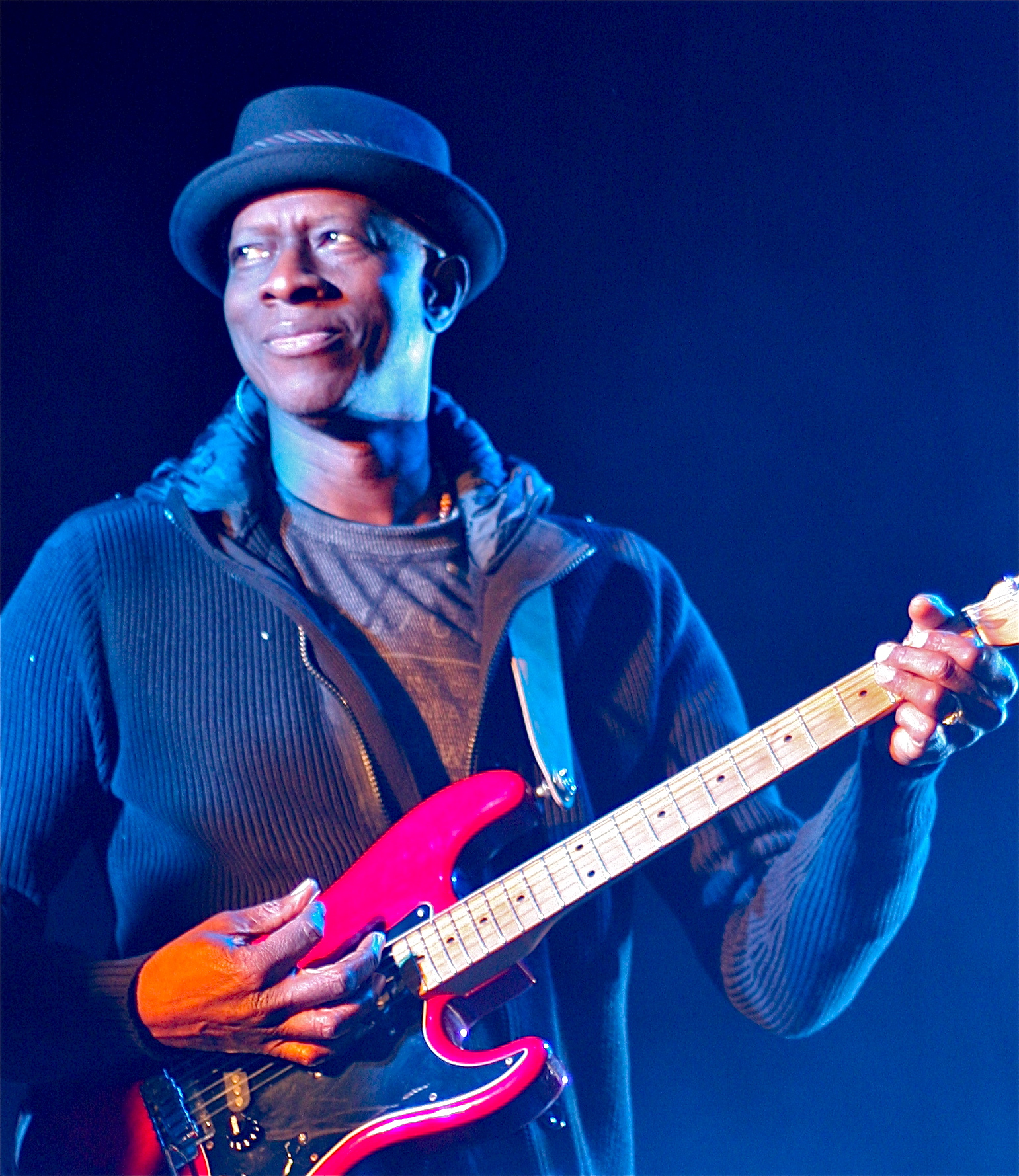 Passing by the Siam Tent again I spent a little time shooting and checking out Keb' Mo'.
Now, I very much like cajun music, but I like the blues even more and this three-times Grammy award-winning guitarist is the man to deliver.
Keb' (born Kevin Moore - hence Keb' Mo') is a man for whom the words "polished' and "assured", not to mention "consummate", and "professional" were made to measure.
There's almost not a lot else left to say about that, apart from his looks belie his 61 years by a significant amount and his music just gets you right there.
Great backing band (keys, bass, drums and rhythm guitar) and a nice bass solo.
"As smooth and rich as rum-soaked butter!"
Keb' Mo's music is as smooth and rich as rum-soaked butter! Definitely need to get hold of some of his albums!
Race off down to the Big Red Tent next for what promises to be a very interesting spectacle if only based on the name alone: DJ Yoda and the Trans-Siberian March Band! My brother was raving about this so we'd agreed to meet up there and make sure it was well covered.
Now, I have no notes from this or the next three bands so this is very much from memory, but I seem to remember waiting a heck of a long time whilst yet another problem was sorted out in the Big Red Tent. Although, admittedly Yoda's partners the 13-piece Trans-Siberian March Band need an awful big soundcheck - no easy D.I. plugging in for these guys!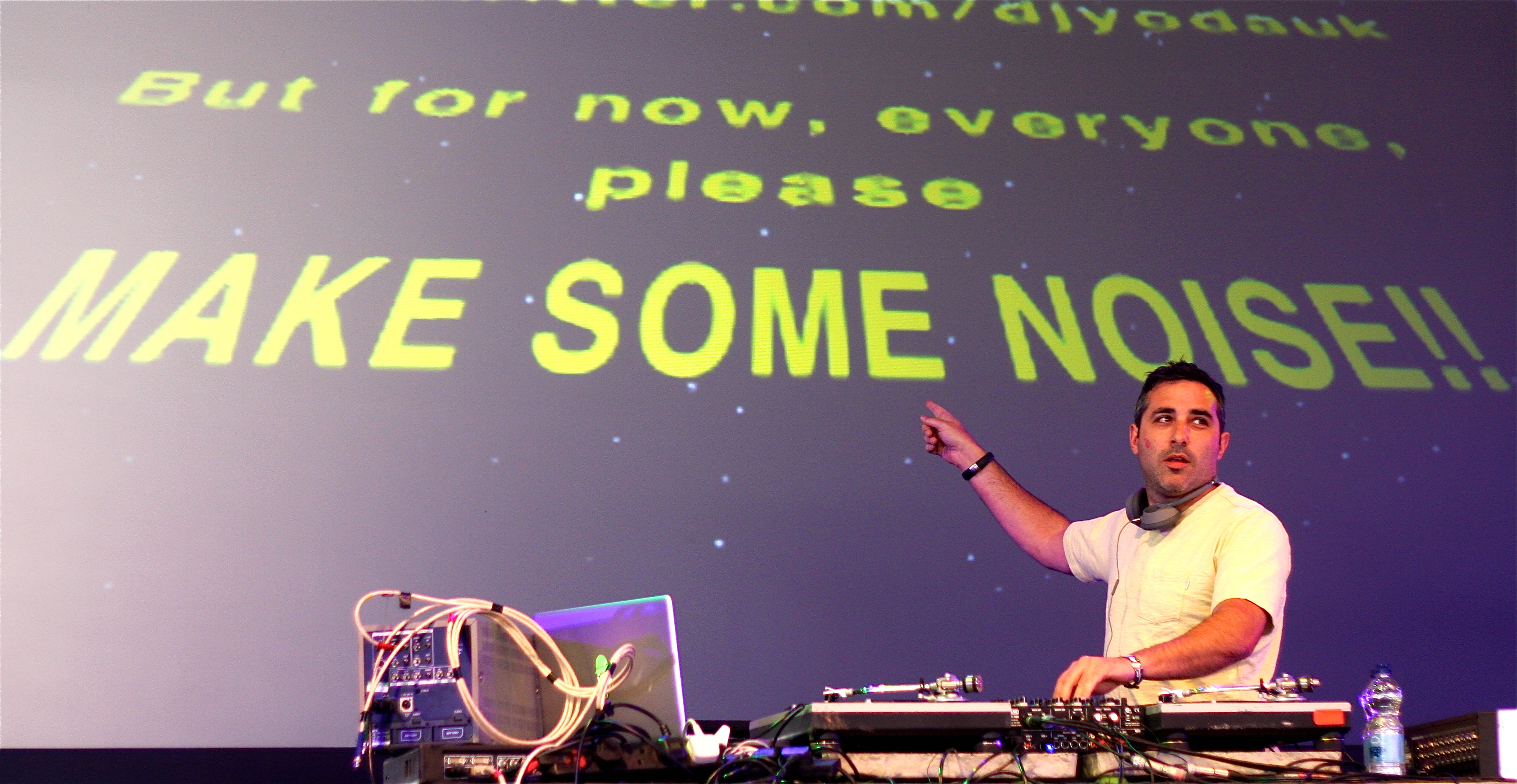 I'd better explain, DJ Yoda is a 'don' turntablist - with but one mission: to rock the house to its core!
It's his sense of visual and musical humour that marks him out from the 'worship me' variety of ego-centric DJs.
So, for this Womad he decided to appear with a 13-piece group of massed brass, reeds and percussion to add some extra power and a whole heap of cartoon comic silliness to the proceedings.
Once they were all finally soundchecked (a monumental task) they musicians left the stage and I turned round in the pit to survey the absolutely ram-jam-packed Big Red Tent. It was heaving!! It appears DJ Yoda carries some serious clout. Whilst us photographers were beginning to worry that the delay might affect our ability to get to the next shoot, Yoda started up. I cannot adequately describe the dense layers of sound and image that he conjured from split-second to split-second, but in the blink of an eye and the damage of an eardrum I became an instant convert to the intergalactic cause. DJ Yoda, may the force be with you indeed.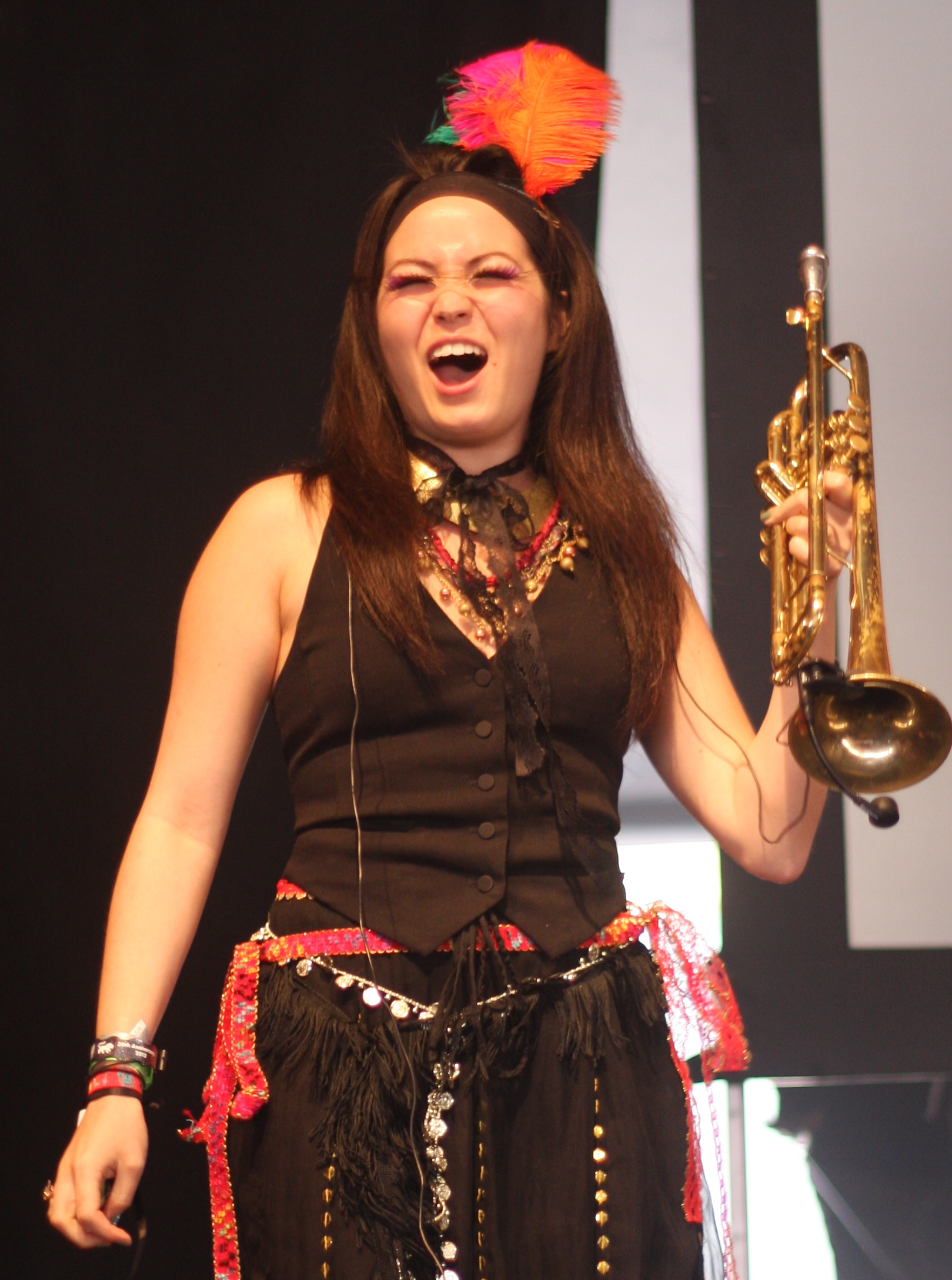 We were allowed to photograph him for a few minutes and then were told to wait stage-side until the full band came on. It was an agonising wait. One reason was for the agony was the relentless ticking of the clock and the knowledge that I needed to get back to the other end of the Arena well in time for the Buena Vista Social Club.
But the other reason was a literal agonising. I've seen and played in some deafening bands in my time (Deep Purple, mid-70s, I hold responsible for my tinnitus), but as I walked from the pit to the side of the stage I was in no way prepared for the jet engine strength sonic boom of Yoda's bass bins. Oh my god! My body was moved in ways no-one's ever managed to do! I think my internal organs all landed up in different positions and my brain-waves must have been permanently altered. I am not joking when I say that the decibel level was truly awesome. I was in awe. And then some. Not to mention shock. A kind, calm, placid, lady steward in a flowery-covered hat looked over at me and mouthed: "Take these" and handed me some industrial strength ear-plugs. I owe her my ears.
"hitting the auricular G-spot every time"
The music though, was faultless, exhilarating and very cleverly spliced together. The crowd were going wild, mental, transported to a million galaxies. And this was just the first 10 minutes! Oh my days! Yoda himself was bent over his desks and laptop looking up to see the effect he was having on the crowd and grinning away when he knew he was hitting the auricular G-spot every time. Missus.
Eventually, the Trans-Siberian March Band trooped on and the press photographers were let loose once again in the pit. "Five minutes, that's all!" we were told. Fair enough.
We ran around like a load of loons. Who on earth to photograph first? The asian trumpeter with the pink and orange feather in her hair? Their top-hatted conductress in fetching ring-master's jacket? The rather butch-looking trombonist in drag? The lip-sticked guitarist not in drag? The tuba player who looked she'd just walked off the set of Holby City? "That's it, time's up!"
We left with big smiles on our face, but whether from the spectacle, the music or just that my face had been permanently rearranged by the soundwaves, I can't tell…
"Cuban Royal Family of world music"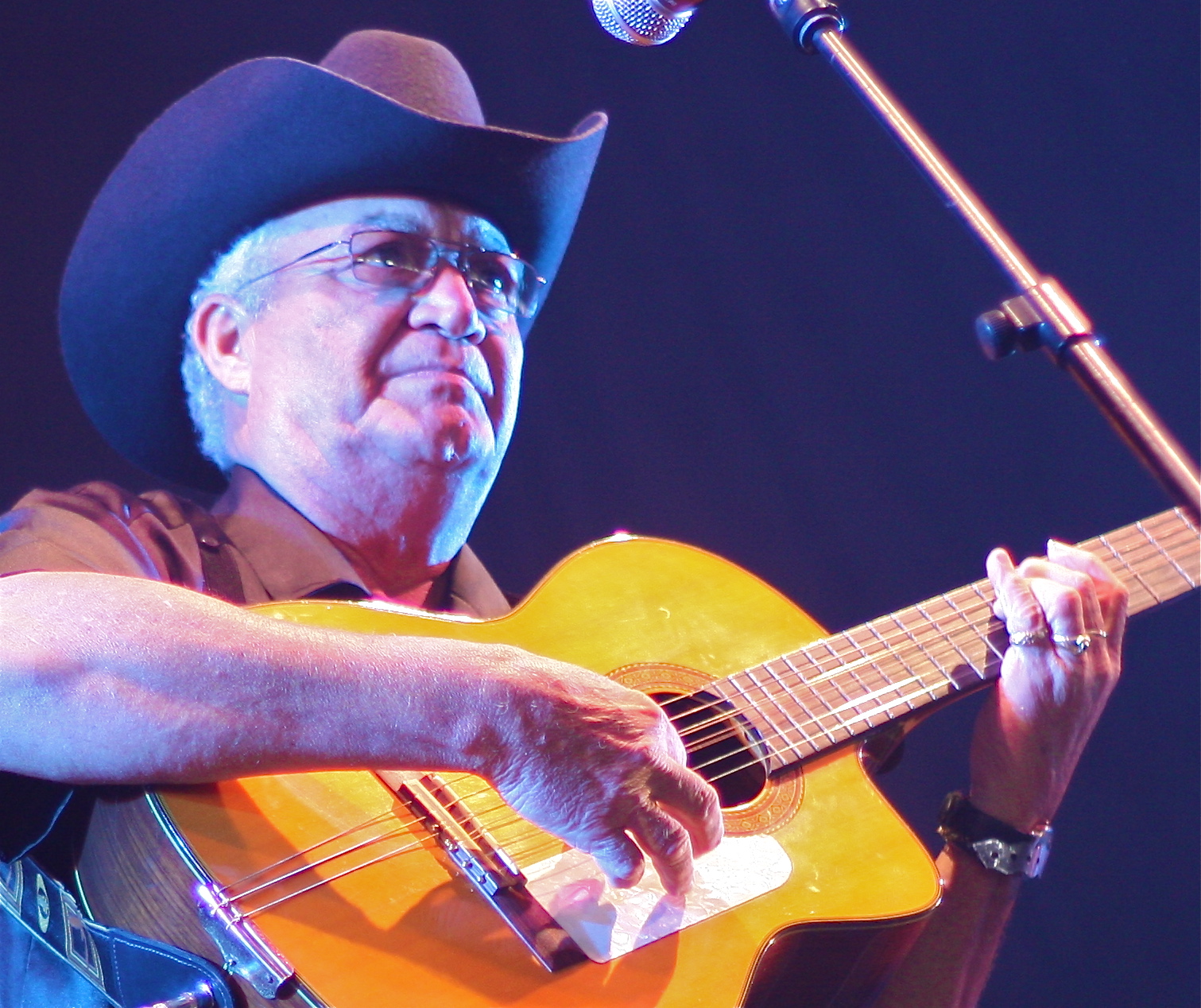 Out the back of the Big Red Tent and run and walk and pant and wheeze all along the dusty perimeter road to the Siam Tent and one of the big guns of world music, virtually the Cuban Royal Family of world music, Orquesta Buena Vista Social Club.
Now, obviously, not many of the originals are left with us now, but still it's a class act.
One of the integrants on this particular tour was the great Eliades Ochoa (who I saw at Womad last year with Afrocubism - see review here: http://worldmusic.co.uk/afrocubism_womad_charlton_park_29711).
The other was their featured vocalist, the wonderful Queen of Cuban Music, Omara Portuondo (now 81). I also spotted the world's leading laud player Barbarito Torres in the line up and Omara's husband, the 75 year old tresero Papi Oviedo. I'm afraid I don't know the names of the other members, but you just know they drip quality.
"the soundtrack to the life we should have been born into…"
We had one song to shoot in at first. This was because Ochoa was kicking off the singing and then we were told we could come back a bit later on, when Omara took to the stage. And so it was.
Once again, with Buena Vista it was like coming home and slipping into a hot scented bubble bath after a tiring day. There's just something so ineffably 'right' about the music, the sound, the atmosphere, it almost defies analysis. I'm sure most people who hear the OBVSC or indeed any of the Cuban greats share the feeling that this is the soundtrack to the life we should have been born into…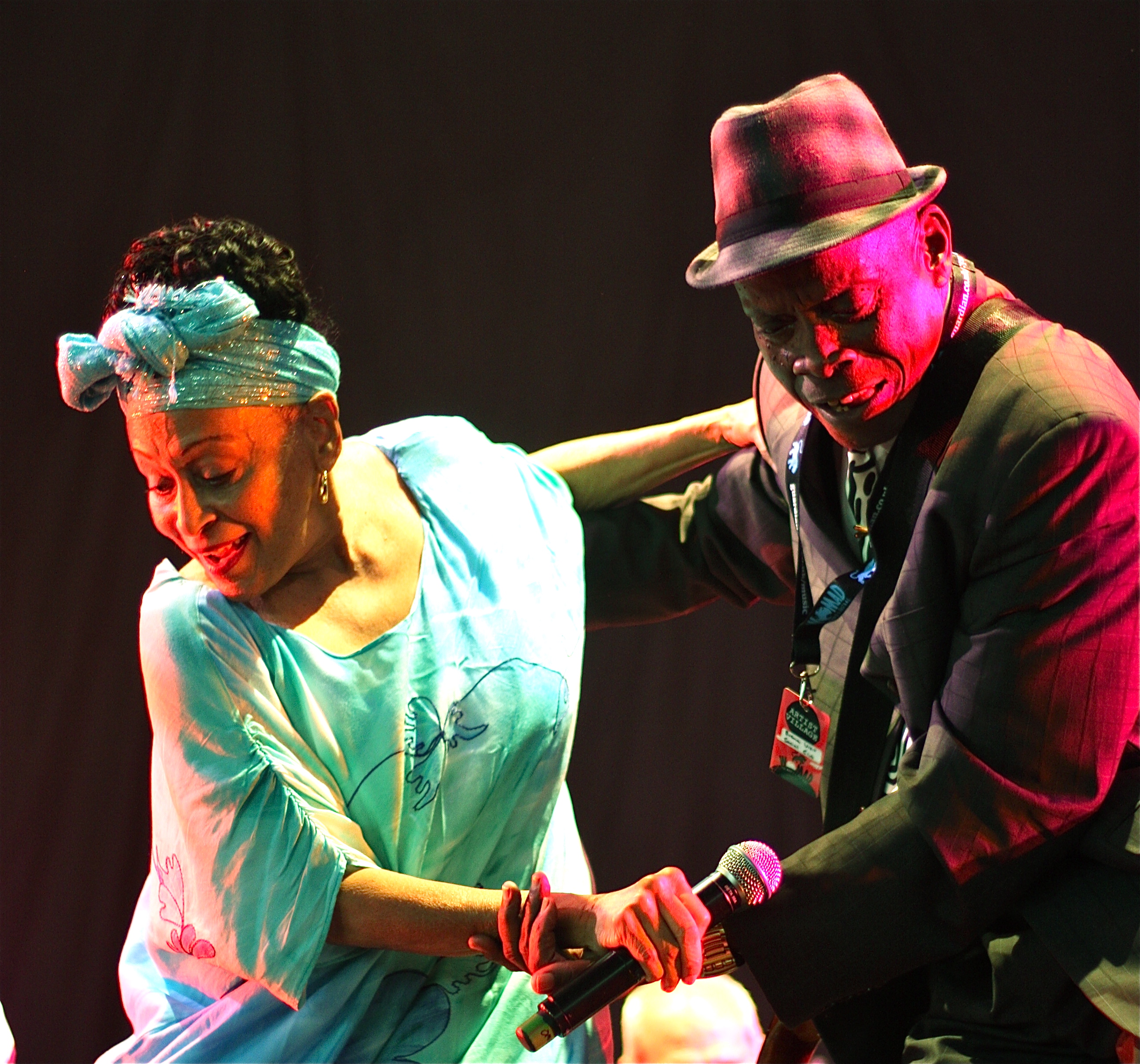 One of the highlights for me was when the diminutive - and sometimes rather frail-looking - Portuondo dragged her husband up from his place behind her and the two of them started dancing together. But hey, no crap 'wedding dance smooch' this! No, no no! They flirted, wriggled, giggled and showed off what their footwork and even ended up 'wining' down to the ground - to wild cheers of course. Fabulous. I want to be like that when I grow old too!!
I said Omara was looking frail. Well, in a sense, yes. I've seen her a few times now (the first time was when I met her in Havana in the mid-90s) so I'm always going to see the difference, but believe me her spirit is as strong as ever. This lady loves to perform.
Like I said: the Queen of Cuban Music. I'm blessed to have seen and heard these giants when I could. If there's a heaven up there then you can be sure that it's got a bar full of mojitos, a wooden dancefloor and a Cuban orquesta on the bandstand . . . Bliss!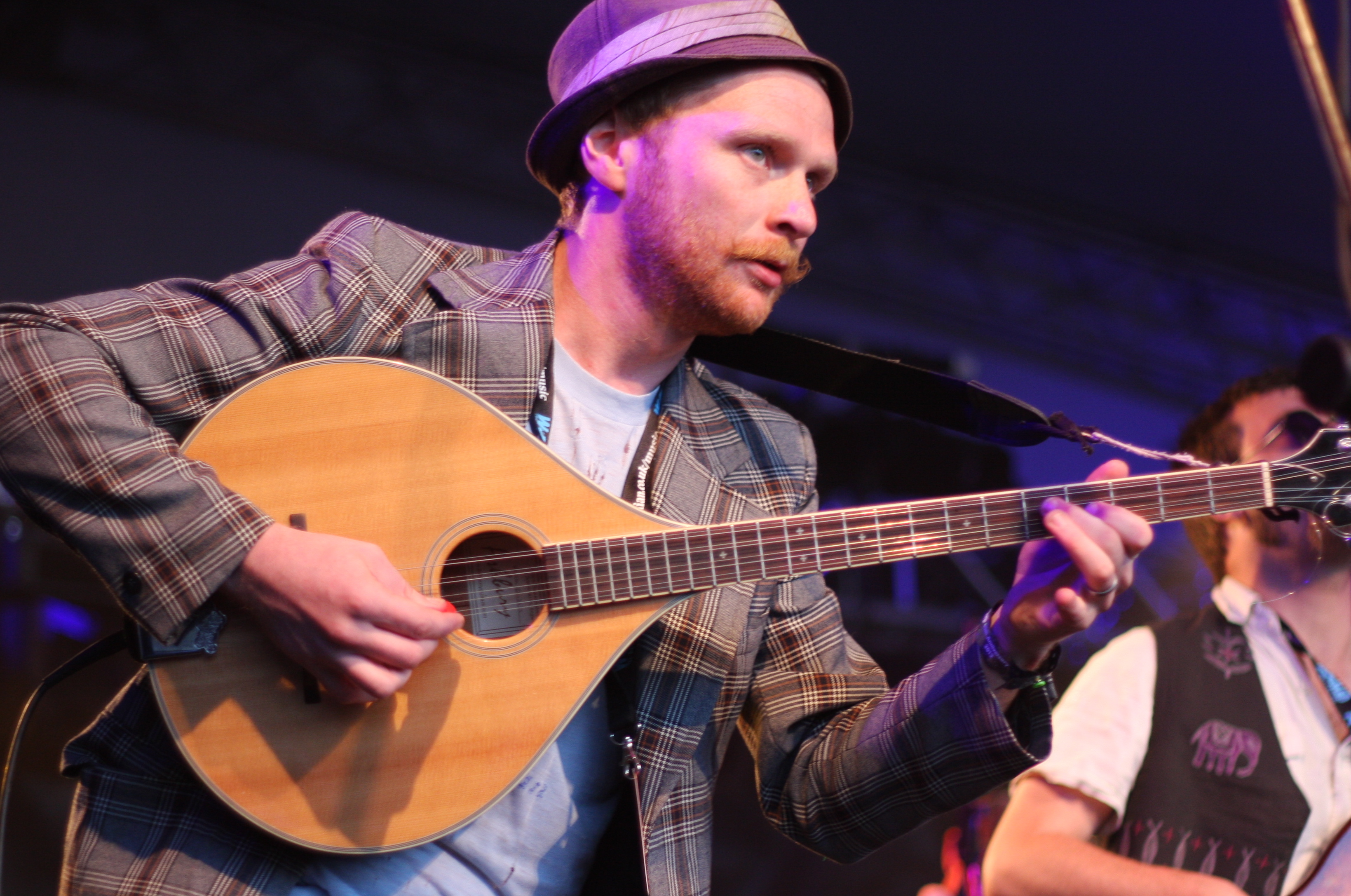 The evening was thickening now and I only had a couple more acts to cover. The next was another band I knew nothing about, but who sounded interesting.
Balkan Alien Sound are a 7-piece Irish band from around Derry and Donegal. Ok. Not exactly Serbia, but who cares these days.
With a repertoire that encompasses gypsy, klezmer and balkan musics these guys have been building up a reputation worthy of a place at Womad.
I went down to photograph them at the Charlie Gillett Stage and really enjoyed their sense of purpose and fun. They certainly seemed to be having a good time and that's always infectious. The line-up includes leader Martin Coyle on bouzouki and the others on fiddle, accordion, bass guitar, electric guitar and drums.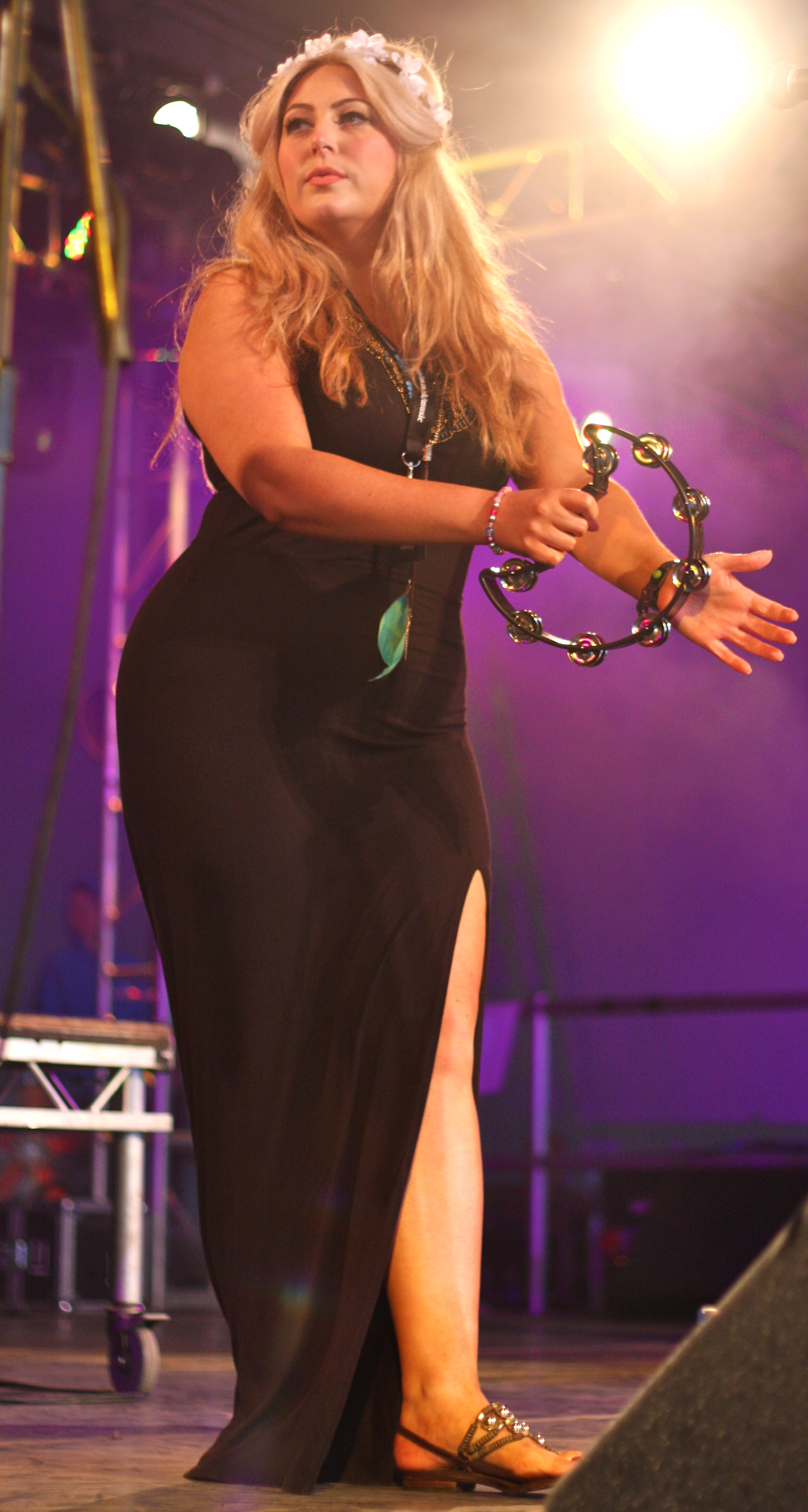 I was just about to leave after having spent the statutory 15 minutes shooting them - most of the other photographers had just left - when they announced that their singer was coming on now. Oh? I didn't realise they had one. Ok, fair enough. I'll snap a few off.
And on walks the rather lovely Aideen McGinn.
I'll just say that I stayed a tadge longer than I should have, for purely professional reasons of course, you know, just to make sure the photos were all in focus, and so on and so forth… ahem. Lovely! Oh, she can sing too.
And so... and so... and so, it's almost time for the big one. The headline act of Womad 2012. The big name. The equivalent of the Olympics closing ceremony. I'm talking of course of 'Robert Plant presents Sensation Space Shifters' at the Open Air Arena.
It was an unmitigated . . .
But no! I'm not going to tell you. I've already written the review. In detail. And you can read it here. That's all I'm saying. If you want to know how it all ends, just click here:
http://worldmusic.co.uk/sensational_space_shifters_womad_2012_review
Just click it!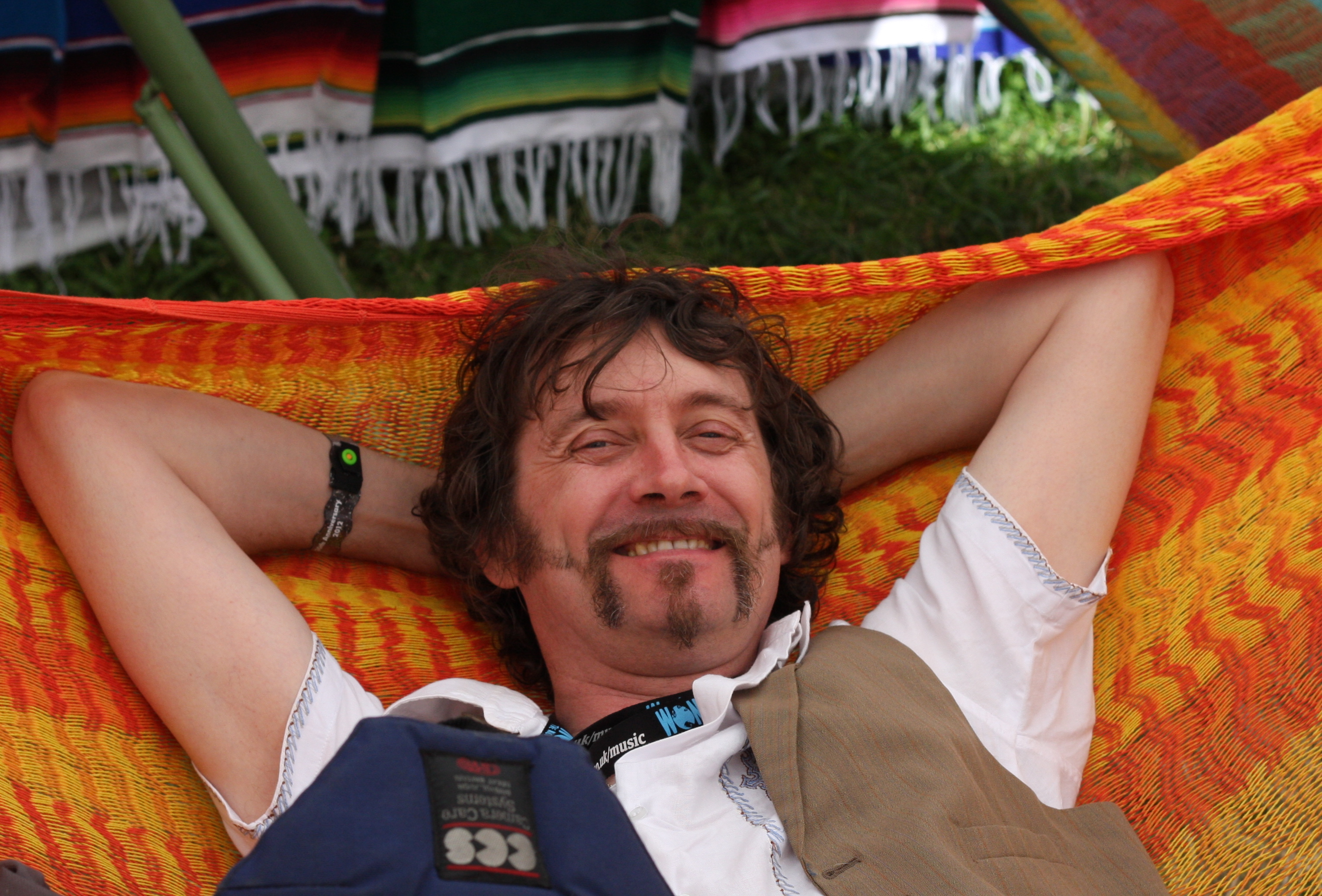 Hope you enjoy my epistolic recollections - and remember if you don't agree with any of them, then these are just my experiences and my impressions told in my own way.
Womad means many different things to many people.
.
.
.
"Womad. It's the daddy of 'em all."
Thanks to Borkowski PR for making it all happen and with all the assistance and problem solving - very much appreciated. Hope we can do it all again next year. Thanks to all the wonderful people I met over the four days and with whom I shared time and talk.
Womad. It's the daddy of 'em all.
Glyn Phillips
WorldMusic.co.uk
(Aug 2012)
1