3 Nov 2012 - What I've been listening to over the last couple of weeks...
Tagged with: Glyn Phillips blog Joe Driscoll Seckou Kouyate Faya Analog Africa Diablos del Ritmo Blick Bassy Hongo Calling Jamie Smith Mabon Windblown Yasmin Levy Libertad Concha Buika Eva Ayllon Kimba Fa Tarkany Muvek Los Destellos C K Mann Fania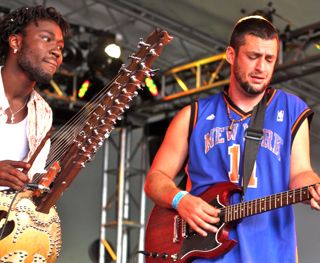 Loads of great music being released currently. Here's just a few things that have been in my cans, on my computer and in my car.
Joe Driscoll and Seckou Kouyate's "Faya" album -
This one's very much on repeated play.
Electric kora meets urban USA.
(see my review of their performance at Womad 2012 in the blog below this ("Womad - The Big Review" or click here:
www.worldmusic.co.uk/womad_2012_the_big_review_glyn_phillips).
.

Analog Africa's great compilation of 60s, 70s and early 80s Colombian music and old fusions: "Diablos del Ritmo - the Colombian Melting Pot (1960-1985)".
A mixture of Caribbean Funk, Puya, Afrobeat, Terapía, Mapalé, Cumbias etc, etc. Fabulously groovy! See review here:
www.worldmusic.co.uk/diablos_del_ritmo_the_colombian_melting_pot_196
.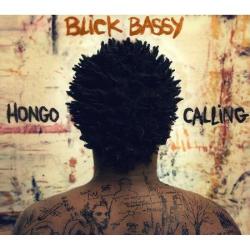 Blick Bassy's "Hongo Calling" -
Smooth yet funky meld of Cameroonian, Beninese, Senegalese, Cape Verdean and Brazilian based tunes with jazz stylings and sensitivity.
.
.
.
.
.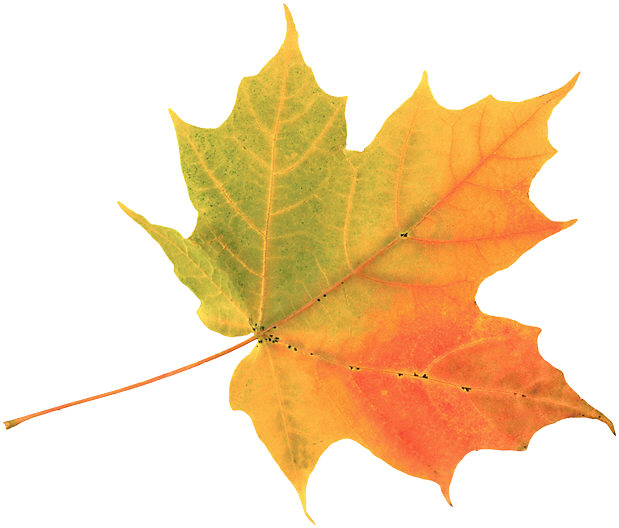 Jamie Smith's Mabon's "Windblown" -
Stylish British interceltic folk (see review of album here:
www.worldmusic.co.uk/jamie_smith039s_mabon_windblown_cd_review)
.
.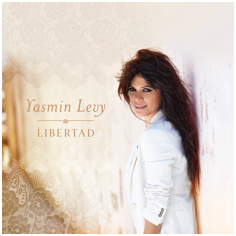 Yasmin Levy's "Libertad" -
The Sephardic singer hits gold with this mix of ladino with flamenco and shades of tango and fado and covers of Persian and Turkish songs.
Beautiful.
And to top it off, a duet with the wonderful Concha Buika! Sublime.
.

Eva Ayllón's "Kimba Fa" -
Three years old now but full of delicious afro-peruvian grooves and achingly romantic criollo music from Peru's coast.
Saw her in concert last month and got to interview her too!
Watch this space...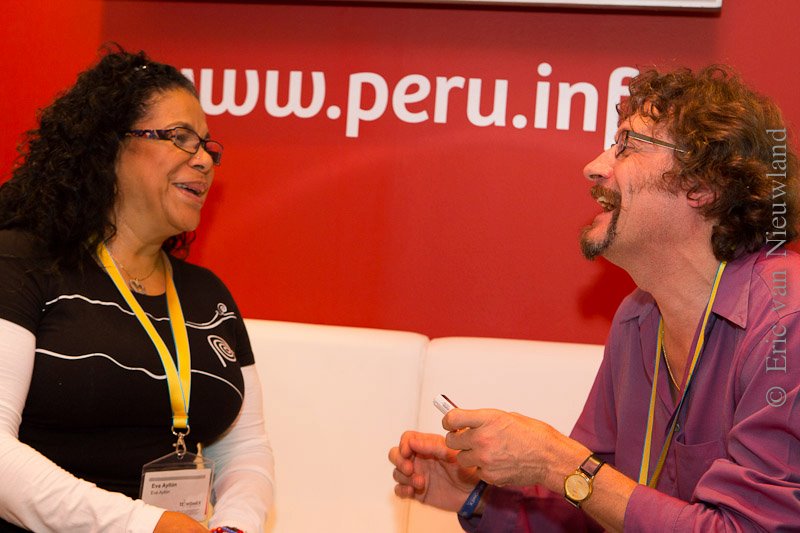 .
.
.
.
.
.
.
Also grooving to Hungary's Tarkany Muvek, Peru's Los Destellos, the funky highlife of C K Mann and his Carousel 7, and the Empresarios dubplate especial of the Fania All Stars "Ponte Duro". Wonderfulness!
So much music, so little time!
Glyn Phillips, WorldMusic.co.uk (3/11/12)
Womad 2012 - The Big Review
Tagged with: Womad Charlton Park Review Glyn Phillips WorldMusic.co.uk world music Festival Masekela Ane Brun Raghu Dixit Vadoinmessico Kayrece Fotso Balkan Beat Box Ska Cubano Deolinda Alaev Joe Driscoll Seckou Kouyate Pine Leaf Keb Mo DJ Yoda Buena Vista Portuondo
"For size, quality and breadth it's the biggest world music festival on the planet."
I love Womad. For size, quality and breadth it's the biggest world music festival on the planet. Period. However, this naturally brings its own problems, not least being that it's quite impossible to see and hear all the things I want to. Each year I salivate at what's on offer, yet am always forced to make agonising decisions between which favourite artistes to try and savour or which new ones to nibble and taste.
So this review doesn't claim to encapsulate Womad 2012, but it does give a sample of my 2012 Womad experiences. Some of them are covered in great detail in my special in-depth reviews on particular artists (Manganiyar Seduction, Grupo Fantasma, Sensational Space Shifters - see text below for links to them), but here are some of my impressions from the rest of what I managed to see.
"the burning sun of a mini-heatwave."
I arrived at the beautiful Charlton Park on Thursday 26th July in the burning sun of a mini-heatwave. Exhausted after the hot drive, the longs walks to and from the carpark and setting up camp, I managed to miss both Ballet Nimba & the Malmesbury Schools Project and Linton Kwesi Johnson with the Dennis Bovell Dub Band. Yeah, not the best start…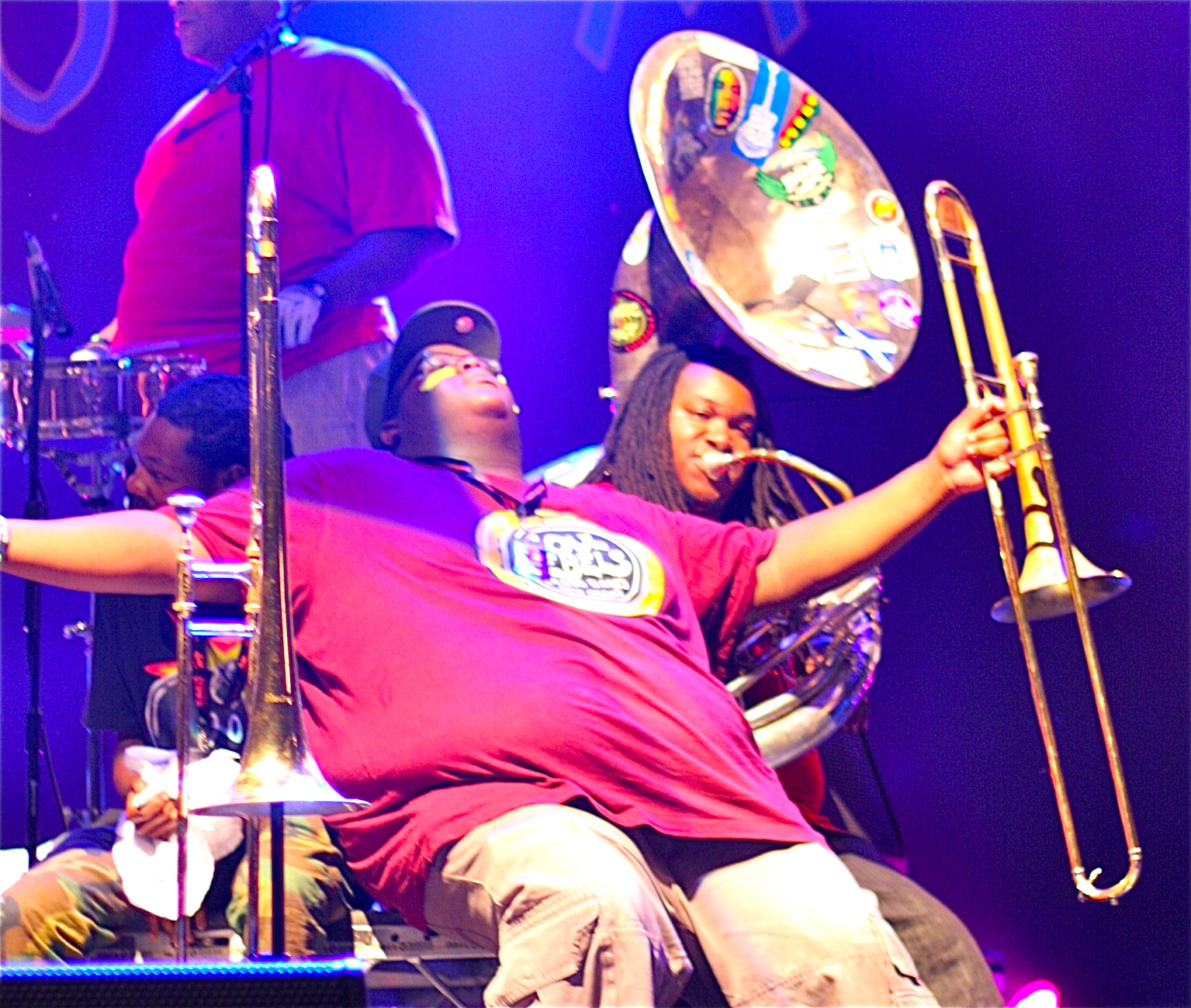 However, being a huge fan of the music of the Crescent City, the one band I was really looking forward to on Thursday were The Soul Rebels from New Orleans!
And what a treat they were! Soc au'lait!!
To describe them as 'where hip-hop joins New Orleans funk' only hints at what they can do.
These guys blew up a storm with rasping trombones, trumpets and sax, huffing, puffing, pumping sousaphone and crazy rattling snare and bass drum combo - one huge gumbo ya-ya. They definitely put the 'PH' into funk and then added an 'O' for good measure!
This is "PHONK!" y'all!
"a brilliant choice for opening night."
Yeah, they rap and lay down some serious hip-hop grooves and you get the feel they've literally just walked off the streets of the Big Easy, but there's still that timeless, matchless N'awlins groove running right through everything they do. They also know how to party! At one point one of the band came down off the large Open Air Stage climbed over the barrier into the crowd and got everyone down onto their haunches ready to leap up on command as the music hit the sweet spot. A great festival band and a brilliant choice for opening night.
So, hoist up the flambeaux, pass a good time y'all, and laissez les bon temps rouler!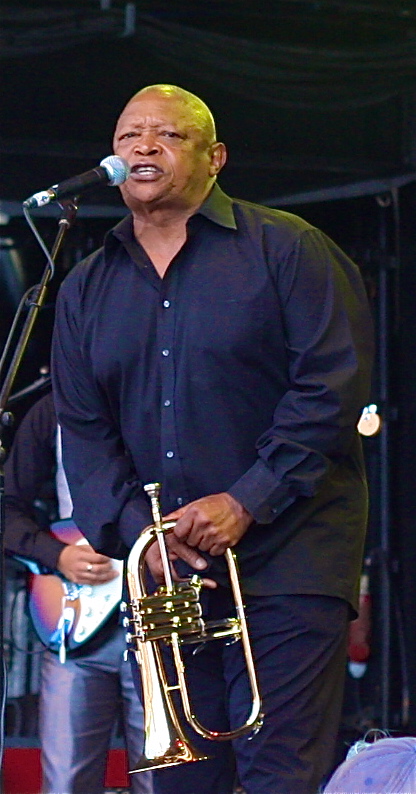 The next day, Friday 27th was the first 'official' full day of Womad 2012 and first up for me was the iconic South African trumpeter and flugelhorn player, Hugh Masekela who was on the Open Air Stage too. There was a huge crowd to see him as you'd expect from someone of his pedigree and musical stature and we were not to be disappointed. After about three songs a relaxed Masekela addressed the audience:
"Thank you very much Womad for receiving us with so much joy and generosity and we're not going to charge you for the sunshine!".
Throughout his one hour set, Hugh was on fire with his trademark fluid flugelhorn and not least his expressive singing (which went from low, gravelly tones to high screaming falsetto). His band were every bit as good as you'd expect, displaying some great guitar solos and percussion work on congas and timbales, salsa bass-lines and tracks with lots of rhythmic chanting and vocal percussion.
Luckily there were very few sound problems on the main stages this year and the engineers made a good job of Masekela's performance - not too loud, nice and clear and good separation of instruments with a lovely bass sound and crisp, sweet-toned congas.
At one point Masekela got the whole crowd engaged in a vigorous call-and-response section that prompted him to ask: "are you sure you're not from Soweto? "Damn, you are bad!". "Give yourselves a hell of a scream - you're bad!"
"still a world class musician at the top of his game."
Hugh might be in his 70s, but he shows no sign of slowing down at all. This is still a world class musician at the top of his game.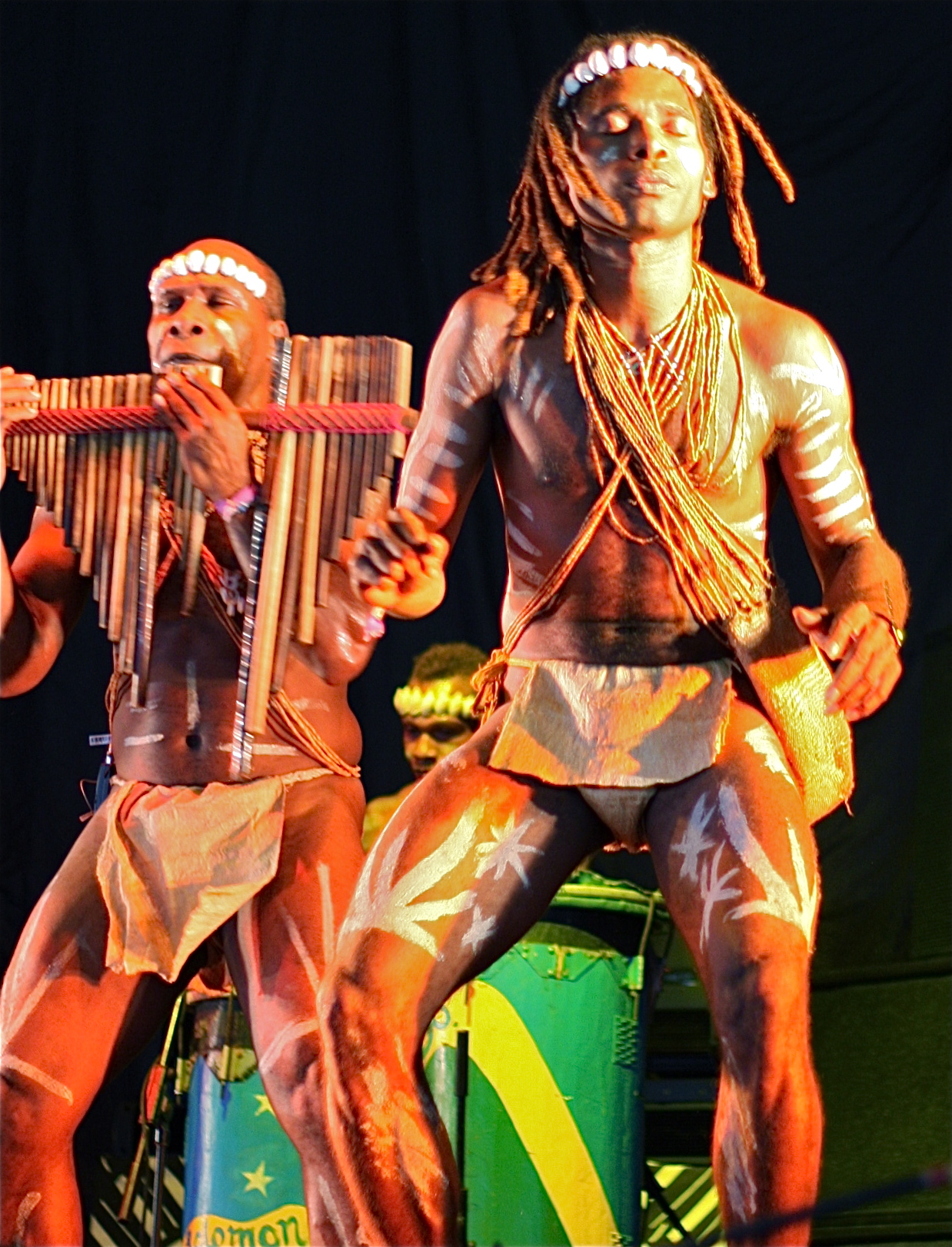 I passed by the Siam Tent and caught some of Narasirato, a band from the Solomon Islands in the South Pacific, who perform on bamboo pipes (both blown and struck) and in costumes that don't leave much to the imagination.
Their panpipes have more pipes than the traditional South American ones most people are familiar with - in fact they look like someone's stuck about three sets of them in a row about 18" to 2 foot wide. But they tend to use them in a more polyrhythmic style that is augmented with song, drums, dance and their large bamboo 'boomwhackers' (a series of thick bamboo pipes mounted on a frame and thwacked with a paddle - or just the end of a flip-flop! - to produce a ghostly note).
I cut short my enjoyment of this to head into the Arboretum to try and see some of the Quebecois trio Genticorum from Canada over at the Radio 3 Stage.
Now, in previous Womads the R3 Stage was, for me, the place to be. I loved the setting, the atmosphere, the green coolness and the choice of acts. I've had some memorable experiences there (see my previous reviews of Womad 2011!).
However, I was stunned and severely disappointed by the siting of the new R3 Stage. It was getting crowded last year as more and more people flocked to it and you needed to be early to get a good spot, so when I'd heard they'd moved it I assumed it was so that more people could enjoy it, with better sightlines and more comfort. Not a bit of it. It's infinitely worse now. The sightline is largely in a tunnel-like effect only visible from right in front of the stage (sight from the wings is negligible due to the severe lack of space) and to make matters worse, they've changed the stage: it's lowered so that it's barely off the ground, there's a barrier in front, and they musicians are way back in the dark under a deep canopy. Crazy. Absolutely crazy. If you're not right in the front few rows of people and standing right in front of the stage, you've no chance of seeing the band. OK, it works for radio, for sure! But not as a visual spectacle at all.
So, not only did you need to get there an hour in advance, once in place it was difficult to get out again due to the log jam of people. Really not impressed with the decision at all. Consequently, after forcing my way through people, sneaking under a shrub, getting mangled by branches and treading on people's feet and hands to try and even get a peek at the band. I reluctantly decided to abandon the R3 Stage for the duration of the entire festival. What an utter shame. Can I comment on Genticorum? No. By the time I'd made it to within camera shooting distance, I realised I needed to leave straightaway to give me enough time to pick my way back to the main arena… Not a happy bunny.
I diverted by the Big Red Tent and whipped in to take a few snaps of the Anglo-Kenyan band Owiny Sigoma and then had to high-tail it right up to the other end of the Arena to the Siam Tent where the Norwegian singer Ane Brun was about to start.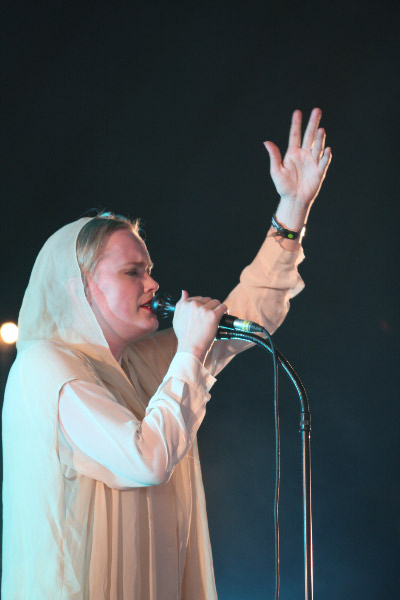 Ane Brun has achieved quite a measure of success in her native country with 8 albums in the last 10 years, all noted for their deep imagination, causing some commentators to compare her to household names like Bjork or Kate Bush. She's receiving a much-needed publicity boost outside of Norway via her inclusion on Peter Gabriel's "New Blood" album, but here she was showcasing her own band and own work.
Even from back in the middle of the large Siam Tent, Ane seemed to dominate the stage with her presence, not least her image - ethereal and floaty in a white, head-to-toe outfit with a shawl covering her hair, (looking halfway between an Arabic singer and the Lady Galadriel). Quite beautiful and it seemed to draw the admiration of many of the women around me.
Most of Ane's songs were sung in English. You could see why she'd been working with Peter Gabriel. There was a similar attention to detail in the soundscape. Her starting band consisted of kitdrums, two percussionists, keyboards and cello.
There were however some sound problems during the first song, soon brought under control by the second song luckily, since what Ane and her band produced was a carefully controlled sonic scape. These were obviously well-constructed, well-crafted, songs.
"well-constructed, well-crafted, songs"
In the third song, which I think was entitled "Devil Worshipping", Ana started to play guitar as well as singing. There were lovely harmonies (sung like an echo) from the percussionists and a backing singer (who had just come on). The male percussionist moved onto kitdrums alongside the drummer.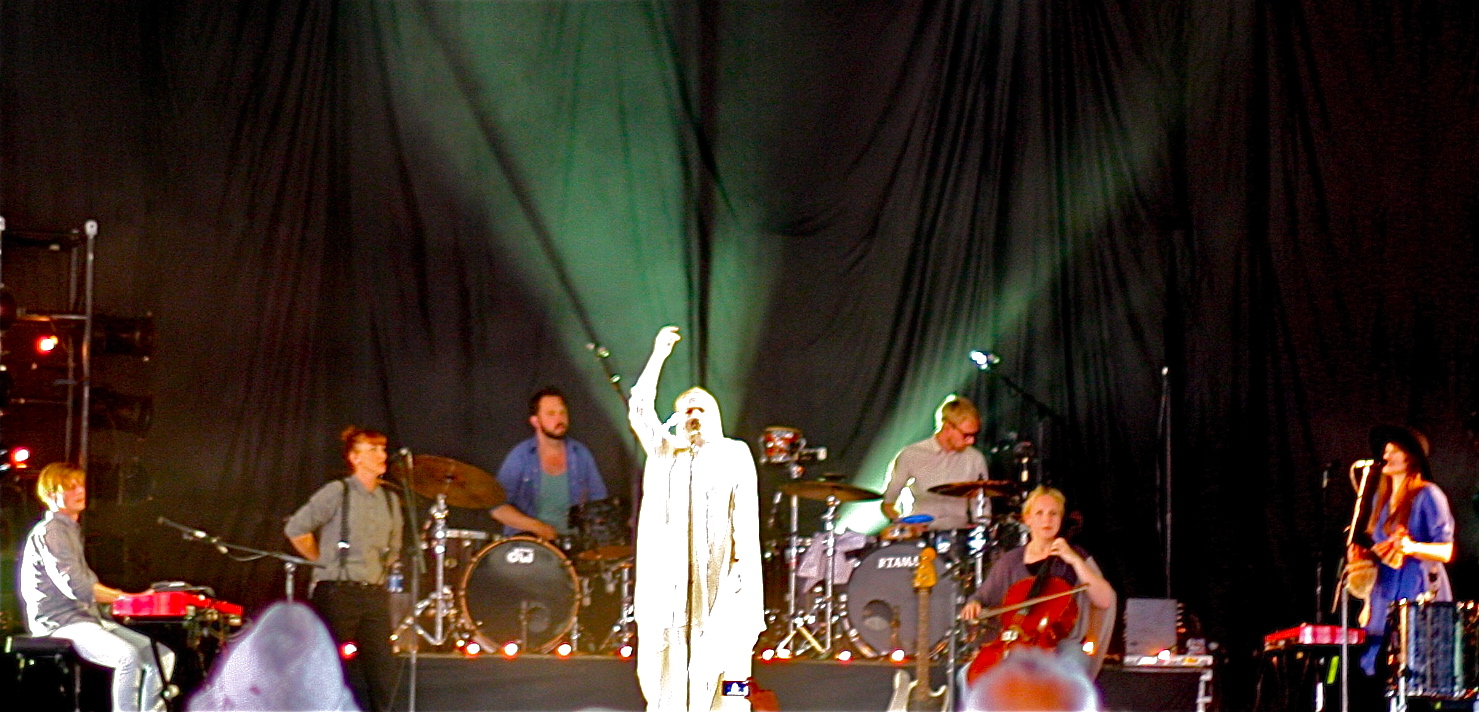 By the fifth song or so a very dramatic almost theatrical sense show had pervaded the set. Ane was often lit in a way that looked as if she emanated light from her flowing clothes.
The drums sounded very 'Peter Gabriel-ish' in their tone, the two kit drummers thundering away. There was also some inventive use of gongs, krotales, shakers, jingles, brushes and cymbals throughout. In fact, the whole band seemed to mutate and expand as new people came on or musicians swapped roles and instruments throughout the show.
During a slow, rather spacey tune with much use of descending arpeggios and vocal "ohs' and 'aahs' (there were now two backing vocalists and the female percussionist had moved onto on keys), the two kit-drummers ended the tune playing in unison on their own - a truly EPIC sound - all rumbling thunder and earthquakes, which earned them a rapturous applause from audience.
Ane eventually treated us to a Norwegian language song, sung in the dialect of her hometown in the south West of Norway. She described it as a "song of comfort".
"full of subtle flavours, delicacy and yearning."
Even though her vocals skills had been effortlessly showcased up till this point, it was now when singing in her own language that I noted a remarkable difference to her voice. There was a new vitality, a freshness, a depth of tone that even surpassed her English language songs. Quite beautiful - full of subtle flavours, delicacy and yearning.
My only criticism was that somehow the whole performance was almost too perfect, too managed. Yes, I know that sounds like I'm nit-picking but I was left with a sense of having witnessed something of great artistry and beauty, but that didn't leave me with the warm glow that such occasions usually engender in me. Maybe it's just me, maybe it was the setting of the cavernous Siam Tent, but I'd have liked to have connected more with the singer somehow.
"one of my unexpected highlights of Womad 2012"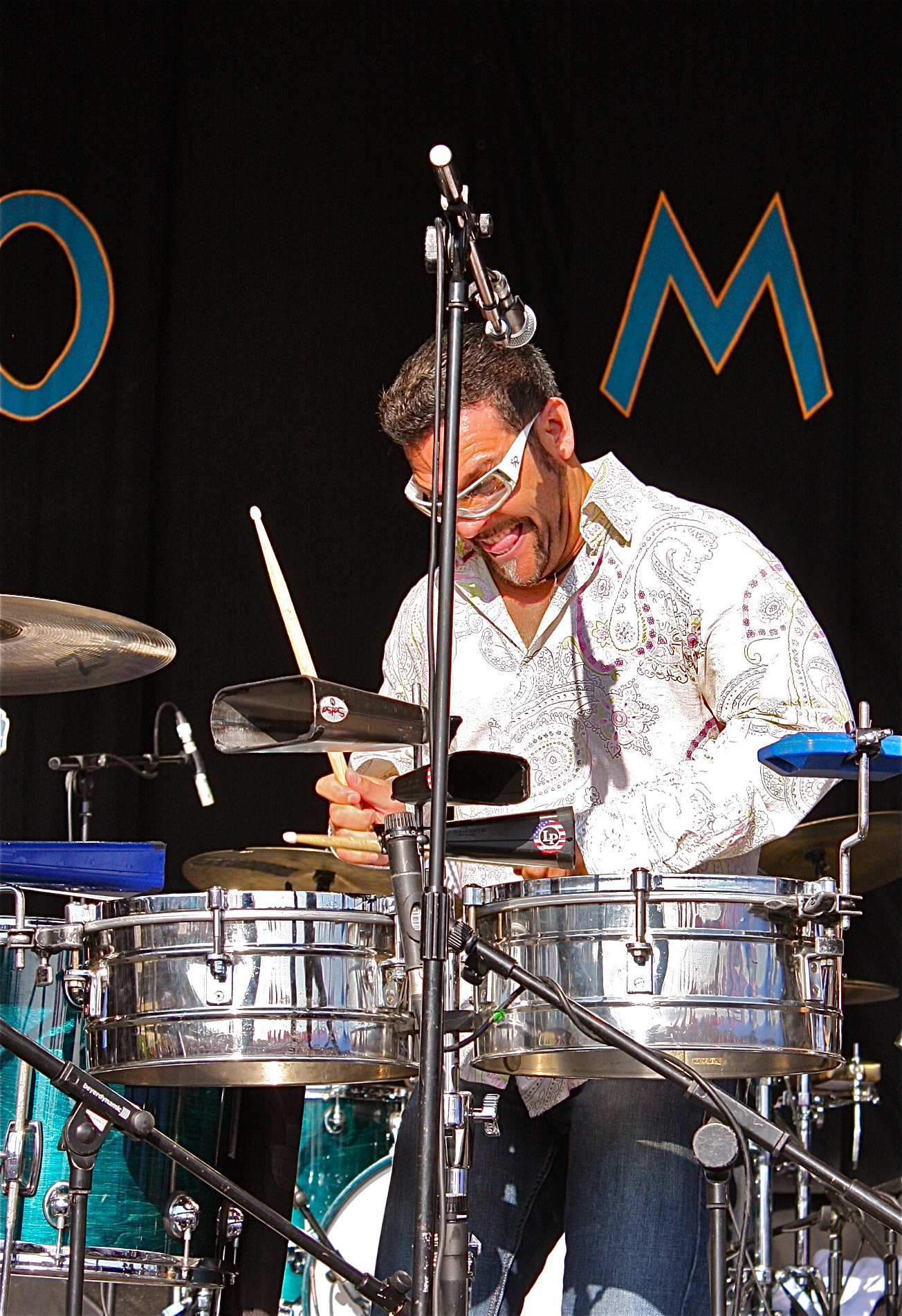 There was no such sense of distance with the next band, even though they were on the towering Open Air Stage.
Grupo Fantasma were one of my unexpected highlights of Womad 2012 and you can read my in-depth review of their performance, plus my interview with them (and I urge you to read both!) in the following links:
http://worldmusic.co.uk/grupo_fantasma_womad_2012_review
and
http://worldmusic.co.uk/grupo_fantasma_interview_at_womad_27712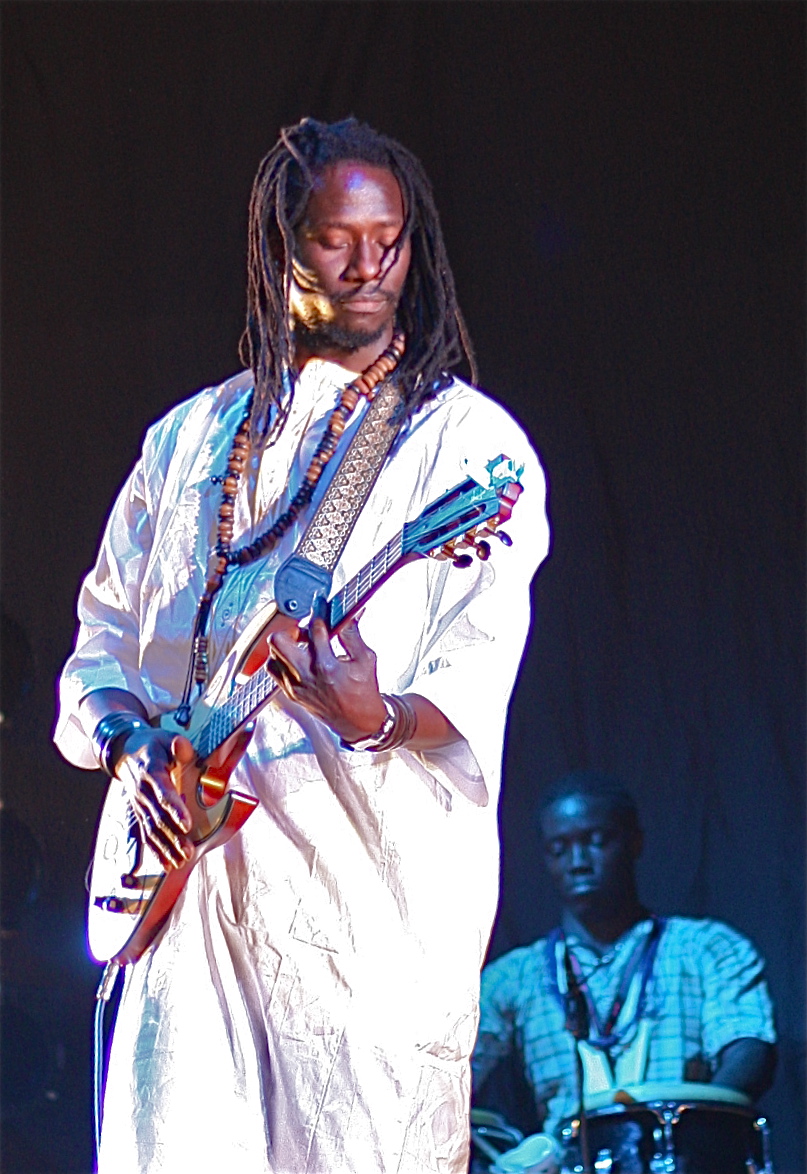 After Grupo Fantasma (and en route to interview them) I paused for a short while in the Siam Tent and caught some of the Senegalese singer and guitarist Carlou D and his band.
They were very good indeed with some complex grooves throughout.
Special mentions must go to his loxed-up electric guitarist who had some great jazz licks and to his bassist for the funky bad-ass riffs.
In particular I enjoyed the combination of Amadou Diagne on kit-drums (drafted in at the last minute - an accomplished guitarist, singer, songwriter and percussionist in his own right) and the amazing hand-percussionist on congas and djembe who delivered some ear-splitting solos that were as sharp as knives!
"total euphoric musical madness"
After a wonderful interview with Grupo Fantasma (see link above), I pegged it back down to the Big Red Tent to try and see the total euphoric musical madness that is the Tokyo Ska Paradise Orchestra - sheer exuberance! But I could barely even get into the tent! No time to do anything apart from smile at the antics of the guys on stage and envy those in the audience who were right down the front being soundly exuberated!
"My absolute highlight performance of Womad 2012."
However, there was one performance more than any at Womad that I was determined not to miss at any cost and that was the delectable promise of the show that had garnered praise from every part of the world that it had been performed. I'm speaking of course of India's The Manganiyar Seduction. I have written a very long, very detailed review of this performance here:
http://worldmusic.co.uk/the_manganiyar_seduction_womad_2012_review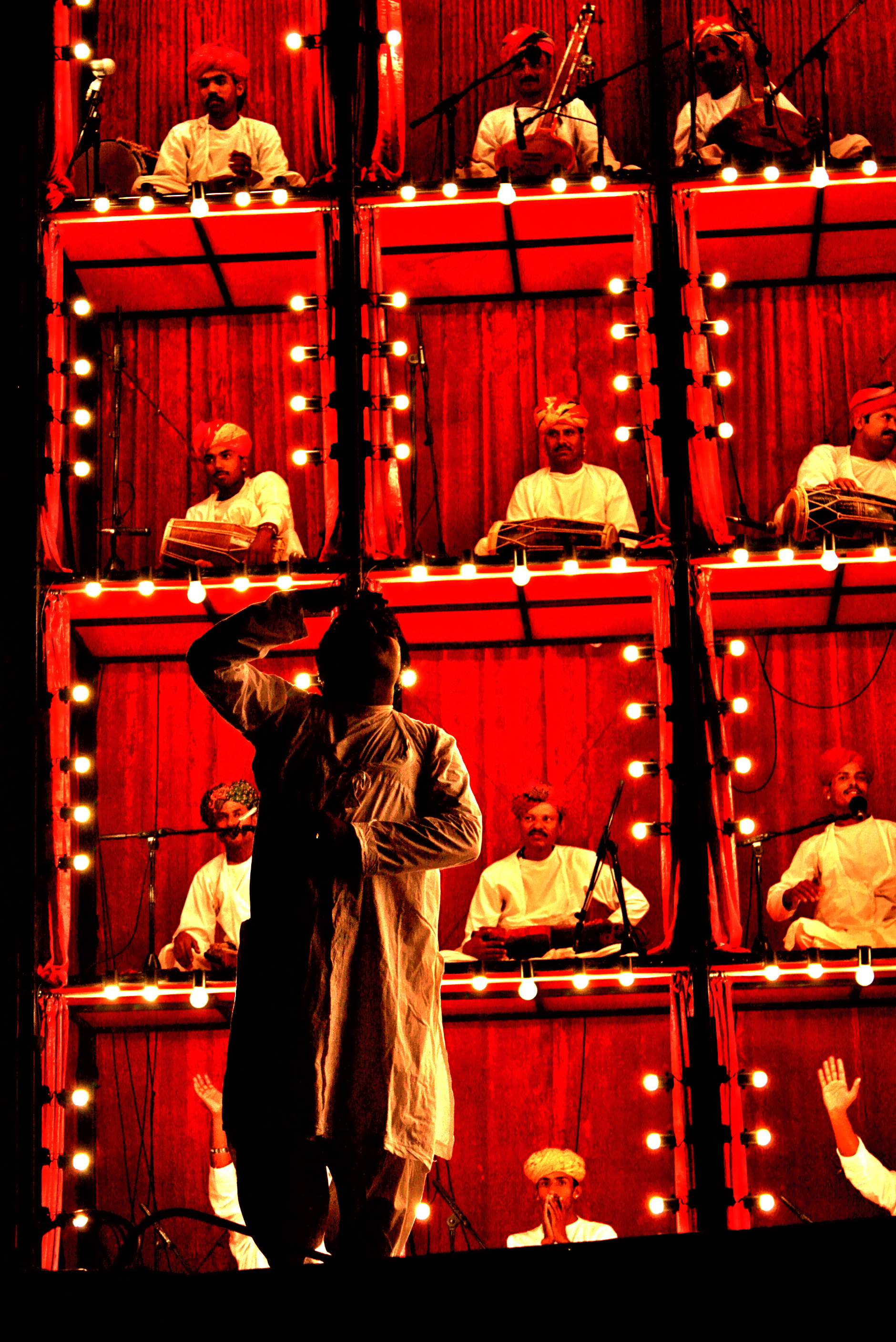 I shall say no more, apart from: read it. Read it and you might begin to understand why this show has caused such a stir worldwide.
My absolute highlight performance of Womad 2012.
So enraptured was I by the Manganiyar Seduction that I didn't even turn up for Jimmy Cliff! Now that should tell you something.
I was completely emotionally sated and couldn't take any more stimulation for a while.
Saturday dawned and with it, my ability to access the photographer's pit. This is a controlled area immediately in front of the stages, only available to accredited press photographers and subject to strictly adhered to rules. You have to be escorted there by Womad PR agents, you have 3 numbers or 15 minutes (whichever is less) to shoot photos from and are not allowed to use flash or otherwise impede on the performance. After that you must be escorted out of the area again. It's how the pros get the close-up shots without other people's heads being in the way.
It does, however, bring a different appreciation of the performance. It emphasises the visual aspect over the musical and means you have to telescope a whole artistic performance into a very short amount of time (usually the first three tunes when many artists are just settling in and warming up).
In fact this 30th Anniversary Womad was quite a strange one for me. At concerts and festivals you can usually find me sitting at the front or on a little stool to the side, notebook on my knee, scribbling away and staring intently at artist, crew and crowd, feeling my way into a performance, trying to capture the essence of the experience as well as analyse the music itself.
However, this year I was having to double-up as photographer as well (keeping my eyes as well as ears open) and trying not to miss photo opportunities - a very different kind of working method. Writing is more sedate, sedentary and contemplative; the latter often frantic and full of movement and adrenaline. So I apologise if anyone's reading this and wondering why much of the article is written from the point of view of the Pits and more concerned with the 'visual'. I can only write what I experienced. I'm not a professional photographer - I'm a writer with a camera, trying to get photos to illustrate my words.
Consequently, my experiences of Womad 2012 were quite fragmented in the main, as if viewing a film through a wicker fence, and it meant I had precious little time - if any at all - to make review notes whilst photographing. Still, you work with what you get and below I offer up what I did experience.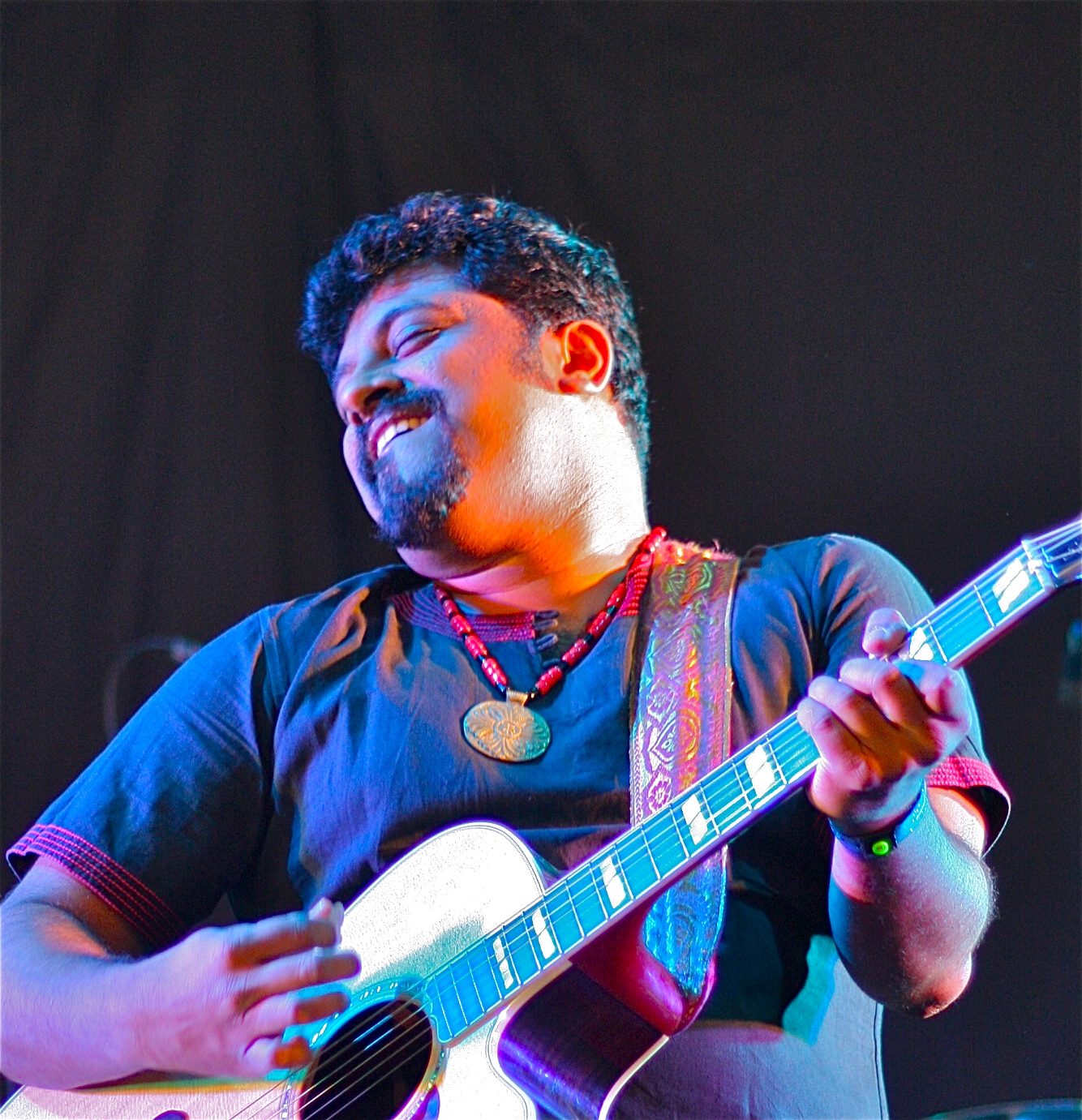 The first act I photographed on Saturday was Raghu Dixit in the Siam Tent at midday.
Always a tough gig, the first one of the day, but Raghu (the Indian folk-rocking singing ex-microbiologist) and band killed it with a storming set and a charming collective personality.
It was very well received by the audience and made a great start to the day.
Race down on foot in the intense heat round the perimeter road of the arena to the other end to the Big Red Tent where the London-based international melange of Italian, Mexican, Austrian and British musicians of Vadoinmessico were about to perform.
Their blurb in the Womad programme has them as 'tropically edged, floaty folk-pop'. No, that doesn't normally float my boat, but I was curious (and that's the nice thing about world music festivals, you can sample all kinds to see if you like the taste).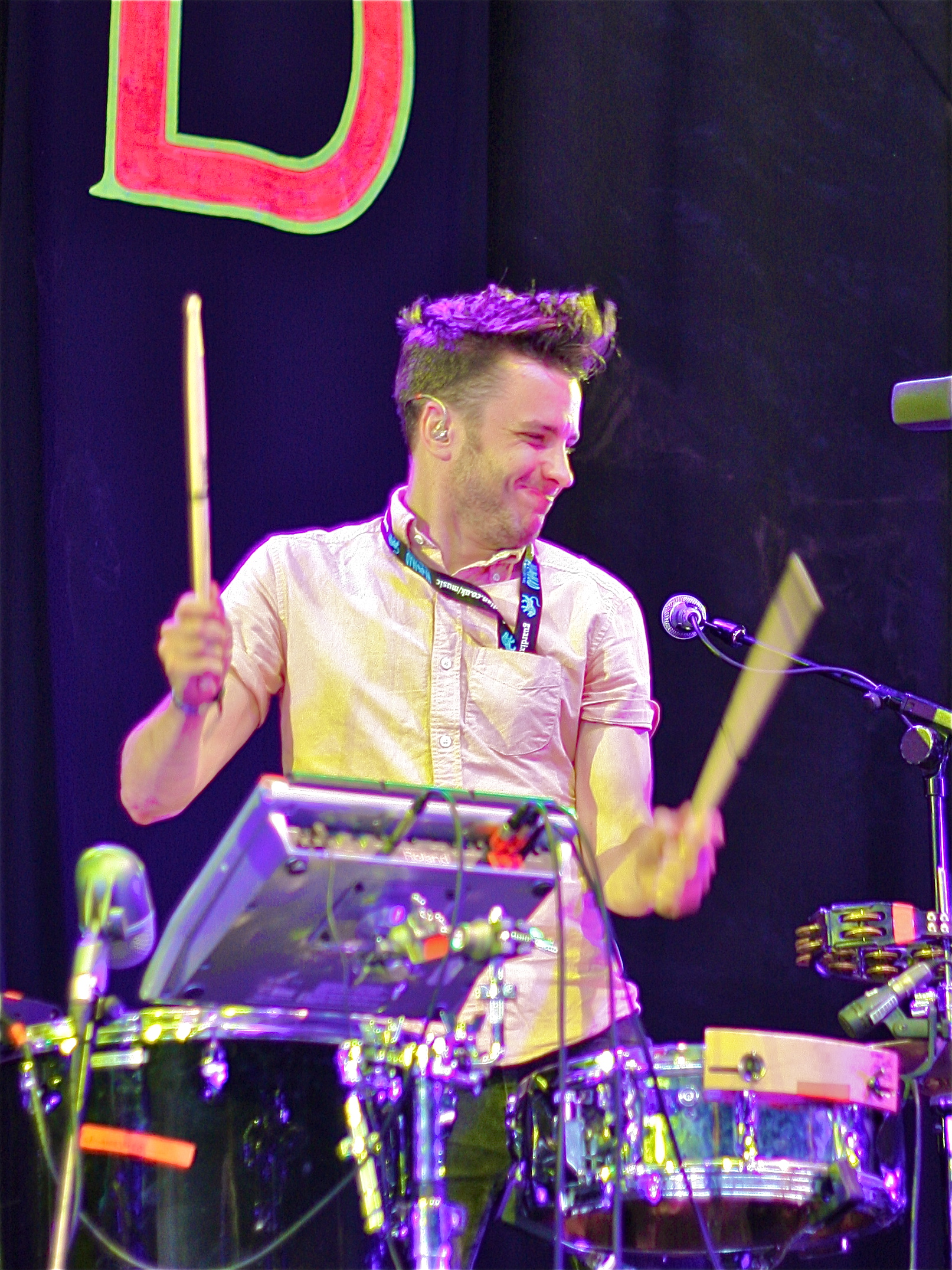 I was a little late getting there, but luckily for me they hadn't started. Unluckily for them they weren't able to start on time due to some kind of unexplained technical problems, during which the lead singer was huddled just off stage with the sound engineer desperately seeking a solution, whilst the other members on guitar, keys, percussion and bass improvised an evocative soundscape. Evocative of what I don't know. But it was evocative…
Anyway, eventually the lights came on, the singer-guitarist came back and they started to play properly.
From the almost lethargic 'mood music' of before, Vadoinmessico started gearing up and layering many different FX and dense textures of sound into their folk-pop creations.
They also injected a lot more energy into their performance - although most of the energy came via the drummer through both his playing and his facial expressions.
"a seductive personality"
The early delay meant I couldn't stay any longer and hotfooted it to the Charlie Gillett Stage halfway up the Arena where the lovely Cameroonian singer Kayrece Fotso was about to perform. This young singer-songwriter (oh, and like Raghu Dixit, from a scientific background - hers being in biochemistry!) came on with just an acoustic guitar and a delicious smile!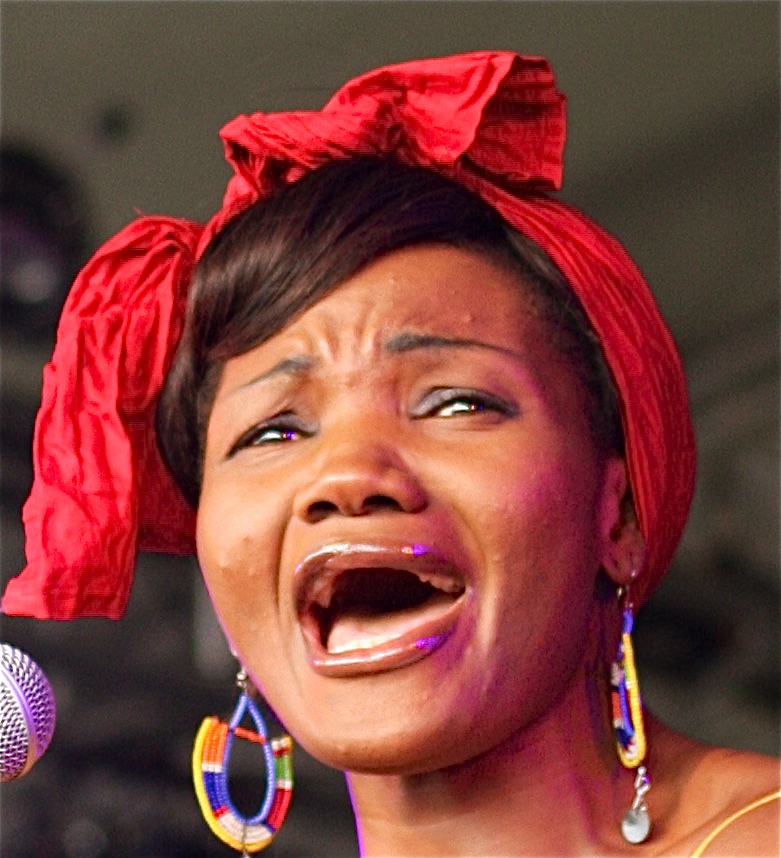 Well, obviously clothes as well - in this case a long ample skirt in pinks, aubergines, reds and golds, with a gold top and an intense russet bow in her hair and some dried fruit shakers tied to her left ankle which she used to accent her second song which was about the living spectre of AIDS destroying all the young population in Africa.
In ¾ time she stomped out a very insistent rhythm on her shaker foot against some very harsh guttural interjections of 'Ah, Oh'. Very simple but very effective.
This was followed by a track sung in both French and English entitled "I Don't Know" - again in ¾ tempo but this time slow and relentless.
Kayrece's songs and subject matter have an intensity and seriousness well-fitting a singer-songwriter of integrity, but it's also worth pointing out that when she sings, and especially when she speaks to the audience, Kareyce has very lively eyes and a seductive personality. It's hard not to be drawn in by her. One to watch.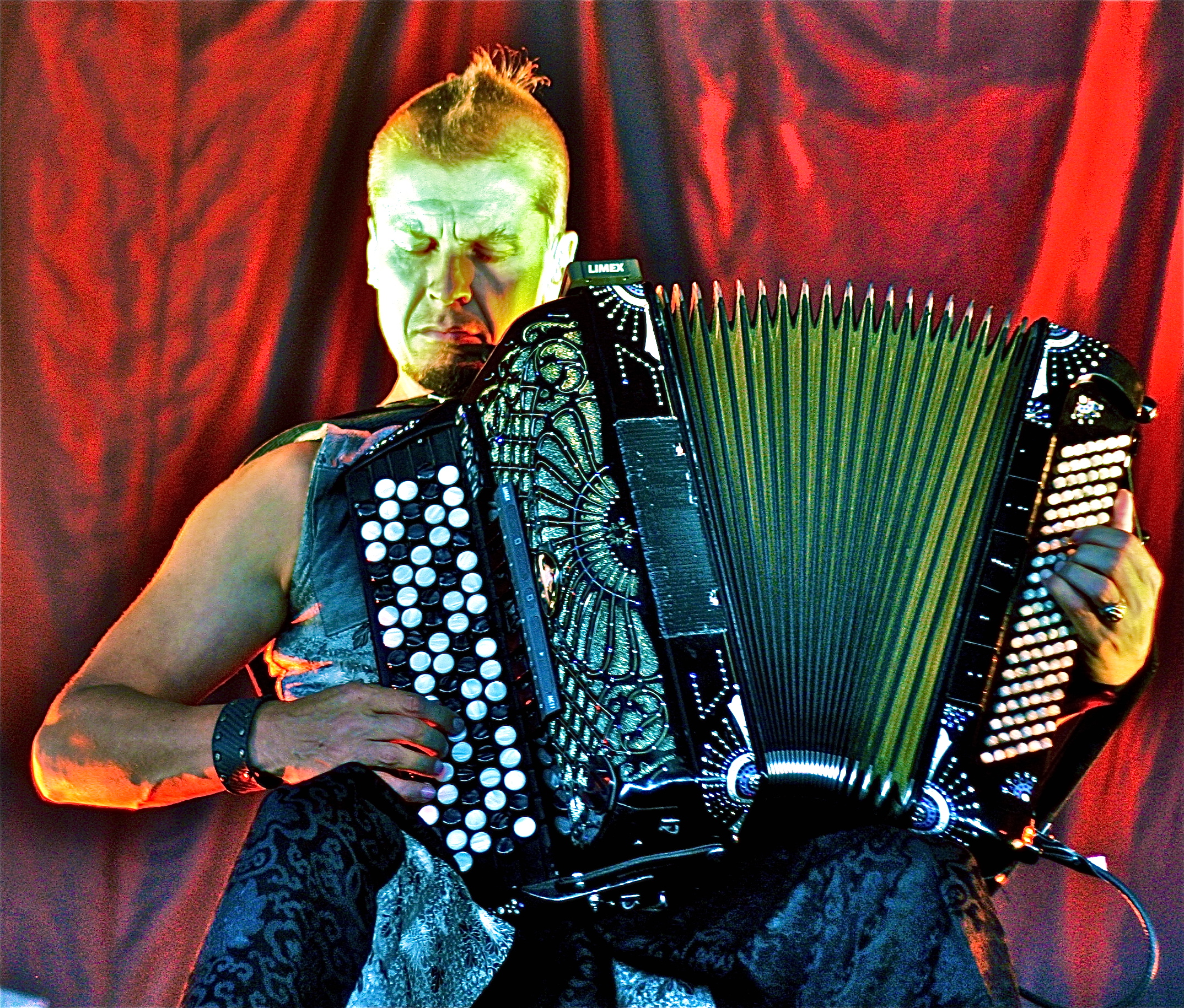 After eating and shooting English instrumental folk fusion band Spiro performing for Radio Womad (and thus, alas, missing the enticing Egyptian frame drum and vocal ensemble Nuba Nour) I caught some of the set of Kimmo Pohjonen the Finnish accordionist in the Siam Tent.
Kimmo's an apocalyptic sight with an apocalyptic sound to match. There's nothing shrinking about this guy and the only violet is the colour of the veins on his head.
The truth is, I'm struggling to remember the music, so overpowering was the physicality of its delivery and the intensity of the sounds created - it sure ain't the Skye Boat Song.
I'll go further: at the End of Days, if there's an orchestra playing at the Restaurant at the End of the Universe, then Kimmo Pohjonen will be in it and centre stage… Check him out.
"Bags of charisma. Utterly exhilarating."
With a quick stop to shoot Raghu Dixit at the Radio Womad stage, it was back to the Open Air Stage to see what the Brooklyn-based band Balkan Beat Box (now renamed - so the announcer told us - as BBB) had to offer.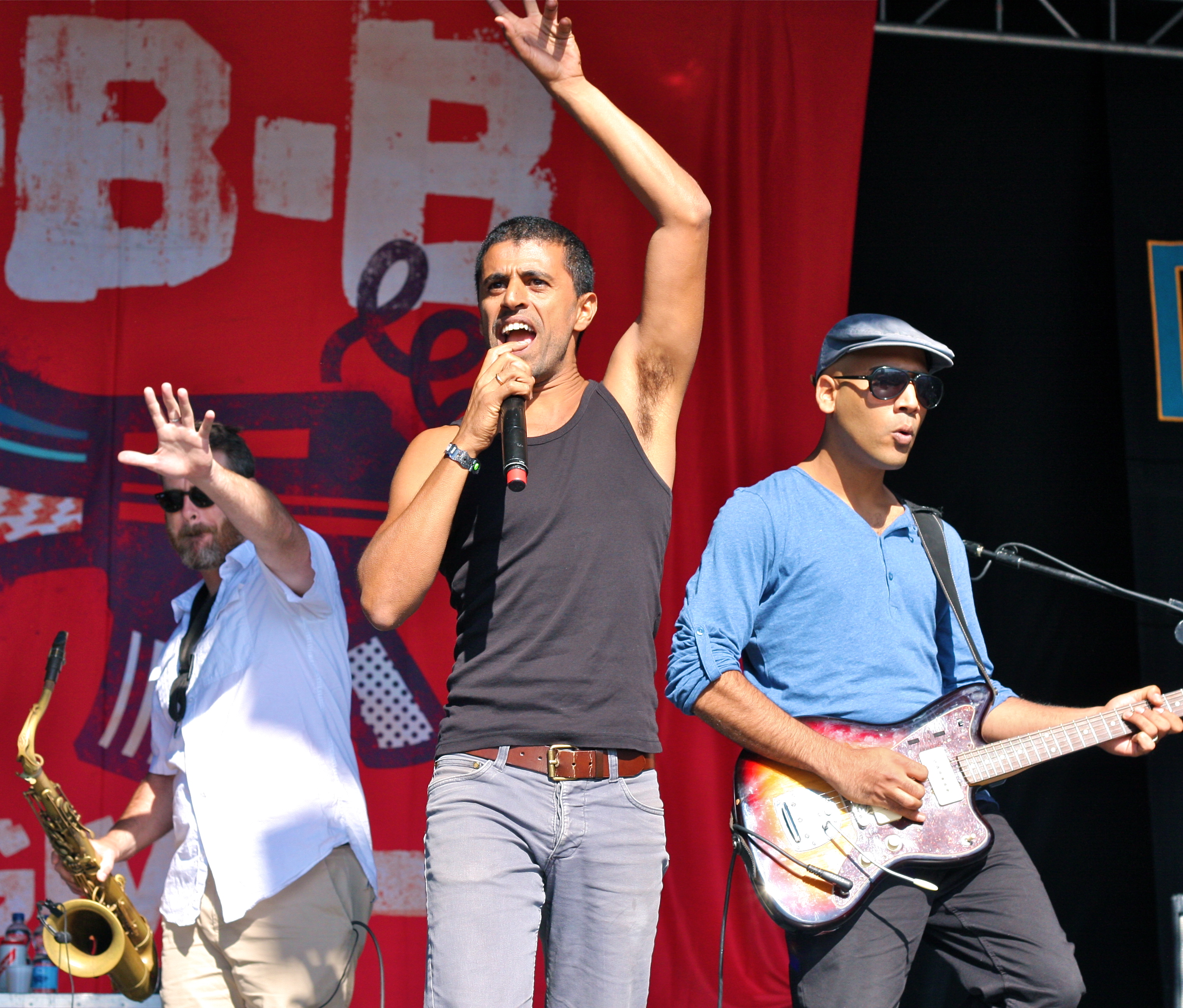 Wow! Offer they did. This was a full-on performance from a high-energy explosive band with bags of charisma. Utterly exhilarating.
I've really nothing more to offer than that. If they're on at a festival near you, grab a ticket!
Another quick photo session at the Radio Womad stage where Nuba Nour were being recorded and interviewed, and then stop for a breather to watch Femi Kuti being interviewed by the BBC World Service, before taking some snaps of Scottish traditionalists Breabach at the Radio Womad stage.
"scintillatingly electric"
As the evening started to turn into a beautiful night I headed off to the Siam Tent to see the UK-based, international festival stormers that are Ska Cubano.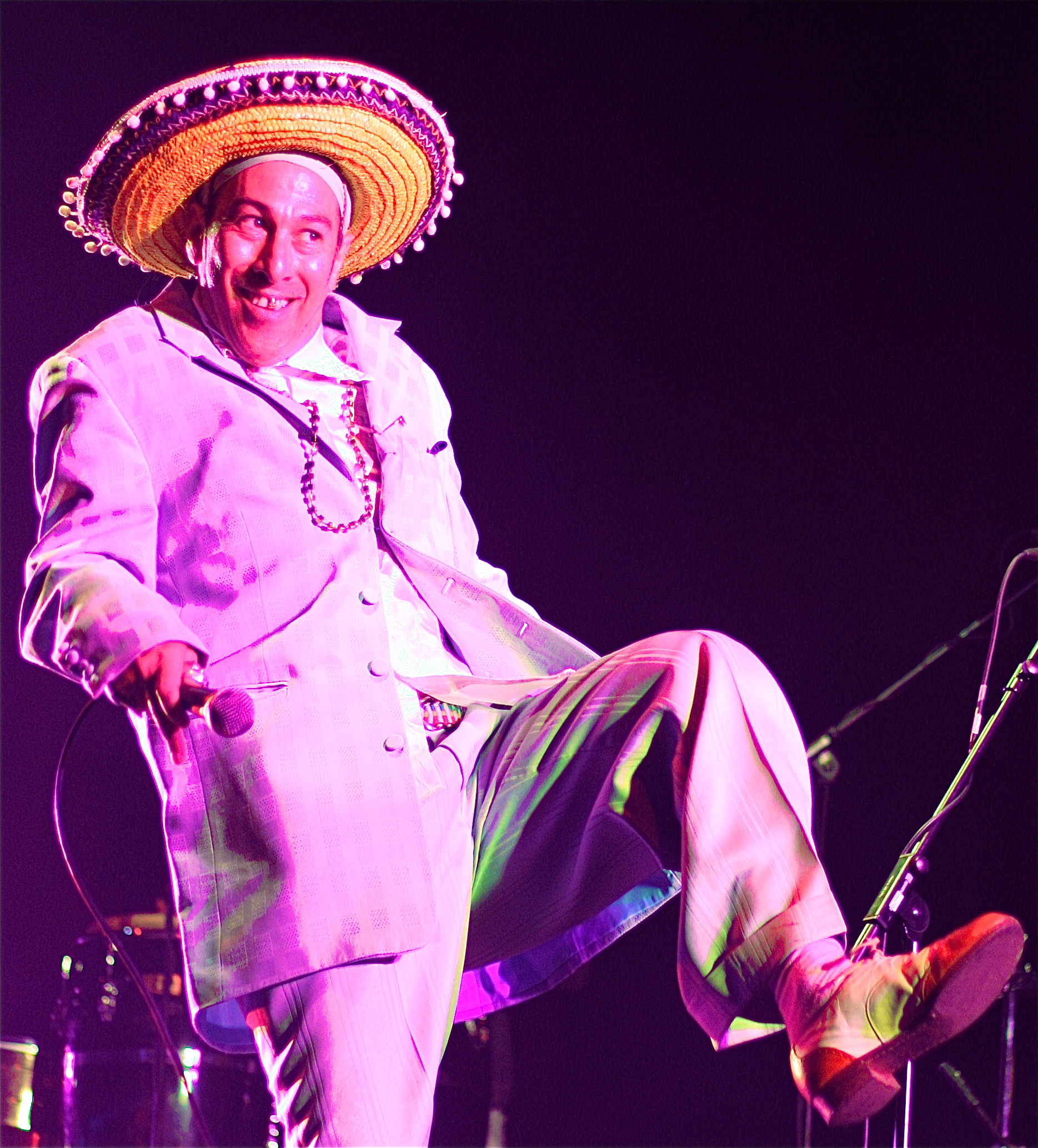 I've seen them on a number of occasions and fully enjoyed myself every time. This was to be no exception - apart from having only 15 minutes to get every ounce of pleasure out of the experience whilst undertaking my photographic duties.
Some 235 photos later - most taken whilst simultaneously dancing to the unstoppable groove of Natty Bo and Co - I had to force myself to leave the pit as per instructions. I couldn't stop dancing.
I've heard their music countless times, DJed it at clubs, presented it on radio shows, seen them live, even done live versions with bands myself - but there's still something scintillatingly electric about a Ska Cubano performance.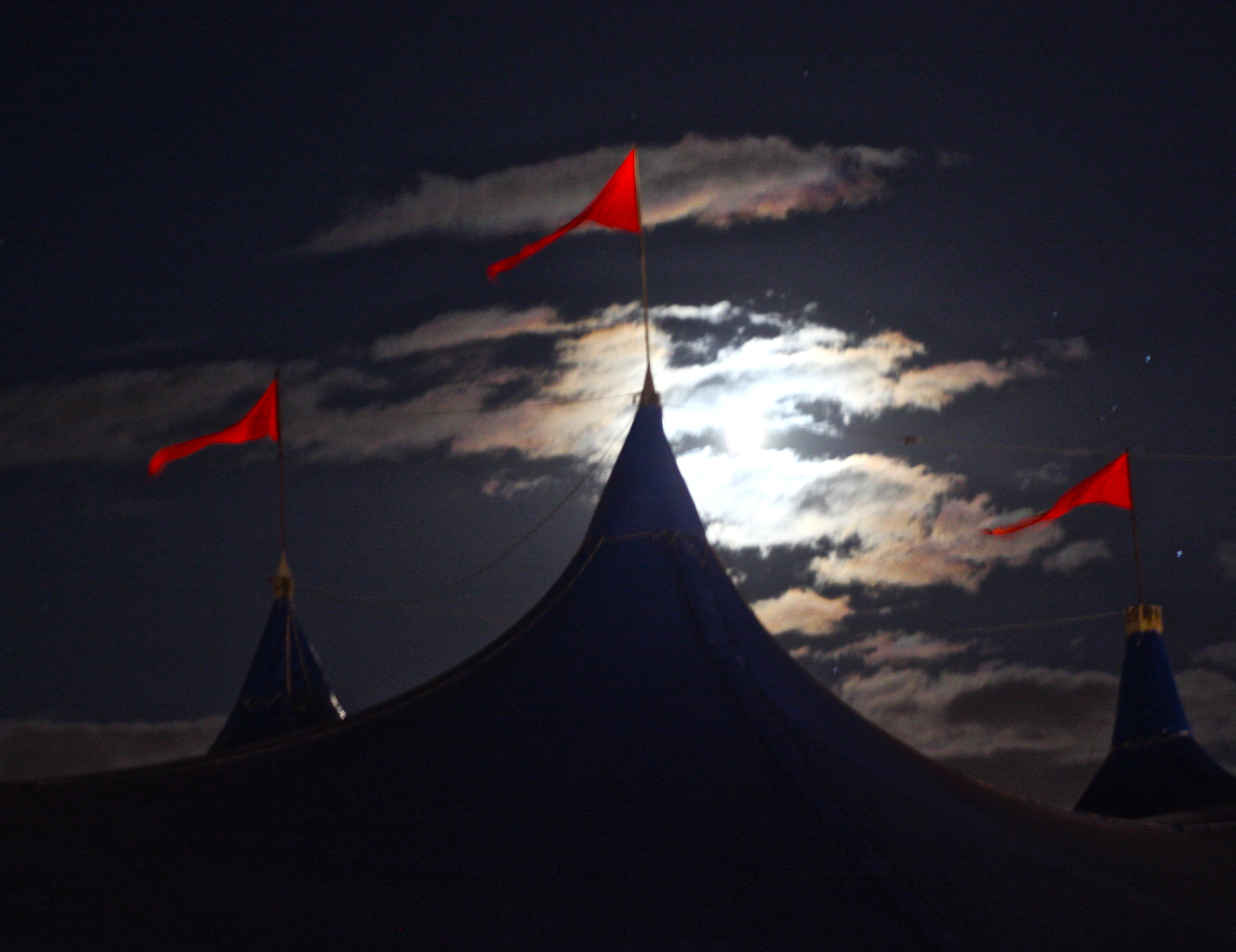 Outside, the sky is almost completely clear, but indigo dark, and the gibbous moon is intense behind the few white clouds there are. It's beautiful.
I can hear Khaled and his band giving it everything they've got over on the Open Air Stage, but food and a trip back to the tent are calling. It's at times like this that you want to clone yourself…
To finish off the night I headed over to the Siam Tent at 11pm to shoot another Cameroonian, Blick Bassy. Smooth, sweet, soft, jazzy fusions of music with roots in the African diaspora worldwide. As some jazz buff on telly once said: "Nice!"
"Coquettish yet commanding"
And the musical equivalent of the mint chocolate and strong, sweet black coffee to round off the evening? The captivating Deolinda from Portugal taking the graveyard shift from 12.30-1.45am.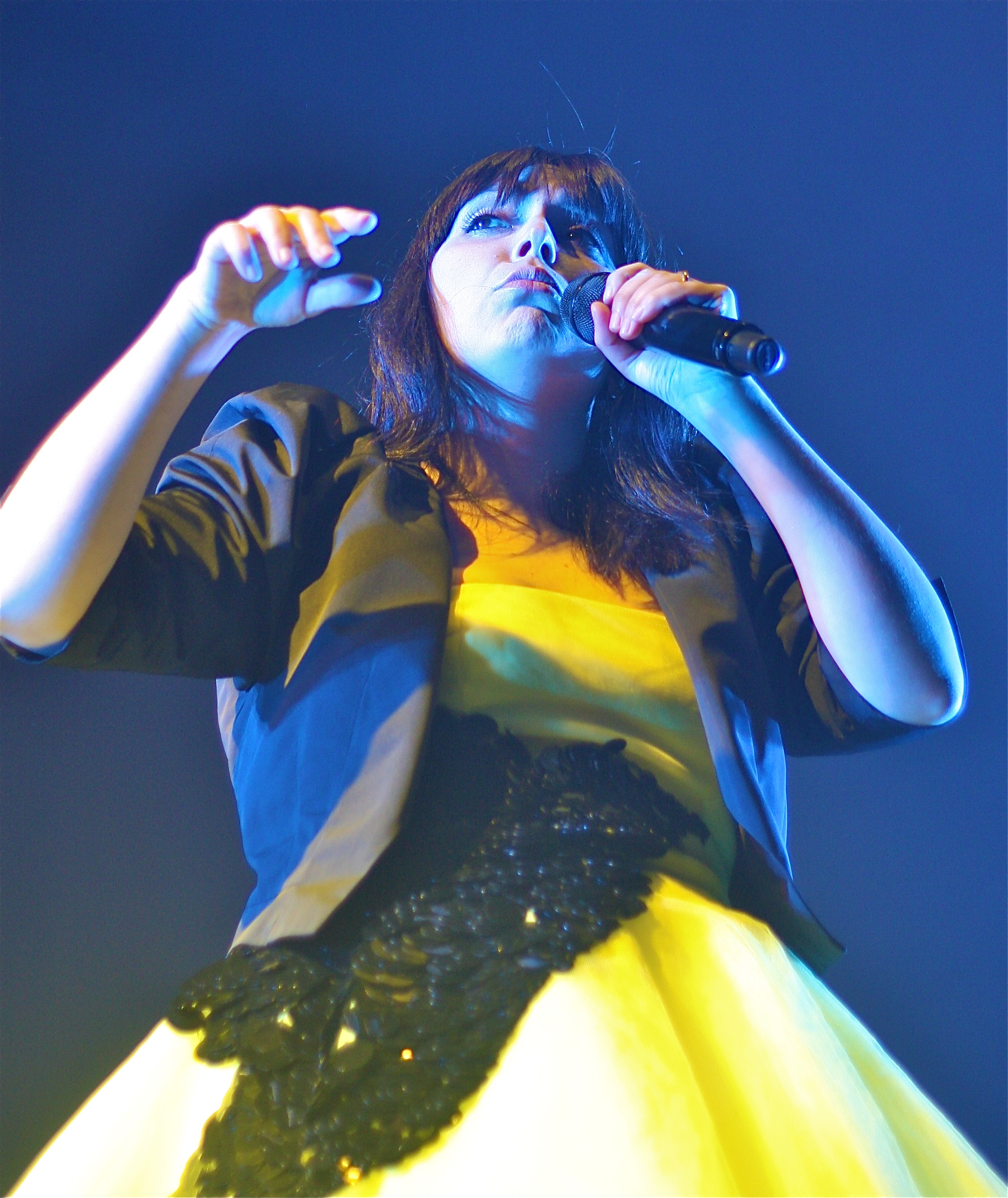 Fado, fado, meu fado. Love this music.
But with Deolinda there is always a lightness, a deftness, a wry smile that just keeps it bobbing above the profoundly melancholic. Fado is not all about doom and gloom. It can also be playful, upbeat and life-affirming and Deolinda is a good ambassadress for this other face of Portugal's most famous music.
Coquettish yet commanding, Deolinda held court in a short black jacket and an almost kitsch, lemon-yellow frock accompanied by her trio of two guitarists and a double-bass player.
A magic way to end Saturday at Womad. What a pity I couldn't stay awake any longer. I spotted a friend of mine supine on the floor snuggled up against one of the huge tent poles, her mind probably already aboard a Lisbon barco heading off under a starlit sky towards the deep dark Atlantic.
And so to bed, and so to bed…
Sunday, the final day, started off much cooler and what was that I could hear hitting my tent? Rain? Really? The drop in temperature was almost welcome, the rain wasn't. Fortunately it was just a shower and by the time I'd walked past the half-hour queue for the shower en route to the loos and back, it had passed over.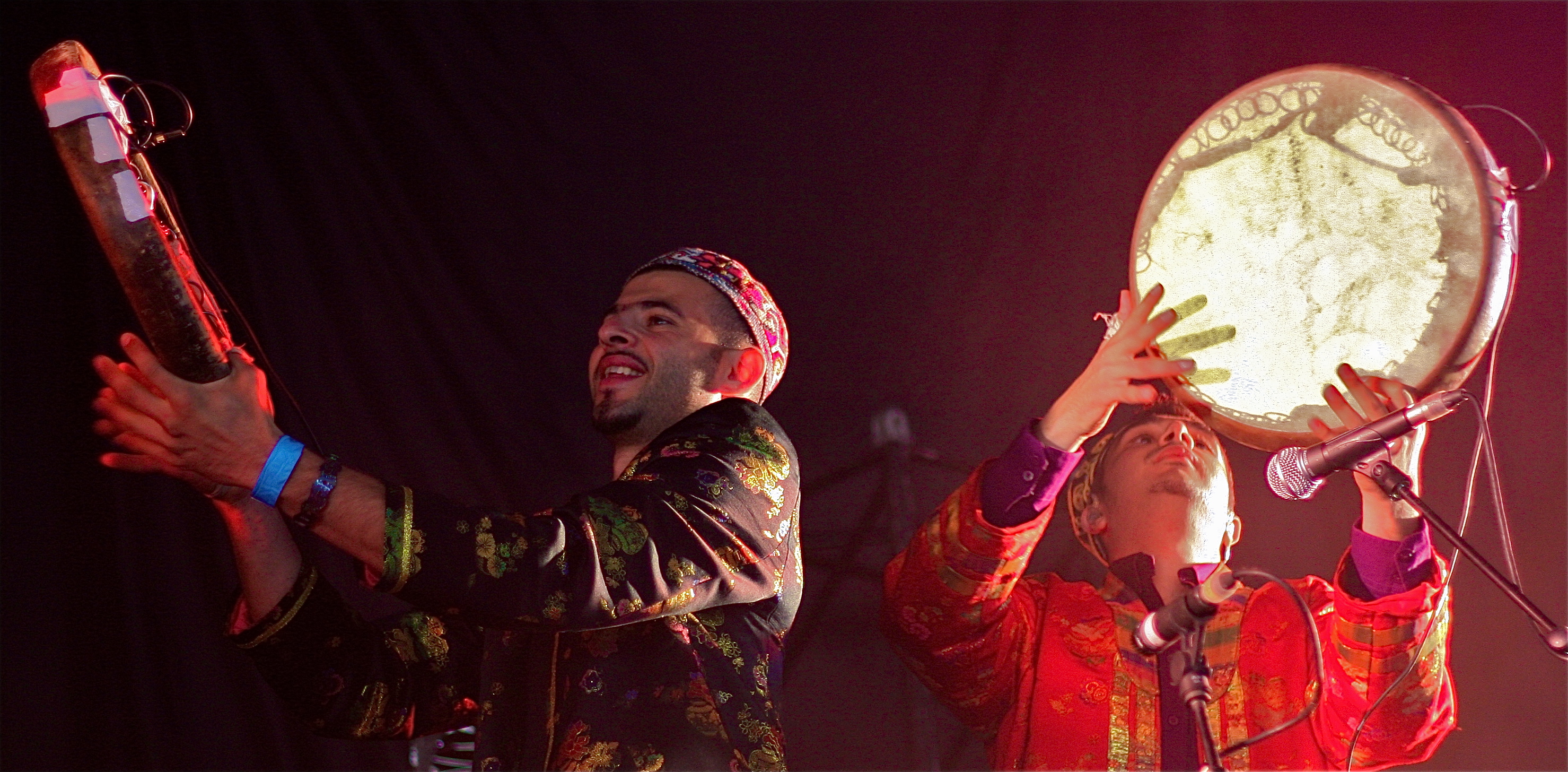 So, final day to cover and it started with the Alaev Family. Didn't know anything about them, but thought it might be a nice gentle way to start the day. Ha ha ha! Beware of assumptions. The Alaev Family were not at all what I thought they'd be. A very pleasant surprise!
Hailing originally from Tajikistan and now resident in Israel, the Alaevs are from a Central Asian Jewish background. Their music draws upon the traditions of both Tajikistan and the neighbouring Bukharan region of Uzbekistan and heavily features vocals and percussion, often played on hand-held frame drums (called doira), although they also incorporate zither, accordion, violin, bass guitar, drumkit, clarinet and timbales.
With each member of the three generation family wearing beautifully embroidered costumes and hats in a dazzling array of rich reds, purples, pinks, burgundy and gold there was a lot to see on stage.
"utterly irresistible"
But it was their amazing energy and spirit that really hit home. Whoa! There was nothing quaint and polite about this, trust me! My head was saying "take photos, take photos" but my body had a completely different agenda, deciding all it wanted to do was thrust my hands in the air and dance till I dropped! The Alaev Family are utterly irresistible once they start playing. Be warned, beware of the music, it'll bewitch your mind and liberate your limbs…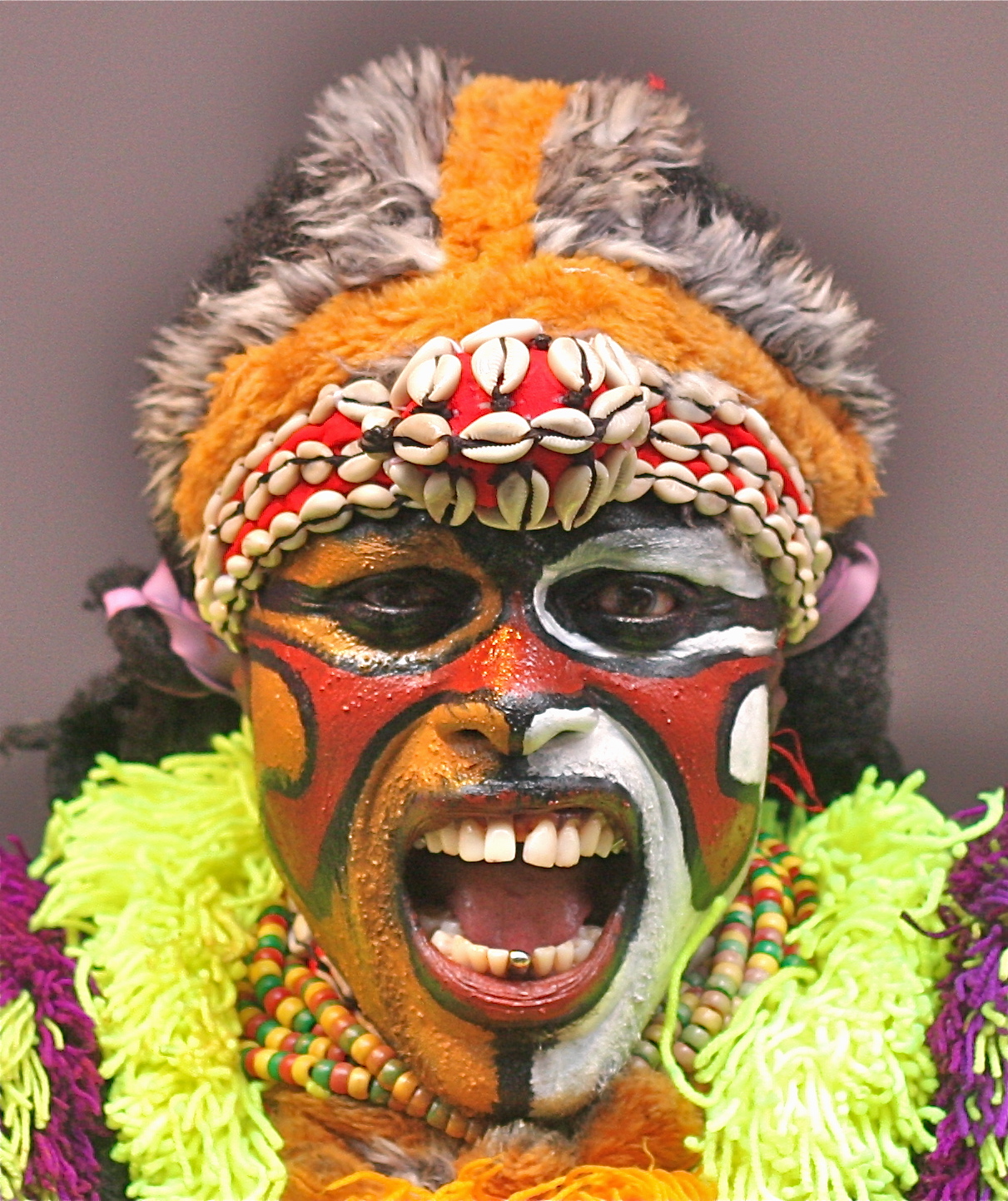 Yet another visual and rhythmic overload was provided by the next act I saw. This was a performance by The Lions of Africa on the Charlie Gillett Stage. It's a mixture of dance and music that recounts the ancient Senegalese tradition of 'simb' or the lion. The blurb states that it's "a magical ritual handed down by griots through the generations" each artist putting their own stamp on the story and the performance.
In this one the Lions of Africa are led by master drummer Modou Diof and two other drummers. These guys alone are worth seeing for their undeniable skills, complex rhythms and electrifying playing. But the stars of the show are the dancers. Dressed as a wild lion who intends to attack a village of terrified villagers the lead dancer is almost demonic in his make-up, facial expressions and acrobatic leaps. These guys are full on and plugged straight into the mains.
The energy levels were ramped up so high, it's surprising the whole ensemble didn't short-circuit themselves! Very impressive. The villagers fight back as the griots start to dance, drum and sing to ward off the lion with feats of strength, artistry, acrobatics and endurance. As ever I could only catch the first 15 minutes of what was a ¾ hour performance; but what I saw was testimony enough to the potency of Senegalese arts.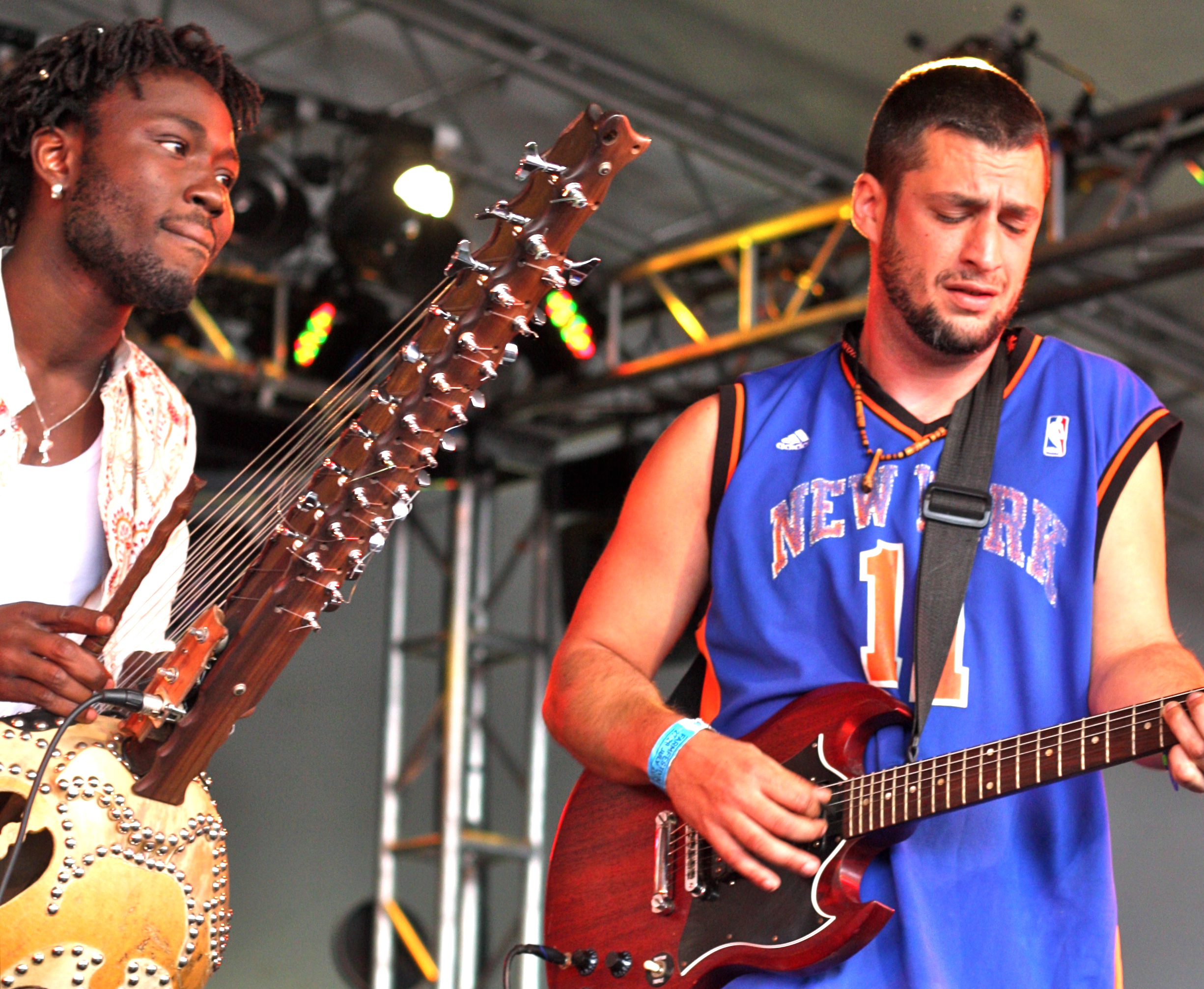 Quick bite to eat and then back to the Charlie Gillett Stage to see a very unusual pairing: Joe Driscoll (from upstate New York) & Seckou Kouyate (from Guinea Conakry).
Collaborations aren't unusual at all in the world music scene, but I suppose it's more the unlikeliness of the personalities. They'd met in Marseilles where they did a performance together, even though neither spoke the other's language. Music, of course, always has a way of sorting these minor problems out though! After some weeks of jamming they realised they were onto something, with music that encompasses influences from folk, reggae, hip-hop and various West African styles, but which falls into none of them.
I'd seen the excellent Seckou Kouyate earlier on this year touring with Cuban pianist Roberto Fonseca and he'd struck me as gifted, but almost painfully shy, barely able to lift his eyes to look at the crowd and then always fleeting and nervous.
"Springsteen meets Electric Griotland!"
On the other hand, Joe Driscoll instantly struck me as, well… very American, if you get my drift. Confident, breezy, outgoing, completely at home in front of a crowd. You could imagine him going to baseball games, sitting in a bar drinking beer with his mates and leaping on and off a subway. Cee-Lo Green described him once as "the gangsta with an iron lung". The rest of the band was made up of bass guitar and drumkit.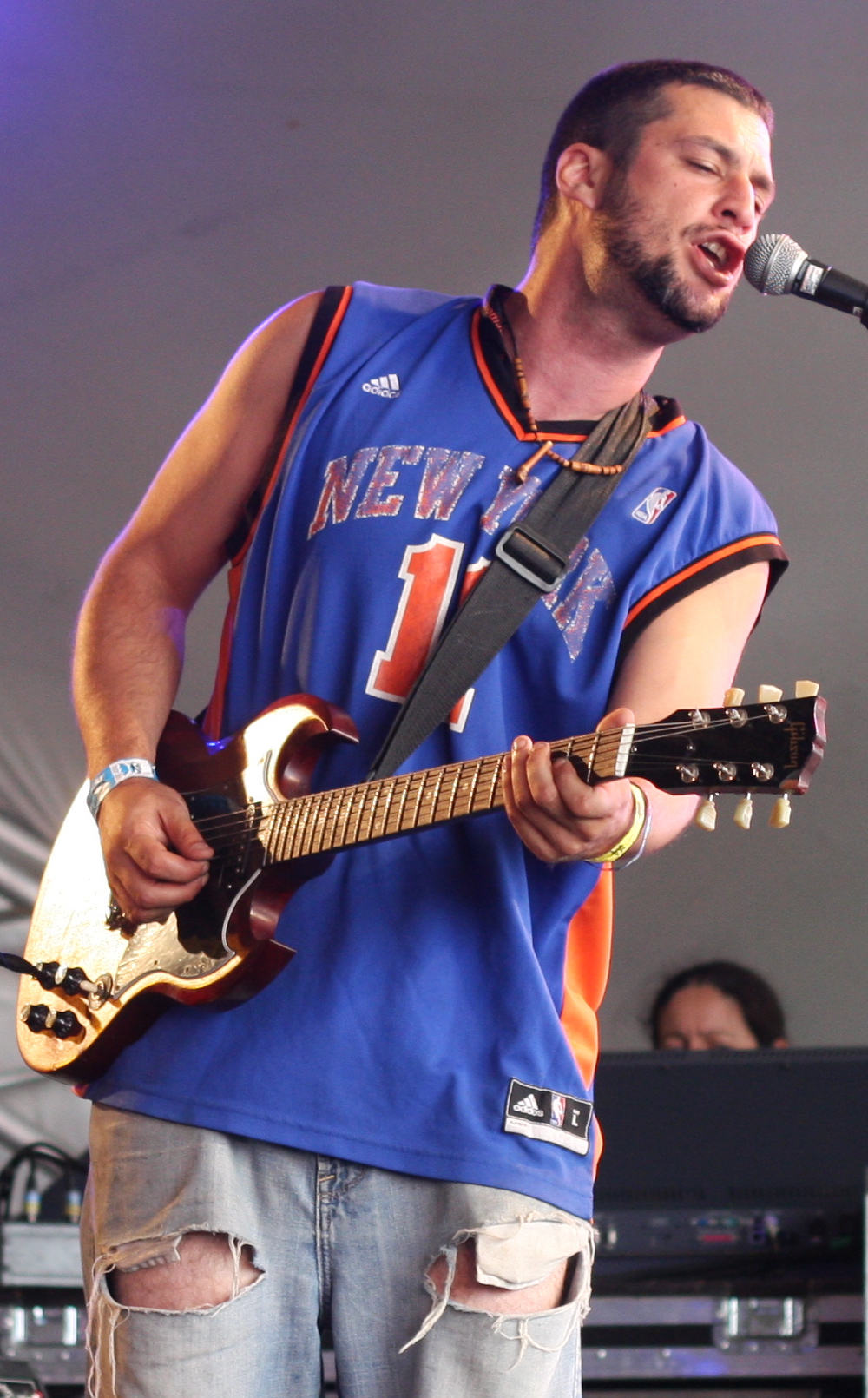 The Womad brochure described them as "rap meets kora", which, if anything, kind of put me off. However, the music and vibe was actually more like Springsteen meets Electric Griotland!
Driscoll has a quirky charm which belies his laddish image (he looked like he'd just grabbed some old clothes back out of the 'to be washed' pile and shoved them on again) and an intriguing way with lyrics, as well as some interesting facial expressions, weird body postures and hands that flapped about when not on the guitar. You definitely warm to him.
Seckou on the other hand was his usual quiet self, standing fairly still and 'apart' on the left of the stage.
Dressed in a knee-length, white jacket that was embroidered with cream, beige, brown, red and gold silks and set with turquoise and amber rhinestones, and some 'designer-ripped' jeans (poles away from Joe's 'how many times have I come off a skateboard-ripped' jeans!), Seckou had a far-away look in his eyes. Even when singing he seemed slightly disengaged.
However, as the songs developed he seemed to relax, occasionally glance over at Driscoll and smile. He even focussed his eyes on the audience and started to move his body to the music.
"slices open your brain and messes with your head!"
And what music! It's very cool in style, but warm in feel. Driscoll's acoustic guitar and vocals (often utilising rap, hip-hop and Jamaican dancehall rhythmic patterns) cradle the song and set up a trance-like rocking that puts your body on auto-pilot and draws you in to where Kouyate's amazing kora just slices open your brain and messes with your head! Wow! Didn't see that coming.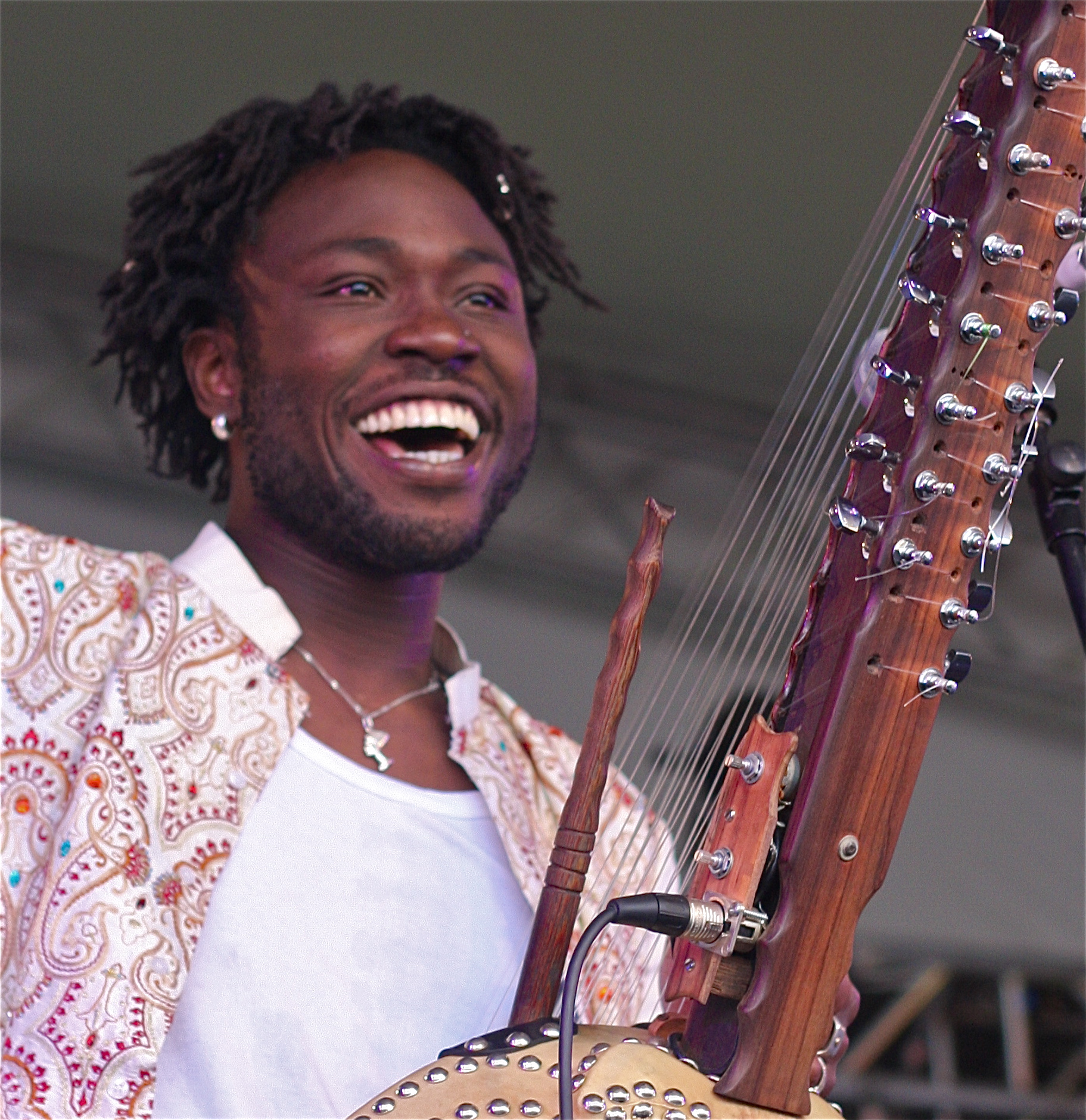 Even better, Kouyate's obviously more relaxed now and begins to smile to himself as he plays, firing off sonic bullets from his kora. But it's when he taps on one of his effects boxes and turns his kora into a fuzzbox inferno that you see why he's known in France as "the Hendrix of the kora". The effect is completely unexpected and instantly electrifying.
There's no stopping these two now. With Driscoll bent over his guitar dancing his butt off and gurning away, Kouyate starts to smile wider and wider. It's as if someone's turned on the floodlights - his teeth are brighter than a roomful of BeeGees!
The whole band are locked into an unstoppable groove and I'm getting that oh so familiar feeling of warmth, adrenaline and dizziness when the music hits and you get lifted up on a natural high…
And then I realise my 15 minutes are up and it's time to move on. Aaaaaargh! Noooooo! Still, this is yet another band to add to my wish list. Catch 'em while you can!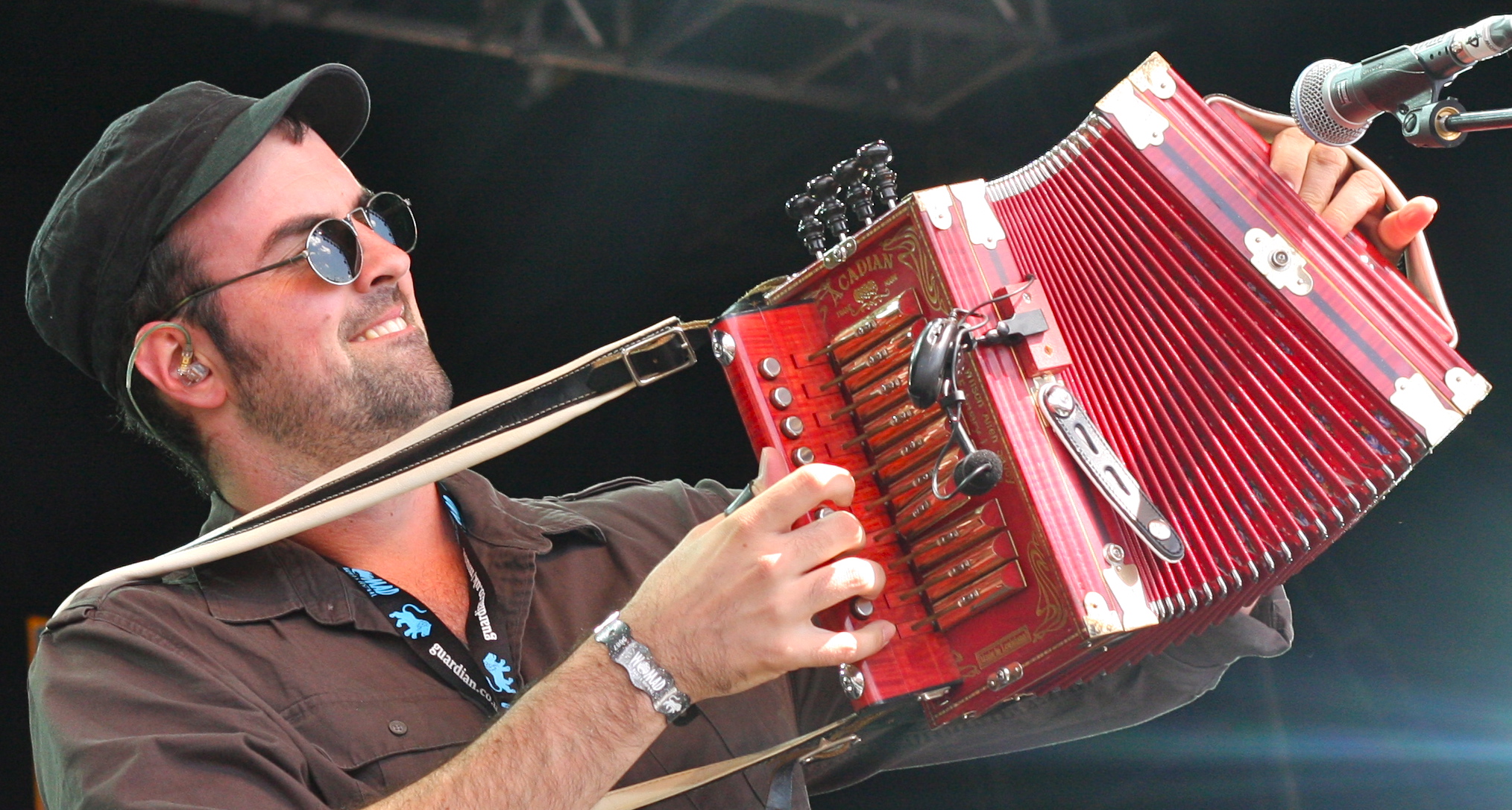 Racing back to the Media Centre I nip round to Radio Womad and shoot a few photos of the Alaev Family being interviewed and then it's round to get in the pit ready for a slice of Cajun heaven from the Pine Leaf Boys.
The five piece play a mix of Cajun and Creole music from their homeland of South Louisiana.
No strangers to Europe and the UK their leader Wilson Savoy (of the famed Savoy Family Band - who also played Womad recently) stated that it was their last day of their UK tour and and this was the gig they all really been looking forward to.
With violin, squeezebox and acoustic guitar at the front, and backed by bass and kitdrums, the boys delivered a faultless set of classic cajun music, with even the drummer handling some of the vocals.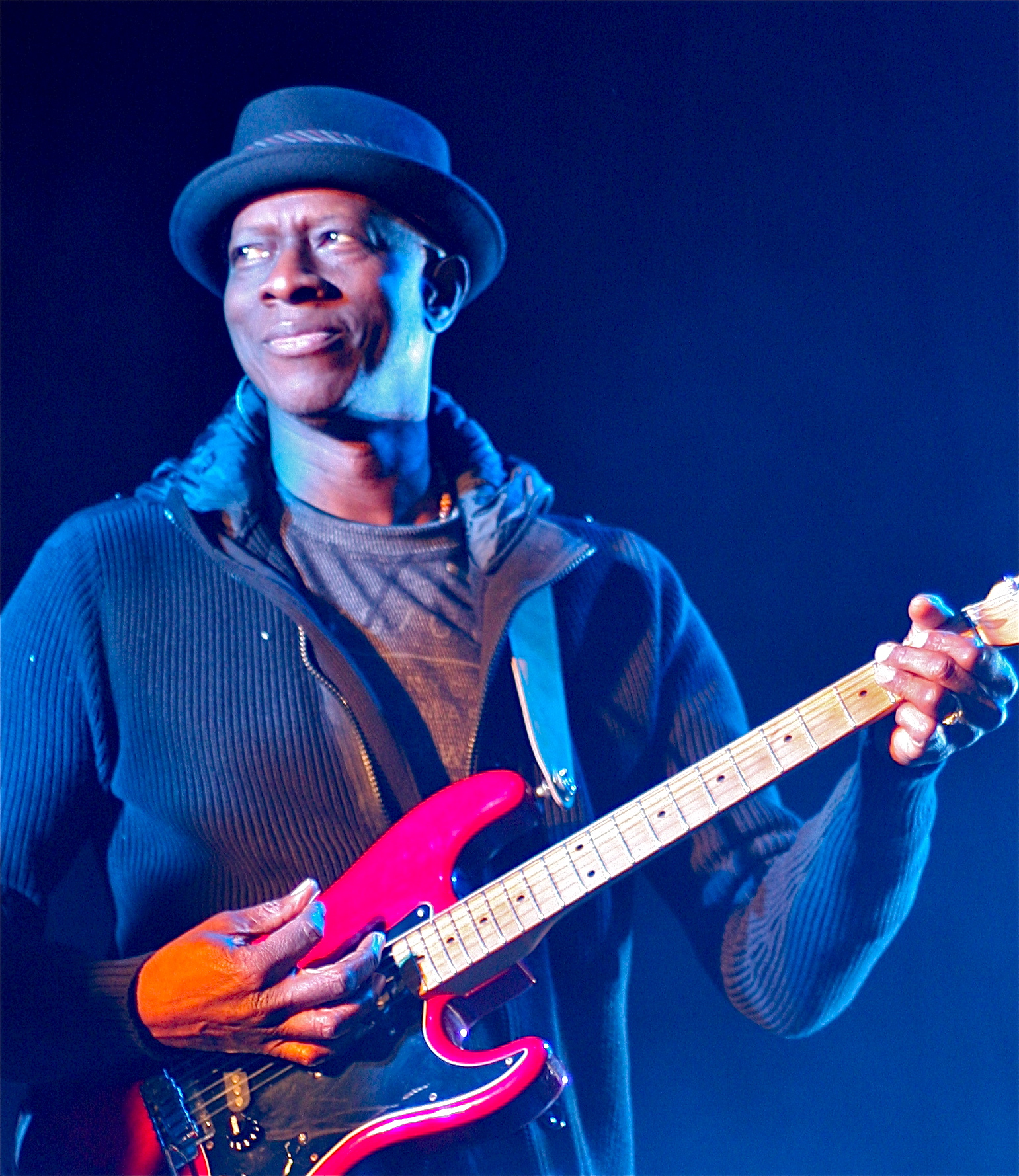 Passing by the Siam Tent again I spent a little time shooting and checking out Keb' Mo'.
Now, I very much like cajun music, but I like the blues even more and this three-times Grammy award-winning guitarist is the man to deliver.
Keb' (born Kevin Moore - hence Keb' Mo') is a man for whom the words "polished' and "assured", not to mention "consummate", and "professional" were made to measure.
There's almost not a lot else left to say about that, apart from his looks belie his 61 years by a significant amount and his music just gets you right there.
Great backing band (keys, bass, drums and rhythm guitar) and a nice bass solo.
"As smooth and rich as rum-soaked butter!"
Keb' Mo's music is as smooth and rich as rum-soaked butter! Definitely need to get hold of some of his albums!
Race off down to the Big Red Tent next for what promises to be a very interesting spectacle if only based on the name alone: DJ Yoda and the Trans-Siberian March Band! My brother was raving about this so we'd agreed to meet up there and make sure it was well covered.
Now, I have no notes from this or the next three bands so this is very much from memory, but I seem to remember waiting a heck of a long time whilst yet another problem was sorted out in the Big Red Tent. Although, admittedly Yoda's partners the 13-piece Trans-Siberian March Band need an awful big soundcheck - no easy D.I. plugging in for these guys!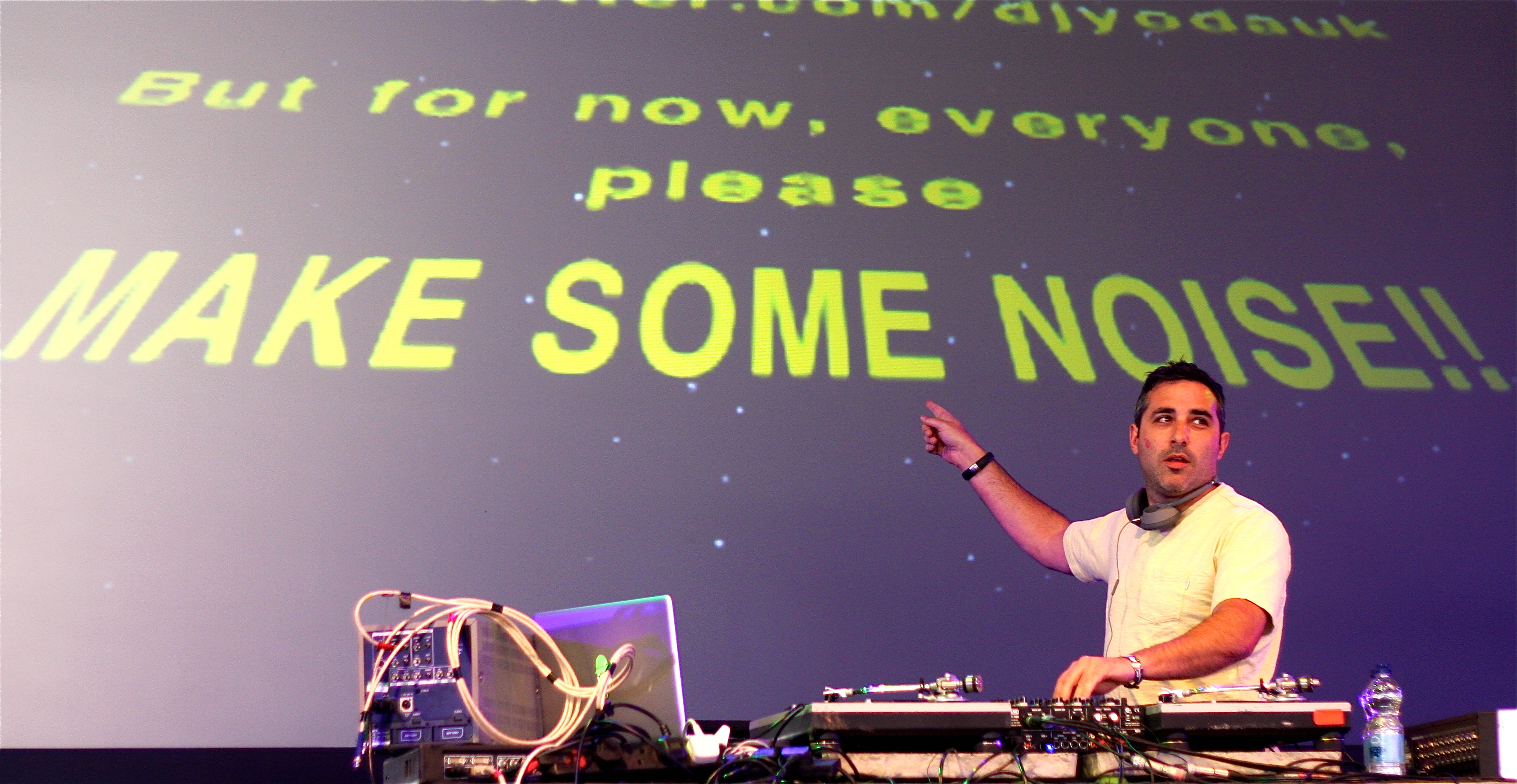 I'd better explain, DJ Yoda is a 'don' turntablist - with but one mission: to rock the house to its core!
It's his sense of visual and musical humour that marks him out from the 'worship me' variety of ego-centric DJs.
So, for this Womad he decided to appear with a 13-piece group of massed brass, reeds and percussion to add some extra power and a whole heap of cartoon comic silliness to the proceedings.
Once they were all finally soundchecked (a monumental task) they musicians left the stage and I turned round in the pit to survey the absolutely ram-jam-packed Big Red Tent. It was heaving!! It appears DJ Yoda carries some serious clout. Whilst us photographers were beginning to worry that the delay might affect our ability to get to the next shoot, Yoda started up. I cannot adequately describe the dense layers of sound and image that he conjured from split-second to split-second, but in the blink of an eye and the damage of an eardrum I became an instant convert to the intergalactic cause. DJ Yoda, may the force be with you indeed.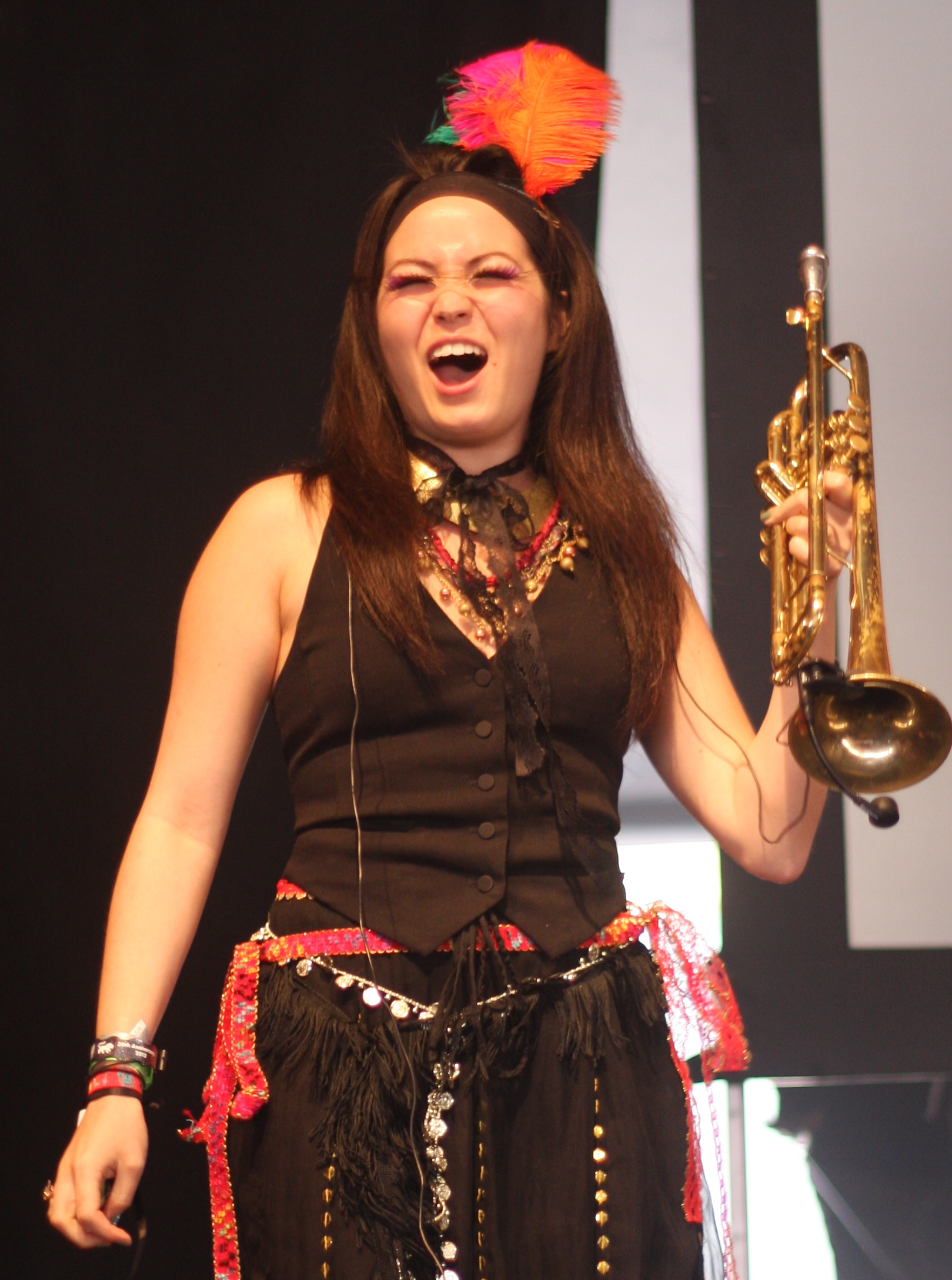 We were allowed to photograph him for a few minutes and then were told to wait stage-side until the full band came on. It was an agonising wait. One reason was for the agony was the relentless ticking of the clock and the knowledge that I needed to get back to the other end of the Arena well in time for the Buena Vista Social Club.
But the other reason was a literal agonising. I've seen and played in some deafening bands in my time (Deep Purple, mid-70s, I hold responsible for my tinnitus), but as I walked from the pit to the side of the stage I was in no way prepared for the jet engine strength sonic boom of Yoda's bass bins. Oh my god! My body was moved in ways no-one's ever managed to do! I think my internal organs all landed up in different positions and my brain-waves must have been permanently altered. I am not joking when I say that the decibel level was truly awesome. I was in awe. And then some. Not to mention shock. A kind, calm, placid, lady steward in a flowery-covered hat looked over at me and mouthed: "Take these" and handed me some industrial strength ear-plugs. I owe her my ears.
"hitting the auricular G-spot every time"
The music though, was faultless, exhilarating and very cleverly spliced together. The crowd were going wild, mental, transported to a million galaxies. And this was just the first 10 minutes! Oh my days! Yoda himself was bent over his desks and laptop looking up to see the effect he was having on the crowd and grinning away when he knew he was hitting the auricular G-spot every time. Missus.
Eventually, the Trans-Siberian March Band trooped on and the press photographers were let loose once again in the pit. "Five minutes, that's all!" we were told. Fair enough.
We ran around like a load of loons. Who on earth to photograph first? The asian trumpeter with the pink and orange feather in her hair? Their top-hatted conductress in fetching ring-master's jacket? The rather butch-looking trombonist in drag? The lip-sticked guitarist not in drag? The tuba player who looked she'd just walked off the set of Holby City? "That's it, time's up!"
We left with big smiles on our face, but whether from the spectacle, the music or just that my face had been permanently rearranged by the soundwaves, I can't tell…
"Cuban Royal Family of world music"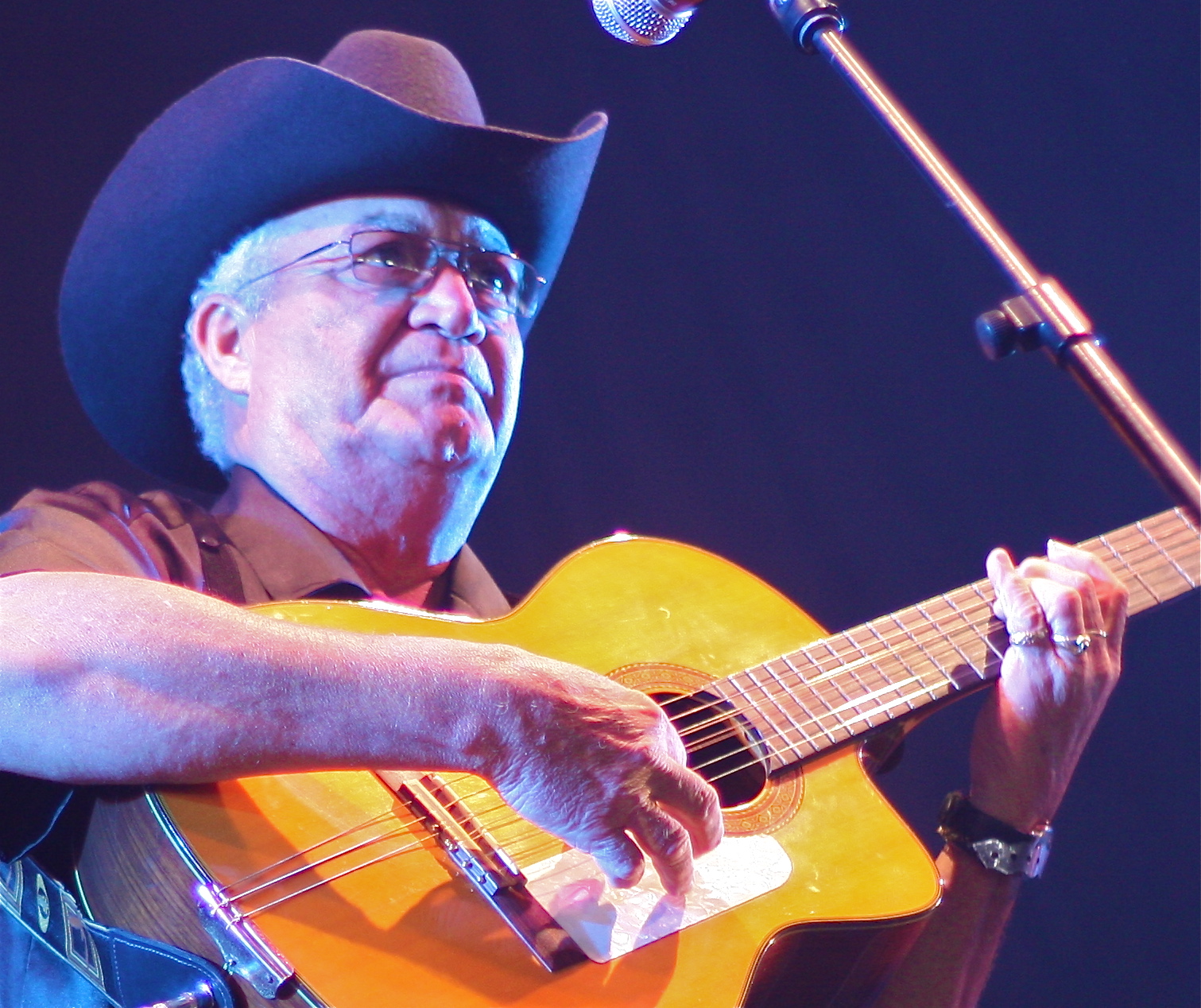 Out the back of the Big Red Tent and run and walk and pant and wheeze all along the dusty perimeter road to the Siam Tent and one of the big guns of world music, virtually the Cuban Royal Family of world music, Orquesta Buena Vista Social Club.
Now, obviously, not many of the originals are left with us now, but still it's a class act.
One of the integrants on this particular tour was the great Eliades Ochoa (who I saw at Womad last year with Afrocubism - see review here: http://worldmusic.co.uk/afrocubism_womad_charlton_park_29711).
The other was their featured vocalist, the wonderful Queen of Cuban Music, Omara Portuondo (now 81). I also spotted the world's leading laud player Barbarito Torres in the line up and Omara's husband, the 75 year old tresero Papi Oviedo. I'm afraid I don't know the names of the other members, but you just know they drip quality.
"the soundtrack to the life we should have been born into…"
We had one song to shoot in at first. This was because Ochoa was kicking off the singing and then we were told we could come back a bit later on, when Omara took to the stage. And so it was.
Once again, with Buena Vista it was like coming home and slipping into a hot scented bubble bath after a tiring day. There's just something so ineffably 'right' about the music, the sound, the atmosphere, it almost defies analysis. I'm sure most people who hear the OBVSC or indeed any of the Cuban greats share the feeling that this is the soundtrack to the life we should have been born into…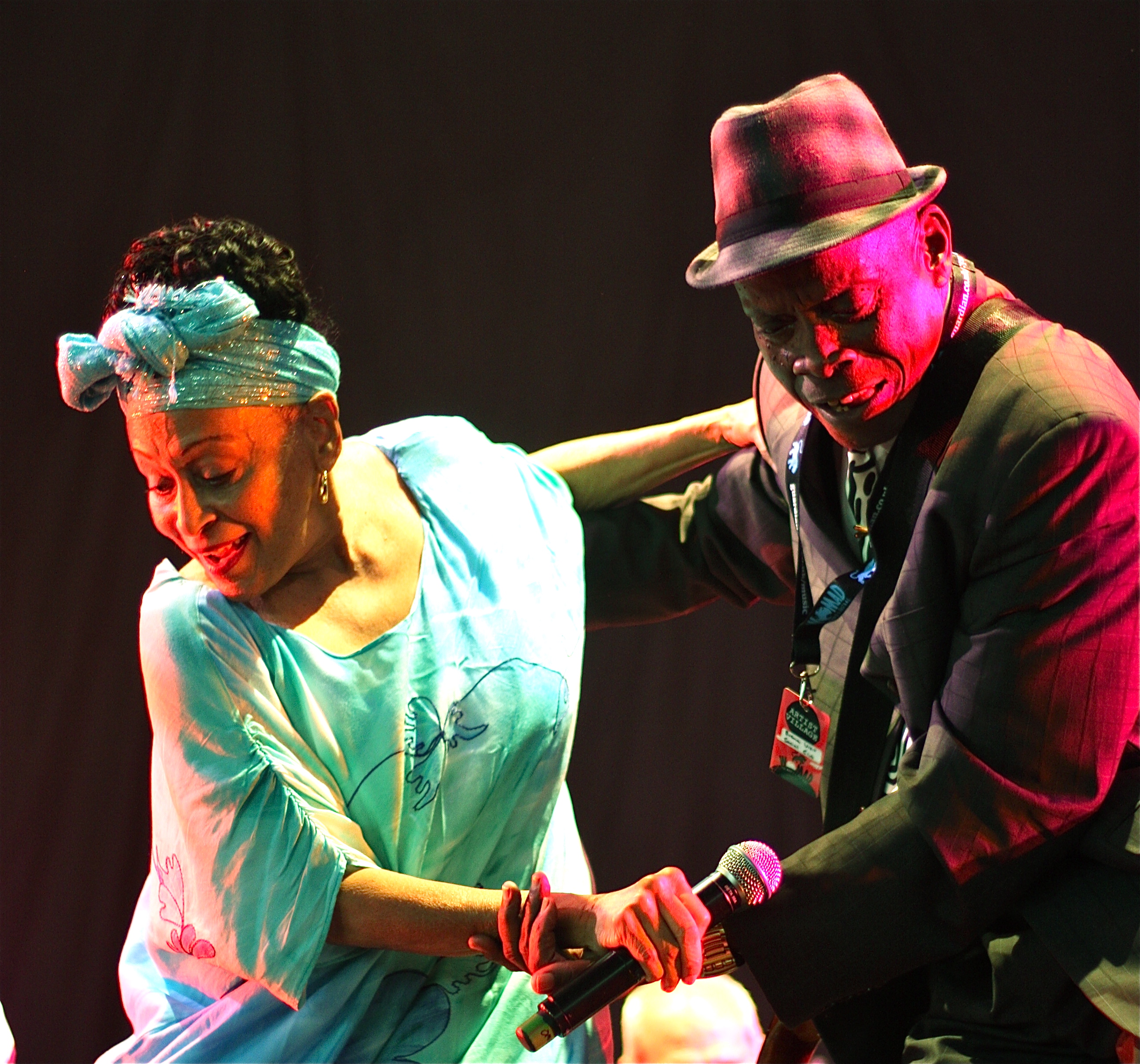 One of the highlights for me was when the diminutive - and sometimes rather frail-looking - Portuondo dragged her husband up from his place behind her and the two of them started dancing together. But hey, no crap 'wedding dance smooch' this! No, no no! They flirted, wriggled, giggled and showed off what their footwork and even ended up 'wining' down to the ground - to wild cheers of course. Fabulous. I want to be like that when I grow old too!!
I said Omara was looking frail. Well, in a sense, yes. I've seen her a few times now (the first time was when I met her in Havana in the mid-90s) so I'm always going to see the difference, but believe me her spirit is as strong as ever. This lady loves to perform.
Like I said: the Queen of Cuban Music. I'm blessed to have seen and heard these giants when I could. If there's a heaven up there then you can be sure that it's got a bar full of mojitos, a wooden dancefloor and a Cuban orquesta on the bandstand . . . Bliss!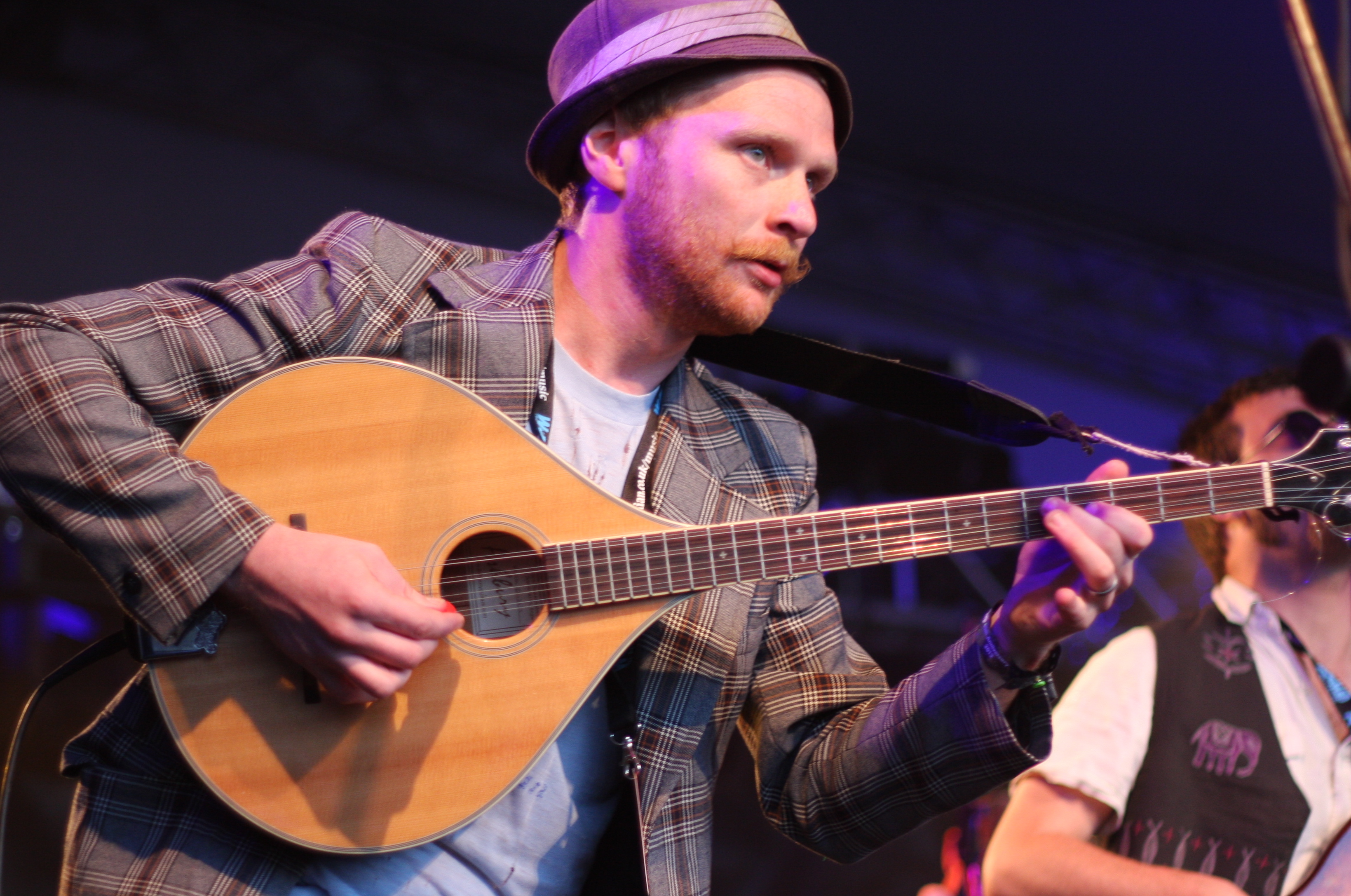 The evening was thickening now and I only had a couple more acts to cover. The next was another band I knew nothing about, but who sounded interesting.
Balkan Alien Sound are a 7-piece Irish band from around Derry and Donegal. Ok. Not exactly Serbia, but who cares these days.
With a repertoire that encompasses gypsy, klezmer and balkan musics these guys have been building up a reputation worthy of a place at Womad.
I went down to photograph them at the Charlie Gillett Stage and really enjoyed their sense of purpose and fun. They certainly seemed to be having a good time and that's always infectious. The line-up includes leader Martin Coyle on bouzouki and the others on fiddle, accordion, bass guitar, electric guitar and drums.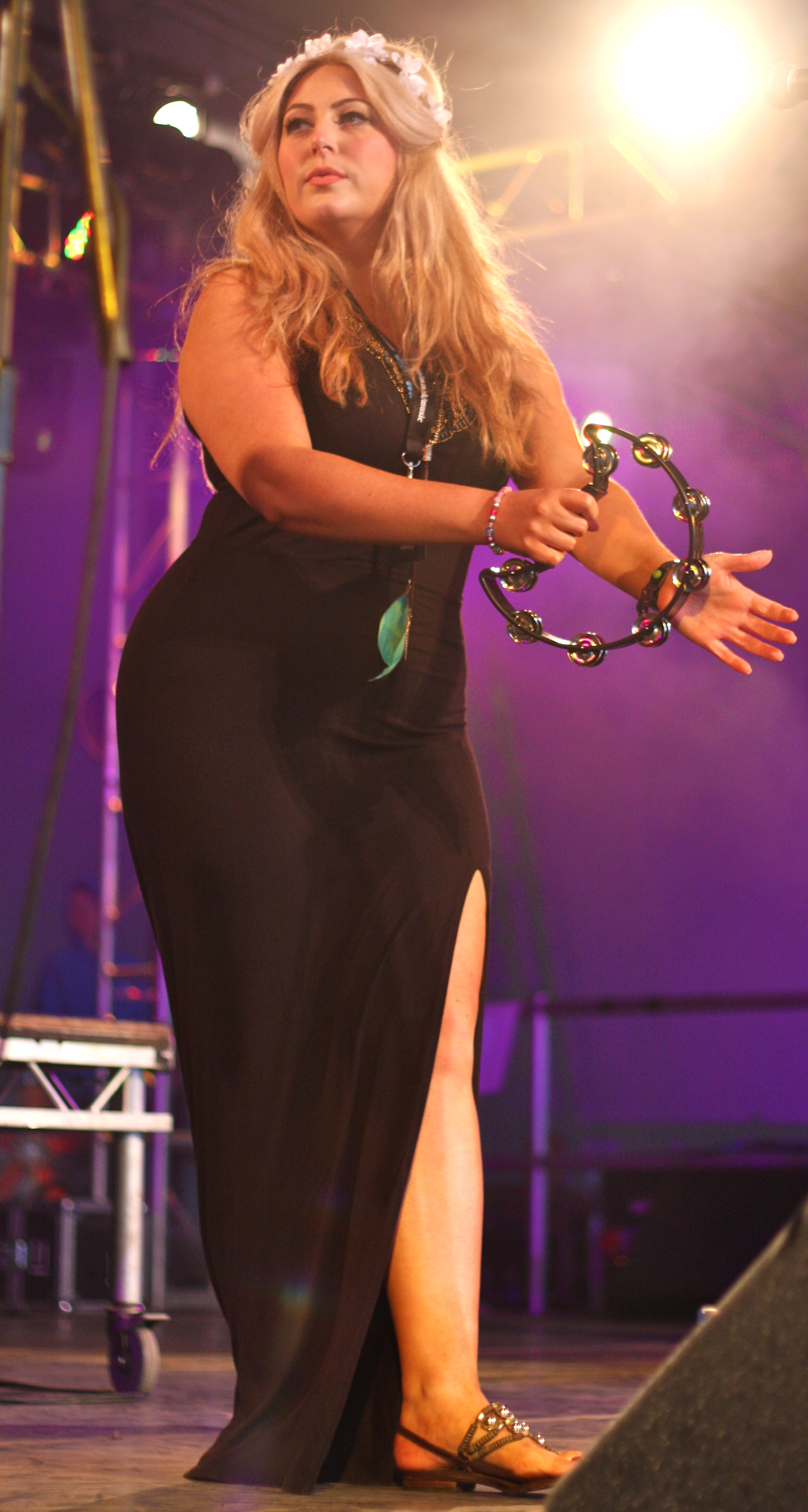 I was just about to leave after having spent the statutory 15 minutes shooting them - most of the other photographers had just left - when they announced that their singer was coming on now. Oh? I didn't realise they had one. Ok, fair enough. I'll snap a few off.
And on walks the rather lovely Aideen McGinn.
I'll just say that I stayed a tadge longer than I should have, for purely professional reasons of course, you know, just to make sure the photos were all in focus, and so on and so forth… ahem. Lovely! Oh, she can sing too.
And so... and so... and so, it's almost time for the big one. The headline act of Womad 2012. The big name. The equivalent of the Olympics closing ceremony. I'm talking of course of 'Robert Plant presents Sensation Space Shifters' at the Open Air Arena.
It was an unmitigated . . .
But no! I'm not going to tell you. I've already written the review. In detail. And you can read it here. That's all I'm saying. If you want to know how it all ends, just click here:
http://worldmusic.co.uk/sensational_space_shifters_womad_2012_review
Just click it!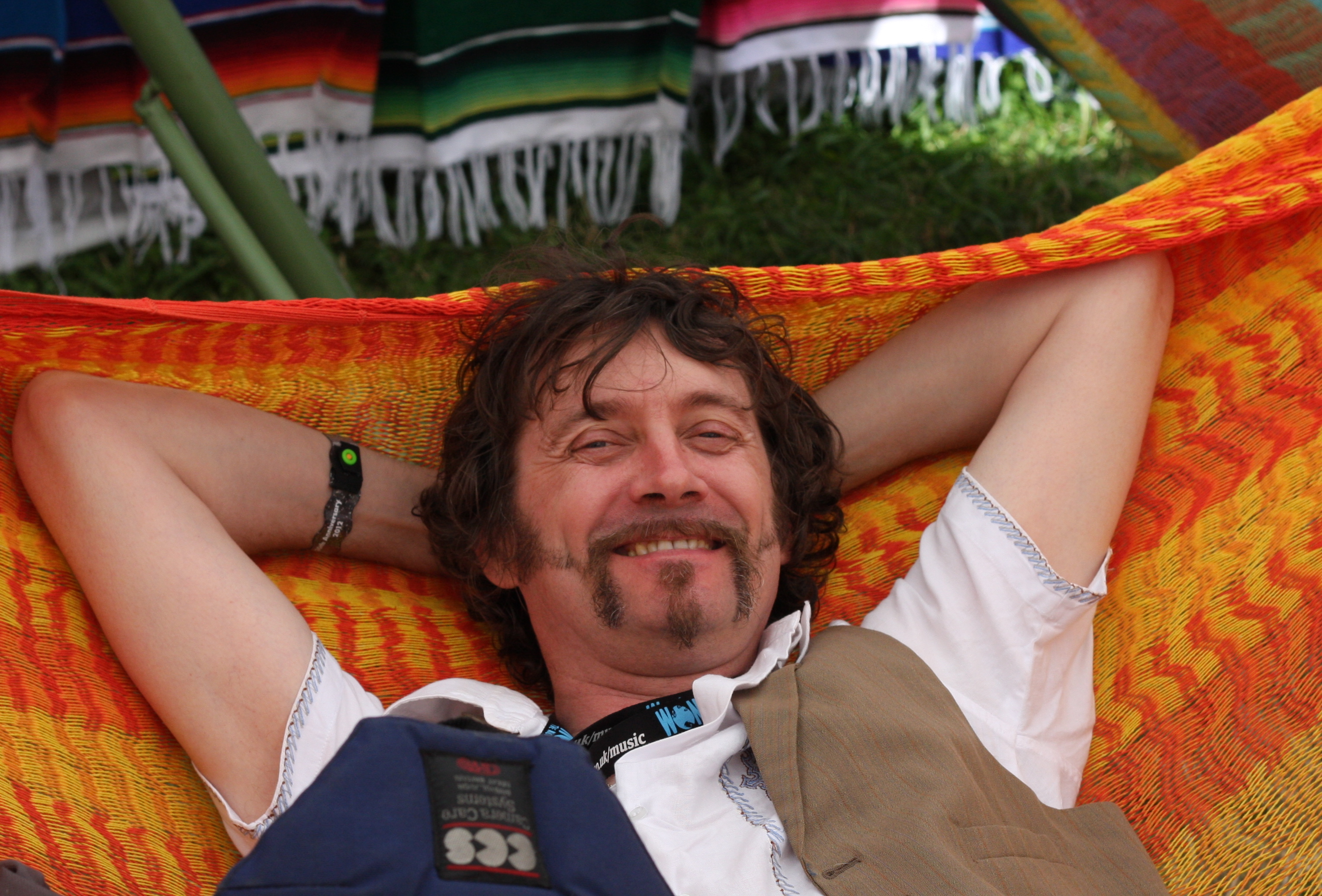 Hope you enjoy my epistolic recollections - and remember if you don't agree with any of them, then these are just my experiences and my impressions told in my own way.
Womad means many different things to many people.
.
.
.
"Womad. It's the daddy of 'em all."
Thanks to Borkowski PR for making it all happen and with all the assistance and problem solving - very much appreciated. Hope we can do it all again next year. Thanks to all the wonderful people I met over the four days and with whom I shared time and talk.
Womad. It's the daddy of 'em all.
Glyn Phillips
WorldMusic.co.uk
(Aug 2012)
Mid-May Round-up (Part 1) - Boogaloo, Bombay & Pop
Tagged with: Glyn Phillips blog world music worldmusic.co.uk boogaloo bombay pop surinder sandhu funkawallahs karma machine los fulanos barcelona si esto se acaba lovemonk joe bataan vampisoul Bombay Royale You Me Bullets Love Hope Street Bollywood India Katzenjammer
As this cold, wet, truculent, so-called Spring trundles on towards an uncertain Summer, I'm sitting here staring out of the window at a monochrome grey sky, which has just spat hailstones over my poor flowers, complete with thunderous belches (the sky, not me). Really not the most inspiring of days.
However, I think it's time to try and address some of the almighty backlog of music that endlessly flows down my digital river.
Except of course that now my youngest son wants help with his homework . . . And you wonder why I never write about all the things I ought to. Yes, yes, I'm just coming! Hold on, uncompleted maths homework from the previous weekend to do. SuperDad to the rescue. Kind of. Back in a mo. Or two. Or three.
Right I'm back. Oh, bloody hell, now the missus is calling me for dinner. Yeah, I know, I shouldn't complain, especially when someone else is cooking it for me. I'm not. I love the food. I just wish I had a 30 hour day and a 9 day week, that's all.
OK, it's now 'tomorrow' today, so let's try again. Spent last night at the house of my dear friend and ace producer/musician, Surinder Sandhu editing some Spanish language interviews for use as promos for his new project, the Funkawallahs and the forthcoming album, "Karma Machine". Very exciting indeed - but keeping all that under wraps until it's all ready to go . . .
"Spanish heat, urban cool and Nuyorican sabor"
So, now to all these new albums pouring in.
First up, I'm listening to the sounds of Barcelona's Los Fulanos who deliver a modern take on that 60s hybrid boogaloo.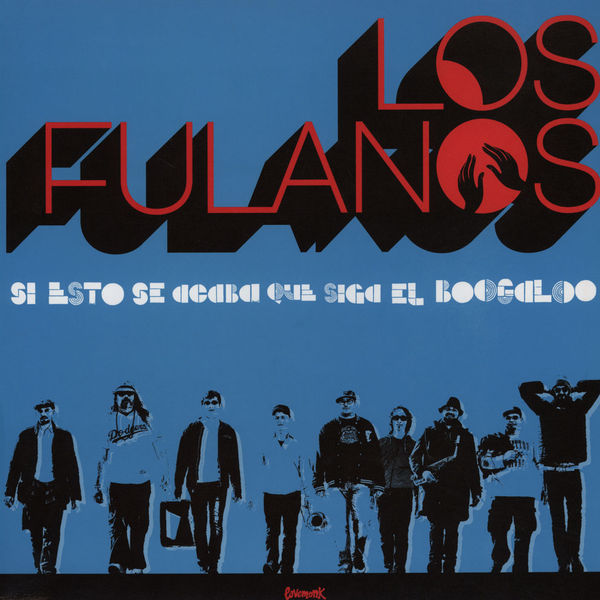 Very tasty indeed, with enough foundations in 60s latin soul groove (a controversial mix itself in its own time!) to be really grounded, some added retro-psychedelia, Spanish heat, urban cool and Nuyorican sabor and all marinated in a rhythm'n'blues salsa.
It might look backwards for inspiration but it all works very well in today's world. Sweet as a nut!
This debut album is entitled "Si Esto Se Acaba Que Siga El Boogaloo" ('If All This Ends, Keep On With The Boogaloo') and it's on the Lovemonk label (LMNK46).
There are 10 tracks (and a prelude) and it's sung in a mixture of English and Spanish with bags of energy and credibility and what I can only describe as a very authentic 'American sound' - especially the horns. Very infectious album indeed.
"great ideas ... well-produced album, all executed with ... clear vision and a big dollop of gusto!"
Mixed in with the boogaloo and disco, there are also plenty of other genres represented. For instance, there is some great rumba and explosive 70s style funk on "El Que No Está Se Lo Pierde" (Parts 1 & 2 respectively), "Sobran Cuero" is a very danceable salsa whilst "Manny" leans more towards rhythm and blues.
There's also a jazzy New Orleans vibe on "Kind of Guy", groovy proto-rock on the New Order tune "Blue Monday","Hold On (Baby Hold Me)" is a bolero underpinned with wonderfully cheesy organ, and we get a nice jazzy montuno on "The End of the World", to name but a few.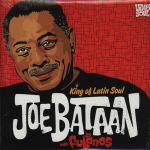 There are lots of great ideas in this well-produced album, and all executed with slick musicianship, clear vision and a big dollop of gusto! The producer is Miguelito Superstar (from Fundación Tony Manero)
I first came across Los Fulanos a few years back when they recorded an album "King of Latin Soul" on the Vampisoul label) with the Latin Soul legend, Joe Bataan ("Subway Joe", "Ordinary Guy", "There's a Riot Going On", "Gipsy Woman", etc) and loved how they'd tastefully updated what I had always considered were anthems so classic that to mess with them would be foolish. So, respect where it's due!
Next up is the Australian band The Bombay Royale from Melbourne, who specialise in bringing to life - and to the live stage - versions of many of the classics of India's Bollywood film industry.
The album's called "You Me Bullets Love" (on Hope Street Recordings), and is a 10 track CD/DL/Vinyl that showcases old songs such as the 1965 chestnut "Jaan Pehechan Ho" (from the film "Gumnaam") as well as entirely new pieces 'in the style of'.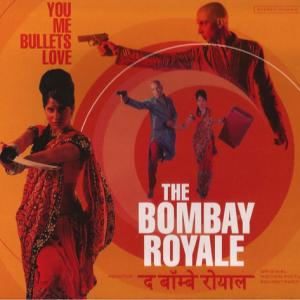 The 'golden years' for Bollywood films are often cited as the 60s and 70s and The Bombay Royale mix these old songs in Hindi and Bengali with newer material they have written themselves (and including some English lyrics) inspired by these classic masterpieces.
In fact "You Me Bullets Love" features eight original numbers and two re-workings of almost forgotten Bollywood production numbers (the other is "Sote Sote Adhi Raat").
"heavy retro vibe ... that - bizarrely - makes it sound very fresh and bang-up-to-date!"
There's a heavy retro vibe to the album that - bizarrely - makes it sound very fresh and bang-up-to-date! (obviously some weird tear in the time-space fabric…).
For instance the opening track "Monkey Fight Snake" features massed brass, swirling organs, siren-like vocals and sarangi in the background, sub-Spaghetti Western blaring trumpet (Spaghetti Eastern anyone?) and wouldn't sound out of place in some kind of drug-induced, trippy dream-sequence scene from The Avengers (the 1960s British series with the bowler-hatted, brolly-wielding Steed, not the Hollywood Marvel heroes one!).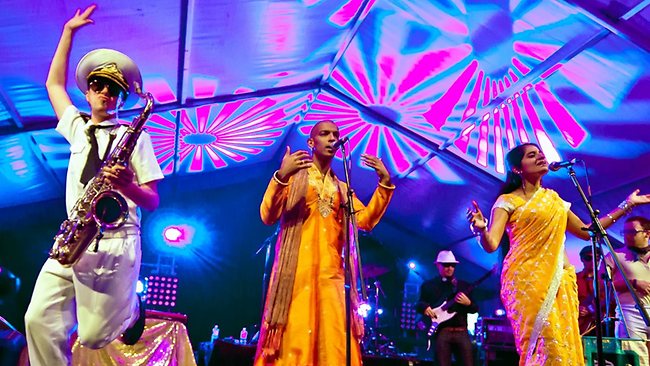 Conversely the title track is drenched in surf music, sort of 'Tarantino goes to Mumbai' (or is it India comes to South Melbourne Beach?).
At times the whole album sounds as if someone's taken a giant cocktail shaker and thrown in some vintage 50s, 60s and 70s Bombay kitsch, a shot of James Bond, a gaggle of Go-Go girls, two slices of Eddie Cochran and Gene Vincent, a pinch of Massive Attack, the serried ranks of saxophones, trumpets and trombones, a veritable forest of violins and yards and yards of orange, pink and turquoise silk, and then recorded the whole lot via the audio-equivalent of a Kodak Instamatic shot through a Dub filter. Someone with more knowledge of Hindi music would probably be able to pick up on the Bollywood strands better than me, but that's about as near as I can get to it at the moment!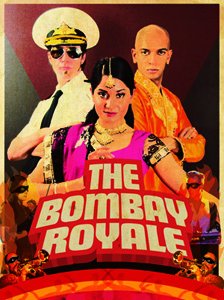 The Australian papers have described it as being "where A R Rahman and Ennio Morricone converge, where Slumdog Millionaire meets Goldfinger head on, with Quentin Tarantino and Indiana Jones lurking in the corner".
Now, what's really weird is that description has some parallels with my preceding paragraph; weird because I deliberately make a point of NOT reading Press Releases or other people's reviews until after I've written my own - so as not to be influenced by anyone else in the initial stage . . .
I just happened to consult the band's Press Release to check the singers names and spotted the above quote.
Well, I must be doing something right! Ha ha! Just noticed they also use the words 'surf' and 'spaghetti' too in another part of it. As I always say: 'Mate Grinds Link Athike'…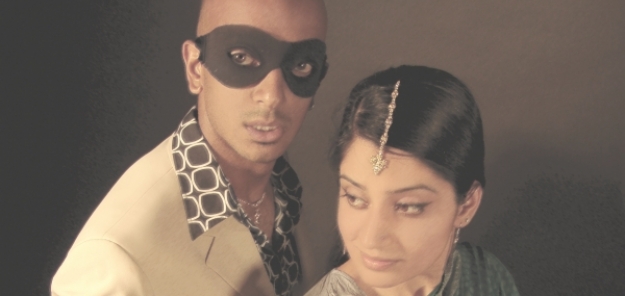 Incidentally the vocalists are Parvyn Kaur Singh and Shourov Bhattacharya. The MD is Andy Williamson.
It's a really fun album. A lot of it is, I'm sure, very tongue-in-cheek, but then again so is much of Bollywood, and it plays with all those elements of East meets West meets East again (and in the case of Australia, South).
So, if you like Bollywood music, or surf music, or the 60s, or trippy music, or just have a predeliction for multicoloured kitsch and musical cheese to let your hair down to and shake your thang, then book yourself a night at The Bombay Royale.
The album was released this week and the website link for The Bombay Royale is:
There's also a groovy video of the title track here:
"highly polished album"
As a real contrast comes the all-girl outfit, Katzenjammer from Norway and their highly polished album "A Kiss Before You Go" (Propellor Recordings - released May 2012).
The whole album is sung in English and comes across as an uplifting blend of pop, folk, acoustic, country, bluegrass and rhythm'n'blues, a sprinkle of balladry, whimsy, acapella and rock, and all laced through with a healthy dose of idiosyncratic eccentricity and sonic cabaret theatricality.
"enough singalong lyrics to keep you going all through the summer"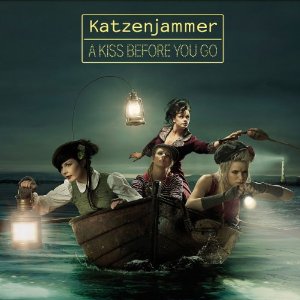 However, it is also all bound together with very credible pop production values, accessible melodies and enough singalong lyrics to keep you going all through this summer's festival season (especially the tracks "Rock-Paper-Scissors" and "I Will Dance When I Walk Away").
I must admit, I was slightly dubious as to whether or not I'd like Katzenjammer at first, since their music is far more 'poppy' than I'm used to writing about or even listening to, but a bit of suspended disbelief paid dividends and I'm now quite happy to recommend them.
Formidable ladies, these Katz . . . !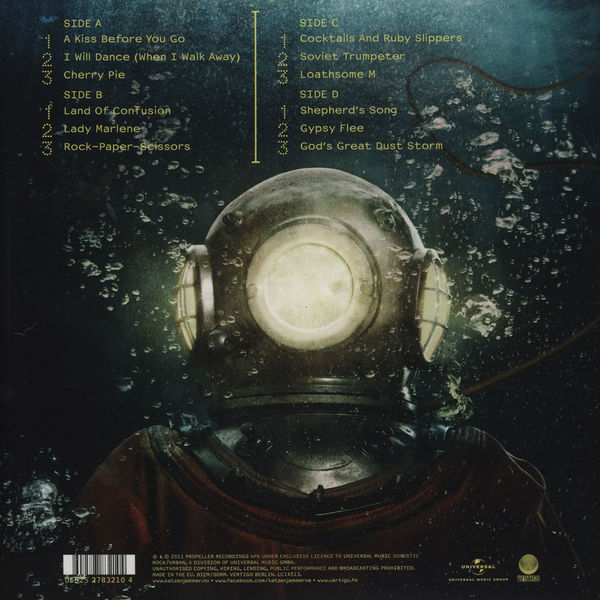 Here's a link to their website and other contact points:
www.facebook.com/katzenjammerne //
and also to some YouTube Videos:
www.youtube.com/watch?v=WqmbqnjbLc
www.youtube.com/watch?v=YZEDMIZZSug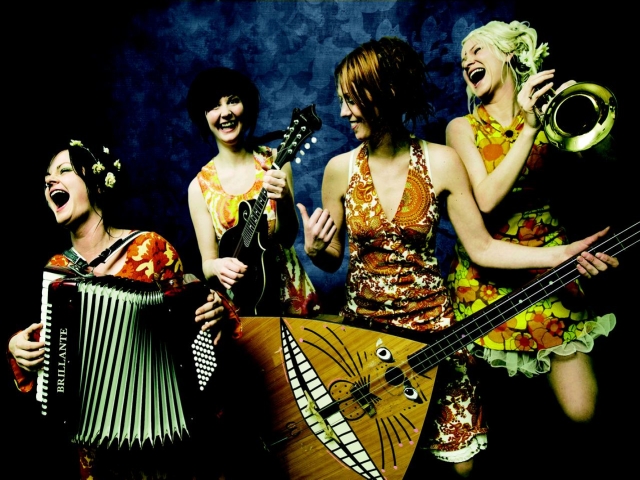 Katzenjammer are touring the UK this month:
Thu 17th BRISTOL, Academy 2
Fri 18th MANCHESTER, Academy 3
Sat 19th GLASGOW, King Tuts
Sun 20th BIRMINGHAM, Academy 2
Tue 22nd BRIGHTON, Concorde 2
Wed 23rd LONDON, XOYO
See the RPS video here: www.youtube.com/watch?v=WqmbqnjbLco
Host RPS here: www.soundcloud.com/yourfriendbam/katzenjammer-rock-paper
and don't forget you can get a Free Download of "Cherry Pie" here:
www.facebook.com/katzenjammerne/app_113345305387225
So there you go - three albums down and only *mumble, mumble, mutter, mutter* to go (I've even taken my shoes and socks off and have still run out of toes to count on).
I'll sign off this blog here and carry on soon. Off to yet another rehearsal with yet another band (sweet reggae, soul and nyabinghi behind some very conscious lyrics). Time to make some music myself now!
Glyn Phillips (WorldMusic.co.uk)
(16/5/12)
It's Jazz, Jim, but not as we know it!
Tagged with: World Music Glyn Phillips Ayanna Truthfully Ida Kelarova Desiderius Indies Scope Roma Jazz Gypsy Romska Balada Tomas Kaco Skampova Kuarteta ARC Music Re-Orient Undiscovered Time Baluji Shrivastav Linda Shanovitch Chris Conway Charlie McMahon Gondwana Didj
Some interesting albums have come across my desk in the past few weeks with, to a lesser or greater degree, an element of jazz within them.
"Powerful, poignant, great integrity"
The first is singer/composer/ace cellist Ayanna's EP "Truthfully" (AWJ001) which is simply sumptuous and gorgeous - it somehow operates in the territory beyond jazz and soul where beautiful music is just beautiful music. Powerful, poignant, great integrity. Highly recommended. Contains her skin-tinglingly idiosyncratic version of "Roxanne" (yes, that one!).
Here's a link to my full, in-depth review of the EP: http://www.worldmusic.co.uk/ayanna_truthfully_cd_review.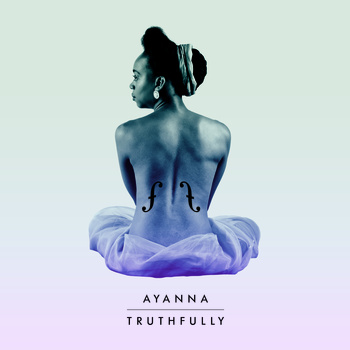 Check it out.

And if that doesn't sell it to you then check out my review of her recent concert at Birmingham Town Hall (http://www.worldmusic.co.uk/ayanna).
Catch her while you can. (For more info: www.ayannamusic.com).
And if I haven't already exhausted my stock of hyperboles, then let me sprinkle a few more over the next artist.
I already mentioned the Czech Romany singer Ida Kelarova a a few weeks ago and her collaboration with guitarist Desiderius Duzda and his band Jazz Famelija on the album "Sunen Savore" (Listen Everyone) (MAM509 / 2012 Indies Scope) featuring special guest the Serbian accordionist Lelo Nika.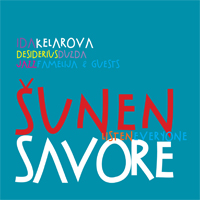 I'll just repeat what I put then: "Really beautiful music - sort of bossa meets gypsy meets jazz - very mellow but really gets under your skin without forcing itself - had it on repeat play for ages last night. … sumptuous. quivering, heart-string tugging accordion …" .
"percolates into the aquifer of your soul"
Ida and Desiderius take jazz in one hand and Roma music and traditions in the other and breathe new life into both of them. It's really impressive stuff. The kind of music that seeps into your skin and percolates into the aquifer of your soul. Love it. Love it. Love it. I'm just an old romantic at heart sometimes, I know, but the world would be a poorer place without music like this to pour out like a healing balm over bruised and broken hearts.
Well, I still stand by all that. But interestingly last week, by sheer coincidence, I unearthed some more Ida Kelarova buried deep in my archives on an album entitled "Romska Balada" (Roma Ballad) on the Indies Scope Records label from the Czech Republic and released in 2010.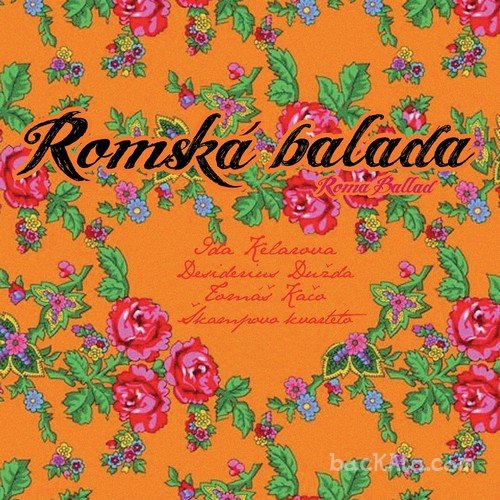 Here she's teamed up again with Desiderius Duzda (on vocals), but this time with the assistance of Tomás Kaco on piano with backing from the Skampa String Quartet and some guest vocalists (including Lukás Horvath) on an album of Gypsy Ballads. So there's no bossa and the jazzy influences are less obvious, but there's still an underlying jazz sensibility. However, the lushness quotient is raised significantly and the tender, aching, melancholy is plumbed to the depths. Even as I listen to it right now all my hairs are standing on end and I'm covered in goosebumps. And it's not all about Ida's voice either - Desiderius's vocal chords have that quality too. Gorgeous. Love the duets and vocal ensemble tracks too.
The album is written and recorded so that each song runs musically into the next one (they are divided up as separate tracks though), so that the overall effect is one long musical journey, a rollercoaster of emotions. Track titles such as "Mama", "I'm Dying", "My God", "Brother", "My Daughter", "Our Children", "Hear Me Out God", "I Love you So Much", "Why" and "My Love" give you a feel for the subject matter.
"unashamedly romantic"
But don't let that put you off even if you're at all afraid of the power of emotion. We might be British but we're still human after all! This is unashamedly romantic music, often sad, but always from the heart - there's not a hint of cheesiness anywhere.
The sleevenotes state "When a Roma's wife died, though sad, he could not cry. The doctor warned, that he must weep or his very heart would die. But crying caused too great a pain so he sang with all his heart… and his heart was fine again". If you like Fado or Tango, then you'll definitely love this.
The sleeve notes also portray the album as 'Contemporary Roma Music Creation' and that's pretty accurate. Don't get me wrong, I really enjoy a lot of the new Gypsy collaborations as well as the remixes and mashups (although there's a lot of dross out there too), but it's just so refreshing to see someone use the fabulous heritage of the European Roma and take it in a different direction. Both albums highly recommended. (www.indies.eu and www.kelarova.com)
Well, I've written loads already and only covered three albums . . . In the words of Gardeners' Question Time's Eric Robson "onwards and upwards".
Long-time world music specialists ARC Music have sent me through a couple of albums from their bottomless catalogues. The first is called "Undiscovered Time (Indian World Music Fusion)" by the band Re-Orient (EUCD 2371). The trio consists of multi-instrumentalist Baluji Shrivastav and singer-songwriter/poet Linda Shanovitch alongside another multi-instrumentalist (and uber-prolific album releaser - 80 to date), Chris Conway.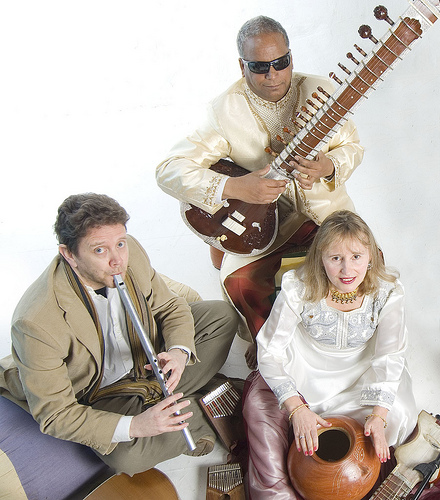 The album is a fusion of world musics with influences from both Indian classic and Indian folk, the Balkans, Bossa, the Celtic world, and assorted jazz balladry and other flavours. So often these sorts of fusions can become messy and fall between the cracks, but this is a very interesting, very listenable album.
Each member has contributed their own compositions to the 10 tracks on the CD (three by Chris, three by Linda, two by Baluji and a couple of joint works) and as you'd expect they tend to each emphasise different facets of the fusions. Baluji draws more from the raags and the classical Indian music tradition, Linda's from jazz and ballads and poetry with a sparser and more reflective nature, whilst Chris tends to have a more overall balanced fusion of flavours spent from years of experimenting with ingredients and fiddling with menus in the world music kitchens.
I must admit to having a connection to Chris Conway since we used to play together in the mid-90s as part of the Sabri Ensemble (an Indo-Jazz fusion band) although our paths have never crossed since. So, 'Hi Chris' and it's nice to know you're every bit as talented as I remembered!
With instruments including sitar, dilruba, surbhabar, tabla, naal, gopichand, darbuka, piano, keys, tin whistle, low Irish whistles, and 9-string electric and acoustic guitars, theremin, swarmandal, nattuvangam, bodhran and a variety of vocal styles there's a lot to listen out for here. There are also sporadic appearances by special guests Eric Junkes on saxes and Andy Platt on bass.
It's difficult to accurately describe the music, so I'll just try and give you a flavour of what I'm hearing. These are just my impressions.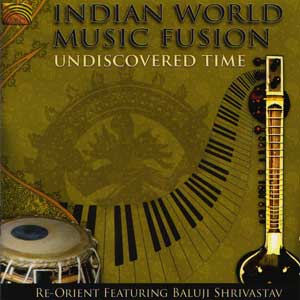 Global Reunion feels like the soundtrack to a film and is an uplifting theme to introduce the disparate members of the band as they re-unite for this new album. Brave Boy is more of a straightforward midnight jazz ballad, real torch-song stuff for the end of the night when the audience have all gone… Very sad lyrics, deepened further by Junkes's weeping sax and Baluji's mournful dilruba. Portrait of a Swan is a fairly straight meeting of jazz and Indian tarana in Raag Hansadhwani mode featuring the sax and sitar. The Gift of Time is a form of Indo-Irish ballad and Dangerous Ground a slow bossa with flamenco undertones featuring a solo on the strange sounding gopichand (a one string plucked instrument).
Celebration cracks along in a joyous vein with elements of Brazilian nordestino pifano music set against Indian bols, kalimba, crows, monkeys and a global background of sounds. Tides is another meditative piece featuring Linda's words and vocals and the rather otherworldly sounds of the theremin, gentle ostinatos and the sound of the waves. The Long Summer is a piece inspired by Balkan music in ⅝ time yet is more akin to Brazilian jazz in the vocals. Celestial, which draws inspiration from the Bhagavad Gita, is as spacy and ethereal as the name implies, whilst Garland of Light is a floaty collective improvisation utilising their three very different vocal sounds.
"one to listen to and then listen again..."
Interestingly, the whole album hangs together surprisingly well, given the amount of influences, the plethora of instruments, the different backgrounds of the members and the highly collaborative nature of the work. It's not an easy thing to pull off. We're often used to the concept of a dominant musician or producer having an idea and dragging everyone else along in the direction they want (sometimes necessary to bring a vision to life), but that this album works as well as it does I can only attribute to Re-Orient's ability to really listen to each other, support and co-create. After 20 years I suppose they've got the right fusion after all. This is one to listen to and then listen again... (More info on Re-Orient from www.baluji.com, www.chrisconway.org and www.arcmusic.co.uk).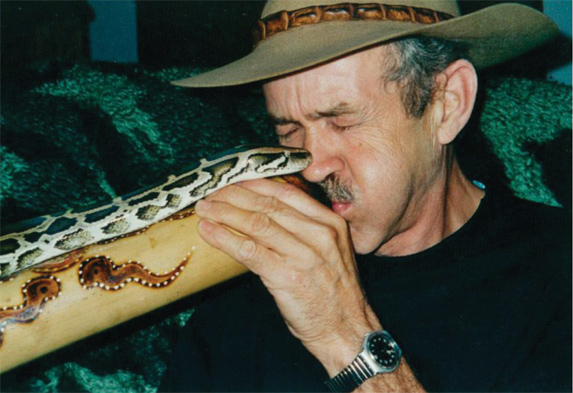 The other album from ARC Music comes from Australia and is by Charlie McMahon and Gondwana and is called "Didj Heart" (EUCD 2370). To be honest it's not really my thing, so I'm not going to comment one way or another on it as what doesn't float my boat, might well rock yours. There's rarely such a thing as 'bad music', just music you haven't been able to appreciate yet. If you like didgeridoo fusion music then check it out. Maybe I just need to go walkabout and get my head around the style. (www.arcmusic.co.uk)
Well there we go for this blog. How on earth do I do it? Every time I sit down I tell myself: "just a few words on each one; don't get carried away". Nah, can't be done - I've too much to say! Time for tea, I think! Tomorrow, I really will keep it brief . . . !
Glyn Phillips (WorldMusic.co.uk) - Wed 2nd May 2012

Late-March Round-Up (29/3/12) - Fonseca, Folk, Finns & Flu
Tagged with: Glyn Phillips Blog World Music worldmusic.co.uk Roberto Fonseca Ida Kelarova Desiderius Duzda Lelo Nika Indies Scope Poletime? Aulaga Folk A Menos Cuarto Armando Records Urban Folk Quartet Off Beaten Tracks Kardemimmit Introducing World Music Network
Well, after 3 days supine and pretty much comatose in bed with the worst dose of 'man-flu' and eyeball-ache I've had in years and unable even to look at a light source, let alone a computer screen, I'm back on the digital treadmill and trying once again to catch up with the endless river of music that washes through my door . . .
Looking forward to reviewing Roberto Fonseca and band live at Birmingham Town Hall this Sunday (1st April) - an 8-piece stripped-down version of the 15 -piece album band, including Africans Baba Sissoko on percussion and Sekou Kouyate on kora against a fabulous Cuban band. Oh, yes, it's going to be a good one!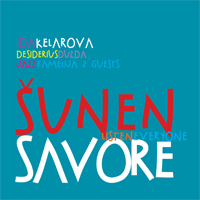 Just been sent some fabulous Roma Jazz from the Czech Republic featuring Czech and Slovak Roma musicians headed up by singer Ida Kelarova and guitarist Desiderius Duzda and the band Jazz Famelija.
The album's called "Sunen Savore" (Listen Everyone) on the Indies Scope label (MAM509 / 2012 Indies Scope - EAN: 8595026650923) to be released on 6th April 2012.
Really beautiful music - sort of bossa meets gypsy meets jazz - very mellow but really gets under your skin without forcing itself - had it on repeat play for ages last night. And can I point out the sumptuous, quivering, heart-string-tugging accordion of Lelo Nika . . .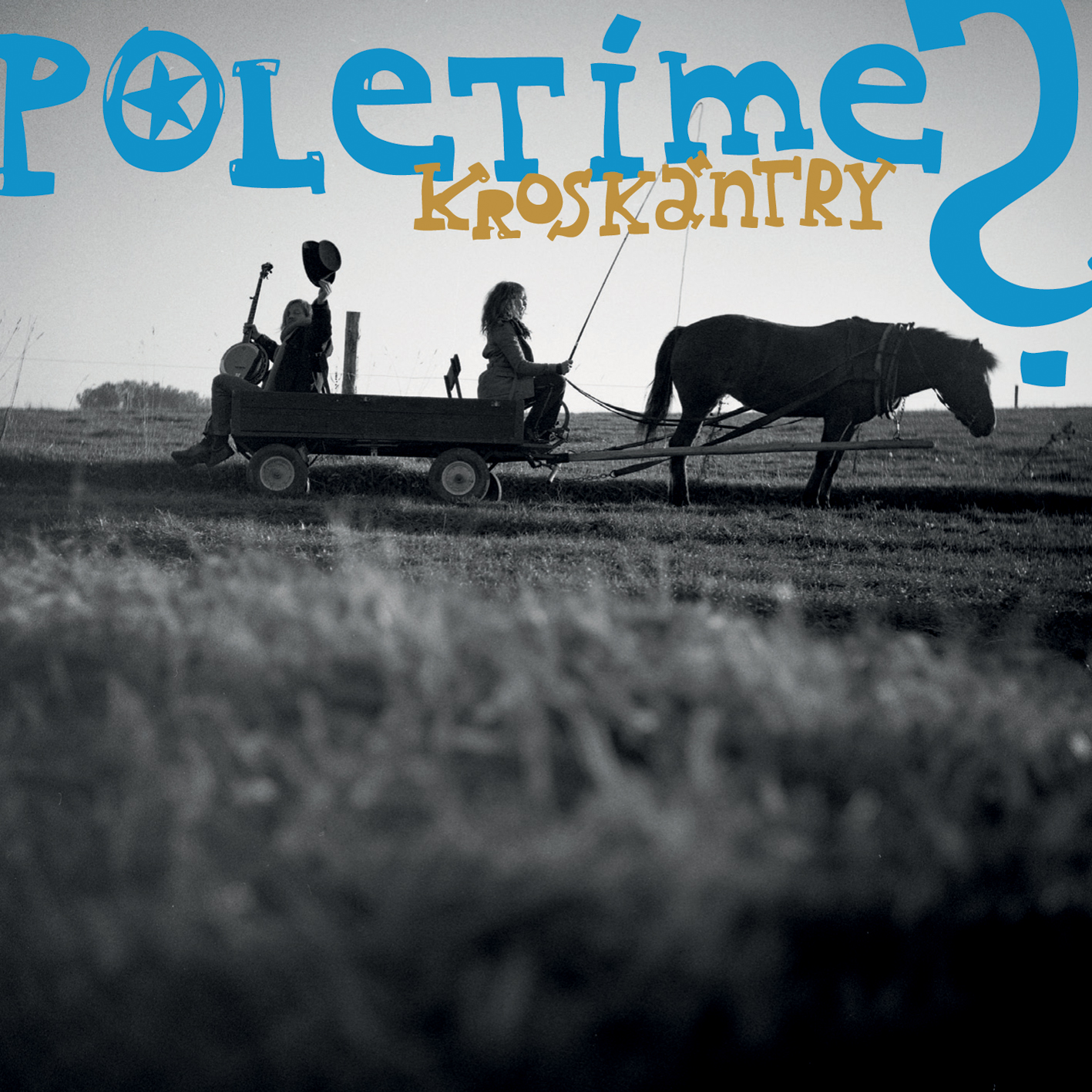 Also from the same label Indies Scope, and already released is something quite different: Polish Country and Western. No, don't laugh! Seriously. And it's not bad either - it's fairly tongue-in-cheek and mixed up with punk and pop elements. The band is called Poletime? and the album (MAM505 - 2012 Indies Scope) is called "Kroskantry" (cross-country - get it?).
The young band from Brno have a 'banjo-punk' ethos and bags of humour even if you don't speak Polish (and trust me, I don't). If you do, you might pick up on the lyrics "which are straightforward, poetic, yet slightly vulgar" according to their liner notes. It also states "they confirm their position of joyful band, full of brisk rhythm and melodic choruses." So now you know!
(info for Ida Kelarova and Poletime? via Indies Scope: www.indies.eu/en/)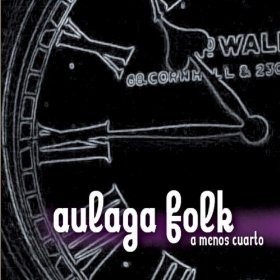 Before I succumbed to whatever damnable virus floored me, I was also checking out a couple of contemporary folk offerings. The first from Spanish band Aulaga Folk and their album/DVD "A Menos Cuarto" on Armando Records (ARD-123).
The album title means literally 'at quarter to' (as in being ready 15 minutes earlier than the agreed time) and refers to their perception of being in the right place at the right time.
The band pride themselves on rejuvenating the traditional folk of their region (the little known area of Extremadura) and mixing it with the Celtic traditions of Galicia and Asturias to the north and elements of rock, latin, jazz, etc. Their facebook link is here: www.facebook.com/pages/AULAGA-FOLK/236668229479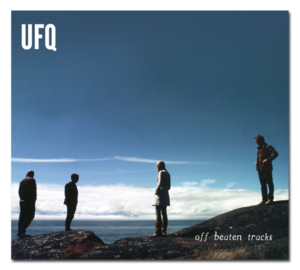 The other folk album comes from closer to home and is Birmingham and the UK's Urban Folk Quartet. This is called "Off Beaten Tracks" and was largely written whilst on the road during their 2011 tour of Europe and North America playing a mixture of venues from 30,000 strong festivals to small coves (many off beaten tracks, I shouldn't wonder).
The 'off beaten tracks' theme really suits their style of music, which although recognisably folk in feel and acoustic orientation sees them running free through the world's diverse musical genres like kids through a summer meadow. The music seamlessly weaves countless threads of varied styles into the whole - going from Celtic folk to reggae to arabic to jazz and elsewhere, almost in a single phrase at times.
It's all quite beautifully done and so natural (I nearly said organic then!) that it's quite easy to miss the plethora of worldwide folk reference points and just treat it as... well, music! No bad thing I suppose.
Their PR has them as "a dozen instruments and four voices coming together to craft a knockout show of globally–influenced, electrifying acoustic music". Yeah, I'll buy that.
Watch out for Frank Moon's quavering oud and soaring fiddle aviatics from Galicia's Paloma Trigas and England's Joe Broughton - all topped of with Tom Chapman's rattling cajón.
The album is described as: "a travelogue of musical snapshots from the road - compositions dedicated to Spanish bus rides or The Vancouver Island coastline, for example - and a collection of highlights from the set that had people dancing the night away at festivals from The Bay of Biscay to edge of The North Pacific."
There you go, does what it says on the tin! For more info check here: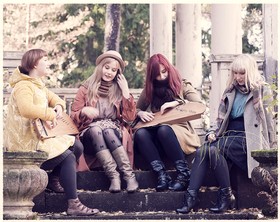 Also been listening to some quite beautiful contemporary Finnish folk from the female vocals-and-kantele quartet: Kardemmimit and their album "Introducing Kardemimmit" on World Music Network. Very chillaxed...
(www.kardemimmit.fi/en/biografia.html)
And if you fancy some mad, mad, but totally brilliant Pakistani jazz - you can't do much better than Sachal Studio's remake of Paul Desmond's "Take Five" (part of their homage to Dave Brubeck). Stunning! I'd first heard it some months ago, but came across it again yesterday and thought it was too good not to include here:
Massed violins and cellos backing some fabulous sitar, acoustic guitar and crazy, crazy tabla-playing . . . Bliss!
OK, gotta go. As ever I start off thinking "I'll just jot a few sentences and thoughts down" - and, as ever, my mind runs away with itself, leaping through those meadows of musical wildflowers into the late afternoon sun . . . What's a man to do?
Glyn Phillips (WorldMusic.co.uk) - Fri 30 March 2012
Mid-March Round-up (15/3/12)
Tagged with: Glyn Phillips world music worldmusic.co.uk Andy Kershaw No Off Switch Rachel Harrington Knock Outs Julaba Kunda Sensational Space Shifters Dub Colossus Spiro Putumayo Bombino Roberto Fonseca Flavia Bittencourt Soundway Leilia Ceu Rough Guide Sefiroth Omi
"Best autobiography I've ever read. Bar none"

Just a few quick observations and round-ups of what's going for me recently.
Just finished reading Andy Kershaw's autobiography "No Off Switch".
I'll put this as simply as I can: Best Autobiography I've Ever Read. Bar None. Thoroughly recommend it. Nuff Said.
I'm looking to write a review of it when I get a moment or ten and I'll expand my thoughts in that, so watch this space . . .
[* The FULL REVIEW of ANDY KERSHAW's "NO OFF SWITCH" can now be found here: worldmusic.co.uk/andy_kershaw_no_off_switch_an_autobiography_rev]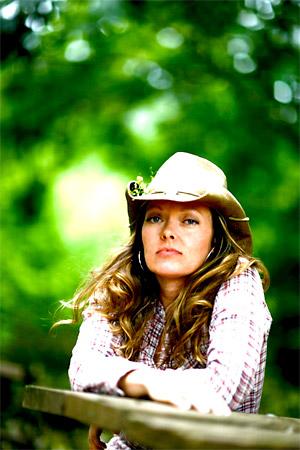 Saw the American Country band Rachel Harrington and the Knock Outs a couple of nights ago (currently on tour round the UK) -
a fabulous all-girl outfit with great musicianship, harmonies and some classy pen(wo)manship from Harrington.
Recommended.
(see Review here:
www.worldmusic.co.uk/rachel_harrington_the_knock_outs_bilston)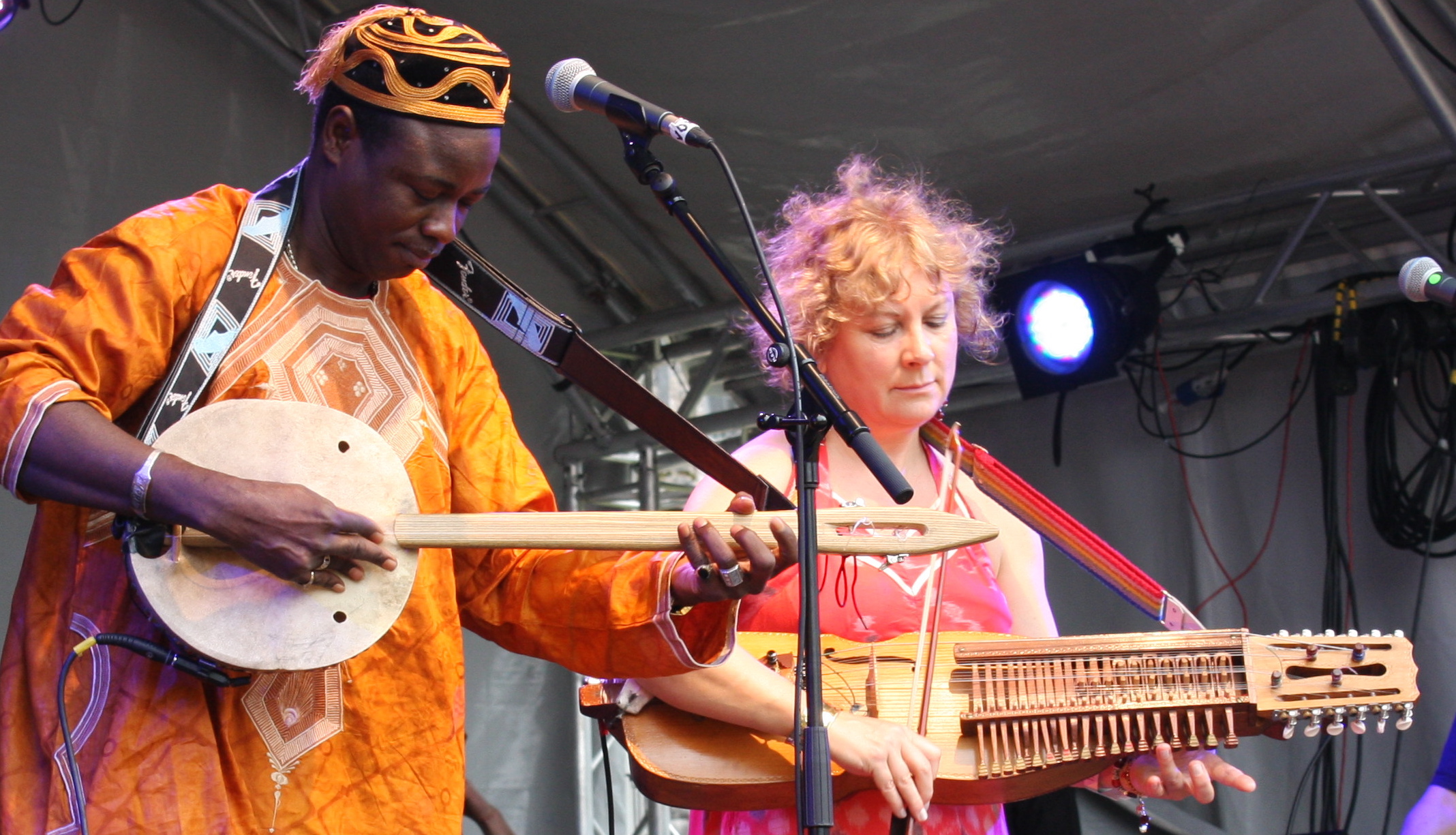 And a few weeks previously saw the brilliant Julaba Kunda featuring the Scottish fiddler Griselda Sanderson and the Gambian fiddler Juldeh Camara, alongside Senegal's Amadou Diagne.
Catch 'em while you can - before Juldeh gets too tied up in Robert Plant's new band the Sensational Space Shifters this summer . . .
(Review of Julaba Kunda here: worldmusic.co.uk/julaba_kunda_at_birmingham_1922012)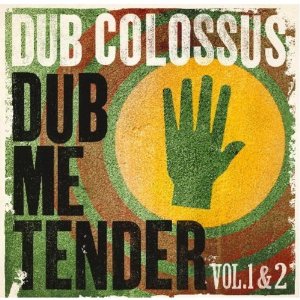 On my car's CD player for the last few weeks:
"Dub Me Tender" - the remix versions of Dub Colossus's Award Winning album "Addis Through The Looking Glass."
I still prefer the original, but the remixes are great music for chilling out to when driving.
(For a review of the original click here: worldmusic.co.uk/dub_colossus_addis_through_the_looking_glass_re)
Previous to that a sampler of tracks from Spiro's "Kaleidophonica" album, Putumayo's "Latin Beat" compilation and Bombino's "Agadez" were all getting me from A to B when driving.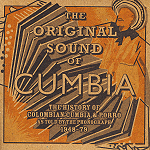 However, I spend most of my time sitting at my computer and these are some of the albums, artists and tracks that have been on constant rotation on my iTunes...
Soundway's wonderful compilation "The Original Sound of Cumbia: The History of Colombian Cumbia & Porro As Told By The Phonograph 1948 - 79", a must for all you colombiphiliacs out there,
Galician female vocal outfit Leilía and their new album "Consentimento" (on the Spanish Fol label) - the ladies in the groovy hats below!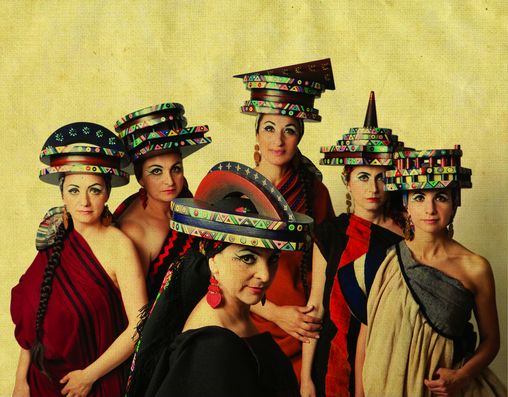 Brazil's Ceú and her new album "Caravana Sereia Bloom"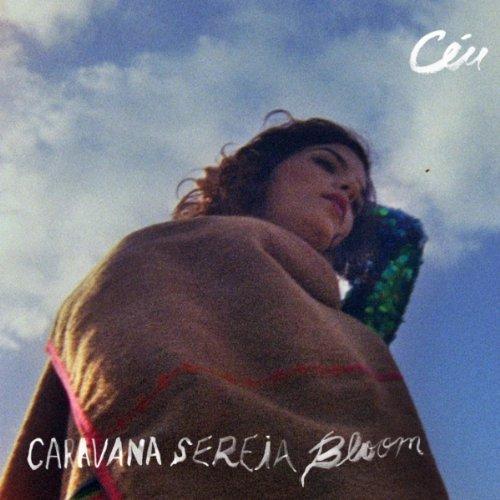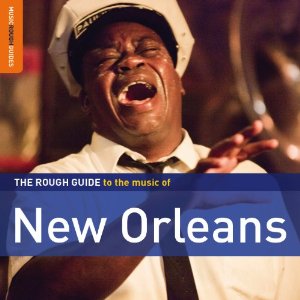 and the really most excellent compilation: "The Rough Guide To The Music Of New Orleans" from World Music Network.
(You can read my review of that last one here:
worldmusic.co.uk/rough_guide_to_the_music_of_new_orleans_cd_revi)
Other interesting things to drop on my digital doormat have been:
some great old Afro Jazz from Nigeria's Monomono and Trinidad's Black Truth Rhythm Band,
Rocky ratafolk from the EP Scecchendaun from Italy's Colletivo Mazzulata,
American folky-pop from Girlyman,
and some tasty ska and reggae from the UKs Chain SkaBrassika (EP "South East Beats").
Also flying in have been the Rough Guides to Celtic Women and Psychedelic Africa* (just two of many World Music Network releases this year),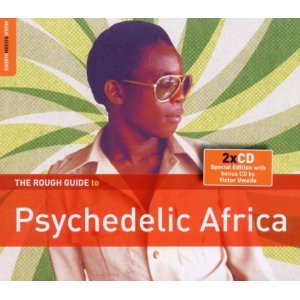 The Sefiroth Ensemble's new EP ('Arboles Lloran Para Lluvia')*,
BraAgas's new album "Fuerte" (including a couple of versions of the classic "Chaje Sukarije")
and the album "Siempre Pa'lante" from a feisty salsa combo from Denmark called Jorge Cordero and the Gran Daneses.
[* Reviews for these two albums here]:
worldmusic.co.uk/rough_guide_to_psychedelic_africa_rgnet1270cd_r
worldmusic.co.uk/sefiroth_ensemble_arboles_lloran_por_lluvia_cd_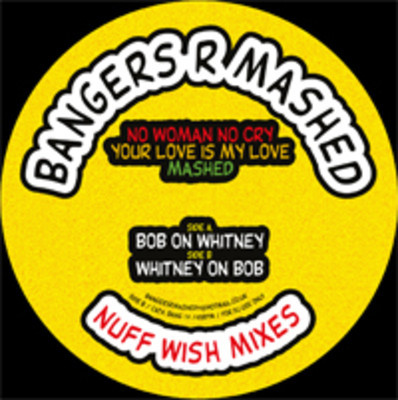 I've also been enjoying some mad mashups and remixes from the likes of Cafe de Calaveras & Add On de Bass who take on Pastor Lopez's "Mentirosa" in a moombahton style, Birmingham's G-Corp and Nuff Wish's delightful mash-ups of Marley and Whitney, Bobby Blue, and Michael Jackson with Adele.
And what about Rude Hi-Fi's Barriobeat Jungle Reggae remix of "Lascia Che Sia" featuring Amparo Sanchez? Or his Dubwise DnB version of "Jungle Reggae Party" featuring Lucky Hernan?
Also liking the Capt Cumbia remix of Chaka Demus and Pliers's "Slim Thing" and an unknown remix of Amy Winehouse on "Sweet Guitar" featuring Italian reggae supremo Alborosie with shades of Dawn Penn. Lush.
And how can I leave out Capt Cumbia's "Under Mi Serbie (Under Mi Sensi -Soundclash Edit)" - a mad electro-balkanic-cumbia dancehall mashup featuring Mr Vegas vs Boban Markovic vs the Amsterdam Klezmer Band! Excellent.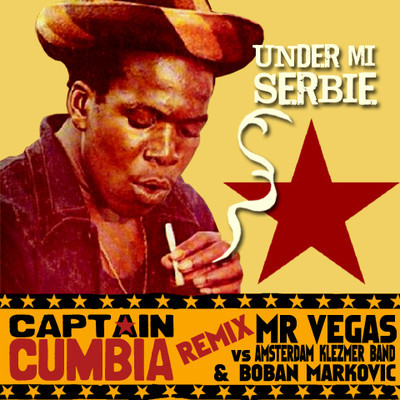 On the jazzy, bluesy side I've got to mention Cardiff's Ecklectic Mick who specialises mostly in electro-swing remixes - but here has taken a little detour. Firstly mixing jazz with Indian music, notably his gentle mash-up of that old standard "Sweet Georgia Brown" - although you can also check out his softswing treatment of it too; and then a fabulous remix of Howlin' Wolf's "Spoonful" (mixing in "Rosie/Be My Woman" along the way).
However top of the mash-up list these past few weeks has been the ever-reliable Fissunix and his deliciously creamy mash of Alicia Keys and Chic in "Good Times Fallin". Lushness personified.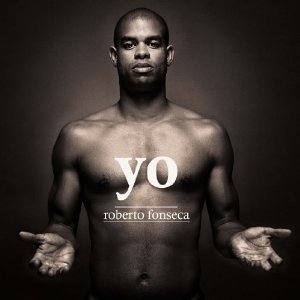 Worth checking out his full-on and imaginative Beatles mashups too: "Beautiful Prudence" (with Christina Aguilera), "End of the Walrus", "Owner of the USSR" and "Don't Let Me Down On The Dancefloor", as well as his Zeppelin mash-ups like "HitzBreaker" (Heartbreaker sounding like it's been re-recorded inside a beehive the size of a small city! Intense).
Loving also Diabel Cissokho's "Allah Lako",
Escalandrum's latin jazz tango treatment of "Adios Nonino",
"Cheerleader" by Jamaica's Omi
and finally, the new afrocuban jazz album "Yo!" by Cuban pianist Roberto Fonseca - this is fantastic and definitely getting an in-depth review very soon! [Oh, and here it is!]: www.worldmusic.co.uk/roberto_fonseca_yo_album_review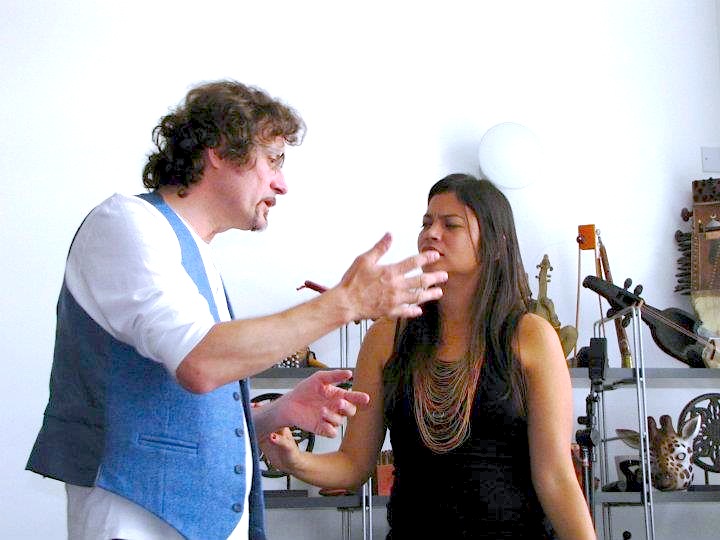 All this and I've been working on some lyrics in English for Brazil's sublime songstress Flavia Bittencourt for her new album...
Busy boy indeed!
African Spring: Batida/Bariba Sound/Gnawa Diffusion
Tagged with: Batida Soundway DJ Mpula Analog Africa Angola Benin Super Borgou Parakou Bariba Sound Bariba Dendi Turn Again Music Gnawa Diffusion Amazigh Kateb Gnawa Chaabi reggae ragga soul pachanga rumba afro beat funk Algeria Morocco Nigeria Ghana Togo Glyn Phillips
Well, it certainly feels like the world music is waking up with the imminent approach of Spring in the Northern Hemisphere! There seems to a mass of new releases, tours and projects pushing their nodding heads above the forbidding cold soil of winter.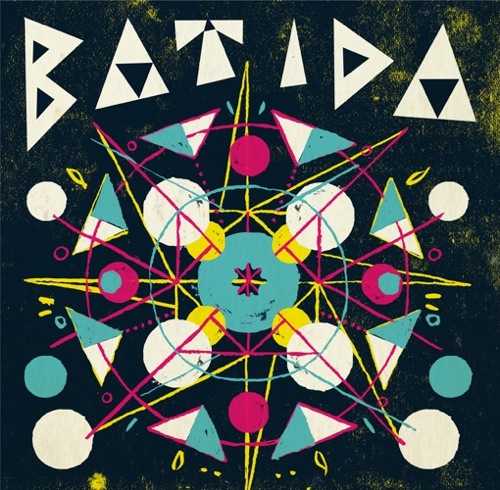 On an African tip, for instance, one of my favourite labels Soundway have today announced the forthcoming release of the debut album by Batida (brainchild of Angolan/Portuguese DJ Mpula aka Pedro Coquenão) which combines samples from old 1970s Angolan tracks with modern electronic dance music (check the link here for more info: www.worldmusic.co.uk/batida_soundway_70s_angola_updated_preview_dl_r)
"Batida" is due for release on 26 March 2012 (SNDW 038), but you can preview and even download one of the tracks "Tireí o Chapéu" here:
soundcloud.com/soundway-records/batida-tirei-o-chap-u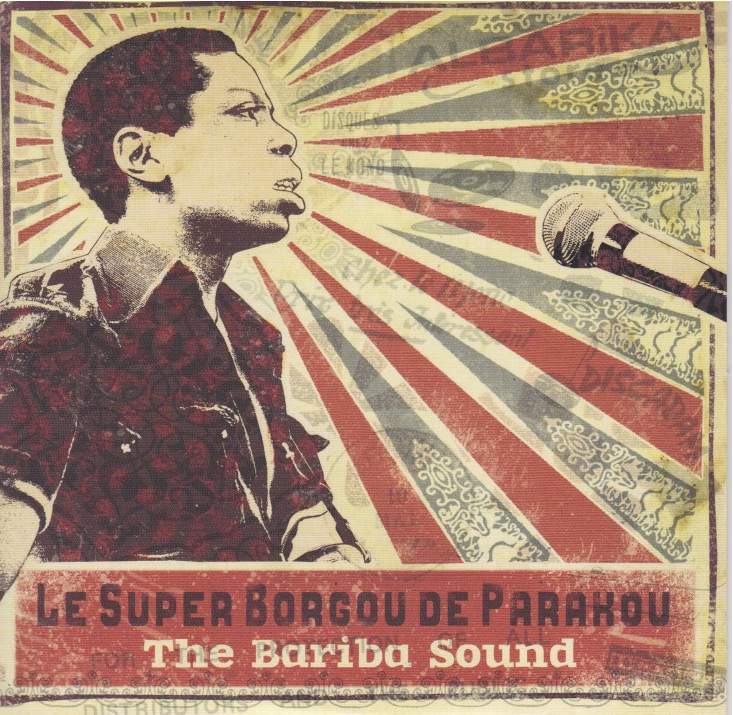 On another African note, yet another of my favourite labels specialising in re-releasing old albums, Analog Africa, are set to issue a blissful treasure trove of 70s Afro sounds.
This time, on its fifth expedition to the magical musical world of Benin, they open the vaults of the band Le Super Borgou de Parakou on an album entitled "The Bariba Sound".
If you liked any of Analog Africa's previous releases (eg "Bambara Mystical Soul - the Raw Sound of Burkina Faso 1974-79", the limited dance editions of "Orchestre Poly-Rythmo de Cotonou - The 1st Album"(1973)" and "ROB - Funky Rob Way (1977)", or "Afro-Beat Airways (Ghana & Togo 1972-1979)") then you will love this new album.
It opens up yet another window onto part of the Islamic Funk Belt of the northern regions of Nigeria, Ghana, Togo and Benin. A raw but heady mixture of Bariba and Dendi folklore, Islamic melodies and soul, pachanga, breakbeats, rumba and afro-beat.
Very much recommended. Release date for this is 27 March 2012 (either as CD with 30 page booklet or as double LP gatefold deluxe edition). AACD 071 / AALP 071
Finally, the French agency Turn Again Music have contacted me to announce the 20th anniversary comeback of band Gnawa Diffusion (led by founder Amazigh Kateb) with plans for a tour to start in May this year and a new album to be recorded this year and released in Autumn 2012. As they put it: "a travel to chaabi through gnawi, reggae, ragga, rock...". No other details as yet, but watch this space . . .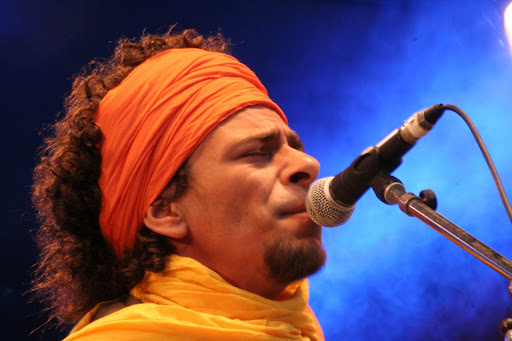 WorldBeatUK - The Past, Present and Future
Tagged with: Glyn Phillips WorldBeatUK WorldMusicRadio WorldMusic.co.uk World Music Radio Radio Presenter Broadcaster Rhubarb Radio Custard Factory Birmingham Flavia Bittencourt Renato Martins.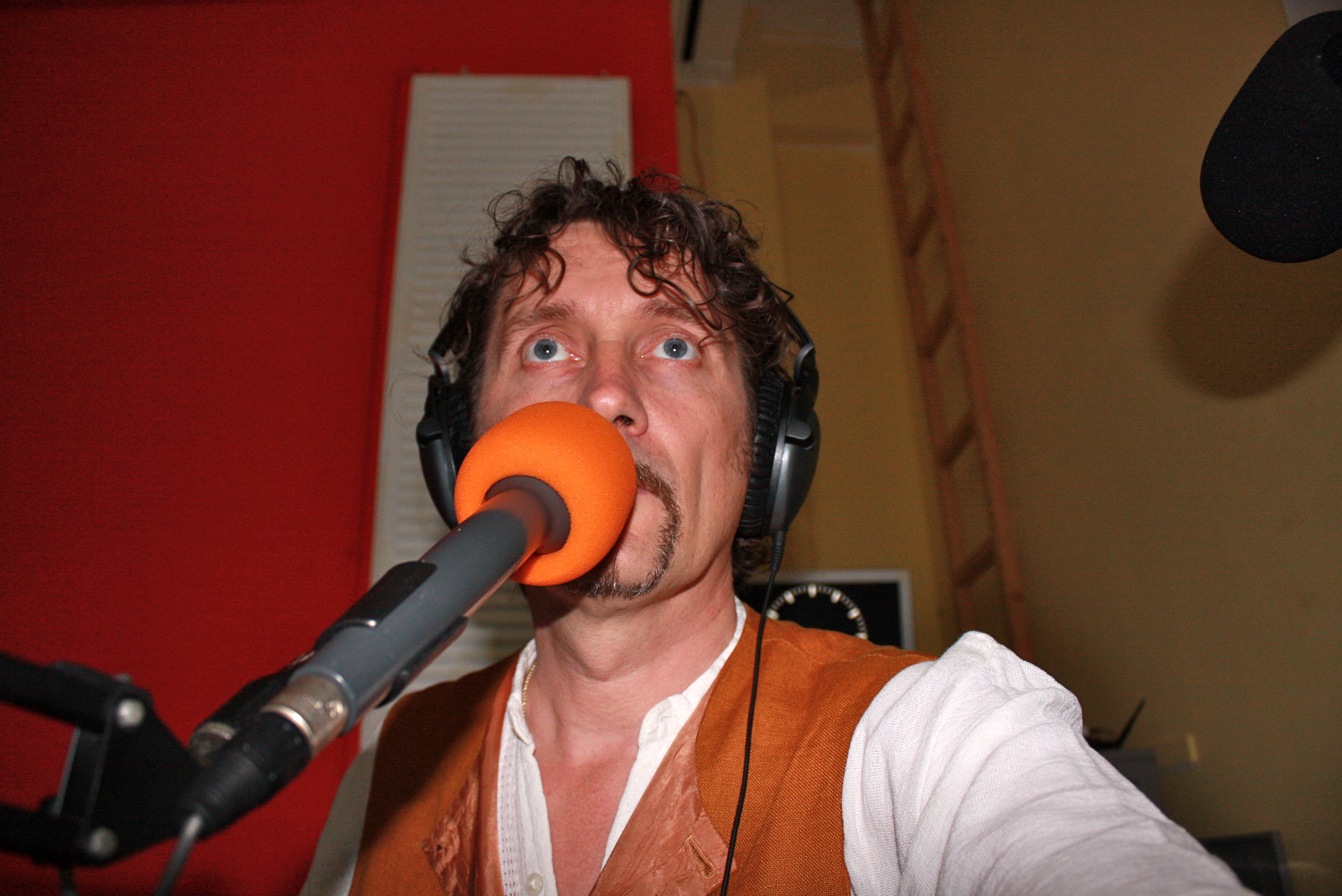 My radio show, WorldBeatUK, started in February 2011 and was initially aired on a (now defunct) community radio station operating out of the Custard Factory arts and media complex in Birmingham, UK.
The first 32 shows were 2 hour live shows transmitting online every Monday evening, and then after a few weeks changing to every Wednesday and gradually built up an audience all over the world, people tuning in from as far apart as Russia, California, Ecuador, Argentina, the Caribbean, Ghana, Cameroon, and even New Zealand to name but a few, as well as all over mainland Europe and the UK.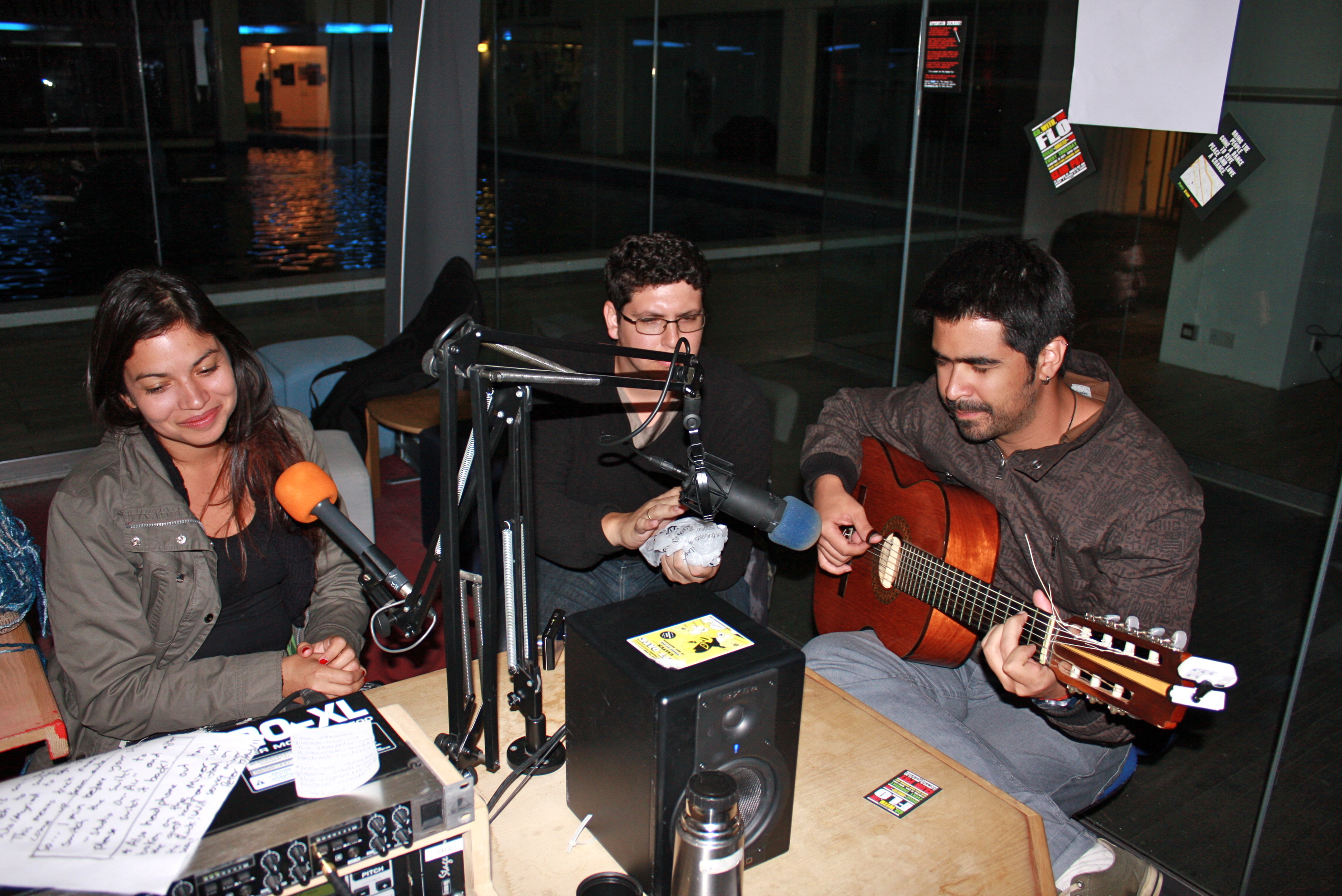 The idea was to present a lively, independent world music show that showcased a wide mix of music from all over the world in an exciting, friendly, accessible manner but packed with information and interesting musical ideas all delivered with passion. The musical policy was broad, exploring the margins of what might or might not be considered world music to some, as well as presenting the most culturally grounded and rootsiest of artists and genres. I'd rather err on the side of inclusivity than exclusivity. If I think a piece of music or artist has something worth listening to then that's all the mandate I need. Much of the music was recently released, some of it not yet officially released, some of it very old indeed . . . There were also a few interviews notably the Brazilians: singer Flavia Bittencourt and percussionist/composer Renato Martins.

Unfortunately, the radio station that was hosting the show, Rhubarb Radio, had significant quantities of equipment stolen from its premises in early Novermber 2011 - effectively rendering the station incapable of operating at all. At that point, I withdrew from Rhubarb (as did the majority of its presenters) and looked for alternative solutions to hosting the show.
Since then, I have started to make pre-recorded shows ready for transmission via a new online radio station, WorldMusicRadio.com. Obviously this is a different kettle of fish to doing a live show. The amount of talk has gone down (previously it was about 75:25% music to talk) with now only about 15 minutes of speech over a two hour show - more music in effect! One of the problems with the original show is that the vast majority were not recorded by Rhubarb or were lost when the equipment went. The new station should fix that problem since all the new shows (from WorldBeatUK33 onwards) will be available via the archive pages.
We also decided to remake the original 32 shows using the original playlists, shownotes and scripts as a basis but obviously changing the more topical references and original jingles etc and adding new music and script where necessary to fill the gaps (eg where interviews couldn't be repeated - but still keeping to music that would have been available at the time and trying to keep within the flow of the show).
These new 'old' shows are part of the WorldBeatUK (Refixed) series and are packed with great music, although delivered in a slightly more laidback style to the original live shows.
For the future I'm still working up new WorldBeatUK shows as pre-records and these will all be added to the WorldMusicRadio.com ready for it's launch during 2012. Same commitment to providing great world music with integrity and passion. I'm also working on special shows covering specific musical areas or themes. We hope to re-start the live WorldBeatUK shows at some point this year, since they are a whole lot of fun and the interaction with the listeners is one of the highlights for all concerned.
So if you trawl this blog previous to this post you will find the Shownotes pertaining to the original shows to give you a flavour of what I was putting out. These are scripted shownotes, not transcripts (since so many shows were never recorded) but give the basis of the show - just without all the spontaneous banter and happenings of the live shows... Check 'em out.
From this blog post onwards I shall start posting the Shownotes for the new shows (the pre-recorded ones from WBUK33 onwards) due to go out on WorldMusicRadio.com from Spring 2012. I also hope to get back to using this blog for more general use relating to WorldMusic.co.uk.
Watch this space . . .
Glyn Phillips
WorldBeatUK
WorldBeatUK (31st Show) - Broadcast Notes (19/10/11)
Tagged with: WorldBeatUK Glyn Phillips Chico Buarque Memphis Minnie Oscar Ibaņez Anxo Lorenzo Carla Pires Lou Dalfin Mauro Palmas Jackson do Pandeiro Paralamas Flavia Bittencourt Dumyarea E-Coli Sivuca Calle 13 dunkelbunt Neblina Blue King Brown Hot 8 Brass Caruaru
WBUK31 (19th October 2011) - SHOWNOTES
1 "Intro-Mat" by Matchatcha from the album "Nyekesse" (Melodie)
"You're tuned into Rhubarb Radio and my name's Glyn Phillips. [PAUSE] You're listening to WorldBeatUK, the show that plays you the stuff that mainstream radio doesn't even know exists.
Coming up on the show tonight we focus on Brazil ahead of this Friday's Amazonas Groove night here in Birmingham, with forro - old and new, bossa nova, samba, batucada, pifano and ska brasileiro.
I shall bring you electroswing from Cab Calloway and the Andrew Sisters via Wales, Urban Roots music from Melbourne, Australia and Folk Punk Jazz from the Occitan-speaking valleys of North-West Italy.
[PAUSE]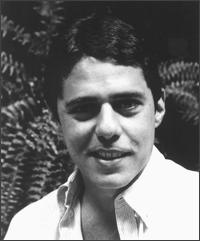 There'll also be an Ivory Lady, a Little Fish, and a Wayward Rooster. Bagpipe music from Galicia, Fado from Portugal, Folk Rock from the island of Sardinia, and Gbema music from Liberia!
And if that wasn't enough, I've got more remixes, refixes, re-rubs and mashups than you shake a glue stick at!
If you want to know the connection between New York's Beastie Boys, Denmark's Analogick, Jamaica's Bob Marley and Virginia's Missy Elliott then you'd better stick around!
Throw in some funky New Orleans BrassHop, plenty of Balkanic fusions from Utrecht, Vienna, Rouen and Exeter, a killer mix of Puerto Rican rap and samba and some 1930s blues - we've got a show."
And straight in with the Brazilian theme to the night with this classic from the carioca singer, guitarist, composer, dramatist, poet and writer: Francisco Buarque de Hollanda - better known as Chico Buarque - one of the great names of the MPB genre. This is called "Essa Moça 'Ta Diferente". Bliss!
2 "Essa Moça 'Ta Diferente" by Chico Buarque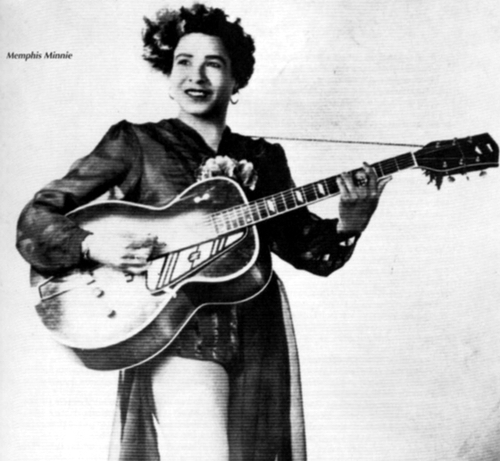 Now Chico Buarque was born into a very privileged family, unlike my next artist.
Memphis Minnie had it tough from an early age and supported herself from about 12 years old onwards. But they both made good music.
I played her rather playful song about her butcher man last week and this week she asks us: If you see my rooster, please run him home!
And I don't think she's talking about the feathered variety either!
3 "If You See My Rooster (Please Run Him Home)" by Memphis Minnie from the album "Hoodoo Lady: 1933-1937" (Sony)
That was Memphis Minnie from the album "Hoodoo Lady:1933-1937" on the Sony label.
.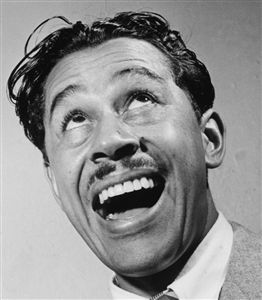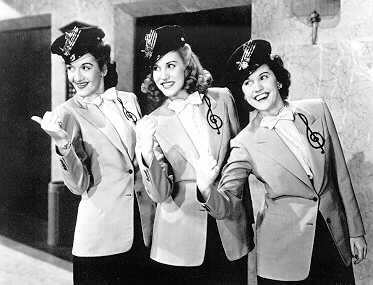 Let's stay in the America of a bygone era now, but leap ahead a decade.
This is the great Cab Calloway and the Andrews Sisters showing us how they be "Doin' The Rhumba".
But with the twist that Cardiff's electroswing don Ecklectic Mick has given a little electronic polish to make it shine!
.
.
4 "Doin' The Rumba" (Ecklectic Mick remix) by Cab Calloway/Andrews Sisters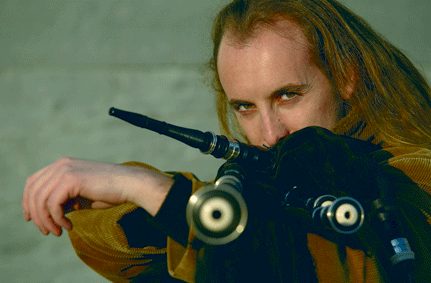 [CONTINUOUS]
.
5 "Segura Ele" by Oscar Ibañez (Zouma)
That last track was entitled "Segura Ele" by the Galician bagpiper Oscar Ibáñez and his band.
I'm not sure whether that's from his own album or not - since it was on a compilation sampler from his record label Zouma.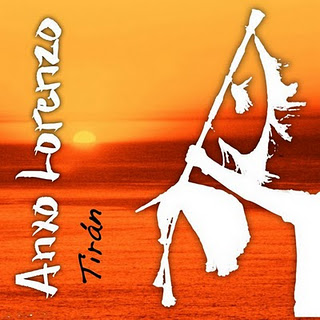 And also on that label and also from that same Celtic corner of North-West Spain, Galicia, comes the next artist - also a bagpiper.
This is Anxo Lorenzo and from his album "Tiran" a track entitled "The Ivory Lady".
6 "Ivory Lady" by Anxo Lorenzo from the album "Tiran" (Zouma)
I'm a real sucker for the music of the Iberian peninsula and some of its lesser known musical offerings. It's not all flamenco folks!
Galicia, might be technically in Spain, but its language, Galego, is closer to Portuguese than Castilian Spanish.
So for the next number we're heading south into Portugal, the birthplace and home of that most wonderful and romantic of musical styles, Fado.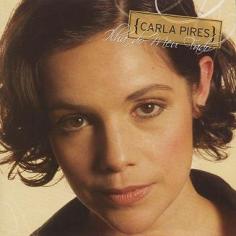 This week it's the turn of a lady by the name of Carla Pires. From her 2005 album "Ilha Do Meu Fado" (Island of my Fado) on the Ocarina label, this is "Boca da Note" (the Mouth of the Night).
7 "Boca Da Note" by Carla Pires from the album "Ilha Do Meu Fado" (Ocarina 2005)
Wasn't that beautiful!
Europe's a funny old place. Layer upon layer of different cultures, ethnicities and languages and constantly shifting borders and power politics.
There's a temptation to make sense of all this by easy labelling and pigeon-holing, but as we've seen in Spain there are other languages and cultures besides Castilian Spanish (Galego, Catalán and Euskadi to name but three).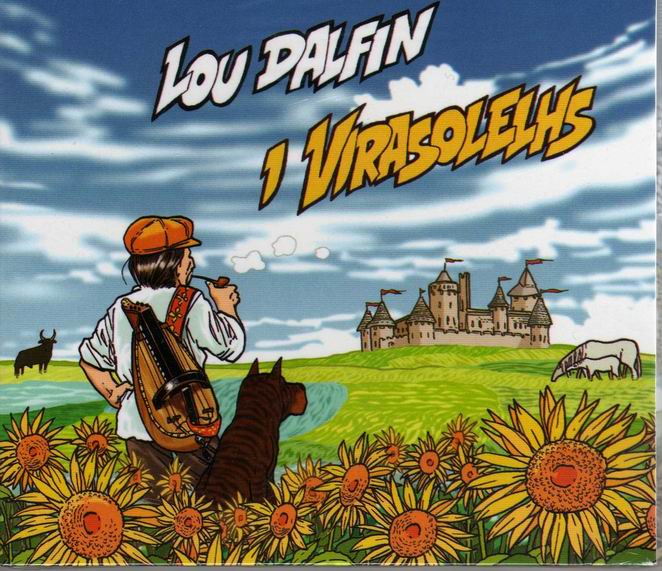 Even France has a huge North-South divide - true French really only derives from the Northern part where the Franks came from; for the fiercely proud southerners there is the language Occitan which spreads from the Atlantic coast near Bordeaux all the way South to the Pyrenees into Spain and across to the Mediterranean Coast and the Alps into Italy. And it's from these valleys in the Southern Alps of Italy that the next band come.
Lou Dalfin was founded in 1982 by the hurdy-gurdy player Sergio Berardo and since then has been a bulwark in promoting the occitan language and it's Eastern dialect.
So the next two tracks are from their 2008 album "Virasolelhs" (which means Sunflowers in English - literally "Sun Turners").
The first is a 45 second interlude in English bizarrely called "Little Fish" and the second their irreverent mix of folk, jazz and punk in "Occitania e Basta". Enjoy!
8 "Little Fish" by Lou Dalfin from the album "'Virasolelhs" (Felmay 2008)
[CONTINUOUS]
9 "Occitania e Basta" by Lou Dalfin from the album "'Virasolelhs" (Felmay 2008)
A double-bill there from Italian Occitan flagbearers, Lou Dalfin.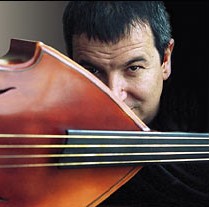 Staying in the Mediterranean area but coming out of the Alps, heading for the coast, and sailing due south past the French-influenced island of Corsica we head toward the mysterious island of Sardinia.

An island with links both to France and especially Italy throughout it's long history and a fiercesome reputation as a haven for pirates and brigands and savage independence, Sardinia has long kept its folklore to itself.
More recently it's been actively promoting its output around the world. This next track is from the guitarist/singer Mauro Palmas and is from his 2005 album "Caina" on the S'ard Music label. This piece is called "Oltre Il Mare".
10 "Oltre Il Mare" by Mauro Palmas from the album "Caina" (S'ardmusic 2005)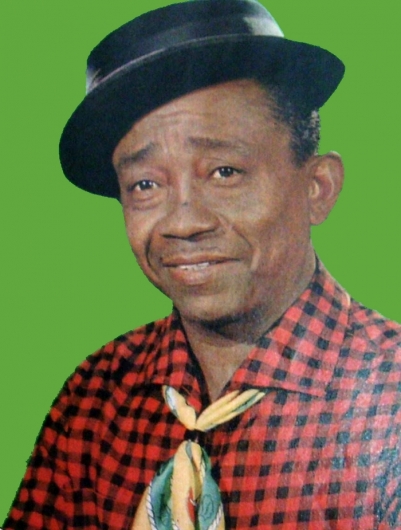 OK, we're going to leave Europe far behind for the next few numbers.
At the top of the show I said that I've got a focus on Brazil going on in the show today and this is because I'm trying to flag up a new night taking place this Friday (21st October) at Birmingham's very own Brazilian churrascaria restaurant, Amazon Brazil, on 197 Broad St, Birmingham (just down from the UGC Cinema).
The night called "Amazonas Groove" will feature some great Brazilian dance music of all styles and periods with samba pagode, samba de roda, carimbo, MPB, Afoxe and lashings of forró. It features DJs Zuppa Inglese, Ricardo and El Hombre Elastico on the decks, starts at 10pm and allegedly goes on till 4am and is only £5 for all that groove!
So here's some classic forró music from the North-East of Brazil to get us going. This is Jackson do Pandeiro (from a 1991 compilation album called "Brazil Classics 3: Forró" on the Luaka Bop label and an old track entitled "Tum-Tum-Tum".
11 "Tum-Tum-Tum" by Jackson Do Pandeiro from the album "Brazil Classics 3: Forró" (Luaka Bop 1991)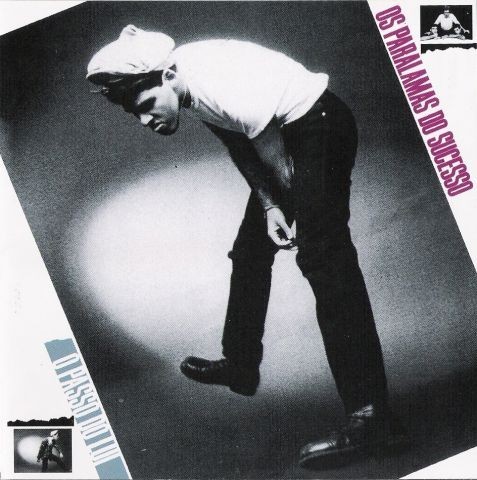 Now, during my years in South America in the 1980s I travelled the length and breadth of Brazil taking in the different styles of music in this vast country.
However I was surprised to find that the country looked as much to the outside world for inspiration.
I don't know why I was surprised, thinking about it now, but at the time it seemed strange hearing styles that I was familiar with infused with that peculiarly Brazilian flavour that defies description.
Here's a good example - I loved this band at the time and played the cassette to death for years afterwards, and it still gets me going now.
This is the legendary Rio rock band Os Paralamas do Suceso and from their 1984 album "O Passo Do Lui" a piece of punky brazilian ska entitled "Meu Erro".
12 "Meu Erro" by Os Paralamas do Suceso from the album "O Passo Do Lui
Yep, still gets me rocking after all these years!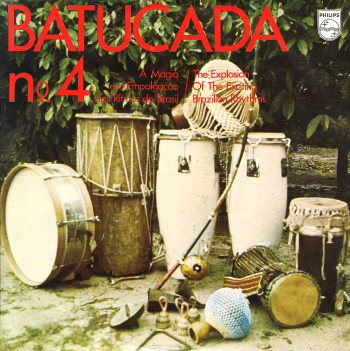 And now to one of the more defining sounds of Brazil - particularly Rio de Janeiro. Samba Batucada. This is a piece of pure percussion in the batucada style.
The band is Os Reis do Batuque (The Kings of Drumming), the album released in 1977 is entitled "Batucada No 4" and this track is "Repicando".
13 "Repicando" by Os Reis do Batuque from the album "Batucada No 4" (Philips)
Ha ha ! Yeah, Os Reis do Batuque. And trust me that was one of the most influential albums on early British Samba schools - we all used to listen like mad to each track trying to pick apart the rhythms, work out the techniques used and memorise the breaks.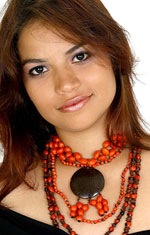 OK, let's move ahead over 30 years and to a particular favourite of mine Brazilian singer, Flavia Bittencourt who I had the pleasure of interviewing on this very show a few weeks ago.
Flavia is originally from the State of Maranhão in the far North East of Brazil, but now lives in Rio.
She contacted me last week and sent me a couple more of her tracks over.
So this one is a track I saw her perform here in Birmingham a couple of times.
It's a rocky forró called "Parangolé Bounce".
14 "Parangolé Bounce" by Flavia Bittencourt
Lovely, thanks for that Flavia.
How's about some very traditional nordestina music now? Here's a band formed way back in 1924 (yes, that's what I said) and who only recorded their first album in 1972 when they went all the way down to Rio! The album was called "Zabumba Caruarú" and is as fresh today as it was then.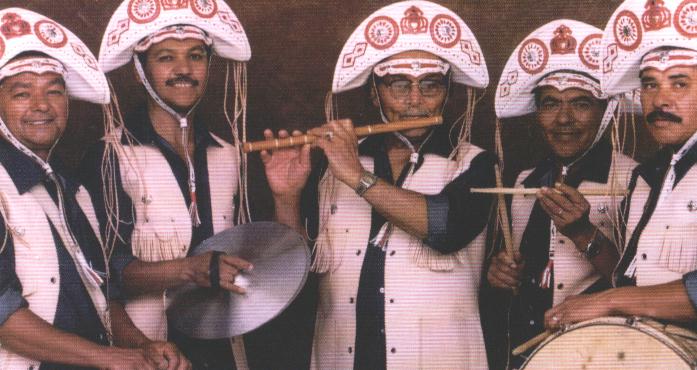 The band is called Banda de Pífanos de Caruarú and play in a very traditional formation that not only includes the zabumba drum and triangle (found in forró music) but also clashed cymbals, rattling tarol snare and several flutes known as pífanos.
This track is the shoulder-shaking, butt-wriggling, full-steam ahead express train that is "Cavalinho Cavalão" - take a listen and you'll see what I mean. I defy anyone to sit still during this!
15 "Cavalinho Cavalão" by Banda de Pífanos de Caruarú
[CHANGE CDs!!]
[Don't forget you're listening to . . .]
Now, I'm going to take a break from Brazil for the moment - but we'll be returning there in a few tracks' time.
This next track comes from Liberia in West Africa and has been heard all over that country this Summer - probably the most played track of all. The artists are Junior Freeman and African Soldier and it's being released outside of Liberia by the Ghana-based record label Akwaaba Music.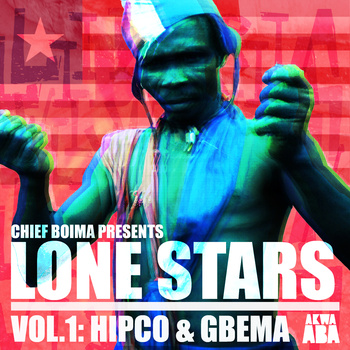 The story behind it is worth telling. The track is performed in a style known as Gbema - where traditional Liberian music is taken and - as someone described - is put through a "digital sieve". At the same time there is a musical renaissance growing throughout Liberia and a whole generation of young urban-dwellers are creating new forms of music and speech, including the hip-hop influenced genre of Hipco.
Liberia's language is English, but stems from its history as a nation artificially carved out of a part of West Africa to take newly freed African-American slaves and repatriate them in an attempt to make amends for displacing them in the first place. I suppose a little like what happened in Europe with the Jews and the creation of modern Israel.
The name itself stems from 'Liberation', so I suppose the country means "Freedom". Sadly, Liberia has suffered severely with a dreadful civil war for years - freedom is one thing, quality of life is another.
This catchy, upbeat tune is actually quite political in nature and Junior Freeman takes the market-place phrase "Dumyarea" (This is my area) and speaks to the masses of staking their own place within this battered country.
The phrase and concept became so popular that even the President Ellen Johnson-Sirleaf used the song to launch her re-election campaign. She is the first and only female president in Africa and also the joint winner of the 2011 Nobel Peace Prize.
So, here you go, from the "Lone Stars Vol. 1: Hipco & Gbema" album on the Akwaaba Music label, this is Junior Freeman and African Soldier and the track "Dumyarea"
(1) 16 "Dumyarea" by Junior Freeman & African Soldier from the album "Lone Stars Vol. 1: Hipco & Gbema" (Akwaaba Music)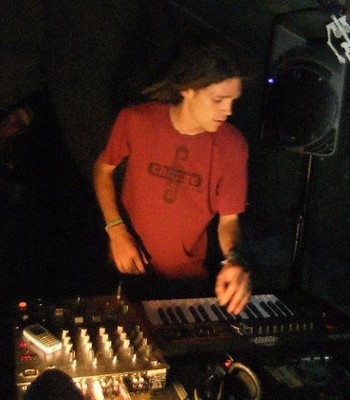 [CONTINUOUS]
(2) 17 "Amen Gypsy" by E-Coli
Ha ha! Complete change of style and pace there!
That was some heavy Balkanic dubstep courtesy of DJ and mixer, E-Coli, all the way from Exeter in Devon!
Bet you didn't see that one coming did you!
.
.
Ok, back to Brazil now and some old school forró followed by some very jazzy forró.
First up is the very hard to track down David Cruz and a track entitled "O Corpo Precisa de Alcóol" (the body needs alcohol)!
Ok if you say so, David...
(3) 18 "O Corpo Precisa de Alcóol" by David Cruz
[CONTINUOUS]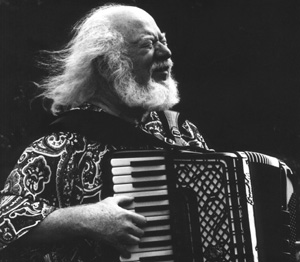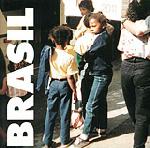 (4) 19 "Forro" by Sivuca from the album "Brasil" (Soul Jazz Records 1994)
You just heard one of my all-time favourite Brazilian tracks.
A track entitled simply "Forró" from a 1994 album entitled simply "Brasil" on Soul Jazz Records - delivered with breathtaking skill, energy and panache by the legendary accordionist Sivuca.
I've been DJing with that one for years and long shall I continue to - absolutely love it!
.
.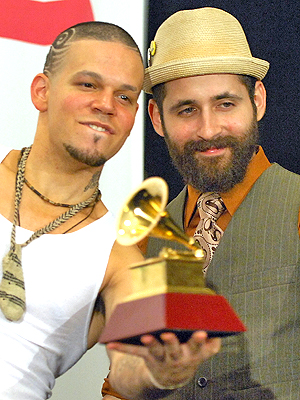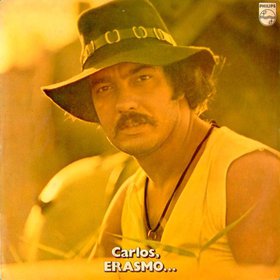 The last now in the Brazilian focus on the show, although in fact this is a mashup between Puerto Rico and Brazil.
Take the latter's Erasmo Carlos and the former's Calle 13 - two young rappers and reggaetoneros with a huge pan-latino following all over latin america extending from street-level latinos through musical and political champions like Rubén Blades right up to Fidel Castro and Hugo Chavez (these guys have made an impression on all of them) - and then let it all be mashed up by one of my favourite mixers, the carioca, DJ LK and this is what you get "Samba de los Aburridos".
I love it!
(5) 20 "Samba de los Aburridos" (DJ LK mashup) by Calle 13 vs Erasmo Carlos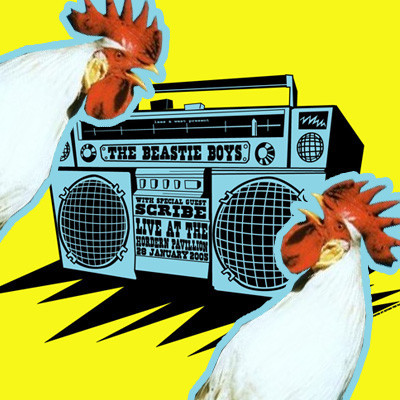 [CONTINUOUS]
(6) 21 "Alive Gipsy" (DJ Magyar) by Beastie Boys vs. Analogik ft. Dunkelbunt
That was another mashup - this time cooked up by DJ Magyar from Utrecht.
Featuring Danish jazzy-balkanists Analogik's "Gipsy Doodle", New York's much sampled rappers The Beastie Boys, Vienna's Ulf Lindeman aka [dunkelbunt] and of course Helen, Roy and Roy at the beginning.
Did you slip off your shoes and run on the spot?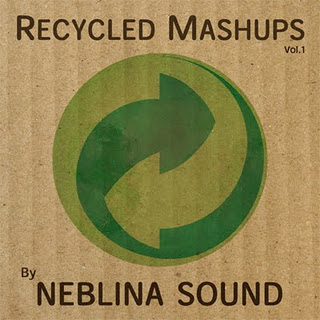 More mad mashups now.
This one's The Beastie Boys again but this time they run up against Bob Marley in Barcelona-based mashers and mixers Neblina Sound's track "Triple Chatterbox" from the album "Recycled Mashups Vol 1".
Do you want to know 'the Real Deal about the Three'?
.
(7) 22 "Beastie Boys vs Bob Marley - Triple Chatterbox" by Neblina Sound from the album "Recycled Mashups Vol. 1" (Neblina Sounds)
.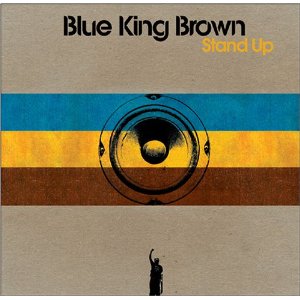 Ok, let's whizz right round the world now all the way to Melbourne in Australia and one of Oz's most celebrated world music bands: Blue King Brown.
Really like these guys.
They're releasing a new album soon, but this one is from their 2006 album "Stand-Up" on Roots Level Records and it's called simply "Water".
Trust me this is a monster tune!
Time to get bouncing in your chairs again!
(8) 23 "Water" by Blue King Brown from the album "Stand-Up" (Roots Level Records, 2006)
Fantastic, Australia's Blue King Brown there.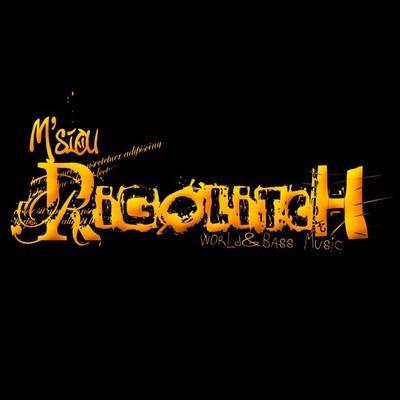 Fancy some balkan madness?
Here you go then.
This is the balkanesque band Flex'Orkestar from Normandy in Northern France and a piece remixed by Rouen's M'siou Rigolitch, who I'm a big fan of, entitled "Hora de la Bucuresti".
Hold on to your hats guys - here we go!
(9) 24 "Hora de la Bucuresti" by M'siou Rigolitch VS Flex'Orkestar
That's enough to shake your cobwebs out!
Let's get it on - I think it's time for Virginia's Missy Elliott and Belgium's Typsy Gypsy of the Balkan Hotsteppers to get their freak on, dub styleeeeeeee!
(10) 25 "Get Your Freak On" (Typsy Gypsy Remix) by Missy Elliot
[CONTINUOUS]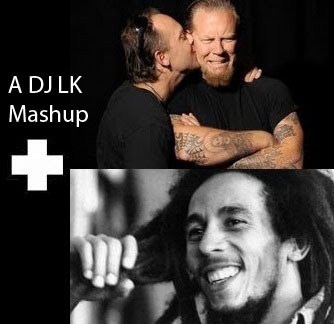 (11) 26 "Sandman Jamming" (DJ LK mashup) by Metallica vs Bob Marley
Bet you didn't see that one coming.
Rio's DJ LK and his unlikely mashup between the king of reggae Bob Marley and California's heavy metal royalty, Metallica in "Sandman Jamming".
OK, time to go now.
[Shoutouts, reminders - Amazonas Groove, Leeanne etc at the Edge, I WON'T be here NEXT week -so it'll be pre-recorded show. Off to Womex see you all in a fortnight, etc]
This next track is a remix. What do you get if you merge the Looney Tunes Brass Band with the High Steppers Brass Band?
The Hot 8 Brass Band of course!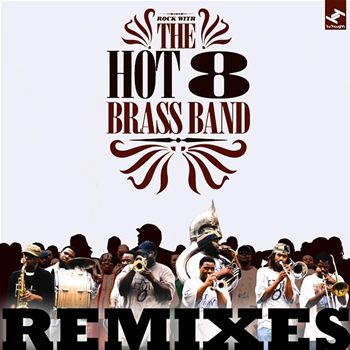 These guys from New Orleans blend hip-hop, jazz and funk alongside traditional Crescent City brass traditions.
They're signed to the UK's Tru Thoughts label (alongside Quantic) and are the label's only American signing.
They also appeared in Spike Lee's 2006 documentary about the aftermath of Hurricane Katrina "When The Levees Broke".
This is East London's Henry Orchard's house remix of the Hot 8s version of Marvin Gaye's "Sexual Healing"!
Still with me? Don't worry, just enjoy it!
See you all in a fortnight!

(12) 27 "Sexual Healing" (Post Toby Mix) by Hot 8 Brass Band (Henry Orchard remix)
WorldBeatUK (30th Show) - Broadcast Notes (12/10/11)
Tagged with: WorldBeatUK Glyn Phillips Piers Faccini Lil Nathan DJ LK Trio Juriti Pedro Ramaya Beltran Beatriz Aguiar Marcelino Azaguate Martin Alvarado Fernandez Fierro Earth Wheel Sky Taraf de Haidouks Dorantes Ana Sofia Varela Zulu 9.30 Karamelo Strut Congotronics
WBUK30 (12/10/11) - SHOWNOTES
1 "Intro-Mat" (1:47) - Matchatcha - "Nyekesse" (Melodie) - Soukous
"Welcome to another two hours of great world music on WorldBeatUK!
[Pause]
I'm Glyn Phillips and you're tuned into Rhubarb Radio and the two hours of transcultural audio joy that is WorldBeatUK. Stay with me from now until 9pm tonight whilst I bring you songs of love, lust and longing!
Find out why Ieye wants Johnny, Ali Chukwumah is singing about Henrietta and why Zulu 9.30 are raving about Carmelita.
Lil Nathan and the Zydeco Big Timers are begging their girl to come back, but Miss Mama just want to call a taxi.
And what on earth does Memphis Minnie mean when she says her Butcher Man can slice her pork chops and grind her sausage too . . . ?! Ooh er Missus!
[PAUSE]
Yep, tonight we're going to dance with firemen, give thanks to life, plant naughty herbs with Marlon Asher, get covered in gypsy dust, buzz and rumble in the urban jungle, school the duke and take Bucovina to Barranquilla.
We're also going to mix bossa with 90s hip-hop, funk-up the cumbia, cumbia-up the balkan and balkan-up the dancehall...
... as well as roam the southern cone to tonadas, chacareras and tangos, float away with fateful fado and beautiful bulerias, and come down to earth with earthy cumbias, feisty forros, zesty zydeco and pioneering blues.
Finally we end up discovering that unconditional love makes for a wonderful world. Stick around for the ride of your life…"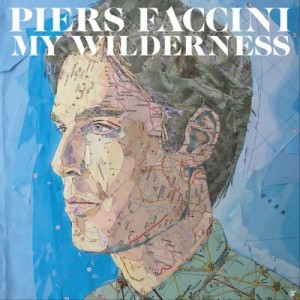 I'm going to ease us into tonight's very eclectic offerings with some gentle, wistful country music, or is it blues, or is it world, or is it . . . ?
Dunno, it's nice though!
This is Piers Faccini (at times sounding like a young John Martyn) from his brand new album on the 6 Degrees Record label. This is the title track: "My Wilderness"
2 "My Wilderness" (3:23) - Piers Faccini - "My Wilderness" (6 Degrees Records) - Country/Blues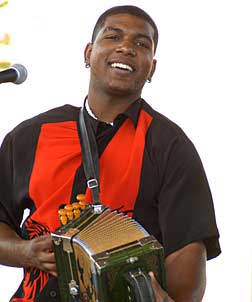 Here's another laid-back mix of styles that works really well - sort of 21st century RnB meets Zydeco! Unusual? Maybe, but very good too. Love the groove on this one.
This is Lil Nathan and the Zydeco Big Timers and a track from the newly-released "Rough Guide To Cajun and Zydeco" that I was talking about last week on the World Music Network label.
This one's a love song called "Come Back To Me"
3 "Come Back to Me" (5:57) - Lil Nathan And The Zydeco Big Timers - "The Rough Guide To Cajun & Zydeco" (World Music Network) - Zydeco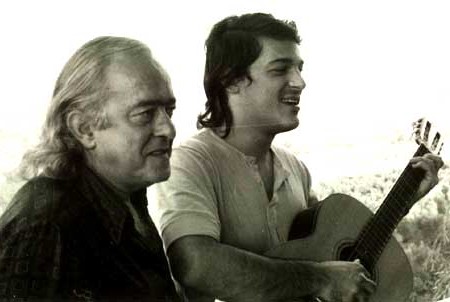 Now, the Brazilians have long been famous for their laid back music in particular bossa novas and one of the great names of the 1960s MPB period there was none other than Vinicius de Moraes.
Here he teams up with Toquinho for De Moraes's classic "Canto de Ossanha" a song about love and the need or otherwise of involving the orixas (the gods and goddesses of afro-brazilian religions such as candomblé and umbanda) in getting it.
But here's the twist: in this version the Brazilian remixer DJ LK has mashed-up the original with a version by the 1990s Californian hip-hop crew Jurassic 5!
As ever with DJ LK it's all deliciously done!
4 "Canto De Ossanha (DJ LK MASHUP)" (3:23 - Vinicius de Moraes & Toquinho vs Jurassic 5 - "DJ LK Mashup" - mashup
[CONTINUOUS]
5 "My Butcher Man" (3:01) - Memphis Minnie - "Hoodoo Lady: 1933-1937" (Sony) - Blues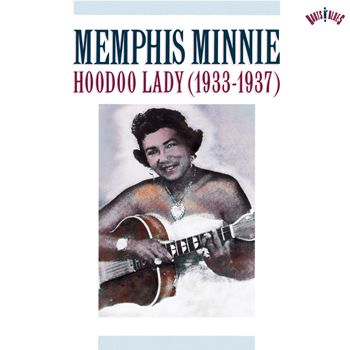 Yeah, and that was a little slice of blues history there from the mid 1930s. That was the woefully ignored female blues singer Memphis Minnie and a rather naughty song called "My Butcher Man".
As I said at the top of the show what on earth does she mean when she says her Butcher Man can slice her pork chops and grind her sausage too . . . ! Ooh er Missus!
You can find that on the Sony release "Hoodoo Lady: 1933-1937".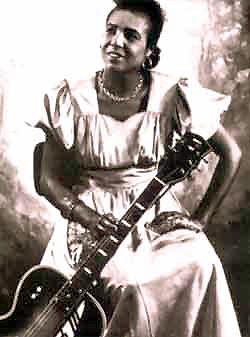 I just want to take a moment to talk about Memphis Minnie, because she ought to be known at least as well as Bessie Smith and Ma Rainey in the annals of pioneering female Blues singers - and since October is Black History month all over the UK, now's the right time to put the records straight.
Minnie was born Lizzie Douglas in 1897 in Algiers, Louisiana, and learned to play both guitar and banjo whilst a little girl. She ran away from home aged 13 and went to live in Memphis, Tennessee where she earned a living playing in nightclubs and on the street under the moniker "Kid" Douglas and a year later she joined the Ringling Brothers circus.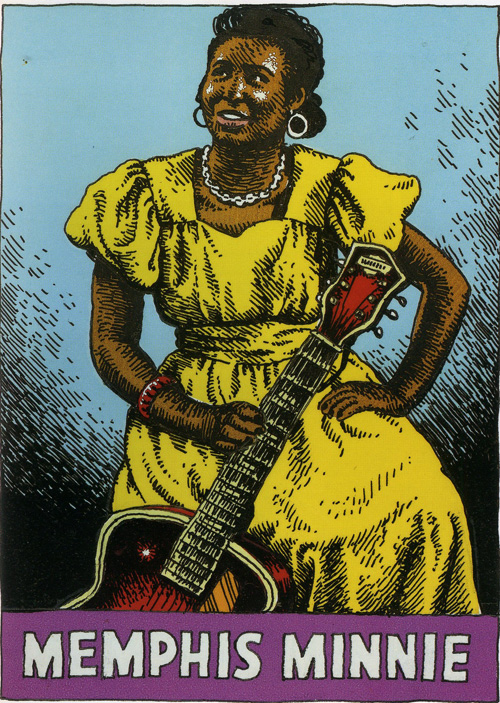 Over the years Lizzie built up a fiery reputation both as a performer - where she was considered to be the equal of any of the male bluesmen both in terms of her guitar playing, singing and songwriting, once wiping the floor with Big Bill Broonzy at a blues competition - and as a flamboyant character who took no nonsense from anyone. She was an incredibly prolific artist having recorded hundreds of tracks over her 30 year career.
Now with her stage name changed to Memphis Minnie, she was billed as 'the woman who plays guitar like a man' and although she performed a large repertoire and not just blues, it was her risqué lyrics and double-entendres that gained her both a large following and much notoriety.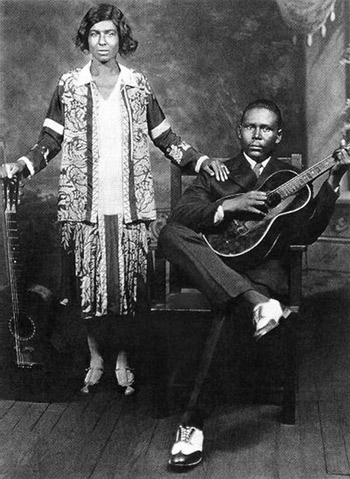 As her fame spread she would turn up at concerts in posh cars, wearing bracelets made of silver dollars and would incongruously spit tobacco juice with great accuracy whilst performing in beautiful dresses. She was married about three times to other blues guitarists, but it was always Minnie that was the main attraction, pioneering the use of the electric guitar and leading country blues into urban blues long before it became fashionable.
To give some idea of her influence, she has been cited by both Maria Muldaur and Bonnie Raitt as a musical hero (Bonnie actually paying for Minnie's headstone when she died) and wrote the blues song "When The Levee Breaks" - made famous afterwards by Led Zeppelin (although with a different melody and slightly altered lyrics).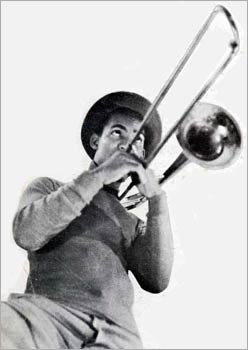 So there you go, Memphis Minnie - go and find out more about her for Black History month.
Ok, if that all sounded like a bit of a lecture then that's quite appropriate for the next track.
Jamaica's Don Drummond and "Schooling the Duke"!
6 "Schooling The Duke" (2:38) - Don Drummond - "The Best Of Don Drummond" - Ska
Ok, for the next six tracks or so we're heading over to South America.
Firstly, we're going to land in Brazil's smallest state Sergipe in the North-East of this vast country and the home of forró music and here the three young musicians of the Trio Juriti play accordion, triangle and a drum in a jaunty little number entitled "Forró de Plic Plac"
7 "Forró de Plic Plac" (2:54) - Trio Juriti - "Music from Sergipe" - Forró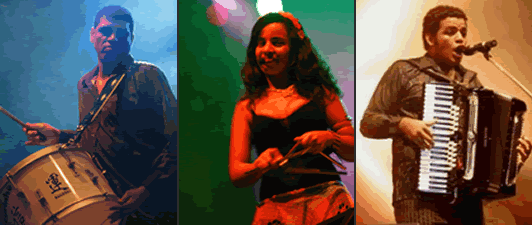 If you like Brazilian music, then don't forget that from next Friday (that is the 21st October) there'll be a brand new Brazilian music night in Brum hosted by myself and my old DJ partner Zuppa Inglese. The night's called "Amazonas Groove" and takes place at the beautiful Brazilian churrascaria restaurant Amazon Brazil at 197 Broad Street, Birmingham from 10pm till 4am. Loads of highly danceable authentic Brazilian music, including forró!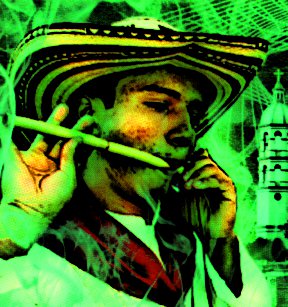 And from the North-East of Brazil we are going North-West again all the way round to the Caribbean coast of Colombia to hear some traditional cumbia courtesy of Pedro Ramaya Beltran and a track played on clarinet, tambores and maracas alone. Wonderful!
This is from the album "El Rey de Millo" and is called "La Peluca"
¡Güeeeeepaaaa! ¡Pura Cumbia!
8 "La Peluca (El Rey del Millo)" (4:46) - Pedro Ramaya Beltran - "El Rey del Millo" - Cumbia
Well-known as cumbia now is across the world, you don't often get to hear traditional cumbia like that! Excellent.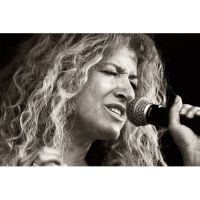 And as a contrast here's a South American music form that is very little known (yet one of my favourites) but here played in a very modern style and setting. The rhythm is known as chacarera and is to be found from Northern Argentina through Bolivia and Paraguay and into Southern Brazil.
Here it's given a jazzy treatment by the Uruguyan singer Beatriz Aguiar who is now based in Holland.
This is called "Agua" (water).
9 "Agua" (3:18) - Beatriz Aguiar - Sampler (2010) (MeloMusic.NL) - Chacarera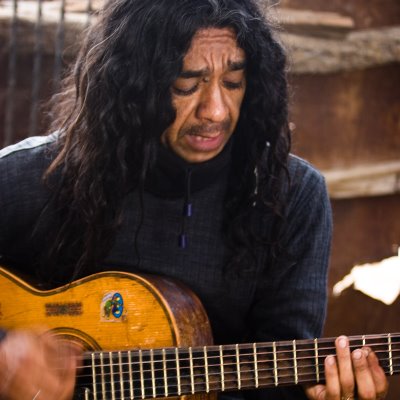 Next to Uruguay of course is the very much larger country of Argentina - a country in fact that is as large as the whole of Western Europe. And you'd be wrong if you thought it was all about tangos and milongas. Argentina's folklore is deep and rich.
So, here's an offering from the little known Western border where the Andes Mountain range runs all the way down the length of the country. Roughly in the middle of that you'll find the city of Mendoza and from there the musician Marcelino Azaguate.
This track has been produced by the rather more famous Mendocino Goy Karamelo (who usually sports a huge set of dreadlocks and whose music and remixes I've often featured on the programme); however here Goy just allows Marcelino to do what he does best.
The music form is called tonada and this beautiful track is entitled "Soy La Tonada".
10 "Soy La Tonada" (2:26) - Marcelino Azaguate Huarpe (prod. by Goy Karamelo) - "Tejedora" - Tonada (Huarpe Folclore)
Lovely. In fact it might be argued that Western Argentina shares more in common with its neighbour on the other side of the Andes range, Chile, than with its own capital Buenos Aires. Certainly tonadas are prevalent all over Chile, a country that loves its folklore.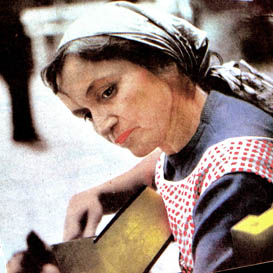 And so this leads me on to another Argentine-Chilean link for the next tune. During the 1960s Chile underwent something of a folk revolution (or certainly a counter-culture) where young Chileans started to really appreciate the music forms and instruments of the Andes and of the different regions of this long thin country. They started by collecting and learning the old songs and tunes and later by incorporating what they'd learnt into new songs.
One of the greatest folk-artists of that time - and in fact one of the greatest of all Latin America in the 20th century - was the singersongwriter Violeta del Carmen Parra Sandoval - commonly known as Violeta Parra, who is credited with being one of the driving forces behind the concept of 'Nueva Canción' which spread across South America and up to Cuba and even echoed via the likes of Joan Baez in the USA.
And from the great Violeta what else but what is probably the most famous of all the Latin American nueva cancion genre: "Gracias a la Vida".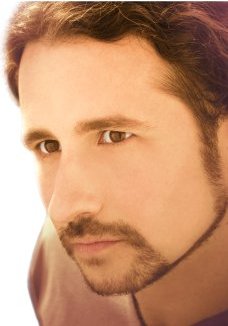 This song is one of the most covered latin american songs ever written. Personally, I knew it from the great Argentine folksinger the late Mercedes Sosa who I was lucky enough to see twice in the 1980s and even now has the ability to bring tears to my eyes.
Here it's sung by the Argentine singer Martin Alvarado - who I've been featuring over the last few weeks since he's coming to the UK on tour in November and will be performing at the mac on Sunday 19th November.
This is a starkly beautiful version of the anthemic "Gracias a la Vida" (Thanks to Life)
11 "Gracias A La Vida" (3:34) - Martin Alvarado & Horacio Avilano Trio - "Mas Alla" (Fonocal) - Canción
Gorgeous. Martin Alvarado there - as I say he'll be at the mac in Birmingham on Nov 19th so put that in your diaries.
Now that was what is known as a canción but Martin is more famous for singing tangos and milongas. And so I'm going to follow that with a couple of tangos.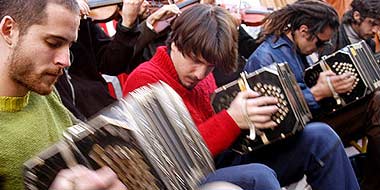 First of all is the Tango Orchestra Orquesta Típica Fernandez Fierro and a track that is originally not a tango at all but a zamba. Yes, life's never straightforward on my show is it!
Zamba with a 'z' (not to be confused with it's Brazilian neighbour samba with an 's') is a musical form mostly found in Northern Argentina - and I'm much enamoured of it. It's more connected to the Andean gauchos than the porteño gangsters and this is one of the most famous, written by the great Argentine classical guitarist Eduardo Falú, but here given the Fernandez Fierro tango treatment.
Confused? Don't worry, just enjoy!
From the album "Mucha Mierda" this is "Zamba de la Candelaria"
12 "Zamba de la Candelaria" (3:54) - Orquesta Típica Fernandez Fierro - "Mucha Mierda" - Tango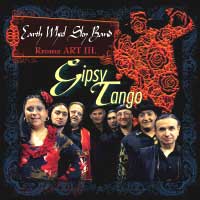 And now from Argentine Tango to European Gipsy Tango!
This is the Earth Wheel Sky Band and a track called "Tikno Luludi"
13 "Tikno Luludi" (1:58) - Earth Wheel Sky Band - "Gipsy Tango" - Gipsy Tango
[CONTINUOUS]
14 "Dance Of The Firemen" (1:30) - Taraf De Haïdouks - "Band Of Gypsies" (Crammed Discs) - Balkan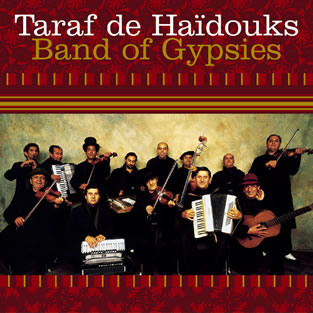 Ha ha! That was the Romanian gypsy band Taraf de Haidouks and a short track called Sirba Pompierilor (or Dance of the Firemen) featuring the 77 year old Neculae Neacsu on creaking, croaking violin string accompanied by the double bass, accordion and cymbalom.
I enjoyed that, so here's another from the same album "Band of Gypsies" on the Belgian Crammed Discs label. This is Taraf again and "Cacurica Dances"
15 "Cacurica Dances" (1:31) - Taraf De Haïdouks - "Band Of Gypsies" (Crammed Discs) - Balkan
[CHANGE CDs!!!]
[You're listening to ….]
Now a real treat - well, I reckon so anyway.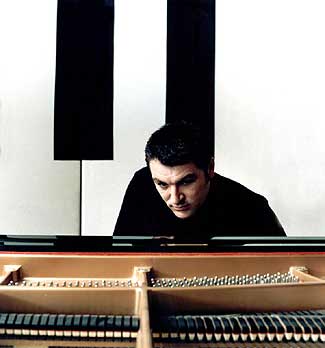 This is from an album I picked up about four years ago but have only just got round to listening to! Yes I know, hard to believe isn't it! But I'm a busy man and sometimes they just slip out of your consciousness.
I'm so glad I found it and took the wrapper off - if only for this one track alone.
It's from Spain, from the promotional album "Flamenco Por Andalucía, España Y La Humanidad" on the Szena Records label and is simply entitled "Bulerías" (which if you not familiar with it, refers to one of the many different forms of flamenco as opposed to an actual song-title itself).
What I like about it is that you usually only hear flamenco played on guitar, but here it's played on piano.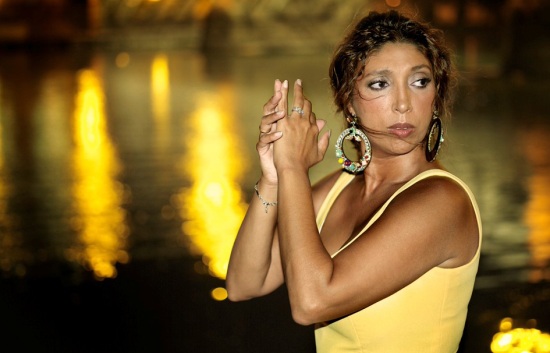 This is Dorantes, here accompanied by singer Esperanza Fernández.
Lush, romantic, understated. I love this!
1 (16) "Bulerías" (4:21) - Dorantes Y Esperanza Fernández - "Flamenco Por Andalucía, España Y La Humanidad" (Szena Records) - Bulerías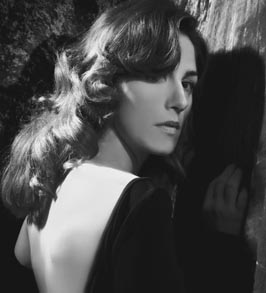 Aah! Wasn't that beautiful?
And what to follow that with?
Well, more beauty of course. And one of my favourite songforms of all time: Fado!
So, from Portugal, this is the wonderful Ana Sofia Varela and from her album "Fados de Amor e Pecado" (fados of love and sin) the title track.
2 (17) "Fado de Amor e Pecado" (4:40) - Ana Sofia Varela - "Fados de Amor e Pecado" (iPlay Music) - Fado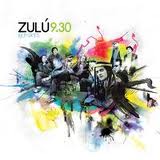 What to follow that?
Time for something different.
Still in the Iberian peninsular but North-East to Barcelona and Zulu 9.30's "Carmelita" remixed here by Rude Hi-Fi from Zulu 9.30's "Remixes" album on the Kasba label.
3 (18) "Carmelita" (3:42) - Zulu 9.30 (Rude HI-FI remix) - "Remixes" (Kasba)
Now, earlier on I played you a piece of Argentine tonada by Marcelino Azaguate from his album produced by veteran Mendocino musician and punk-reggae artist and mixer, Goy Karamelo.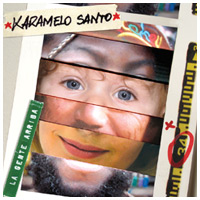 Well, here's a really interesting track from Goy's old band Karamelo Santo from their album "La Gente Arriba" - it's a reggae cumbia version of a track made famous by Old Satchmo himself, Louis Armstrong!
Not guessed yet? Well, this has got be one of the most uplifting of songs, and a really whimsical version of it too.
Imagine if we were all as happy and as chilled as this: it'd be a wonderful world, wouldn't it!
4 (19) "Wonderful World" (4:10) - Karamelo Santo - "La Gente Arriba!" - (Sony BMG 2006; K Industria 2011) - Reggae-Cumbia
[CONTINUOUS]
5 (20) "Unconditional Love" aka 'Ganja Farmer' (3:57) - Marlon Asher - "Cultural Lovers' Rock" (ERNI 2009) - Reggae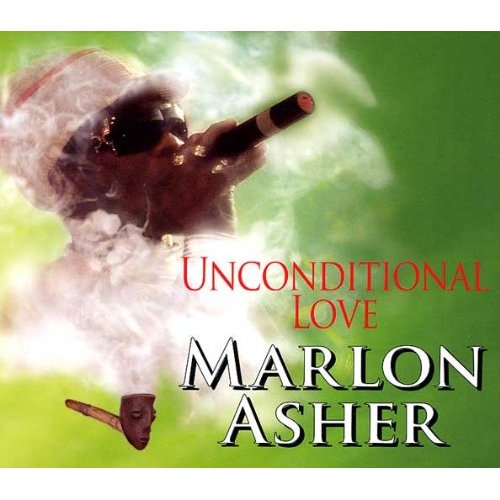 Yeah, first you heard Karamelo Santo's version of "Wonderful World" and that was followed by a track that was heard all over Birmingham in the last couple of years - at least in my part of it.
That was Marlon Asher's "Unconditional Love" (aka Ganja Farmer).
That one went out to Silvalili as a special request. Not that we condone any activities of that kind, I hasten to add! But it's a great tune anyway.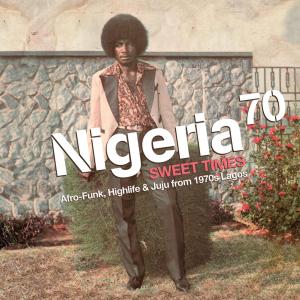 As is this next one. From 1970s Nigeria a sublime piece of Ibo Highlife from Ali Chukwumah and his Peace Makers International.
Re-released this year on the fabulous Strut Records album "Sweet Times: Afro Funk, Highlife and Juju from 1970s Lagos" as part of their Nigeria 70 series, this is "Henrietta".
6 (21) "Henrietta" (4:40) - Ali Chukwuma & His Peace Makers International - "Sweet Times" (Strut Records) - Nigerian Ibo Highlife
[CONTINUOUS]
7 (22) "Wa Muluendu (world)" (4:00) - Masanka Sankayi & Kasai Allstars - "Congotronics 2" (Crammed Discs) - African (Congo)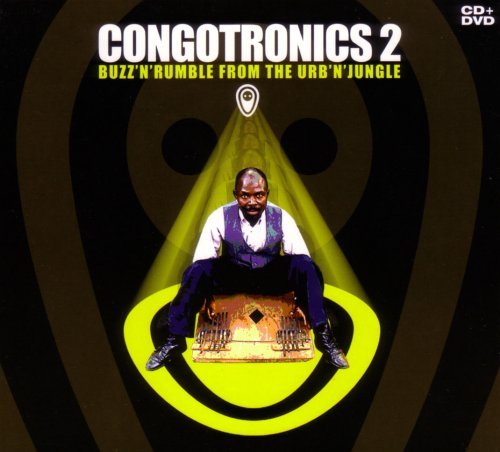 Yeah, what a great groove!! That was a piece from the Congo recorded in Kinshasa and was from album "Congotronics 2: Buzz'n'Rumble from the Urb'n'Jungle" on the Crammed Discs label from Belgium (who put out some great stuff).
The track was called "Wa Muluendu" and the band was Masanka Sankayi and the Kasai Allstars featuring Mutumilayi.
And since we're firmly in some very funky, urban territory now how about this?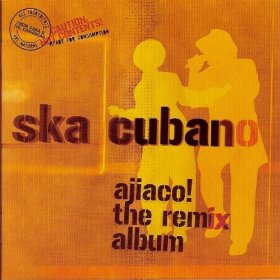 This is the Spiritual South Remix of the Ska Cubano cover of the classic Lito Barrientos cumbia from the 1960s "Cumbia en Do Menor" (still with me?).
Like one of Dr Bach's homeopathic herbal remedies there's precious little of the original left to be heard, but it's a great groove anyway . . .
Stick with it 'cause afterward we're going to hit up some mad balkanic cumbia and balkan dancehall - don't go away!
8 (23) "Cumbia En Do Menor" (5:20) - Ska Cubano (Spiritual South Remix) - "Ajiaco! The Remix Album" (Absolute UK, 2008) - Ska Cubano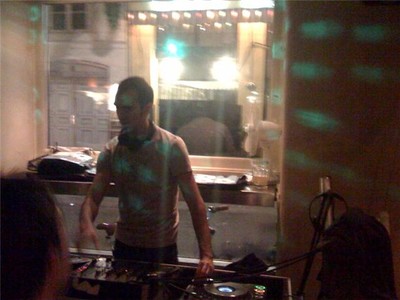 [CONTINUOUS]
9 (24) "Bucovina en Barranquilla" (3:07) - Danochilango - Balkan Cumbia
Yeah, that was Danochilango's Balkan Cumbia "Bucovina en Barranquilla".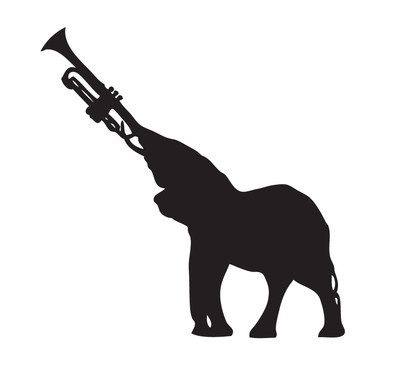 Sticking with that balkan vibe as promised this is another mad mashup - balkan dancehall styleee from France's Watcha Clan vs Mims, Cham & Junior Reid all mashed together by the Balkan Hotsteppers.
This is called "Gypsy Dust is Hot!"
10 (25) "Gypsy Dust is Hot (This Is Why We Hot)" (4:24) - Watcha Clan vs. Mims, Cham & Junior Reid (Balkan Hotsteppers) - Balkan Dancehall mashup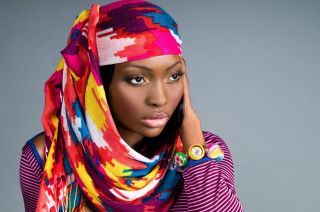 Ok, got time for about another one or two that's all, so this is the gorgeous Jamaican singer Ieye (no relation to Brummie Rocksteady crew 1EYE btw!) and a track from her album "Fever Grass" entitled "Johnny"
11 (26) "Johnny" (4:10) - Ieye - "Fever Grass" - Reggae
OK that's it.
[Shoutouts, Reminders, etc - Amazonas Groove and Arriba]
I'm going to leave you with a French Reggae band singing a song in English written by a Brummie.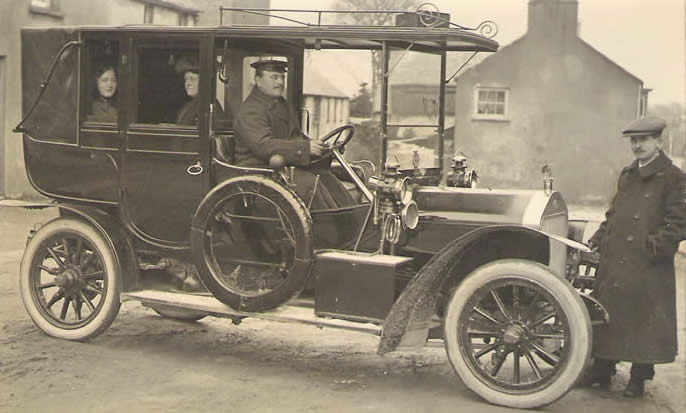 The band is called Miss Mama and from their live album "T'as Raison" this is a track written by Steel Pulse's David Hinds called "Taxi Driver".
.
.
.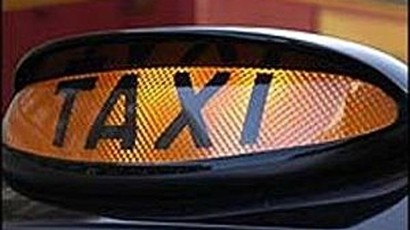 See ya'll next week.
Taxi!!!!!
12 (27) "Taxi Driver" (3:58) - Miss Mama - "T'as Raison !" (Douzetafs) - Reggae