Mid-March Round-up (15/3/12)
Tagged with: Glyn Phillips world music worldmusic.co.uk Andy Kershaw No Off Switch Rachel Harrington Knock Outs Julaba Kunda Sensational Space Shifters Dub Colossus Spiro Putumayo Bombino Roberto Fonseca Flavia Bittencourt Soundway Leilia Ceu Rough Guide Sefiroth Omi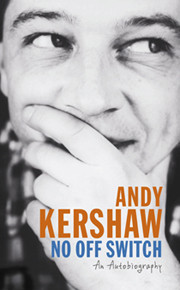 "Best autobiography I've ever read. Bar none"

Just a few quick observations and round-ups of what's going for me recently.
Just finished reading Andy Kershaw's autobiography "No Off Switch".
I'll put this as simply as I can: Best Autobiography I've Ever Read. Bar None. Thoroughly recommend it. Nuff Said.
I'm looking to write a review of it when I get a moment or ten and I'll expand my thoughts in that, so watch this space . . .
[* The FULL REVIEW of ANDY KERSHAW's "NO OFF SWITCH" can now be found here: worldmusic.co.uk/andy_kershaw_no_off_switch_an_autobiography_rev]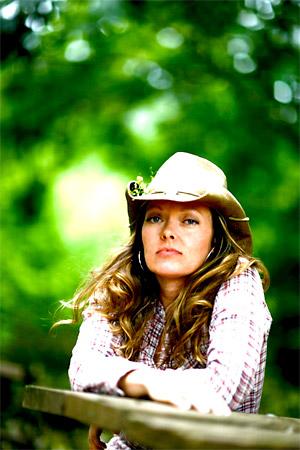 Saw the American Country band Rachel Harrington and the Knock Outs a couple of nights ago (currently on tour round the UK) -
a fabulous all-girl outfit with great musicianship, harmonies and some classy pen(wo)manship from Harrington.
Recommended.
(see Review here:
www.worldmusic.co.uk/rachel_harrington_the_knock_outs_bilston)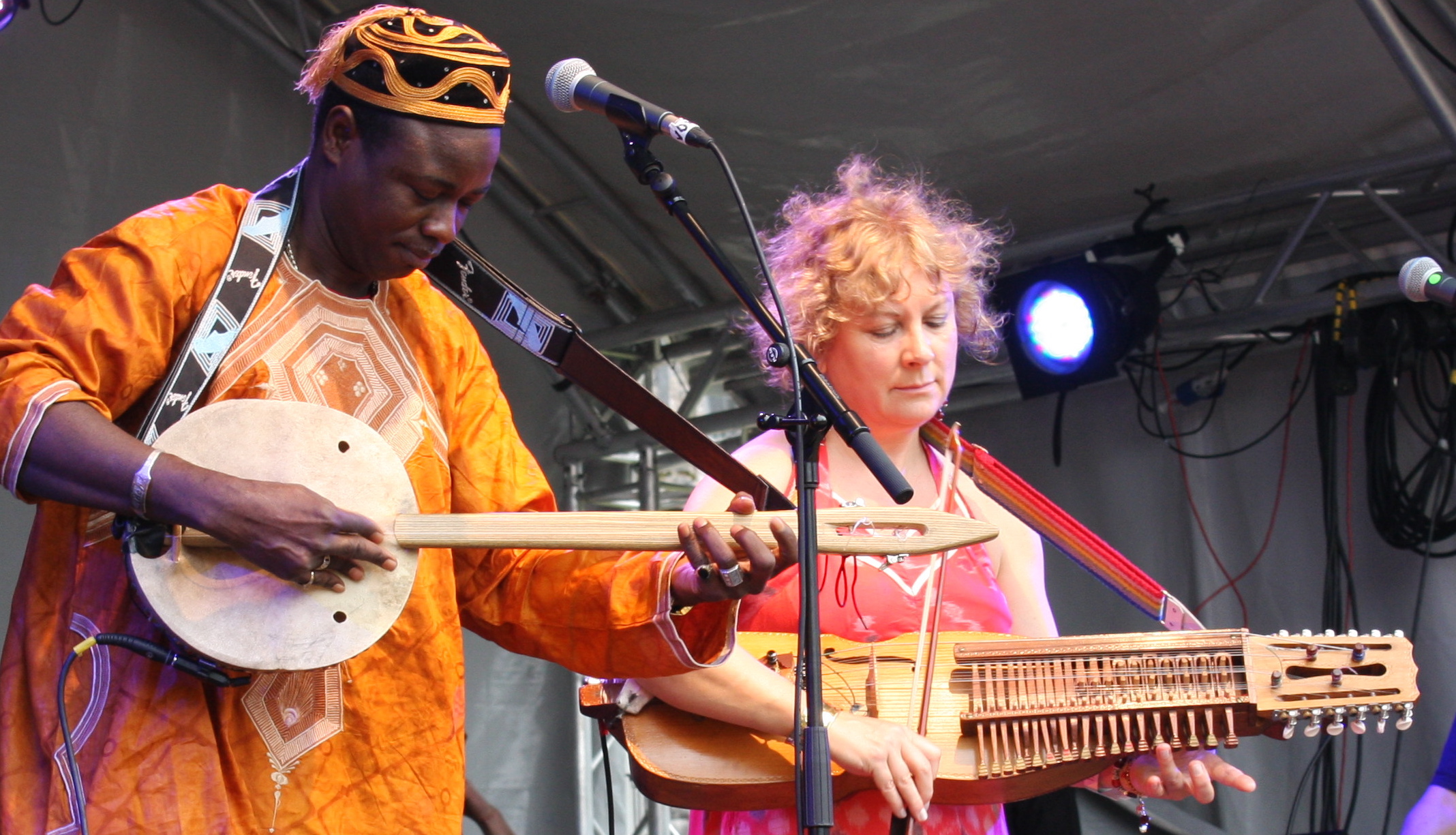 And a few weeks previously saw the brilliant Julaba Kunda featuring the Scottish fiddler Griselda Sanderson and the Gambian fiddler Juldeh Camara, alongside Senegal's Amadou Diagne.
Catch 'em while you can - before Juldeh gets too tied up in Robert Plant's new band the Sensational Space Shifters this summer . . .
(Review of Julaba Kunda here: worldmusic.co.uk/julaba_kunda_at_birmingham_1922012)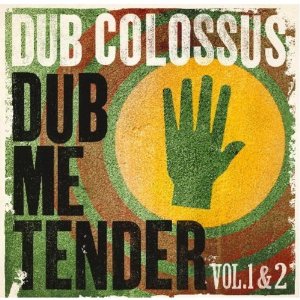 On my car's CD player for the last few weeks:
"Dub Me Tender" - the remix versions of Dub Colossus's Award Winning album "Addis Through The Looking Glass."
I still prefer the original, but the remixes are great music for chilling out to when driving.
(For a review of the original click here: worldmusic.co.uk/dub_colossus_addis_through_the_looking_glass_re)
Previous to that a sampler of tracks from Spiro's "Kaleidophonica" album, Putumayo's "Latin Beat" compilation and Bombino's "Agadez" were all getting me from A to B when driving.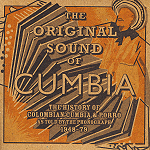 However, I spend most of my time sitting at my computer and these are some of the albums, artists and tracks that have been on constant rotation on my iTunes...
Soundway's wonderful compilation "The Original Sound of Cumbia: The History of Colombian Cumbia & Porro As Told By The Phonograph 1948 - 79", a must for all you colombiphiliacs out there,
Galician female vocal outfit Leilía and their new album "Consentimento" (on the Spanish Fol label) - the ladies in the groovy hats below!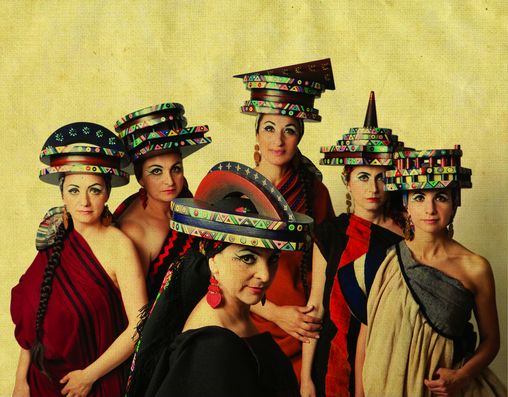 Brazil's Ceú and her new album "Caravana Sereia Bloom"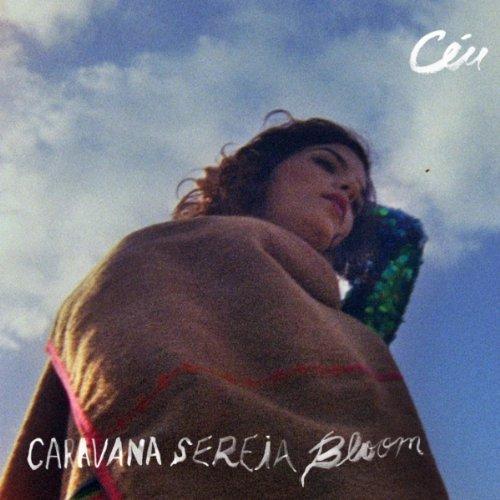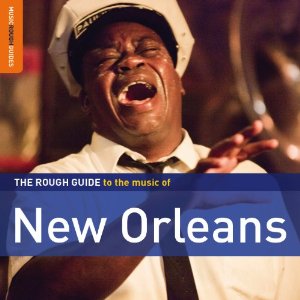 and the really most excellent compilation: "The Rough Guide To The Music Of New Orleans" from World Music Network.
(You can read my review of that last one here:
worldmusic.co.uk/rough_guide_to_the_music_of_new_orleans_cd_revi)
Other interesting things to drop on my digital doormat have been:
some great old Afro Jazz from Nigeria's Monomono and Trinidad's Black Truth Rhythm Band,
Rocky ratafolk from the EP Scecchendaun from Italy's Colletivo Mazzulata,
American folky-pop from Girlyman,
and some tasty ska and reggae from the UKs Chain SkaBrassika (EP "South East Beats").
Also flying in have been the Rough Guides to Celtic Women and Psychedelic Africa* (just two of many World Music Network releases this year),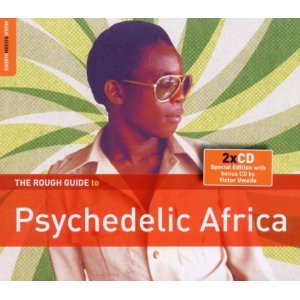 The Sefiroth Ensemble's new EP ('Arboles Lloran Para Lluvia')*,
BraAgas's new album "Fuerte" (including a couple of versions of the classic "Chaje Sukarije")
and the album "Siempre Pa'lante" from a feisty salsa combo from Denmark called Jorge Cordero and the Gran Daneses.
[* Reviews for these two albums here]:
worldmusic.co.uk/rough_guide_to_psychedelic_africa_rgnet1270cd_r
worldmusic.co.uk/sefiroth_ensemble_arboles_lloran_por_lluvia_cd_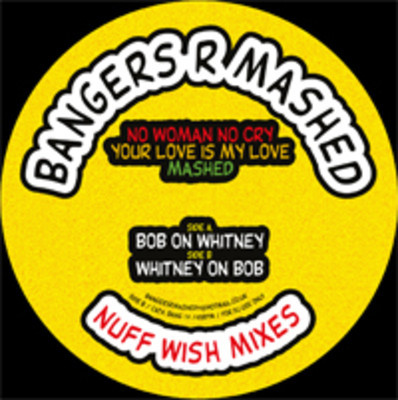 I've also been enjoying some mad mashups and remixes from the likes of Cafe de Calaveras & Add On de Bass who take on Pastor Lopez's "Mentirosa" in a moombahton style, Birmingham's G-Corp and Nuff Wish's delightful mash-ups of Marley and Whitney, Bobby Blue, and Michael Jackson with Adele.
And what about Rude Hi-Fi's Barriobeat Jungle Reggae remix of "Lascia Che Sia" featuring Amparo Sanchez? Or his Dubwise DnB version of "Jungle Reggae Party" featuring Lucky Hernan?
Also liking the Capt Cumbia remix of Chaka Demus and Pliers's "Slim Thing" and an unknown remix of Amy Winehouse on "Sweet Guitar" featuring Italian reggae supremo Alborosie with shades of Dawn Penn. Lush.
And how can I leave out Capt Cumbia's "Under Mi Serbie (Under Mi Sensi -Soundclash Edit)" - a mad electro-balkanic-cumbia dancehall mashup featuring Mr Vegas vs Boban Markovic vs the Amsterdam Klezmer Band! Excellent.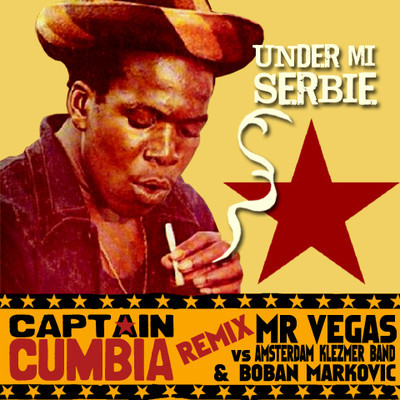 On the jazzy, bluesy side I've got to mention Cardiff's Ecklectic Mick who specialises mostly in electro-swing remixes - but here has taken a little detour. Firstly mixing jazz with Indian music, notably his gentle mash-up of that old standard "Sweet Georgia Brown" - although you can also check out his softswing treatment of it too; and then a fabulous remix of Howlin' Wolf's "Spoonful" (mixing in "Rosie/Be My Woman" along the way).
However top of the mash-up list these past few weeks has been the ever-reliable Fissunix and his deliciously creamy mash of Alicia Keys and Chic in "Good Times Fallin". Lushness personified.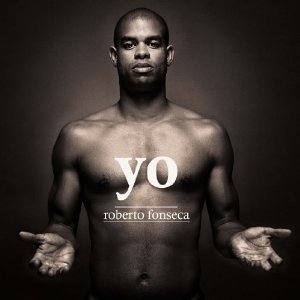 Worth checking out his full-on and imaginative Beatles mashups too: "Beautiful Prudence" (with Christina Aguilera), "End of the Walrus", "Owner of the USSR" and "Don't Let Me Down On The Dancefloor", as well as his Zeppelin mash-ups like "HitzBreaker" (Heartbreaker sounding like it's been re-recorded inside a beehive the size of a small city! Intense).
Loving also Diabel Cissokho's "Allah Lako",
Escalandrum's latin jazz tango treatment of "Adios Nonino",
"Cheerleader" by Jamaica's Omi
and finally, the new afrocuban jazz album "Yo!" by Cuban pianist Roberto Fonseca - this is fantastic and definitely getting an in-depth review very soon! [Oh, and here it is!]: www.worldmusic.co.uk/roberto_fonseca_yo_album_review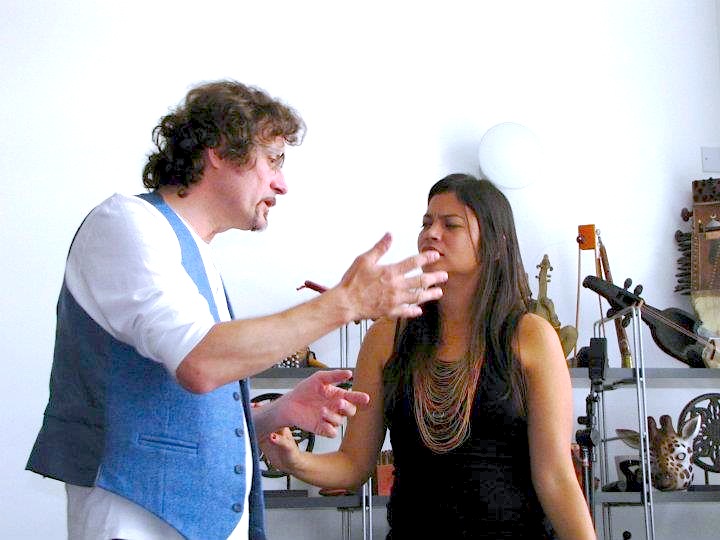 All this and I've been working on some lyrics in English for Brazil's sublime songstress Flavia Bittencourt for her new album...
Busy boy indeed!
WorldBeatUK (23rd Show) - Broadcast Notes (3/8/11)
Tagged with: WorldBeatUK Glyn Phillips Hossam Ramzy Samba Toure Toland Tchakounte Julaba Kunda Juldeh Camara Griselda Sanderson Hansi Hamilton Loomis Stratton Doyle Mary Anne Kennedy Maria de Fatima Julya Lo'ko Joanne Vance Dub Colossus Magic Tombolinos Ebo Taylor
WBUK23 (3/8/11) - SHOWNOTES
1 "Intro-Mat" by (1:47) Matchatcha from the album "Nyekesse " (Melodie)
Welcome to WorldBeatUK on Rhubarb Radio. My name's Glyn Phillips and over the next two hours we're going around the world in Weighty Grooves!
We've got: Afrobeat from Ghana, Cumbia and Gaita from Colombia, Latin Funk from Miami and Latin Rock from Ecuador.
You'll also hear some Dub from Ethiopia, some cumbia and gaita from Colombia and some Gaelic folk-song from the Isle of Skye.
Lined up for you I've also got Texan Blues, Malian Blues, Mississippi Blues, Fulani Blues and Cameroonian Blues.
Devon-based Scottish-Gambian fiddlers Julaba Kunda give us advice on cattle-herding and also pen a song the Scottish Tourist Board would be proud of.
and from Amsterdam there's Balkanic Klezmer, Portuguese Fado and Indonesian Fado . . .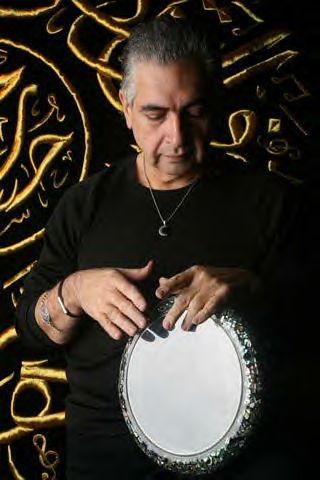 I'm going to start the show off with a track from an album called "Rock The Tabla" (on the ARC Music label) that turned up on my desk last week by the world-famous Egyptian percussionist Hossam Ramzy.
If you've ever heard any Egyptian music there's a huge chance that Hossam Ramzy is on it somewhere. If any producer or musician or composer wants any North African or Middle Eastern percussion putting on a tune or film soundtrack, then Hossam Ramzy is usually the first stop.
On this album though, Hossam has assembled some great percussionists and other musicians from his amongst his extensive back catalogue of worldclass artists he's recorded for.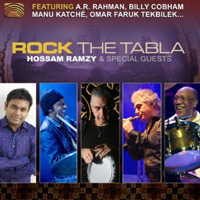 I got very excited when I saw names like Billy Cobham, A .R. Rahman, Manu Katché and Joji Hirota, who I thought would all be performing in some kind of supergroup.
Not quite. Hossam has recorded separate tracks with each of the main collaborators, which makes for an unbalanced album overall.
Incidentally, the name 'tabla' in the context of the album title refers not to the famous paired tabla drums of the Indian sub-continent but to the Egyptian tabla - which is a single-skinned goblet shaped drum elsewhere referred to as darbuka, doumbek etc).
This is just the first of many albums he plans to do like this, so without further ado I'm going to kick the show off with the opening track from this album. This is "Arabantana".
2 "Arabantana" by (5:07) Hossam Ramzy from the album "Rock The Tabla" (ARC Music)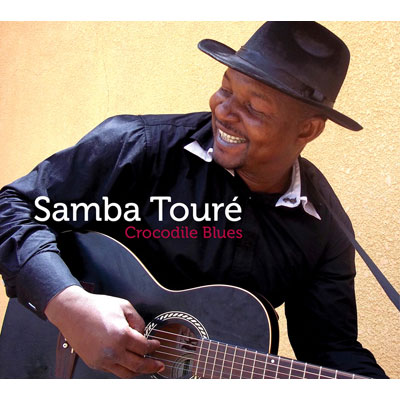 I've got quite a bluesy feel to the first part of the show this evening as I explore the musical connections between Africa, America and Europe. First of all this is a track from the 2011 album "Crocodile Blues" by the Malian guitarist Samba Touré.
Now although - to the best of my knowledge - Samba Touré is not related to the late Malian guitar master Ali Farka Toure, he does have quite a connection with Ali and his legacy. His mother used to sing with Ali many, many years ago and Samba was smitten by his groundbreaking transposition of traditional music onto guitar and taught himself to play in that new style also.
Samba was finally offered the chance to tour Europe and the USA with Ali at the end of the 90s and upon his return he formed his own band, Fondo, with whom he recorded two records for Malian distribution.
In 2010 Samba was invited by none other than Toumani Diabate to play Ali's parts on the posthumous "Ali Farka Touré Variations Tour". He's been picked up by the World Music Network label and they are releasing his new album "Crocodile Blues". This is off that and is entitled "Alabina".
3 "Alabina" by (4:15) Samba Touré from the album "Crocodile Blues"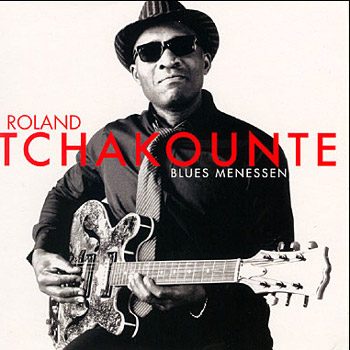 Roland Tchakounté, originally from Cameroon, but now resident in Paris, takes his influence from the classic American blues musicians such as John Lee Hooker and reinterprets the blues in his own way including singing in his native language Bamileke.
Tchakounte delivered a masterclass in blues guitar and stagecraft a few days ago at the Womad festival photos of which should hopefully be up on the world music website: www.worldmusic.co.uk.
This is the title track from Roland Tchakounté's album "Blues Menessen".
4 "Blues Menessen" by (4:50) Roland Tchakounté from the album "Blues Menessen" (Tupelo Productions)
Yeah some down-home Parisian-Cameroonian blues from Roland Tchakounté there.
Now, this next track offers us a very interesting perspective into looking at the links between Africa and Europe, links which would eventually form the blues many thousands of miles and a hundred years or more ago across the over side of the pond in America.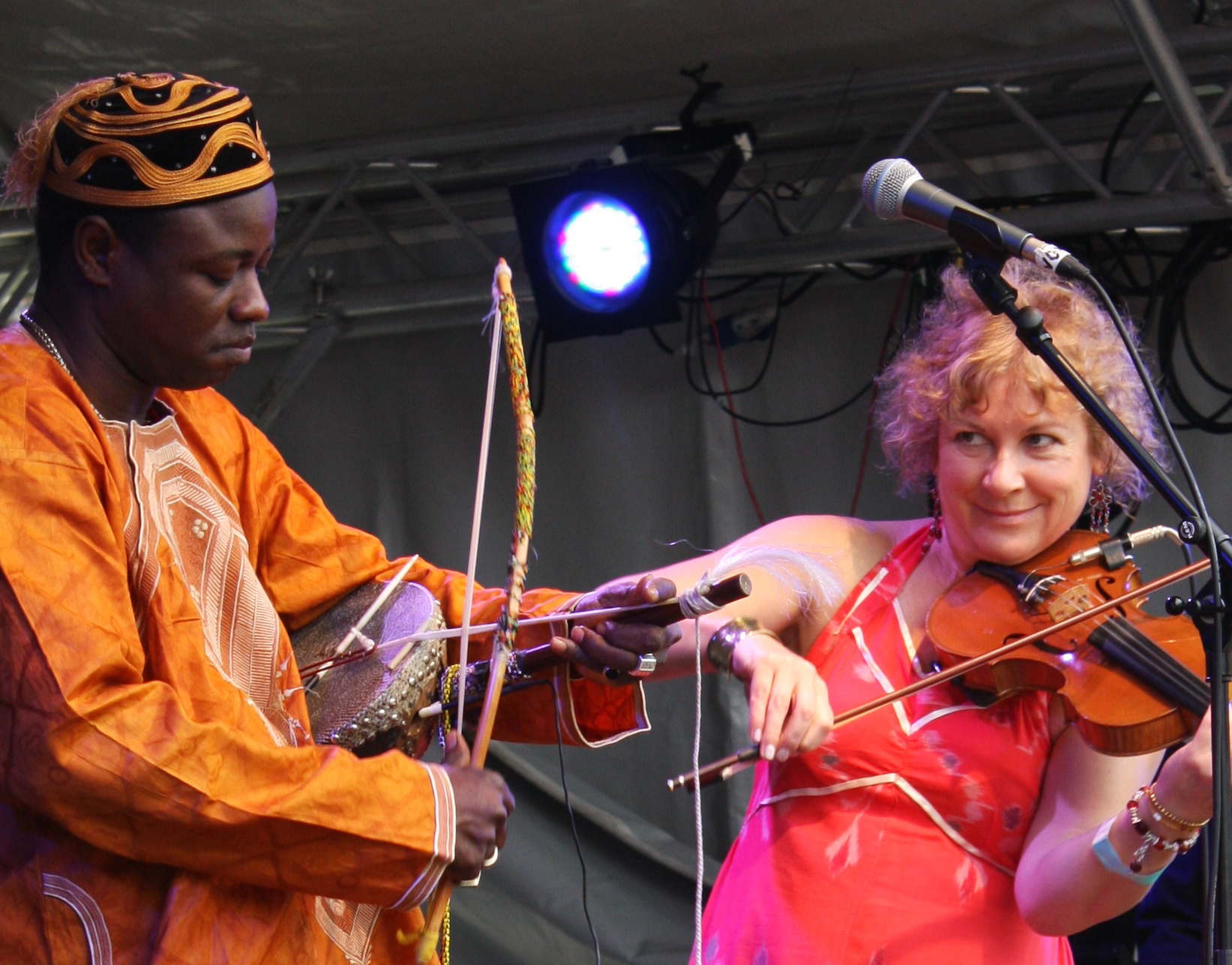 Regular listeners to my show will have heard me play music before by the Gambian ritti and kologo player and singer/composer Juldeh Camara - who usually is to be found next to Robert Plant's buddy Justin Adams in the band JuJu.
However, a few weeks ago I was lucky enough to see Juldeh in a different context altogether - playing alongside a fellow fiddler at the acoustic based HOME Festival in Dartington, Devon.
This, though, was no African or American fiddler, but a Scottish fiddler from a traditional Scottish fiddling family, the lovely Griselda Sanderson. Although they come from fiddling cultures separated by three thousand miles, when they met at Dartington for the first time a few years ago, they felt an instant connection to each other's music and traditions and so started trading ideas.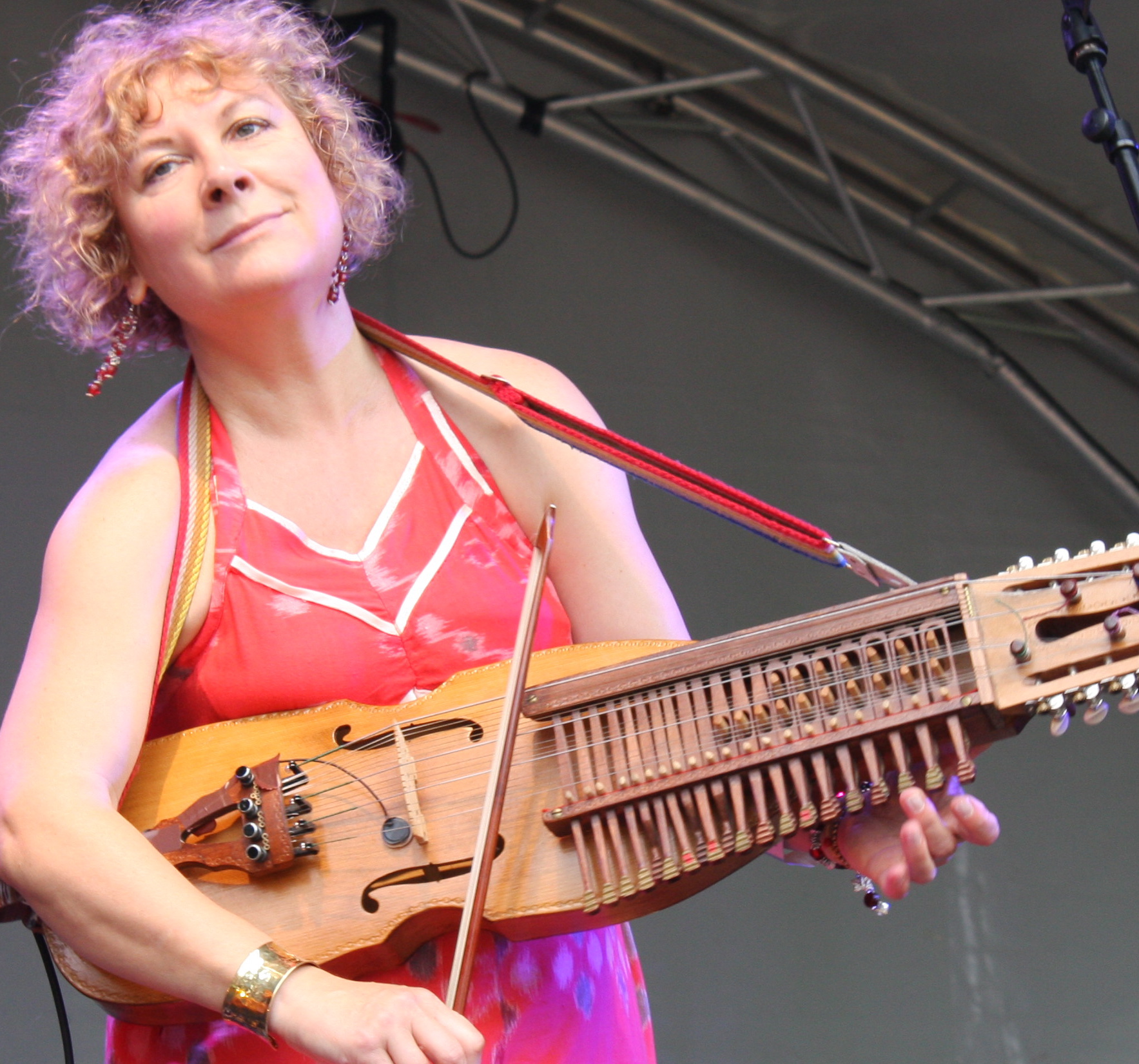 Juldeh plays the riti (also known as a nyaneru) - a fiddle made from half a gourd with but one string and no fretboard at all - the notes being made by wrapping his fingers and thumb along the stretched string.
Griselda besides playing the traditional European fiddle is also one of the few people in the UK to play the strange key-operated Swedish nyckelharpa fiddle.
The duo they formed is called Julaba Kunda which is in the Fulani language and translates as "Trading Company". This track is from their brand-new, hot off the press album "Traders" and is a track entitled "Gainako" with Griselda on nyckelharpa, viola, violin and percussion and Juldeh on vocals and kologo (a two string plucked instrument a bit like a guitar or banjo). The song is all about cattleherding - an activity once of crucial importance in Scotland and still a lifeline in West Africa.
5 "Gainako" by (6:08) Julaba Kunda from the album "Traders" (Waulk Music)
[---CONTINUOUS---]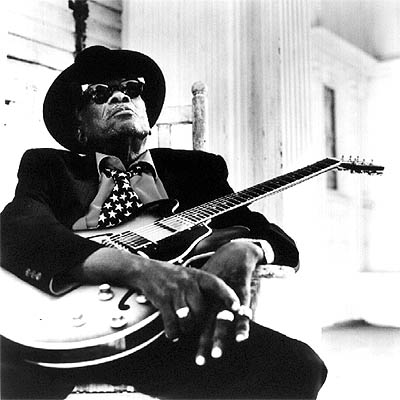 6 "Homework (Hansi's Fancy Hunk Edit)" by (5:57) John Lee Hooker [Hansi Remix]
You just heard Hansi remix of John Lee Hooker's "Homework" a salutary tale of not attending to your lady's 'needs'(!), and before that the beautiful sound of the Caledo-Gambian duo Julaba Kunda.
OK, We've got one more tune in this section that deals with the African-American-European triangle of the Blues.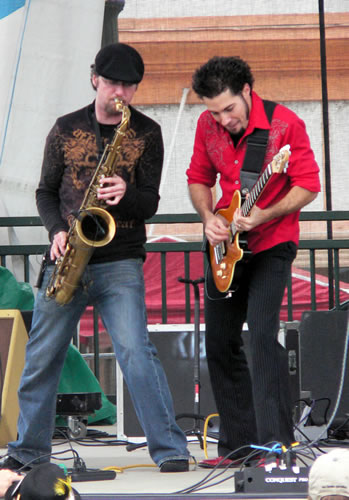 This is a band that I saw at the Adam & Eve, round the corner from the Rhubarb Radio studio in Digbeth, Birmingham, England, a few months ago playing an unadvertised and completely impromptu gig on their night off from touring! You can't keep a good musician down!
Hamilton Loomis is a Texan blues guitarist, writer and bandleader (and protege of the late Bo Diddley) who with his sax player Stratton Doyle can produce a sound equivalent to an entire orchestra. When I saw him he was backed by Brum's own Jamie Little on drums and ace-bassist Roger Innis. One of the best live gigs I've been to in years.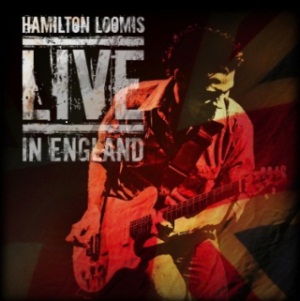 On this album called, appositely enough, "Live In England" (on Ham-Bone Records) Jamie is back behind the kit and bass duties are by Kent Beatty. However, no matter how good Loomis is on guitar (and trust me, he is amazing), this track is all about Strat Doyle's stratospheric tenor sax playing - the man should have a government health warning slapped on him because he is single-handedly capable of blowing a hole through the ozone layer! This live track is called "Pull Strings".
7 "Pull String" by (4:46) Hamilton Loomis from the album "Live in England" (Ham-Bone Records)
That was Texan Hamilton Loomis from "Live in England" and now from over the pond to over the border - in this case not Mexico but Scotland - well, kind of, via Devon and the Gambia really.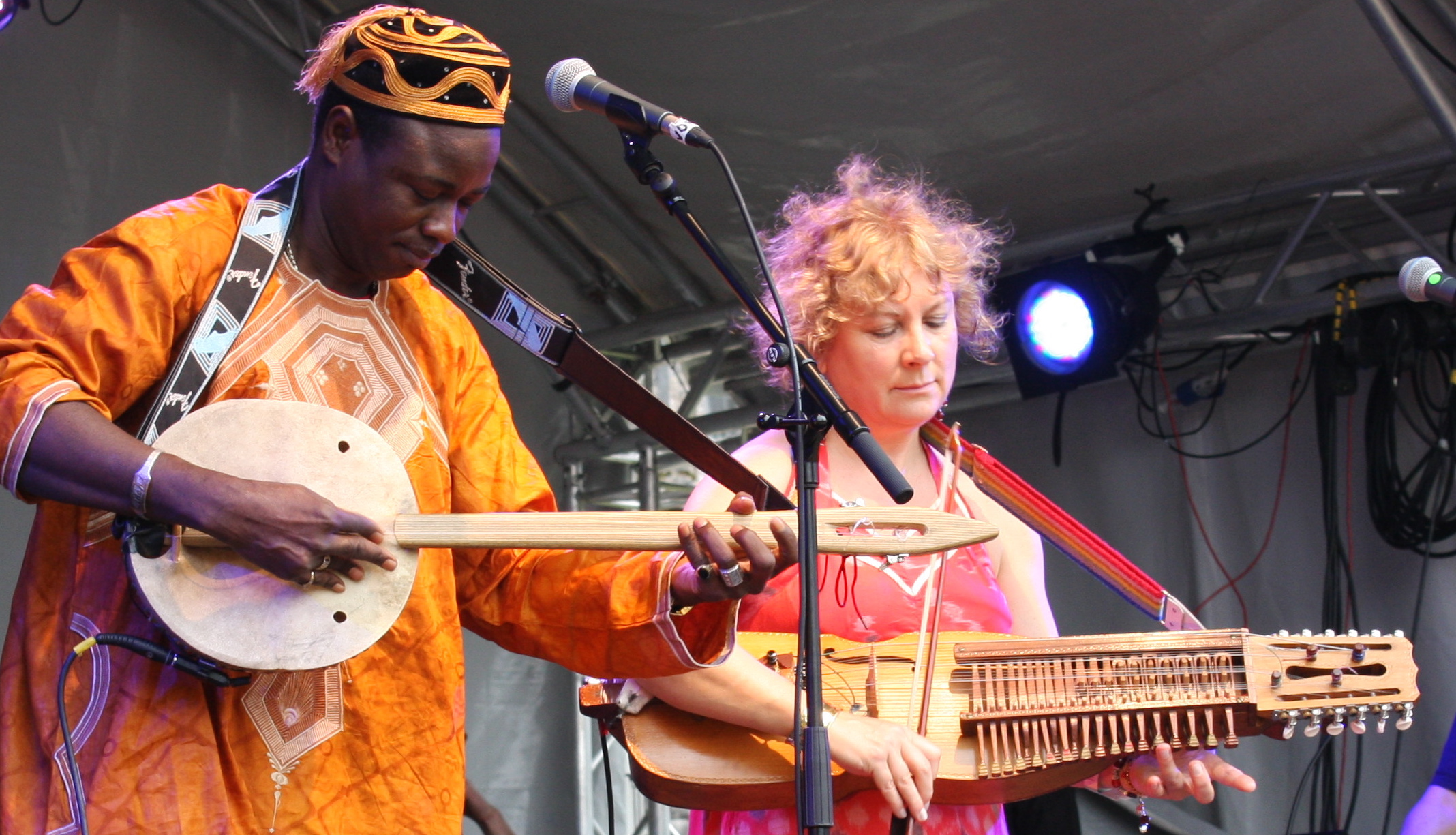 We return to Julaba Kunda the duo formed by Gambia's Juldeh Camara and Scotland's Griselda Sanderson.
This is another track from their new album, "Traders".
Juldeh plays the kologo and also the ritti or one string-fiddle as well as singing, whilst Griselda plays fiddle, viola and Hammond organ. The song's called "Scotland".
As Griselda says: "The land, its people and their music are inextricably linked. To me, a reel is a rocky path, a jig a rushing burn and a strathspey a great glen."
As Juldeh's lyrics say: "Beautiful Girl, pretty and sweet, you are so lovely. Please come to me! Your beauty is God's creation, just like the mountains of Scotland."
8 "Scotland" by (6:10) Julaba Kunda from the album "Traders" (Waulk Music)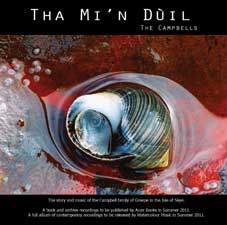 [staying in Scotland - over the sea to Skye; Mary Ann Kennedy - the book, CD; R3 stage Womad, etc]
.
.
.
.
.
.
9 "Ceud Soraidh, Ceud Slainte" by (4:22) The Campbells from the album "Tha Mi'n Duil" (Watercolour Music)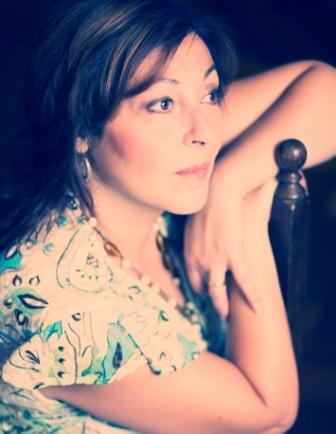 .
.
.
.
.
.
.
.
.
[beauty of the human voice - here's another - fado]
10 "Aforma De Querer E Ser Amada" by (3:01) Maria De Fátima from the album "Maria de Fátima Live" (Right Notes 2010 - RN1001)
.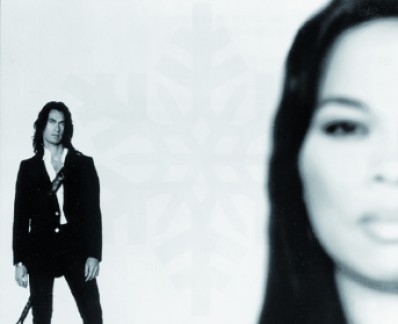 [if you thought that was beautiful take a listen to this - Indonesian - dutch based songstress - need more info on this]
11 "Tembang Pahlawan" by (5:28) Julya Lo'ko & Erwin Van Ligten from the album "Krongcong Baru" (Little Wing 004)
.
.
.
[a little slice of Paradise - name of the next song - mention Joanne and the scholarship]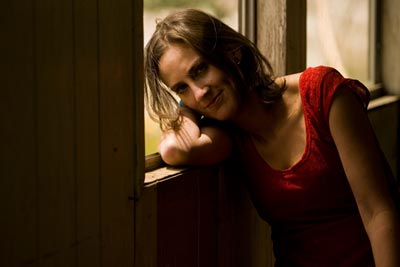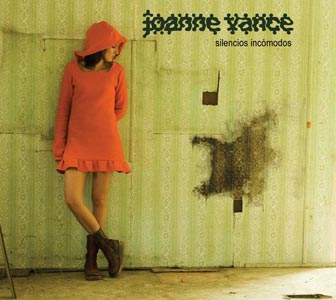 .
.
.
.
.
.
.
.
12 "Paraíso" by (4:00) Joanne Vance from the album "Silencios Incómodos"
[CHANGE THE CD HERE!!]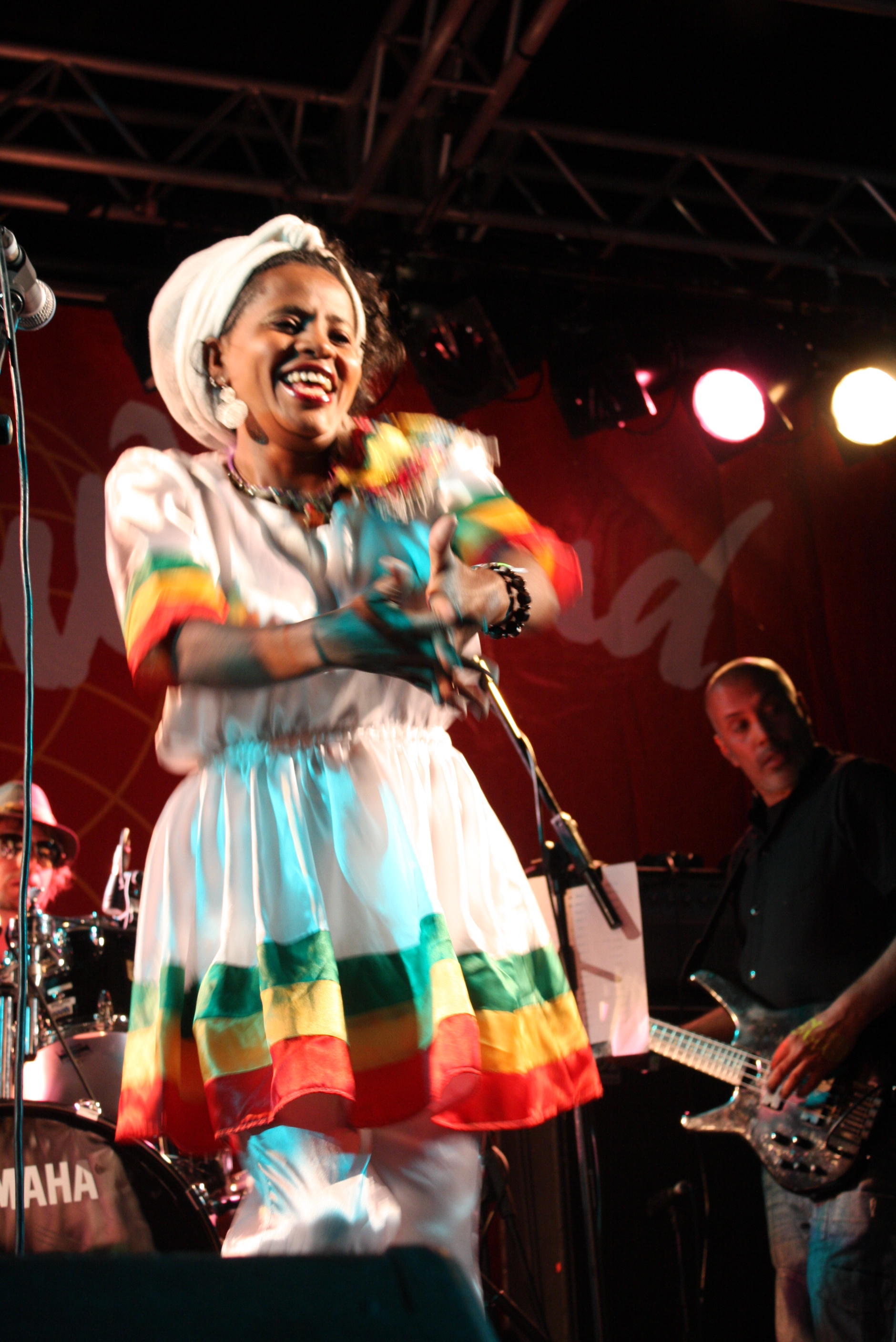 [from Paradise to the crazy streets of Addis Ababa - mention Dub Colossus at Womad - how good it was - my interview with Nick Page (Dubulah) and Mykael Riley and PJ Higgins etc]
(1) 13 "Guragigna" by (5:15) Dub Colossus from the album "Addis Through The Looking Glass" (Real World Records)
.
.
.
.
.
.
.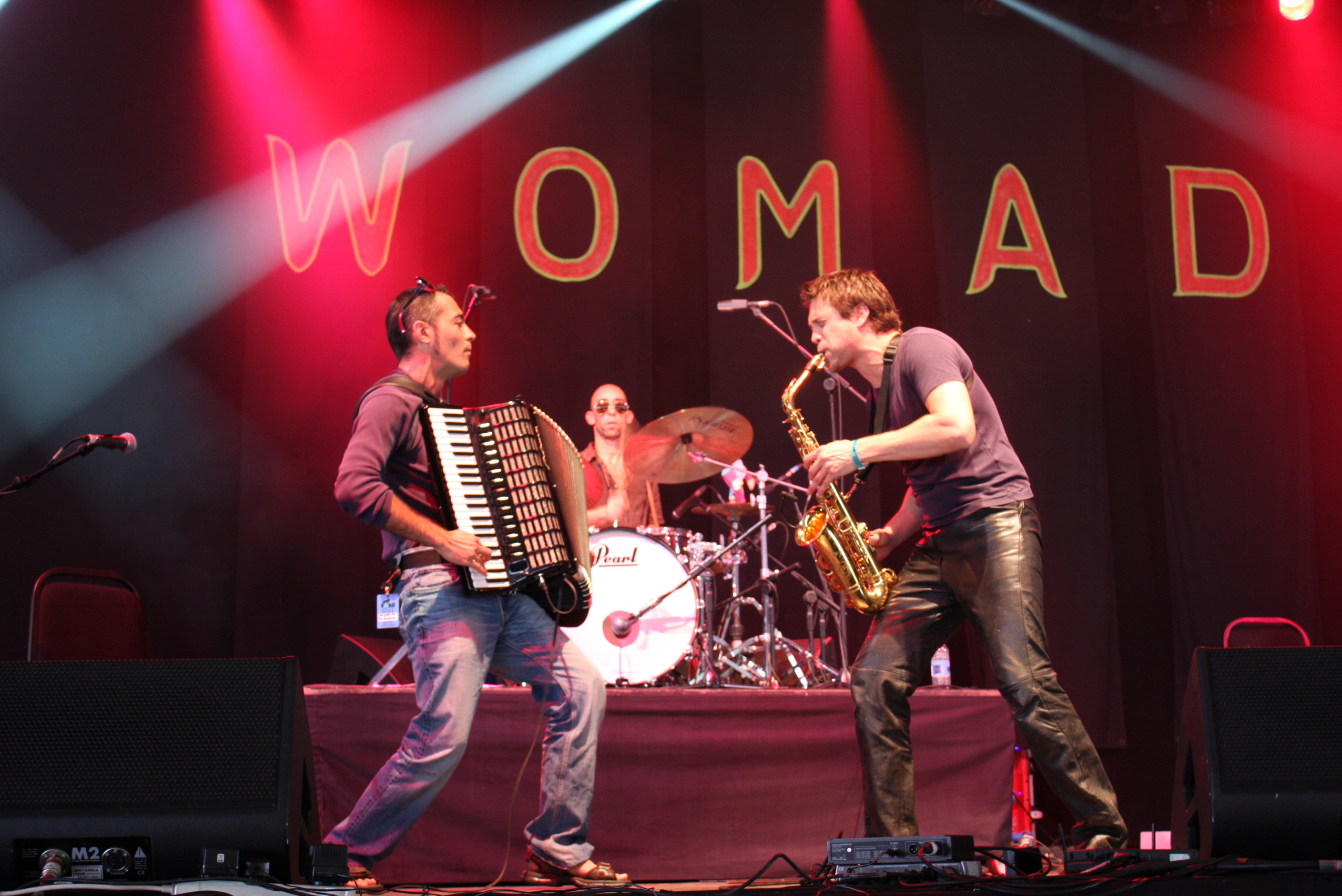 [from the Ethiopian highlands to the desert lands in this case those around Stoke Newington in London - Tombolinos and Womad and Home and Desert Rain - bit of sub-Balkanic madness]
(2) 14 "Desert Rain" by (3:06) The Magic Tombolinos from the album "Full Attack With Sudden Defenses" (International Records)
.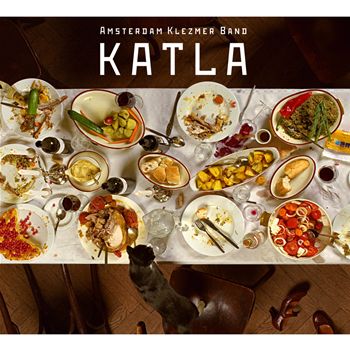 .
.
.
.
.
.
.
[More Balkanic fun here - this time from AKB]
(3) 15 "Marusja" by (4:54) Amsterdam Klezmer Band from the album "Katla" (Essay Recordings)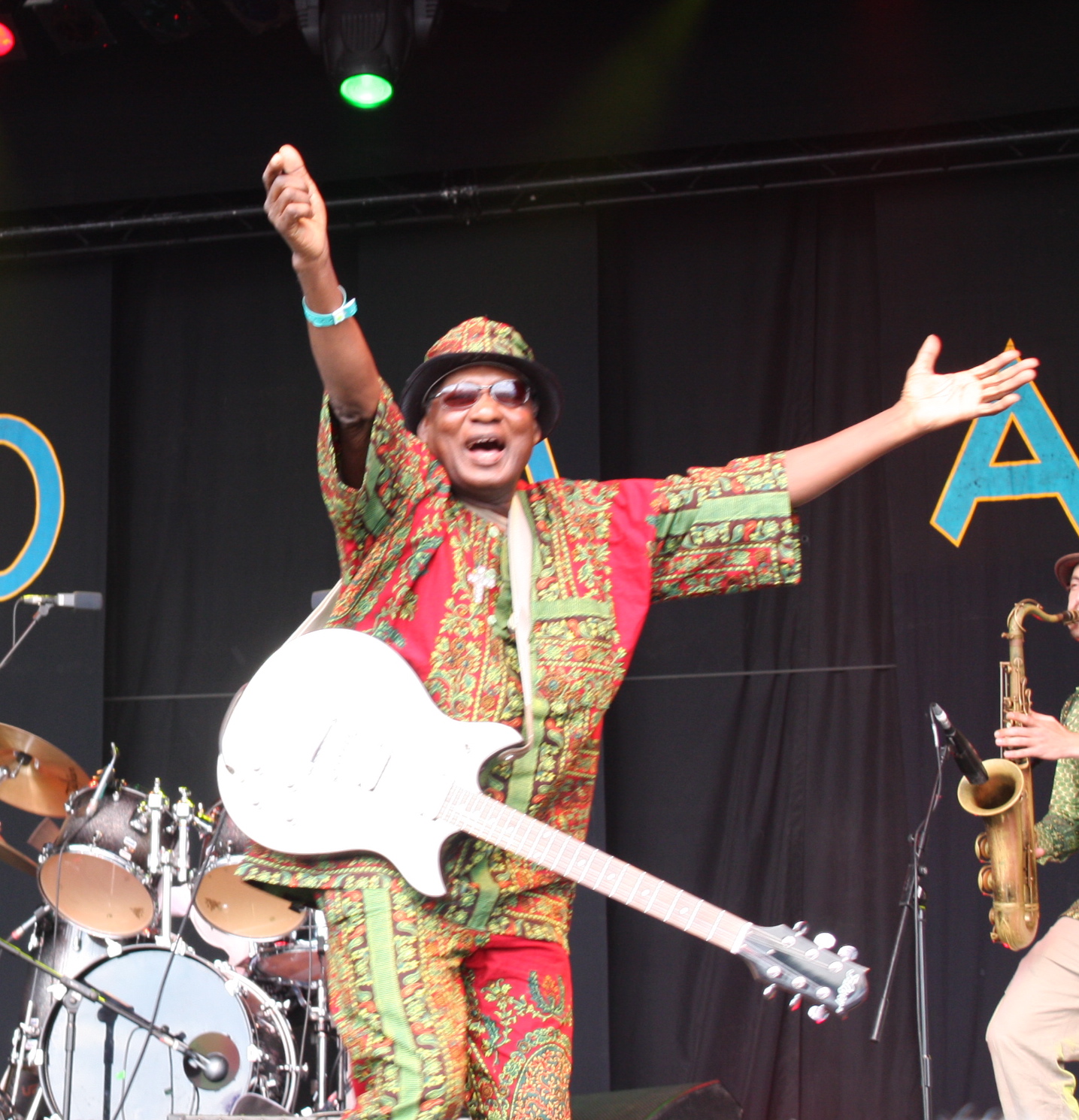 [Womad and Ebo]
(4) 16 "Love And Death" by (8:20) Ebo Taylor & Uhuru-Yenzu from the album "Life Stories - Highlife & Afrobeat Classics 1973-1980" (Strut)
.
.
[---CONTINUOUS---]
.
.
(5) 17 "Campanario 64" by (6:32) The Spam Allstars from the album "Introducing Spam Allstars" (World Music Network)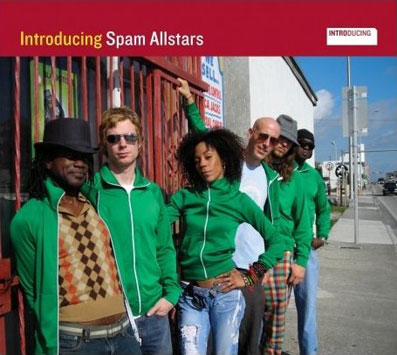 .
.
.
.
.
.
.

[about the Spams - keeping in a latin mood but old school for last two - Colombia! on Soundway]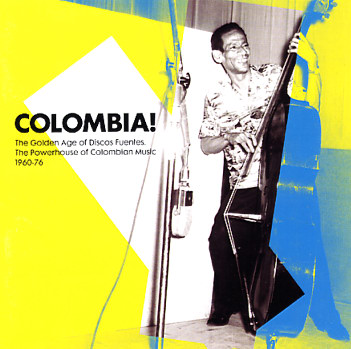 (6) 18 "Las Calenas Son Como Los Flores" by (3:56) The Latin Brothers from the album "Colombia!" (Soundway CD008)
.
.
.
.
.
.

[and to finish some more flowers - my all-time favourite gaita: the Gaita of the Flowers!]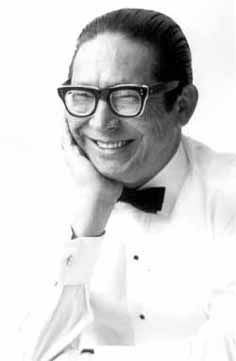 (7) 19 "Gaita De Las Flores" by (2:52) Lucho Bermúdez from the album "Colombia!" (Soundway CD008)
1