WorldBeatUK (30th Show) - Broadcast Notes (12/10/11)
Tagged with: WorldBeatUK Glyn Phillips Piers Faccini Lil Nathan DJ LK Trio Juriti Pedro Ramaya Beltran Beatriz Aguiar Marcelino Azaguate Martin Alvarado Fernandez Fierro Earth Wheel Sky Taraf de Haidouks Dorantes Ana Sofia Varela Zulu 9.30 Karamelo Strut Congotronics
WBUK30 (12/10/11) - SHOWNOTES
1 "Intro-Mat" (1:47) - Matchatcha - "Nyekesse" (Melodie) - Soukous
"Welcome to another two hours of great world music on WorldBeatUK!
[Pause]
I'm Glyn Phillips and you're tuned into Rhubarb Radio and the two hours of transcultural audio joy that is WorldBeatUK. Stay with me from now until 9pm tonight whilst I bring you songs of love, lust and longing!
Find out why Ieye wants Johnny, Ali Chukwumah is singing about Henrietta and why Zulu 9.30 are raving about Carmelita.
Lil Nathan and the Zydeco Big Timers are begging their girl to come back, but Miss Mama just want to call a taxi.
And what on earth does Memphis Minnie mean when she says her Butcher Man can slice her pork chops and grind her sausage too . . . ?! Ooh er Missus!
[PAUSE]
Yep, tonight we're going to dance with firemen, give thanks to life, plant naughty herbs with Marlon Asher, get covered in gypsy dust, buzz and rumble in the urban jungle, school the duke and take Bucovina to Barranquilla.
We're also going to mix bossa with 90s hip-hop, funk-up the cumbia, cumbia-up the balkan and balkan-up the dancehall...
... as well as roam the southern cone to tonadas, chacareras and tangos, float away with fateful fado and beautiful bulerias, and come down to earth with earthy cumbias, feisty forros, zesty zydeco and pioneering blues.
Finally we end up discovering that unconditional love makes for a wonderful world. Stick around for the ride of your life…"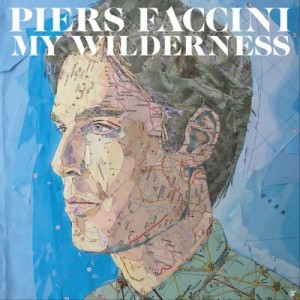 I'm going to ease us into tonight's very eclectic offerings with some gentle, wistful country music, or is it blues, or is it world, or is it . . . ?
Dunno, it's nice though!
This is Piers Faccini (at times sounding like a young John Martyn) from his brand new album on the 6 Degrees Record label. This is the title track: "My Wilderness"
2 "My Wilderness" (3:23) - Piers Faccini - "My Wilderness" (6 Degrees Records) - Country/Blues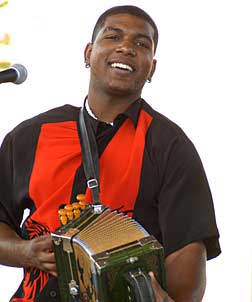 Here's another laid-back mix of styles that works really well - sort of 21st century RnB meets Zydeco! Unusual? Maybe, but very good too. Love the groove on this one.
This is Lil Nathan and the Zydeco Big Timers and a track from the newly-released "Rough Guide To Cajun and Zydeco" that I was talking about last week on the World Music Network label.
This one's a love song called "Come Back To Me"
3 "Come Back to Me" (5:57) - Lil Nathan And The Zydeco Big Timers - "The Rough Guide To Cajun & Zydeco" (World Music Network) - Zydeco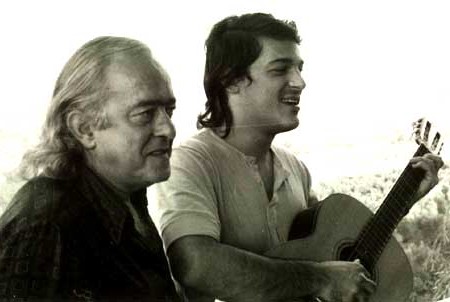 Now, the Brazilians have long been famous for their laid back music in particular bossa novas and one of the great names of the 1960s MPB period there was none other than Vinicius de Moraes.
Here he teams up with Toquinho for De Moraes's classic "Canto de Ossanha" a song about love and the need or otherwise of involving the orixas (the gods and goddesses of afro-brazilian religions such as candomblé and umbanda) in getting it.
But here's the twist: in this version the Brazilian remixer DJ LK has mashed-up the original with a version by the 1990s Californian hip-hop crew Jurassic 5!
As ever with DJ LK it's all deliciously done!
4 "Canto De Ossanha (DJ LK MASHUP)" (3:23 - Vinicius de Moraes & Toquinho vs Jurassic 5 - "DJ LK Mashup" - mashup
[CONTINUOUS]
5 "My Butcher Man" (3:01) - Memphis Minnie - "Hoodoo Lady: 1933-1937" (Sony) - Blues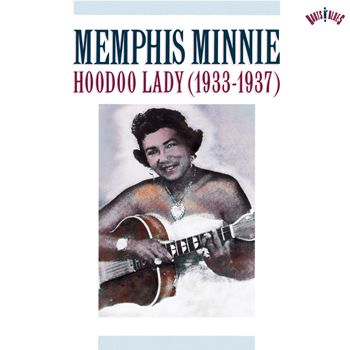 Yeah, and that was a little slice of blues history there from the mid 1930s. That was the woefully ignored female blues singer Memphis Minnie and a rather naughty song called "My Butcher Man".
As I said at the top of the show what on earth does she mean when she says her Butcher Man can slice her pork chops and grind her sausage too . . . ! Ooh er Missus!
You can find that on the Sony release "Hoodoo Lady: 1933-1937".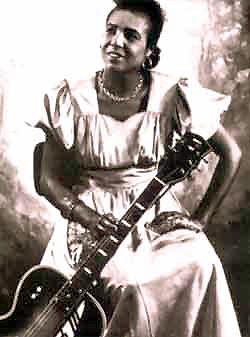 I just want to take a moment to talk about Memphis Minnie, because she ought to be known at least as well as Bessie Smith and Ma Rainey in the annals of pioneering female Blues singers - and since October is Black History month all over the UK, now's the right time to put the records straight.
Minnie was born Lizzie Douglas in 1897 in Algiers, Louisiana, and learned to play both guitar and banjo whilst a little girl. She ran away from home aged 13 and went to live in Memphis, Tennessee where she earned a living playing in nightclubs and on the street under the moniker "Kid" Douglas and a year later she joined the Ringling Brothers circus.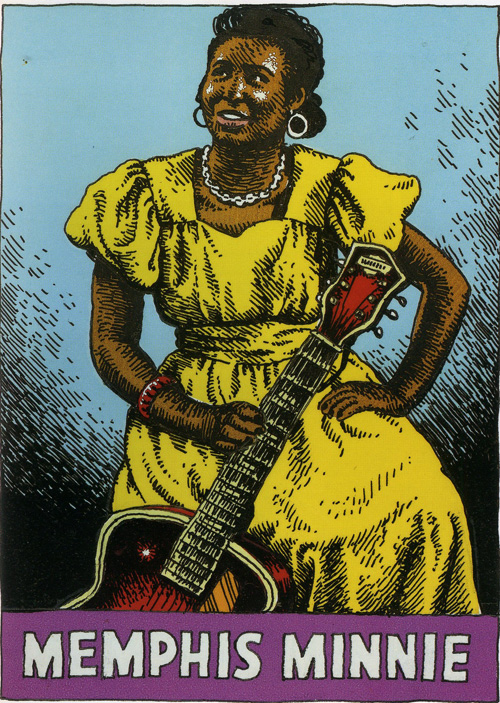 Over the years Lizzie built up a fiery reputation both as a performer - where she was considered to be the equal of any of the male bluesmen both in terms of her guitar playing, singing and songwriting, once wiping the floor with Big Bill Broonzy at a blues competition - and as a flamboyant character who took no nonsense from anyone. She was an incredibly prolific artist having recorded hundreds of tracks over her 30 year career.
Now with her stage name changed to Memphis Minnie, she was billed as 'the woman who plays guitar like a man' and although she performed a large repertoire and not just blues, it was her risqué lyrics and double-entendres that gained her both a large following and much notoriety.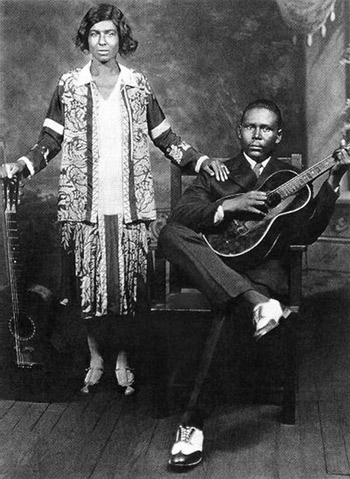 As her fame spread she would turn up at concerts in posh cars, wearing bracelets made of silver dollars and would incongruously spit tobacco juice with great accuracy whilst performing in beautiful dresses. She was married about three times to other blues guitarists, but it was always Minnie that was the main attraction, pioneering the use of the electric guitar and leading country blues into urban blues long before it became fashionable.
To give some idea of her influence, she has been cited by both Maria Muldaur and Bonnie Raitt as a musical hero (Bonnie actually paying for Minnie's headstone when she died) and wrote the blues song "When The Levee Breaks" - made famous afterwards by Led Zeppelin (although with a different melody and slightly altered lyrics).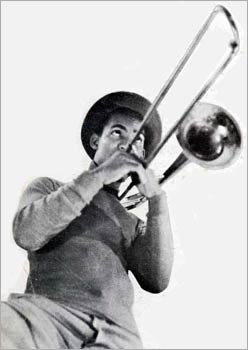 So there you go, Memphis Minnie - go and find out more about her for Black History month.
Ok, if that all sounded like a bit of a lecture then that's quite appropriate for the next track.
Jamaica's Don Drummond and "Schooling the Duke"!
6 "Schooling The Duke" (2:38) - Don Drummond - "The Best Of Don Drummond" - Ska
Ok, for the next six tracks or so we're heading over to South America.
Firstly, we're going to land in Brazil's smallest state Sergipe in the North-East of this vast country and the home of forró music and here the three young musicians of the Trio Juriti play accordion, triangle and a drum in a jaunty little number entitled "Forró de Plic Plac"
7 "Forró de Plic Plac" (2:54) - Trio Juriti - "Music from Sergipe" - Forró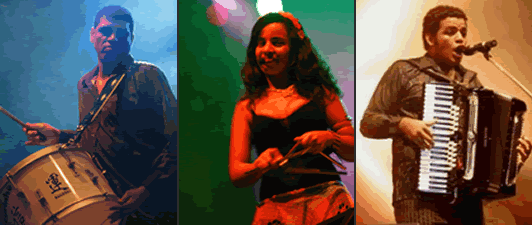 If you like Brazilian music, then don't forget that from next Friday (that is the 21st October) there'll be a brand new Brazilian music night in Brum hosted by myself and my old DJ partner Zuppa Inglese. The night's called "Amazonas Groove" and takes place at the beautiful Brazilian churrascaria restaurant Amazon Brazil at 197 Broad Street, Birmingham from 10pm till 4am. Loads of highly danceable authentic Brazilian music, including forró!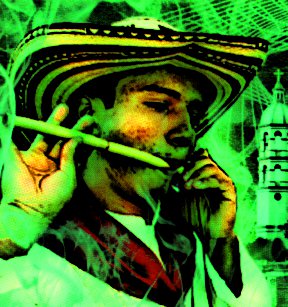 And from the North-East of Brazil we are going North-West again all the way round to the Caribbean coast of Colombia to hear some traditional cumbia courtesy of Pedro Ramaya Beltran and a track played on clarinet, tambores and maracas alone. Wonderful!
This is from the album "El Rey de Millo" and is called "La Peluca"
¡Güeeeeepaaaa! ¡Pura Cumbia!
8 "La Peluca (El Rey del Millo)" (4:46) - Pedro Ramaya Beltran - "El Rey del Millo" - Cumbia
Well-known as cumbia now is across the world, you don't often get to hear traditional cumbia like that! Excellent.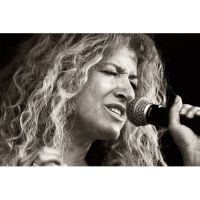 And as a contrast here's a South American music form that is very little known (yet one of my favourites) but here played in a very modern style and setting. The rhythm is known as chacarera and is to be found from Northern Argentina through Bolivia and Paraguay and into Southern Brazil.
Here it's given a jazzy treatment by the Uruguyan singer Beatriz Aguiar who is now based in Holland.
This is called "Agua" (water).
9 "Agua" (3:18) - Beatriz Aguiar - Sampler (2010) (MeloMusic.NL) - Chacarera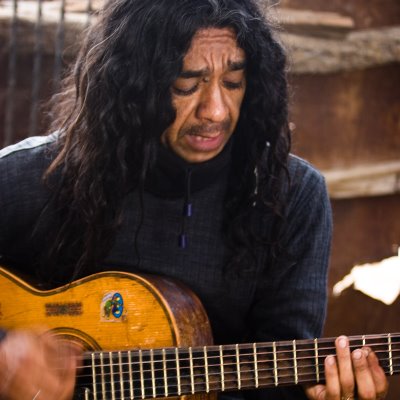 Next to Uruguay of course is the very much larger country of Argentina - a country in fact that is as large as the whole of Western Europe. And you'd be wrong if you thought it was all about tangos and milongas. Argentina's folklore is deep and rich.
So, here's an offering from the little known Western border where the Andes Mountain range runs all the way down the length of the country. Roughly in the middle of that you'll find the city of Mendoza and from there the musician Marcelino Azaguate.
This track has been produced by the rather more famous Mendocino Goy Karamelo (who usually sports a huge set of dreadlocks and whose music and remixes I've often featured on the programme); however here Goy just allows Marcelino to do what he does best.
The music form is called tonada and this beautiful track is entitled "Soy La Tonada".
10 "Soy La Tonada" (2:26) - Marcelino Azaguate Huarpe (prod. by Goy Karamelo) - "Tejedora" - Tonada (Huarpe Folclore)
Lovely. In fact it might be argued that Western Argentina shares more in common with its neighbour on the other side of the Andes range, Chile, than with its own capital Buenos Aires. Certainly tonadas are prevalent all over Chile, a country that loves its folklore.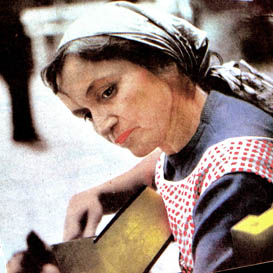 And so this leads me on to another Argentine-Chilean link for the next tune. During the 1960s Chile underwent something of a folk revolution (or certainly a counter-culture) where young Chileans started to really appreciate the music forms and instruments of the Andes and of the different regions of this long thin country. They started by collecting and learning the old songs and tunes and later by incorporating what they'd learnt into new songs.
One of the greatest folk-artists of that time - and in fact one of the greatest of all Latin America in the 20th century - was the singersongwriter Violeta del Carmen Parra Sandoval - commonly known as Violeta Parra, who is credited with being one of the driving forces behind the concept of 'Nueva Canción' which spread across South America and up to Cuba and even echoed via the likes of Joan Baez in the USA.
And from the great Violeta what else but what is probably the most famous of all the Latin American nueva cancion genre: "Gracias a la Vida".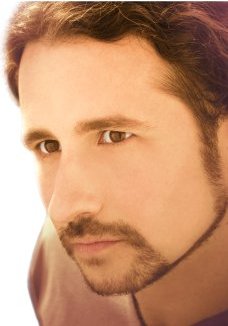 This song is one of the most covered latin american songs ever written. Personally, I knew it from the great Argentine folksinger the late Mercedes Sosa who I was lucky enough to see twice in the 1980s and even now has the ability to bring tears to my eyes.
Here it's sung by the Argentine singer Martin Alvarado - who I've been featuring over the last few weeks since he's coming to the UK on tour in November and will be performing at the mac on Sunday 19th November.
This is a starkly beautiful version of the anthemic "Gracias a la Vida" (Thanks to Life)
11 "Gracias A La Vida" (3:34) - Martin Alvarado & Horacio Avilano Trio - "Mas Alla" (Fonocal) - Canción
Gorgeous. Martin Alvarado there - as I say he'll be at the mac in Birmingham on Nov 19th so put that in your diaries.
Now that was what is known as a canción but Martin is more famous for singing tangos and milongas. And so I'm going to follow that with a couple of tangos.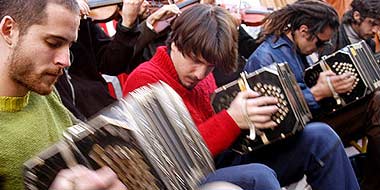 First of all is the Tango Orchestra Orquesta Típica Fernandez Fierro and a track that is originally not a tango at all but a zamba. Yes, life's never straightforward on my show is it!
Zamba with a 'z' (not to be confused with it's Brazilian neighbour samba with an 's') is a musical form mostly found in Northern Argentina - and I'm much enamoured of it. It's more connected to the Andean gauchos than the porteño gangsters and this is one of the most famous, written by the great Argentine classical guitarist Eduardo Falú, but here given the Fernandez Fierro tango treatment.
Confused? Don't worry, just enjoy!
From the album "Mucha Mierda" this is "Zamba de la Candelaria"
12 "Zamba de la Candelaria" (3:54) - Orquesta Típica Fernandez Fierro - "Mucha Mierda" - Tango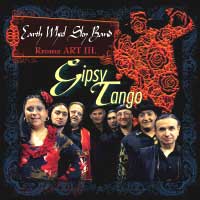 And now from Argentine Tango to European Gipsy Tango!
This is the Earth Wheel Sky Band and a track called "Tikno Luludi"
13 "Tikno Luludi" (1:58) - Earth Wheel Sky Band - "Gipsy Tango" - Gipsy Tango
[CONTINUOUS]
14 "Dance Of The Firemen" (1:30) - Taraf De Haïdouks - "Band Of Gypsies" (Crammed Discs) - Balkan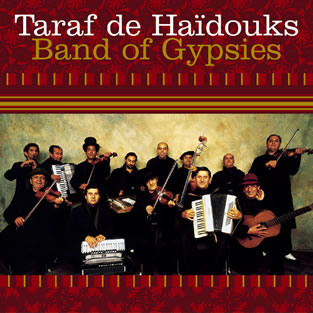 Ha ha! That was the Romanian gypsy band Taraf de Haidouks and a short track called Sirba Pompierilor (or Dance of the Firemen) featuring the 77 year old Neculae Neacsu on creaking, croaking violin string accompanied by the double bass, accordion and cymbalom.
I enjoyed that, so here's another from the same album "Band of Gypsies" on the Belgian Crammed Discs label. This is Taraf again and "Cacurica Dances"
15 "Cacurica Dances" (1:31) - Taraf De Haïdouks - "Band Of Gypsies" (Crammed Discs) - Balkan
[CHANGE CDs!!!]
[You're listening to ….]
Now a real treat - well, I reckon so anyway.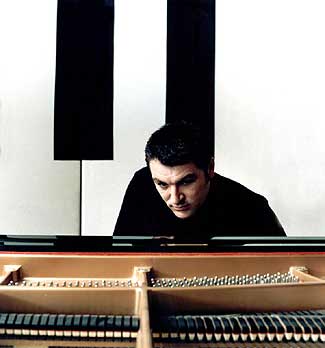 This is from an album I picked up about four years ago but have only just got round to listening to! Yes I know, hard to believe isn't it! But I'm a busy man and sometimes they just slip out of your consciousness.
I'm so glad I found it and took the wrapper off - if only for this one track alone.
It's from Spain, from the promotional album "Flamenco Por Andalucía, España Y La Humanidad" on the Szena Records label and is simply entitled "Bulerías" (which if you not familiar with it, refers to one of the many different forms of flamenco as opposed to an actual song-title itself).
What I like about it is that you usually only hear flamenco played on guitar, but here it's played on piano.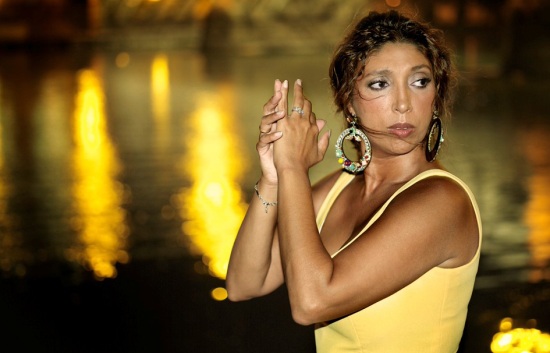 This is Dorantes, here accompanied by singer Esperanza Fernández.
Lush, romantic, understated. I love this!
1 (16) "Bulerías" (4:21) - Dorantes Y Esperanza Fernández - "Flamenco Por Andalucía, España Y La Humanidad" (Szena Records) - Bulerías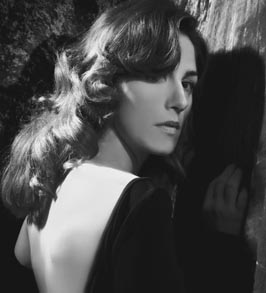 Aah! Wasn't that beautiful?
And what to follow that with?
Well, more beauty of course. And one of my favourite songforms of all time: Fado!
So, from Portugal, this is the wonderful Ana Sofia Varela and from her album "Fados de Amor e Pecado" (fados of love and sin) the title track.
2 (17) "Fado de Amor e Pecado" (4:40) - Ana Sofia Varela - "Fados de Amor e Pecado" (iPlay Music) - Fado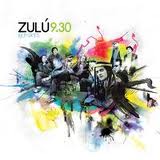 What to follow that?
Time for something different.
Still in the Iberian peninsular but North-East to Barcelona and Zulu 9.30's "Carmelita" remixed here by Rude Hi-Fi from Zulu 9.30's "Remixes" album on the Kasba label.
3 (18) "Carmelita" (3:42) - Zulu 9.30 (Rude HI-FI remix) - "Remixes" (Kasba)
Now, earlier on I played you a piece of Argentine tonada by Marcelino Azaguate from his album produced by veteran Mendocino musician and punk-reggae artist and mixer, Goy Karamelo.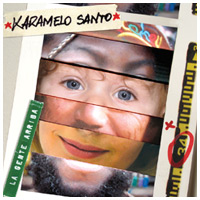 Well, here's a really interesting track from Goy's old band Karamelo Santo from their album "La Gente Arriba" - it's a reggae cumbia version of a track made famous by Old Satchmo himself, Louis Armstrong!
Not guessed yet? Well, this has got be one of the most uplifting of songs, and a really whimsical version of it too.
Imagine if we were all as happy and as chilled as this: it'd be a wonderful world, wouldn't it!
4 (19) "Wonderful World" (4:10) - Karamelo Santo - "La Gente Arriba!" - (Sony BMG 2006; K Industria 2011) - Reggae-Cumbia
[CONTINUOUS]
5 (20) "Unconditional Love" aka 'Ganja Farmer' (3:57) - Marlon Asher - "Cultural Lovers' Rock" (ERNI 2009) - Reggae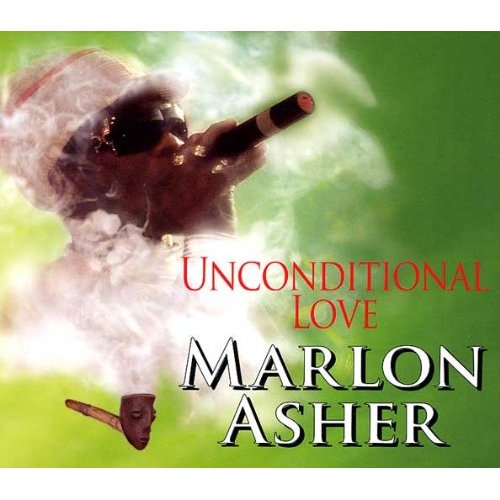 Yeah, first you heard Karamelo Santo's version of "Wonderful World" and that was followed by a track that was heard all over Birmingham in the last couple of years - at least in my part of it.
That was Marlon Asher's "Unconditional Love" (aka Ganja Farmer).
That one went out to Silvalili as a special request. Not that we condone any activities of that kind, I hasten to add! But it's a great tune anyway.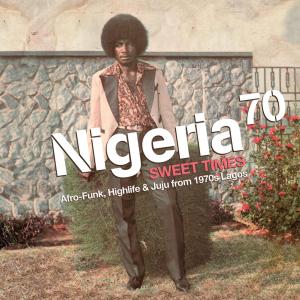 As is this next one. From 1970s Nigeria a sublime piece of Ibo Highlife from Ali Chukwumah and his Peace Makers International.
Re-released this year on the fabulous Strut Records album "Sweet Times: Afro Funk, Highlife and Juju from 1970s Lagos" as part of their Nigeria 70 series, this is "Henrietta".
6 (21) "Henrietta" (4:40) - Ali Chukwuma & His Peace Makers International - "Sweet Times" (Strut Records) - Nigerian Ibo Highlife
[CONTINUOUS]
7 (22) "Wa Muluendu (world)" (4:00) - Masanka Sankayi & Kasai Allstars - "Congotronics 2" (Crammed Discs) - African (Congo)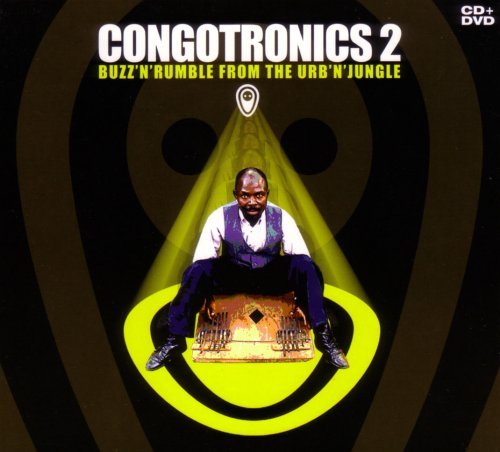 Yeah, what a great groove!! That was a piece from the Congo recorded in Kinshasa and was from album "Congotronics 2: Buzz'n'Rumble from the Urb'n'Jungle" on the Crammed Discs label from Belgium (who put out some great stuff).
The track was called "Wa Muluendu" and the band was Masanka Sankayi and the Kasai Allstars featuring Mutumilayi.
And since we're firmly in some very funky, urban territory now how about this?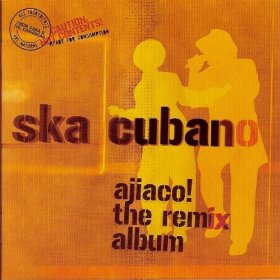 This is the Spiritual South Remix of the Ska Cubano cover of the classic Lito Barrientos cumbia from the 1960s "Cumbia en Do Menor" (still with me?).
Like one of Dr Bach's homeopathic herbal remedies there's precious little of the original left to be heard, but it's a great groove anyway . . .
Stick with it 'cause afterward we're going to hit up some mad balkanic cumbia and balkan dancehall - don't go away!
8 (23) "Cumbia En Do Menor" (5:20) - Ska Cubano (Spiritual South Remix) - "Ajiaco! The Remix Album" (Absolute UK, 2008) - Ska Cubano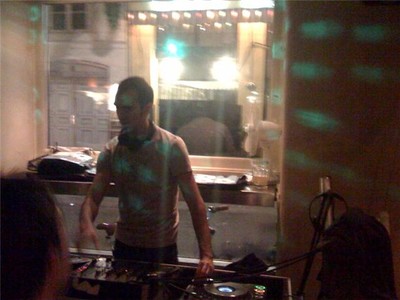 [CONTINUOUS]
9 (24) "Bucovina en Barranquilla" (3:07) - Danochilango - Balkan Cumbia
Yeah, that was Danochilango's Balkan Cumbia "Bucovina en Barranquilla".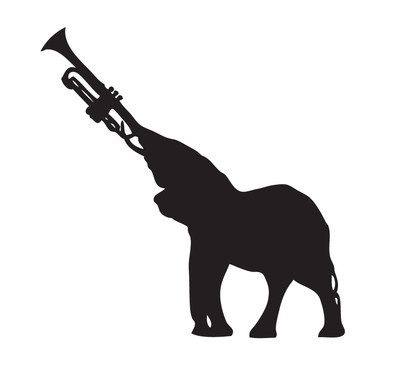 Sticking with that balkan vibe as promised this is another mad mashup - balkan dancehall styleee from France's Watcha Clan vs Mims, Cham & Junior Reid all mashed together by the Balkan Hotsteppers.
This is called "Gypsy Dust is Hot!"
10 (25) "Gypsy Dust is Hot (This Is Why We Hot)" (4:24) - Watcha Clan vs. Mims, Cham & Junior Reid (Balkan Hotsteppers) - Balkan Dancehall mashup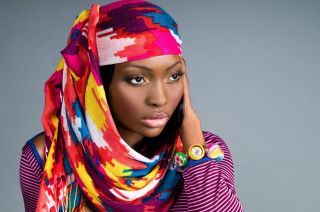 Ok, got time for about another one or two that's all, so this is the gorgeous Jamaican singer Ieye (no relation to Brummie Rocksteady crew 1EYE btw!) and a track from her album "Fever Grass" entitled "Johnny"
11 (26) "Johnny" (4:10) - Ieye - "Fever Grass" - Reggae
OK that's it.
[Shoutouts, Reminders, etc - Amazonas Groove and Arriba]
I'm going to leave you with a French Reggae band singing a song in English written by a Brummie.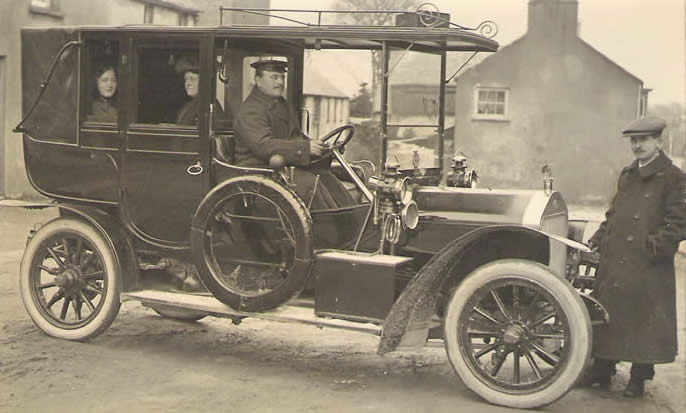 The band is called Miss Mama and from their live album "T'as Raison" this is a track written by Steel Pulse's David Hinds called "Taxi Driver".
.
.
.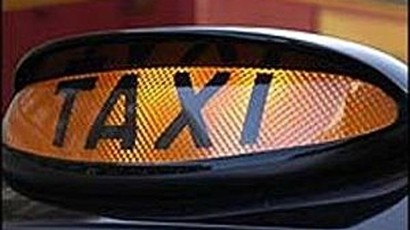 See ya'll next week.
Taxi!!!!!
12 (27) "Taxi Driver" (3:58) - Miss Mama - "T'as Raison !" (Douzetafs) - Reggae
WorldBeatUK (29th Show) - Broadcast Notes (5/10/11)
Tagged with: WorldBeatUK Glyn Phillips Cedric Watson Whiskey River Francesca Ancarola Tomas de Perrate 1EYE Martin Alvarado Diwan Project Seckou Keita Mabon Horace Trahan Cobra Verde Si Bemol Mdungu Huba Manteca Sidestepper Fissunix Pedro Moutinho Pilao de Pif
WBUK29 (5/10/11) - SHOWNOTES
1 "Intro-Mat" (1:47) by Matchatcha - "Nyekesse" (Melodie)
"Hello! Are you sitting comfortably? Then I'll begin… (Pause) Welcome to another weekly dose of wonderful world music right here on Rhubarb Radio. You're listening to WorldBeatUK with me, Glyn Phillips, tirelessly scouring the outer reaches of global musicality to bring you the stuff the others don't!
Stick with me here on Rhubarb Radio until 9pm tonight (UK time) whilst I bring sonic treasures from Argentina, Chile and Brazil, audio gems from Romania, Finland, Wales and Israel, harmonic gold from Holland, Spain, Portugal and Gambia and auricular riches from Louisiana, Hereford and even dear old Brummajum itself!
[Pause]
Yes, climb aboard the Good Ship WorldBeatUK because deep in the holds I've got another treasure chest packed with musical booty - and there's plenty more junk in the trunk with some dirty, accordion-pumping, squeezebox action as well! There's also a definite jazzy, soulful, funky undercurrent coursing beneath the hull throughout the evening, but you'll feel that later on as we hit the High Seas of the World Music Oceans.
But for the moment let's just stow you all aboard, break open the rum, distribute the ship's biscuits, cast off, catch the tide and set sail out of the harbour…"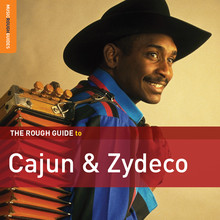 Now I've just got hold of a new release by World Music Network - the people behind the Rough Guide series of CDs. If you don't know them, then they give you a very useful overview of the current state of play in different areas of world music. For instance, recent releases have included the Rough Guides to English Folk, Sufi Music, and Brazilian Cafe.
The nice thing is that when you buy a CD you get another one highlighting the work of one of the groups featured on the compilation for free. So, for instance with the Rough Guide to English Folk you also get included a CD retrospective of the work of the amazing Yorkshire acapella trio Coope, Boyes and Simpson.
The CD I'm featuring at the moment is the Rough Guide to Cajun and Zydeco, which I can thoroughly recommend, some great stuff on it indeed.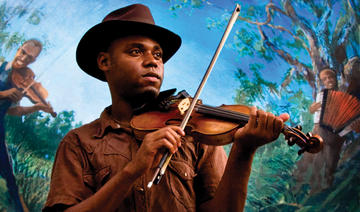 I'm going to be playing a couple of tracks from it tonight and first up is someone I've played before on the show, the great Cedric Watson and his band Bijou Creole and a track called "Afro Zydeco"
2 "Afro Zydeco" (5:07) by Cedric Watson & Bijou Creole - "The Rough Guide To Cajun & Zydeco" (World Music Network)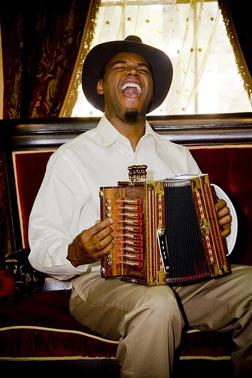 Always a lot of fun when Cedric's in the house! That one's going out to Dylan.
If you go to www.worldmusic.co.uk and look in the Galleries section you can see some photos of Cedric Watson at a concert a couple of years ago or so.
I've got some more great zydeco coming up later on in the show, so keep your ears open for that 'cause I'm really excited about that one too!
Cedric's from Louisiana, but you don't have to necessarily travel there to hear great American music.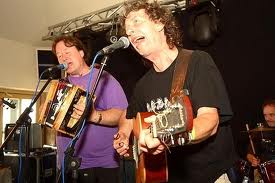 Just a couple of hours or so down the road from Birmingham (England, not Alabama) is the ancient market city of Hereford.
And from there comes a great band called Whiskey River who play a mixture of Blues, Country, Cajun, Zydeco etc, etc.
They've just released a new album called "Hot Sauce!" and I'm playing a couple more tracks from it tonight.
First off is a lovely country ballad called "Wild Horses" with vocals by Marty Blake.
3 "Wild Horses" (4:42) by Whiskey River - "Hot Sauce!"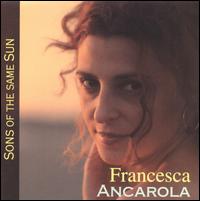 Yeah, beautiful. Now I promised a jazzy, soulful undercurrent to the show tonight and here's the first offering. I absolutely love this, not at all what I expected when I got the CD through.
The singer is from Chile in South America and she's called Francesca Ancarola. She blends jazz and soul with traditional latin american songforms and sings in a mixture of Spanish and English.
This is from her album "Sons of the Same Sun" and is called "To The Shore Of The Sea".

4 "To The Shore Of The Sea" (4:06) by Francesca Ancarola - "Sons of the Same Sun"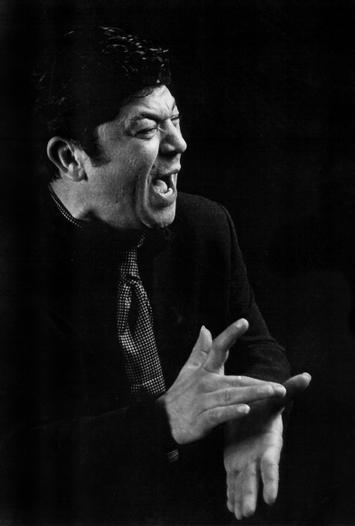 Yeah, loving that - especially the way it seamlessly goes from jazz and soul and waltz and ends up with that flamenco flavour!
Which leads me on effortlessly onto one of Spain's many great flamenco singers. This is one I came across a few years ago in Seville.
His name is Tomás de Perrate and from his album on the Flamenco Vivo label called "Perraterías" a great piece of Reggae-Flamenco in the style of 'tangos de Málaga' called "El Piyayo"

5 "El Piyayo (Tangos de Málaga)" (4:06) by Tomás de Perrate - "Perraterías" (Flamenco Vivo)
OK, Here's another group of which I'm playing two songs tonight.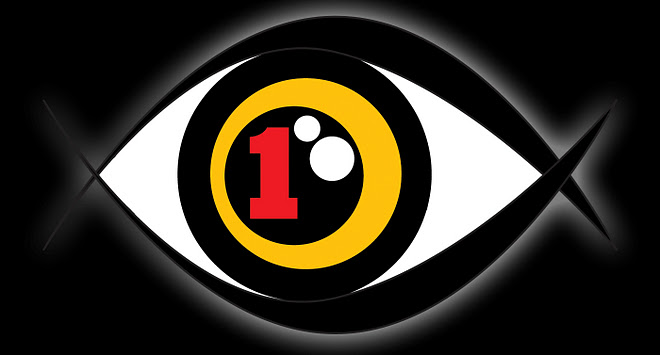 The band is from right here in Birmingham, England and are called 1EYE.
I saw them in concert at the Hare and Hounds a couple of week's ago and can thoroughly recommend them! Their new album still doesn't have a name, but here's a sneak preview from the promo CD.
This a lovely piece of Brummie rocksteady (produced in Jamaica) and it's called "Lately".

6 "Lately" (3:08) by 1EYE - (Industry Records 2011)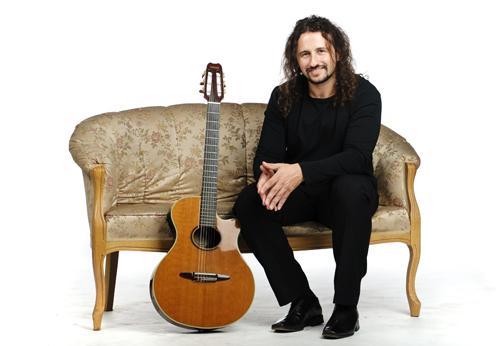 And a real change of pace now - I'm going to call into one of the great ports of South America - Buenos Aires, Argentina! From there comes the young tango singer Martin Alvarado.
Martín will be touring the UK in November and will be coming to Birmingham on Sunday 19th November to perform at the mac. I'm definitely going and really looking forward to that.
Here's a little taste of what to expect. This is from his first album "Así Es Mi Tango" on the Fonocal label and a track entitled "Estás En Mi Corazón" (You are in my heart).

7 "Estás En Mi Corazón" (2:53) by Martin Alvarado - "Así Es Mi Tango" (Fonocal)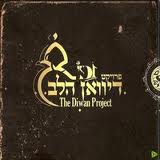 Wasn't that lush! I've got a couple more sonically gorgeous tracks lined up. The first is from a CD called The Diwan Project.
Now, I've had this CD a little while, but like many deep things, be they books, music or people, it sometimes it takes time, patience and the right approach to understand what they are all about. It was like this for me with this album and I'm glad I've gone back to it and can appreciate it now.
The Diwan Project was founded in 2003 by Gil Ron Shama (whose work always searches for the similarities and connections between disparate communities such as Jews and Muslims) and Alon Amano Campino. The Diwan Project is not so much a musical band as a cultural experiment to bring musicians and audience together to mutually experience sacred music.

The Jews of Medieval Spain had a tradition of meeting outside a synagogue after a prayer session and combining song and piyut (a kind of sacred poetry) and searching for shechina (ie the divine presence) through this exploration of both performers and audience. This was the Diwan.
So what you're about hear is an ensemble performing traditional music and song but in a free and contemporary style on old instruments from the Jewish Diaspora. This is called "I Heard That Crushed"

8 "I Heard That Crushed" (5:38) by The Diwan Project - "The Diwan Project"

This weekend down in Bristol at the Colston Hall there's going to be special event called the Schumacher Centenary Festival to mark the 100th anniversary of E F Schumacher the green pioneer who coined the phrase and wrote the book "small is beautiful" and was also founder of the Soil Association.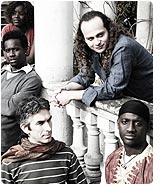 During the daytimes there will be lectures and discussions and workshops, but on the Saturday - the 8th October - they are putting on a mini-festival programmed by WOMAD's former Artistic Director Thomas Brooman, with an impressive array of World Music artists including Trilok Gurtu, The Dhol Foundation, Colores de Colombia, Jamie Smith's Mabon and Seckou Keita as well as more local artists.
So to give you a taste of what's on there here's a couple of tracks from two of the artists appearing.
First is the experimental Gambian kora player Seckou Keita - here with his quintet - Gambians Surahata Susso on percussion and Binta Suso on vocals, Italian Davide Mantovani on bass and the Egyptian violinist Samy Bishal.
This is is a track from his album "The Silimbo Passage" on the World Artventures label and it's called "Dingba Don".
9 "Dingba Don" (3:58) by Seckou Keita Quintet - "The Silimbo Passage" (World Artventures)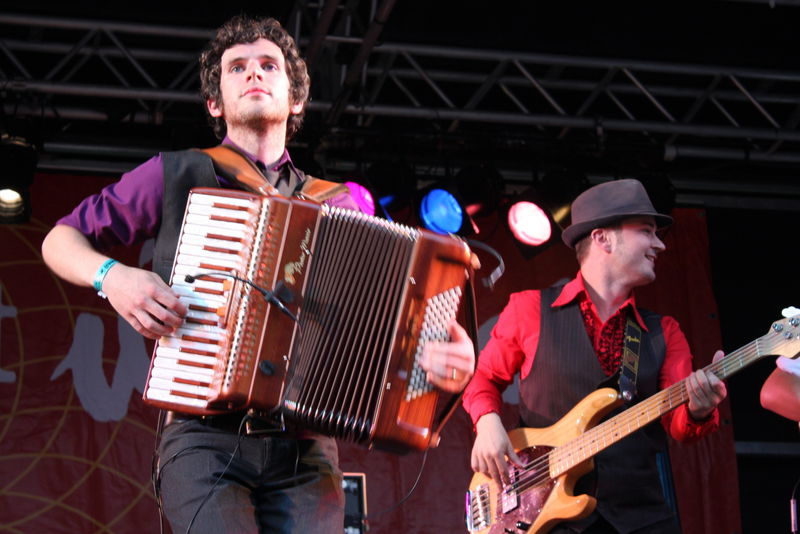 And following on from Seckou Keita, a band that is also appearing at the smallWorld mini-festival in Bristol this weekend, the British Interceltic folkers, Jamie Smith's Mabon.
I've played numerous tracks by them over the last year and also written about their appearances at both last year's Womex and this year's Womad (both reviews can be seen at www.worldmusic.co.uk if you're interested - Womad review here: www.worldmusic.co.uk/jamie_smiths_mabon_radio_3_stage_womad_29711).
This one's a an up-beat headbanger from their award-winning "Live at the Grand Pavillion" album and it's called "The Hustler".
10 "The Hustler" (Live) (4:16) by Mabon - "Live At The Grand Pavillion" (Easy On the Records 2010)
That was the first of four accordion-based pieces in a row I'm playing. I've already spun you some wonderful zydeco at the top of the show and now's the time for some more from the Rough Guide to Cajun and Zydeco.
This is my absolute favourite from the album, it's a dirty, funky, groover by Horace Trahane sung in both English and Creole French and takes its title from a Jamaican expression apparently.
This is "Same Knife Cut The Sheep, Cut The Goat" - Turn up the volume and laisser le bons temps rouler!

11 "Same Knife Cut The Sheep, Cut The Goat" (3:49) by Horace Trahan - "The Rough Guide To Cajun & Zydeco" (World Music Network)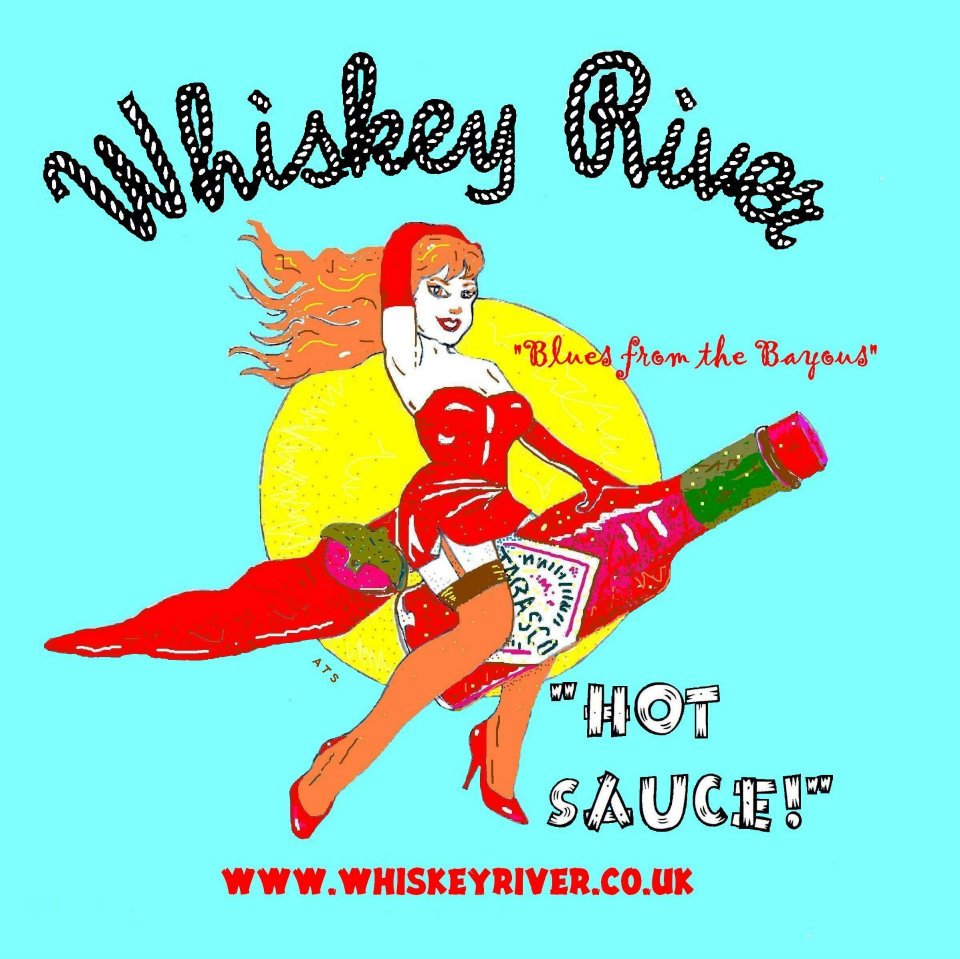 Ha ha! Love that one!
Ok so time now for the second one from Hereford's Whiskey River from their new album "Hot Sauce!" and it's a cajun dancefloor filler called "Les Flammes d'Enfer".
If you live anywhere near the Welsh Marches either side of the border you might come across these guys so keep your eyes peeled for them.
Now where's that gumbo?

12 "Les Flammes d'Enfer" (4:27) by Whiskey River - "Hot Sauce!"
[CONTINUOUS]
13 "Forró de Cobra Verde" (2:50) by Cobra Verde - "Forró do Baú" (Cinq Planetes)
[CHANGE THE CDs!!]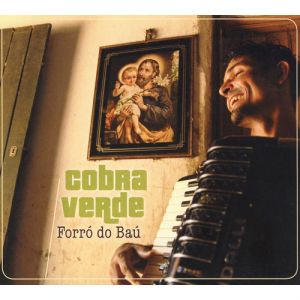 You're listening to WorldBeatUK on Rhubarb Radio with me, Glyn Phillips, taking you on a musical journey around the world.
Don't forget you can join me every Wednesday on www.rhubarbradio.com between the hours of 7-9pm (UK time) and I'll try to bring you the best in world music from across the Seven Seas...
OK, what you heard before was the last of four accordion-driven pieces and was a forró from the State of Sergipe in North-East Brazil called "Forró de Cobra Verde" by the accordionist Cobra Verde from the album "Forró do Baú on the French Cinq Planetes label.
We're going to stay in North-East Brazil for this next one. This is a style of music based on the Brazilian pifano instrument - a type of reed flute - originally played by the indigenous inhabitants of the sertão region.
Here in the hands of the band Pilão de Pif it's used to great effect in the tune "Meu Pilão de Pif"

(1) 14 "Meu Pilão de Pif" (2:48) by Pilão de Pif - "Music from Sergipe" (promo CD)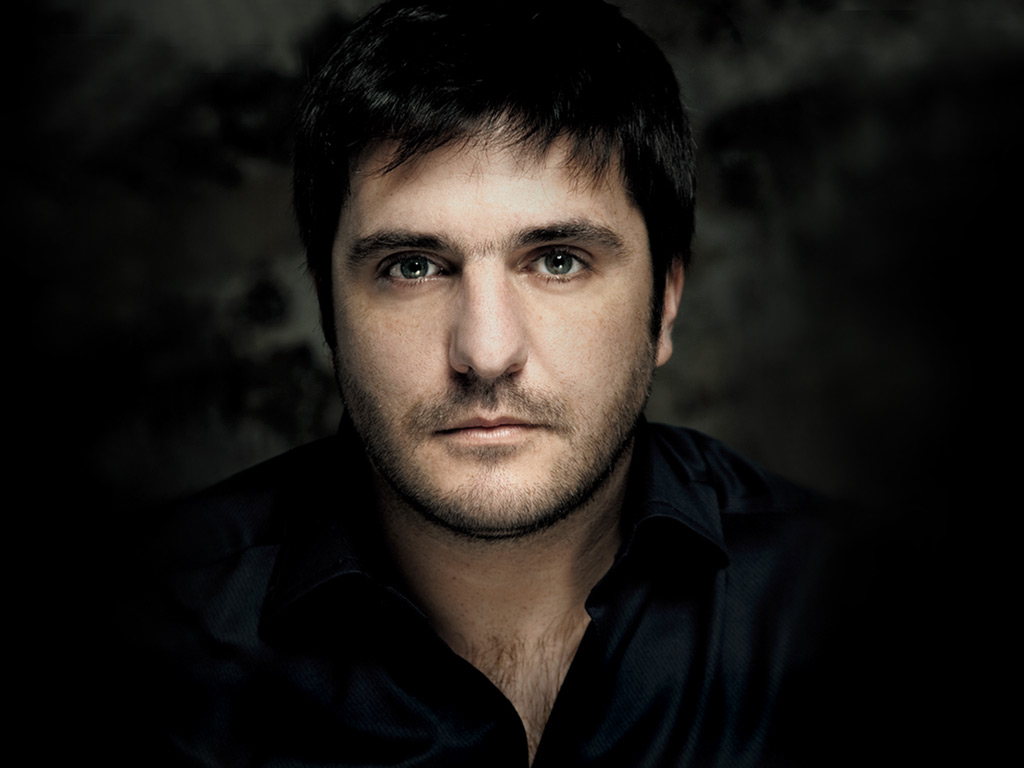 What about that then?
The majority language spoken in Brazil is Portuguese of course, so I'm going to indulge us in some lusophonic lyricism from the mother country for the next couple of numbers.
This is the fadisto Pedro Moutinho, and a traditional sounding track from the promo album "Lisboa Mora Aqui" called "Não Sabe Como Voltar"

(2) 15 "Não Sabe Como Voltar" (2:11) by Pedro Moutinho - "Lisboa Mora Aqui"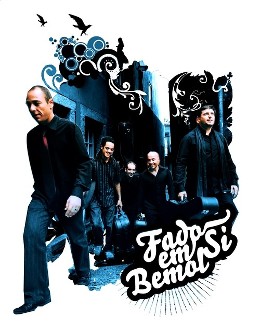 Well, as I said that was a very traditional take on Portugal's most famous song form, the sometimes playful, oft-times melancholic, but always beautiful fado.
But you'd be mistaken to think that the Portuguese are afraid to experiment with this almost sacred artform.
This is the band Si Bemol from their album "Fado Em Si Bemol" and their jazz-fado take on an absolute classic, originally made famous by Amália Rodrigues.
This is their live version of "Coimbra"

(3) 16 "Coimbra" (4:18) by Si Bemol - "Fado Em Si Bemol"
You see, someone else like me who can appreciate the artistic merits of the mouth-trumpet and silly scat-singing! Love it!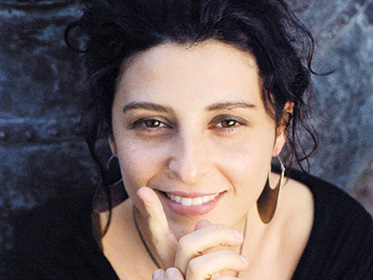 OK, once more back to a second helping of someone who I've already featured earlier on tonight.
And just as Si Bemol have taken classic fado and given it a jazzy twist, so the Chilean singer Francesca Ancarola takes the old afro-peruvian song form of landó and gives it a jazz and soul interpretation.
I'm loving this. From the album "Sons of the Same Sun" this is called "Scarebadthings".

(4) 17 "Scarebadthings" (4:46) by Francesca Ancarola - "Sons of the Same Sun"
[CONTINUOUS]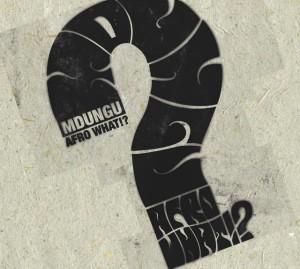 (5) 18 "Pick Up"(4:24) by Mdungu - "Afro What?" (Zimbraz)
That was a track called "Pick Up" by the Dutch band Mdungu from their album "Afro What?" on the Zimbraz label.
I've got about two more shows after this one before I take off for Copenhagen for Womex and that band is definitely one I want to see live when I get there. How could you not want to start jiving to that one!
Don't forget, before that you heard Francesca Ancarola and her jazzy-RnB take on an afro-peruano landó tune.
I told you I'd got some jazzy-funky-soul undercurrents to the show and this next track is no exception.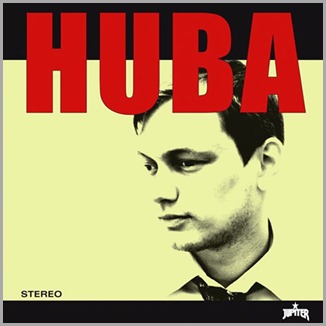 The band is from Finland, I played them last week to great acclaim, in particular to Billy Green - who incidentally has won himself a Womeximiser CD in last week's draw! So well done Billy - send us an email with your address and I'll get it sent out to you.
So here's another one for you from the wonderful Helsinki band Huba.
This is a sublime piece called "Summer Morn".

(6) 19 "Summer Morn" (4:20) by Huba - "Huba"
[CONTINUOUS]

(7) 20 "Accidental Love" (3:18) by 1EYE - (Industry Records 2011)
Yeah, that was the second offering from Brummie Rocksteady crew, 1EYE, from their as yet unnamed album to be released on Industry Records a track called "Accidental Love". Check 'em out if you get the chance.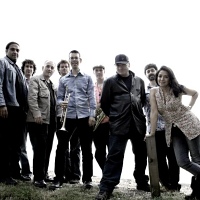 OK, so let's take ourselves up to the end of the show by going up the gears with some rockers and dancefloor fillers!
First up is British band Manteca and a rocketing piece of latin-jazz-funk called "De Todo".
Oye!! Les traigo de todo para guarachar - A Gozaaaaaaaaaaaarrr!!!

(8) 21 "De Todo" (4:16) by Manteca - Manteca Promo CD (2010)
[CONTINUOUS]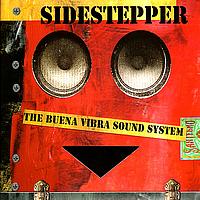 (9) 22 "Papaya 07 (3:35)" by Sidestepper - "Buena Vibra Sound System" (Sony 2008)
Yeah that was Colombia's Sidestepper and their indubitably funky remixed "Papaya 07" from the Buena Vibra Sound System album.
Now that's a dancefloor filler - it's enough to make your shoulders unhinge and your spine turn to jelly . . .
What shall we follow that with then?
Hmmm… how about a bit of Hendrix?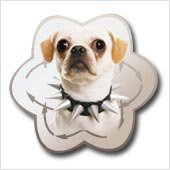 Well, as re-envisaged in a sort of funk-meets-afrobeat fusion by remixer Fissunix.
This is "Foxy Funky Lady"

(10) 23 "Foxy Funky Lady" (3:40) by Fissunix
Ha ha - yeah, definitely one for all the foxy ladies out there tonight!
OK, time for bye-byes etc
[shout-outs and reminders]
I'm going to leave you with this amazing mash-up - or maybe I should say crash-up between Romania's Mahala Rai Banda and Diana Ross. Yes, that's what I said, Diana Ross.
It's all orchestrated by TJF Sound and Mykol Orthodox. And it's pure madness!
The song you will know - trust me, you'll know it! Not originally by Ross, but if I say who it was by I'd give the game away.
In fact I'm going to say good night right now, light the blue touchpaper and skedaddle before this baby rockets up into the air and explodes all over your consciousness in a sticky sonic mess.
This is a Marmite song - you're either going to love it or hate it!
I love it - but I ain't sticking around to get your responses!
See y'all next week!! Ciao, babies!
(11) 24 "I Will Survive in Mahalageasca" (4:37) by Mahala Rai Banda & Diana Ross (TJF Sound & Mykol Orthodox)
WorldBeatUK (28th Show) - Broadcast Notes (28/9/11)
Tagged with: WorldBeatUK Glyn Phillips 1EYE Puerto Plata Celso Piña Systema Solar Tomas de Perrate Martin Alvarado Hazelius Hedin Antti Paalanen Ragnhild Furebotten Huba Ballake Sissokho Vincent Segal Pacifika Renata Jambeiro Flavia Bittencourt Mariza Whiskey River
WBUK28 (28/9/11) - SHOWNOTES
1 "Intro-Mat" (1:47) by Matchatcha from the album "Nyekesse" (Melodie)
"Welcome to WorldBeatUK on Rhubarb Radio! (Pause) My name's Glyn Phillips and over the next two hours we'll be scooting all over the globe in search of interesting music that you wouldn't necessarily hear on mainstream radio stations.
Between now and 9pm (UK time) I'll be playing you some mashups and remixes courtesy of Mixticius and [dunkelbunt], Ghanaian afro-hop, Scandinavian folk, Colombian Dub, Andalucian flamenco, Argentine Tango, Portuguese Fado, Brazilian Samba and Dominican bolero.
Alongside this there'll be Malian Chamber Music, Canadian World Fusion and Afro-Peruvian electronica.
Expect also to hear porros and cumbia - both traditional and cutting edge - from Colombia and Mexico, Funk from Finland, and to show that the English Midlands is not to be outdone, some Brummie Rocksteady and even gator-wrestling Swamp music from Herefordshire . . .
Stick around - you're guaranteed to hear something new and for those of you who like their fado stripped back and emotionally raw I've got a real treat coming up!"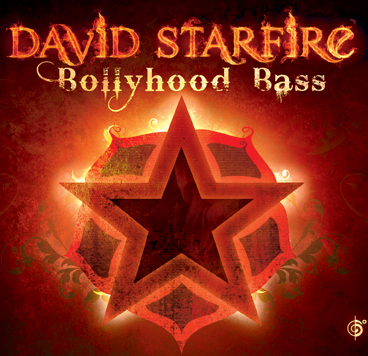 Well first up on the show I'm going straight into something a bit heavy. This is a bit of sitar-driven electronica by David Starfire from his album "Bollyhood Bass" on the Six Degrees Record Label. It's called "Sitarfire":
2 "Sitarfire" (4:24) by David Starfire from the album "Bollyhood Bass"
Now last Friday I was able to attend the first of the new season of Jibbering Presents nights at the Hare and Hounds in Kings Heath, Birmingham, which was a special night to launch the new album by Brummie band, 1EYE.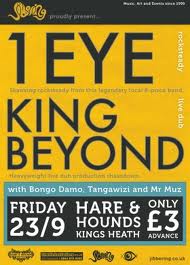 Previously, 1EYE (spelled: numeral '1', then 'E-Y-E') mixed up a blend of latin, funk and reggae on their last album "Whiskey Business" a couple of years ago. But since then they've had a change of direction musically and immersed themselves into old school Jamaican rocksteady, locked themselves in their studio for about a year and half and emerged blinking into the sunlight with a 21st Century take on rocksteady, reggae and even some rock'n'roll!
I've got to admit they were very good with a convincing sound and some lovely solos on tenor sax by Sam Rogers. A 10 piece band, all suited up (apart from the MC) with two saxes, singer, MC, two backing singers, bass, keys, guitar and kit. Although it was their official album launch, for some reason they haven't decided on a name for it yet.
However, it's been recorded here in Brum and final production completed in Kingston, Jamaica by Soljie Hamilton from Channel One Studios. I'm guessing you can track it down on their website and it's released on their own label Industry Records. I'll let you know, when I do.
In the meantime I'm going to be playing a couple of tracks from it this week (and another two next week). First in the player is "The Time Is Here".
3 "The Time Is Here" (3:52) by 1EYE
[CONTINUOUS]
4 "Mujer de Cabaret" (3:06) by Puerto Plata from the album "Mujer De Cabaret"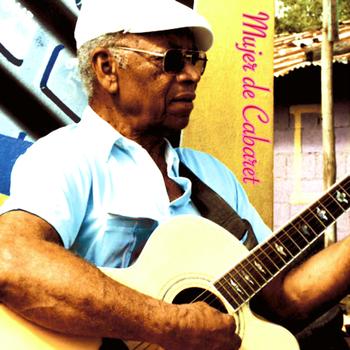 That last track was by the octagenarian sonero Jose Cobles aka Puerto Plata one of the last remaining old bolero singers from the pre-bachata days of the Dominican Republic.
It was the title track of his 2009 debut album (recorded when he was a mere 84!) on the iASO Records label and was called "Mujer de Cabaret" - the cabaret in this instance referring to the old dominican term for a house of ladies of 'dubious repute'. Nuff said. Love his stuff and in fact most of the output from Iaso Records.
Next we're going West from La Republica Dominicana, to Mexico where we meet up with the cumbia singer and accordionist Celso Piña.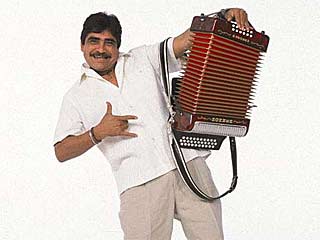 With his nickname of El Rebelde del Acordeón (the Accordion Rebel) Celso is a pioneer in mixing and fusing tropical music often finding links between Mexican norteña music, sonidero, ska, reggae, hip-hop, RnB and cumbia of course.
I'm really looking forward to seeing him at Womex next month. This is from his live album "En Vivo" and is a track called "Cumbia Arenosa":
5 "Cumbia Arenosa" (3:33) by Celso Pina from the album "En Vivo"
Yeah, Celso Piña there from Mexico with "Cumbia Arenosa".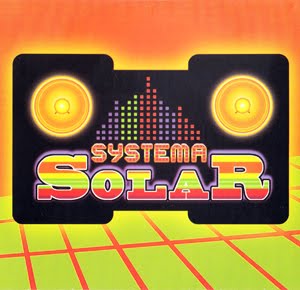 Now many of you will know that Cumbia really originates from the South American country of Colombia. So we're off there next to check out what the dubby fusion band Systema Solar are up to…
This is a really heady brew of influences and styles from them going under the name "Quién es el Patrón" (Who's the Boss?).
6 "Quién es el Patrón?" (3:26) by Systema Solar from the album "Systema Solar"
[CONTINUOUS]
7 "Olvidarte (Cuplé por bulerías)" (3:11) by Tomás de Perrate
ft Antonio Moya from the album "Perraterías"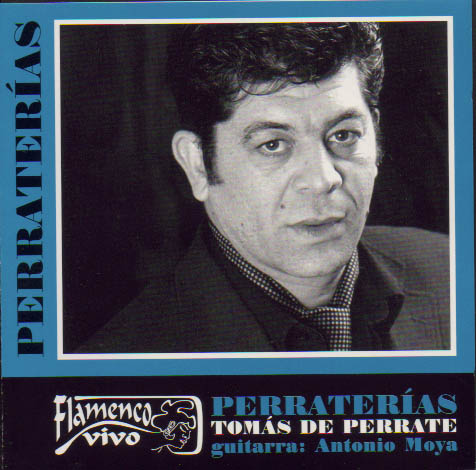 Yeah, really enjoyed that one. That was the amazing Spanish flamenco singer Tomás de Perrate from a 2005 album on the Flamenco Vivo label called "Perraterías".
The track was in the style of cuplé por bulerías and was entitled "Olvidarte" also featuring Antonio Moya on guitar and Alvaro Gandul on harmonica.
And now another Spanish language treat for you. This is a young Argentine tango singer who's creating a real buzz at the moment.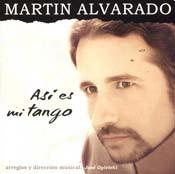 His name is Martin Alvarado and over the next few weeks I'm going to be featuring him ahead of his November gig here in Birmingham at the mac, which I'm very much looking forward to.
This is from his 2008 album "Así Es Mi Tango" and it's a track called "Estás en Mi Corazón" (You are in my Heart).
8 "Estás En Mi Corazón" (2:53) by Martin Alvarado from the album "Así Es Mi Tango"
Beautiful! I do love tangos as well as milongas. OK, change of direction now. If you were listening in last week, you might remember that I was talking about the forthcoming world music tradefair, Womex, which takes place in Copenhagen next month.
Womex each year produce a special CD called the Womeximiser full of the artists they are showcasing that year. This is normally for delegates only, but courtesy of worldmusic.co.uk I've managed to get hold of some to give away in a draw on the WorldBeatUK radio show!
I've already played a couple of tracks from artists appearing on the CD (Celso Piña & Systema Solar) and about half of last week's show and the next three tracks are all also featured on the 2011 Womeximiser.
So to be in with a chance to get your hands on a copy - just submit your name and email address to me, Glyn Phillips, and your name will go into a blind draw. The lucky winners will each get a copy of this compilation CD sent to them.
So I need your name and email address or even a Facebook link. You can either email me at glyn@worldmusic.co.uk, or if you're already connected to me via FB send me a message stating you'd like to be entered for the Womeximiser 2011 CD draw.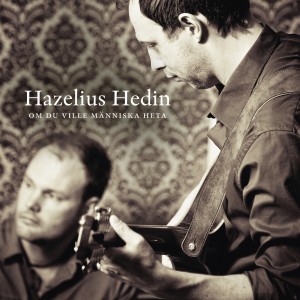 Ok, so I'm going to indulge us all in some Scandinavian music for the next few numbers, starting with a track by a Swedish duo called Hazelius Hedin who fuse Irish and Scandinavian traditions into a very harmonious sound.
his is from their 2010 album "Om du Ville Människa Heta" on the Amigo label and it's a track called "Adjö Farväl":
9 "Adjö Farväl" (4:04) by Hazelius Hedin from the album "Om du Ville Människa Heta"
[CONTINUOUS]
10 "Permafrost" (4:26) by Antti Paalanen from the album "Breathbox"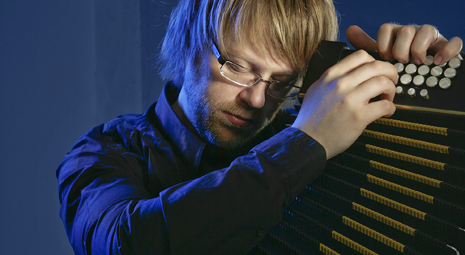 First you heard the Swedish duo Hazelius Hedin and that was followed by a stellar solo performance by the Finnish accordionist Antti Paalanen and track called "Permafrost" from the 2010 album "Breathbox" on the Siba Records label.
Well, I don't know about you but I could almost feel I was breathing in clean, sharp, icy air during that last one!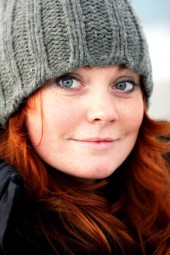 Let's finish off this Scandinavian portion of the show with an jaunty uplifting piece by a fiery young fiddler from Northern Norway - a country I don't get chance to play much from on the show.
The fiddler's name is Ragnhild Furebotten and this is a piece that features some rather interesting brass too, called "Jag Kan Inte Fela" from the album "Aldri På En Søndag":
11 "Jag Kan Inte Fela" (4:29) by Ragnhild Furebotten from the album "Aldri På En Søndag"
[CONTINUOUS]
12 "Man Brings The Bread" (5:13) by Huba from the album "Huba"
[Change CDs!!]
Don't forget you're listening to WorldBeatUK on Rhubarb Radio, coming at you live and direct from the Custard Factory in Digbeth, Birmingham. My name's Glyn Phillips and until 9pm (UK time) tonight I'll be harvesting the musical fruits of mankind's endeavours from around the globe to serve you a sumptuous feast of organic goodness for your ears, heart and soul! Stick around and keep me company because I've got a pantry full of great music still to come on the show.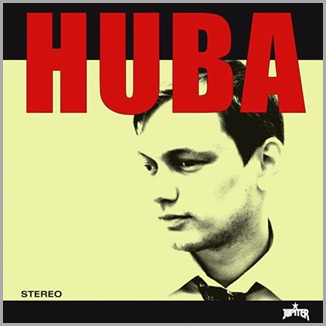 What about that last track then? That was the really 'most excellent' Finnish soul and funk band, Huba.
I remember the first time I heard anything by them - a tune called "Mary" - which was brought to my attention by Steve Williams of UKVibe. Really blew me away and hard to get my head round the fact that there were from Helsinki!
That was a lush, lush track called "Man Brings the Bread (but the woman brings the soul to the household" from their album, also called "Huba".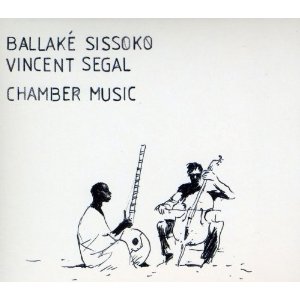 This next track is a rather interesting fusion of kora (that is to say the African Harp - the great classical instrument of West Africa) played here by the Malian harpist Ballaké Sissoko and the cello, one of the great instruments of European classical music, here played by French cellist Vincent Segal.
This is a really beautiful meld of sounds on two fabulous stringed instruments. The track is called "Chamber Music" from the 2010 album of the same name on the Six Degrees Records label.
(1) 13 "Chamber Music" (5:33) by Ballaké Sissoko & Vincent Segal from the album "Chamber Music"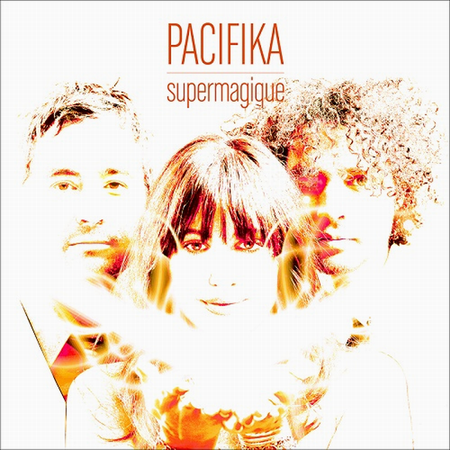 Hmmm. Lovely! Delicate and wistful!
Now over to Canada for a bit, with the Vancouver fusion trio, Pacifika, who carefully glean bits of musical styles from all over the world and then proceed to card, spin and weave them into something uniquely their own with a kind of 'world pop' sensibility.
This is called "Chocolate" from the album "SuperMagique"
(2) 14 "Chocolate" (3:39) by Pacifika from the album "SuperMagique"
[CONTINUOUS]
(3) 15 "Preceito" (3:22) by Renata Jambeiro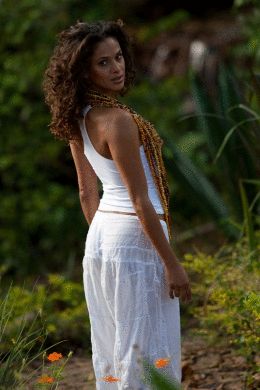 And you just heard some lovely Brazilian samba there from one of their great singers the lovely Renata Jambeiro and a track called "Preceito".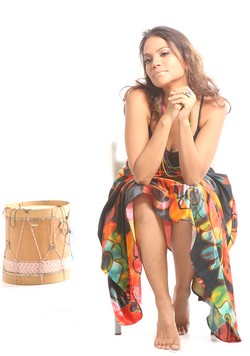 I want to stay in Brazil for this next one because I've got one last track to play for you all from my favourite Brazilian singer at the moment, the lovely Flavia Bittencourt, who as many of you know caught my attention at the recent Espirito Brum festival here in Birmingham.
This is an exquisite piece of vocal artistry from Flavia accompanied only by guitar - it's a track from her first album "Sentido" and it's called "Estrela do Mar" (Star of the Sea).
Following straight on from that is something truly heartwrenching. At the top of the show I promised you a real treat and now's the time for me to deliver … so after Flavia's song you're going to be treated to some outstanding fado from the Queen of Fadistas herself, Mariza.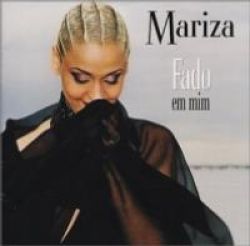 Trust me, don't go away, don't leave the room, don't put the kettle on, or start texting for the next 10 minutes, or anything!
Just close your eyes and let these two amazing ladies take your souls in their soft hands and fly them away to a better place . . .
(4) 16 "Estrela Do Mar" (4:29) by Flávia Bittencourt from the album "Sentido"
[CONTINUOUS]
(5) 17 "O Gente da Minha Terra" (5:53) by Mariza from the album "Fado Em Mim"
What can I say? Life is all about moments like that. Music to put everything else in perspective. If I could sing like that just once in my life I think I'd feel like there'd be nothing more to achieve. Truly humbling.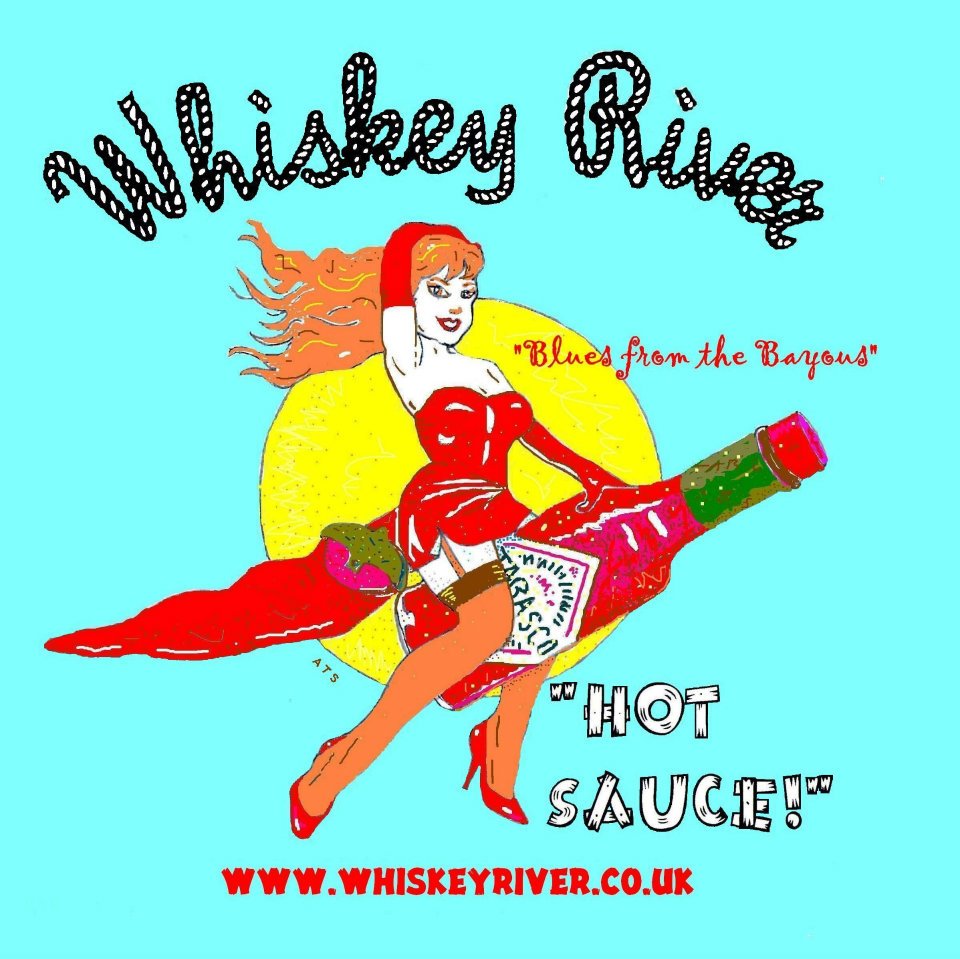 Well, what on earth do you follow those two songs with? How about some Herefordshire swamp music?! Why not!
This is a band called Whiskey River from Hereford right here in the English Midlands and a track from their album "Hot Sauce!" - sung by the gravel-washed voice of Mr Marty Blake - called "I Washed my Hands in Muddy Water" (and not a 'gator in sight!):
(6) 18 "I Washed My Hands in Muddy Water" (4:01) by Whiskey River from the album "Hot Sauce!"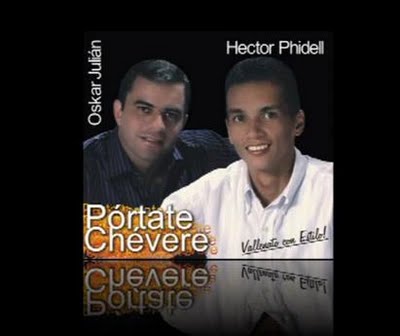 Cajun and zydeco music are famous for their accordion traditions. So here's some from a different but no less impressive tradition that of Colombia in South America.
This is by Oskar Julián and Hector Phidell from the 2009 album "Pórtate Chévere".
Oskar and Hector are very well known for their vallenato music but here they tackle a porro in their own unique style. This is entitled "Por Un Beso" (For a Kiss).
(7) 19 "Por Un Beso" (4:01) by Oskar Julián & Hector Phidell from the album "Pórtate chevere"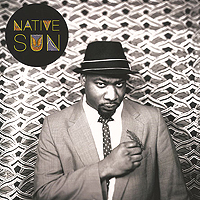 I don't know about you but I'm in the mood for some Ghanaian American afro-hop.
This is from the wonderfully named Blitz the Ambassador and from his album "Native Sun" a track entitled "Akwaaba":
(8) 20 "Akwaaba" (2:49) by Blitz the Ambassador from the album "Native Sun"
[CONTINUOUS]
(9) 21 "The Girl Can't Help It" (3:22) by 1EYE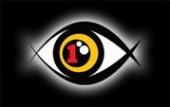 Ha ha! That was another track by Brummie rocksteady crew 1EYE and a re-working of the old rhythm & blues classic, "The Girl Can't Help It" featuring the toasting skills of Mr Kidd.
You can get more info on them by checking them out on Facebook or via www.industryrecords.org.
OK, Not long to go now - let's take a really old afro-peruvian landó classic "Toro Mata" (The Bull Kills) whose origins are lost in the mists of time - or at the very least the garua mists of coastal Perú - and refix it for the 21st century via Los Chicos Altos. This is a hazy, crazy remix, but I love it!
(10) 22 "Toro Mata" (4:13) by Los Chicos Altos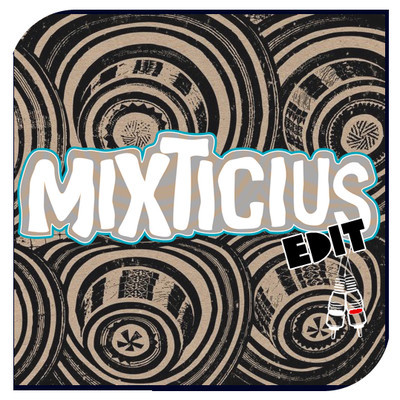 Ok, that was a spacy one - this next one's a remix by Mixticius and it's just down-home, rust-bucket, shit-kicking mad!!
Get bouncing and busting all yer best moves now.
In fact: Don't Stop Till You Get Enough!
(11) 23 "Don't Stop Till You Get Enough" (2:55) by Mixticius
Ha ha ha!! Love that tune - big up Mixticius!
So time to go now. See you all next week.
[Goodbyes, reminders, etc].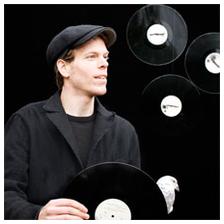 I'm going to leave you with a message - in fact the Revedere Message from [dunkelbunt] and Grandmaster Flash and you can guarantee that this piece of Balkan mash-up is pure insanity - but remember, just "don't push me 'cause I'm close to the edge, I'm trying not to lose my head…" Goodnight!

(12) 24 "Revedere Message" (4:27) by [dunkelbunt] vs Grandmaster Flash

1