WorldBeatUK (24th Show) - Broadcast Notes (17/8/11)
Tagged with: WorldBeatUK Glyn Phillips Makassy Fatoumata Diawara Sona Jobarteh Olefunk Orquestra Arab de Barcelona Folkincats Hurlevent Wesli Gadji-Gadjo Ravid Carles Denia Karamelo Santo Cumba Mela FestiByn DJ Supersonico Criolina Cartagena Soundways WorldMusic.co.uk
WBUK24 (17/8/11) - SHOWNOTES
1 "Intro-Mat" (1:47) by Matchatcha from the album "Nyekesse" (Melodie)
[Welcome. Music from Colombia, The Balkans, Brazil, Argentina, Andalucia, Catalunya, Canada, Mali, Gambia and the UK.]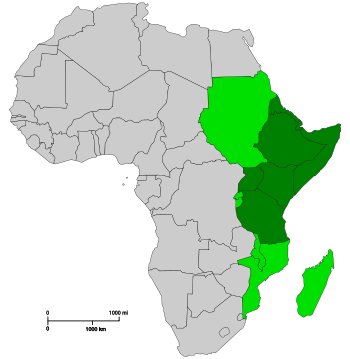 Going to kick off with some music from East Africa from the great Orchestra Makassy.
This was a soukous band that originated in Kampala, Uganda with both Ugandan and Zairean musicians and later was based in Dar-es-Salaam and made up of Tanzanian and Zairean musicians including Kitenzogu "Mzee" Makassy, Mose Se "Fan Fan" Sengo, Tshimanga Assossa and Remmy Ongala.
Signing with Kenyan label AIT in the early 80s they were introduced to Virgin and recorded the album "Agwaya" in Kenya in 1982 - the first time they'd recorded each part individually rather than all at once.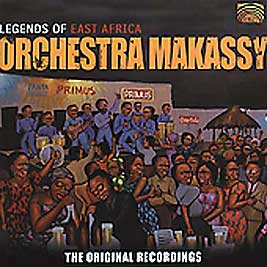 The album went out of print but has since been relicensed to ARC Records and was released in 2005 as "Orchestra Makassy - Legends of East Africa" with two extra never-been-released tracks as well. This one's called "Zimbabwe".
2 "Zimbabwe" (5:00) by Orchestra Makassy from the album "Legends Of East Africa" (ARC)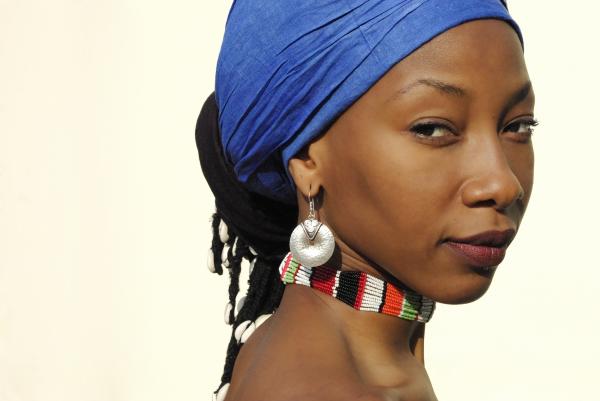 I want to stay with Africa for the next few tracks but cross over to West Africa, to Mali, and this time a preview from a new album about to be released this September on the UKs World Circuit Records.
This is the beautiful Malian actress and singer Fatoumata Diawara, who recently appeared at Womad and a track called "Bakonoba" from her album simply entitled "Fatou".
3 "Bakonoba" (3:16) by Fatoumata Diawara from the album "Fatou" (World Circuit)
I'm going to return to Fatoumata Diawara in a few minutes, but first another lady who's making waves on the seas of African music.
I first got into African music in the late 70s and early 80s and one of the very first artists I became aware of - through the radio show of my hero Alexis Korner was Amadu Bansang Jobarteh the kora player and griot from Gambia. The sound of the kora really resonated with me, although I had no idea what kind of instrument it was - no Google in those days folks!
In the 90s I came across the work of Kora player Toumani Diabate through his work on the Songhai project with Scotland's Danny Thompson and Spain's Ketama and also heard Tunde Jegede play kora to accompany the oldest recorded story in the world - "the Tale of Gilgamesh" as recounted by Storyteller Ben Mandelson. And now here I am listening to a new release from a member of the next generation of kora players.
Why do I tell you all this? Well, I want to give you an idea of the illustrious pedigree of my next artist. Kora players tend to come from one of only 10 great Griot families in West Africa (no matter which particular country or variation of spelling of their family name) and Sona Jobarteh of mixed UK and Gambian heritage can lay claim to one of the greatest. She is the sister of Tunde Jegede of the African Classical Ensemble, the daughter of Sanjally Jobarteh, the cousin of Toumani Diabate (most recently of AfroCubism and Ali Farka Toure fame) and the proud grand-daughter of the great Amadu Bansang Jobarteh. Kora players on the international circuit are few and far between and female ones virtually unheard of.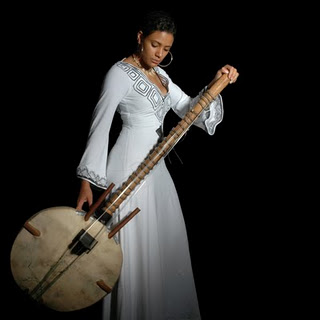 Her new album, "Fasiya" (dedicated to her grandparents Amadu Bansang Jobarteh and Kumbunaa Jobarteh is released this year) is a truly beautiful work with each song featuring contributions from great musicians backing Sona.
She herself plays kora, as well as vocals, acoustic guitar, electric guitar, bass, nkora, udu, calabash, percussion and flute. I think we can safely says she's a multi-instrumentalist.
The album mixes traditional instruments such as djembe, bugarabu, nyanyeru, balafon, sabar, dunduns, udu, Fulani flute, congas etc with drumkit and electric guitars.
The result works really well, Sona obviously feeling very relaxed at the fulcrum of this mix.
The album "Fasiya" (which means 'Heritage') is released by West African Guild Records. This is "Bannaya".
4 "Bannaya" (4:19) by Sona Jobarteh from the album "Fasiya" (West African Guild Records)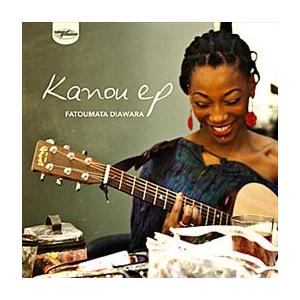 And talking of mixes here's Fatoumata Diawara and a bluesy track called "Clandestin". She's recorded a studio version of this track on her forthcoming album "Fatou" but this is the live version from her 4-track EP "Kanou" released earlier this year as a taster for the album.
5 "Clandestin (live)" (4:16) by Fatoumata Diawara from the EP "Kanou" (World Circuit)
I'm loving me stylistic mixes at the moment so here's one from the Andalucian band OleFunk who - as the name suggests - mix flamenco with music of black origin (whether it be soul or funk or jazz).

From their eponymous album, this is "El Jardin de mi Locura" (The Garden of my Madness").
6 "El Jardin De Mi Locura" (3:35) by Olefunk from the album "Olefunk"
Yeah, loving that. Now, we're going to stay in Spain for a few more numbers, but this time to a cultural mix between Catalunya in the North-East of Spain and Arab North Africa.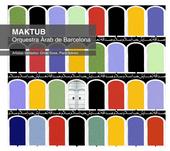 This is the group Orquestra Arab de Barcelona and from their album "Maktub" (on Harmonia Mundi Ibérica) a moody track entitled "Mi Tierra" (My Land").
7 "Mi Tierra" (6:36) by Orquestra Àrab De Barcelona from the album "Maktub"
The next band are also from Catalunya in Spain but they look Northward for their inspiration to the Manouche lands of Northern Europe.
This quartet adapt traditional Catalan songs and dances by incorporating gypsy jazz into the mix.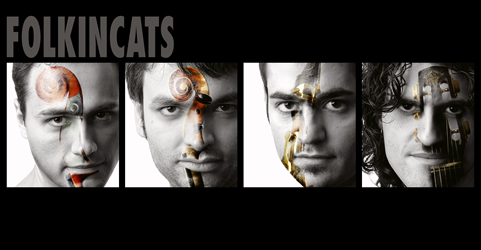 This is a wonderfully laid back piece entitled "La Dama d'Aragó" from their album "Folkincats".
8 "La Dama d'Aragó" (4:22) by Folkincats from the album "Folkincats"
Last one from Spain for a bit - although we'll be returning to Catalunya later on in the show.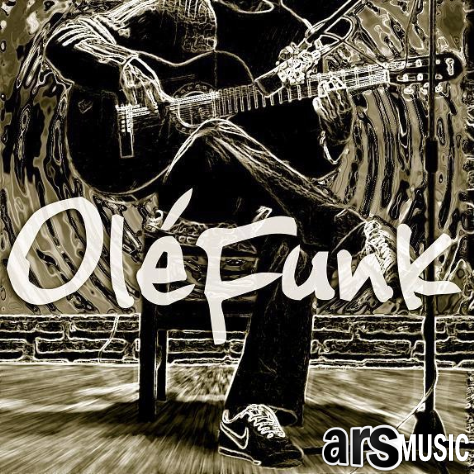 This is OleFunk once more and a rocky/funky piece called "Para No Ir Al Infierno" ('So as not to go to Hell')
.
9 "Para No Ir Al Infierno" (3:47) by Olefunk from the album "Olefunk"
.
.
.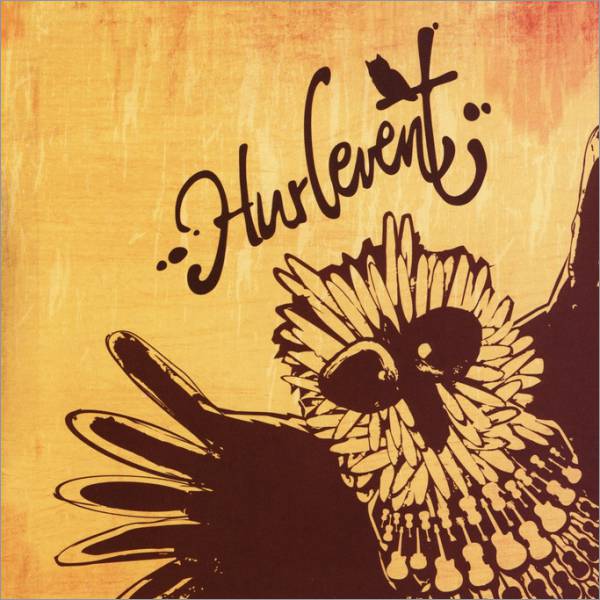 I've been playing quite a bit from Canada recently and I'm going to introduce another four artists today, starting off in a fairly traditional mode with a Quebecois folk from French-speaking Quebec province.
This is the flute and fiddle fronted quintet Hurlevent and a lovely track called "L'Aurore du Jour"
10 "L'Aurore du Jour" (2:41) by Hurlevent from the album "Amerix Artists"
.
Sticking with the French-speaking Canadian theme - here's something not traditional quebecois!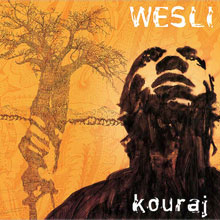 Originally from Haiti the award-winning Montreal-based musician Wesli is riding high at the moment.
This is a piece of Haitian-Canadian reggae by the name of "Doudou".
11 "Doudou" (4:19) by Wesli from the album "Amerix Artists"
.
[CONTINUOUS]
.
12 "Andy's Ride" (2:36) by Kleztory from the album "Amerix Artists"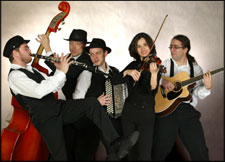 You just heard the Canadian Klezmer band, Kleztory - and a track called "Andy's Ride".
.
.
.
.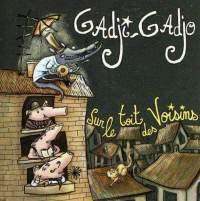 And to keep in a similar mood this is the Klezmo-Tzigane sextet Gadji-Gadjo concluding my Canadian corner of the show with a sort of Jewish-Gypsy mash called "Sher Evreiskii Nardnii Tanets" (which means something, something, something 'Dance'!)
13 "Sher Evreiskii Nardnii Tanets" (3:04) by Gadji-Gadjo from the album "Amerix Artists"

[CHANGE CDs!!!]
[Don't forget you're listening to WBUK . . .]
Remember this is my last programme before early September - I'll be back on air, all things being well, on Wednesday 7th September.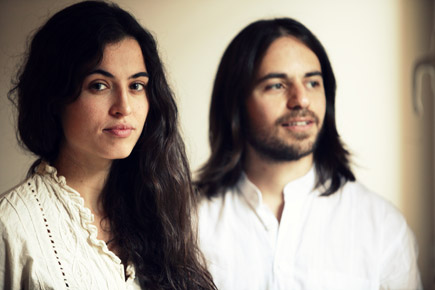 I'm going to go back to Catalunya now for a couple of tracks and this one is a rather sparse but beautiful piece by the artist Ravid Goldschmidt - who left his native Israel to study the world's newest acoustic instrument, the hang drum.
Sounding like a sort of softer, more ethereal steel pan and played with the finger tips Ravid plays the hang accompanied on vocals by the brilliant Spanish cantaora Sílvia Pérez Cruz (who I was blessed enough to see last year with her own amazing all-female flamenco group Las Migas).
This track is called "Loca" (Crazy)
(1) 14 "Loca" (5:19) by Ravid from the album "Ravid Hang" (QE Records)
[CONTINUOUS]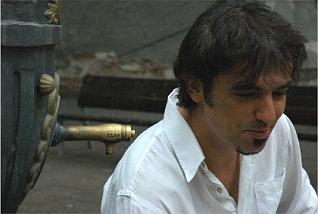 (2) 15 "Tan Alta Com Va La Lluna" (1:06) by Carles Dénia I La Nova Rimaire from the album of the same name
That was a very short Catalan track called "Tan Alta Com Va La Lluna" by Carles Dénia I La Nova Rimaire from the album of the same name, played as a contrast to the voice of Silvia Perez Cruz in the previous number.
OK change of feel and pace now.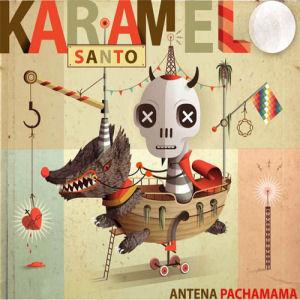 Time to fly over to South America now and in particular to Argentina.
This is by Karamelo Santo who I've played before on the show and it's a remix by Fede Flores of a track called "Han Matado A Un Niño" (They've Killed a Child).
(3) 16 "Han Matado A Un Niño (Fede Florez remix)" (4:12) by Karamelo Santo
.
[CONTINUOUS]
.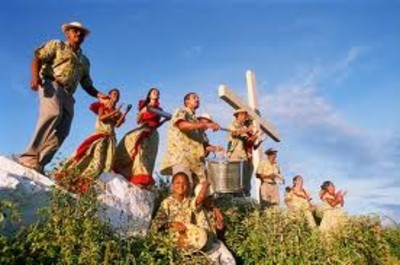 (4) 17 "Galinha Zabele (Tumi remix)" (2:21) by Cumba Mela Collective
That was the Cumba Mela Collective and a little slice of Brazil remixed by Tumi and entitled "Galinha Zabele".
And if that didn't get you bouncing up and down in your seats, then this next one should.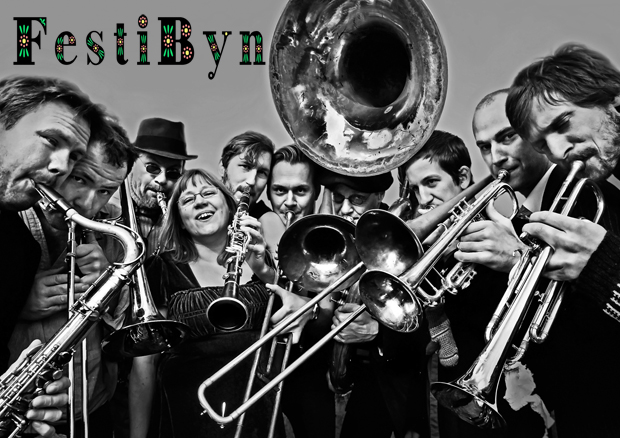 The balkan band FestiByn and a track called "Dönme Bana Sevgilim"
.
(5) 18 "Dönme Bana Sevgilim" (3:16) by FestiByn from the album "FestiByn"
.
.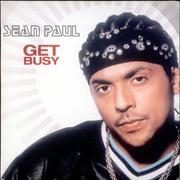 Any sexy ladies in the mood for some Balkan Dancehall Mashup?
OK, here's DJ Supersonico and the Sistema de Sonido Urbano with "Get Busy".
Turn your speakers up peeps - but just watch out for Tarzan!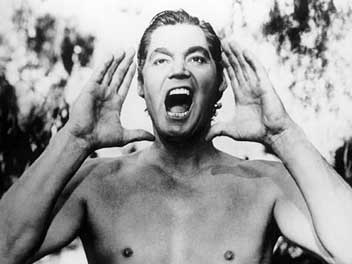 Don't say I didn't warn you!
.
.
.
.
(6) 19 "Get Busy" (3:22) by DJ Supersonico - Sistema de Sonido Urbano
[CONTINUOUS]
(7) 20 "Lourinha Americana (Criolina Remix)" (2:48) by Criolina Remix
[CONTINUOUS]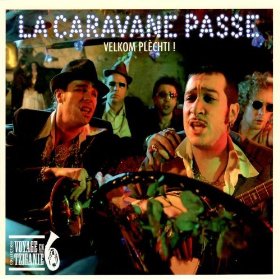 (8) 21 "Balkanski Bal (Bucovina rmx)" (3:10) by DJ Supersonico
OK, that was three in a row. You just heard DJ Supersonico and the Bucovina remix of "Balkanski Bal"; before that was the Criolina remix of "Lourinha Americana" and before all that DJ Supersonico and "Get Busy".
.
.
.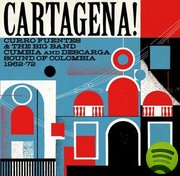 Don't know about you but I fancy finishing off the show with some Old Skool Colombian dance music from the 60s and 70s - all from the great Soundways label.
First up is El Gran Romancito Y El Super Combo Curro from the album "Cartagena!" and we're off to "Honolulu"!!
(9) 22 "Honolulu" (4:51) by El Gran Romancito y El Super Combo Curro from the album "Cartagena!" (Soundways)
.

And with the help of Michi Sarmiento y sus Bravos we're going all the way from Honolulu to "Hong Kong" from the album "Colombia!"
(10) 23 "Hong Kong" (3:53) by Michi Sarmiento Y Sus Bravos from the album "Colombia!" (Soundways)
Last up is the Latin Brothers and from the same Soundways album "Colombia!" and a classic track - "La Patrona de los Reclusos".
(11) 24 "Patrona De Los Reclusos" (6:13) by The Latin Brothers from the album "Colombia!" (Soundways)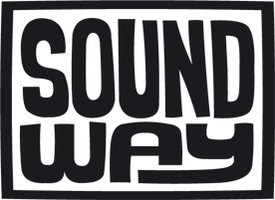 WorldBeatUK (10th Show) - Broadcast Notes (4/5/11)
Tagged with: WorldBeatUK Glyn Phillips Julius Essoka Yami Jimmy Omonga Joan Soriano Carmina Cannavino Atlantidha Heider Moutinho Morozova Zohreh Jooya Renato Martins SpokFrevo Los Chinches Olefunk Zulu 9.30 dunkelbunt Chico Trujillo Fexomat Gypsyphonic Cordobestia
WBUK10 (4/5/11) Playlist
1 "Intro-Mat" (1.47) by Matchatcha from album 'Nyekesse' (Melodie)
Welcome, etc
Coming up on the show tonight: some lush Angolan-Portuguese lusophonic loveliness, achingly romantic bachatas from la Republica Dominicana, feisty retro-cumbia 21st C style, nostalgic Mexo-Peruvian landó, Ghanaian reggae to dance to, Portuguese fado to die for, as well as Portuguese Tango (yes, Portuguese!), Mexican Tango (yes, you heard that right too!), traditional Afghani music, Russian folk-rock, Anglo-Kenyan fusion, Catalan salsa-samba fusion, Spanish soul-flamenco fusion, not to mention samba, frevo, mambo, chicha, and a dash of funky electro-swing! And if that wasn't enough, some seriously hardcore Balkan breakdowns. It's enough to make a grown man weep!
Trust me, when I say two hours of the best world music from around the globe, I'm not messing!
First up, a track I've been meaning to play for weeks now, but I kept allowing to fall off the list, because it never seemed to comfortably fit in with what I'd got planned. So I'm going to play it first instead! This is Julius Essoka, from Cameroon, from his album "Epassi n'Epassi" and a jazzy piece called "Foolish Men".
2 "Foolish Men" (4.12) by Julius Essoka from album 'Epassi n'Epassi'
SHOUT OUTS ETC
This next track is by a musician called Yami based in Lisbon, Portugal, of mixed Portuguese-Angolan ancestry. It's from his album "Aloelela" on the HM Musica label and is a beautiful, dreamy, romantic tune with echoes of Brazil and Cabo Verde as well as Portugal and Angola. Sit back, make yourself comfortable, close your eyes, and let Yami sail you out over the horizon towards a setting sun. I can't help it, I'm a romantic at heart! This is "Kananga do Amor".
3 "Kananga do Amor" (4.04) by Yami from album 'Aloelela' (HM Musica)
Keeping it in a mellow mood, now this is Jimmy Omonga from Kinshasa in the Democratic Republic of Congo and a relaxing African reggae track from his 2007 "Destin" album on Hippo Records, called "Nakonda"
4 "Nakonda" (4.33) by Jimmy Omonga from 2007 album 'Destin' (Hippo Records)
This next track is dedicated to my dear friends el chileno mayor, Eddie Olguin (AKA DJ Sabroso) and the lovely Andrea - and in particular to their brand new baby girl, Ellie, con cariño y mucho amor. Felicitaciones a las tres!
This is a beautiful bachata from the Dominican Republic. It's from the album "El Duque de la Bachata" on Iaso Records (a brilliant company specialising in the music of the often looked-over Caribbean country of La Republica Dominicana) and is by the wonderful singer and guitarist Joan Soriano (the Duke of Bachata himself) and - I think - features the voice of his own little baby; this is "Amor de Niño":
5 "Amor de Niño" (3.38) by Joan Soriano from album 'El Duque de la Bachata' (Iaso Records)
Wasn't that beautiful? Sticking in the mid-Americas region we're going to go over to Mexico for a couple of numbers now. The singer is the Perú-born, Mexico-raised, Argentine-derived Carmina Cannavino. The track is - as far as I can make out - an afro-peruvian landó, so if you like the music of people like Susana Baca or my personal favourite, Eva Ayllón, la Reina del Landó, then you'll love this track.
It's from Carmina's album "Patria Granda" which is dedicated to the work and life of one of the greatest of Peru's legendary pantheon of female singers - and the one that probably initiated my love affair with the musica criolla of that wonderful country - Chabuca Granda. This track is called "Dónde Estás Adelita" (Where are you, Adelita?).
6 "Dónde Estás Adelita" (3.02) by Carmina Cannavino from album "Patria Granda'
CONTINUOUS - CONTINUOUS - CONTINUOUS
7 "Lo Que Vendrá" (3.48) by Orquesta Mexicano del Tango
First you heard "Donde Estas Adelita" by the Mexican based Carmina Cannavino and then straight after that a lovely piece of traditional orchestral tango called "Lo Que Vendrá" (That which will come) - and boy do I love tango! However, that was not performed by an Argentine orchestra as you might expect but was the work of the Orquesta Mexicano del Tango from Mexico!
And since I'm feeling in such a magical mood at the moment, let me share this with you. Portugal, like most of the countries that border onto the North Atlantic, has it's own tales of the mystical land of Atlantis. And so I offer you a piece by a band called Atlantihda, set up specifically to explore the story of the lost land, from the album of the same name on the HM Musica label this is their lush Portuguese take on tango, entitled: "Na Calma dos Teus Olhos" (In the Calm of Your Eyes).
8 "Na Calma Dos Teus Olhos" (3.00) by Atlantihda from album 'Atlantihda' (HM Musica)
And since I can't get enough beauty this evening, I'm sticking with Portugal, and the most exquisite and delicate fado. This is by the singer Helder Moutinho from his album "Que Fado e Este Que Trago?" (What Fado is this that I bring?) again on the HM Musica label from Lisbon and a track called "Nem Ventos Nem Madrugadas" (Neither Wind nor Dawns):
9 "Nem Ventos Nem Madrugadas" (4.28) by Helder Moutinho from album 'Que Fado E Este Que Trago?' (HM Musica)
Wasn't that beautiful? Aah, fado, meu fado! Well from the sublime to the noisy I suppose! I'd better wake you all up a bit. The next track comes from Moscow in Russa and is a piece of Russian Folk Rock with a slight psychedelic metal edge! Don't worry, it's quite good really!
The band is called Morozova - named after their female singer and hurdygurdy player; I'm not sure what the album's called - I really make an effort to try and check out the details of all the music and bands I play, often spending hours chasing elusive leads in different languages, but this one defeated me. However, I can tell you this, the track's called "Pavlin" which I think means 'peacock'!
10 "Pavlin" (3.54) by Morozova from album 'Morozova' (Greenwave Music)
CONTINUOUS - CONTINUOUS - CONTINUOUS
11 "Mikham Beram Koh" (4.02) by Zohreh Jooya & Ustad Hossein Arman from album 'Afghan Music' (ARC Records)
Well, I thought you needed a bit of otherworldly beauty again so that last track was from an album on the ARC Recordings label called "Afghan Music" by the talented and really rather gorgeous Afghani-Irani songstress Zohreh Jooya in duet with the Afghani singer Ustad Hossein Arman.
The whole album is an attempt by Zoohreh and the Afghan Ensemble to try and preserve the traditional music of Afghanistan before it gets swamped. Due to the lack of opportunities for musicians to learn their own music in their own country due to all the troubles of the last couple of decades, a whole generation were in danger of missing out. The track was called "Mikham Beram Koh", which is an invitation to someone called Leyly to go up into the mountains and look for gazelles. I'm assuming dating opportunities are thin on the ground in Afghanistan…
Change of place now - from the mountains of Central Asia to the mountains of East Africa; Kenya to be exact and here's an album I've been featuring for the last couple of weeks. It was released two days ago on Gilles Peterson's Brownswood Recordings label; it's by an anglo-kenyan collective called Owiny Sigoma, it's from the album of the same name and this is a very brazilianesque number called "Hera":
12 "Hera" (4.23) by Owiny Sigoma Band from album 'Owiny Sigoma' (Brownswood Recordings)
[CHANGE THE CD HERE!!]

[Remember, you're listening to WorldBeatUK with me Glyn Phillips, right here on Rhubarb Radio, etc
You can check all the details for any of the tracks tonight on my website www.worldmusic.co.uk/radio
Do some shout-outs, etc, time check]
That last track had a Brazilian feel to it and that leads nicely into the next track! You might remember a few weeks back I had as special guest the brilliant percussionist Renato Martins in the studio, being interviewed, playing some stuff from his CDs and doing a live number just on udu pot alone! Stunning.
Well I'm going to play a track from his latest project with the Belgian classical guitarist, Boris Gaqueres, from their album "Tempo Feliz" which features Boris's accomplished guitar work and Renato switches from udu pot to cajón, the wooden box drum of afro-peruvian origin. This lovely track is called "Carioca"
13 "Carioca" (2.59) by Goris Gaquere & Renato Martins from album 'Tempo Feliz' (www.renato-martins.com/projectsduo.htm)
Wonderful - passion combined with inventiveness and metronomic exactitude! OK, sticking with Brazil, now but going right up North to Recife, to the homeland of the manic, acrobatic, umbrella-waving, hundred-miles-an-hour dance music of Pernambuco state, the Frevo! This is the excellent SpokFrevo Orquesta and the title-track from their album "Passo de Anjo" on the Biscoito Fino label. I defy anyone to sit still through this!
14 "Passo de Anjo" (2.54) by SpokFrevo Orquesta from album 'Passo de Anjo' (Biscoito Fino)
CONTINUOUS - CONTINUOUS - CONTINUOUS
15 "Babarabatiri" (2.33) by Beny Moré from 2008 album 'The Best of Mr Bongo' (Mr Bongo Records)
Wonderful mambo madness from El Bárbaro del Ritmo (the Wild Man of Rhythm) himself, Cuba's Beny Moré - played just for the sheer hell of it; you can find that track all over the place - my copy is from the album "The Best of Mr Bongo", the legendary UK latin specialists, once resident in a little basement in London's Soho, but now you'll have to find them online instead.
Moving swiftly on and staying with the London latin connection, this is the UK's Los Chinches and their take on the Peruvian chicha music phenomenon (an amalgamation of Colombian cumbia rhythms with the feel of 1960s and 70s Peruvian Amazonian psychedelia). Yep! That's what I said! This is called "Chicha Love":
16 "Chicha Love" (2.53) by Los Chinches from album 'Chicha Love'
CONTINUOUS - CONTINUOUS - CONTINUOUS
17 "Bandidos" (3.45) by Zulú 9.30 from 2008 album 'Huellas' (Kasba Music)
Lovely piece of latin fusion entitled "Bandidos" from Barcelona's Zulú 9.30 from their 2008 album "Huellas" (which means 'footprints') on the Kasba Music label. I hope to play something from their 2011 album "Tiempo al Tiempo" soon; watch this space!
And staying in Spain, the next track is by a band I came across a few years ago and really deserve to be better known. I made quite a point last week of talking about the sheer amount of creativity coming out of Spain during the last decade or more and this is another example of what I'm talking about. The band is called "Oléfunk" as is the album and as you've probably guessed they fuse flamenco with funk and soul. I love this. This track is called "No Me Des Candela"
18 "No Me Des Candela" (4.25) by Oléfunk from album 'Oléfunk'
You're listening to WorldBeatUK on Rhubarb Radio, with me, Glyn Phillips - two hours of the best world music from around the globe, every Wednesday 7-9pm.
Time for some Balkan bounce now with one of the heaviest Balkan orchestras out there at the minute. This is the Boban & Marko Markovic Orkestar - soon to be seen travelling Europe in a double-bill, all-star, heavyweight extravaganza with rivals Fanfare Ciocarlia to see who is the biggest, baddest Balkan Brass Band of all!! See if this helps you make up your mind. From the 2009 album "Devla - Blown Away To Dancefloor Heaven" on the German Piranha label, this is called "Maruska"!
19 "Maruska" (3.16) by Boban & Marko Markovic Orkestar from 2009 album 'Devla - Blown Away to Dancefloor Heaven' (Piranha)
That was the unadulterated sound of Balkan brass music, but there's a lot of interest out there amongst mixers and mashers of remixing all kinds of musics. Balkan remixes are very popular - and I'm going to play an unbelievable track later on - as are cumbia and RnB mashups (again, just watch this space).
However, one of my favourite genres is that of electroswing, which roughly speaking takes classic jazz (20s, 30s, 40s, etc) and gives it a 21st C repaint. This track is by the ubiquitous remixer [dunkelbunt] and is from his 2009 album 'Raindrops and Elephants' on the Piranha label - esto es para todas aquellas chicas con piel color de canela. Saben bien quien son. This is called "Cinnamon Girl" -
20 "Cinnamon Girl" (4.07, but finishes at 3.52!) by [dunkelbunt] from 2009 album 'Raindrops and Elephants' (Piranha)
[ANY ANNOUNCEMENTS / SHOUT OUTS ETC]
[Announce the Honeycomb Club featuring B'ham's own Alternative Dubstep Orchestra tomorrow night at H&H; also Freddie Pirotta's Hip Operation on Saturday; The Urban Voodoo Machine at the H&H on May 12th (Bourbon soaked Gypsy Blues Bop'n'Stroll) ]
Going to go with some Cumbia Chilombiana now - that's Chilean cumbia if you didn't know; Cumbia originally comes from the Caribbean coast of Colombia in the North of South America but since the 1960s has spread in popularity all over the latin World and even outside of the americas. It's main bedrock of support has been amongst working class people - and even in such Eurocentric countries as Chile and Argentina it was taken to heart by the clase obrera and due to the attentions of a whole newer, younger generation it's once again spreading it's wings.
The Chilean band Chico Trujillo here give us a retro-big band experience with a big bouncy track called "Varga Varga" from their album "Chico de Oro" on the Barbes Records label.
21 "Varga-Varga" (3.12) by Chico Trujillo from album "Chico de Oro" (Barbes Records)
From retro-cumbia to an up-to-date fix-up of an old tune from the heyday of cumbias about half a century ago. This is the well-known track "La Subienda" and a reworking by El Sonidero Cordobestia from the Cabeza album "Cumbias Momificadas"
22 "La Subienda" (4.51) by Sonidero Cordobestia from album 'Cumbias Momificadas' (Cabeza!)
Back to the Balkans now - well, almost because this comes from New Orleans in the USA of all places. it's the Gypsyphonic Disco and a rather cheeky mashup entitled "Gypsy Milk"
23 "Gypsy Milk" (3.24) by Gypsyphonic Disco
Well, you've waited long enough - or at least I have! It's time for "The Wonderdrug". I've been dying to drop this one on you all night. Hot off the press yesterday, this is the digital equivalent of a door-to-door delivery; I'm not sure it's even released officially yet, but I've got permission from the music's producer to play this on the show.
This is the Ultimate, the Zenith, the Epitome of Balkan Breakcore Madness. As Spinal Tap would say: turn your speakers up to 11 and prepare to be rocked. This track comes with a Government Health Warning: Guys, girls, empty your stomachs and your bowels before mounting the ride, put your safety helmets on, strap yourselves in and make sure you keep all limbs inside the carriage, brace yourselves, seriously.
Of all the hardcore Gypsy/Balkan remixers out there, there is but one who I would call the King of Gypsy Breakcore, and that's: Fexomat from Berlin. I offer you "The Wonderdrug". Be scared, oh yes, be very scared!
24 "The Wonderdrug" (3.13) by Fexomat
[Thanks to one and all etc; Coming up next is: ]
Time to go and I'm going to leave you with this fantastic old bachata from Juan Batista on the excellent album "Bachata Roja" (no, not Bachata Rosa!- this is the real McCoy!) on the Iaso Records label. See you all next week I hope. This is "Estoy Aqui Pero No Soy Yo" ("I'm here, but I'm not me" - work it out yourselves!). Chau, babies!
25 "Estoy Aqui Pero No Soy Yo" (3.40) by Juan Batista from album 'Bachata Roja' (Iaso Records)
1