WorldBeatUK (21st Show) - Broadcast Notes (20/7/11)
Tagged with: WorldBeatuk Glyn Phillips Aurelio Martinez Baaba Maal Vieux Farka Toure Fatoumata Diawara Danyel Waro Pacific Curls Bellowhead AfroCubism Booker T Bomba Estereo Easy Star Smerins Anti-Social Club Dub Colossus Samuel Yirga Tombolinos Mahala Rai Haidouks
WBUK21 (20/7/11) - SHOWNOTES
1 "Intro-Mat" (1.47) by Matchatcha from the album "Nyekesse" (Melodie)
Hello there! You're tuned into Rhubarb Radio and you're listening to WorldBeatUK. My name's Glyn Phillips and over the next two hours I'll be taking you on a journey to the outer reaches of global musicality. On the show tonight you'll get to hear some fabulous acts from Senegal, Mali, the USA, Colombia, Ghana, Cuba, L'ile de Reunion, Belize, Jamaica, New Zealand, Ethiopia, Romania and the UK amongst others.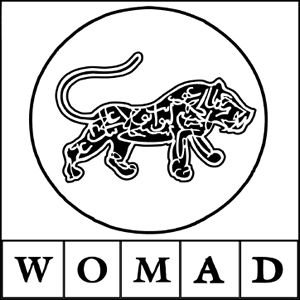 In fact tonight's show is all about WOMAD - the World of Music and Dance - which takes place in just over a week at Charlton Park, near Malmesbury in Gloucestershire, England. This amazing event is still probably the planet's leading global festival of world music open to the general public.

So, although I still have no idea of whether I'll actually be able attend it this year, I've decided to dedicate the show tonight to Womad; in short every tune you hear from now on is by an artiste who will be appearing at this year's Womad Festival!
I can't promise whether they will actually play these particular tracks but it should give you a taste of what to expect if you are lucky enough to go next week - and if you can't, then you sit back and pretend you're there (and save yourself a fortune into the bargain!).
OK, first up I'm going to ease us into the groove with some garifuna soul from Belize. Now, Belize is a small country in Central America and amongst its accolades is that it has the second longest barrier reef in the world, is the northernmost country in Central America (remember folks, Mexico is technically in North America!) and is the only Central American country to have English as the official language.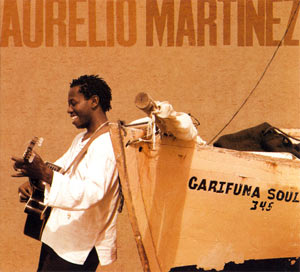 This tiny country - which is only 120 miles long and 68 miles wide - boasts a population of just 333, 200 people.
It's history is also different to its neighbours Mexico and Guatemala - who have deep Hispanic roots alongside their Mayan ancestry - since it was for many years a British Colony known as British Honduras, only gaining independence in 1973 and having a permanent British troop presence based there armed with vertical take-off Harrier Hawk jets to protect it from Guatemalan invasion until as recent as1994.
So now you know!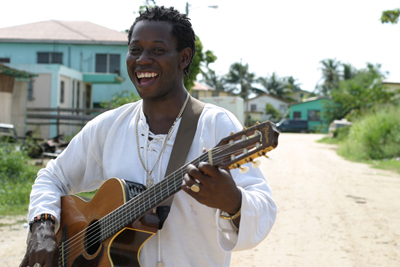 However, we're really interested in its current musical contribution and for that we have to go to the Caribbean coastline and to the Garifuna communities of Belize.
Belize has many different populations, but one of its smallest - making up only 4% - are the Garínagu (often known by the singular Garífuna) who are a community of mixed African, Carib and Arawak descent who speak and sing in a language descended from both Carib and Arawak.
They can be found along much of Central America's Caribbean coastline from Nicaragua and Honduras up to Guatemala and Belize.
So the first song up tonight is a piece of 'paranda' music by one of the Garifuna culture's most well known artists, the Honduran born, Belizean based, Aurelio Martinez, taken from his album "Garifuna Soul" on the Belizean Stonetree Records; this is called "Lumalali Limaniga":
2 Lumalali Limaniga (4:18) by Aurelio Martinez from the album "Garifuna Soul" on the Stone Tree Records Label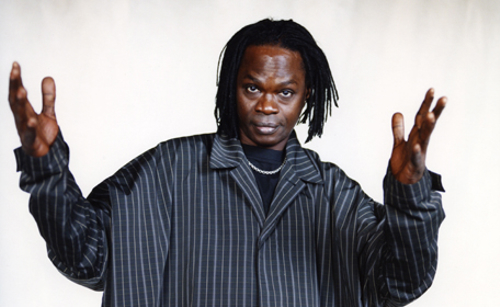 Yes, there you go, Aurelio Martinez from Belize. Now, I've got a bit of an African thing going on for the next few numbers and I'm going to kick this off with an old track by Senegal's Baaba Maal - one of the biggest names in African music for Europeans especially during the 1990s. It's a wonderfully summery piece called "Demgalan".
3 "Demgalan" (7:01) by Baaba Maal from the album "Kings of African Music" on the Nascente label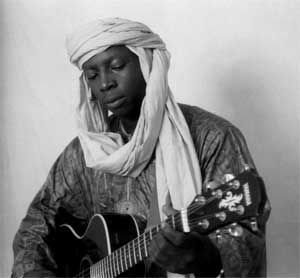 From Senegal, we move inland to Mali and to Vieux Farka Touré, the son of the late guitarist Ali Farka Toure.
This is taken from his latest album - just released in May - called "The Secret" on the Six Degrees label.
This track features Derek Trucks on electric guitar and is called "Aigna"
4 Aigna (Feat. Derek Trucks) (4:53) by Vieux Farka Touré from the album "The Secret" on the Six Degrees Records label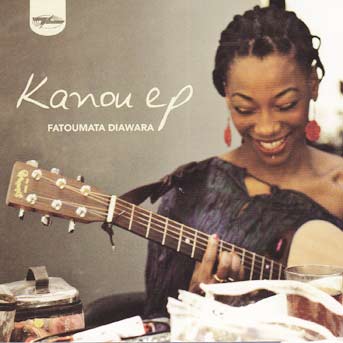 Let's stay in Mali now and the wonderful singer and actress Fatoumata Diawara recently heard supporting AfroCubism and providing backing vocals on their album.
Here she is on a pre-release track from her forthcoming EP Kanou and this is the title track from that.
5 "Kanou" (3.56) by Fatoumata Diawara from the EP "Kanou"
Hmmm, very beautiful, calming music! Fatoumata Diawara there.
We're going to board a plane now to an island in the middle of the Indian Ocean with a very rich and vibrant mixture of cultures: Malagasy, Indian, African, European and Chinese.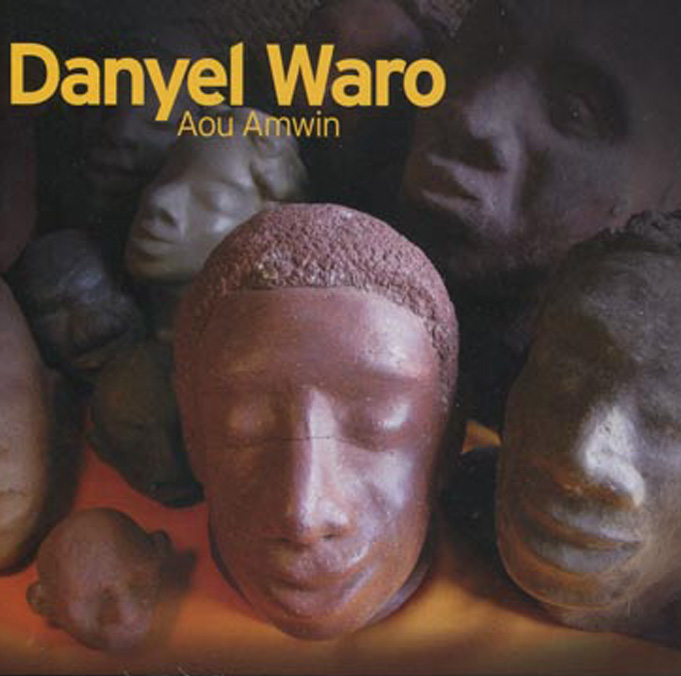 The L'isle de La Réunion is an island with a French Colonial past and indeed present since it is (like Guadeloupe and Martinique in the Caribbean) an official 'departement' of France.
This island of 800,000 people is about 120 miles south of Mauritius and roughly the same size (under 30 miles wide by 40 long).
The largest percentage of the population is mixed race to some degree or other and it's from this Creole culture that the music of La Reunion predominantly derives.
One of their most famous musicians is Danyel Waro, who is also a poet and activist - a tireless campaigner for the rights and cultures of Creole people. Danyel was last year awarded the 2010 Artist Award at the annual Womex World Music conference held in Copenhagen.
Waro is also a pioneer and flagbearer for the indigenous music of La Reunion known as Maloya - a mix of African and Malagasy rhythms, that was once banned from being played in La Reunion. This is a track called "Veli".
6 "Veli" (4.40) by Danyel Waro from the album "Aou Amwin" on the Cobalt label (2010)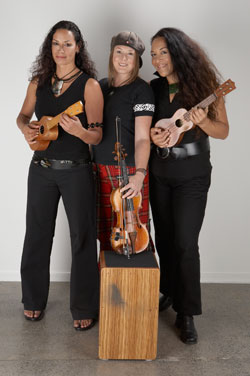 If we board the Good Ship 'WorldBeatUK' and set sail south and eastwards from the Indian Ocean, we eventually pass by Australia and end up in New Zealand.
This next band are called Pacific Curls - a trio of young women who aim to fuse European and Maori roots via ukulele, fiddle, Taonga Puoro guitar, alongside cajon, stompbox and kalimba and lyrics in Maori, Rotuman and English.
This ukulele-driven piece is called "Pacific People" from their last album "Te Kore".
7 "Pacific People" (4.22) by Pacific Curls from the album "Te Kore"
That was "Pacific People" by the Pacific Curls from New Zealand.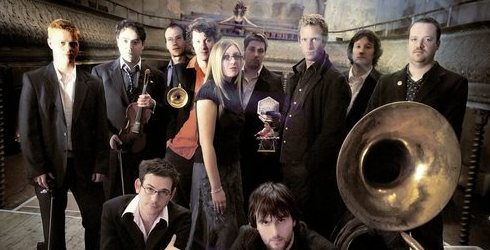 So in true WorldBeatUK style let's jet from one end of the earth to the other.
Back to Blighty and to Britain's rowdy folksters Bellowhead.
This is a track from the recently released compilation album "Rough Guide to English Folk" on the World Music Network label.
Bellowhead would like to invite you to come on down to Yarmouth Town!
8 "Yarmouth Town" (3.50) by Bellowhead from the album "The Rough Guide To English Folk" on the World Music Network label
Ha ha! Great bit of English folky fun there with some quasi-New Orleans brass band jazzy bits rolled into the mix! Bellowhead and "Yarmouth Town".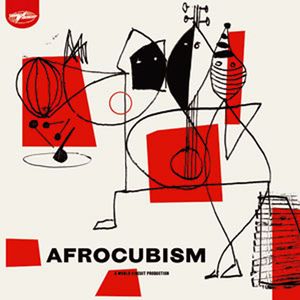 And now from the wonderfully exuberant to the absolutely sublime.
This is the amazing malicubano sound of the international superstar band AfroCubism formed out of living legends from both Mali and Cuba.
This band was put together by the UK's very own World Circuit Records label.
You can read my in-depth review of their debut album "Afro-Cubism" on the world music website (http://www.worldmusic.co.uk/afrocubism_afrocubism).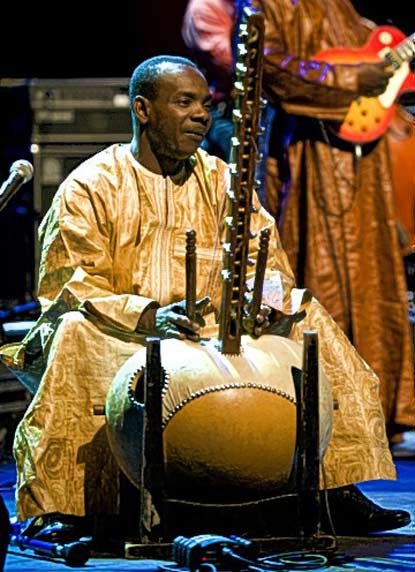 These guys are going to be one of the BIG bands this year at Womad (and don't forget that ALL of the bands I'm playing tonight on the show are appearing at this year's WOMAD festival at Charlton Park next week).
This is my favourite track off what is an amazing album.
The track was written by the Malian Kora maestro Toumani Diabate and it's called "Jarabi".
Simply sumptuous!!
9 "Jarabi" (5.57) by AfroCubism from the album "AfroCubism" on the World Circuit label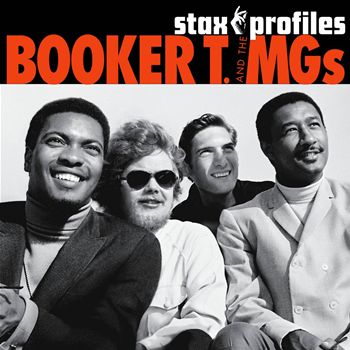 Now that's the kind of band you'd expect at a world music festival - but maybe this next one raised a few eyebrows when they were announced.
Booker T and the MGs are some of the great survivors of the 60s and 70s with numerous hits to their credit and even more amazing seeing as their speciality was instrumentals.
The longevity, popularity and sheer funkiness of their cuts is high testimony indeed to their ineffable grooves.
This is the hipswinging hit "Hip Hug Her" - here given a tasty remix by Danny Massure!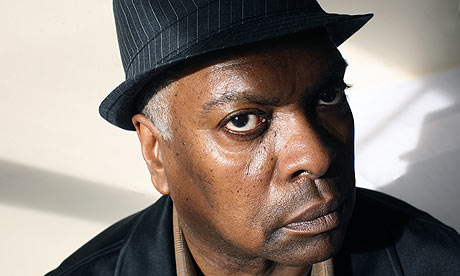 10 "Hip Hug Her (Danny Massure remix)" (3.34) by Booker T & the MGs
[CONTINUOUS]
11 "Cosita Rica" (4:36) by Bomba Estereo from the album "Estalla" on Polen Records
[CHANGE THE CDs OVER!!!]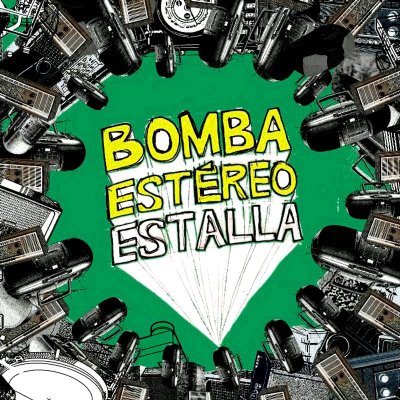 You're listening to WorldBeatUK - the two hour world music radio show right here on Rhubarb Radio, transmitting from The Custard Factory in Digbeth in the heart of Birmingham in the heart of England!
My name's Glyn Phillips and don't forget tonight's WorldBeatUK is given over to featuring bands that will be appearing at next week's Womad Festival at Charlton Park, near Malmesbury.
You were just listening to the Electro-Cumbiaton sounds of Colombia's Bomba Estereo - a feisty young band that mix indigenous cumbia with electronica and a vivacious punk attitude when seen live - and a track called "Cosita Rica".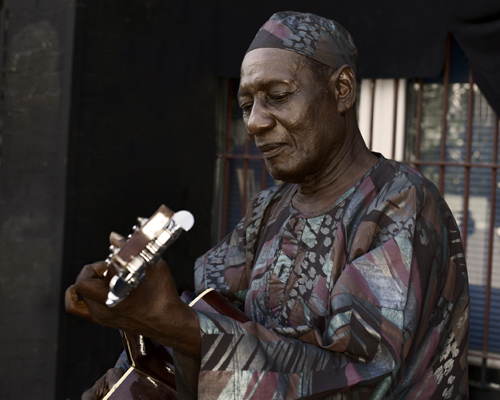 Next up is a track and a sound to die for!! One of the great unsung pioneers of Highlife and Afrobeat, belatedly getting his dues paid to him.
This is the amazing Mr Ebo Taylor of Ghana and a track from the Strut Records album "Life Stories - Highlife and Afrobeat Classics 1973-1980".
I said it's a sound to die for - and appropriately enough it's called "Heaven"!
(1) 12 Heaven (6:04) by Ebo Taylor from the album "Life Stories - Highlife & Afrobeat Classics 1973-1980" (Strut Records)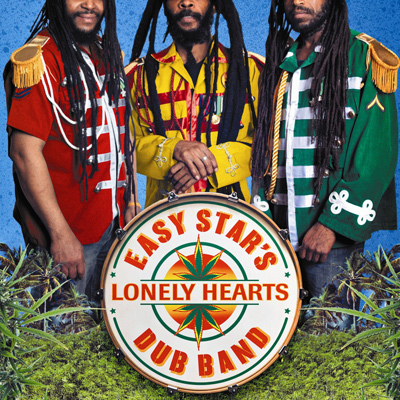 I first came across the next band a few years back and they blew me away. They have up to now specialised in taking classic albums and re-doing them dub-style.
What's special about them is the conceptualisation of how they approach each of these revered albums and the amazing attention to detail in the execution of them.
I first heard their version of the Pink Floyd classic, renamed as the "Dub Side of the Moon" and then Radiohead's "OK Computer" redubbed (sorry for the rather obvious pun there!) as "Radiodread".
This next track which features Frankie Paul is taken from their 2009 release, a reworking of The Beatles' Sgt Pepper's Lonely Hearts Club Band appropriately enough called: The Easy Star's Lonely Hearts Dub Band. This is going out to the missus - what else but "Lucy in the Sky with Diamonds"
(2) 13 "Lucy In The Sky With Diamonds" (4:33) by the Easy Star All-Stars (feat. Frankie Paul) from the album "Easy Star's Lonely Hearts Dub Band" (Easy Star Records)
Yes, yes, the Easy Star All-Stars and "Lucy In The Sky With Diamonds" from the "Lonely Hearts Dub Band" album. Incidentally they've also released a remix version of their first album called "Dubber Side of the Moon" last year and this year should have released their first album of original tunes called "First Light".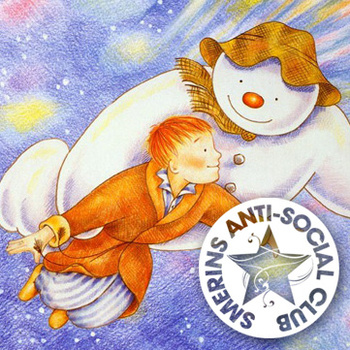 OK, since we were up in the sky with Lucy and her diamonds just now, it seems appropriate to play this next track: "Walking In the Air" - and, no, there's not even a hint of Aled Jones about it!
(3) 14 "Walking In The Air" (3:16) by Smerins Anti-Social Club
Ha ha ha!
Yes, that was Britain's very own Smerins Anti-Social Club and their ska-tastic version of "Walking In The Air"!! Love that - and not a snowman in sight . . .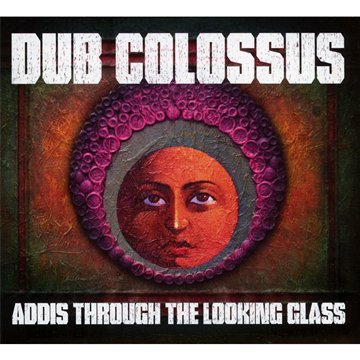 And whilst we're on this ska and reggae tip here's a MONSTER tune!
This one gets me every time I play it.
Definitely my hot hit for Womad this year.
The most excellent Anglo-Ethiopian band Dub Colossus and an amazing Ethiopian dub version of Althea & Donna's brilliant tune "Uptown Top Ranking"!
ABSOLUTELY love this one.
Can't praise it high enough!
People, I tell you, turn up the volume and get skanking!
(4) 15 "Uptown Top Ranking (radio edit)" (4:17) by Dub Colossus from the album "Addis Through The Looking Glass" on Real World Records
[CONTINUOUS]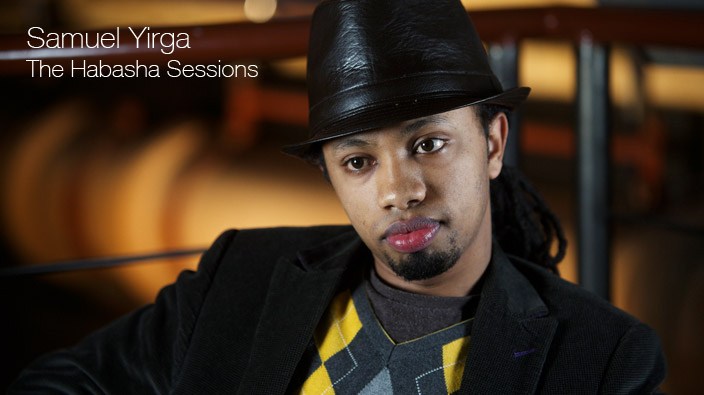 (5) 16 "Habasha Diaspora (Addis Piano Mix)" (6:05) by Samuel Yirga from the album "The Habasha Sessions" (released by Bower and Wilkins Society of Sound)
Wow! Breathtaking! That was another insight into what's making Ethiopia utterly irresistible these days. That was the young pianist Samuel Yirga (who was also on the previous track by Dub Colossus) and a tune called "Habasha Diaspora" (the Addis Piano mix) from an as yet unreleased album due out later this year. Keep an ear out for that: Samuel Yirga.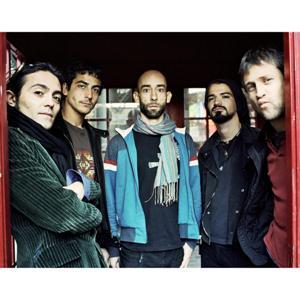 Ok, we haven't had much Balkanic music recently on the show - so let's change that.
First of all here's a UK based band made up from an Argentine, a Portuguese and three Italians.
They mix up balkan, latin, jazz, punk and well, to be honest, pretty much anything they can get their hands on!
Confused? Don't worry, just let the music get inside you.
I saw these guys a few weeks ago at the HOME Festival in Devon - and they are a truly magic band to see live - don't miss them at Womad this year if you can. Appropriately enough they are called Alejandro and the Magic Tombolinos and this is a tune called "Vera Cocek" from their album "Full Attack with Sudden Defences".
(6) 17 "Vera Cocek" (4:09) by Alejandro & The Magic Tombolinos from the album "Full Attack with Sudden Defences" on Nu Power Ethno label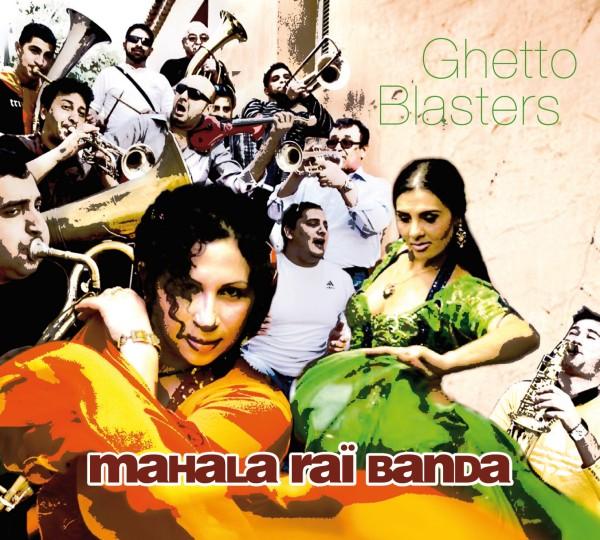 Over to the one of the major repositories of European gypsy culture, Romania. This is the Mahala Rai Banda and a track called "Hora Din Mahala".
At this point I should shout out some linguistically appropriate exhortation for all of you to dance, but here my knowledge of Romania ends, so shout out whatever you want to and just jiggle, bounce and shake your bits to heart's content!
(7) 18 "Hora Din Mahala" (3:19) by Mahala Rai Banda from the album "Ghetto Blasters" on the Asphalt Tango label
[CONTINUOUS]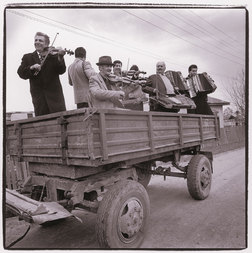 (8) 19 "A Gypsy Had A House" (3:47) by Taraf De Haïdouks from the album "Band Of Gypsies" on the Crammed Discs label
Wasn't that wonderful!
That was Taraf de Haïdouks also from Romania and a track called "O Tsigan Ave o Casa" - which translates as "A Gypsy Had A House", from the album "Band of Gypsies".
OK that's it - we're at the end of the show and so I want to thank all of you for listening in to this WOMAD Special - remember every band you've heard tonight is appearing at Womad Festival in Charlton Park, next week. For a full list of all the tracks I've played tonight and all previous weeks please go to www.worldmusic.co.uk/radio and you'll find all the info you need.
[Final shout-outs, thanks etc]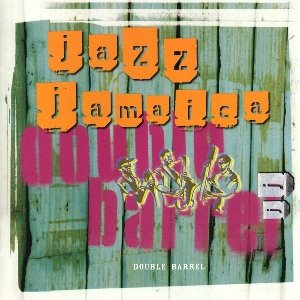 And to finish the UK's own Jazz Jamaica and one of my favourite tracks of theirs.
From the 1998 album "Double Barrel" this is their remake of the old Skatalites groover "Confucious".
(9) 20 "Confucious" (5:01) by Jazz Jamaica from the album "Double Barrel" (Hannibal 1998)
WorldBeatUK (16th Show) - Broadcast Notes (15/6/11)
Tagged with: WorldBeatUK Glyn Phillips Battlefield Band Rachel Harrington Tanja Tzarovska Perunika Trio Nisos Max Pashm Quiné Kerieva Krar Collective Samuel Yirga Krosscolor Sierra Leone Refugee All Stars Cumbancha Brassafrik Barriobeat Saa Andrew Dartington Home
WBUK16 (15/6/11) - SHOWNOTES

1 "Intro-Mat"by Matchatcha from the album "Nyekesse" (Melodie)
Hi there! You're listening to WorldBeatUK on Rhubarb Radio - I'm Glyn Phillips and I've got two hours of great music lined up for you this evening -including: electroswing from Italy, acapella from Bulgaria, Greco-Turkish fusion from the Czech Republic and americana from, well, America!
There's also a Macedonian chanteuse who sings in English, a British gypsy who sings in Roma, a Portuguese percussionist steeped in Mozambican rhythms, electrified Ethiopian harp, dancehall reggae from Sierra Leone via Canada, soukous from Sierra Leone via the USA and more latino-balkan fusions than you can shake a brass band at!
If that wasn't enough, I've some drum'n'brass afrofusion from Belgium, wonderful ethiojazz from Addis Abbaba, a focus on the music of South America's only English-speaking country Guyana (both jazz and reggae) and the UK's Ska Cubano and DJ Max Pashm jump aboard the Orient Express!
But before all that, welcome to the show and straight up I'm previewing a forthcoming new album from Scotland's famous folkers - and torchholders for over four four decades for Caledonian Celtic music - The Battlefield Band.
The Battlefielders have recently recruited a new member, multi-instrumentalist highlander, Ewen Henderson and is mostly, as you would expect, traditional Scottish folk music. And very good it is too, although they also do an interesting reinterpretation of an Otis Redding Soul classic, "That's How Strong My Love Is" as well as tunes from Ireland and Brittany.
The album, called "Line Up" is due to be released on July 25th this year and is on the Temple Records label This is the opening track - a medley of three tunes: "Raigmore", "Long Run" and "The Clansmen Mourning":
2 "Raigmore / Long Run/ The Clansmen Mourning" by the Battlefield Band from album "Line Up") - www.battlefieldband.co.uk
The term 'americana' has gained a lot of credence recently as a catch-all for american folk music both modern and traditional. And there's nothing wrong with that; like terms such as 'world music' and 'salsa' and 'jazz', it's a useful thumbnail label when approaching an unfamiliar and vast musical territory, or equally for beginning to market and promote complex musical and cultural developments to people who otherwise might run a mile.
Oregon-raised Rachel Harrington's music can be said to encompass many aspects of 'americana' - from traditional folk tunes brought over from Europe and American country laments, to gospel, bluegrass and modern acoustic tales.
Rachel (who by the way has a loyal following over here in the UK due to her acclaimed live performances and is also a close friend of Lindisfarne's Rod Clements) sings, plays guitar and also guitjo - yes, that's right, a guitjo: a cross between a guitar and a banjo! I actually own one - I can't play it, but it makes me feel good just knowing I've got one!
This is from her first album "City of Refuge" (Skinny Dennis Records) - a jaunty little tune to get you tapping your feet, called "Truman".
3 "Truman" by Rachel Harrington from the album "City of Refuge" (Skinny Dennis Records)
Incidentally the album that the last tune was taken from - "City of Refuge" - has been described as "a homage to the people who have slipped through the cracks of modern music: dreamers, thieves, drunkards, sinners and good-old fashioned romantics". You can find out more about Rachel Harrington at her website: www.rachelharrington.net.
Rachel's got a new album out at the moment called "Celilo Falls" (Skinny Dennis Records) and from that I've chosen a track called "House of Cards":
4 "House of Cards" by Rachel Harrington (Celilo Falls)
Macedonian singer/songwriter, Tanja Tzarovska, released her latest album "No Record of Wrong" last month. It's sung entirely in English, has some covers of tunes by people like Nick Drake and Leonard Cohen, etc, but also has elements of East European music floating through it, like a scent caught on the wind. This track is called simply "Home".
5 "Home" by Tanja Tzarovska from the album "No Record of Wrong" (Amaris River/Cadiz Music)
To the east of of the mountainous state of Macedonia, lies Bulgaria and from there we come across a wonderful tradition of choral acapella groups - especially all-female ones. Going back in the 80s and 90s Bulgarian and East European female groups were all the rage in world music circles (think Trio Bulgarka for instance), but you don't hear them so often now, but here's your chance to see what all the fuss was about.
This is a young Bulgarian group called Perunika Trio. Their name stems from the Slavic god of Thunder, Perun and his beautiful young wife Perunika, so beautiful that the Slavs named the Iris after her. The Perunika Trio are well named - and that's all I'm saying on that point.
Musically, they perform perfect harmonies and hauntingly evocative pieces from the great slavic traditions of Bulgaria, Macedonia and Russia. The girls are based in London now, but that doesn't detract from the sonic pictures they create of the great plains, vast forests and mountain ranges of Eastern Europe.
They are on extensive tour of the UK this Summer so look out for them - I shall be looking forward to hearing them at the HOME Festival at Dartington, Devon (Fri 24th and Sat 25th June). This is from their album "Introducing… Perunika Trio" and it's a track called "Rekoh Ti, Tsone":
6 "Rekoh Ti, Tsone" by the Perunika Trio from the album "Introducing… Perunika Trio" (World Music Network)
And of course, south of Macedonia and Bulgaria lie Greece and Turkey and it's from here and Asia Minor in general that the next band draw their inspiration. Nisos are a relatively new band formed originally by clarinettist and composer Nikos Koulouris and percussionist and kaval player Tomas Rossi. The name Nisos means 'island' in Greek and refers to the physical and cultural isolation of where the band currently resides in the Czech Republic, far away from their homelands.
However, they carried their passion for the Greek and Byzantine music and culture of Asia Minor with them and have since added lyricist and vocalist Sofia Prusali as well as members who play bouzouki, saz, ney, oud, bass, and Cretan Lyre and Cretan Lute. Their professed aim is to speak to the heart by the means of music, regardless of the language. You be the judge. This track is called "Piji" from their album "Nisos":
7 "Piji" by Nisos from the album "Nisos"
A final geographical link now in my Eurasian chain: the engine's steaming, the luggage is firmly strapped onto the racks and the guard's got his whistle to his lips! All aboard! This is the Night Train to Istambul!!
8 "Istambul (Not Constantinople) (Max Pashm remix) - Ska Cubano - "Ajiaco! the Remix Album"
Well, I enjoyed the ride anyway! That was a 21st Century version of the 1930s classic "Istanbul (Not Constantinople)", here performed by Ska Cubano but given a remake-over by veteran British remixer Max Pashm, who I'm also looking forward to seeing at the Home Festival in Devon in a couple of weeks.
Now then, from Portugal, Joaquim Teles aka Quiné is a percussionist and composer. This next track is from his 2008 debut solo album called "Da Côr Da Madeira" which loosely refers to 'wood-coloured music', in which Quiné uses the Timbila (a Mozambican xylophone) amongst other organic woody sounds to take us on a percussive fusion journey from Portugal to Mozambique. Also on the album are the flautist Paulo Marinho and a quartet of backing vocals. This is called "Maputos"
9 "Maputos" by Quiné from the album "Da Côr Da Madeira" (Quiné - 2008)
Don't forget you're tuned into Rhubarb Radio transmitting from theCustard Factory in Birmingham, England. My name's Glyn Phillips and you're listening to WorldBeatUK a weekly journey around the globe in search of the best in world music and the sorts of sounds you wouldn't normally come across on the radio. Don't forget to join me every Wednesday 7-9pm as I take you around the world in weighty grooves.
Now, over the last couple of weeks I've mentioned the Celebrating Sanctuary Festival to be held in London on 19th June on the South Bank as part of Refugee Week, and I've ben playing music from some of the musicians taking part in that. Well, to round off my focus on that I've got a couple of tracks lined up.
First off is one of the new voices of the UK Roma scene, Kerieva who I understand is of mixed Irish Romany and Manouche gypsy descent. You can find out more about her and the issues she's passionate about as well as her music at these two sites: www.kerieva.blogspot.com and www.soundcloud.com/kerieva.
Kerieva often sings in Romany and this one's no exception. It's from her 2010 album "Stand Aside" on Rala Records and besides Kerieva on vocals, strings, guitar, tacaneo, palmas, harmonium, accordion and Irish harp, the album features Indo-jazzer Arun Ghosh on programming, keys, and clarinet, Rastko Rasic on drums and Dr Das on bass. This is called "Ceraina" (Chera-INa)

(1) 10 "Ceraina" by Kerieva from the album "Stand Aside" (Rala Records CD001 June 2010)
[CONTINUOUS]
(2) 11 "Gurugenya" by the Krar Collective from the album
And that last track was also by a group playing at the Celebrating Sanctuary Festival in London this weekend, the Krar Collective, originally from Ethiopia and now based in London. The krar refers to the Ethiopian harp played there by Temesgen Taraken and with the traditional kebero drums played by Amare Mulugeta and vocals by Genet Asefa. That track was called "Gurugenya".
And from that funky and electrified, but still quite traditional Ethiopian performance to some right on the money Ethiopian jazz with a dub sensibility.
This is the excellent young Ethiopian pianist Samuel Yirga, who's part of the brilliant Dub Colossus who I'm very excited about indeed (and have been booked for this year's Womad at Charlton Park). Samuel's due to release an album in his own name later on in the year called the Habasha Sessions, so here's a little taster of how it might sound. This track is called "Habasha Diaspora (Addis Piano Mix)" and I'm majorly loving it! You've been told!
(3) 12 Habasha Diaspora (Addis Piano Mix) by Samuel Yirga
[CONTINUOUS]
(4) 13 "Jazz" by Colgrain Whyte
And from one piece of great ethiopian jazziness to a slice of Guyanese jazz pan heaven. That last track was by a steelpan jazzman by the name of Colgrain Whyte who hails from Guyana in South America.
Now Guyana's one of those countries that many people are not sure where exactly it is or really anything about it. You could be mistaken for thinking it's in the Caribbean, but it's actually far away on the Northeastern coast of South America facing the North Atlantic and sandwiched between Venezuela, Brazil and the former Dutch colony of Suriname.
But it seems to look towards the English-speaking Caribbean islands rather than it's Spanish, Portuguese and Dutch-speaking neighbours for cultural influence. And so soca and reggae are very much in evidence in this large English-speaking outpost as well as indo-guyanese chutney music.
The next track is by Eze Rockliffe also from Guyana and it's a lovely piece of laid-back reggae from a singer who's been gently rocking it since the 1970s at least. This track is called "Suki Bajendo".
(5) 14 "Suki Bajendo" by Eze Rockliffe
[CONTINUOUS]
(6) 15 "No Love" by Tennicia
And at the other end of the age range to Eze Rockcliffe, in the last of my trio of Guyanese musical treats, that was the lovely young singer, Tennicia and a reggae number called "No Love".
All three of these artists, jazzpan player, Colgrain Whyte, and singers Eze Rockliffe and Tennicia are on Guyana's own Krosscolor label and agency and you can find out a bit more about them and other artists at www.krosscolor.com.
Ok, ready for some soukous? But this time from Sierra Leone's Refugee All Stars. They're in the UK at the moment and you can catch them on Sunday 19th June at the Africa Oye Festival in Liverpool and also performing in Hull as part of the Refugee Week celebrations there on Wednesday the 22nd June - that's if you're not listening to me on my next show!
This is from their last album "Rise and Shine" on the Cumbancha label and a track called "Tamagbondirsu" - get yer dancing shoes on kids! It's time to soukous!!
(7) 16 "Tamagbondorsu" by Sierra Leone's Refugee All Stars from the album "Rise and Shine" (Cumbancha)
[CONTINUOUS]
(8) 17 "Djamaa" by Brassafrik from the album "Brassafrik" (A-Shams)
That was a track called "Djamaa" by the Belgian-based afro-fusion band Brassafrik from their eponymous album on the A-Shams label. With a four-piece African percussion core led by the tama and djembe player Babs Jobo and trombonist Stefaan Blancke heading the 6 piece brass section they create explosive skin and horn dance music.
They'll also be in the UK this summer - certainly at the Durham International Brass Festival (4-8th July) and you can find out more about them at www.met-x.be
Returning to Sierra Leone for a moment here's another African refugee making music in a foreign land. This time it's Saa Andrew Gbongbor a young singer who fled Sierra Leone, spent time in a refugee camp in Gambia and eventually being rehoused in a small Canadian town in New Brunswick.
Saa like so many people around the world has been very influenced by the music of Jamaica and prefers to play a form of dancehall reggae. This is his tune "Butunneh Banda" from the album of the same name.
(9) 18 "Butunneh Banda" by Saa Andrew from the album (Butunneh Banda)
OK we're heading into the last furlong of the show, so let's get the party started! A couple of tracks by a remixer whose work I'm really loving at the moment.
This is Rude Hi Fi of Barriobeat fame and a catchy little bit of latinobalkandubrap-ting-and-ting called "Niente Minkia Cacata!" - just grab yourself a dance partner, hold 'em close, very close and start rocking it, y'hear!
(10) 19 "Niente Minkia Cacata!" (ft Rude Hi Fi & Don Skal by Barriobeat)

[CONTINUOUS]
(11) 20 "Santo Precario" (Balkan Cumbia remix) by Barriokatz/Fat Kat Disco (Barriobeat).
Yeah, yeah, wasn't that a groove?! Barriobeat's Balkan Cumbia remix of "Santo Precario".

Don't forget you can hear Brummie Ska band the Heels this Sunday 19th June at the Leamington Peace Festival which is a free one-day festival 11am-6pm at the Pump Rooms in Leamington Spa near Warwick.
This is the last one - those Italian electro-retro cool-cats Mixer Pirillo and the Sweet Life Society want you to swing it babies! This is "Artichaut (Chinese Man)". Enjoy and see y'all next week!
(12) 21 "Artichaut" (Chinese Man) mixer Pirillo edit by The Sweet Life Society
1