WorldBeatUK (19th Show) - Broadcast Notes (6/7/11)
Tagged with: WorldBeatUK Glyn Phillips Colombiafrica Professor Elemental Zeca Pagodinho Zulu 9.30 Lisandro Meza Etubom Rex Williams Strut JuJu Ikebe Shakedown Shazalakazoo Slamboree Goy Karamelo Tommy McCook Letta Mbulu Supa Bassie Joe Claussell Nuyorican Soul Tea Sea
WBUK19 (6/7/11) - SHOWNOTES
1 "Intro-Mat" (1:47) by Matchatcha from the album "Nyekesse" (Melodie)
Hi there, you're listening to WorldBeatUK on Rhubarb Radio, transmitting around the world from the Custard Factory in Digbeth, Birmingham - all done through the magic of digital technology. Such times we live in! My name's Glyn Phillips and for the next two hours I'll be playing you my own idiosyncratic collation of the best in world music from around the globe; from the past and present - and looking toward the future.
This week it's all about the soul and the funk, the grist and the groove - and there's a definite African and Colombian flavour to much of tonight's sonic banquet. So, just grab hold of yer eating irons and get stuck into the musical feast that awaits you . . .
In fact this week's show is slightly different from normal - there's very few new releases this time, so I thought I'd rustle through some interesting oldies, almost-newies and the 'ones that got away' - and in doing so I've managed to dig up some seriously funky-ass grooves to get you shaking yer tushes to!
But let's not rush it, we'll just put the pot on to boil, gently warm up the pan and put the pulses in to soak. You can't rush good food. We'll just get you nicely simmered up for the first part of the show and, indeed, first up is the point where the South American country of Colombia (bordered by the Pacific Ocean, the Caribbean Sea and the Amazon Jungle) meets Africa (culturally speaking anyway).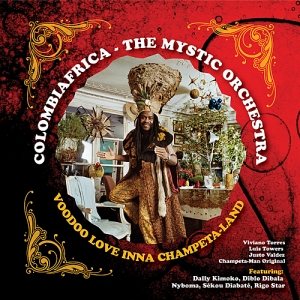 Colombiafrica - The Mystic Orchestra is a project that takes some of the best afro-colombiano musicians Viviano Torres, Luis Towers and Justo Valdez and teams them up with African musicians such as Dally Kimoko, Nyboma, Sekou Diabaté, Rigo Star and the brilliant Diblo Dibala (who, incidentally is the man behind my theme music for this show!). The album is called "Voodoo Love Inna Champeta-Land" and this track is called "No Habla Na'" (Don't Say Nuthin'!)
2 "No Habla Na'" (4:43) by Colombiafrica - The Mystic Orchestra from the album "Voodoo Love Inna Champeta-Land" (Riverboat Records/World Music Network)
Well, that was all rather splendid, don't you think? Professor Elemental certainly thinks so!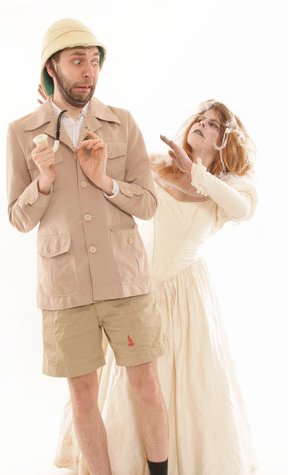 3 "Splendid (Tom Caruana remix)" (3:02) by Professor Elemental from the album "More Tea (Remixes)" (Tea Sea Records)

Yes that was the wonderfully eccentric Englishman Professor Elemental and a track from his recent album "More Tea (Remixes)" called "Splendid!" - check the video out on YouTube if you can, and remember you can get his tracks direct from his website:
And if you're listening Prof, hope the baby's coming on a treat! And stay tuned for more Elemental eccentricity later on in the show!
Last week I had a little bit too much to say (as usual!) so unfortunately I ran out of time and had to drop a track from my playlist. Well don't say that I don't try and put things right straightaway. Here's that track a great feelgood samba tune called "Vai Vadiar" by the great Zeca Pagodinho from his album "Sem Limite". Goza os meus amiguinhos!
4 "Vai Vadiar" (4:07) by Zeca Pagodinho from the album "Sem Limite" (Universal Import)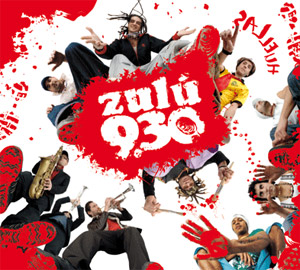 OK, let's nip across to Barcelona for the first of two visits tonight. This is the home of the really talented Spanish band Zulu 9.30 who are amongst the current wave of European mestizo music - a style that often mashes up latin, Jamaican, flamenco, folk, jazz, rock, punk and, well, all kinds of stuff into a danceable world groove. It's all grist to the mill! This is from their album "Huellas" (which means 'footprints') on the Kasba label and is a salsa-based piece called "Te Llevo Conmigo" (I'm taking you with me!).
5 "Te Llevo Conmigo" (3:36) by Zulu 9.30 from the album "Huellas" (Kasba)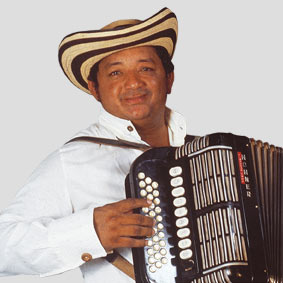 And that sets us up nicely to go back over to South America for a lovely slice of 1980s cumbia from the great accordionist Lisandro Meza - probably the first cumbiambero I ever came across when I first pitched up on the shores of South America over a quarter of a century ago. What a great sound he has. So slap on the sombrero, sharpen your machete and mount up your burros because Lisandro is taking us to meet "Las Africanas" . . .
6 "Las Africanas" (2:18) by Lisandro Meza from the album "Lisandro's Cumbia" (World Circuit)
[CONTINUOUS]
7 "Illusion de Amor" (4:13) by Los Chapillacs (Listen Recovery RENZ mix)
First you heard the sound of Colombian cumbia from accordionist Lisandro Meza and that was followed by psychedelic 1970s Peruvian chicha music (which is based on cumbia) by Los Chapillacs subtly remixed by Listen Recovery RENZ.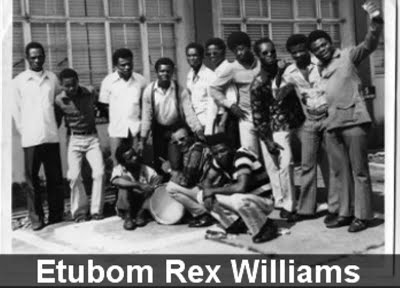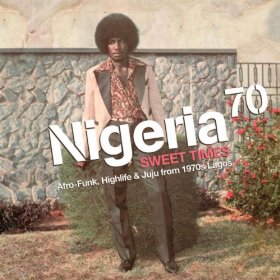 Let's follow that with some more old school sounds - this is from a wonderful recent compilation of old Nigerian tunes from the 1970s.
The album is on the Strut Records label and is called "Sweet Times…"; from that is this sublime slowburner "Ama Mbre Ewa" by Etubom Rex Williams & His Nigerian Artistes. Just kick back and let this one flow over you . . .
8 "Ama Mbre Ewa" (5:38) by Etubom Rex Williams & His Nigerian Artistes from the album "Sweet Times" (Strut Records)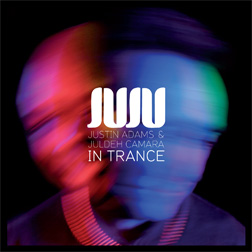 Wasn't that good? Very trance-like feel - and talking of which this next track is from a recent album on Real World Records called "In Trance" by the Anglo-Gambian duo of Justin Adams and Juldeh Camara.
And please note Justin and Juldeh will be performing right here in Birmingham the day after tomorrow at the mac, in Edgbaston, in the open air arena. That's going to be a real treat indeed! I saw them a couple of weeks ago down in Devon at the HOME Festival doing an acoustic set - a real mindblower!
Juldeh is from Gambia in West Africa and is a real virtuoso on the ritti or nyanyeru (the traditional one-string fiddle of West Africa). Doesn't sound very inspiring? Trust me, this guy really knows what he's doing! Amazing licks and he can make it sound like lots of different instruments too - all on just ONE string and no fretboard!! He also sings really well and has real presence.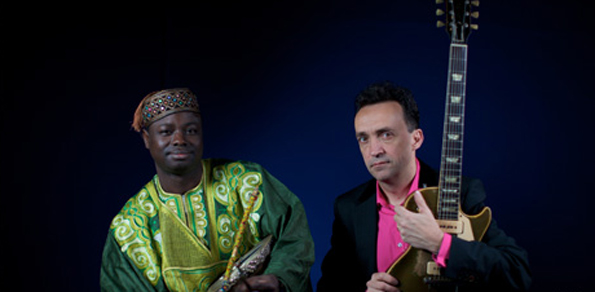 Justin's no slouch either - he's served time with Jah Wobble and has also produced and co-written with Robert Plant. Justin plays some mean blues guitar and banjo and sings too.
If you want to hear where the blues comes from, where the Gambia meets the Mississippi, where West Africa meets the Celtic World, then check these guys out. Highly recommended!
So that's this Friday at the mac (7.30pm and the support band is the African Roots Fusion Band)
OK, so here's a taster for that - a laidback bluesy piece called "Halanam"
9 "Halanam" (7:09) by JuJu (Justin Adams & Juldeh Camara) from the album "In Trance" (Real World Records)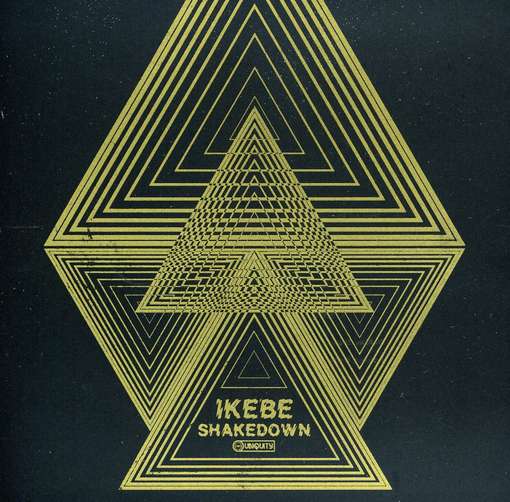 So, from the ethereal sound of the one-string fiddle to the simultaneously 'in-yer-face' but 'so-laid-back-it's-almost-horizontal' sounds of afrobeat-funk band Ikebe Shakedown from Brooklyn, New Yoik! Love their sound!
And that cowbell! That's exactly how I'd play it too . . . Hmmmm! Not so much 'music in the key of life' as 'groove to the universal pulse'.
This is the "Kumasi Walk" from their album also called "Ikebe Shakedown" on the Ubiquity label.
10 "Kumasi Walk" (4:42) by Ikebe Shakedown from the album "Ikebe Shakedown" (Ubiquity)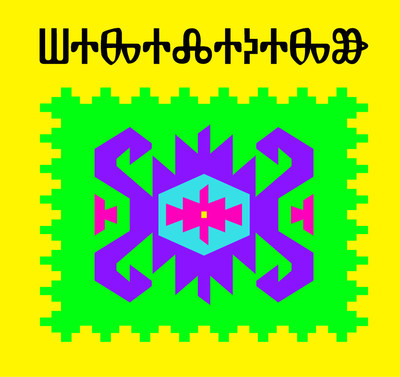 OK, WAKEY-WAKEY!! Balkanbeat madness to the max! This is "Marock" by Shazalakazoo.
11 "Marock" (3:54) by Shazalakazoo
[CONTINUOUS]
.

12 "Moon Monkeys" (1:15) by Professor Elemental from the album "More Tea (Remixes)" (Tea Sea Records)
[CONTINUOUS]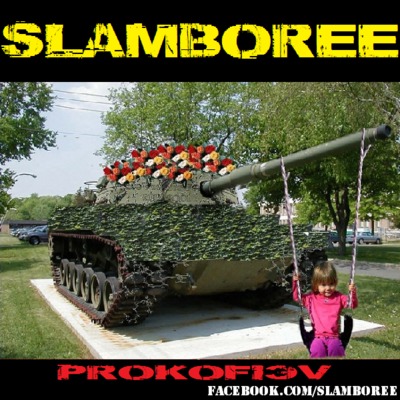 13 "Prokofiev" (3:20) by Slamboree
I bet that cleared yer sinuses out! OK first of all in that little medley you heard a modern piece of Balkanbeat madness from Shalakazoo followed by a little interlude of Professor Elemental lunar monkey business and then, no it's not those tossers from The Apprentice - it is of course the Russian genius Prokofiev's "Dance of the Knights" from Romeo and Juliet - given a peculiarly British Dubstep treatment by Slamboree, a collective that includes Rhubarb Radio and Birmingham's very own DJ Marc Reck (AKA DJ Narrative).
.
So in true WorldBeatUK fashion, from the ridiculous to the sublime...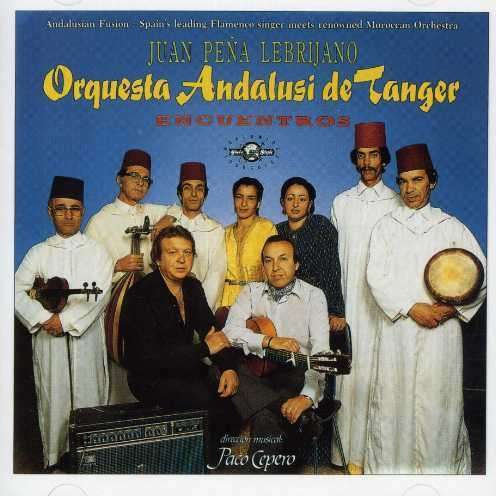 From the 1980s a glorious fusion of Andalusian flamenco with a Moroccan orchestra - Juan Pena El Lebrijano and the Orquesta Andalusi de Tanger.
I first bought this album "Encuentros" on vinyl and fell in love with the album sleeve, the rather dapper looking silk-cravatted Paco Cepero on guitar, the open-shirted, medallion-chested singer Juan Pena El Lebrijano both seated in front, and behind them two Moroccan women and five blokes in neck-to-ankle pure white shifts and - joy of joys - each one wearing a red fez! It was better than a Tommy Cooper convention!
Aah, but you think I jest too much methinks! Let me tell you however the music is fabulous! Here's the opening tune from the album. It's called "Vivir Un Cuento De Hadas" (living a fairytale) and I think you'll see what I mean
14 "Vivir Un Cuento De Hadas" (5:08) by Juan Pena Lebrijano and the Orquesta Andalusi de Tanger from the album "Encuentros" (Ariola)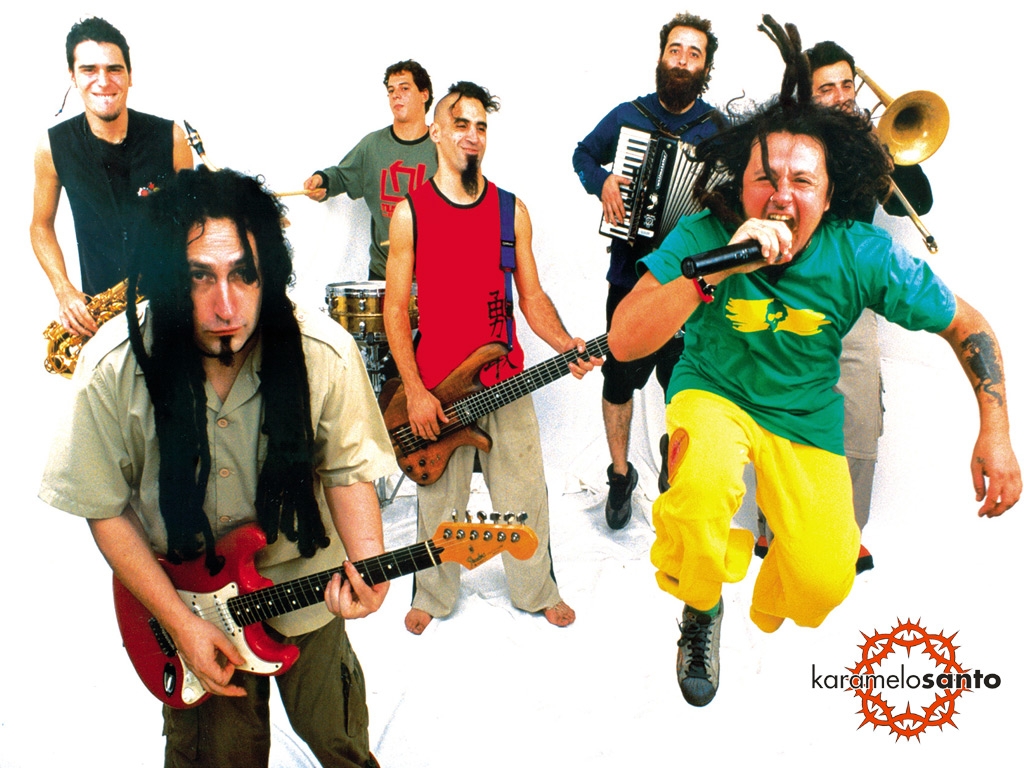 [CHANGE THE CDS OVER!]
Wasn't that sumptuous! Ok, let's take it up again a notch. This is a cumbia-based track with a reggaeton feel and andean folkloric overtones mixed with hip-hop; originally written by the Argentine band Karamelo Santo and featured in the Latin American film "Caño Dorado"; here it's remixed by Goy Karamelo (now a solo musician). I'm really loving some of the stuff that's been coming out of Argentina recently and this is no exception. "Que No Digan Nunca"
(1) 15 "Que No Digan Nunca" [Ends at 3.48] (4:03) by Karamelo Santo (Caño Dorado film music - remix by Goy Karamelo) from the album "Mi CD"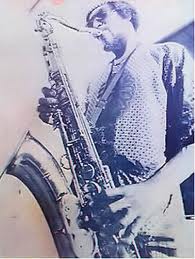 [BEWARE: Ends at 3.48!!]
OK, two in a row now; same song but for some reason with different names. I'll tell you after, what the details are, but if any of you say Lily Allen I'll never talk to you again!
(2) 16 "Reggae Merengue" (2:16) by Tommy McCook & The Supersonics
And now another version . . .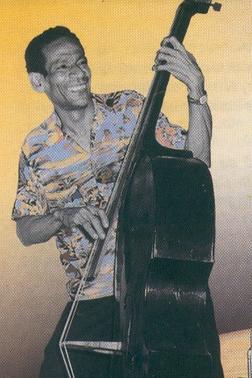 (3) 17 "Cójeme La Caña" (3:00) by Pedro Laza Y Sus Pelayeros (Mixticius)
So, first one was an old version by Jamaican saxophonist Tommy McCook and the Supersonics called - for some bizarre reason on the version I've got - 'Reggae Merengue' (although it's obviously a cumbia to me!) and that was followed by the Colombian bandleader Pedro Laza y sus Pelayeros and the same tune but called "Cójeme La Caña" - and that was a remix by Mixticius; you can find more of his work on Soundcloud.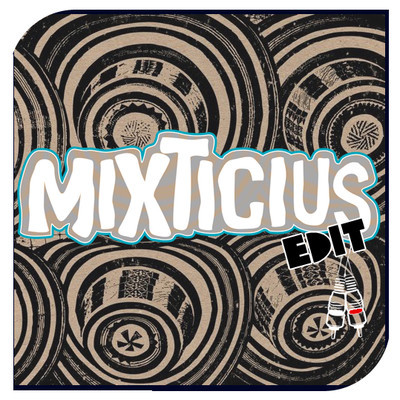 .
.
.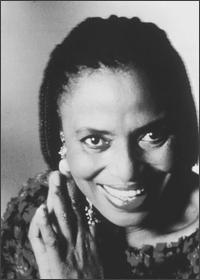 Well, a real treat now - I absolutely love this! From the "Gilles Peterson in Africa - The Soul" album this is South African singer Letta Mbulu and some tasty, tasty funk called "Mahlalela". Brilliant!
(4) 18 "Mahlalela" (4:45) by Letta Mbulu from the album "Gilles Peterson in Africa - The Soul" (Ether)
[CONTINUOUS]
.
.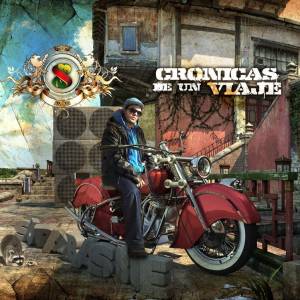 (5) 19 "Original Cumbiamuffin" (4:57) by Supa Bassie
Ha ha ha! Love that one!! That was reggaeman Supa Bassie from Valencia and a tune called "Original Cumbiamuffin" - a cumbia reworking of his hit "Original Raggamuffin" from the "Crónicas de un Viaje" album.
And since I'm in that remixing mood how about this little mashup from young Mexican mixer Outsider8301 - this is Sidestepper's groovalicious "Papaya" vs Wreckx-n-Effect's 1992 butt-wobbling "Rumpshaker", with a little MIA thrown in for good measure. You can start bouncing now ladies!
(6) 20 "Papaya vs Rumpshaker" (5:29) by Wreckx + M.I.A. vs Sidestepper (Oscar Outsider 8301)
[Talk over intro to next track]: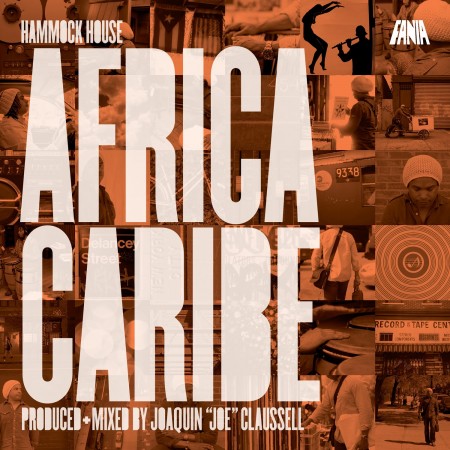 OK, we're definitely in the groove now, brothers and sisters! And time to lay this one on you. This is where latin meets soul, meets jazz meets funk. Eddie Palmieri is both a giant and a living legend in the annals of New York latin jazz and here his amazing "Mi Congo Te Llama" gets a very liberal deconstruction by Joaquin "Joe" Claussell from the brand new album "Hammock House - Africa Caribe" on the Fania label. 7 minutes of stone-solid groove, babies!
[BEWARE - LONG QUIET START!!]
(7) 21 "Mi Congo Te Llama" (Joe Claussell Remix) (6:59) by Eddie Palmieri from the album "Hammock House - Africa Caribe" (Código/Fania)
OK and that's the end of the show . . .
[SHOUT-OUTS TO ALL AND ANNOUNCEMENTS - reminder about Justin and Juldeh at mac]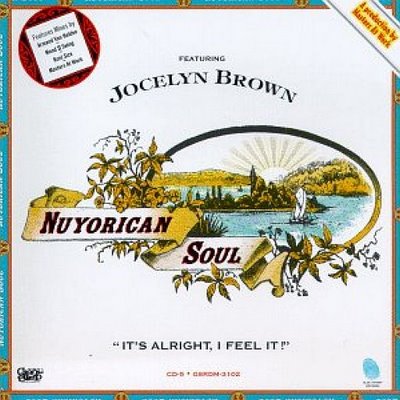 I said at the top of the show that tonight was all about the funk and the soul, the grist and the groove. Well, I've tried to give you that tonight and I hope you agree. If you don't feel so, then at least you should be able to with this final track.
This is the fantastic Jocelyn Brown and Nuyorican Soul and a track from the Masters At Work album "Nuyorican Soul". Turn up your speakers as loud as they'll go and say after me: "It's Alright, I Feel it!"
(8) 22 "It's Alright, I Feel It!" (3:22) by Jocelyn Brown & Nuyorican Soul from the album "NuYorican Soul" (Talkin Loud)
WorldBeatUK (5th Show) - Broadcast Notes (30/3/11)
Tagged with: WorldBeatUK Rhubarb Radio Glyn Phillips Yancouba Diebate Kedjevara Luisa Maita Antonio Zambujo Show of Hands Namgar Myrddin Bongomatik Bombino Sargento Garcia Soundways Jolly Boys Terrakota Cumbancha Slamboree M'siou Rigolitch Zaperoko
Playlist notes for 30th March 2011
1 "JINGLE 1" ("Intro-Mat" by Matchatcha)
Welcome to my fifth WorldBeatUK and the first on the new weekly slot of Wednesday and in the new timeslot of 7-9pm UK time.
Lots of goodies coming up tonight, including . . .
Tuareg Desert Rock from Niger, Baiao from Brazil, Fado from Portugal, Flamenco from Belgium, Dutch R'n'B latino, English Folk, Siberian Folk, Franco-Colombian cumbiaton, Puerto Rican Plena-Guaguanco, Colombian cumbia-guaguanco, Mento from Jamaica, Calypso from Balsall Heath and some absolutely corking Balkan Bangers and Mash-ups to name but a few!
So lock yourself into the station, turn up the speakers and enjoy the ride!
First up tonight is Chris Velan - a Montreal-based singer-songwriter and lawyer who produced a documentary film about a group of refugee musicians from Sierra Leone. Here he teams up with the subject of that film, the oh-so--logically named Sierra Leone's Refugee All Stars, on an almost Paul Simon-esque track (and that's not a criticism) on the Cumbancha label called: "Iñez".
2 "Iñez" - (5.29) - Chris Velan & the Sierra Leone's Refugee All Stars (Cumbancha)
We're staying in Africa for a little while now, and this next track comes from Senegal. It's off a demo sampler from the French label Pure Son'g and features one of their artists, Yancouba Diebate, a wonderful kora player on a lovely piece entitled "Lannaya"
3 "Lannaya" - (4.15) - Yancouba Diebate - (Pure Son'g)
OK, last one now from Africa for a while and this is from the Akwaaba Music label. To mark the 2nd anniversary of their existence they've released a double album called "Chop Our Music - Akwaaba 2 year Anniversary Super Release!" - a CD containing no less than 50 songs gleaned from their roster of artists, many of whom I'd never heard of before - quite a treasure trove of artists and different styles from all over Africa from really traditional sounds to the overtly poppy and from dance dynamite to the ubiquitous hip-hop fusions. The track I've chosen for tonight is by Kedjevara from the Ivory Coast and is an uplifting dance piece called "Tchoucou Tchoucou".
4 "Tchoucou Tchoucou" - (4.19) - Kedjevara - (Akwaaba)
A couple of quick announcements for people who've recently left us for the Great Gig in the Sky, firstly to the 97 year old Pinetop Perkins, American boogie-woogie pianist best known for his stints with Muddy Waters and Robert Nighthawk who was still gigging until very recently and who passed away last week.
And secondly the Brazilian singer/composer/writer and visual artist Lula Côrtes who was best remembered for his collaborations with Zé Ramalho (in particular the legendary album "Paêbirú") as well as his solo work; Lula sadly died from throat cancer last Saturday in Recife aged 61.
However a big shout out for someone who's still very much with us! Birmingham's own Andy Hamilton, Jamaican jazz saxophonist, who's just celebrated his 93rd birthday last week with a couple of gigs and is still to be found playing his own brand of Caribbean Jazz in the Midlands. Long may he do so.
Andy famously used to play for Hollywood legend, Errol Flynn back in Jamaica and near the end of show I've got another Errol Flynn connection with Jamaican mento superstars The Jolly Boys, who actually have Flynn's widow in one of their recent videos . . . So stay locked into WorldBeatUK for that because it's going to be a real treat!
OK, now a treat for lusophones and lusophiles with the next couple of tracks; first up is the rising star of Sao Paulo in Brazil, the beautiful Luisa Maita, who is being championed by the American label Cumbancha.
This version is from last year's hit album "Lero-Lero" (although they've recently released an interesting remix version of the album called funnily enough "Lero Lero Remixed"!), but this is taken from the original; it's a song set to the baiao rhythm of north-eastern Brazil and it's called "Fulaninha" - which roughly translates as 'Jane Doe' to Americans, and translates to us in the UK as "Whatshername"; of course, if you're listening to me from my motherland of the Black Country, it translates as "Wosserfairce"...
5 "Fulaninha" - (3.36) - Luisa Maita - "Lero Lero" (Cumbancha)
. . . CONTINUOUS . . . .
6 "Readers Digest" - (3.27) - Antonio Zambujo (Zouma Records)
You're listening to WorldBeatUK on Rhubarb Radio, with me Glyn Phillips, your host amidst a planetful of world music.
Now, you've just heard the wonderful Portuguese Fado singer, Antonio Zambujo from his last album, "Guia" on the WorldVillage/Harmonia Mundi label and a quirky, whimsical song called, strangely enough, "Readers' Digest". You can read my review of his Copenhagen concert at www.worldmusic.co.uk/reviews and look for Antonio Zambujo.
For those who might not be familiar with it, Readers Digest is - or certainly was - a small pocket sized booklet which contained articles and abridgements of classic stories for people who wanted to increase their knowledge of the world around them and in particular didn't want to look stupid in front of strangers because they hadn't read the most important novels in the English language. They could read these stripped down versions, gen up on the key points and also increase their vocabulary - a sort of original "Dummies Guide to…"
Readers Digest was sold to combat the fear of social embarrassment due to ignorance. This leads me nicely onto the next track which is entitled "Ignorance". It's by Birmingham's very own steel pan virtuoso Jamma who belongs to one of the two main steel pan families in Brum - in this case Balsall Heath's Stewart family which includes his brother Norman (who founded B'ham's most famous steel pan orchestra, The Maestros), Jamma (3 x British Steelpan Solo Champion) and Jamma's son Jamani.
This is a track Jamma first wrote back in the early 90s after an incident where was refused the opportunity to sit in on his steel pan at a local jazz club and mocked by the organiser, because they didn't consider it a real instrument and certainly not a jazz instrument. Jamma wanted to take the steelpan (the only new acoustic instrument to be invented in the 20th Century) out of the stereotypical Caribbean themed event situation (all 'Yellow Bird' and 'Hot Hot Hot') and say this is a valid instrument for soloing in jazz just as much as a sax or guitar. Still he turned adversity into creativity - in this case using the traditional calypso format in its role as social commentary and satire. This is from his album "The Sun" and it's called "Ignorance".

7 "Ignorance" - Jamma - "The Sun"
Next up is a song also about ignorance - or in this case to give its full title: "Arrogance, Ignorance and Greed". This is one of England's finest folk duos, Show of Hands (made up of Steve Knightley and Phil Beer) and their award winning song which garnered them the 2010 BBC Radio 2 Folk Awards' 'Best Original Song' award). It was also featured recently on Andrew Marr's political show on telly and was performed at last Saturday's 'March For The Alternative' down in London.
You could say that Knightley and Beer's song is is a form of English Calypso - certainly in intent if not in form - as Show of Hands deliver a scathing portrait of the current crop of monied ruling classes, Bankers, MPs, City Traders and CEOs who think they can ride roughshod over the majority of ordinary, decent folk, plunge us in to huge debts, recession and redundancy and then run off scot-free to their hedge fund protected lives with obscene bonuses and payoffs and expect the rest of us to bail 'em out. There's a lot of angry people in the world at the moment! This is from their recent album of the same name: "Arrogance, Ignorance and Greed".

8 "Arrogance, Ignorance and Greed" - (5.00) - Show of Hands
OK, let's get away from all this frustration and travel far from the UK, very far and remote indeed. and 8 timezones to the East of Birmingham. Namgar are a band with their origins in Buryatia province in the remote lands of Siberia, East of Lake Baikal and North of Mongolia, a country with whom the Buryatians share many cultural roots. From a land of grassy plains and huge blue skies this great band often fuse a punk energy and rock attitude onto their Buryat and Mongolian music; however this next song of theirs, from their 2008 album "Nomad" finds them in very traditional form as lead singer and founder, Namgar Ayushievna Lhasaranova sings about the "Orphan Camel Colt". Listen out for the beautiful bowed instrument the Morin Huur (or horse-head fiddle in English) as well as the traditional Siberian Jews' Harp and flutes. I'm dedicating this beautiful track to my good friend of over 30 years, Ana Georgievna
9 "Orphan Camel Colt" - (5.36) - Namgar - "Nomad"
I don't know about you but that certainly had my spirit having an out of body experience over the wind-blown steppes of Siberia. Just beautiful.
And since I'm in that mood and we're all now operating on a higher receptive plane, here's a track that just blows me away every time I hear it. You might remember last week's show when I played music from and talked about the amazing Belgian gypsy jazz band, Waso, and the two musical dynasties of the Limberger and de Cauter families that formed the basis of it. Well this comes from the pen of the youngest son of the brilliant multi-instrumentalist Koen de Cauter, Myrddin de Cauter - or to me 'Myrddin' [Welsh pronunciation] since it is the Welsh name for Merlin.
Myrddin grew up exposed to the North and Central European tradition of gypsy music as well as musettes, waltzes and chanson and originally played clarinet with his family; however at an early age he fell in love with flamenco, switched to guitar and became prodigiously talented on it, renowned not just for his stunning guitar technique, but more importantly for the sheer depth of his compositions and performances.
I beg you not to go and put the kettle on for a cup of tea or leave the room for the next 5 minutes and 3 seconds. Just lay back and float away . . . this is music to leave you gasping for breath as you are carried away upon the musical currents, the swells of emotion, and the virtuosic rip-tides that drag you under their spell. Off his 2009 album "Lucia Nieve" on the Zephyrus label this is "Ama".
10 "Ama" - (5.03) - Myrddin - "Lucia Nieve" (Zephyrus)
You can catch Myrddin in London next Tuesday at the Notting Hill Arts Centre. I would dearly love to get him up here to Birmingham at some point; so if any of that has moved you, get in touch and let's make plans somehow.
OK, staying near to Belgium let's go North into Holland and a real find for me - a wonderful piece of R'n'B latino from a band called Bongomatik and a very cool, very funky track called "Adivínalo".
11 "Adivínalo" - (3.02) - Bongomatik
. . . CONTINUOUS . . . .
12 "Miedo y Terror" - (7.38) - Truco y Zaperoko
. . . CONTINUOUS . . . .
13 JINGLE 2
Before the Jingle you heard the sounds of a combination of two great Puerto Rican bands Truco y Zaperoko and a track called "Miedo y Terror" (Fear and Terror) a fantastic track which fuses Cuban rumba guaguanco with the plena tradition of Boricua. I've been a huge fan of Zaperoko's work for a long time and their first two albums are amongst the treasures of my vinyl collection.
OK, moving on now from the lush Caribbean to the harsh dry desert land of Niger in Saharan Africa and this is a track from Tuareg desert rocker Bombino from his brand new album on the Cumbancha label released just over a week ago on the 22nd of March called "Agadez". Soon to become internationally well known via the release of a documentary film about Tuareg culture entitled "Agadez, the Music and the Rebellion" in which he features this is Omara Bombino Mouctar on a track which translates as 'My Love' and is called "Tar Hani".
14 "Tar Hani" - (6.31) - Omara 'Bombino' Moctar - "Agadez" (Cumbancha)
Yeah that sounds like a really interesting album: Bombino from Agadez. And yet another new release on the Cumbancha label. This is a guy I've been a fan of for some years now: Bruno Garcia - better known to his fans in Francophone countries as Sergent Garcia and those in Hispanophone ones as Sargento Garcia! World famous for his trademark salsamuffin sound developed out of mixing Jamaican and Cuban music, for his new album he's immersed himself into the vibrant Colombian music scene with predictably interesting results. The new album's called "Una y Otra Vez" (Time and Time Again) recently released by Cumbancha in this country (but not until May 17th in the Americas) and this track is called "Mi Son, Mi Friend".
15 "Mi Son, Mi Friend" - (4.15) - Sargento Garcia - "Una y Otra Vez" (Cumbancha)
Sticking with Colombia and moving from 21st Century cumbiaton back half a century or so to the golden age of cumbia, this is another track from one of my favourite albums of the moment Soundways' "Cartagena! Curro Fuentes & The Big Band Cumbia & Descarga Sound of Colombia 1962-1972" and a cumbia guaguancó by Puerto Rico y su Combo (Puerto Rico here being the name of a person, not the island) and a real potboiler of a track entitled "La Cumbia del Pescador"
16 "La Cumbia del Pescador" - (4.21) - Puerto Rico y su Combo - "Cartagena!" (Soundways)
. . . CONTINUOUS . . . .
17 "Balk To The Future" - (3.40) - Slamboree
You're tuned into WorldBeatUK on Rhubarb Radio with me Glyn Phillips - 2 hours of the best world music from all over the planet!
You were just listening to the future of Balkan music - a track called "Balk to the Future"! Now there's a Rhubarb Radio connection to that track since it's by a brand new band called Slamboree which includes Birmingham and Rhubarb's very own DJ Marc Reck (alongside DJ Mike Freear) and an all singing, all dancing, all trapeze-artist, circus juggling, band that fuse performance art with live music and dj and vjs to present a multimedia explosion all within one band. Slamboree have to date only just performed their debut gig up in Hebden Bridge to great acclaim. So watch out for them at a venue near you this Spring and Summer.
And since I'm in a Balkanesque mood, how about this. Ever wondered what you'd get if you mashed up the Amsterdam Klezmer Band with British supergroup Queen and Ozzie rockers AC/DC?? Well France's M'siou Rigolitch has. This is "Back in Balk'".
18 "Back in Balk" - (3.16) - M'siou Rigolitch
You know, I can't get enough of M'siou Rigolitch - really loving his stuff at the moment! This is his remix of a Balkan Beat Box tune featuring MacManu and Charly B and it's called "Bulgarian Lioness Call Me"
19 "Bulgarian Lioness Call Me" - (3.51) - Balkan Beat Box
Wasn't that just GLORIOUS!! Oh, yes! Much earlier on in the show I mentioned that we'd be having some Jamaican Mento on the show and that time has arrived. Now then, I love this band. I'll say it again, I love this band. Once more, I LOVE this band!
60 years or more ago, before dancehall, before reggae, before rocksteady, before even ska, there was Mento. Jamaica's national music form - often confused by tourists as calypso. But mento nevertheless and all those years back in Port Antonio a loose group of musicians performed together in various line-ups, to tourists, to locals, to each other, even to Errol Flynn. This gradually coalesced into a band called the Jolly Boys and despite various lineup changes it still exists today even though half of them are septuagenarians, even octagenarians! (you see the power music has to keep us all young!).
Well, I was privileged enough to see them a few months ago right here in Brum at the HMV Institute and you can read all about that gig by going to my world music website: www.worldmusic.co.uk and looking up in the Reviews section for the Jolly Boys. This next track is off their recent album called "Great Expectation" on the Jamaican GeeJam label where the Jollies take iconic tunes from the worlds of rock, pop, punk etc and re-do them mento style; This track in particular sounds as if it was actually written for them; it's enough to send a certain beehived songstress reaching for the bottle . . . Don't worry, you'll recognise it!
20 "Interlude" - (0.23) - The Jolly Boys - "Great Expectation (GeeJam)
. . . CONTINUOUS . . . .
21 "Rehab" (4.35) - The Jolly Boys - "Great Expectation (GeeJam)
Didn't you just love that!! I certainly did! OK, Pretty much at the end of the show now.
This last track is a real treat. Portugal has been putting out some great music recently and this to me is one of those gems. The band's called Terrakota, the track's called "World Massala" from the album of the same name on the Ojo Records label. And it's just that - a real masala of rhythms, flavours and cultures. Enjoy - I know I will!
22 "World Massala" - (4.09) Terrakota - "World Massala" (Ojo Records)
WorldBeatUK (4th Show)- Broadcast Notes (21/3/11)
Tagged with: WorldBeatUK Glyn Phillips Rhubarb Radio Dr John Dirty Dozen Waso Koen de Cauter Romani Lavotta Salmarina Big Chief Rosellys Palma Coco Soundways Ebo Taylor Gabbidon C Sharp Slamboree Strut Maria Kalaniemi Mariza Barry Phillips Aito
Playlist for Monday 21st March 2011
1 JINGLE 1 0:34 (Glyn Phillips voice-over "Intro-Mat" by Matchatcha)
Coming up on the show this evening: 1950s Gospel, 1960s Cumbia, 1970s Ghanaian Afrobeat, 1980s Gipsy Swing, 1990s Sevillanas, Noughties Fado and Teenies Reggae! But first this: In May 1970 Eric Clapton, Bill Wyman, Charlie Watts, Steve Winwood and a host of others (including various Stones and Beatles) came together to record an amazing album of blues - and the catalyst for all this? One Mr Chester Arthur Bennett. Better known to you and me as … Howlin' Wolf!
2 Built For Comfort 2:11 Howlin' Wolf The London Howlin' Wolf Sessions (Chess/MCA) Blues
That was a track called "Built for Comfort" off the 1970 album "The London Howlin' Wolf Sessions" an experiment that teamed up the legendary Chicago Blues man with some of the then cream of the British crop. OK, so why am I kicking off a world music show with the Blues? Well, it IS world music - in fact along with Jazz, Rhythm and Blues, Cajun, Zydeco and Country music it is America's very own world music.
But more particularly, because yesterday marked the 2nd anniversary of the death of my father - one of two huge musical influences on my life (the other being Alexis Korner) both of whom planted the seeds of my interest in the wider musics of the world. So as a little homage to my father I'd like to share with you some of the tracks, musicians and styles that I grew up with during the 60s and 70s and into the 80s.
My old man played jazz and blues trombone, teaching himself from the age of 17 and throwing himself into the rebel music of his day (that day being 1951) - New Orleans Jazz! "Rebel Music"?! I can hear you say. Why, yes. to people brought up in the war years on American crooners and the British "Hee Hee! Pop the Kettle on Mother!" approach to musical entertainment, New Orleans jazz was wild, unpredictable, rebellious, You needed to learn it by ear, not by notes and best of all - yer parents hated it! Things really don't change do they?
I have precious little recorded material to show for his almost 6 decades of performing. This next piece was given to me by a man who came to his funeral who had played with him back in the 60s in a (very non-rebellious) early form of 'tribute band', given over to recreating note-for-note 1920s style jazz - very much not my old man, but hey it was a gig; however, please listen to this and revel in his 'blink and you'll miss it' 12 second trombone solo which single-handedly blasts away the tuba player and the rest of the band's cobwebs and shows - albeit briefly - that to him music needed to be 'felt' not just played. This is Birmingham's own Ken Ingram's Classic Jazz Kings and a track called "Deep Henderson"
3 Deep Henderson (Take 2) 4:06 Ken Ingram's Classic Jazz Kings KICJK Vol 6 Jazz
Only one more jazz one now because I can feel my brother already gnashing his teeth and reaching for the tranquilizers. There are so many musicians I could pick that I remember him spinning records to in the front room, but this guy is probably the one that most subconsciously influenced my old man's playing style - full-on broadsides of 'bone and big sweeping notes that used the whole length of the slide. This is on vinyl - an old Vogue label ep - and it's "St Louis Blues" by the great Kid Ory.
4 St Louis Blues - Kid Ory Vogue epg1006 Jazz
[VINYL]
If you've just tuned in - don't worry, you're still listening to WorldBeatUK with me Glyn Phillips - I'm just taking the opportunity to use this first hour to commemorate the 2nd anniversary of my father's death with a little homage to what 'world music' we could lay our hands on in those far off days before the 80s. We've had Blues, we've had Jazz; now for the 3rd of the great triumvirate of 20th Century Black American music: Gospel! And in our house two ladies stood head and shoulders above the rest: the excitable dynamo Sister Rosetta Tharpe and the mighty rock of faith that was Mahalia Jackson. We're going on a journey bound for glory with Sister Rosetta on "This Train" and that's followed by an absolute masterclass in control and deep belief in Mahalia Jackson's "In The Upper Room". Firstly though . . . All Aboard!!
5 This Train 2:50 Sister Rosetta Tharpe The Original Soul Sister Gospel & Religious
[CONTINUOUS]
6 In The Upper Room 5:58 Mahalia Jackson Gold Collection Gospel & Religious
Leaving America behind now, but not the ladies, we move into more recognisable world music territory. In 1965 my parents went to Portugal, guests of the son of some very well-heeled Portuguese people. They were taken to a fado house in Lisbon and returned home with a couple of wonderful ep's. It was my first taste of foreign language music - and I really took to it. Who else but the Grand Diva of Fado, the woman in black, the legend in her own lifetime: Amalia Rodrigues and from that very same ep ("Amalia the Beautiful") this a track known in English as 'The Song of the Sea' - Solidão (Canção do Mar)
7 Solidão (Canção do Mar) Amalia Rodrigues Amalia the Beautiful (Columbia) Fado
[VINYL]
Ok, Briefly back over the Atlantic to the States. New Orleans Jazz might have very unjustly got a bad name from the ranks of the 'Cool Jazz' brigade (you know, they should really study their musical history, Jazz did not start with Bird, Trane and Miles!) - however this next track sets out to demonstrate the fuller picture of the Crescent City - on the one hand the Funky, Funky, PHONKY brass bands and on the other the amazing pianists. This track combines two examples of the best - it's The Dirty Dozen Brass Band fronted by the Night Tripper himself, The Gris Gris Man, the living embodiment of New Orleans Juju, Dr John Creaux - or just Mac to his friends. "It's All Over Now"!
8 It's All Over Now 4:57 The Dirty Dozen Brass Band (Dr John) Jazz Moods - Hot (Columbia/Legacy) Jazz
During the 60s and 70s besides listening to oceans of rock (proper rock mind!) my ears were always open to hear anything that spoke of foreign climes - there wasn't a lot but I remember Dad playing Ravi Shankar, Manitas de Plata, The Drummers of Burundi etc all of which swam around in my head next to The Beatles, Santana, Zeppelin, Janis Joplin, Hawkwind, Slade - yes, Slade, why you got a problem with that?
However, one chance meeting had a profound effect on my musical development as a teenager. During the later 70s my father and I pitched up at a small jazz festival in Kent and met four amazing Belgian musicians (yes, I'm back talking about Belgium again). It was a gipsy jazz quartet called Waso and they were to become our friends and unwitting musical mentors for years to come. The band consisted of Michel Verstraeten on Double Bass, the Manouche gipsies Vivi Limberger on rhythm guitar, and his cousin Fapy Lafertin on lead guitar and Koen de Cauter on reeds and vocals. Actually they were all multi-instrumentalists but more of that later. First off I'm going to play a track from their 1983 album "Gipsy Swing Vol 5" which is typical of the style that made them firm favourites of discerning British jazz audiences during the 80s. This is their gipsy jazz version of the old Russian theme " - Ochi Chorniye" - "Black Eyes".
9 Les Yeux Noirs 2.58 Waso Gipsy Swing Vol 5 (Munich Records 1983) Gypsy Jazz
[VINYL]
This was incredibly exciting music - and tracks like this were capable of being played at breakneck speed; just the sight of Fapy Lafertin's fingers effortlessly flowing over the frets was enough to make most British Django devotees hang up their guitars in shame. However, it wasn't just all gipsy swing standards; the band's frontman Koen de Cauter had a very personal style of singing and comic facial expressions that often masked his true skills; so I was exposed also to musette, chanson and, as here, an idiosyncratic rendering of the waltz - "Flambée Montalbanaise"
10 Flambée Montalbanaise 3:38 Koen de Cauter & friends Django! (DeWerf 2004) Gypsy Jazz
That last track was taken off an album recorded in 2004 called "Django!" and featured not just Koen and Fapy from the original Waso, but also two of Koen's sons Waso de Cauter on rhythm guitar and Dajo de Cauter on double bass. So far, so good. But is this world music? Yes, yes, yes! You just need to leave your preconceptions at the door. As the night went on, Waso would treat their British audiences to a taste, just a taste of the hidden world of Central and East European music. You have to remember it was virtually impossible to hear anything like this in Britain 30 years ago, let alone buy it anywhere.
The next track although recorded in 1996 by another offshoot of the original Waso band called Romani, is again typical of the treats they had in store for the lucky few able to cram into the tiny clubs where they played to absolutely breathless audiences. The band here features Vivi's son Tcha Limberger (now internationally famous in his own right) on vocals and violin, Vivi himself on rhythm and backing vocals, Koen on lead guitar and his son Dajo again on double bass. It is a sublime piece the original of which I remember playing to death on an old scratchy worn out cassette. This is "Letscho Kurko"
11 Letscho Kurko 5:43 Romani Romani (Map Records) Gypsy Jazz
[CONTINUOUS]
12 Serenade 2:24 Lavotta Le Chemin des Tsiganes Gypsy Jazz
To finish off the North European gipsy section that was the wonderful Lavotta from an album called "Le Chemin des Tsiganes" and a track entitled "Seranade" - You can get all the details for these tracks right after the show by logging onto my world music website, called appropriately enough www.worldmusic.co.uk and then clicking on the Radio category - there you'll find playlists for all my shows.
Just to remind you, you're listening to WorldBeatUK here on Rhubarb Radio, with me Glyn Phillips and for this first section of the show I'm paying homage to my late father and to the music he either introduced me to or discovered with me back in the 60s, 70s and early 80s. I would like to have played you some 60s music by the Southern French gipsy, Manitas de Plata - but I can't put me hands on his album - so this is again from my father's collection; it's from Andalucia in Southern Spain and it's a sevillana by the choral group Salmarina called "Fue en Sevilla" (It Happened in Seville).
13 Fue en Sevilla 3.39 Salmarina Sevillanas de Carlos Saura (Polydor) Sevillana
Ok this is the last one in homage to my father. You might remember that earlier on in the programme I played a piece by the most famous fadista of all time, Amalia Rodriguez; the next song is by the most famous fadista of her generation, who might yet prove to eclipse Amalia in time. Who else but: Mariza. Just as with Eva Cassidy, I can remember distinctly the first time I ever heard her; I was driving along College Road in Handsworth when this astounding voice came out of the radio and I had to pull over to the kerb and listen, since all the hairs on my arms were standing up and I began to feel faint. Now THAT's the power of music! My father discovered her around the same time in the early noughties and loved her voice equally.
One of my last memories of true closeness to him took place after he'd been told he didn't have long to live; He was struggling to breathe through his oxygen mask, so we just sat next to each other and he got me to put on a documentary about Mariza and her life. We sat there experiencing the joy of music, the longing for more time and the sadness of impending loss. True 'saudade'. The next week he stopped listening to any music at all, because he couldn't bear the pain of knowing he'd never play trombone, never sing, never dance, never truly live again. This is "Meu Fado Meu".
14 Meu Fado Meu 3.26 Mariza Transparente (EMI/World Connection 2005) Fado
Did I say that was the last song for my father? Well, technically this is. Good friends of me and my dad's and North London ambassadors for mixing up styles from Soweto to the Crescent City, this is Big Chief and . . . . "Song For My Father"
15 Song For My Father 6.48 Big Chief Live at the Bull (Teepee Records 2005) Jazz
[CONTINUOUS]
16 JINGLE 2 1:01 (Glyn Phillips voice-over "Intro-Mat" by Matchatcha)
[CONTINUOUS]
17 Emoções 3:04 Jose Da Camara Emoções (Sony 2010) Portuguese
(Jose Da Camara Canta Roberto Carlos)
Welcome back to WorldBeatUK with me Glyn Phillips right here on Rhubarb Radio. You were just listening to the sounds of Portuguese singer Jose da Camara singing a song called "Emoções" ('Emotions' in English) from the album of the same name, subtitled Jose da Camara Canta Roberto Carlos (J d C sings the songs of Roberto Carlos). That's on the Sony label 2010.
A quick reminder that this is the last show on a Monday! If you tune in next Monday between 6-8pm you'll probably get the wonderful Marc Reck, but not me. WorldBeatUK is moving from next week to WEDNESDAY evenings at the slightly later time of 7-9pm UK time (overseas listeners please check the time differences because the UK's clocks go forward an hour this weekend coming!). So that should be much better for those who struggle to get back home in time for 6pm to join me. There'll be no excuses now!
Now here's a band that are playing here in Birmingham next week at the Kitchen Garden Cafe in wonderful uptown Kings Heath on Monday 4th April at 8.30pm. I was going to get them to come on the show and play live for us, but of course as you've just heard, I won't be here on Monday - because I'll be here next Wednesday! The band's called Polly and the Billets Doux an eclectic mix of folk/soul/pop and I don't know what really - but it's nice! Sort of halfway between Bonnie Raitt and Norah Jones. This is from their album "Fiction, Half-Truths and Downright Lies" and it's called "Lead Me On".
18 Lead Me On 4:31 Polly And The Billets Doux Fiction, Half-Truths and Downright Lies Pop/Soul/Folk
[CONTINUOUS]
19 Caught Me At A Bad Time 2:38 The Rosellys One Way St (2008) Americana
You've just been listening to a pair of Birmingham's finest young musicians who play what's often referred to nowadays as 'Americana' - as I've been trying to point out all through the programme, world music is a lot broader than you might think. That was The Rosellys and "Caught Me At a Bad Time" from their album "One Way Street". Check out their website www.therosellys.com. They often play at the Tower of Song in Cotteridge, South Birmingham and are well worth checking out indeed!
Ok, here's a tune that at first seem to have overtones of American folk and hillbilly, but is in fact performed by the Finnish-Swedish accordionist, Maria Kalaniemi - originally written by Hilma Ingberg, probably in the early 20th Century. I'd love to know whether it's the Appalachian influence on Scandinavia or the Scandinavian influence on Appalachia in this tune - who knows - but I do know I like the track. This is from her 2010 album on the Aito Records label entitled "Vilda Rosor" which means 'wild rose' and it's a track called "I Fjol" - which I have no idea what it means. Just enjoy!
20 I Fjol 5:22 Maria Kalaniemi Vilda Rosor (Aito Records 2010) Swedo-Finnish Folk
[CONTINUOUS]
21 Interlude (Callin Gramma) 0:38 Ortegon - Interlude
[CONTINUOUS]
22 Muchacha 3:13 Ortegon - (Palma Coco) Salsa
That was another track by someone I featured last week, the Colombian producer and musician Sr Ortegon and a track called "Muchacha" (preceded by a weird phone conversation to someone's granny . . .). Ok let's stay in Colombia and return to that great album I played last week: "Cartagena: Curro Fuentes & the Big Band Cumbia & Descarga Sound of Colombia (1962-72)" on the Soundways label. This is a cumbia with a tango intro by the great Lucho Bermudez. "Fiesta de Negritos". A Bailar!!!!
23 Fiesta De Negritos 2:34 Lucho Bermudez Y Su Orquesta Cartagena! (Soundways) Tango-Cumbia
Sticking with re-releases from the golden years, this next track is from a recent re-release of Ghanaian Highlife and Afrobeat Classics from 1973-1980 on the Strut label, called "Life Stories" and all of the tracks are by or associated with Ebo Taylor. I'm hoping to play a lot more from this label - there's a new album coming up called "Nigeria 70" - so as soon as I get that, I'll play some stuff off it for you (big shout out to Stephanos!). In the meantime this is a heavenly slice of music called, funnily enough, "Heaven". . .
24 Heaven 6.04 Ebo Taylor Life Stories (Highlife & Afrobeat Classics 1973-80) (Strut 2011) Afrobeat
Now closer to home - much closer. We here in the UK like our reggae; here in Birmingham we really like our reggae - and we've got the musical pedigree to prove it. From my neck of the woods, Handsworth, one band has stood out on the international stage. Who else but Steel Pulse - and founder member Basil Gabbidon is still playing around Brum with his band, Gabbidon, and I was lucky enough to be playing at the same venue (the Tower of Song in Cotteridge) as him and Carol Brewster, the soul and gospel singer, a couple of weeks ago. This is from his recent album called "Reggae Rockz" - it's "Kool Runnings".
25 Kool Runnings 3:30 Gabbidon Reggae Rockz (Runcum Music RMCD25) Reggae
Sticking with reggae, this is a great Jamaican band name of C-Sharp, who wrap some sweet tunes around some very insightful lyrics. Really liking their work. They've had hits in Jamaica with "No More" (that dealt with the often taboo subject of severe depression) and more recently "Nurse" (in 2009). This is from their new - as yet unreleased - album, "The Invitation", and it's a fitting cry to the madness of the world all around us today. This is called "What's the Matter with the World".
26 What's The Matter With The World 3:58 C-Sharp The Invitation (C-Sharp Music) Reggae
[Remind people that WorldBeatUK is moving to Wednesdays from next week onwards and will start and end an hour later (7-9pm) - which should make it easier for everyone to tune in.]

27 Balk To The Future 3.40 Slamboree - - Balkan Dance
1