African Spring: Batida/Bariba Sound/Gnawa Diffusion
Tagged with: Batida Soundway DJ Mpula Analog Africa Angola Benin Super Borgou Parakou Bariba Sound Bariba Dendi Turn Again Music Gnawa Diffusion Amazigh Kateb Gnawa Chaabi reggae ragga soul pachanga rumba afro beat funk Algeria Morocco Nigeria Ghana Togo Glyn Phillips
Well, it certainly feels like the world music is waking up with the imminent approach of Spring in the Northern Hemisphere! There seems to a mass of new releases, tours and projects pushing their nodding heads above the forbidding cold soil of winter.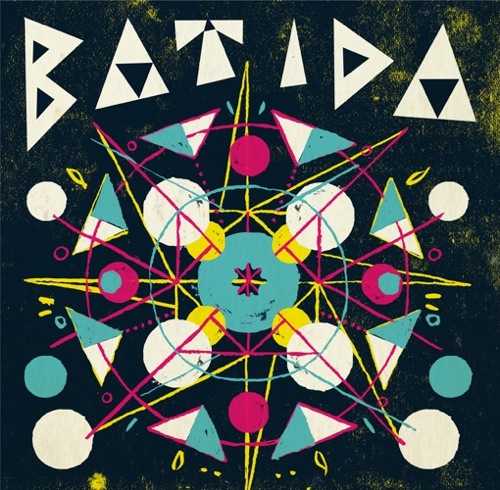 On an African tip, for instance, one of my favourite labels Soundway have today announced the forthcoming release of the debut album by Batida (brainchild of Angolan/Portuguese DJ Mpula aka Pedro Coquenão) which combines samples from old 1970s Angolan tracks with modern electronic dance music (check the link here for more info: www.worldmusic.co.uk/batida_soundway_70s_angola_updated_preview_dl_r)
"Batida" is due for release on 26 March 2012 (SNDW 038), but you can preview and even download one of the tracks "Tireí o Chapéu" here:
soundcloud.com/soundway-records/batida-tirei-o-chap-u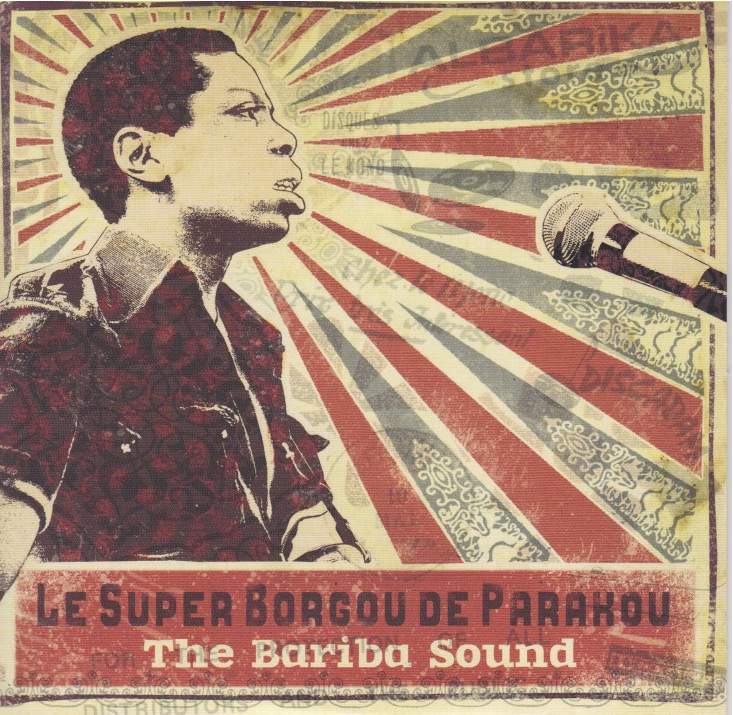 On another African note, yet another of my favourite labels specialising in re-releasing old albums, Analog Africa, are set to issue a blissful treasure trove of 70s Afro sounds.
This time, on its fifth expedition to the magical musical world of Benin, they open the vaults of the band Le Super Borgou de Parakou on an album entitled "The Bariba Sound".
If you liked any of Analog Africa's previous releases (eg "Bambara Mystical Soul - the Raw Sound of Burkina Faso 1974-79", the limited dance editions of "Orchestre Poly-Rythmo de Cotonou - The 1st Album"(1973)" and "ROB - Funky Rob Way (1977)", or "Afro-Beat Airways (Ghana & Togo 1972-1979)") then you will love this new album.
It opens up yet another window onto part of the Islamic Funk Belt of the northern regions of Nigeria, Ghana, Togo and Benin. A raw but heady mixture of Bariba and Dendi folklore, Islamic melodies and soul, pachanga, breakbeats, rumba and afro-beat.
Very much recommended. Release date for this is 27 March 2012 (either as CD with 30 page booklet or as double LP gatefold deluxe edition). AACD 071 / AALP 071
Finally, the French agency Turn Again Music have contacted me to announce the 20th anniversary comeback of band Gnawa Diffusion (led by founder Amazigh Kateb) with plans for a tour to start in May this year and a new album to be recorded this year and released in Autumn 2012. As they put it: "a travel to chaabi through gnawi, reggae, ragga, rock...". No other details as yet, but watch this space . . .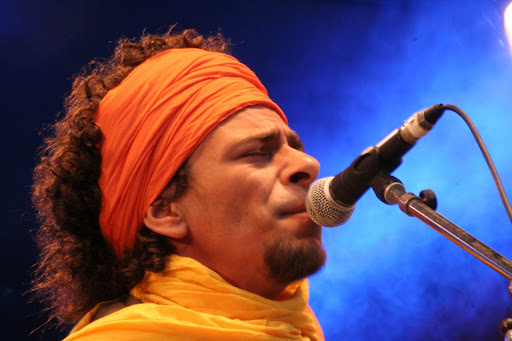 Womex 2010 - Editor's Highlights (pt 2: Sexto Sentido)
Tagged with: Sexto Sentido Cuba Arlety Valdes Yudelkis LaFuente Eliene Castillo Wendy Vizcaino Chucho Valdes Guajiro The Way Bossa Cubana Mi Feeling RnB Soul Jazz Latin Womex Charlie Scotts Melvis Estevez Joao Donato Jorge Baglan Glyn Phillips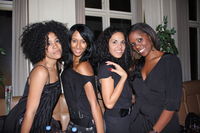 This is the second of my blogs about Womex 10, the World Music Expo, held in Copenhagen, Denmark, last month (Oct 2010). Here are some more of my highlights.
"On the Thursday I came across an all-girl Cuban group, Sexto Sentido, who were promoting their music from one of the Trade Fair stands. Unusually the girls were doing the entire promotion themselves with the aid of a German friend and, unable to secure a slot in the official Womex showcase, he had procured them a last minute offsite showcase gig at Charlie Scott's Jazz Club in the centre of Copenhagen. What was really different about this band was that the girls were at great pains to distance themselves from the stereotypical Cuban touring groups. This was evident not only in what they said, but in their posters and videos which owed more to Destiny's Child, TLC and a whole host of RnB singers than to what Europeans have come to expect of this magic isle.
"The most sublime contemporary soul and RnB, rich harmonies, jazzy licks, funky drums and bass and lyrics delivered perfectly in English as well as Spanish."
Confused, but intrigued, I popped on the headphones they proffered to me and was hit by the most sublime contemporary soul and RnB, rich harmonies, jazzy licks, funky drums and bass and lyrics delivered perfectly in English as well as Spanish. Wow. Not what I expected at all. So, if these girls were turning out Western commercial music (which coincidentally they wrote - lyrics and music - themselves), then what's the point? Why not just listen to the thousands of RnB stars (and wannabe's) out there who already sing this stuff in English? Ahh, but there you have it - not only are these four girls every bit as good as any of the best chart-toppers they have something that their North American neighbours don't have - and that's 'sabor'. There is an innate 'cuban-ness' to their music, a certain 'swing' that's incredibly subtle yet sets their music apart. I wasn't sure whether they even realised it, yet there it was - a warmth and sway that permeates the music and makes it stand out from the 'me too' RnB brigade . . .
"Trust me, these ladies are special. Very special indeed."
Trust me, these ladies are special. Very special indeed. The more I listened, the more I saw just how determined they are to do everything their own way, without reference to what people expect them to do. The music stopped being great soul, great jazz, great RnB, great bossa etc, but just great music. Period. Arlety Valdés, Yudelkis LaFuente, Eliene Castillo and (new girl) Wendy Vizcaíno are a force to be reckoned with. Imagine if Beyoncé, Mary J Blige, Mariah Carey and Alicia Keys were born and raised in Cuba, and had been friends since 13 years old. Because that's basically the story of Sexto Sentido. The four friends (which included their original singer Melvis Estevez) met at one of Havana's elite conservatoires designed to pick up emerging talent from a young age and nurture it no matter the child's background. They formed their band soon after and became unstoppable, receiving numerous awards and being sent by the Government all over the world as well as working with the cream of Cuban musicians such as Chucho Valdés. Melvis recently left and was replaced by the 21 year old Wendy (the other girls are all 28).
"... the ineffably groovy "Guajiro" had been a number one hit in Cuba this summer, making them millions of fans ..."
They can still do more typically Cuban music and told me their latest single, the ineffably groovy "Guajiro" had been a number one hit in Cuba this summer, making them millions of fans and reaching 90% of the population; the spin-off video from that remained high in the video charts for weeks on end too - making even the 'extras' into mini-celebrities!
Their first album, "Bossa Cubana", had a Russian producer and was supported by the Brazilian musician João Donato. It gave them their first hit (title track) and was a mix of international songs (included two intriguing Beatles covers) with their own compositions. The second album "Mi Feeling" was rooted in Cuba's indigenous jazz movement ('fílin') of the 60s and although a niche market, was rated as one of the best jazz CDs in the USA (2008) and is still often played on American jazz radio stations. Sadly though, Sexto Sentido don't own the copyright to these. The Cuban government record company do, as well as certain foreign producers - who bought the rights from Cuba to sell them in the US market. Hence their presence in Copenhagen to promote their own independent production of their third album "The Way" (written completely by them) and to look for opportunities to tour in Europe and take back control of their music.
I was invited to their one and only performance in Copenhagen the next night (Friday 29th October), yet this meant I would miss the vast majority of the other showcases that night over in the Koncerthuset. I 'ummed' and 'aahed' all the next day, but in the end I was too intrigued to see what they would be like live and decided to head over for an hour just to check them out and take some photos.
Charlie Scott's (no relation I think!) Jazz Club is run by an ex-patriate Scot (called Charlie, I suppose!) and is a friendly, atmospheric, upstairs club with a minuscule stage facing the bar (which was barely a yard or so in front!); most of the audience sat to the one side of the stage and the others on the other side of the bar. When I got there and went up the stairs, the door opened almost straight onto the drummer; the band - all brought over from Cuba and using borrowed instruments - consisting of a kit drummer, conguero, saxophonist, keys, bass and electric guitar and completely filled the stage - and that was minus their trumpeter (the amazing Thommy Lowry - Buena Vista & Afro-Cuban Allstars)! I wondered where the four girls were going to stand. The mike stands were placed on the floor since the singers couldn't fit anywhere else. I found myself standing almost face to face with them and was forced to find somewhere else to watch and listen.
"Their backing band alone were incredible! "
The performance was delayed by 20 minutes or so as they all struggled with the PA system and appalling feedback - an object lesson in the difference between the Cuban system they are used to and the capitalist. In Cuba, they earn next to no money at all (and don't own the copyright to their own music, only getting paid a single recording fee) yet at every concert there are highly trained sound engineers and roadies - the girls just have to turn up and start singing. Realising that they were suddenly responsible for having to do their own sound on borrowed equipment (and that Western bands even have to bring their own PA often just to do a gig) was a bit of a jolt it seemed. Still, everybody was patient and professional and it was eventually sorted out and the band went into an instrumental to warm up and set the scene. Believe me, just that first 'throwaway' tune would have been worth going off the beaten track for. Their backing band alone were incredible! I later found out that it wasn't surprising since they were all top musicians in Cuba, the drummer Jorge Baglan coming from NG La Banda and Paulito FG and the award-winning saxophonist Michel Herrera having performed with Winton Marsalis, to name just two.
"Their voices are pitch perfect, smooth as butter, rich as chocolate, and as for the harmonies . . . "
For the next hour Sexto Sentido delivered a set of music that blew the audience away. Their voices are pitch perfect, smooth as butter, rich as chocolate, and the harmonies .. complex, yet somehow natural, instantly comforting, yet constantly surprising. Just when you thought you'd got the measure of them, they explored another angle of the song. I kept wondering if the regulars there had ever heard anything like it. The standard was incredible! In Cuba, the girls have often played in big concert halls and gigs to thousands of people at a time, and yet here they were singing their hearts out to this small yet packed room of musos, jazzers and locals.
"The first set was a masterclass in soul, jazz, RnB, bossa, latin jazz and beyond."
The first set was a masterclass in soul, jazz, RnB, bossa, latin jazz and beyond. I was blown away by their version of The Beatles "Come Together" - I really didn't see that one coming! They said they'd take a five minute break and then be back. I didn't want the music to stop, but quite literally five minutes later, they took to the stage again (other less professional musicians take note!) and then really let rip for the remainder of the night. The second set started to mix in son and rumba and a hip-swinging version of their hit "Guajiro". By this time the standing crowd were dancing in every square inch they could find. Just when you thought it couldn't get any better than this, it did, Eliene throwing back her head, opening her lungs and letting rip like a true Soul Diva. I'd long since abandoned any thoughts of seeing the rest of the showcases that night (apologies to all the amazing bands I missed), but I knew that right at that moment there was nowhere else I'd rather be than standing in front of such consummate musicianship and singing.
"Just when you thought it couldn't get any better than this, it did ..."
So, are they really "world music"? Some other Womex delegates I spoke to were equally impressed by their abilities (besides being singers, songwriters, arrangers and choreographers the girls are all multi-instrumentalists in their own right - planning soon to release an album with every single thing written and performed by them); but these promotors struggled to conceptualise marketing an outfit like them. "So what are they: Salsa or Soul?", they'd say, "If only they'd do one or the other!". I think these delegates missed the point. Sexto Sentido are all of these things and more, much more. Imagine if people had said to Cuban super-group Irakere: "Just stick to doing versions of Guantanamera" . . .
"You see, it's not about "World Music"; it's about World Class Music. And Sexto Sentido are world class."
Who would like the music of Sexto Sentido? The short answer is anybody who likes fabulously sung music. Certainly anybody into jazz, soul, RnB, and all their affiliates would like it; anybody that likes Cuban music or indeed most latin american musics would like it. But their appeal is far wider than that: Pop? Certainly. Cutting edge Dance? Yep? Fusion? Of course. Tropical? Por supuesto! World Music? Undoubtedly. You see, it's not about "World Music"; it's about World Class Music. And Sexto Sentido are world class.
"… these four talented and truly gorgeous women deserve to go all the way."
My belief is that they're only just starting to explore their capabilities musically. They've already collaborated with Norman Cook and Guy Sigsworth on some House and Dance tracks, and are able to truly tackle anything they set their minds to. What I'm interested in is what they'll create themselves as they mature and synthesise their many influences. In a way they could end up with real world music: globally recognisable, yet - I fervently hope - without losing their idiosyncratic Cuban 'sabor'. I hope my 'sixth sense' is correct, because these four talented and - I can't hold back any longer, I just have to say it - truly gorgeous women deserve to go all the way. I hope they find 'the way', without losing their way."
Glyn Phillips
WorldMusic.co.uk
1