WorldBeatUK (26th Show) - Broadcast Notes (14/9/11)
Tagged with: WorldBeatUK Glyn Phillips Flavia Bittencourt Dudu Oliveira Felipe Tauil Brazil Township Dawda Jobarteh Issa Bagayogo Doan Ca Hue Dhoad Gypsies Rajasthan Professor Elemental Ska Maria Pastora Matty Blades Babilak Bah Tabacarana Balkan Hotsteppers AKB
WBUK26 (14/9/11) - SHOWNOTES
1 Intro-Mat (1:47) by Matchatcha from Nyekesse (Melodie)
(0.09)
"This is Rhubarb Radio, I'm Glyn Phillips with WorldBeatUK!
(0.16)
Over the next two hours we'll be exploring music from Mali and Gambia, we'll be paying a visit to South Africa to hear some old Township jazz, sailing the South China Sea to Vietnam and crossing the deserts of Rajasthan to hear the Dhoad Gypsies. We'll be taking on board a little electro-swing and going on down to New Orleans for some some funky-ass jazz courtesy of the Dirty Dozen Brass Band.
Expect also to hear Balkan mashups and remixes with the likes of the Amsterdam Klezmer Band vs the Beastie Boys and DJ Click and La Caravanne Passe;
Pause for music - (0.51 - 1.00)
I've also got some Brazilian Ska, some Aussie Ska, a Brazilian tribute to Amy Winehouse and a little bit of animal magic from the effervescent, and very British, Professor Elemental.
And finally, in the middle of the show more Brazilian beats from artists appearing at this year's inaugural Espirito Brum festival, including experimental percussionist, Babilak Bah, samba-roqueiros Tabacarana and - live in this very studio in about an hour's time - the lusophonic loveliness of Maranhao's Flavia Bittencourt.
So stay tuned, let your mates know what's going on - post them a link on Facebook or similar - and let me take you on a sonic journey around the wonderful world of music . . ."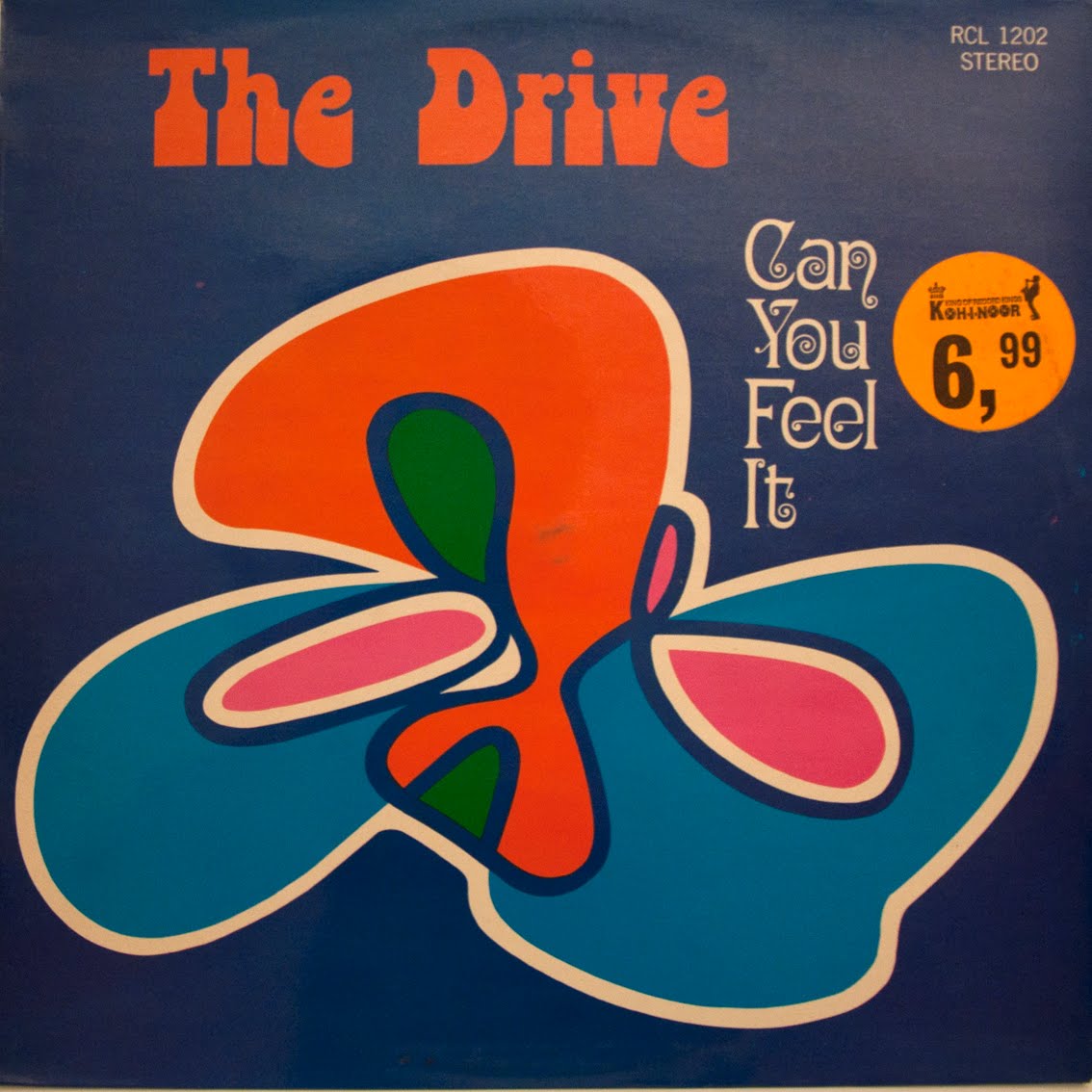 First up, we're going back some decades in time and thousands of miles in distance to South Africa to take in some old township jazz. This is a band called The Drive and a track called "Way Back Fifties"
2 Way Back Fifties (6:14) by The Drive
.
.
Staying in Africa for a couple more numbers now. This is a Gambian artist called Dawda Jobarteh and - from his album, "Northern Light, Gambian Night" - a track called "Samakebalu".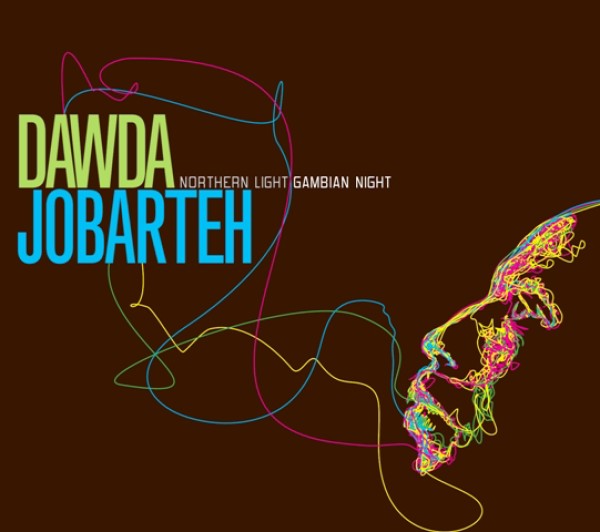 3 Samakebalu (5:24) by Dawda Jobarteh from "Northern Light, Gambian Night"
.
.
.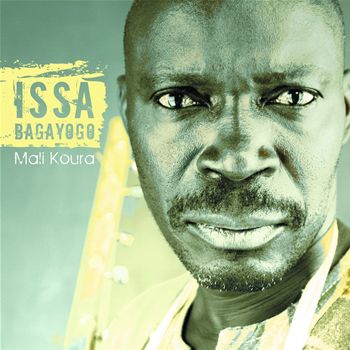 OK, eastwards from the Gambia to the musical behemoth that is Mali and a track from an album called "Mali Koura". This is Issa Bagayogo and "Poye"
4 Poye (4:27) by Issa Bagayogo from "Mali Koura"
.
[CONTINUOUS]
.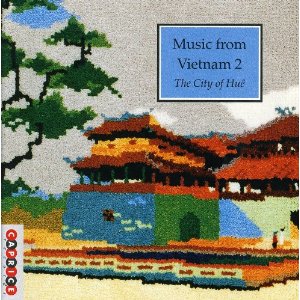 5 Hát Chau Van (5:22) by Doan Ca Hue. A'i Hoa from "Music from Vietnam 2" (Caprice Records)
First you heard Issa Bagayogo from Mali and that was followed by a track called "Hat Chau Chan" by - and I'm not sure how to pronounce this to be honest - Doan Ca Hue. A'i Hoa. Anyway, the track's from an album entitled "Music from Vietnam 2" on Caprice Records.
.
And since we're in Asia, let's travel to Rajasthan in India and the Dhoad Gypsies of Rajasthan who are often to be found touring Europe.
Incidentally, there's a reasonably common consensus now that the gypsy communities of the world all originate from the area of Rajasthan and spread Westward, splitting eventually into two distinct groups upon leaving the Middle East.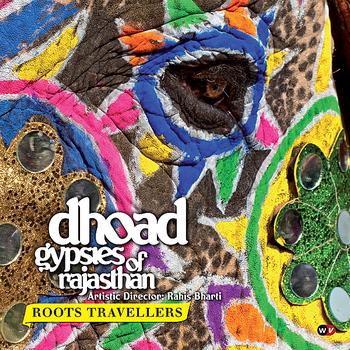 One group took the northern route into Turkey, the Balkans and Eastern and Northern Europe and the other group went via Egypt and North Africa and ended up in Southern Europe. Hence the 'gypsy' epithet, since it was long thought that they came from Egypt. OK, history lesson over! These are the Dhoad Gypsies of Rajasthan and from their album "Roots Travellers" a track entitled "Rajasthani Reggae"
6 Rajasthani Reggae (5:57) by Dhoad Gypsies Of Rajasthan from "Roots Travellers"
"Rajasthani Reggae" by the Dhoad Gypsies of Rajasthan there, from the desert lands of Western India. If you go on up to the mountains and foothills of North-East India however, you're in tea country - and where would we be without a nice cup of tea, eh, what!?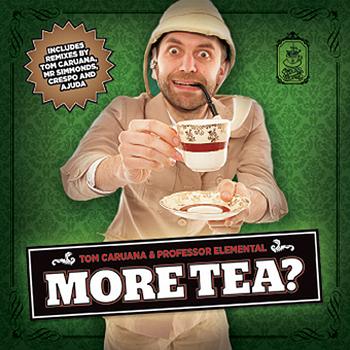 And one of the biggest fans of the Cup of Brown Joy is none other than that eccentric Englishman, Professor Elemental. So here, in a special presentation for a young gentleman called Ewan who I met over the weekend - a lad with impeccable manners and great taste I might add! - I offer you not a cup of finest Darjeeling but an altogether different brew. Here the mad Professor and his monkey butler, Geoffrey, serve us up some "Animal Magic" - and not a Bristolian Zookeeper in sight! Where's Johnny Morris when you need him?
7 Animal Magic (remix) (2:43) by Professor Elemental from "More Tea" (Tea Sea Records)
Hope you enjoyed that Ewan and the rest of the Law clan from Stourport! Ha ha!
OK, and since that was a cauldron-full of animal magic, it's only meet and proper that we stick with the animal connection.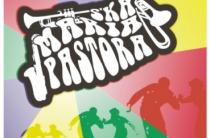 This is a piece of Brazilian Ska in praise of elephants by the band Ska Maria Pastora entitled "Hino do Elefante de Olinda"
8 Hino do Elefante de Olinda (3:31) by Ska Maria Pastora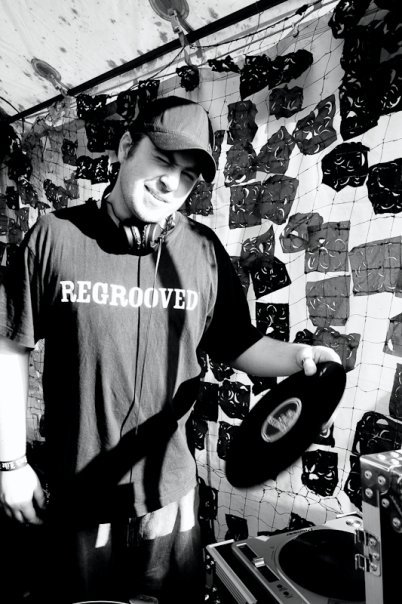 .
[CONTINUOUS]
.
9 I've Gotta Go Home Without You (3:02) by Matty Blades
Yeah, that was "I've Gotta Go Home Without You" by one of my favourite antipodean remixers, Matty Blades.
.
.
And so we move on to talking about this week's Espirito Brum Festival which is taking part in Birmingham from tomorrow onwards.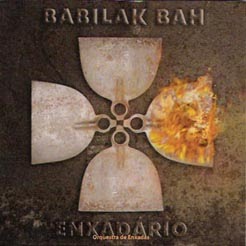 One of the acts taking part is the experimental percussionist Babilak Bah. This is from his album "Enxadario" and it's a track called "Timbril"
10 Timbril (3:56) by Babilak Bah from "Enxadário"
.
.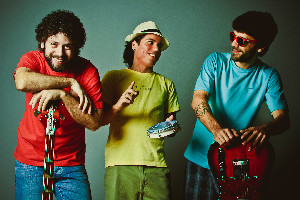 Another act taking part in the Espirito Brum Festival here in Birmingham is the samba-rock band Tabacarana. You can catch them tomorrow at the PST Club in Digbeth. Check the site www.espiritobrum.org for details. This is a track called "Sambalança, Mas Não Cai"
11 Sambalança, Mas Não Cai (4:01) by Tabacarana from "Tabacarana"

[FLAVIA BITTENCOURT LIVE SET HERE!! (included Dudu Oliveira on acoustic guitar and Felipe Tauil on percussion)]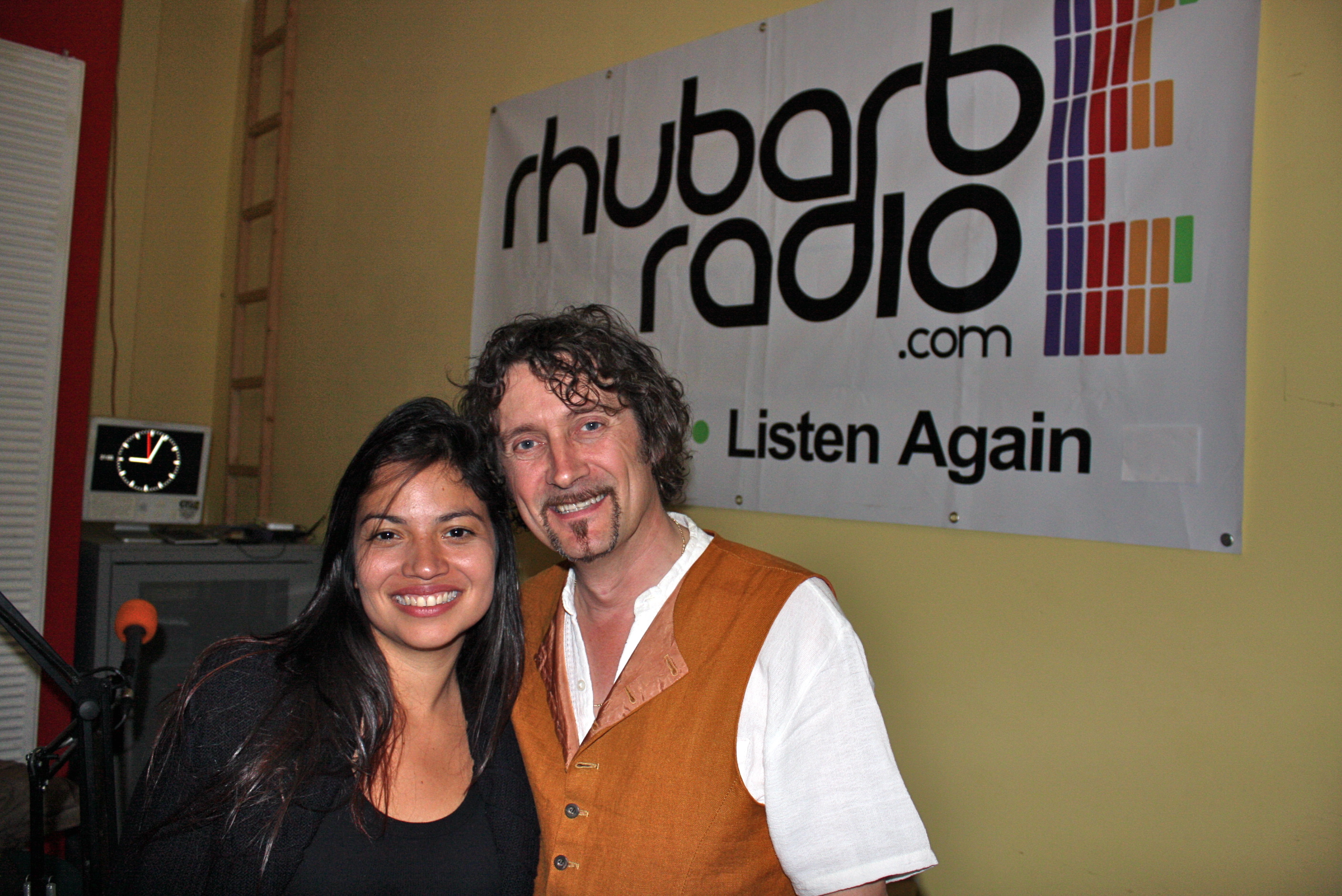 Ok, I've got a REAL treat for you all now! Waiting patiently in the studio is one of the Brazilian artists who's appearing in Birmingham - the beautiful nordestina, Flavia Bittencourt from the city of São Luís in the state of Maranhão in North-Eastern Brazil and two of her musicians.
Welcome to the show, Flavia, Bem Vindo!
Flavia's going to be singing live on the show in a moment to give us a taste of what she does, but first I'd like you (Flavia) to tell our listeners a bit about where you grew up in São Luiz, what it's like there, the kinds of music you used to listen to and how you got into singing.
§
§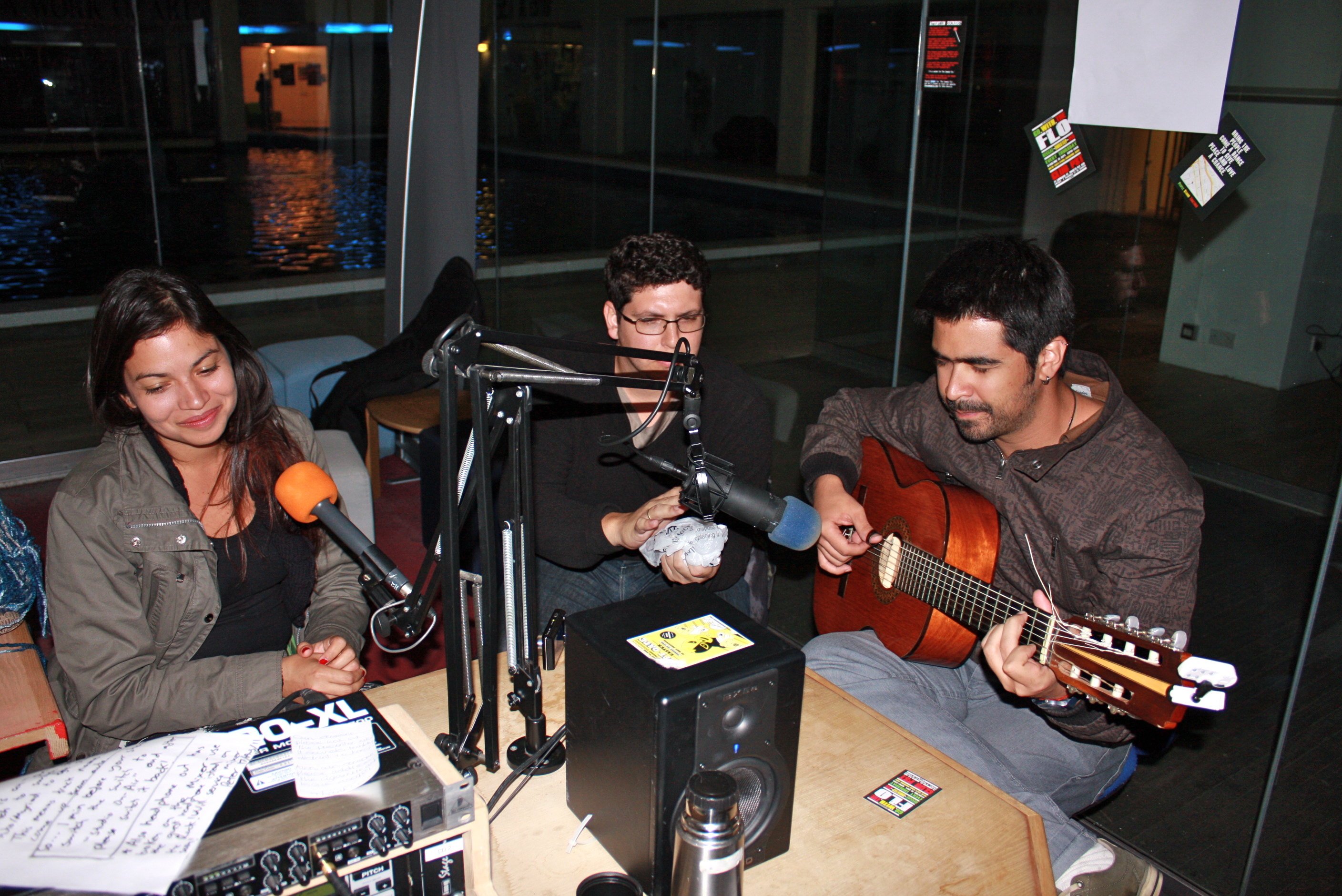 Why the move from Maranhao to Rio de Janeiro?
§
§
Your first album ("Sentido" - which means "Feeling") came out in 2005 to great acclaim - it was nominated for a latin grammy and also for the Premio TIM de Musica. Did you write all the songs yourself?
§
§
Last week on this show I played "Ex-Amor" - which I adore! - from the Sentido album and which received a lot of positive comments from my listeners after I'd played it. To me it seemed like a cross between a Cuban rumba and a bossa - so beautiful.
Would you like to sing us a song from the Sentido album here in the studio?
"Ex Amor": (live)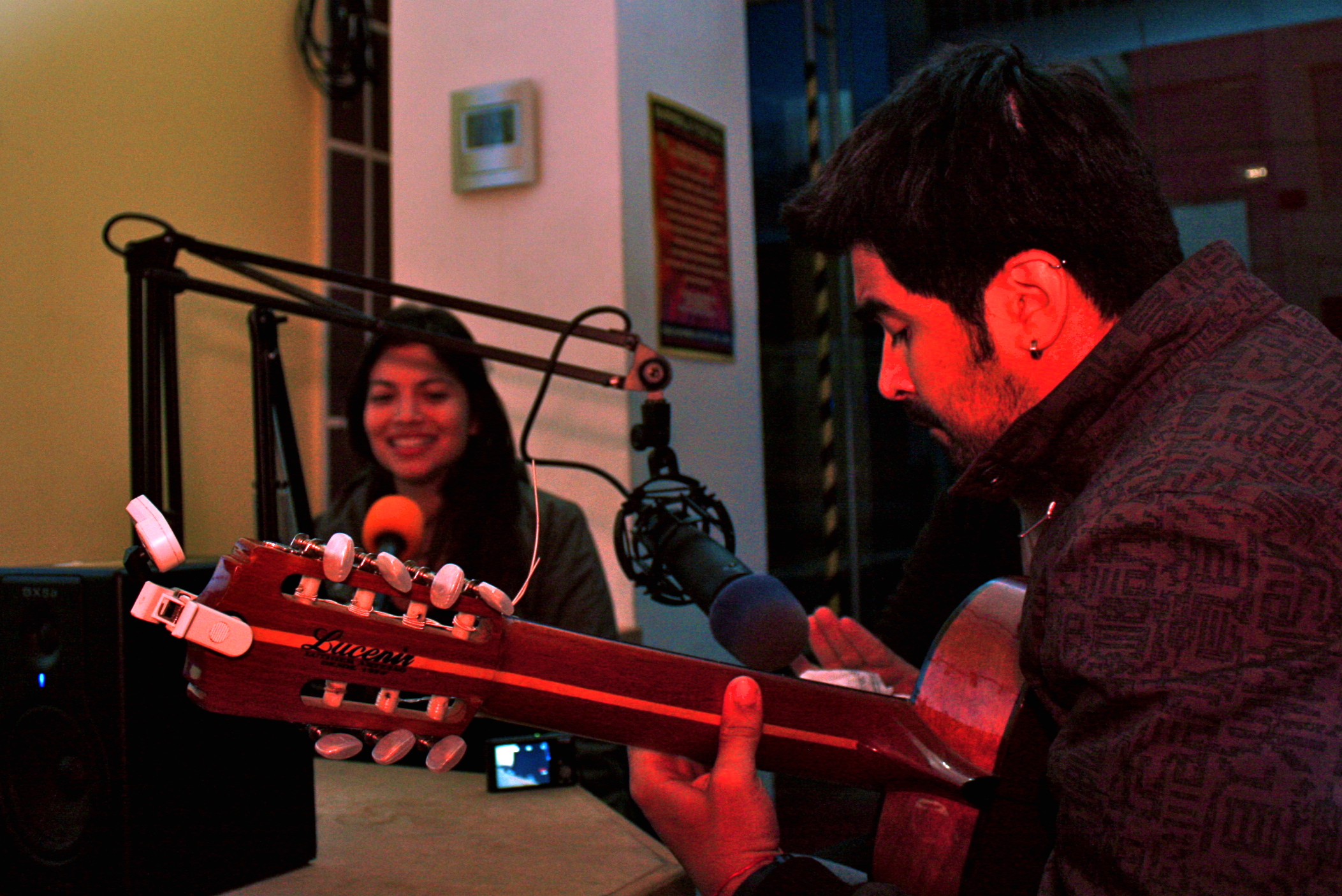 Is this your first time in the UK? I understand that last year you went on a tour through Europe taking in Portugal, France, Italy and Belgium to promote your most recent album, "Todos Domingos" which featured pieces of music exclusively by the musician and composer, Dominguinhos.
Can you tell us about Dominguinhos and his music, how you came to make that album, and why?
§
§
And I think the second piece you're going to perform live for us is from the album, "Todos Domingos". Can you tell us what it's called and what it's about?
§
§
"Lamento Sertanejo": (live)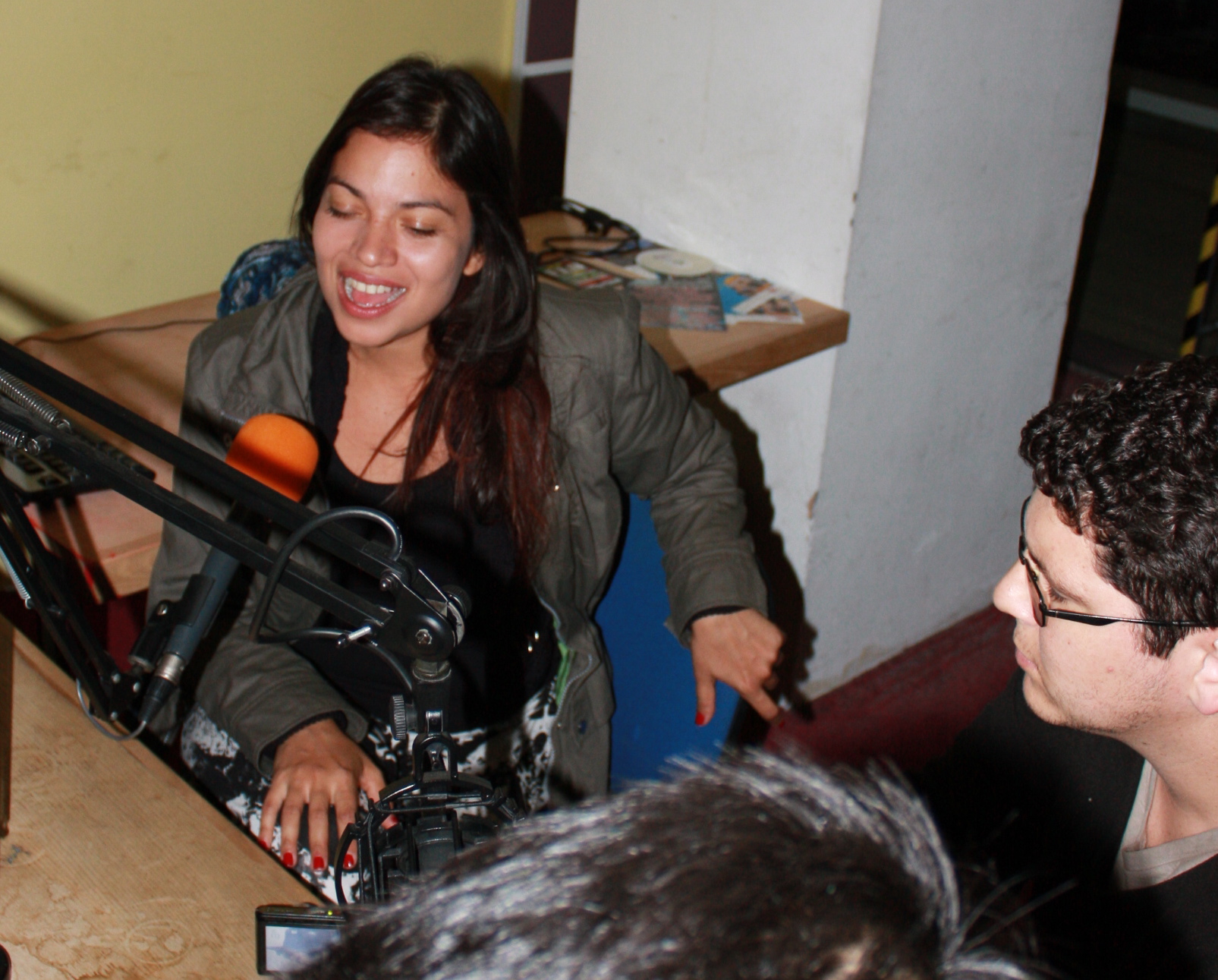 I believe you're putting together your third album now.
Can you tell us a little about that? Who's on it, What it's called, how is it different from the first two albums?
§
§
Where are you going to be performing this week in Birmingham?
§
§

"De Volta Pra Aconchego" (live)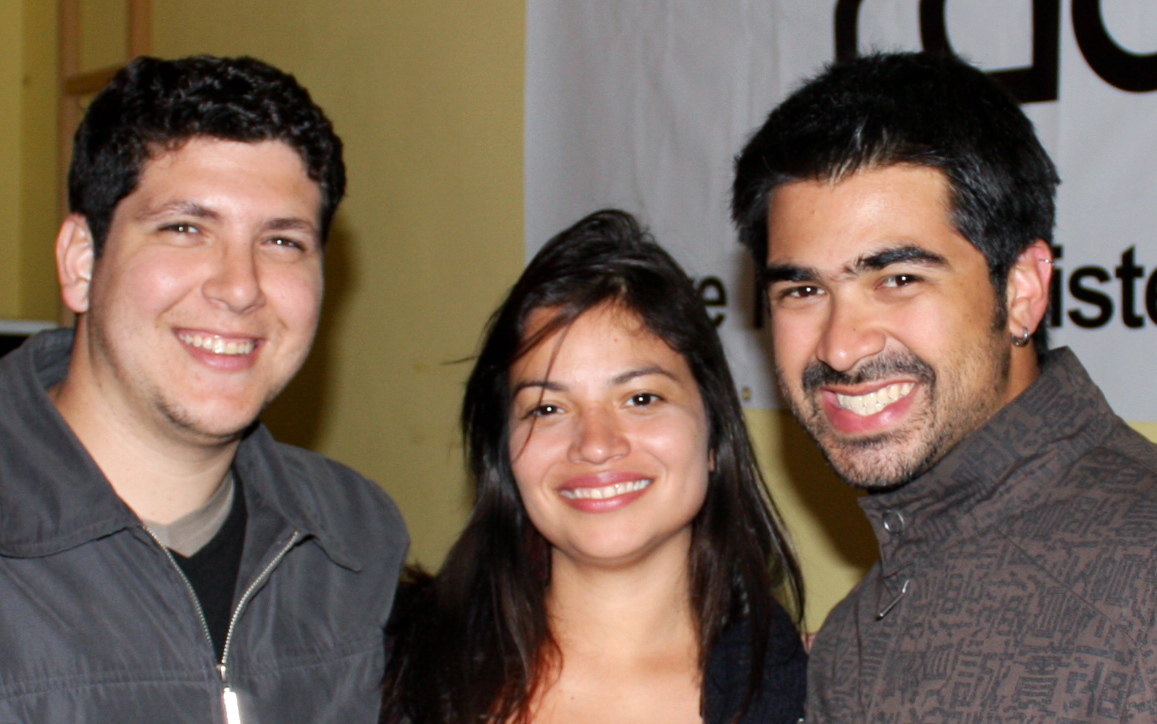 I'd like to thank Flavia and her musicians for coming into the studio this evening. For details of all the events during Espirito Brum you can log onto www.espiritobrum.org and find out.
Now then, today would have been the 28th birthday of the late Amy Winehouse and to mark that, her final recording was released today - a duet with the veteran crooner, Tony Bennett, now aged 85 and still going. The song, jazz classic "Body and Soul" was recorded in March this year at Abbey Road Studios and there's also a video to go with it; it's also part of an album called "Duets II" that Bennet is releasing in the US next week.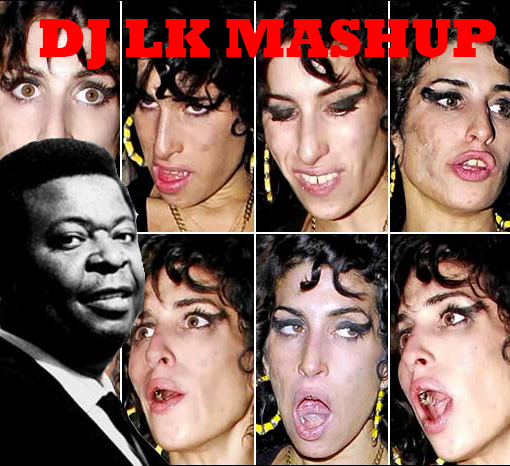 I don't have it, however I'm going to do my own homage to Amy via another collaboration - one she never actually made herself, yet thanks to the wonders of modern technology we can imagine!
This is Amy Winehouse vs the Brazilian Monsueto and a track mashed together by DJ Lucio K from Brazil called "Quero Essa Mulher Assim No Good . . ."
(12) Quero Essa Mulher Assim No Good (DJ LK Mashup) (2:27) by Amy Winehouse vs Monsueto from "Amy in Brasil"
[CONTINUOUS]
(13) Bluebird (3:30) by Odjbox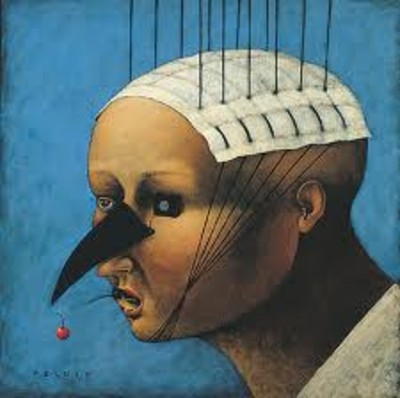 You just heard a piece of electro-swing called "Bluebird" by the mixer Odjbox.
.
.
.
.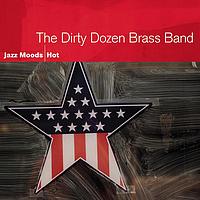 And since I'm in a jazzy mood let's head on down to New Orleans, the home of the Dirty Dozen Brass Band and a bit of jazzy funk called "Don't Drive Drunk".
(14) Don't Drive Drunk (3:19) by Dirty Dozen Brass Band from "Jazz Moods - Hot" (Columbia/Legacy)
.
.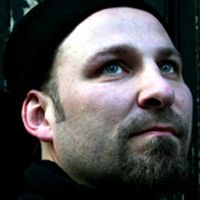 Now, last week I played you a track called "Balkanski Bal" in a version remixed by DJ Supersonico.
This week I'm also going to play a track called "Balkanski Bal" - but this time a remix version by DJ Click from the version by La Caravanne Passe. Opa! Opa!
(15) Balkanski Bal (5:35) by DJ Click / La Caravanne Passe rmx
From a piece of Balkumbian jump-up to some Balkan Mash.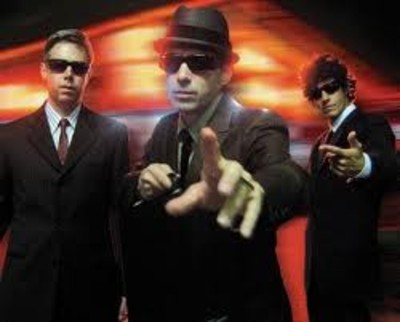 In this case The Balkan Hotsteppers do their business with The Amsterdam Klezmer Band and the Beastie Boys and a track called "Triple Son".
Everybody on to the dancefloor!!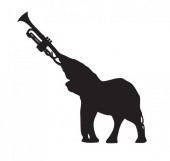 (16) Triple Son (Balkan Hotsteppers) (3:36) by Amsterdam Klezmer Band vs. Beastie Boys
OK that's it. Like to thank the luscious Flavia Bittencourt and her musicians for coming into the studio tonight and playing live for us, Tessa and the Espirito Brum crew for making it happen, and all you lot out there around the world for listening in.
Don't forget WorldBeatUK is on every Wednesday between 7pm and 9pm UK time - spread the word, share the link to Rhubarb Radio and let's get the party started.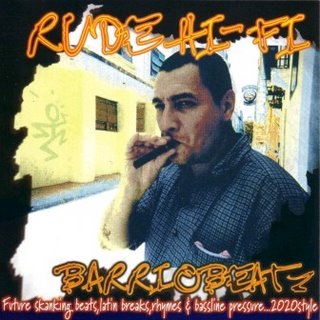 I'm going to leave you with a bit of dancefloor madness, this is Barriobeat and "Ba-Ba-Boom Sound"!
Good Night all!
(17) Ba-Ba-Boom Sound (2:52) by Barriobeat.
.
.
WorldBeatUK (25th Show) - Broadcast Notes (7/9/11)
Tagged with: WorldBeatUK Glyn Phillips makossa Goy Karamelo Rey Trueno Emel Mathlouthi Aldona Po' Girl Espirito Brum Babilak Bah Tabacarana Dominguinhos Flavia Bittencourt Thornato SpokFrevo Dimapetrov Maguare Sin Fronteras chicha gaita frevo Zephyrus Bootlegumachine
WBUK 25 - SHOWNOTES
1 Intro-Mat (1:47) by Matchatcha from the album "Nyekesse" (Melodie)
You're listening to Rhubarb Radio, I'm Glyn Phillips and this is WorldBeatUK!
Yes, welcome back to the show after a couple of week's break whilst I've been on holiday. I'm back in the driving seat now and revving up the engine ready to take you around the world in weighty grooves!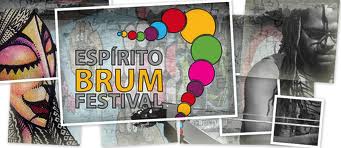 Climb aboard and make yourself comfortable, because tonight we're going from Cameroun to Argentina, Mexico to Tunisia and from Poland to Canada.
We'll be staying in the sun for quite a while in Brazil with a preview of next week's Espirito Brum Festival and I'll be getting you bouncing up and down in your seats to Electro-Swing, Peruvian Chicha, Gaita Colombiana, Gaita Venezolana, Cumbia Belga, Salsa, and some heavy Balkan beats! Trust me you don't want to miss it!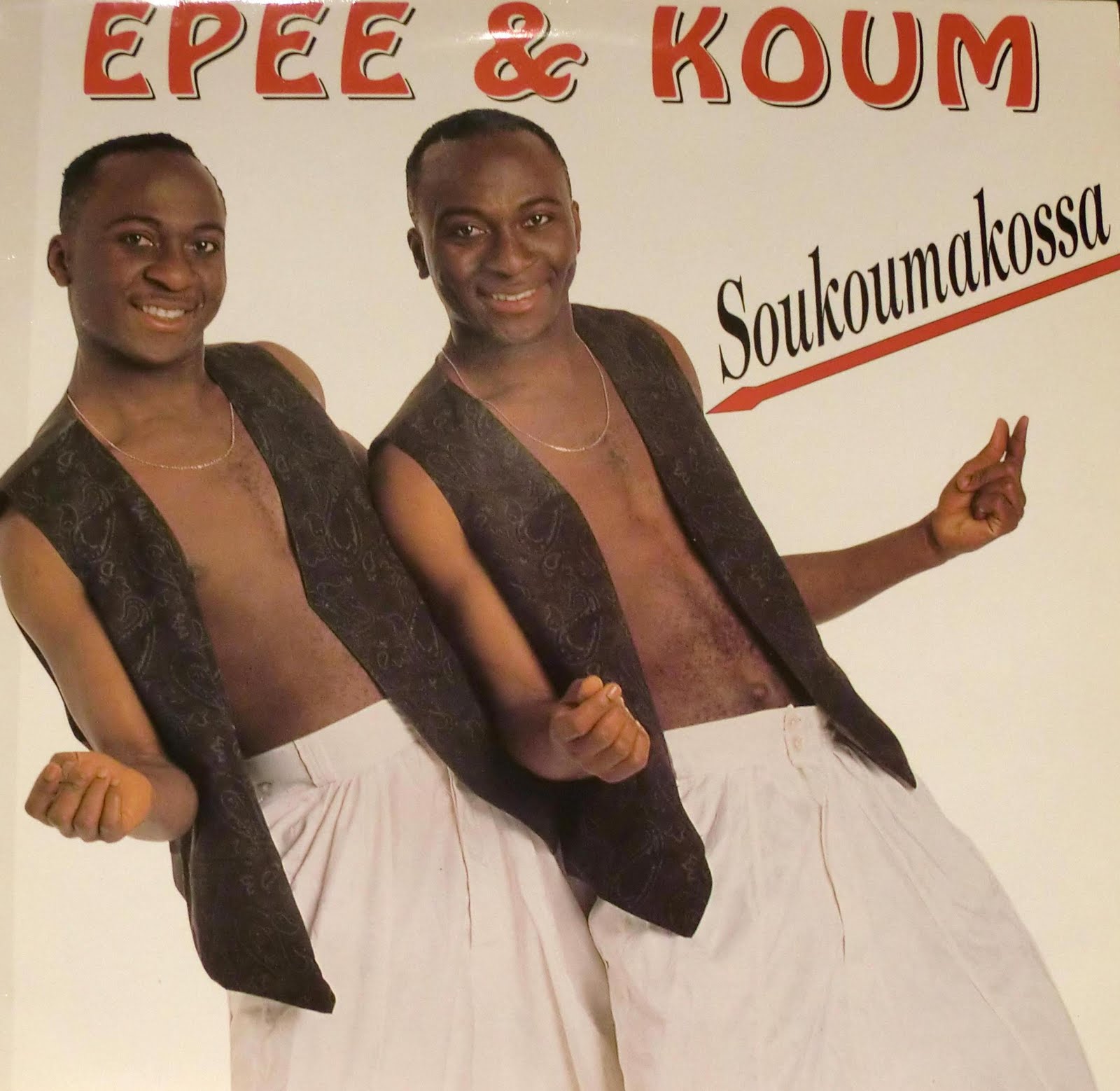 As promised first up we're off to the West African country of Cameroon and a piece of oldschool Makossa by Epee and Koum.
This is called "Soukoumokossa/Guy Lobé"
2 Soukoumakossa/Guy Lobé (4:17) by Epee & Koum from the album "Makossa Best of Vol. 3"
And from Cameroonian makossa to some upbeat Argentine Ska courtesy of Goy Karamelo this is called "Sale El Sol" (the sun's come out, I feel alright)
.

3 Sale El Sol (I Feel Alright) (2:50) by Goy Karamelo (Demo 2011)
Yeah, both Argentina and Mexico are full of experimentation and vibrant energy recently and this next one comes from Mexico's Rey Trueno (King Thunder) an art collective that put on multi-media experiences.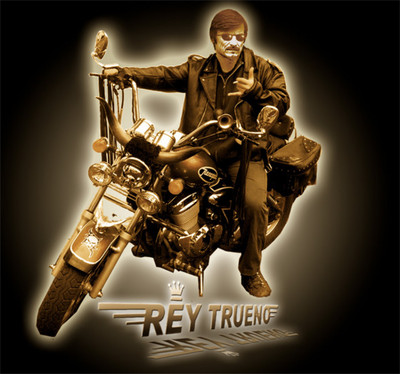 This sonic collage of a tune seems to take in all kinds of African influences and styles and is called "Aotole/Eutela" and is a lot of fun.
¡Que suenan los tambores!
4 Aotole/Eutela (4:32) by Rey Trueno
OK, I'm going to mellow out the sounds now and feature three songstresses from three different continents.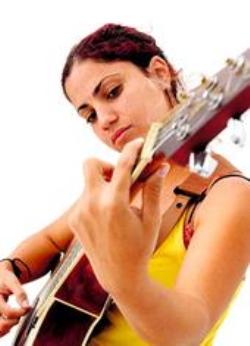 First up is a young Tunisian singer called Emel Mathlouthi and a beautiful song from her album "Helma Dream" called "Helma".
5 Helma (4:28) by Emel Mathlouthi from the album "Helma Dream"
Hmmm. Lovely! And now from North Africa to Poland. Well, France actually since our next songbird although born and brought up in Poland is now based in Paris and has allowed some of that Gallic wistfulness to seep into her music.
.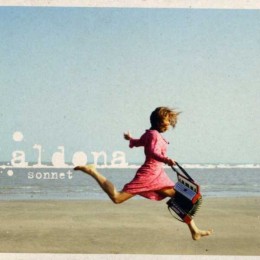 The lady in question is Aldona and this is a track from her new album ("Sonnet") on the German Jaro Medien label.
Aldona sings in Polish still, but the title of the track is given in English; this is a waltz entitled "Blue Birds of Blanka"
6 Blue Birds Of Blanka (4:05) by Aldona from the album "Sonnet" (Jaro Medien)
.
.
OK, last of the lyrical ladies for a moment - although stay tuned for a couple of tunes by the beautiful Brazilian singer Flavia Bittencourt later on in the show.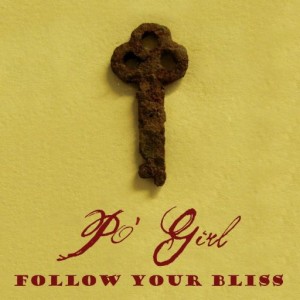 This is a Canadian band called Po' Girl. They take their name from the folklore of New Orleans when the women there gathered scraps of food from restaurants to make the 'Poor Girl' sandwiches for the railway strikers.
.
.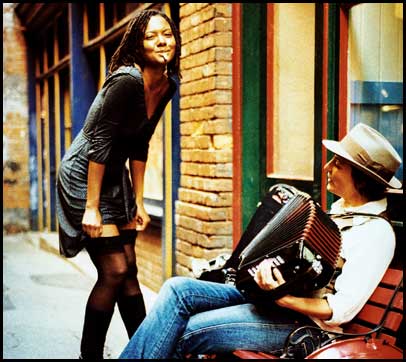 They're about to arrive in the UK for a tour to promote their new album "Follow Your Bliss" and will be appearing at the Kitchen Garden Cafe in Kings Heath, Birmingham, THIS Sunday the 11th of September. On the basis of the album I've got in front of me they're well worth going to see. This track is from the album and is called "Kathy".
7 Kathy (4:18) by Po' Girl from the album "Follow Your Bliss"
.
.
Yeah, the urban folk band Po' Girl who will be appearing at the Kitchen Garden Cafe this Sunday night.
In fact if you're going to be at Birmingham's Artsfest this weekend and you like beautiful female voices and good music, then check out the Yardbird jazz club on Sunday 11th at 2.30pm where you can catch the Diva Collective - three great Brummie singers, Sonia Indigo Clarke, Leonie Moore and Ola Brown backed by some great Brummie musicians: Reed Bass on bass, Leon Small on drums, Reuben James on keys, Melika QB on violin, Howard Chambers on guitar and some bloke called Glyn Phillips on Percussion - music ranging from original tracks to Billie Holiday, Gwen McRae and Soul II Soul as well as a version of Florence and the Machine's "You Got The Love" done rockabilly style . . . 2.30-3pm on Sunday at the Yardbird if you're interested.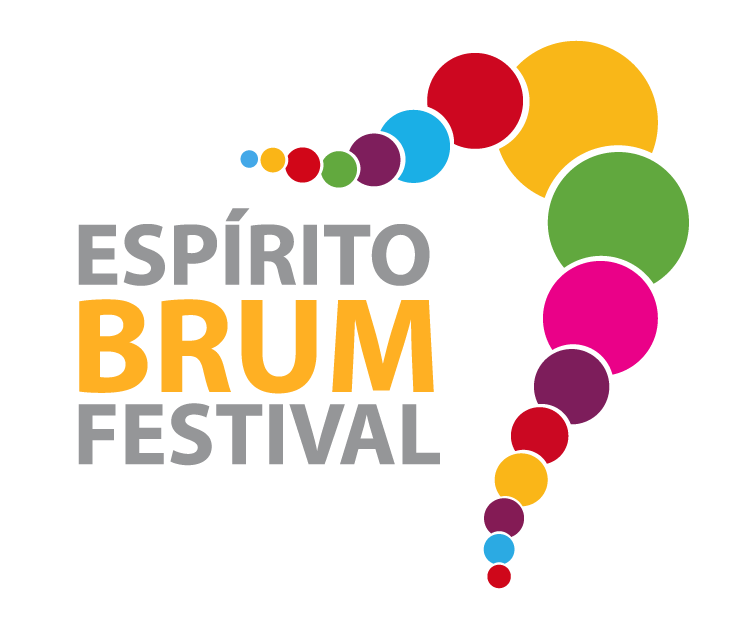 Now, then time to hit the Brazilian trail for the next seven numbers or so. Starting next week in Birmingham there'll be a Brummie-Brazilian exchange going on as Digbeth plays host to a load of Brazilian musicians and artists (alongside some great homegrown acts of all styles - over 30 acts in all) as part of the Espirito Brum Festival which is being organised by Rhubarb Radio's own Magpie Brown and Soesmix Eden.
Check out the website www.espiritobrum.org - all events are only a flat £5 each which is very reasonable and there'll also be workshops, films, foods and talks. As I say, check out the website for more details, but I'm going to give you a little taste of the Brazilian side of things over the next few tunes.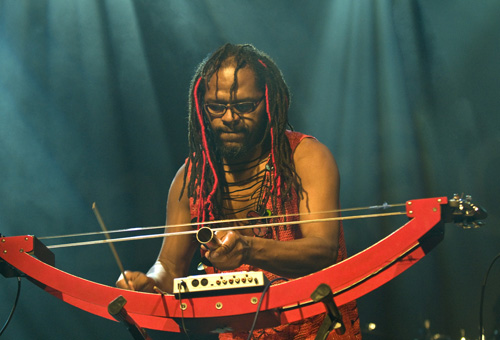 First up is the eclectic percussionist Babilak Bah - some very inspiring stuff indeed.
He'll be doing an experimental workshop on Saturday 17th at The Edge in Digbeth and will also be appearing at The Viva Brazil night at the PST Club on Sunday 18th alongside many other acts as well as me DJing.
This is a track from the album "Emxadario" called "Vou Me Raoni".
8 Vou Me Raoni (2:55) by Babilak Bah from the album "Emxadário" (Sonhos & Sons)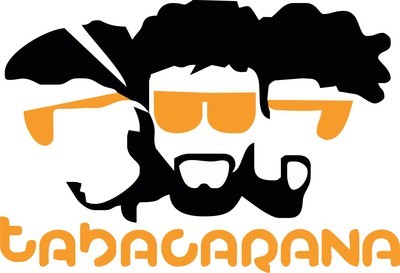 OK, that was Babilak Bah, and here's another act to be appearing as part of the Espirito Brum Festival, the samba-roqueiros, Tabacarana.
You can catch them at Monalitos in Bearwood on Thursday 15th alongside other acts. This is called "Onde Anda João Carlos?" (Where is João Carlos going?)
9 Onde Anda João Carlos? (4:54) by Tabacarana
[CONTINUOUS]
10 Toque de Pife Sem o Brasil (2:49) by Dominguinhos (Criolina re-edit)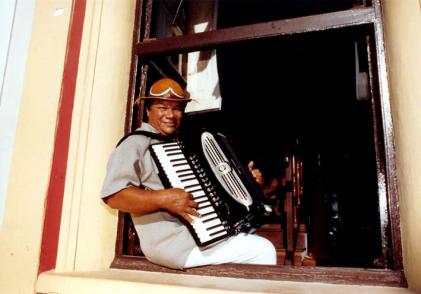 Well, that last track was not by someone who is appearing at the Espirito Brum Festival although there is a link.
You heard there a re-edit by the Brazilian DJ collective Criolina of a forro entitled "Toque de Pife Sem o Brasil" by the nordestino accordion player and composer, Dominguinhos.
And the link with the festival is as follows:
the beautiful Brazilian singer, Flavia Bittencourt will be performing here in Brum at two gigs next week - I'll give details later - and she has brought out a couple of albums to great acclaim, the most recent being entirely devoted to reinterpreting the work of the afore-mentioned Dominguinhos, entitled "Todo Domingos".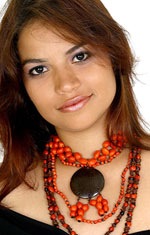 So to give you a flavour of that album and of the delicious Miss Bittencourt here's a track from there called "Lamento Sertanejo" and that's to be followed by a sublime track from her first album ("Sentido") called "Ex-Amor". But first "Lamento Sertanejo"
11 Lamento Sertanejo (3:48) by Flávia Bittencourt from the album "Todo Domingos" (Tratore)
[CONTINUOUS]
12 Ex-Amor (5:00) by Flávia Bittencourt from the album "Sentido" (Tratore)
[CHANGE CD!!!]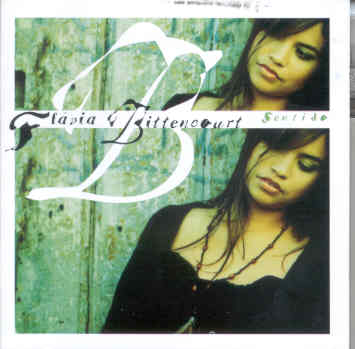 That was Flavia Bittencourt and you can hear her twice during the Espirito Brum Festival next week. The first event is taking place at Monalito's (which is on Three Shire Oaks in Bearwood, Birmingham) on Thursday 15th and besides Flavia and her musicians the night will also feature Brazilian DJ Zappie Pimiental and myself on the decks and Tabacarana 7pm till late - and all for £5. I'll see you all there . . .
Flavia will also be in the studio here on my show next week chatting and playing some unplugged songs live too, so don't forget to tune in!
.
And if you had already forgotten who you were listening to then I'll give you a reminder!
[You're listening to . . .]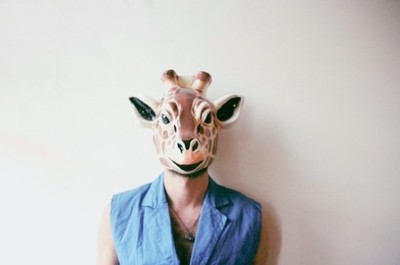 This is a track called "Seu Maya" - not sure who the original is but the remix is by Thornato of the Cumba Mela Collective)
(1) 13 Seu Maya (3:22) by Thornato (Cumba Mela Collective)
OK, last of the Brazilian numbers now and time to up the energy levels to kick off the half of the show.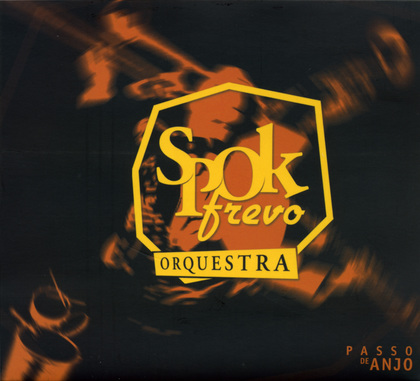 This is the amazing SpokFrevo Orquestra from Recife in Northeastern Brazil and a mad, million-miles-an-hour, jazzy frevo entitled "Nino o Pernambuquinho"!
(2) 14 Nino O Pernambuquinho (3:16) by Spok Frevo Orquestra from the album "Passo De Anjo" (Biscoito Fino)
.
OK, we're cooking on gas now...
So time for a little bit of Electro-Swing from Dimapetrov of St Petersburg in Russia to tickle your fancy.
Or is it Baltic Swing and Bass?
Hmmm. You know, I'm "Undecided Now" . . .
(3) 15 Undecided (3:05) by Dimapetrov
[CONTINUOUS]
(4) 16 Balkanski Bal (Bucovina rmx) (3:10) by DJ Supersonico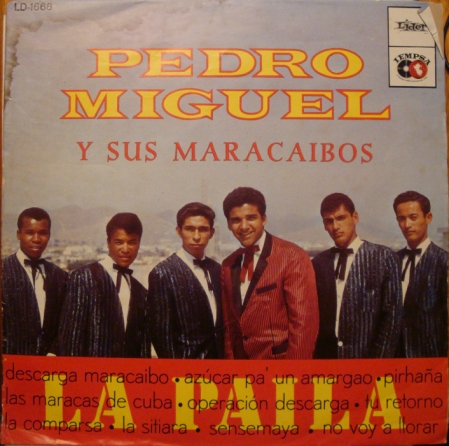 Opa, Opa!! That was the DJ Supersonico's Bucovina mix of "Balkanski Bal".
Stay tuned for some more Balkanic madness at the end of the show.
In the meantime I'm heading for the jungles of South America and some Peruvian Chicha from Pedro Miguel y sus Maracaibos.
This from the album "Bonghead Peru Selections" and is called "Arroz Con Coco" (Rice and Coconut). Güeepa!

(5) 17 Arroz con Coco (2:12) by Pedro Miguel Y Sus Maracaibos from the album "Bongohead Peru Selections"
And if that wasn't enough here's a little more psychedelic chicha music.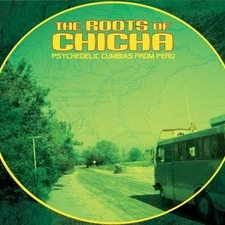 The band are Los Mirlos, the album is called "The Roots of Chicha: Psychedelic Cumbias from Peru" and this track is "El Milagro Verde" (The Green Miracle)
(6) 18 El Milagro Verde (2:44) by Los Mirlos from the album "The Roots of Chicha: Psychedelic Cumbias from Peru"
[CONTINUOUS]
.
.
(7) 19 El Chicharrón (3:13) by Hermanos Castillo from the album "Con Gaita"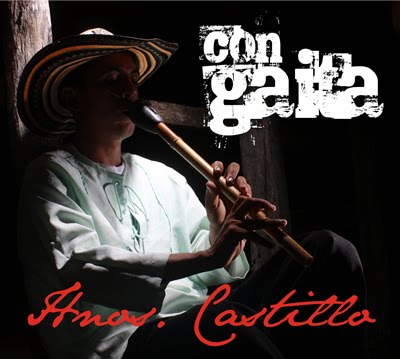 That was a track called "El Chicharrón" by Hermanos Castillo from the album "Con Gaita" - think that was actually a Colombian rhythm called puya underlining the gaita flutes (but I'm open to correction there if anyone knows better!).
.
The word gaita refers to a number of things in Spanish including, flutes, pipes, bagpipes and a form of Colombian music.
.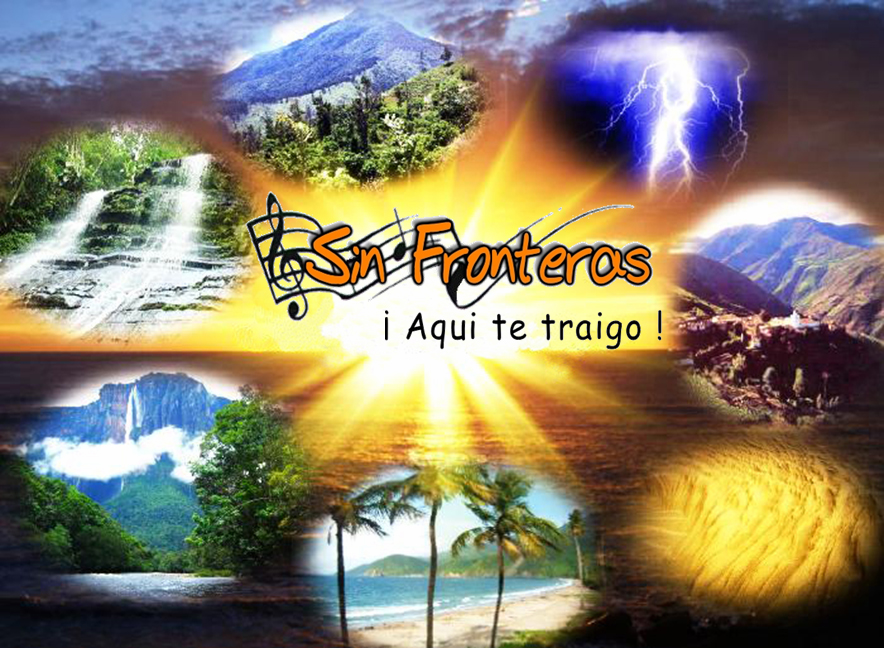 It also refers to another form of music from Venezuela, very different in rhythm than to it's Western neighbour.
.
The gaita venezolana is in ¾ time and sounds like this offering from the band Sin Fronteras(without frontiers) called "Aqui Te Traigo"(Here I bring you . . .). Enjoy!
.
(8) 20 Aqui Te Traigo (2009) (4:24) by Sin Fronteras
[CONTINUOUS]
(9) 21 Tiroteo (2:55) by New Swing Sextete from the album "Volumen 01"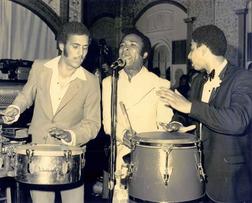 Hey, that was a track called "Tiroteo" by the New Swing Sextete - sorry I don't really have much more info about them other than that. Classic salsa dura feel even with the vibes. Guaranteed to get your feet moving!
Next up it's time to "Get Busy" with DJ Supersonico and the Sistema de Sonido Urbano and his Balkan-Kumbia mashup - I've warned you before, just watch out for Tarzan swing through the trees! - and that's followed very appropriately by a spot of "Jungle Fever" by Maguaré. Are you ready? Then Get BUSY!
(10) 22 Get Busy (3:22) by DJ Supersonico & Sistema de Sonido Urbano
[CONTINUOUS]
(11) 23 Jungle Fever (4:11) by Maguaré from the album "RetroCumbia" (Zephyrus)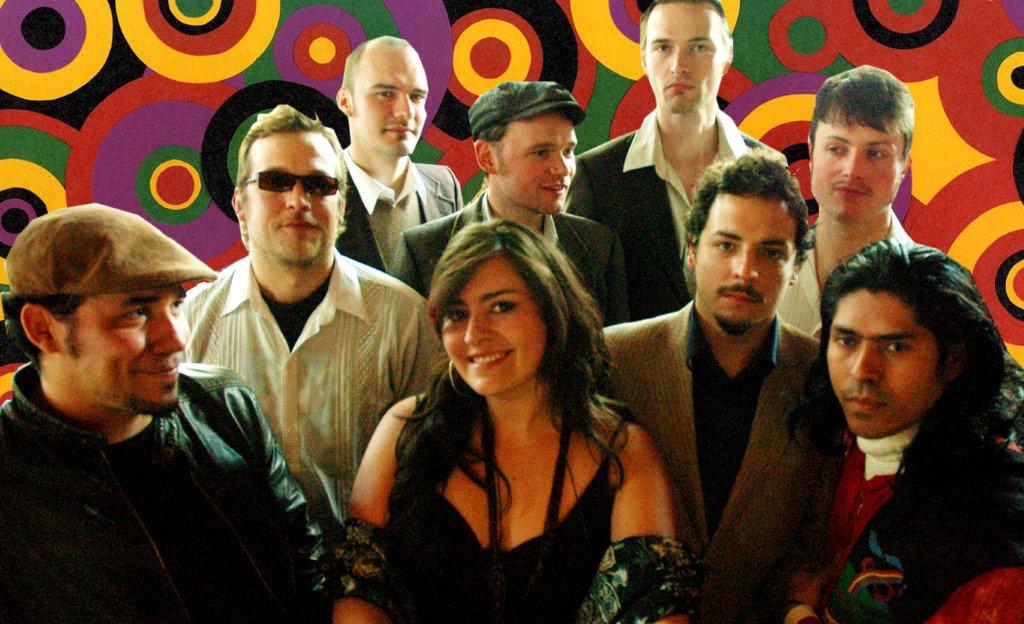 Yeah, now that is one sexy, sexy tune!! The band, Maguaré, is from Belgium but fronted by the lovely Colombian Paola Marquez and that's called "Jungle Fever" from their album "Retro Cumbia" on the Zephyrus label from Ghent.
That track can now be downloaded for free (as of yesterday) by going to SoundCloud and looking for "Jungle Fever".
Maguaré is spelled M-A-G-U-A-R-É. That's dedicated to La Maranguita, as is the next track. ¡¡Ay Papi!!
(12) 24 "¡Ay Papi!" (2:36) by Unknown Artist - from the album "Mofongo Para El Alma" (Discos Mulato)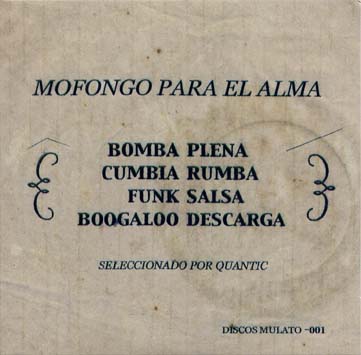 Ha ha ha!! How was that for you? Hope you enjoyed that as much as I did…
OK last number now.
[Goodbyes, shout-outs, reminders etc]
Let's go out with a bang (missus!) this is the Bootlegumachine mashup remix of Tony Camargo's "Año Viejo".
Good night to all and tune in next week for Flavia Bittencourt live on the show and a whole lot more!
(13) 25 Año Viejo (Bootlegumachine_Mashup) (5:44) by Tony Camargo (bootlegumachine re-fix)
1