WorldBeatUK (17th Show) - Broadcast Notes (22/6/11)
Tagged with: WorldBeatUK Glyn Phillips Calan Tom Martin Cheka Aly Keita Tamikrest SMOD Manu Chao Super Cayor Hakim Ghazi Abdel Baki Charbel Rouhana Fareeq Al Atrash Awatiñas Professor Elemental Swing Gadje Antwerp Gypsy Ska Ot Azoy Tirana Caravana Fantasma Canteca
WBUK17 (22/6/11) - SHOWNOTES
1 "Intro-Mat" (1.47) by Matchatcha from album "Nyekesse" (Melodie)
Welcome once again to WorldBeatUK on Rhubarb Radio with me Glyn Phillips taking you on a musical journey for the next two hours around the planet's musical hotspots!
This week we start in the UK but then travel to West Africa to visit Guinea, Cote D'Ivoire, Mali and Senegal.
We take in stops at France via San Antonio, Texas, straddle the straits of Gibraltar with a foot in both Morocco and Spain, cruise the Med and then disembark for an extended stay in Lebanon,
We scale the Andes of Bolivia, gatecrash an English summer fete, head off to the continent to visit the Gypsy and Jewish cultures of France, Belgium and Holland, and even re-imagine Coventry in the metropoli of South America . . .
. . . and finally party off into the sunset in Spain and New York. I hope you've packed your passport and some clean underwear!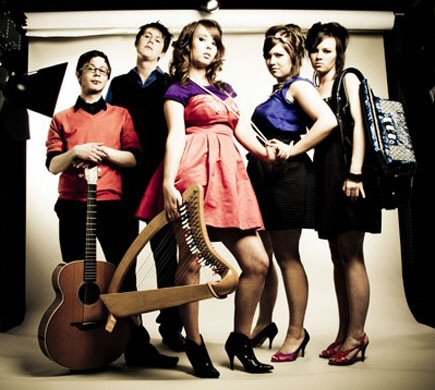 Kicking off the show we're making a hop, skip and a jump from Brum to Wales. One of the leading bands of the Celtic folk renaissance amongst young musicians is Calan. This is from their album "Bling" (on the Sain label) and it's a track called "Calan".
2 "Calan" (3.33) by Calan from the album "Bling" (Sain)
.
.
.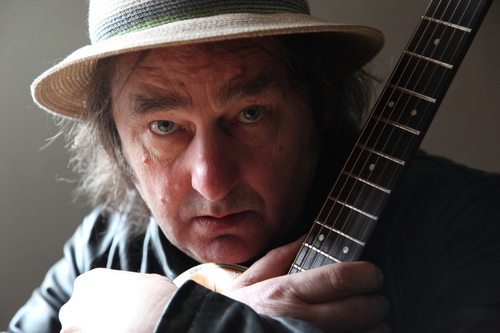 Now this weekend you can catch one of Birmingham's finest sing-songwriters, Tom Martin, who hails originally from Ireland but has put his roots down in Brum - so much so that he owns and runs his own live music venue, the excellent "Tower of Song" on Pershore Road South, in Cotteridge, South Birmingham.
He'll be performing there this Saturday 25th June, singing his own beautifully crafted songs and accompanied by the wonderful cellist Helena Rosewell. Tom's a mean guitarist too - a man truly at one with his instrument.
It's only £3 on the door, runs from around 8pm till midnight and there'll be a support act beforehand - it's always a lovely atmosphere there too. Well worth checking out. Here's an idea of what you can expect from Tom and Helena. This is a track called "Slowburner" from Tom's solo album "Prime Time":
3 "Slowburner" (3.07) by Tom Martin from the album "Prime Time" (Tom Martin Music)
Beautiful!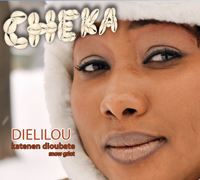 Last week I played you some music from African exiles in Canada and the States. This time it's the turn of Guinean singer Cheka Katenen Dioubate who now lives amongst the snows of Canada. This is a track from her album "Dielilou" entitled "Diagne". Cheka describes it thus: "Being alone can be painful, but distance cannot change the power of true love. The mere sound of a lover's voice can feel like his kiss".
4 "Diagne" (5.02) by Cheka Katenen Dioubate from the album "Dielilou" (Tamala KCD29081)
.
Another African resident in a foreign country is the Ivorian musician Aly Keita who plays the balafon - a large wooden marimba-like instrument common in West Africa. Aly now lives in Belgium, but his music evokes timeless images of Africa. Here he teams up with the legendary balafonist Keletegui Diabate for a track off his album "Farafinka" (on the Contre Jour label). This is called "Bamana Folie":
5 "Bamana Folie" (5.56) by Aly Keita (ft Keletegui Diabate) from the album "Farafinka" (Contre Jour CJ026)
I've featured a lot of Malian artists recently, including this next band, and with good reason. We're all finally waking up to the rich diversity of sounds and traditions and great musicianship within this huge country.
Tamikrest are from northern Mali, where the forests and plains to the south give way to the southern Sahara desert. They are ethnically Tuareg and their music reflects that - although combined with the rock influences so prevalent amongst the younger Tuareg.
You can see them this weekend right here in the UK! They'll be performing at the "Home Festival" of world music in Dartington, Devon this Saturday - I'm going to cover the festival and I hope to bring back some great music from there for the show. This track is called "Arantane N Tinariwen" from their new album "Toumastin" (Glitterhouse Records).
6 "Arantane N Tinariwen" (3.47) by Tamikrest from the album "Toumastin" (Glitterhouse Records GRCD 721)
And from Malian desert rock to Malian rap. SMOD are a group made up of three young rappers and musicians called Sam, Ousco and Donsky. Originally there was another one, with the initial 'M', hence SMOD: S-M-O-D.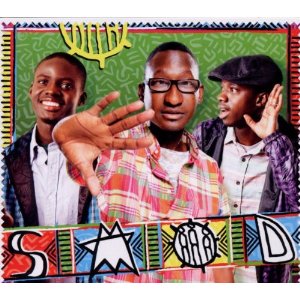 Anyway the ex-Radio Bemba performer Manu Chao just happened to be producing the 2005 album "Dimanche a Bamako" by Amadou & Mariam - when he discovered the youngsters jamming on the rooftop of the house. It turned out that one of them was Amadou & Mariam's son Sam. Manu Chao was so impressed that he produced this, their third album called simply "SMOD".
They sing in both French and Bambara and their sweet sound often disguises some hard-hitting issues such as this track: "Dirigeants Africaines" which is aimed at corrupt and incompetent African leaders - "Wordy speakers, money eaters, African leaders are like this"
7 "Dirigeants Africains" (3.59) by SMOD from their album "SMOD" (Because Music)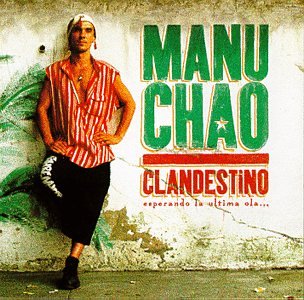 And it's only right that we acknowledge Manu Chao himself - but as ever with a twist. This is a remix by Sonora of one of Manu's iconic tracks "Bongo Bong" - this is called "King of the Bongo".
8 "King of the Bongo" (5.04) by Manu Chao (Sonora Remix)
.
[CONTINUOUS]
.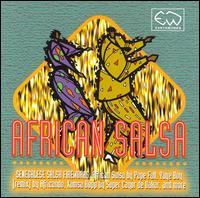 9 "Xamsa Bopp" (4.15) by Super Cayor de Dakar from the album "African Salsa" (Earthworks)
That last track was a load of Mbalax wasn't it? No, really it was! M-B-A-L-A-X, mbalax. The track was called "Xamsa Bopp" by the Senegalese band Super Cayor de Dakar from the 2006 compilation album "African Salsa" on the Earthworks label. Lovely!
.
.
Hakim - full name Abdelhakim Bouromane - is a Moroccan-Spaniard singer, born in Casablanca, now resident in Malaga in Andalusia. Hakim mixes pop, flamenco and arabic music and sings and writes in both Spanish and Arabic, as on this track from his double-platinum 1998 album "Como Suena" (How's It Sound) - this track is called "Nur Lain" but is more popularly referred to by its hookline "Habibi".
10 "Nur Lain (Habibi) (4.11) by Hakim from the album "Como Suena" (Sony Epic)
Staying in an arabic mood now we're going to travel around the other side of the Mediterranean, from Spain and Morocco, eastwards to the Levant and in particular to the country of Lebanon where the next three tracks come from, each one very different, but each one produced by Ghazi Abdel Baki and is on the Forward record label.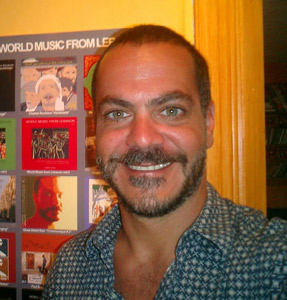 And first up is the composer, arranger, guitarist and singer himself, Ghazi Abdel Baki. This is a track from his 2009 album "The Last Communiqué". The whole album is full of great ideas and interesting sounds. Abdel takes all kinds of influences and puts them into his tracks - you can hear pure funk and jazz, classical and filmscore, rock and blues all blended into music that is still very Levantine and Arabic too.
The track I've selected is called "Majnoun Leyla". It's based on the legend of Macnun and Leyla of two star-crossed lovers whose families start feuding with each other (sound familiar?) and eventually when Leyla is married off to someone else Mecnun goes mad and wanders about the desert writing poetry until he dies young as does Leyla. Some stories have them dying together, others being buried together and others as them running off together to live in a village in Rajasthan.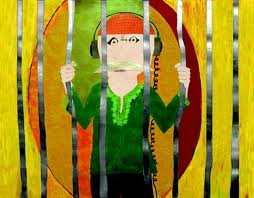 The epic story is based on a real life 7th century Bedouin poet Qays ibn al-Mulawwah who fell in love with a certain Layla bint Mahdi ibn Sah'd. The tale was made famous five centuries later by the great Persian poet Nizami. And improbable as this might sound it resonates today because Leyla is the very same woman that appears in Derek and the Dominos (aka Eric Clapton)'s love song "Layla" - the woman who epitomises the forbidden and impossible love. You see, you learn something new every day!
11 "Majnoun Leyla" (3.36) by Ghazi Abdel Baki from the album "The Last Communiqué" (Forward)
Still in Lebanon an oud duet by Charbel Rouhana and Elie Khouri from Gharbel's meditative labour of love "Doux Zen" an album which took him 3 years to finish. It's also, like the previous track, an album steeped in Arabic passion. As the liner notes by Marcel Khalife say: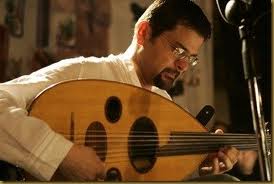 "Charbel ... passionately surrenders to the lust of the plectrum and fingers, deeply thrusts himself into the Oud's chest ... a melting resonance where boundaries between the pluck and melody intermingle on the verge of a velvety string, like the body of a woman touched by love ... fingers fall and fondle them, then with the edge of the sharp plectrum, embrace, wound and devour them."
Ooh er, missus! Now then if you don't know, the oud is an Arabic stringed instrument with 5 pairs of strings and a fat bulging body like a large gourd chopped in half from the top to the bottom. Unlike the electric guitar which is unashamedly male, the curvaceous oud along with the Spanish guitar are seen as very much female in character, to be caressed and stroked in order to coax forth the sweet melodies . . .
I'm currently playing in a band called 'Flamenco Conspiracy' where we use the oud alongside Spanish guitar, so I'm getting into this great instrument in a big way. This track is called "Basma".
12 "Basma" (3.53) by Charbel Rouhana from the album "Doux Zen" (Forward)
And finally before we leave Lebanon here's a track from the younger generation of Lebanese musicians who, like so many young people around the world, are heavily influenced by rap and hip-hop. This is Fareeq Al Atrash from the album of the same name and a track called "Sharqi".
13 "Sharqi" (3.39) by Fareeq Al Atrash from the album "Fareeq Al Atrash" (Forward)
- - - - - - - - - - - - - - - - - - - - - - - - - - - - - - - - - - - - - - - - - -

Don't forget you're listening to Glyn Phillips and WorldBeatUK, right here on Rhubarb Radio, transmitting from the Custard Factory in Digbeth, Birmingham all over the world. Join me every Wednesday between 7pm and 9pm UK time for 2 hours of the best in world music from the four corners of the globe - yes, I know it's technically impossible, but it makes for a good phrase doesn't it . . . !
OK, Imagine we're going whizzing over the Med, over the Atlantic Ocean, over the Amazon Jungle and up the Andes, higher and higher, above the clouds to the Bolivian altiplano where we will find the Aymara people from the lands around Lake Titicaca.
This next track is not a recent one, there's no re-issue, no tour, no normal reason for it to appear on radio, apart from the fact that I rather like it and I think you might too. Going back in the 80s and early 90s you might have heard this sort of music a lot more, but (like East European polyphonic choirs) it seems to have gone our of fashion. No matter, I don't give a stuff about fashion.
The group is called Awatiñas and this track is from their album "El Inka Atahuayllpa" (named after the most famous of the Inca kings). The sub-title to the album is the catchily named Aymara phrase: "Wiñaypachjakapxañanakasakipunirakiwa" (try saying that after 3 bowls of chicha!), which translates as 'we will live forever'; I knew that Aymara phrasebook would come in useful somewhere!
There are many different indigenous rhythms and music forms in Bolivia, let alone South America and this one is a 'saya', which is often associated with Bolivian carnavales and in particular the Caporal dance. I've seen this danced in the streets of La Paz - the highest capital in the world - at the Festival of Gran Poder and it's quite a sight! This track is set in the coca-growing regions of Las Yungas on the side of the Andes where they drop down towards the Amazon jungle and it's called "En Los Cocales".
(1) 14 "En Los Cocales" (3.24) by Awatiñas from the album "El Inka Atahuayllpa"
Now, latin americans are world-famous for throwing carnivals and fiestas, aren't they? But this is how we do it in England. And as yesterday was the Summer Solstice, the longest day in the year (yes, check it out!) I'll leave you with the idiosyncratic Professor Elemental as he takes a little walk around the vicar's lawn and prepares for the annual village fete. No, please, this is no laughing matter, in fact: It's a "Fete Worse Than Death"!
(2) 15 "Fete Worse Than Death" (2.18) by Professor Elemental from the album "More Tea?"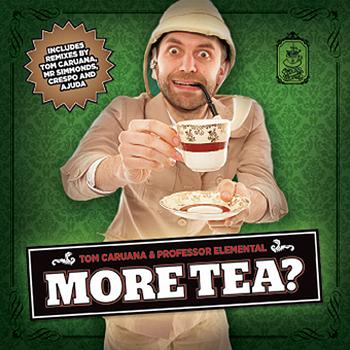 I say, wouldn't catch those damned Frenchies putting on something so quintessentially English, What?! No, they'd probably mix it up in a gypsy-stylee with a little bit of Arab funny business, if you'll pardon my French . . .
.
.
.
.
.
.
(3) 16 "Kriss Romani" (4.32) by Swing Gadje from album "Rough Guide to Gypsy Swing" (Rough Guide)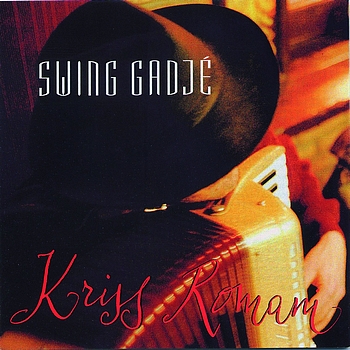 That was a track called "Kriss Romani" by the band Swing Gadje from the compilation album "Rough Guide to Gypsy Swing" (Rough Guide label). And let's keep with the gypsy mood - but this time moving north from France to Belgium and the Antwerp Gypsy Ska Orchestra this is called "Duj Sandala".
(4) 17 "Duj Sandala" (3.51) by Antwerp Gypsy Ska Orchestra
Going North again, but just a short distance to Amsterdam where we'll find the Ot Azoj Klezmer Band and their Molvanian rendition of "Disco Katala".
(5) 18 "Disco Katala" (4.20) by Ot Azoy Klezmer Band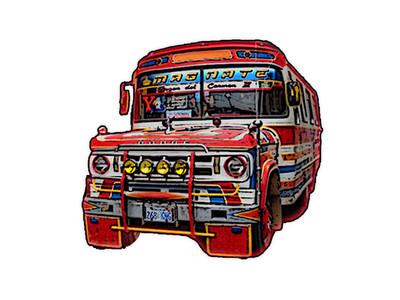 Nah, I aint finished with the whole gypsy-cum-klezmer-cum balkan thing yet! And I think it's time to chuck in a little cumbia seasoning too. This is the band La Tirana Caravana and the Add On De Bass remix of "Fanfarri Cumbia".
(6) 19 "Fanfarri Cumbia" (3.17) by La Tirana Caravana (Add on de Bass remix)
Now then 30 years ago this week back in 1981, a tune was released by a Coventry band that almost more than any other caught the zeitgeist of the time. A harsh, rightwing Conservative Government, massive unemployment, stagnant economy, discontent, anger, violence, poverty and the breakdown of society whilst a certain grocer's daughter told us "There is no such thing as Society".

Businesses were going under, shopfronts were all boarded up, inequality was rife, racial tensions were at breaking point, the inner cities were rioting, and everything seemed bleak. The band was The Specials. And the song?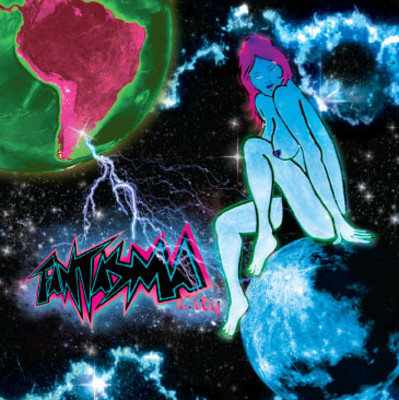 The spectral, haunting "Ghost Town". In recognition of an iconic piece of music and social history - I give you a remix; this is an Argentine re-imagining of "Ghost Town" by the nu-cumbia pioneers "Fantasma":
(7) 20 "Ghost Town" (3.23) by Fantasma from the album "Cabeza! 006"
And from some nu-latin music to some nu-flamenco. From Spain the wonderful Canteca de Macao and a tune from their "Camino de la Vida Entera" album (Warner Music Spain) called "Backstage".
(8) 21 "Backstage" (3.38) by Canteca de Macao from the album "Camino de la Vida Entera" (Warner Music Spain)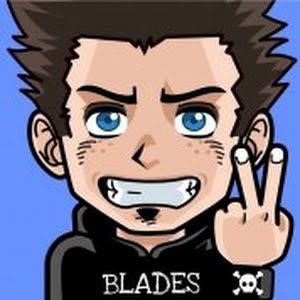 OK, nearly at the end of the show now, so let's have some fun! From one of my favourite remixers around (all the way over in Adelaide, Australia) this is Matty Blades's re-working of Ray Charles's "I Got a Woman".
(9) 22 "I Got A Woman" (2.36) by Ray Charles (Matty Blades remix)
.
[Shout outs and thankyous and reminders - see separate sheet with events listings]:
From 'I got a woman' to a track called "La Mujer Latina" - the latin woman - ¡Ay, que bellas que son! Pues si eres una latina, esto es para ti mujer!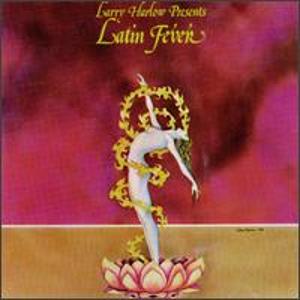 From the compilation album "Salsa Selecta: a taste of Nu-Yorican Latin Flavours" on the Nascente label, this is 6 minutes and 15 seconds of pure joy. Just flow with this tune by the 14-piece all-female band, Latin Fever, produced by Larry Harlow of Fania, as it goes from rumba to latin-rock to samba to salsa before ending in a full-on descarga-style work out on timbales. I love it! Enjoy, mi gente, goza, goza!
(10) 23 "La Mujer Latina" (6.14) by Latin Fever from the album "Salsa Selecta: a taste of Nu-Yorican Latin Flavours" (Nascente)
WorldBeatUK (9th Show) - Broadcast Notes (27/4/11)
Tagged with: Worldbeatuk Glyn Phillips Rhubarb Sergent Garcia Show of Hands Susana Seivane Anxo Lorenzo Ojos de Brujo Gnawledge Camarao de Rama Gypsy Groovz Owiny Sigoma Tamikrest Dub Colossus Shawn Lee Quique Neira C-Sharp Ebo Taylor Imam Baildi Bongomatik Strut
WBUK9 (27/4/11) Show Notes
1 Intro-Mat (1:47) Matchatcha Nyekesse (Melodie)
Hope you've all had a good Easter and enjoyed the good weather; now that it's turned a bit colder, hopefully you'll all be thinking "Nah, bit parky this evening, think I'll stay in and be warmed up by the groovy choonz and tropical vibes on WorldbeatUK!" So without further ado and maybe even a little bit of adon't, we'll kick off with El Salsamuffinero Mayor, Bruno 'Sergent' Garcia, and a track from his new album ("Una y Otra Vez") out on Cumbancha. This one is called "El Baile del Diablo" - The Dance of the Devil.
2 El Baile Del Diablo (4:00) Sergent Garcia Una Y Otra Vez (Cumbancha)
Now that last tune was all about the devil's dance that the politicians and the world's leaders indulge in as they continue to muck our lives around - as El Sargento says: "One Step Forward, Two Steps Back". Well this next group also wrote a song criticising those same politicians, leaders and power-hungry people - the track was called "Arrogance, Ignorance and Greed" off the album of the same name by English Folk giants Steve Knightley and Phil Beer of Show of Hands and I played that one a few weeks back.
So now another one off that same album, but this time spelling out their views (which I happen to share) about Creationism. This is called "Evolution". With the rallying call of 'Nail your colours to the mast', the message is "The finger points in one direction, that's natural selection"
3 Evolution (3:26) Show Of Hands Arrogance, Ignorance and Greed
(Hands On Music, 2009, HMCD29)
Well to show a bit of balance here's a tune that's related to a religious theme. It's called "Camiño Longo" which means the 'long route' and is from an album (on the Do Fol Musica/Boa label from Spain) called "Cantigas de Camiño". The album, which comes with an exquisite little hardback book, is dedicated to music based around the famous Pilgrims Route to Santiago de Compostela in Spain's Northwestern region of Galicia. This is the beautiful singer and bagpiper Susana Seivane.
4 Camiño Longo (4:01) Susana Seivane Cantigas Do Camiño (do Fol Musica/Boa)
There's been so much good stuff coming out of the Spanish region of Galicia that I'm including it as one of the three points of what I consider to be Spain's Golden Triangle of Creativity (which also includes Catalunya in the North-East and Andalucia in the deep South of the peninsula).
Here's yet another example from Galicia - the brilliant bagpiper Anxo Lorenzo and a track from his debut album "Tirán" (which also include guests appearances from Ireland's Eoghan Neff on violin and England's most famous exponent of the Northumbrian pipes, Kathryn Tickell). The album's released on the Spanish Zouma Records label. This track is also called Tirán.
5 Tirán (ends at 4.10ish) (4:30) Anxo Lorenzo Tirán (Zouma)
Ok, over to the second point of my Golden Triangle: Catalunya, home to Barcelonan super-group Ojos de Brujo. They hit the scene with a bang just 10 years ago and have consistently delighted the world music fans and confounded their detractors with their very personal, idiosyncratic and uncompromising approach to music, business and life.
Word has it that they're finally splitting up to concentrate on personal projects and so have just released what is, I suppose, their final album (which is released by Warner Brothers Spain). Some critics have accused them of laziness because it contains only two new tracks, the other 11 having all been released before on their other albums.
But the title kind of gives it away: "Corriente Vital: 10 Años" (which roughly translates as 'the Essential Current - 10 years); it's obviously a retrospective - but with a band of the quality of Ojos de Brujo, there's an amazing back catalogue to choose from - so there's definitely no fillers here!
What they've done is to hand all the tracks over to different producers and allow them to remix them as they want. So, yes, it is a new album - it's like meeting up with an old friend for a last dance; they just happened to have had their hair redone and put on a new outfit - but they still move just as well as before! This track is "Todos Mortales" - originally from their 2009 "Aocaná" album - but here remixed and featuring Roldan from Orishas.
6 Todos Mortales (3:23) Ojos De Brujo Corriente Vital 10 Años (Warner Music Spain)
Staying in Spain still, we're heading South to the final point of my Golden Triangle of Spanish Creativity, to the huge province of Andalusia on the South Coast, the jumping off point for the Moorish influx that so influenced Iberian culture.
And high up in the Sierra Nevada, the home of the amazing Moorish palace and gardens of the Alhambra you'll find one of the most stylish, yet also most funkiest and bohemian of Spanish cities, Granada.
This is home to a brilliant band - or maybe I should call it a project - called Gnawledge. Put together by American musicologist Canyon Cody and rapper Gnotes, they fuse Andalucian flamenco with North African Gnawa music and jazzy hip-hop sensibilities and more, so much more, utilising a cast of top flight Granadan musicians including Juan Habichuela "El Nieto" on guitar, Otoman Almerabet on Laúd, Eneko Alberdi on guitar, DJ Doblegota on Scratch and loads more amazing musicians. I absolutely LOVE these guys! This is from their "Granada Doaba" album (on the Gnawledge label) and a track called "Perro Cruzado".
7 Perro Cruzado (3:57) Gnawledge Granada Doaba (Gnawledge)
Ok, we're going to leave Spain now, but just to show how difficult that is, this next track is a wonderful piece of maracatú-flamenco from Brazil! The band is called Banda Camarão de Rama and is based around the Miguez family: father, Gilvan, daughter, Aline and son, Daniel from Belo Horizonte, in Minas Gerais. The track is entitled "A Bala".
8 A Bala (2:57) Banda Camarão de Rama
Complete change of pace and place now as we head back over the Atlantic to Europe and back to that Balkan Gypsy Music Festival in Guca, Serbia I mentioned a couple of weeks back. This is part of a 35 minute long jam between 75 balkan brass musicians and 10 nyabinghi drummers; the track is called "Hot Water Festival" (this is part 4) and it's from the album Gypsy Groovz Orchestra Goes Tutti Mundi: "Night Train for Lovers and Thieves" on the German Network Medien label.
9 Festival Tople Vode Part 4 (3:10) Gypsy Groovz Orchestra Night Train for Lovers and Thieves (Network)
- - - CONTINUOUS - - -
10 Margaret Okudo (dub) (4:18) Owiny Sigoma Band Owiny Sigoma Band (Brownswood)
That last track was called "Margaret Okudo" by the Owiny Sigoma Band, and is from their forthcoming album. There's an interesting story attached to it:
Two years ago on the eve of the inauguration of President Obama, five musician friends from London who'd know each other since school days pitched up in Nairobi, Kenya, East Africa as part of a loose, informal collaboration organised by the voluntary organisation Art of Protest to promote local Kenyan musicians and partner them with British ones to see what came out of it all.
The London lads met with the phenomenal teacher and player of the East African nyatiti - an 8 string lyre - Joseph Nyamungu, a man steeped in traditional Luo music; he in turn introduced them to drummer Charles Owoko - also steeped in Luo rhythms and the 7 piece got together to find common ground in a disused factory in downtown Nairobi - the only studio big enough to take them all - since most studios in the capital cater only for rap and RnB productions, ie a computer and one mic!
They named the band after Joseph's grandfather, Owiny Sigoma. Next year they reconvened in Nairobi, this time as a 10-piece band and recorded the album at the Kenya National Theatre - a collection of gloriously loose afro-grooves which sway between Luo and London.
Most of the songs are written by Joseph and based on Luo folk songs. However they must have done something right, because they were picked up by Brownswood Records and championed by none other than Gilles Peterson, who's really into the drum and bass heavy sound, and Damon Albarn of Gorillaz fame, who also pops up on a couple of the tracks on the album. The album's also called "Owiny Sigoma Band" and is due to be released next week on the 2nd May on the Brownswood Records label.
Ok, sticking with Africa, but this time shifting over to Mali, here's a band I've also played before. Part of the new generation of Tuareg Desert Rockers, this is the young band Tamikrest, from Saharan Mali, and a track from their new album released only two days ago by Glitterhouse Records. The album's called "Toumastin" and this track is entitled "Tidit".
11 Tidit (4:15) Tamikrest Toumastin (Glitterhouse Records)
- - - CONTINUOUS - - -

12 Wey Fikir (4:20) Dub Colossus Addis Through The Looking Glass (Real World)
Wasn't that dreamy and beautiful! You've just heard the brilliant Dub Colossus, an Anglo-Ethiopian collaboration between Nick Page, aka Dubulah of Transglobal Underground and Syriana, and masses of fantastic Ethiopian musicians from the Addis Ababa scene (which includes jazz and rock and hip-hop and soul as well as traditional music).
The wonderfully delicate vocals on there were handled by Ethiopian pop star Tsedenia Gebremarkos. So much great music on that album - it really repays listening to again and again to extract all the hidden flavours! I'm absolutely loving it! That track was called "Wey Fikir" from the album "Addis Through The Looking Glass" by Dub Colossus and it too was released only two days ago on the 25th of April and is on the Real World Records label.
Well, I can only really follow that with a track by Shawn Lee's Ping Pong Orchestra - who incidentally will be appearing at Birmingham's Mostly Jazz Festival on Friday 1st July this year - and what else but a dark, jazzy piece called "Ethio" from the album "World of Funk" on the Ubiquity label.
13 Ethio (3:42) Shawn Lee's Ping Pong Orchestra World Of Funk (Ubiquity)
- - - CONTINUOUS - - -

14 Afrodesia (2:41) The Afro Soul-Tet Afrodesia (Ubiquity)
That last track - drenched in tropical rain storms - was an old track called "Afrodesia" from the heyday of jazzy afro-psychedelia and was by the Afro Soul-Tet from their album also called "Afrodesia". Originally a very limited pressing of between 500-1000 on the Banyon label from Los Angeles sometime between 1968-71, it's now been reissued by Ubiquity Records.
Something different now. This is a track I'd originally planned to play last week, but my interview and live session with Brazilian percussion genius Renato Martins overran somewhat and I had to drop it. Well, now I can reinstate this lovely piece of Chilean reggae - this is from the king of South American reggae, Quique Neira - off his album "Jah Rock" (on the German label GLM) - and a track entitled: "Dar y Recibir" (To Give and To Receive):
15 Dar y Recibir (4:35) Quique Neira Jah Rock (GLM)
And from a classic reggae style to very much up-to-date Jamaican reggae-pop with a latin-cum-RnB feel; this is C-Sharp - a band I've played a lot this year - and probably the most clubby commercial piece I've heard of their's, with at least one verse in Spanish too! They've got a new album coming out this year called "The Invitation". This is called "Dancin' Like Crazy".
16 Dancin Like Crazy (3:14) C-Sharp
- - - CONTINUOUS - - -

17 Calypso Cha Cha (2:52) Count Lasha & His Calypsonians Soundman Shots: The Caribou & Downbeat 78's Story (Snapper Records)
Ha ha! Bet you didn't see that one coming did you? From contemporary Reggae pop to the sound of 1950s Jamaican mento (masquerading as Calypso) mixed with Cha Cha Cha taken from some rare 78's! Very early fusion then!
And yet people forget that there has always been quite a bit of influence between the neighbouring islands of Jamaica and Cuba. Very many Jamaicans went to work on the sugar plantations in the East of Cuba and learnt Spanish and soaked up the rich cultural soup of Santiago de Cuba and took this back to JA; similarly I met many old Cubans who had learned English either from Jamaicans or in Jamaica themselves.
That was Count Lasha and his Calypsonians from a great compilation double album on the Snapper Records label called "Sound Man Shots: the Caribou and Downbeat 78's Story" and a track entitled, funnily enough, "Calypso Cha Cha".
Ok, sticking with the whole half-a-century ago feel, this is from one of my favourite labels, Soundway Records, (who recently released the excellent Colombian compilation of 1960s tunes called "Cartagena!"); this time it's still in the Caribbean but looking at the French speaking Caribbean and an album released in 2009 called "Tumbélé! Biguine, Afro & Latin Sounds from the French Caribbean, 1963-1974", which concentrates on the French-speaking and - to this day - still French-administered islands of Martinique and Guadeloupe. A fantastic retrospective of yet another hidden part of the Caribe.
However, the track I've chosen is actually by a band from Haiti who happened to spend a few years living and working in Martinique and who recorded several LPs there, mostly heavy 'compas' for the Hit Parade label. The band is called Les Loups Noirs de'Haïti (the Black Wolves of Haiti), the track was recorded in 1972 and is a manic biguine written by Gardner Lalanne and featuring some bizarre, almost psychedelic, approximations of a jet plane taking off, with crazy sax, distorted guitar and a rhythm section that is almost tripping over itself with excitement. Absolutely love it! This is called, appropriately enough, "Jet Biguine".
18 Jet Biguine (3:26) Les Loups Noirs D'Haiti Tumbele (Soundways)
Wonderful madness! OK, in the last of my oldies (for the moment at least) this is a funktastic, groovalicious slice of Ghanian Afrobeat from someone who I've featured before on this show, Mr Ebo Taylor from the excellent album "Life Stories - Highlife and Afrobeat Classics 1973-1980" - a double album of Ebo's work with different bands and all very, very enjoyable. It's on the Strut Records label and was released a few weeks ago. The track I've selected has guitar maestro Ebo Taylor alongside Uhuru-Yenzu and a track called "What Is Life?"
19 What Is Life? (4:38) Ebo Taylor & Uhuru-Yenzu Life Stories -
Highlife & Afrobeat Classics 1973-1980 (Strut)
Did I say last of the oldies? Well, Yes and No. Those Greek brothers Lysandros and Orestis Falireas, better known as Imam Baildi (who incidentally take their name from a middle eastern aubergine dish which translates as "The Priest Faints") - well, these inveterate mashers and mixers of rebetiko have worked their magic on yet another old Greek tune this time it's the singer Meri Lida and a track called "Thlipsi".
20 Thlipsi (Remix) (3:20) Meri Lida/Imam Baildi The Imam Baildi Cookbook (EMI Greece)
Ok, we're slipping up to the last 20 minutes or so of the show, so let's press on. This band I discovered only recently - and I'm so glad I did. They're from the Netherlands, they're called "Bongomatik" and they play the most delightful mix of latin, funk and pop.
This is off their eponymous debut album (and if you're wondering why I'm using all those big words again - 'eponymous' is just another word for 'self-titled' - Aw, come on guys, there are thousands of words in the dictionary, it's a crime not to try and use them all!).
It's a great album, a whole lot of fun, highly recommended, not long released. It's published by No Can Do Music on the Distribution label and this track is called "Donde" (if you like Cuba's Omara Portuondo you'll recognise it… eventually!).
21 Donde (5:11) Bongomatik Bongomatik (No Can Do / Distribution)
Continuing with the Cuba connection, this is a band that England's Tumi Music label are pushing a lot. They're called To' Mezclao (which means "All Mixed Up") and that reflects their musical standpoint - since the album covers salsa, latin pop, son-fusion, latin house, reggaeton, merengue, cumbia and bachata.
Naturally, the album is called "Hibrid" (or Hybrid), it's on the Tumi Music label. They'll be touring the UK this summer between mid-June and mid-July and promise to be a very exciting band live. The track I've chosen is a piece of latin pop called "Mango Bajito"
22 Mango Bajito (3:11) To'Mezclao Híbrid (Tumi Music)
Sticking with latin this is one of my all-time favourite salsa tracks. Of all the salsa dura - or hard salsa - tracks, this is one of the most 'dura'. It's by Mr Hard Hands himself, Ray Barretto. It's from the double album compilation "Fania Records 1964-1980: the Original Sound of Latin New York" released this year by Strut Records. And the track is the MONSTER tune that is: "Indestructible"
23 Indestructible (4:14) Ray Barretto Fania Records 1964-1980:
The Original Latin Sound of New York (Strut)
Thanks to one and all etc…
I'm going to hand over to Olbi Iyah and his show "Version Galore" with reggae of all sorts and styles and periods. And to ease you into that, this is probably my favourite track of the night. This is LUSHNESS personified! Mr Sonny Bradshaw and the Sonny Bradshaw Seven from the Trojan Sixties Box Set 1, this is "Love is Blue". Good night, see you next week for more worldly grooves!

24 Love Is Blue (3:19) Sonny Bradshaw Seven Trojan Sixties Box Set 1
WorldBeatUK (3rd Show)- Broadcast Notes (14/03/11)
Tagged with: WorldBeatUK Glyn Phillips Rhubarb Radio Cheik Lô Pressure Sounds Lee Perry Ranglin Jeremy Marre Inner Circle Vampisoul Majid Bekkas Tamikrest Soundways Poly-Rhythmo Owiny Sigoma Watcha Clan Rango Oy Moutinho Fexomat Chalice Gevende
Show Notes for 3rd WorldBeatUK world music radio show with Glyn Phillips
(broadcast on Rhubarb Radio - 14/03/11)
1 Jingle 1
Great show coming up this evening with quite an influence from Africa later on, as well as new releases and pre-releases from Watcha Clan, Lee Scratch Perry, Owiny Sigoma, Soundways, Vampisoul, Tamikrest, Orchestre Poly-Rhythmo, Pedro Moutinho, Sr Ortegon and Chalice.
But first off, some African reggae from Senegal's Cheik Lô - this is "Warico Dub".
2 "Warico Dub" Cheik Lô
Now this one's for the reggae and dub heads out there. Just like to say thanks to Steve Williams of UKVibe for the heads-up on this one. Pete Holdsworth and record label Pressure Sounds have collated and released a very interesting selection of Dub Plate Mixes and Rarities recorded by The Upsetter himself, Mr Lee "Scratch" Perry, dating from 1973 to 1979. The album's called "The Return of Sound System Scratch" (Pressure Sounds PSCD70) and it's essentially a compilation of some of Perry's more obscure - even extreme - recordings, most from the Black Ark period.
As well as Lee Perry there are many different variations of the Upsetters on this album with special guests such as Junior Murvin, Candy Mackenzie, Leo Graham, George Faith, Jimmy Riley and Jack Lord; there are also tracks by Aleas Juve, The Unforgettables and the Silvertones. Some of the tracks are previously unreleased and many are exclusive dub plate mixes; some are very accessible commercial tracks and others are pure Lee Perry fantasy world dub weirdness.
However, the cut I'm going to play is much more user-friendly and you don't have to be swirling in a haze of holy herbalness to appreciate it. It's by Candy Mackenzie & the Upsetters and is a previously unreleased track called "Long Enough"
3 "Long Enough" Candy Mackenzie
[Continuous - No Break]
4 "54-46" Ernest Ranglin ft Toots Hibbert
That was legendary Jamaican ska and jazz guitarist Ernest Ranglin on one of my favourite numbers "54-46"; I'm also a big fan of 634-5789 (by Eddie Floyd and Steve Cropper), 344-3025 (by Giraldo Piloto)! They don't write numbers like that anymore… But hey, that just me! Vocals were from the equally legendary Toots Hibbert.
Now, while we're still on a Jamaican tip, I want to play a very rare track recorded live during a field recording in Jamaica in 1977 for a documentary called "Roots, Rock, Reggae". The documentary highlighted the real life street level music of Jamaica at a time when, apart from Perry Henzell's "The Harder They Come" film, there was very little real film of music and life there getting out into the mainstream and even in Jamaica, reggae was viewed with scorn by many in power. And the guy who happened to be in the right place at the right time? Jeremy Marre. M-A-R-R-E.
Ring any bells? No? Well it should do - he's the film-maker behind the legendary late 70s/early 80s "Beats of the Heart" documentary series on world music (from which this documentary comes) - this was before we even called it world music - an incredibly influential work documenting a seminal point in the global consciousness of the world's music outside of the mainstream. Those of us involved today owe a big debt to pioneers like this.
Is he resting on his laurels? Nope. Last Month's "Reggae Britannia" series on BBC was his, as was the brilliant series, "Latin Music USA" and also "Soul Britannia" as well as stuff on James Brown, Marvin Gaye, Phil Spector and more. Jeremy Marre, as they say, knows his onions!
For "Roots Rock Reggae" Marre had to play a sleight of hand trick with the Jamaican authorities at the time and pretend to be making a film about calypso and jazz to be able to get permission to film. Once there the team had to try and establish contact with reggae musicians on the ground amidst many difficulties and a background of gang wars, street violence and the mayhem created by the competing factions of the politicians Michael Manley and Edward Seaga.
It's a fascinating documentary showing the reality of the late 70s for Jamaicans and the volatility which forged conscious reggae. It's available (as are many of the re-issued "Beats of the Heart" documentaries) via the DVD label Digital Classics at www.digitalclassicsdvd.co.uk - I'll try and put details up on my site later.
This track by Inner Circle was recorded live at an afternoon stage show in a Kingston street - complete with vocalist Jacob Miller berating the crowd beforehand for not behaving themselves! This is "Love is the Drug".
* Inner Circle - "Love is the Drug" (audio from Roots Rock Reggae DVD)
Moving away from Jamaica we're going to early 60s black urban America and the sound of early RnB from the vaults of King and Federal. Rhythm and Blues as world music. Yep! You'd better believe it.
The fantastic Spanish re-issue label Vampisoul has just released Volume 2 of their series RnB Hipshakers; this album's entitled "Scratch That Itch" and this track is by a man who later was better known as a comedian, actor and film producer, Rudy Ray Moore. Most famous for his title role as the "uniquely articulate pimp" Dolemite in the 1975 Blaxploitation comedy film, this is Rudy Ray taking us all for a "Buggy Ride" . . .
5 "Buggy Ride" Rudy Ray Moore
Rhythm and Blues grew out of the Blues and here's an example of how it all links back to Mama Africa. This is the Moroccan gnawa master Majid Bekkas from his 2002 album "African Gnaoua Blues" on the Belgian Sowarex Igloomondo label and a track called "African Blues".
6 "African Blues" Majid Bekkas
Going south from Morocco over the Sahara you eventually end up in the desert area of northwestern Mali. We're used to hearing the more southern sound of this vast country, but here's a track from its Tuareg community 2,000 miles north of Bamako. Tamikrest are a young band who fuse more traditional Tuareg music and the Tamshek language with influences from Jimi Hendrix and Bob Marley.
Never underestimate the power of music - the band's leader Ousmane Ag Mossa didn't have access to even cassette tapes until 2000 around the time he started learning guitar - and what did he listen to? Dire Straits and Bob Marley. As he said "That changed my musical vision completely and I stopped to classify music. Music is just music, no matter where it comes from". Amen to that.
Tamikrest's new album "Toumastin" won't be out until April 25th but here's a preview from it. This is "Arantane N Tinariwen"
7 "Arantane N Tinariwen" Tamikrest
Well I'm REALLY excited about this next release - I've been jumping up and down for joy for a few days now. The brilliant British label Soundways specialise (amongst other things) in digging out the lost and forgotten recordings of the world's most vibrant musical cultures. Here they focus on the music of Colombia's Caribbean coast and the output of Curro Fuentes' recordings from Cartagena. And this is a gem of an album, with Roberto Gyemant aided by Miles Cleret and Quantic's Will Holland assembling some diamond moments.
It's full name is "Cartagena - Curro Fuentes & the Big Band Cumbia and Descarga Sound of Colombia 1962-72" and it's chock-full of goodies! Anyone who knows me knows my longstanding passion for cumbias (especially from the golden years) and I wasn't disappointed with cumbia, porro, gaita, merecumbé and tamborera all thrown into the mix; however it was the descargas that really blew me away.
This is the wonderfully named Clodomiro Montes y el Super Combo Curro and a track called Puerto Rico Zuuuuuuumbando!
8 "Puerto Rico Zumbando" Clodomiro Montes y el Super Combo Curro
[Continuous - No Break]
9 "Pardon" Orch Poly-Rhythmo
The last track was "Pardon" from the Beninese afrobeat band Orchestre Poly-Rhythmo. Now then, that was a preview track from their new album called "Cotonou Club" which is to be released on the Strut label in a fortnight's time. Amazingly it's their first new album in 20 years! With five members of the original 1960s band, two from the 70s incarnation and three new members, they also invited guests Angelique Kidjo, Fatoumata Diawara and member of Franz Ferndinand on their new release.
Here's another new release. Owiny Sigoma is a new band formed by the combination of a collective of UK musicians brought over to Kenya on a grassroots level cultural exchange programme to work with Nairobi based Joseph Nyamungu who plays the 8 string lyre, the nyatiti and drummer Charles Owoko who specialises in traditional Luo rhythms. The resulting album recorded in a disused factory outside Nairobi has subsequently been championed by Gilles Peterson and is to be released by Brownswood Recordings on April 18th with a special pre-release of the 12" single "Wires" exclusive to Record Store Day - that's April 16th in case you didn't know! - backed by a Theo Parrish remix. This is the original version...
10 "Wires" Owiny Sigoma Band
Staying with the London-Africa connection here's some Township jazz from Barnet, North London by the excellent 'Rhythm-&-Blues-and-everything-in-between' band Big Chief recorded live outdoors at the Ealing Blues and Roots Festival last July and on their new album "On Broadway". This tune is written by them and features a great horn section of John and Chris Fry and Ed Benstead blowing out on "Africa Rag".
11 "Africa Rag" Big Chief
Now then, think Brazil and you think Samba, Bossa, Baile Funk, Forro, Axe, Maracatú, etc, etc - a whole semi-continent of rhythm. However this next band look Northward to a tiny island far far away - as many of us do - for our inspiration. The Orquesta Brasileira de Musica Jamaicana are part of the latin ska phenomenon currently ripping up latin dancefloors from Argentina to Venezuela. This is from their album "Volume 1" on the Scubidu label and is a re-imagining of "Tico Tico No Fubá".
12 "Tico Tico No Fubá" OBMJ
[Continuous - No Break]
13 "Perfection" Boogat (Geko Jones/N Ron) - cuts before proper end!
14 JINGLE 2
Before the break you heard the track Perfection by Boogat (big shout out going to Geko Jones and N Ron in New York for that one).
Now, remember I was talking earlier about British label Soundways and their new album "Cartagena"? Well it's so good I've just got to play another track. This is Crecencio Camacho y el Super Combo Curro and a tune called "Santana en Salsa". The background to this cut is that after a night's playing the band have just finished a gig and are now starting to play just for fun. This is a monster tune with a heavy, heavy, groove. Just intoxicating… Pa' to'os ellos que le 'usten la musica colombiana de lo' años de oro!
15 "Santana En Salsa" - Crecencio Camacho y el Super Combo Curro
[Continuous - No Break]
16 "March of the Morons" Oy Division
You just hear the traditional Jewish sounds of the gloriously named Oy Division and "March of the Morons".
Here's another brand new release due out on the 4th April here: this time it's Marseille's global beat outfit Watcha Clan and a track from their new album "Radio Babel". They'll be playing in London tomorrow at the Rich Mix Bar in Bethnal Green Road E1 to promote the new album. This is a wonderful piece of dubsteppy reggae worldness entitled "Im Nin'alu".
17 "Im Nin'alu" Watcha Clan

[Continuous - No Break]
18 "Sawakin" Rango
What you just heard was a track called "Sawakin" from an album entitled "Bride of the Zar" by the Egyptian based but Sudanese descended band, Rango, (no relation to the animated gecko currently at the cinema I might add). Their back story is too long to go into here, but includes mystic healing ceremonies, Sudanese trances, Nubian weddings, a 190 year old xylophone, an Arabian vampire, ghosts, aerosol cans, chickens, sardines and recycled aerosol cans. Intrigued? You will be! Please check them out at www.30IPS.com (which is their label) and the other bands there too.
I'm a sucker for Portuguese music and fado in particular; this is the lovely soothing sound of Portuguese singer Pedro Moutinho - in a duet with the luscious Mayra Andrade from Cabo Verde from Pedro's album "Lisboa Mora Aqui" on the Uguru label. "Alfama"
19 "Alfama" Pedro Moutinho & Mayra Andrade
OK, let's up the adrenaline with some heart-pumping salsa dura from the very talented producer, composer and musician, Señor Ortegon from Cali, Colombia. This is right on the money - "Fiesta de la Calle"
20 "Fiesta en la Calle" Ortegon
If you like Gypsy music and also like Breakcore then this one's for you; some diamond-tipped Balkan Hardcore from Berlin: Fexomat and Sum and a remix of "Golden Days"
21 "Golden Days (rmx)" Fexomat & Sum
[Continuous - No Break]
22 "Celick Comak" Gevende
You're listening to WorldBeatUK with me Glyn Phillips and you've just heard a track that I had to move from last week's show, the Turkish psychedelic folk band Gevende and a track from their first album "Ev" on the Baykus music label called "Celick Comack":
OK, I'm going to take it down slightly now with some smooth Jamaican soulful reggae, this is Chalice and "Caravan of Love"
23 "Caravan of Love" Chalice
Now last week I got into terrible trouble with my missus, who threatened to beat me around the head with a fryingpan because I played a track with lyrics she didn't approve of. It was a mash-up between Bobby McFerrin's "Don't Worry, Be Happy" and something by Cobra and Beanie Man with some rather heavy Jamaican Patois. Now, to be fair I didn't really listen to the lyrics and couldn't understand much of it anyway, revelling instead in the musical juxtaposition of the sounds and rhythms involved (I am a drummer after all!). How was I to know he wasn't going on about a small kitten?
So to set matters straight here's a song with words that I completely understand and it really IS about the singer's loving relationship with his girlfriend's faithful feline companion. And if you choose to interpret it in any other way, then that's your filthy minds, not mine . . . This is Robert Crumb (yes, cartoon fans, he of the steatopygically robust ladies) and the Cheap Suit Serenaders. You'll pick the title up as you go along!
24 "My Girl's Pussy" - Robert Crumb and the Cheap Suit Serenaders
Goodbyes, reminders for next week, thank yous, etc
NB: I'd like to thank Marc Reck for letting me have his slot!
I'm going to leave you with a real banger:
25 "Feelin Alright" Joe Cocker (Matty Blades remix)
1