WorldBeatUK (25th Show) - Broadcast Notes (7/9/11)
Tagged with: WorldBeatUK Glyn Phillips makossa Goy Karamelo Rey Trueno Emel Mathlouthi Aldona Po' Girl Espirito Brum Babilak Bah Tabacarana Dominguinhos Flavia Bittencourt Thornato SpokFrevo Dimapetrov Maguare Sin Fronteras chicha gaita frevo Zephyrus Bootlegumachine
WBUK 25 - SHOWNOTES
1 Intro-Mat (1:47) by Matchatcha from the album "Nyekesse" (Melodie)
You're listening to Rhubarb Radio, I'm Glyn Phillips and this is WorldBeatUK!
Yes, welcome back to the show after a couple of week's break whilst I've been on holiday. I'm back in the driving seat now and revving up the engine ready to take you around the world in weighty grooves!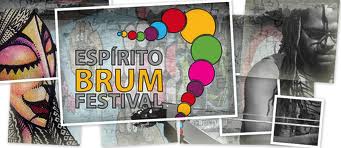 Climb aboard and make yourself comfortable, because tonight we're going from Cameroun to Argentina, Mexico to Tunisia and from Poland to Canada.
We'll be staying in the sun for quite a while in Brazil with a preview of next week's Espirito Brum Festival and I'll be getting you bouncing up and down in your seats to Electro-Swing, Peruvian Chicha, Gaita Colombiana, Gaita Venezolana, Cumbia Belga, Salsa, and some heavy Balkan beats! Trust me you don't want to miss it!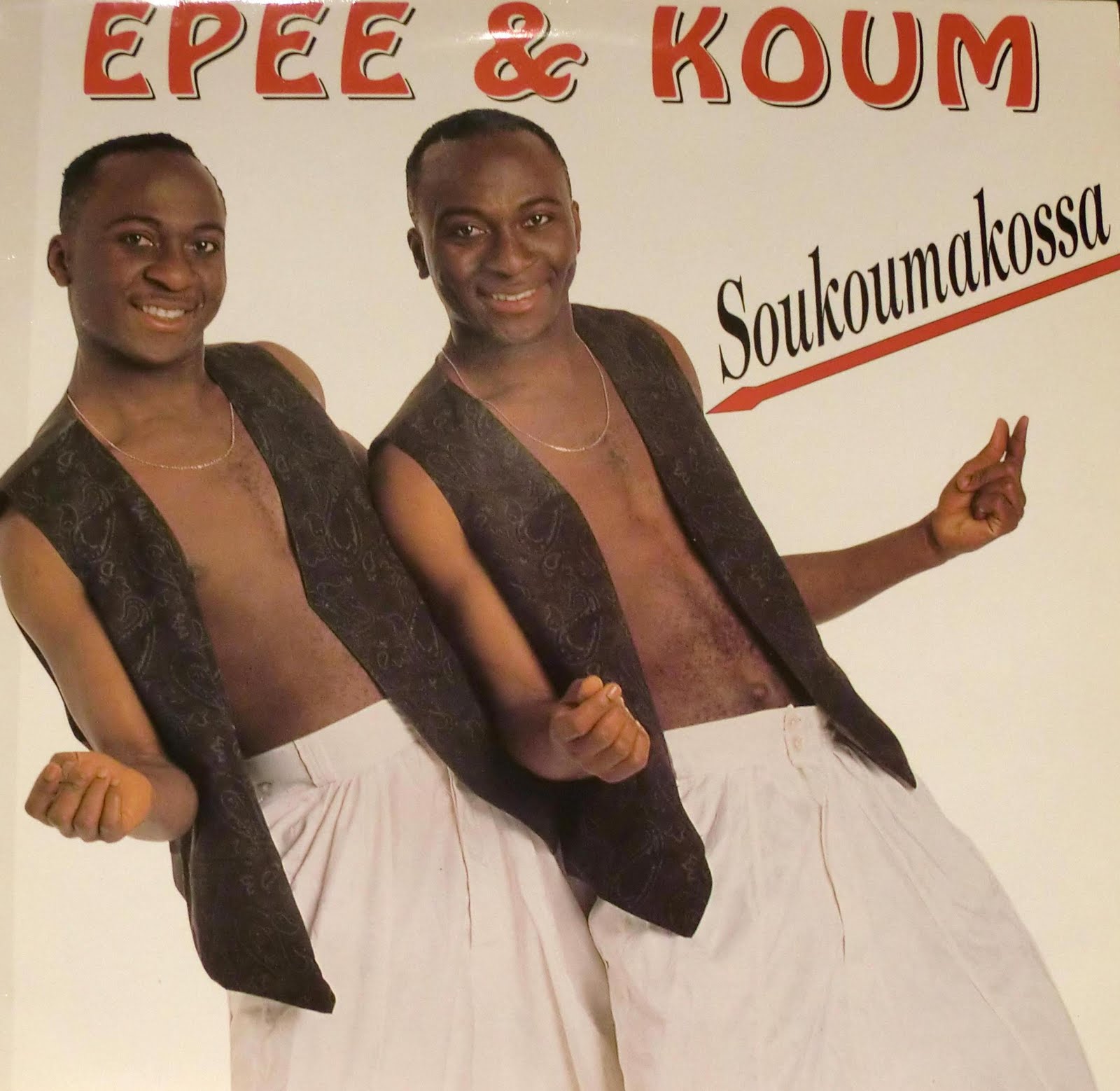 As promised first up we're off to the West African country of Cameroon and a piece of oldschool Makossa by Epee and Koum.
This is called "Soukoumokossa/Guy Lobé"
2 Soukoumakossa/Guy Lobé (4:17) by Epee & Koum from the album "Makossa Best of Vol. 3"
And from Cameroonian makossa to some upbeat Argentine Ska courtesy of Goy Karamelo this is called "Sale El Sol" (the sun's come out, I feel alright)
.

3 Sale El Sol (I Feel Alright) (2:50) by Goy Karamelo (Demo 2011)
Yeah, both Argentina and Mexico are full of experimentation and vibrant energy recently and this next one comes from Mexico's Rey Trueno (King Thunder) an art collective that put on multi-media experiences.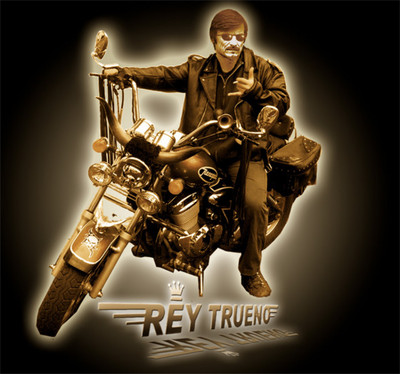 This sonic collage of a tune seems to take in all kinds of African influences and styles and is called "Aotole/Eutela" and is a lot of fun.
¡Que suenan los tambores!
4 Aotole/Eutela (4:32) by Rey Trueno
OK, I'm going to mellow out the sounds now and feature three songstresses from three different continents.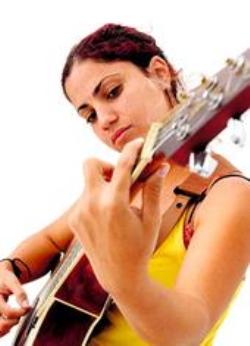 First up is a young Tunisian singer called Emel Mathlouthi and a beautiful song from her album "Helma Dream" called "Helma".
5 Helma (4:28) by Emel Mathlouthi from the album "Helma Dream"
Hmmm. Lovely! And now from North Africa to Poland. Well, France actually since our next songbird although born and brought up in Poland is now based in Paris and has allowed some of that Gallic wistfulness to seep into her music.
.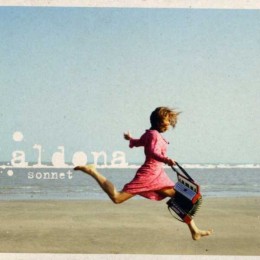 The lady in question is Aldona and this is a track from her new album ("Sonnet") on the German Jaro Medien label.
Aldona sings in Polish still, but the title of the track is given in English; this is a waltz entitled "Blue Birds of Blanka"
6 Blue Birds Of Blanka (4:05) by Aldona from the album "Sonnet" (Jaro Medien)
.
.
OK, last of the lyrical ladies for a moment - although stay tuned for a couple of tunes by the beautiful Brazilian singer Flavia Bittencourt later on in the show.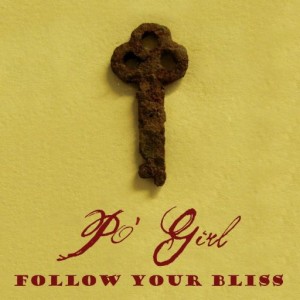 This is a Canadian band called Po' Girl. They take their name from the folklore of New Orleans when the women there gathered scraps of food from restaurants to make the 'Poor Girl' sandwiches for the railway strikers.
.
.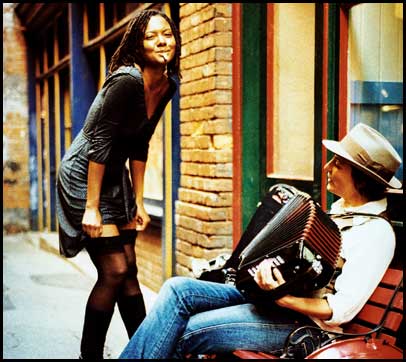 They're about to arrive in the UK for a tour to promote their new album "Follow Your Bliss" and will be appearing at the Kitchen Garden Cafe in Kings Heath, Birmingham, THIS Sunday the 11th of September. On the basis of the album I've got in front of me they're well worth going to see. This track is from the album and is called "Kathy".
7 Kathy (4:18) by Po' Girl from the album "Follow Your Bliss"
.
.
Yeah, the urban folk band Po' Girl who will be appearing at the Kitchen Garden Cafe this Sunday night.
In fact if you're going to be at Birmingham's Artsfest this weekend and you like beautiful female voices and good music, then check out the Yardbird jazz club on Sunday 11th at 2.30pm where you can catch the Diva Collective - three great Brummie singers, Sonia Indigo Clarke, Leonie Moore and Ola Brown backed by some great Brummie musicians: Reed Bass on bass, Leon Small on drums, Reuben James on keys, Melika QB on violin, Howard Chambers on guitar and some bloke called Glyn Phillips on Percussion - music ranging from original tracks to Billie Holiday, Gwen McRae and Soul II Soul as well as a version of Florence and the Machine's "You Got The Love" done rockabilly style . . . 2.30-3pm on Sunday at the Yardbird if you're interested.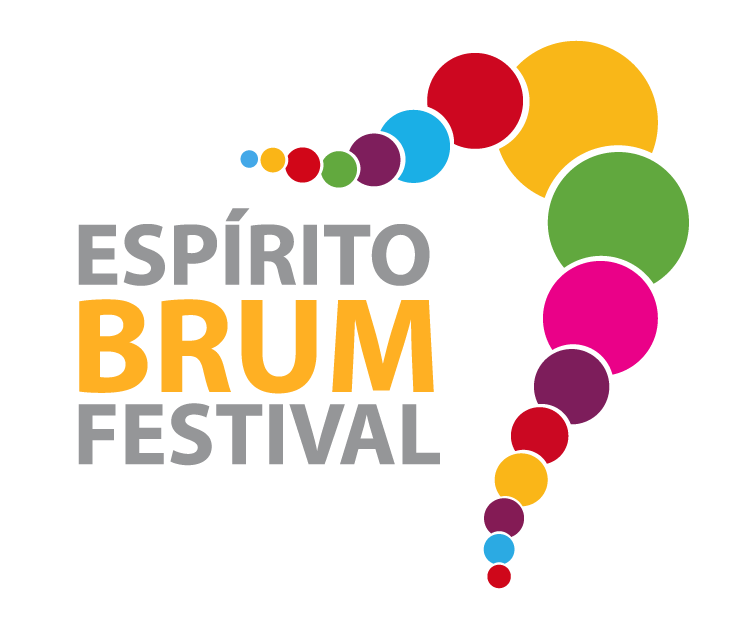 Now, then time to hit the Brazilian trail for the next seven numbers or so. Starting next week in Birmingham there'll be a Brummie-Brazilian exchange going on as Digbeth plays host to a load of Brazilian musicians and artists (alongside some great homegrown acts of all styles - over 30 acts in all) as part of the Espirito Brum Festival which is being organised by Rhubarb Radio's own Magpie Brown and Soesmix Eden.
Check out the website www.espiritobrum.org - all events are only a flat £5 each which is very reasonable and there'll also be workshops, films, foods and talks. As I say, check out the website for more details, but I'm going to give you a little taste of the Brazilian side of things over the next few tunes.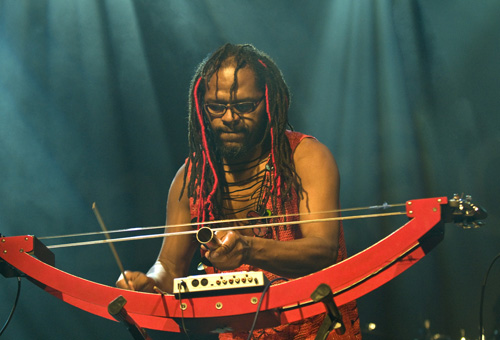 First up is the eclectic percussionist Babilak Bah - some very inspiring stuff indeed.
He'll be doing an experimental workshop on Saturday 17th at The Edge in Digbeth and will also be appearing at The Viva Brazil night at the PST Club on Sunday 18th alongside many other acts as well as me DJing.
This is a track from the album "Emxadario" called "Vou Me Raoni".
8 Vou Me Raoni (2:55) by Babilak Bah from the album "Emxadário" (Sonhos & Sons)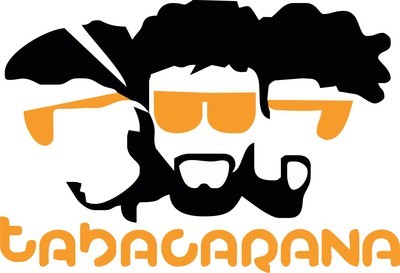 OK, that was Babilak Bah, and here's another act to be appearing as part of the Espirito Brum Festival, the samba-roqueiros, Tabacarana.
You can catch them at Monalitos in Bearwood on Thursday 15th alongside other acts. This is called "Onde Anda João Carlos?" (Where is João Carlos going?)
9 Onde Anda João Carlos? (4:54) by Tabacarana
[CONTINUOUS]
10 Toque de Pife Sem o Brasil (2:49) by Dominguinhos (Criolina re-edit)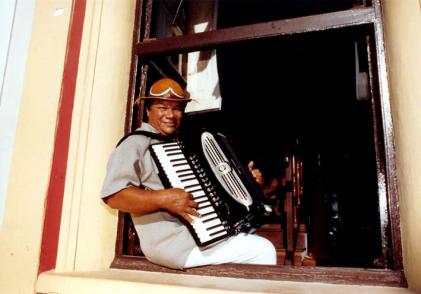 Well, that last track was not by someone who is appearing at the Espirito Brum Festival although there is a link.
You heard there a re-edit by the Brazilian DJ collective Criolina of a forro entitled "Toque de Pife Sem o Brasil" by the nordestino accordion player and composer, Dominguinhos.
And the link with the festival is as follows:
the beautiful Brazilian singer, Flavia Bittencourt will be performing here in Brum at two gigs next week - I'll give details later - and she has brought out a couple of albums to great acclaim, the most recent being entirely devoted to reinterpreting the work of the afore-mentioned Dominguinhos, entitled "Todo Domingos".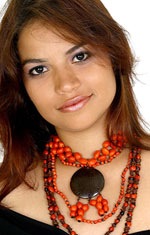 So to give you a flavour of that album and of the delicious Miss Bittencourt here's a track from there called "Lamento Sertanejo" and that's to be followed by a sublime track from her first album ("Sentido") called "Ex-Amor". But first "Lamento Sertanejo"
11 Lamento Sertanejo (3:48) by Flávia Bittencourt from the album "Todo Domingos" (Tratore)
[CONTINUOUS]
12 Ex-Amor (5:00) by Flávia Bittencourt from the album "Sentido" (Tratore)
[CHANGE CD!!!]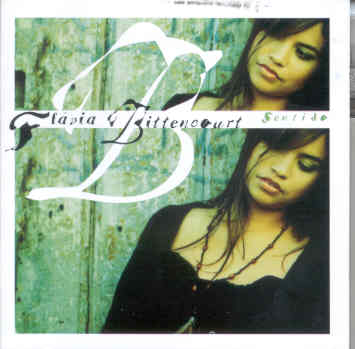 That was Flavia Bittencourt and you can hear her twice during the Espirito Brum Festival next week. The first event is taking place at Monalito's (which is on Three Shire Oaks in Bearwood, Birmingham) on Thursday 15th and besides Flavia and her musicians the night will also feature Brazilian DJ Zappie Pimiental and myself on the decks and Tabacarana 7pm till late - and all for £5. I'll see you all there . . .
Flavia will also be in the studio here on my show next week chatting and playing some unplugged songs live too, so don't forget to tune in!
.
And if you had already forgotten who you were listening to then I'll give you a reminder!
[You're listening to . . .]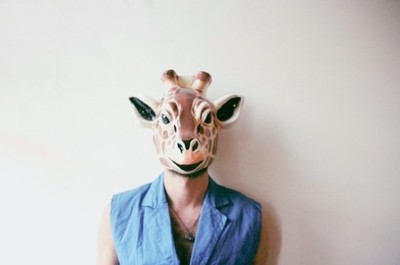 This is a track called "Seu Maya" - not sure who the original is but the remix is by Thornato of the Cumba Mela Collective)
(1) 13 Seu Maya (3:22) by Thornato (Cumba Mela Collective)
OK, last of the Brazilian numbers now and time to up the energy levels to kick off the half of the show.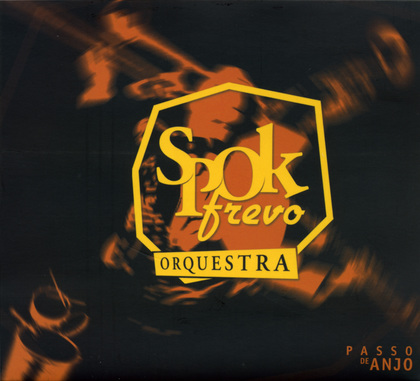 This is the amazing SpokFrevo Orquestra from Recife in Northeastern Brazil and a mad, million-miles-an-hour, jazzy frevo entitled "Nino o Pernambuquinho"!
(2) 14 Nino O Pernambuquinho (3:16) by Spok Frevo Orquestra from the album "Passo De Anjo" (Biscoito Fino)
.
OK, we're cooking on gas now...
So time for a little bit of Electro-Swing from Dimapetrov of St Petersburg in Russia to tickle your fancy.
Or is it Baltic Swing and Bass?
Hmmm. You know, I'm "Undecided Now" . . .
(3) 15 Undecided (3:05) by Dimapetrov
[CONTINUOUS]
(4) 16 Balkanski Bal (Bucovina rmx) (3:10) by DJ Supersonico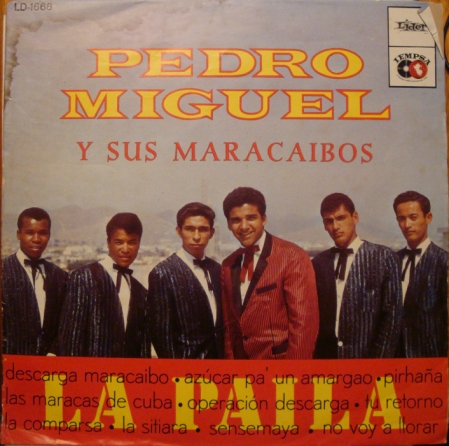 Opa, Opa!! That was the DJ Supersonico's Bucovina mix of "Balkanski Bal".
Stay tuned for some more Balkanic madness at the end of the show.
In the meantime I'm heading for the jungles of South America and some Peruvian Chicha from Pedro Miguel y sus Maracaibos.
This from the album "Bonghead Peru Selections" and is called "Arroz Con Coco" (Rice and Coconut). Güeepa!

(5) 17 Arroz con Coco (2:12) by Pedro Miguel Y Sus Maracaibos from the album "Bongohead Peru Selections"
And if that wasn't enough here's a little more psychedelic chicha music.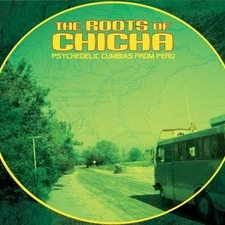 The band are Los Mirlos, the album is called "The Roots of Chicha: Psychedelic Cumbias from Peru" and this track is "El Milagro Verde" (The Green Miracle)
(6) 18 El Milagro Verde (2:44) by Los Mirlos from the album "The Roots of Chicha: Psychedelic Cumbias from Peru"
[CONTINUOUS]
.
.
(7) 19 El Chicharrón (3:13) by Hermanos Castillo from the album "Con Gaita"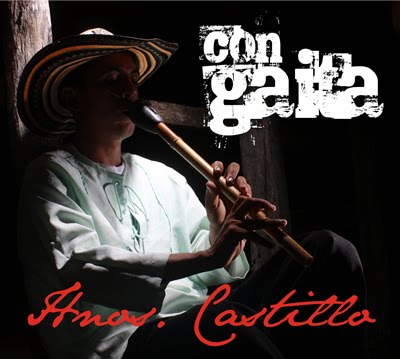 That was a track called "El Chicharrón" by Hermanos Castillo from the album "Con Gaita" - think that was actually a Colombian rhythm called puya underlining the gaita flutes (but I'm open to correction there if anyone knows better!).
.
The word gaita refers to a number of things in Spanish including, flutes, pipes, bagpipes and a form of Colombian music.
.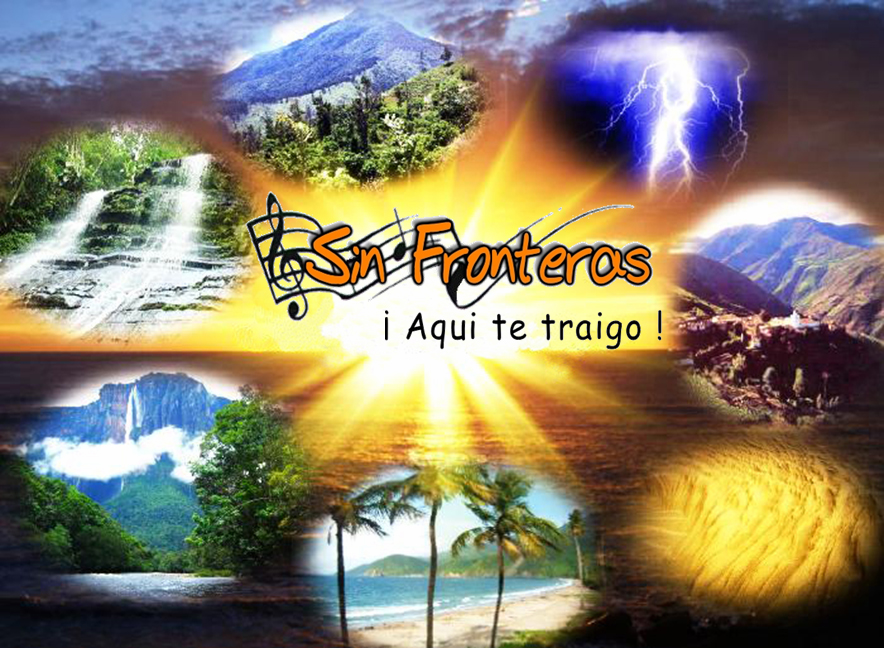 It also refers to another form of music from Venezuela, very different in rhythm than to it's Western neighbour.
.
The gaita venezolana is in ¾ time and sounds like this offering from the band Sin Fronteras(without frontiers) called "Aqui Te Traigo"(Here I bring you . . .). Enjoy!
.
(8) 20 Aqui Te Traigo (2009) (4:24) by Sin Fronteras
[CONTINUOUS]
(9) 21 Tiroteo (2:55) by New Swing Sextete from the album "Volumen 01"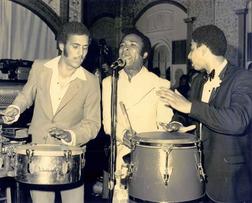 Hey, that was a track called "Tiroteo" by the New Swing Sextete - sorry I don't really have much more info about them other than that. Classic salsa dura feel even with the vibes. Guaranteed to get your feet moving!
Next up it's time to "Get Busy" with DJ Supersonico and the Sistema de Sonido Urbano and his Balkan-Kumbia mashup - I've warned you before, just watch out for Tarzan swing through the trees! - and that's followed very appropriately by a spot of "Jungle Fever" by Maguaré. Are you ready? Then Get BUSY!
(10) 22 Get Busy (3:22) by DJ Supersonico & Sistema de Sonido Urbano
[CONTINUOUS]
(11) 23 Jungle Fever (4:11) by Maguaré from the album "RetroCumbia" (Zephyrus)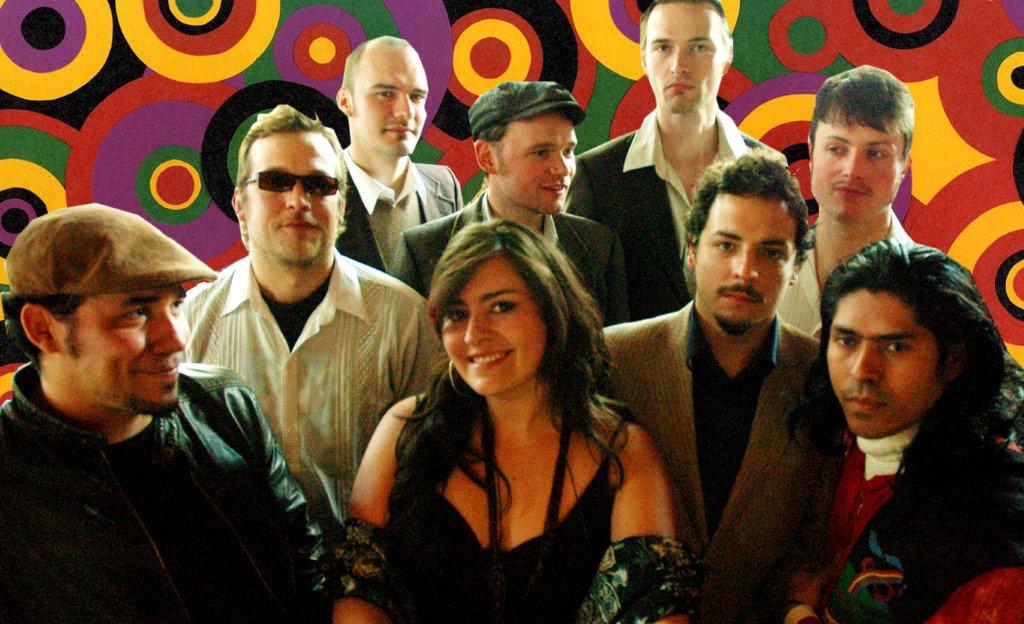 Yeah, now that is one sexy, sexy tune!! The band, Maguaré, is from Belgium but fronted by the lovely Colombian Paola Marquez and that's called "Jungle Fever" from their album "Retro Cumbia" on the Zephyrus label from Ghent.
That track can now be downloaded for free (as of yesterday) by going to SoundCloud and looking for "Jungle Fever".
Maguaré is spelled M-A-G-U-A-R-É. That's dedicated to La Maranguita, as is the next track. ¡¡Ay Papi!!
(12) 24 "¡Ay Papi!" (2:36) by Unknown Artist - from the album "Mofongo Para El Alma" (Discos Mulato)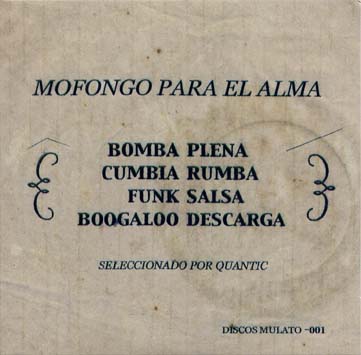 Ha ha ha!! How was that for you? Hope you enjoyed that as much as I did…
OK last number now.
[Goodbyes, shout-outs, reminders etc]
Let's go out with a bang (missus!) this is the Bootlegumachine mashup remix of Tony Camargo's "Año Viejo".
Good night to all and tune in next week for Flavia Bittencourt live on the show and a whole lot more!
(13) 25 Año Viejo (Bootlegumachine_Mashup) (5:44) by Tony Camargo (bootlegumachine re-fix)
WorldBeatUK (2nd Show) - Broadcast Notes (7th March 2011)
Tagged with: WorldBeatUK Glyn Phillips Rhubarb Courtney John Macire Sylla Sierra Leone Petrona Martinez Thornato Shawn Lee Carvalho Baba Zula Gevende Va Fan Fahre Trilhos Batucada Tabala Ophex Saf Vetex Phil Beer Hijaz Farka Toure Tango Fado
Hi everybody,
Since February 2011 our editor, Glyn, has been broadcasting a weekly world music show called "WorldBeatUK" (Wednesday 7pm –9pm, UK time) on Rhubarb Radio live from Birmingham, England. After some requests from some of our regular listeners we are going to try an experiment - we shall be posting the full show transcripts (within our WorldMusicUK Blog section) to help our listeners find references to the past shows artists and to get a feel for the vibe of the show.
It will also help any listeners that missed a particular WorldBeatUK show to catch up on all the musical gems that Glyn finds. Let us know if you find it useful, as we really do appreciate the feedback, and look forward to giving you many hours of world music pleasure. And for any agents, world music PR staff, record labels, etc, please feel free to email us with any World Music artistes you might like us to feature.

Regards, Dylan.
**********************************
So following are the notes for the WorldBeatUK show broadcast on the 7th March 2011. (We have no notes for the first one until we can transcribe the show).
Notes for Second WorldBeatUK show (07/03/11) –

1 VOICE OVER 1 [Theme music for the show is "Intro-Mat" by Diblo Dibala's band Matchatcha from the album "Nyekesse" (Melodie)]
Welcome to another edition of WorldBeatUK right here on Rhubarb Radio with me, Glyn Phillips! Coming up on the show tonight we've got music from Portugal, Colombia, South Africa, Turkey, Belgium, Mali, Argentina, New Zealand, Jamaica, Sierra Leone, Guinea Conakry and even some Kizomba from Handsworth Wood right here in Birmingham!
But right now let's kick off with some Belgian Brass Band music! Well, kind of . . . !
2 "Moliendo Cafe" - Orch Int du Vetex - 'Flamoek Fantasy'
That was the huge brass ensemble Orchestre International du Vetex and their version of an old salsa hit, "Moliendo Cafe" off the album 'Flamoek Fantasy'.
Staying in Belgium - and why not? - this next track is by a guy called "Saf", off his album on the Zephyrus label - also called simply "Saf". He's been described as a sort of Belgian Tom Waits, combining Flemish wit and satire with musette, tango, waltzes, chanson and gipsy-swing. I've no idea what he's singing about, - my sum total of Flemish being "Alles Kits Achter Der Rits" - but I really don't care, because I love the way he just pulls you in to his Ghentish world. This track is called "t'Vertellement".
3 "t'Vertellement" - Saf - 'Saf'
Here's another face of the country that gave us Belgian chocolates, Belgian waffles and Tintin! Baloji is a rapper originally from Lubumbashi and Kinshasa in Congo and was previously the MC with Starflam. From his album "KInshasa Succursale" this is a wonderful track that goes by no less than three names: "Le Jour D'apres" (The Day After), Siku Ya Baadaye, and even "Independence Cha Cha". Check out also the video on YouTube - B-a-l-o-j-i. Baloji!
4 "Le Jour D'Apres" - Balojji - 'Kinshasa Succursale'
Now then, if you're into English Folk music at all, you can't have failed to have come across the names Phil Beer and Steve Knightley of the duo "Show of Hands". Phil was recently voted Musician of the Year 2010 in the Spiral Earth Awards, so I thought I'd play something celebrating that. This next track is off his 2010 box set album, named aptly enough, "Phil Beer Box Set One" released on his own Chudleigh Roots label. It's the first in what should be a long series of archive material from Phil's illustrious career, with some great fellow folk musicians thrown in to boot.
And because this is a world music show, and I like to mix it up a bit, I chose a track from the early 90s when Phil and Steve together with English accordionist and concertina player, Dave Townsend teamed up with some fine Chilean musicians Mauricio Venegas, Vladimir Vega and Sergio Avila in a project called "Alianza" (which is Spanish for "Alliance"); I was lucky enough to be able to see that show in Birmingham's mac when I worked there - and it resonated with me on a couple of levels; firstly I was playing percussion with Birmingham based Chileno-Peruvian outfit Caliche at the time so I was very much into the folk side of Latin American music, and secondly because whilst living in South America during the mid-1980s I found out that my great-grandfather had actually lived and worked in the Atacama desert over 120 years ago.
So this connection between the British Isles and the far-flung reaches of South America, and the amazing journeys in sailing ships which Welsh, English and Chilean sailors took across the vast seas of the Atlantic and Pacific via Tierra del Fuego and the treacherous Magellan straits, up to central and Northern Chile, was brought wonderfully to life through this alliance of musicians. For landlubbers the seas are enormous barriers, but for the sailors they are merely pathways to another world. This track is called "Santiago".
5 "Santiago" - Phil Beer (& Alianza) - 'Phil Beer Box Set One'
Now, if you board a ship in Chile's Valparaiso, go up the Pacific coast of South America from Chile past the Atacama Desert and Peru, over the equator and past the mangrove swamps of Northern Ecuador you'll eventually end up in the Colombian port of Buenaventura; from there go inland to the salsa city of Cali, and you might hear something like this . . .
6 "El Chontaduro" - Nancy Murillo - 'Tia Tova'
That was the sound of the Paris based caleña Nancy Murillo and a track called "Chontaduro" off her 'Tia Yova' album. You can find that on the French Label "Pure Son'g".
More from Colombia later, but in the meantime I want to return to Belgium - or rather a mythical land that lies somewhere between Belgium, the Levant and North Africa. This is a jazzy track by the band Hijaz off their just released album 'Chemsi' on the Zephyrus label, and is named after an idyllic Tunisian town called "Sidi Bou Said".
7 "Sidi Bou Said" - Hijaz - 'Chemsi'
And while we're on a jazzy fusion tip, have you ever imagined Portuguese Fado mixed with jazz sensibilities? These guys have. This is the band Fado em Si Bemol (which translates as Fado in B minor) and a live track with a brazilianesque groove called "Fado Tropical".
8 "Fado Tropical" - Fado em Si Bemol - 'Fado em Si Bemol'
Let's leave Lisbon and sail South West to another great port, Buenos Aires, Argentina, and what else but the shimmering, soul-searching, sultry sounds of … TANGO! This is another band I had the honour of experiencing some years ago - one of the finest contemporary orchestras of Argentine tango, El Sexteto Mayor and a track off their 'Vida, Pasión y Tango' album (on the Intuition label): "Oblivión".
9 "Oblivión" - Sexteto Mayor - 'Vida, Pasion y Tango'
Now, today, the 7th of March 2011, is exactly five years to the day of the death of one of Africa's most famous and celebrated musical sons. I'm talking of course about the Malian guitar legend Ali Farka Toure. Born in 1939 and the only surviving child out of 10, Ali Ibrahim Toure was nicknamed "Farka" (which means 'donkey') by his parents in respect of his tenacity and stubbornness, presumably in managing to survive. He found international success relatively late in life and was still working as a sound engineer until 1980. The British record label, World Circuit (of subsequent Buena Vista Social Club fame) took him on board in 1990 and the rest as they say is history.
After the amazing success of "Talking Timbuktu" with Ry Cooder, Ali practically gave up his international career and went back to being a farmer on the banks of the River Niger, where he felt happiest. It was five years before he cut another album, 1999's "Niafunké" and Ali refused to leave his village, let alone his country, so World Circuit built a studio on his land and recorded the album there!
A few years after that a French film crew went to find Ali in his village and shot a documentary about his life on the farm, interspersed with impromptu footage of him playing music. This absorbing film, shot by Marc Huraux and called simply "A Visit to Ali Farka Touré", has been re-released on the Digital Classics label and can be found on their website DigitalClassics.co.uk or on Amazon, etc. It's beautifully shot and really gives you a feel for what grounded this great guitarist in the soil of Mali. This next track was recorded not long before he died of bone cancer and is a duet with the great Malian kora player Toumani Diabate; it's called "Ai Ga Bani".
10 "Ai Ga Bani" - Ali Farka Touré - '2006 BBC Radio 3 Awards for World Music'
From Mali to South Africa now and probably the most famous acapella group ever to come of out Africa, the legendary Ladysmith Black Mambazo, survivors of the apartheid era who shot to fame after being featured on Paul Simon's "Graceland". Like Ali Farka Toure they express their love for the land and agriculture on their new album called "Songs from a Zulu Farm" (out on the Proper Records label). This track is typical of their vocal style and is all about "Uthekwane" - an ugly bird who believes in her own beauty.
11 "Uthekwane" - Ladysmith Black Mambazo - 'Songs from a Zulu Farm'
Complete change of direction now: Ever wondered what you'd get if you crossed Bach with Brazilian Baile Funk? Ophex has . . .
12 "Bach Goes Baile Funk" - Ophex
--
13 "El Toche y La Cotorra" - Sexteto Tabalá - 'Con Un Solo Pie'
Ok, that last track was called "El Toche y La Cotorra" ('The Bird and the Parrot') by the afro-colombian palenqueros Sexteto Tabalá (it's from their album "Con Un Solo Pie" on the OM Producciones label). They play a mix of bullerengue, porro and baile cante as well as son palenque music, which is related to - but distinct from - the more famous Cuban son: there are no guitars, or tres, and the double bass is replaced by the tumba drum and the marimbula (similar to the marumba box of jamaican mento). In fact the cultural traditions of the area of San Basilio de Palenque have been considered so important that the entire region and its traditions have been declared a "Master Piece of Oral Heritage" by UNESCO in 2005.
Now Colombia is bursting with unbelievable rhythms and musical traditions, the most famous of which is 'Cumbia' from the country's Caribbean coast. So, let's take some cumbia and drop it thousands of miles away in New Zealand in the hands of the Batucada Sound Machine and see what happens: it changes, it becomes... "Cumbia del Cambio" . . . !
14 "Cumbia del Cambio" - Batucada Sound Machine
--
15 "El Choclo" - Fabricio Gatta
16 Voice Over 2
Welcome back. Before the break you heard the beautiful tango "El Choclo", performed by the Argentinian pianist Fabricio Gatta.
Next up, just to prove that it's not just fado that comes out of Portugal this is "Celta 1" by Trilhos off their album "Avariação"
17 "Celta 1" - Trilhos - 'Avariação'
So, a shout out going to Michael de Schryver over in Ghent - hope you're enjoying the show so far; if not then this should buck you up: More Belgian brass madness - Va Fan Fahre's first tune off their second album ("Zet Je Maar"): This is "Mashki"!
18 "Mashki" - Va Fan Fahre - 'Zet Je Maar'
--
19 "Celick Comak" - Gevende
The last track was from Turkish psychedelic folk band Gevende entitled "Celick Comack" who sing their songs in a language they've completely invented themselves;
Following that, we've got their stablemates on Pasion Turca roster, pioneers of Turkish psychedelia and an amazing live band, Istanbul's very own Baba Zula. Imagine if Hawkwind and Gong had been genetically transplanted into Asia Minor replete with electric saz, mind-zapping visuals and costumes, psychebelly dancers and some heavy-weight moustaches that make even Lemmy look like he's only got teenager's bumfluff on his top lip! Look for them on the Doublemoon record label. This track is called "Abdulcanbaz".
20 "Abdulcanbaz" - Baba Zula
You think all world music is made elsewhere"? Then think again. Birmingham is just dripping with great musicians brimming with ideas. Handsworth's Rob Carvalho has offered us up this Kizomba track: "One More Dance".
21 "One More Dance" - Carvalho
Staying in Britain, London-based American composer Shawn Lee once again brings out his Ping Pong Orchestra to record another album on the Ubiquity label, this time called "World of Funk". Featuring Clutchy Hopkins and Dengue Fever's Cambodian singer, Chhom Nimol this is "Ghost In The Rain":
22 "Ghost In The Rain" - Shawn Lee's Ping Pong Orchestra - 'World of Funk'
I'm sorry, I can't resist it anymore - I jus' gots to go back to Colombia! Right back to the village of San Basilio de Palenque and the Thornato remix version of "Sepiterna" by the great afro-colombian singer Petrona Martinez - la reina del bullerengue
23 "Sepiterna" - Petrona Martinez (Thornato rmx)
Last week I played a strange sexy tune called "Jungle Fever" by the Belgian based afro-Colombian band, Maguaré, which got some good feedback from you guys out there. The singer of that band, Paola Marquez, is also in another band on the Zephyrus label called 'El Sur', but they come from a very different Latin American tradition, that of the nueva trova. This is a beautiful ballad entitled "Canción de las Simples Cosas" - Song of the Simple Things . . . Esto es para ti, Marangita...
24 "Canción de las Simples Cosas" - El Sur - 'Música con Fundamento'
--
25 "Living Stone" - Sierra Leone Refugee All Stars - 'Rise and Shine'
You've just heard the Sierra Leone Refugee All Stars from last year's hit album on Cumbancha, "Rise and Shine", and a track called "Living Stone" - geddit? We are the Living Stone? Livingstone? "Livingstone, I presume"… Well, I enjoyed the pun, thanks guys.
Swiss based, but Conakry Guinean-born chanteuse Macire Sylla's latest album 'Talitha' on the French Pure Son'g label is full of bubbling grooves and catchy afro-pop. This is a new version of an older song of hers called "Aidara".
26 "Aidara" - Maciré Sylla - 'Talitha'
Getting near to the end of the show now. I've been receiving some really interesting releases and pre-releases from Jamaica recently and very much 'hot off the press' is Courtney John's album "Made In Jamaica" and the wonderful lovers' rock tune (with a great video to boot - check it out on YouTube), "Lucky Man".
27 "Lucky Man" - Courtney John - 'Made In Jamaica'
*** Well thanks for listening. See you all next week!
I'm going to leave you with this 'interesting' little track. Enjoy the rest of the evening!
28 "Don't Worry, Be Happy"- Bobby McFerrin, Cobra, Beanie Man
1