Mid-May Round-up (Part 1) - Boogaloo, Bombay & Pop
Tagged with: Glyn Phillips blog world music worldmusic.co.uk boogaloo bombay pop surinder sandhu funkawallahs karma machine los fulanos barcelona si esto se acaba lovemonk joe bataan vampisoul Bombay Royale You Me Bullets Love Hope Street Bollywood India Katzenjammer
As this cold, wet, truculent, so-called Spring trundles on towards an uncertain Summer, I'm sitting here staring out of the window at a monochrome grey sky, which has just spat hailstones over my poor flowers, complete with thunderous belches (the sky, not me). Really not the most inspiring of days.
However, I think it's time to try and address some of the almighty backlog of music that endlessly flows down my digital river.
Except of course that now my youngest son wants help with his homework . . . And you wonder why I never write about all the things I ought to. Yes, yes, I'm just coming! Hold on, uncompleted maths homework from the previous weekend to do. SuperDad to the rescue. Kind of. Back in a mo. Or two. Or three.
Right I'm back. Oh, bloody hell, now the missus is calling me for dinner. Yeah, I know, I shouldn't complain, especially when someone else is cooking it for me. I'm not. I love the food. I just wish I had a 30 hour day and a 9 day week, that's all.
OK, it's now 'tomorrow' today, so let's try again. Spent last night at the house of my dear friend and ace producer/musician, Surinder Sandhu editing some Spanish language interviews for use as promos for his new project, the Funkawallahs and the forthcoming album, "Karma Machine". Very exciting indeed - but keeping all that under wraps until it's all ready to go . . .
"Spanish heat, urban cool and Nuyorican sabor"
So, now to all these new albums pouring in.
First up, I'm listening to the sounds of Barcelona's Los Fulanos who deliver a modern take on that 60s hybrid boogaloo.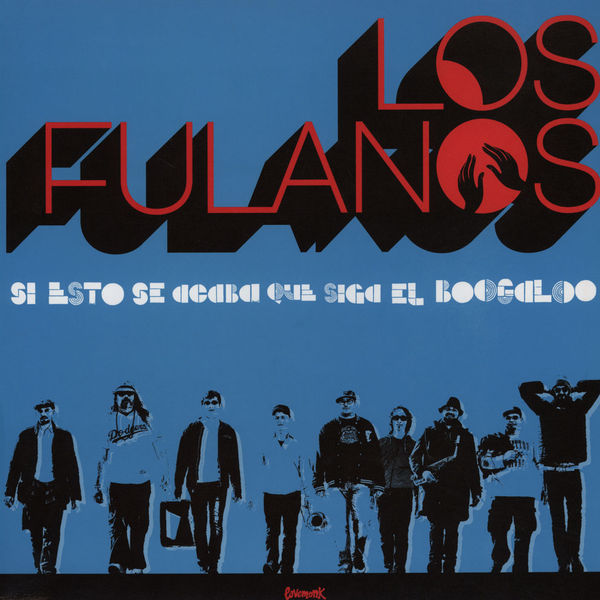 Very tasty indeed, with enough foundations in 60s latin soul groove (a controversial mix itself in its own time!) to be really grounded, some added retro-psychedelia, Spanish heat, urban cool and Nuyorican sabor and all marinated in a rhythm'n'blues salsa.
It might look backwards for inspiration but it all works very well in today's world. Sweet as a nut!
This debut album is entitled "Si Esto Se Acaba Que Siga El Boogaloo" ('If All This Ends, Keep On With The Boogaloo') and it's on the Lovemonk label (LMNK46).
There are 10 tracks (and a prelude) and it's sung in a mixture of English and Spanish with bags of energy and credibility and what I can only describe as a very authentic 'American sound' - especially the horns. Very infectious album indeed.
"great ideas ... well-produced album, all executed with ... clear vision and a big dollop of gusto!"
Mixed in with the boogaloo and disco, there are also plenty of other genres represented. For instance, there is some great rumba and explosive 70s style funk on "El Que No Está Se Lo Pierde" (Parts 1 & 2 respectively), "Sobran Cuero" is a very danceable salsa whilst "Manny" leans more towards rhythm and blues.
There's also a jazzy New Orleans vibe on "Kind of Guy", groovy proto-rock on the New Order tune "Blue Monday","Hold On (Baby Hold Me)" is a bolero underpinned with wonderfully cheesy organ, and we get a nice jazzy montuno on "The End of the World", to name but a few.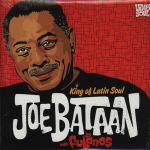 There are lots of great ideas in this well-produced album, and all executed with slick musicianship, clear vision and a big dollop of gusto! The producer is Miguelito Superstar (from Fundación Tony Manero)
I first came across Los Fulanos a few years back when they recorded an album "King of Latin Soul" on the Vampisoul label) with the Latin Soul legend, Joe Bataan ("Subway Joe", "Ordinary Guy", "There's a Riot Going On", "Gipsy Woman", etc) and loved how they'd tastefully updated what I had always considered were anthems so classic that to mess with them would be foolish. So, respect where it's due!
Next up is the Australian band The Bombay Royale from Melbourne, who specialise in bringing to life - and to the live stage - versions of many of the classics of India's Bollywood film industry.
The album's called "You Me Bullets Love" (on Hope Street Recordings), and is a 10 track CD/DL/Vinyl that showcases old songs such as the 1965 chestnut "Jaan Pehechan Ho" (from the film "Gumnaam") as well as entirely new pieces 'in the style of'.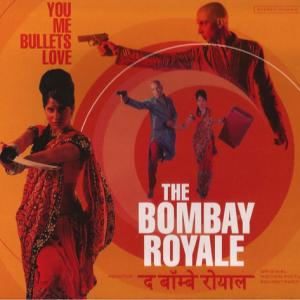 The 'golden years' for Bollywood films are often cited as the 60s and 70s and The Bombay Royale mix these old songs in Hindi and Bengali with newer material they have written themselves (and including some English lyrics) inspired by these classic masterpieces.
In fact "You Me Bullets Love" features eight original numbers and two re-workings of almost forgotten Bollywood production numbers (the other is "Sote Sote Adhi Raat").
"heavy retro vibe ... that - bizarrely - makes it sound very fresh and bang-up-to-date!"
There's a heavy retro vibe to the album that - bizarrely - makes it sound very fresh and bang-up-to-date! (obviously some weird tear in the time-space fabric…).
For instance the opening track "Monkey Fight Snake" features massed brass, swirling organs, siren-like vocals and sarangi in the background, sub-Spaghetti Western blaring trumpet (Spaghetti Eastern anyone?) and wouldn't sound out of place in some kind of drug-induced, trippy dream-sequence scene from The Avengers (the 1960s British series with the bowler-hatted, brolly-wielding Steed, not the Hollywood Marvel heroes one!).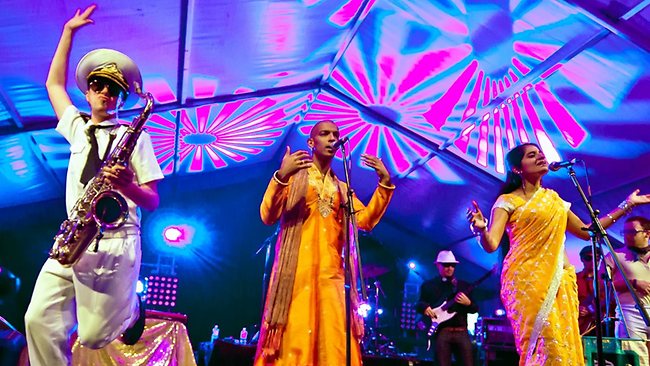 Conversely the title track is drenched in surf music, sort of 'Tarantino goes to Mumbai' (or is it India comes to South Melbourne Beach?).
At times the whole album sounds as if someone's taken a giant cocktail shaker and thrown in some vintage 50s, 60s and 70s Bombay kitsch, a shot of James Bond, a gaggle of Go-Go girls, two slices of Eddie Cochran and Gene Vincent, a pinch of Massive Attack, the serried ranks of saxophones, trumpets and trombones, a veritable forest of violins and yards and yards of orange, pink and turquoise silk, and then recorded the whole lot via the audio-equivalent of a Kodak Instamatic shot through a Dub filter. Someone with more knowledge of Hindi music would probably be able to pick up on the Bollywood strands better than me, but that's about as near as I can get to it at the moment!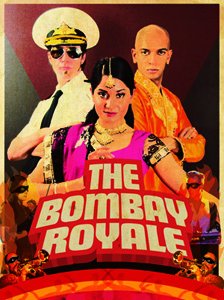 The Australian papers have described it as being "where A R Rahman and Ennio Morricone converge, where Slumdog Millionaire meets Goldfinger head on, with Quentin Tarantino and Indiana Jones lurking in the corner".
Now, what's really weird is that description has some parallels with my preceding paragraph; weird because I deliberately make a point of NOT reading Press Releases or other people's reviews until after I've written my own - so as not to be influenced by anyone else in the initial stage . . .
I just happened to consult the band's Press Release to check the singers names and spotted the above quote.
Well, I must be doing something right! Ha ha! Just noticed they also use the words 'surf' and 'spaghetti' too in another part of it. As I always say: 'Mate Grinds Link Athike'…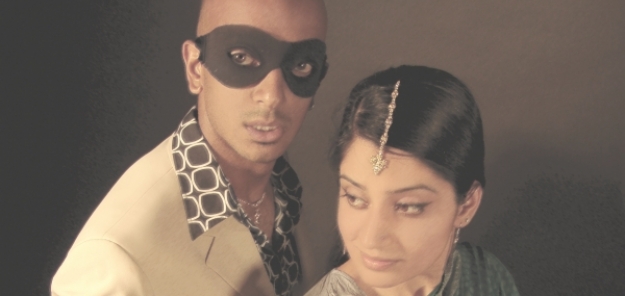 Incidentally the vocalists are Parvyn Kaur Singh and Shourov Bhattacharya. The MD is Andy Williamson.
It's a really fun album. A lot of it is, I'm sure, very tongue-in-cheek, but then again so is much of Bollywood, and it plays with all those elements of East meets West meets East again (and in the case of Australia, South).
So, if you like Bollywood music, or surf music, or the 60s, or trippy music, or just have a predeliction for multicoloured kitsch and musical cheese to let your hair down to and shake your thang, then book yourself a night at The Bombay Royale.
The album was released this week and the website link for The Bombay Royale is:
There's also a groovy video of the title track here:
"highly polished album"
As a real contrast comes the all-girl outfit, Katzenjammer from Norway and their highly polished album "A Kiss Before You Go" (Propellor Recordings - released May 2012).
The whole album is sung in English and comes across as an uplifting blend of pop, folk, acoustic, country, bluegrass and rhythm'n'blues, a sprinkle of balladry, whimsy, acapella and rock, and all laced through with a healthy dose of idiosyncratic eccentricity and sonic cabaret theatricality.
"enough singalong lyrics to keep you going all through the summer"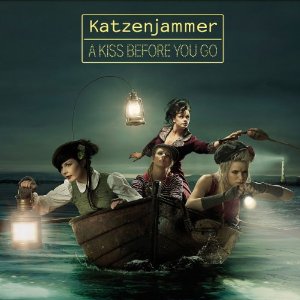 However, it is also all bound together with very credible pop production values, accessible melodies and enough singalong lyrics to keep you going all through this summer's festival season (especially the tracks "Rock-Paper-Scissors" and "I Will Dance When I Walk Away").
I must admit, I was slightly dubious as to whether or not I'd like Katzenjammer at first, since their music is far more 'poppy' than I'm used to writing about or even listening to, but a bit of suspended disbelief paid dividends and I'm now quite happy to recommend them.
Formidable ladies, these Katz . . . !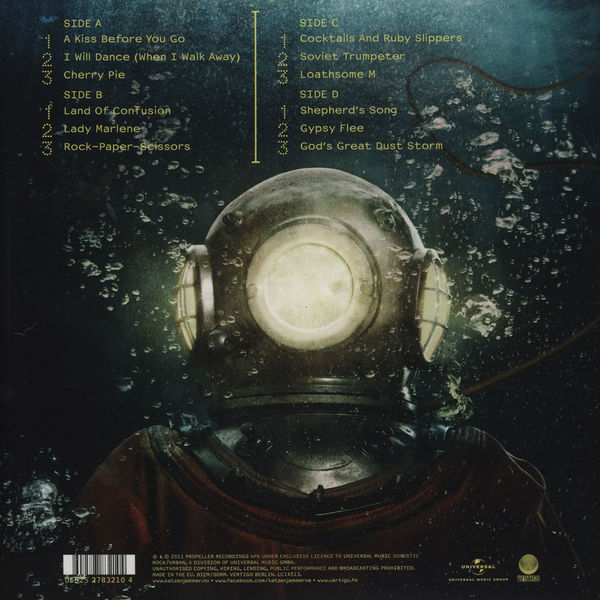 Here's a link to their website and other contact points:
www.facebook.com/katzenjammerne //
and also to some YouTube Videos:
www.youtube.com/watch?v=WqmbqnjbLc
www.youtube.com/watch?v=YZEDMIZZSug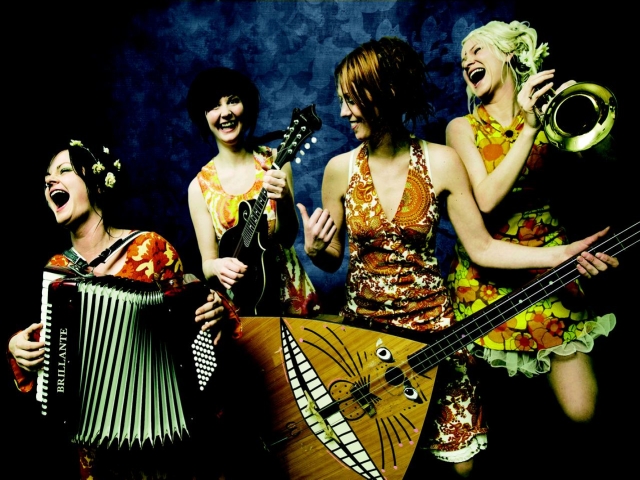 Katzenjammer are touring the UK this month:
Thu 17th BRISTOL, Academy 2
Fri 18th MANCHESTER, Academy 3
Sat 19th GLASGOW, King Tuts
Sun 20th BIRMINGHAM, Academy 2
Tue 22nd BRIGHTON, Concorde 2
Wed 23rd LONDON, XOYO
See the RPS video here: www.youtube.com/watch?v=WqmbqnjbLco
Host RPS here: www.soundcloud.com/yourfriendbam/katzenjammer-rock-paper
and don't forget you can get a Free Download of "Cherry Pie" here:
www.facebook.com/katzenjammerne/app_113345305387225
So there you go - three albums down and only *mumble, mumble, mutter, mutter* to go (I've even taken my shoes and socks off and have still run out of toes to count on).
I'll sign off this blog here and carry on soon. Off to yet another rehearsal with yet another band (sweet reggae, soul and nyabinghi behind some very conscious lyrics). Time to make some music myself now!
Glyn Phillips (WorldMusic.co.uk)
(16/5/12)
WorldBeatUK (13th Show) - Broadcast Notes (25/5/11)
Tagged with: WorldBeatUK Glyn Phillips Rhubarb Vampisoul Chico Trujillo La Big Landin Palmeras Kanibales Hamilton Loomis Roger Innis Jamie Little Sondorgo Lena Kovacevic Joanne Vance Sexto Sentido Olufemi Hijaz Va Fan Fahre Zephyrus Ieye Yeska Gypsy Sound System Strut
WBUK13 (25/5/11) Show Notes
1 "Intro-Mat" (1:47) - Matchatcha - 'Nyekesse' (Melodie)
You're tuned into Rhubarb Radio, I'm Glyn Phillips, and you're listening to WorldBeatUK - two hours of the best world music from around the globe!
On the show tonight - for your delectation and delight - I've got music from Cuba, Texas, Serbia, Nigeria, Belgium, South Africa, Ecuador, Hungary, Jamaica, Ghana, South Africa, Iran, California and Poland.
But we're kicking off tonight with a couple of tracks from some re-issue compilation albums that I've been featuring over the last couple of weeks. The first track is from the album "Highlife Times Vol 2" which features Highlife music from Ghana and Nigeria from the 1950s and 1960s. It's a compilation on the Spanish Vampisoul label and this track is a fusion of Highlife and Charanga by the band the Ramblers International, it's called "Muntie".
2 "Muntie" (5:21) - The Ramblers International - 'Highlife Times Vol 2' (Vampisoul)
Same vein, but this one's from the album 'Nigeria 70: Sweet Times, Afro-Funk, Highlife & Juju from 1970s Lagos' on the Strut Records label and this is Ali Chunkwumah and his Peace Makers International and a number entitled "Henrietta".
3 "Henrietta" (4:40) - Ali Chunkwumah & His Peace Makers International - 'Nigeria 70: Sweet Times' (Strut)
Well you don't have to go to Nigeria or Ghana to hear some good highlife or afrobeat because Holland's very own Mdungu have got it going on over here in Europe. This is the title track of their album on the Zimbraz label. Afro What!?
4 "AfroWhat!?" (4:55) - Mdungu - 'Afro What!?' (Zimbraz)
[CONTINUOUS - CONTINUOUS - CONTINUOUS]
5 "Los Luchadores Jump" (4:42) - Los Flamers feat. House of Pain (Le Cumbianche Disco Remix)
That was a little bit of glitch-cumbia from Los Flamers featuring House of Pain called "Los Luchadores Jump" - all about the Mexican wrestling phenomenon known as 'lucha libre' where fat blokes dressed in silly costumes and lycra-covered faces jump around all over each in heavily choreographed performance-fights . . .
Nothing new to those us of brought up on Saturday afternoon British Wrestling during the 1960s and 70s through the likes of Big Daddy, Giant Haystacks, Mick McManus, Catweazle and of course, the Mystery Man himself: Kendo Nagasaki! (or just plain old Peter Thornley to his neighbours!)
Ok sticking with some wonderfully cheesy cumbia now, this is another example of the new wave of cumbia from South America's Southern Cone countries - in this case, Chile's Chico Trujillo - one of the leaders in la cumbia chilombiana and latin ska. This track is from their album "Chico de Oro" (Golden Boy) and a number entitled "Sombrero":
6 "Sombrero" (4:48) - Chico Trujillo - 'Chico de Oro'
Like many people who listen to this programme, I like me ska. Oh yes! I'm not a big fan of the 3rd wave of ska - the sort of million-miles an hour, shouty-punky stuff; I much prefer first wave Jamaican ska - more laid back: sort of Skatalites, Jackie Mittoo, Don Drummond, you know who I'm talking about.
However, there's some great stuff, now coming out of South America, so I offer you a couple of bands from Venezuela. First up from their 2007 album "Skaterriza" is La Big Landin Orquesta and a piece of latin ska based on a very old Brazilian choro tune called "Proezas de Solon":
7 "Proezas De Solon" (4:02) - La Big Landin Orquesta - 'Skaterriza'
[CONTINUOUS - CONTINUOUS - CONTINUOUS]

8 La Culebra (4:02) - Palmeras Kaníbales - 'La Ruta'
So, first up was La Big Landin Orquesta from Venezuela and "Proezas de Solon"; and after that the wonderful Palmeras Kaníbales also from Venezuela, and from their 2006 album "La Ruta" an old Cuban tune called "La Culebra". Wasn't that magnificent! Just the kind of band I'd love to see live.
Talking of which, after last week's show I went up to the Adam and Eve pub right here in Digbeth to see a band on spec that I'd never seen before. I knew the bass player, the highly talented and very funny Roger Innis - who I'd spent the afternoon doing photoshoots with, along with the rest of our new band The Funkawallahs - more of which in weeks to come! - and he'd said he was playing that evening with a blues/funk/rock band and to come along after my show.
And boy, oh boy, was I glad that I did! The band consisted of Roger Innis on bass, Birmingham's own Jamie Little on drums and two Americans - a Mr Strat Doyle on sax and the most excellently named Hamilton Loomis from Texas on guitar, vocals and gob-iron (that's harmonica for those of you who don't come from the Black Country!). Easily, but easily one of the best live bands I have seen in years . . . Easily!
What a night! The band were tighter than a duck's backside - and that's watertight! The sax player could almost have blown up an entire tornado in the pub and Hamilton was just outstanding. Perfect. Just perfect, in everything he did. Half the crowd there were excellent Brummie musicians themselves - enough to form 3 or 4 more bands - a tough crowd under normal circumstances; but this band were just stupidly good!
And it was all free!! Honestly, Brum's a great place for music - you jus' gotta search it out. I won't go on, except to say that this next track is by the aforementioned Hamilton Loomis Band from their album "Live in England" (on Ham-Bone Records). Obviously, as with all live recordings, it is but a pale imitation of the real experience, but it's all I got. This is called "Best Worst Day".
9 Best Worst Day (4:23) - Hamilton Loomis Band - 'Live In England' (Ham-Bone Records)
You're listening to WorldBeatUK right here on Rhubarb Radio, with me Glyn Phillips bringing you 2 hours of great world music every Wednesday evening between 7-9pm UK time.
From Digbeth to Dakar, from Birmingham to Belgium, from England to Ecuador WorldBeatUK brings a whole planet to your ears!
[mention ChatnGo/Facebook, shout-outs etc]
Söndörgo are a group from Hungary and this is taken from the forthcoming album "Tamburising: Lost Music Of The Balkans" on the World Village UK label. The release date for this has recently been confirmed as 27th June 2011 here in the UK on CD and digitally worldwide.
Their trademark instrument is the tambura - not the stringed drone instrument of Indian music - but a small mandolin-like instrument of the Serbian and Croatian communities resident in Hungary. In fact the band's whole sound is distinct from the usual fiddle-led line-up of Hungarian tradition. This track is called "Opa Cupa":
10 Opa Cupa (3:48) - Söndörgõ - 'Tamburising: Lost Music Of The Balkans' (World Village UK)
Yep, the wonderful traditional sound of the balkan tambura and vocals as played by Söndörgö from their album "Tamburising: Lost Music of the Balkans". Well, I'm going to play three rather beautiful contemporary tracks from female singers now.
Staying in the Balkan area, the first one is an artist I played last week, the lovely Serbian singer Lena Kovacevic. Last time I played her singing in Srpksi; but she's also pretty nifty in English too! So this is from her 2009 English language album "Haunt Me" and a jazzy track called "Shine Your Light".
11 "Shine Your Light" (4:18) - Lena Kovacevic - 'Haunt Me'
Lovely! Now, this next artist is the Ecuadorian singer, guitarist and composer Joanne Vance (not to be confused with the English painter of the same name). Yes, I know, it's not the most hispanic sounding of names, but whilst her mother is Ecuadorian born and bred, her father was from North America.
Joanne makes mature jazz-tinged music which I would call pop, except that her songs have a greater depth and resonance than what you would normally expect from that term. You can hear the influences of people such as Ani DiFranco, Tori Amos, Jeff Buckley etc on the one hand and South America's homegrown acoustic rockers such as the Argentinians Luis Alberto Spinetta and Pedro Aznar (both of whom I used to listen to back in the 80s) on the other.
But be under no illusions, this is no throwback or copycat music; Joanne is very much her own boss and this comes over in the confidence of her delivery and the maturity of her compositions. She's a complete modern woman.
Which for me, is a strange thing to come to terms with since, I have to confess, I used to know her when she was just 10 years old (some 20 or so years ago!). Joanne and her sister Carrie and their lovely mother, Cecilia spent a year or so living right here in Birmingham whilst Ceci studied at the University. Jo's mother would come along to the now legendary latin all-nighters at Los Andes where I cut my teeth DJing in the late 80s/early 90s. Happy times indeed.
So I was stunned when after two decades I made contact with Ceci and realised that little Jo (all goofy glasses and braces on her teeth when I knew her) had grown up - and to be a wonderful musician too.
So, I think they are listening to the show right now, out there in one of my favourite cities of the world, Ecuador's capital, Quito - the second highest capital on the planet - way up in the South American Andes. Pues, chicas, Jo, Carrie y Ceci - besos de mi, saludos desde Birmingham y espero vertes un dia de estes!
This track is from her album "Silencios Incómodos" (Uncomfortable Silences) and it's called "Versión Editada":
12 "Versión Editada" (3:42) - Joanne Vance - 'Silencios Incómodos'
[ CHANGE THE CD OVER!! - CHANGE THE CD OVER!! ]
Beautiful! Joanne Vance from Ecuador. You can find out more about Joanne from her website: www.joannevance.net.
And now the third in my trilogy of lush female singers. This time we're going North from Ecuador to the Caribbean and touching down in La Habana, Cuba. And that's where we'll find one of my absolute favourite bands of the moment, the four girl vocal phenomenon that is Sexto Sentido (Sixth Sense in English).
I've played them quite a bit on this radio show and on the one I used to co-present before, and shall continue to do so. Quality is quality and these girls have it by the bucketful. They're currently riding high in Cuba after having had their single "Guajiro" at No 1 in the Cuban charts for 7 weeks - which I also played on my last show.
Just to let you know the music you're hearing is a UK exclusive - I'm the only person to be allowed to broadcast the music from their forthcoming album in this country, after hearing and writing about the band when I met them last year in Copenhagen.
Sexto Sentido are four Cuban singers and multi-instrumentalists, composers, arrangers to boot. Very, very talented ladies indeed. Oh, and beautiful too! You can read my review of their concert at Charlie Scott's Jazz Bar in Copenhagen at www.worldmusic.co.uk/reviews if you want.
In the meantime this is from the soon to be released album "The Way" - which they've produced entirely themselves and is a mixture of lush, complex and sophisticated self-penned English and Spanish songs in a variety of styles. This is a jazzy bossa entitled "En Tu Cuerpo" (In Your Body):
(1) 13 "En Tu Cuerpo" (4:08) - Sexto Sentido - 'The Way'
Sexto Sentido there from Cuba - and definitely more from them in the weeks to come.
OK, let's move on and get some more Highlife dancing music in. This is an old track from West Africa - Ghana's Melody Aces (not to be confused with the Belfast dance band of the same name!) from the album "Stars of West Africa - Highlife Hits" and a lovely lilting track - probably from the 1950s or maybe early 60s - called "Emase Puro O" [ 'émashay puro-oh']:
(2) 14 "Emase Puro O" (2:48) - Melody Aces - 'Stars of West Africa - Highlife Hits'
Now, this next track popped onto my mat a few days ago entirely unsolicited and I thought, 'Ok? Let's see'. And what a pleasant surprise it was. The artist is called Olufemi, originally from Lagos, Nigeria and now operating out of South Africa - a singer, saxophonist and composer - and plays what he calls African South West Fusion. This is Olufemi's debut album; it's called "Just in Newtown" (referring to a part of Johannesburg I think).
It's a good album, with a variety of musical styles - although I'm not yet sure whether that is its strength, or its weakness. It goes from straightahead jazzy soprano sax pieces (which wouldn't sound out of place on a David Sanborn or Kenny G album - or at times even like Brum's own Alvin Davis or Julian Smith aka Joolz Gianni) - right up to soukous-tinged dance pieces and afrobeat-fused workouts. Definitely a pan-african approach to his music.
However, the musicianship is good and there's some very enjoyable tracks on it - including this one, which has a distinctly South African flavour. This is Olufemi and a track called "Thando Lwami":
(3) 15 "Thando Lwami" (4:12) - Olufemi - 'Just In Newtown'
Change of flavour and place on these next few tracks. I've been digging into my Persian music albums recently and came up with these offerings from a sampler entitled "Persia: Ancient Roots of Music". The first piece is called "Agitation" and is by Kazem Davoudian from his album "Pearl".
(4) 16 "Agitation" (2:02) - Kazem Davoudian - 'Pearl'
[CONTINUOUS - CONTINUOUS - CONTINUOUS]
(5) 17 "Blue of Dream" (2:02) - Farivar Kosrhavi - 'Abi-e Ro'ya'
The track you just heard was by the Iranian Farivar Kosrhavi from his album "Abi-e Ro'ya" and translates as "Blue of Dream".
Moving from Iran, but still staying in the Middle East by association is this next piece, by the band Hijaz. This is a six-piece group based in Belgium but consisting of various nationalities and cultural influences. Their music draws upon North Africa, The Mediterranean, India, the Middle East and European jazz traditions and infuses their latest album with a richness and a palette of flavours which allows them to endlessly serve up tantalisingly different musical courses.
This is probably the most jazzy piece I'm playing tonight and features the piano of Greco-Belgian Nico Deman - but for the non-jazzers amongst you, don't let that put you off. It's very accessible still - there's some great oud playing from Moufadhel Adhoum and Indian tabla pitted against kit drums and bass as well. This piece is called "Mr J.P.S." from Hijaz's album "Chemsi" (which means Sun) on the Belgian Zephyrus label.
If you're in London or the South East of England this weekend you can actually see Hijaz live in concert at the Union Chapel, London this Saturday 28th May. This is their debut in the UK and their manager tells me that they're very excited about performing over here.
[ The link for that is here: http://bit.ly/eDOjp5 ]
(6) 18 "Mr J.P.S." (5.31) - Hijaz - 'Chemsi' (Zephyrus)
And also on the Zephyrus label from Ghent in Belgium here's their flagship band Va Fan Fahre and a track from their last album - "Al Wa Debt" - which did really well on the European world music charts last year. It's often been described as 'balkan brass goes Arabic'. Zephyrus have just announced that they are now allowing free downloads of five of the tracks from the album.
[Just go to the following link to download that:
http://www.vafanfahre.be/database/index.php?q=node/23 ]
So here are Belgium's Va Fan Fahre with the Arabic singer Aicha Haskal and a track called "Ya Habibi Taala":
(7) 19 "Ya Habibi Taala" (3:04) - Va Fan Fahre - 'Al Wa' Debt' (Zephyrus)
[CONTINUOUS - CONTINUOUS - CONTINUOUS]
(8) 20 "La Kumbia de Los Peregrinos" (3:52) - Grupo Kual (Le Cumbianche Disco Remake)
Couldn't resist a bit of electro-glitch-cumbia ! That was the Le Cumbianche Disco Remake of Grupo Kual's "La Kumbia de Los Peregrinos" - just to get you all stirred up!
And now a jingle to promote the forthcoming Reggae City 2011 Festival here in Birmingham on Saturday 11 June at the Rainbow - just round the corner from where I'm sitting here in the Custard Factory, Digbeth.
(9) 21 Reggae City Festival Ad Jingle (1:05)
[CONTINUOUS - CONTINUOUS - CONTINUOUS]
(10) 22 "I Know" (3:15) - Ieye - 'Fever Grass' (Shengen Clan)
OK, that was one of my favourite female reggae singers of the moment - Ieye from Jamaica - and a track called "I Know" from her album "Fever Grass" on the Shengen Clan Imprint Label. Lovely stuff.
Quick couple of announcements now: Birmingham's own ska and reggae favourites, the Heels will be performing mid-afternoon at next week's Lord Mayor's Parade on Bank Holiday Monday 30th May - so keep an eye out for them if you like your ska in a Skatalites stylee!
Also the following weekend you can catch the debut of el combo Kilombo - a brand new band formed from members of both the Heels and Flame Of Fervour at the Wagon and Horses in Adderley Street in Digbeth - again just around the corner from the Custard Factory.
That's on Sat 4th June and it's a night called Subvert, featuring also the dub band Relative, DJs Skeleton, Marc Reck (also from Rhubarb Radio), the Jam Jah DJs Robin Giorno and Bongo Damo, as well as Christy, Dodgy Greg and Stalingrad.
And it's all FREE! Yep, not a penny for all that music! Keep an eye out for Kilombo's drummer - he's a right dodgy geezer. I'm sure I've seen and heard him before somewhere . . .
In the meantime, here's one from the Gypsy Sound System's Psio Crew from Poland - a little number from the "Iskra" album - this is "Dobry Gooral":
(11) 23 "Dobry Gooral" (2:51) - Psio Crew - 'Gypsy Sound System - Iskra'
Just got time now for goodbyes etc . . .
[THANK YOUS, SHOUT OUTS, REMINDERS, ETC]
I'm going to leave you with a brilliant latino band from Los Angeles. They are called Yeska (which is a play on the words 'Yes!' and 'Ska' and is also the Chicano slang word for 'weed').
Their music is what you get when you cross jazz with afro-cuban music with ska! Skafrocubanjazz of course! And that's the name of the album that this track, "Skaliente", is from. Don't be fooled by the gentle ska montuno beginning - because about 3 and a half minutes in this bubbling piece of latin ska turns into an absolute monster!!
(12) 24 "Skaliente" (6:32) - Yeska - 'Skafrocubanjazz' (Aztlan)
WorldBeatUK (12th Show) - Broadcast Notes (18/5/11)
Tagged with: WorldBeatUK Glyn Phillips Rhubarb Radio World Music Juanafe Moneyman Julio Sosa JuJu Kim Sinh Tlahoun Gessesse Vampisoul Strut Mdungu Lena Kovacevic Svang Ieye Sexto Sentido Almeida Girl Easy Star Monosonicos Paratiisin Pojat El Hijo de la Cumbia
WBUK12 - SHOW NOTES (18/5/11)
1 Intro-Mat (1:47) Matchatcha from album 'Nyekesse'
Welcome - Coming up . . .
2 La Makinita (3:48) Juanafé - 'La Makinita' (Oveja Negra; 2010) - Cumbia
Chile to Argentina
3 La Mara Tomaza (3:53) El Hijo de la Cumbia - 'Freestyle de Ritmos' - Cumbia Argentina
Staying in Argentina
4 Mano A Mano (3:17) Julio Sosa - 30 Aniversario 1964-1994 - Tango
Still in Argentina . . .
5 Chacarera Del Puestero (2:27) Los Puesteros - Chacarera
Due to technical probs last week … going to replay "Life" - Moneyman - Nigeria 70" album
6 Life (6:17) Moneyman And The Super 5 International - 'Nigeria 70: Sweet Times' (Strut Records) - African (Nigeria)
And from Nigeria to Gambia - or more correctly where Gambia meets the UK. The next band is called JuJu and includes Britain's Justin Adams on electric guitar, bendir and backing vocals) and Gambian Juldeh Camara (on lead vocals, ritti and talking drum - and here I must apologise because last week when I played another track from JuJu I confused the nyatiti which is a harp with the ritti which is the one-string fiddle which Juldeh is an expert on). So this next track is also from their forthcoming album "In Trance" on the Real World Records label and will be released in the UK on the 13th June. This bluesy track is called "Waide Nayde".
7 Waide Nayde (5:09) JuJu (Justin Adams & Juldeh Camara) - 'In Trance' (Real World)
A real treat now - the guitar work of the Vietnamese multi-instrumentalist Kim Sinh, has been the stuff of legend and cult status for a a few years now - but mostly amongst American rock and jazz guitarists, who can't see how this septuagenarian Vietnamese gentleman who has not been brought up on blues seems to be steeped in the Delta sound! The truth is that his music is actually from a traditional vietnamese theatre music called Cai Luong first created in the 1920s.
Kim was born in 1930 in Hanoi, Vietnam and plays all manner of instruments both traditional as well as violin, hawaiian guitar and specially tuned guitars that are reconstructed to use Vietnamese music scales. Enough talk, just listen to this. The track is "Liéu Duong Hoang Thiên Khúc" and it's from the album "Music from Vietnam 4" on Caprice Records. Eat your heart out Jimmy Hendrix!
8 Liéu Duong Hoang Thiên Khúc (4:35) Kim Sinh - 'Music from Vietnam 4' (Caprice Records) - Vietnamese Guitar music
9 Tule Meilla Vaan - Come On Over (3:32) Paratiisin Pojat - 'Paratiisin Pojat' (Poko Records; 2008) - Finn-Mex
Another treat from a forgotten age now as we hear the Ethiopian singer Tlahoun Gessesse who died just over two years ago, being accorded a state funeral attended by tens of thousands. Regarded as one of the most popular of Ethiopia's Golden Age in the 60s, he was known just as 'The Voice'. This is a track called "Sema" (and thanks to Rhubarb Radio's own Soesmix Edan for introducing this to me) and is from the album 'Ethiopiques 3, Golden Years Of Modern Ethiopian Music 1969-75' on the Buda Musique label.
10 Sema (4:19) Tlahoun Gèssèssè - 'Ethiopiques 3, Golden Years Of Modern Ethiopian Music 1969-75' (Buda Musique)
Last week I played you a track from Nottingham's own tropical band, Monosonicos, and here's another from the multicultural, multinational band, which mixes afrobeat and latin rhythms with Spanish lyrics and steelpans etc. Very interesting. This is called "Sin La Luna" (or Without The Moon).
11 Sin La Luna (4:23) Monosonicos - Latin/afrobeat
The next two tracks come off an album I received recently from the excellent Spanish re-issue label Vampisoul. The album's called "Highlife Times Vol 2" and is another one of the recent releases of excellent 1960s and 70s highlife from Ghana and Nigeria which is currently enjoying a renaissance in popularity. The first track I'm going to play is by "Bobby Benson & his Combo" and reminds me of old Jamaican rhythm and blues in a way. This one's called "Taxi Driver"
12 Taxi Driver (3:25) Bobby Benson & his Combo - 'Highlife Times Vol 2' (Vampisoul 129) - Highlife
[CONTINUOUS - CONTINUOUS - CONTINUOUS]
13 Ogiobo (5:43) Sir Victor Uwaifo & his Titibitis of Africa - 'Highlife Times Vol 2' (Vampisoul 129) - Highlife
The last track you heard was also sfrom the album "Highlife Times Vol 2" on the Vampisoul label and was called "Ogiobo" from the wonderfully named Sir Victor Uwaifo & his Titibitis of Africa! Yep, that's what I said.
Sticking with the whole afrocentric groove - here's a modern take on it. From Holland the band is Mdungu and taken from their album "Afro What?!" on the Zimbraz label this is "Boolow Gambia".
14 Boolow Gambia (5:36) Mdungu - 'Afro What?' (Zimbraz/Music & Words MW3035) - Afro
15 S' Mediterana (3:41) Lena Kovacevic - 'Dobar Dan Za Pevanje' - Serbian Jazzy
Balkan Connection
16 Haidukka (4:53) Svang - "Sväng" (Aito Records AICD005; 2004) - balkanesque
Bill Withers tune (Gil Scott Heron also)
17 Mama's Hand (3:50) Ieye - 'Fever Grass' (Shenghen Clan) - Reggae
Jamaica
18 Lucy In The Sky With Diamonds (4:33) Easy Star All-Stars Feat. Frankie Paul - Easy Star's Lonely Hearts Dub Band (Easy Star Records 1018)
also for Lucy
19 Barfly (4:25) Almeida Girl & Descarga - 'Llanita' (KAMOCD1) - Salsa

20 Guajiro (3:22) Sexto Sentido - 'The Way' - RnB Cubana
Sexto Sentido and the succes of "Guajiro" in Cuba: seven weeks at No 1 in Cuba and another 7 weeks at No 3 (just behind Don Omar's Danza Kuduro and Shakira!); the video of this won the Lucas Award (like a Cuban Oscar for videos) and hit international latin american charts too - and that's without being released on an album or available digitally yet! The girls intend to release their third album called "The Way" with this track on, in the summer in Europe. So I'll be playing more from them in the run up to that over the coming weeks.
OK, here's another angle on the Latin scene - the mashup between traditional afro-latin forms such as cumbia with contemporary electronic-driven styles such as dubstep; this is a tune by Tony Camargo entitled "Año Viejo" (the old year) refixed by bootlegumachine into a piece of 'raverton'. Enjoy!
21 Año Viejo (5:44) Tony Camargo (bootlegumachin refix) - Raverton
Thank yous and goodbyes. Announce the Rea River Soul night.
22 Oye El Consejo (3:26) Ibrahim Ferrer - 'Buenos Hermanos' (World Circuit WCD065; 2003) - Son
- - - - - - - - - - - - - - - - - - - - - - - - - - - - - - - - - - - - - - - - - - - - - - - - - - - - - - - - - - - - - - - -

WorldBeatUK (3rd Show)- Broadcast Notes (14/03/11)
Tagged with: WorldBeatUK Glyn Phillips Rhubarb Radio Cheik Lô Pressure Sounds Lee Perry Ranglin Jeremy Marre Inner Circle Vampisoul Majid Bekkas Tamikrest Soundways Poly-Rhythmo Owiny Sigoma Watcha Clan Rango Oy Moutinho Fexomat Chalice Gevende
Show Notes for 3rd WorldBeatUK world music radio show with Glyn Phillips
(broadcast on Rhubarb Radio - 14/03/11)
1 Jingle 1
Great show coming up this evening with quite an influence from Africa later on, as well as new releases and pre-releases from Watcha Clan, Lee Scratch Perry, Owiny Sigoma, Soundways, Vampisoul, Tamikrest, Orchestre Poly-Rhythmo, Pedro Moutinho, Sr Ortegon and Chalice.
But first off, some African reggae from Senegal's Cheik Lô - this is "Warico Dub".
2 "Warico Dub" Cheik Lô
Now this one's for the reggae and dub heads out there. Just like to say thanks to Steve Williams of UKVibe for the heads-up on this one. Pete Holdsworth and record label Pressure Sounds have collated and released a very interesting selection of Dub Plate Mixes and Rarities recorded by The Upsetter himself, Mr Lee "Scratch" Perry, dating from 1973 to 1979. The album's called "The Return of Sound System Scratch" (Pressure Sounds PSCD70) and it's essentially a compilation of some of Perry's more obscure - even extreme - recordings, most from the Black Ark period.
As well as Lee Perry there are many different variations of the Upsetters on this album with special guests such as Junior Murvin, Candy Mackenzie, Leo Graham, George Faith, Jimmy Riley and Jack Lord; there are also tracks by Aleas Juve, The Unforgettables and the Silvertones. Some of the tracks are previously unreleased and many are exclusive dub plate mixes; some are very accessible commercial tracks and others are pure Lee Perry fantasy world dub weirdness.
However, the cut I'm going to play is much more user-friendly and you don't have to be swirling in a haze of holy herbalness to appreciate it. It's by Candy Mackenzie & the Upsetters and is a previously unreleased track called "Long Enough"
3 "Long Enough" Candy Mackenzie
[Continuous - No Break]
4 "54-46" Ernest Ranglin ft Toots Hibbert
That was legendary Jamaican ska and jazz guitarist Ernest Ranglin on one of my favourite numbers "54-46"; I'm also a big fan of 634-5789 (by Eddie Floyd and Steve Cropper), 344-3025 (by Giraldo Piloto)! They don't write numbers like that anymore… But hey, that just me! Vocals were from the equally legendary Toots Hibbert.
Now, while we're still on a Jamaican tip, I want to play a very rare track recorded live during a field recording in Jamaica in 1977 for a documentary called "Roots, Rock, Reggae". The documentary highlighted the real life street level music of Jamaica at a time when, apart from Perry Henzell's "The Harder They Come" film, there was very little real film of music and life there getting out into the mainstream and even in Jamaica, reggae was viewed with scorn by many in power. And the guy who happened to be in the right place at the right time? Jeremy Marre. M-A-R-R-E.
Ring any bells? No? Well it should do - he's the film-maker behind the legendary late 70s/early 80s "Beats of the Heart" documentary series on world music (from which this documentary comes) - this was before we even called it world music - an incredibly influential work documenting a seminal point in the global consciousness of the world's music outside of the mainstream. Those of us involved today owe a big debt to pioneers like this.
Is he resting on his laurels? Nope. Last Month's "Reggae Britannia" series on BBC was his, as was the brilliant series, "Latin Music USA" and also "Soul Britannia" as well as stuff on James Brown, Marvin Gaye, Phil Spector and more. Jeremy Marre, as they say, knows his onions!
For "Roots Rock Reggae" Marre had to play a sleight of hand trick with the Jamaican authorities at the time and pretend to be making a film about calypso and jazz to be able to get permission to film. Once there the team had to try and establish contact with reggae musicians on the ground amidst many difficulties and a background of gang wars, street violence and the mayhem created by the competing factions of the politicians Michael Manley and Edward Seaga.
It's a fascinating documentary showing the reality of the late 70s for Jamaicans and the volatility which forged conscious reggae. It's available (as are many of the re-issued "Beats of the Heart" documentaries) via the DVD label Digital Classics at www.digitalclassicsdvd.co.uk - I'll try and put details up on my site later.
This track by Inner Circle was recorded live at an afternoon stage show in a Kingston street - complete with vocalist Jacob Miller berating the crowd beforehand for not behaving themselves! This is "Love is the Drug".
* Inner Circle - "Love is the Drug" (audio from Roots Rock Reggae DVD)
Moving away from Jamaica we're going to early 60s black urban America and the sound of early RnB from the vaults of King and Federal. Rhythm and Blues as world music. Yep! You'd better believe it.
The fantastic Spanish re-issue label Vampisoul has just released Volume 2 of their series RnB Hipshakers; this album's entitled "Scratch That Itch" and this track is by a man who later was better known as a comedian, actor and film producer, Rudy Ray Moore. Most famous for his title role as the "uniquely articulate pimp" Dolemite in the 1975 Blaxploitation comedy film, this is Rudy Ray taking us all for a "Buggy Ride" . . .
5 "Buggy Ride" Rudy Ray Moore
Rhythm and Blues grew out of the Blues and here's an example of how it all links back to Mama Africa. This is the Moroccan gnawa master Majid Bekkas from his 2002 album "African Gnaoua Blues" on the Belgian Sowarex Igloomondo label and a track called "African Blues".
6 "African Blues" Majid Bekkas
Going south from Morocco over the Sahara you eventually end up in the desert area of northwestern Mali. We're used to hearing the more southern sound of this vast country, but here's a track from its Tuareg community 2,000 miles north of Bamako. Tamikrest are a young band who fuse more traditional Tuareg music and the Tamshek language with influences from Jimi Hendrix and Bob Marley.
Never underestimate the power of music - the band's leader Ousmane Ag Mossa didn't have access to even cassette tapes until 2000 around the time he started learning guitar - and what did he listen to? Dire Straits and Bob Marley. As he said "That changed my musical vision completely and I stopped to classify music. Music is just music, no matter where it comes from". Amen to that.
Tamikrest's new album "Toumastin" won't be out until April 25th but here's a preview from it. This is "Arantane N Tinariwen"
7 "Arantane N Tinariwen" Tamikrest
Well I'm REALLY excited about this next release - I've been jumping up and down for joy for a few days now. The brilliant British label Soundways specialise (amongst other things) in digging out the lost and forgotten recordings of the world's most vibrant musical cultures. Here they focus on the music of Colombia's Caribbean coast and the output of Curro Fuentes' recordings from Cartagena. And this is a gem of an album, with Roberto Gyemant aided by Miles Cleret and Quantic's Will Holland assembling some diamond moments.
It's full name is "Cartagena - Curro Fuentes & the Big Band Cumbia and Descarga Sound of Colombia 1962-72" and it's chock-full of goodies! Anyone who knows me knows my longstanding passion for cumbias (especially from the golden years) and I wasn't disappointed with cumbia, porro, gaita, merecumbé and tamborera all thrown into the mix; however it was the descargas that really blew me away.
This is the wonderfully named Clodomiro Montes y el Super Combo Curro and a track called Puerto Rico Zuuuuuuumbando!
8 "Puerto Rico Zumbando" Clodomiro Montes y el Super Combo Curro
[Continuous - No Break]
9 "Pardon" Orch Poly-Rhythmo
The last track was "Pardon" from the Beninese afrobeat band Orchestre Poly-Rhythmo. Now then, that was a preview track from their new album called "Cotonou Club" which is to be released on the Strut label in a fortnight's time. Amazingly it's their first new album in 20 years! With five members of the original 1960s band, two from the 70s incarnation and three new members, they also invited guests Angelique Kidjo, Fatoumata Diawara and member of Franz Ferndinand on their new release.
Here's another new release. Owiny Sigoma is a new band formed by the combination of a collective of UK musicians brought over to Kenya on a grassroots level cultural exchange programme to work with Nairobi based Joseph Nyamungu who plays the 8 string lyre, the nyatiti and drummer Charles Owoko who specialises in traditional Luo rhythms. The resulting album recorded in a disused factory outside Nairobi has subsequently been championed by Gilles Peterson and is to be released by Brownswood Recordings on April 18th with a special pre-release of the 12" single "Wires" exclusive to Record Store Day - that's April 16th in case you didn't know! - backed by a Theo Parrish remix. This is the original version...
10 "Wires" Owiny Sigoma Band
Staying with the London-Africa connection here's some Township jazz from Barnet, North London by the excellent 'Rhythm-&-Blues-and-everything-in-between' band Big Chief recorded live outdoors at the Ealing Blues and Roots Festival last July and on their new album "On Broadway". This tune is written by them and features a great horn section of John and Chris Fry and Ed Benstead blowing out on "Africa Rag".
11 "Africa Rag" Big Chief
Now then, think Brazil and you think Samba, Bossa, Baile Funk, Forro, Axe, Maracatú, etc, etc - a whole semi-continent of rhythm. However this next band look Northward to a tiny island far far away - as many of us do - for our inspiration. The Orquesta Brasileira de Musica Jamaicana are part of the latin ska phenomenon currently ripping up latin dancefloors from Argentina to Venezuela. This is from their album "Volume 1" on the Scubidu label and is a re-imagining of "Tico Tico No Fubá".
12 "Tico Tico No Fubá" OBMJ
[Continuous - No Break]
13 "Perfection" Boogat (Geko Jones/N Ron) - cuts before proper end!
14 JINGLE 2
Before the break you heard the track Perfection by Boogat (big shout out going to Geko Jones and N Ron in New York for that one).
Now, remember I was talking earlier about British label Soundways and their new album "Cartagena"? Well it's so good I've just got to play another track. This is Crecencio Camacho y el Super Combo Curro and a tune called "Santana en Salsa". The background to this cut is that after a night's playing the band have just finished a gig and are now starting to play just for fun. This is a monster tune with a heavy, heavy, groove. Just intoxicating… Pa' to'os ellos que le 'usten la musica colombiana de lo' años de oro!
15 "Santana En Salsa" - Crecencio Camacho y el Super Combo Curro
[Continuous - No Break]
16 "March of the Morons" Oy Division
You just hear the traditional Jewish sounds of the gloriously named Oy Division and "March of the Morons".
Here's another brand new release due out on the 4th April here: this time it's Marseille's global beat outfit Watcha Clan and a track from their new album "Radio Babel". They'll be playing in London tomorrow at the Rich Mix Bar in Bethnal Green Road E1 to promote the new album. This is a wonderful piece of dubsteppy reggae worldness entitled "Im Nin'alu".
17 "Im Nin'alu" Watcha Clan

[Continuous - No Break]
18 "Sawakin" Rango
What you just heard was a track called "Sawakin" from an album entitled "Bride of the Zar" by the Egyptian based but Sudanese descended band, Rango, (no relation to the animated gecko currently at the cinema I might add). Their back story is too long to go into here, but includes mystic healing ceremonies, Sudanese trances, Nubian weddings, a 190 year old xylophone, an Arabian vampire, ghosts, aerosol cans, chickens, sardines and recycled aerosol cans. Intrigued? You will be! Please check them out at www.30IPS.com (which is their label) and the other bands there too.
I'm a sucker for Portuguese music and fado in particular; this is the lovely soothing sound of Portuguese singer Pedro Moutinho - in a duet with the luscious Mayra Andrade from Cabo Verde from Pedro's album "Lisboa Mora Aqui" on the Uguru label. "Alfama"
19 "Alfama" Pedro Moutinho & Mayra Andrade
OK, let's up the adrenaline with some heart-pumping salsa dura from the very talented producer, composer and musician, Señor Ortegon from Cali, Colombia. This is right on the money - "Fiesta de la Calle"
20 "Fiesta en la Calle" Ortegon
If you like Gypsy music and also like Breakcore then this one's for you; some diamond-tipped Balkan Hardcore from Berlin: Fexomat and Sum and a remix of "Golden Days"
21 "Golden Days (rmx)" Fexomat & Sum
[Continuous - No Break]
22 "Celick Comak" Gevende
You're listening to WorldBeatUK with me Glyn Phillips and you've just heard a track that I had to move from last week's show, the Turkish psychedelic folk band Gevende and a track from their first album "Ev" on the Baykus music label called "Celick Comack":
OK, I'm going to take it down slightly now with some smooth Jamaican soulful reggae, this is Chalice and "Caravan of Love"
23 "Caravan of Love" Chalice
Now last week I got into terrible trouble with my missus, who threatened to beat me around the head with a fryingpan because I played a track with lyrics she didn't approve of. It was a mash-up between Bobby McFerrin's "Don't Worry, Be Happy" and something by Cobra and Beanie Man with some rather heavy Jamaican Patois. Now, to be fair I didn't really listen to the lyrics and couldn't understand much of it anyway, revelling instead in the musical juxtaposition of the sounds and rhythms involved (I am a drummer after all!). How was I to know he wasn't going on about a small kitten?
So to set matters straight here's a song with words that I completely understand and it really IS about the singer's loving relationship with his girlfriend's faithful feline companion. And if you choose to interpret it in any other way, then that's your filthy minds, not mine . . . This is Robert Crumb (yes, cartoon fans, he of the steatopygically robust ladies) and the Cheap Suit Serenaders. You'll pick the title up as you go along!
24 "My Girl's Pussy" - Robert Crumb and the Cheap Suit Serenaders
Goodbyes, reminders for next week, thank yous, etc
NB: I'd like to thank Marc Reck for letting me have his slot!
I'm going to leave you with a real banger:
25 "Feelin Alright" Joe Cocker (Matty Blades remix)
1