WorldBeatUK (18th Show) - Broadcast Notes (29/6/11)
Tagged with: WorldBeatUK Glyn Phillips Mabon HOME Festival Dartington Thomas Brooman WOMAD WOMEX Fernhill Phil Stanton Rough Guide Coope Boyes Simpson Ian King Professor Elemental Uxia Ceu Seckou Keita Rory McLeod Farka Toure B B King Legouix Max Pashm Zeca Pegadinho
WBUK18 (29/6/11) - SHOWNOTES
WorldBeatUK 7-9pm this evening: Some folkin' good Folk with some folking good folkers, string driven things with veritable kings of African kora and a genuine King of Blues, Galician cuckoos, Brazilian café, Balkan Pashm, Sunflowers from Lola, a cracking Cuban big band, some very Rude Love from Mexico and a gentlemanly tannophile & his orang-utan butler . . .
1 "Intro-Mat" (1:47) by Matchatcha from the album "Nyekesse" (Melodie)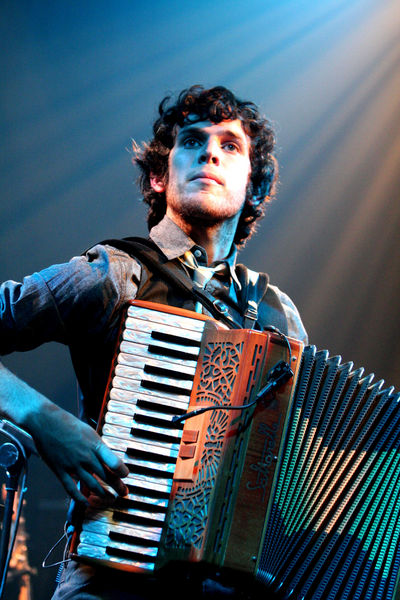 Welcome to the show and first off: Happy 7th Birthday to my youngest son, Lewys! Hope you're having a lovely day! And if it's a birthday that must mean a party! So without further ado, let's join Welsh folkers Mabon for a Schindig!
2 "Schindig" (5:00) by Mabon from the album "Live at the Grand Pavilion"
Yeah that was the Welsh based Mabon - one of the most exciting folk bands on the UK circuit at the moment - I had the pleasure of seeing them last year at the Womex conference in Copenhagen and that was a tune called "Schindig" off their Award Winning album "Live at the Grand Pavilion" released last year. The newly reformed Jamie Smith's Mabon will be playing at Womad in Charlton Park in about four weeks time on the BBC Radio 3 stage. So catch them if you can.

And from one Festival to another. I've recently come back from a brilliant small festival in Devon called the HOME festival which took place at Dartington Hall in Devon over one and a half days. It was co-founded by Thomas Brooman - one of the original founders of Womad - alongside a chap called simply Drum.
The idea behind the HOME festival is to try and present top-flight world music acts in a more intimate setting and in particular to present at least half of the performances completely acoustically. And when I say acoustic - I mean just that: NO amplification whatsoever! Hard to believe? Trust me it worked!
The venue was a 14th century hall in an old manor house and for many of the bands it was their very first time performing without mikes and speakers etc - but it was a resounding success. The audience needed to be silent but it was amazing how quickly everybody adapted.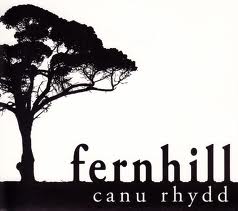 And one of the bands who performed like this were the Welsh folk band "Fernhill". Believe me, a great band to see live - the delicacy of the pieces, the seeming simplicity of the delivery, the strength of the arrangements all combined into a breathtaking concert. I've got to big up the voice of Julie Murphy in particular - in this large, incredibly high medieval hall her voice took on an almost 3-dimensional quality and took flight above our heads.
So here's a flavour of Fernhill. This is from their album "Canu Rhydd" (which roughly translates as freeform poetry) and is a track called "Diddan". Oh and a big thank you to Jane Brace and Katrina Hurford of Dartington for looking after me and my brother - looking forward to next year already.
3 "Diddan" (5.53) by Fernhill from the album "Canu Rhydd"
and from Welsh Folk to English Folk...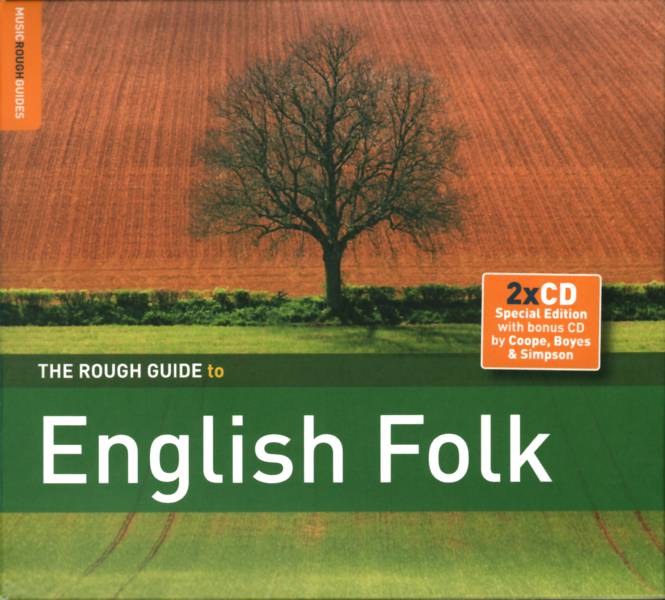 Whilst at Home Festival I met Phil Stanton, the boss of World Music Network (the people that put out the Rough Guide series of CD - and "Introducing…") . There are two new CDs from the RG range, to be released …when?…. - English Folk and Brazilian Cafe.
Explain concept of RG and of the bonus CDs.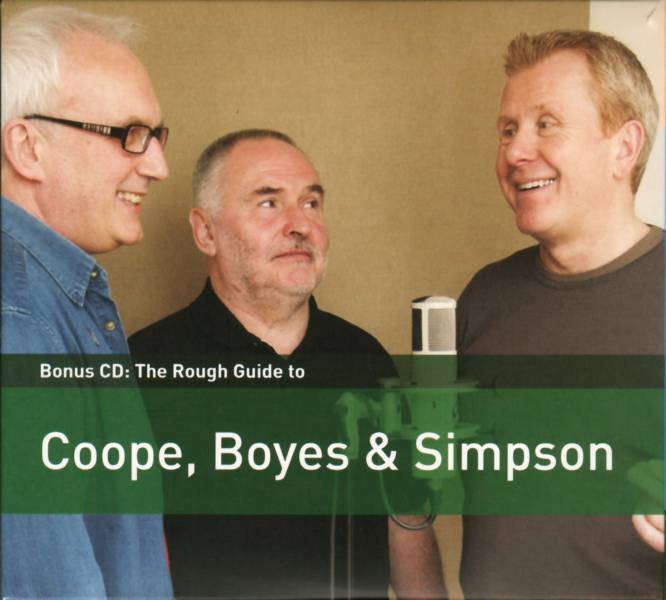 I'm going to deal with the folk album first coz we're still in the British folk section of tonight's show. This track is actually from the bonus CD which comes free with the RG TO EF - and is a compilation devoted to the work of Yorkshire acapella singers Coope, Boyes & Simpson.
- explain about Jerusalem and Froots etc.
This is a short piece called "Uttoxeter Souling Song"
4 "Uttoxeter Souling Song" (1.18) by Coope, Boyes & Simpson from the album "RG To English Folk" (Network)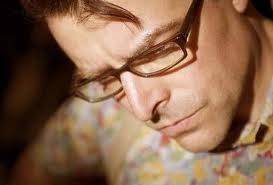 From main album: explain when I first heard this tune (early 80s - Sheffield, Oscar The Frog etc, …
5 "Adieu to Old England" (4.41) by Ian King from the album "RG To English Folk (Network)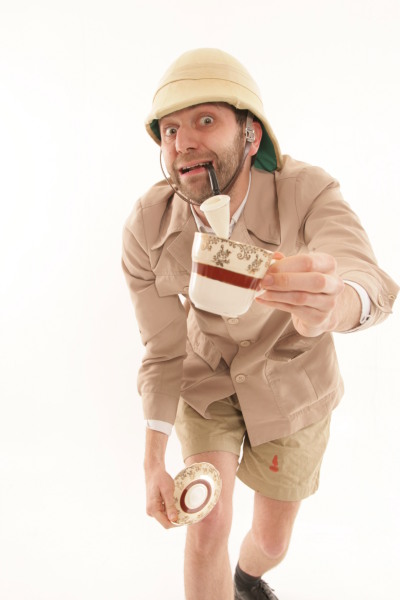 Link from saying goodbye to Old England to the Prof and his quest for the golden frog.
remind people of Prof's website www.professorelemental.com and that the remix album "More Tea" is due out on Monday July 4th…
6 "The Quest for the Golden Frog" (Tom Caruana remix) (3.49) by Professor Elemental from the album "More Tea (Remixes)
.
[CONTINUOUS]
.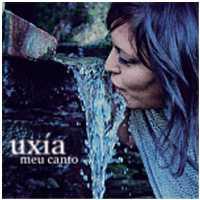 7 "O Cuco a Cantar" (3.26) by Uxia (with Fred Martins) from the album "Meu Canto" (do Fol Musica)
Explain about Uxia - then Brazilian connection, into the second of WM Network's Rough Guides - Brazilian Café (concept about café)
.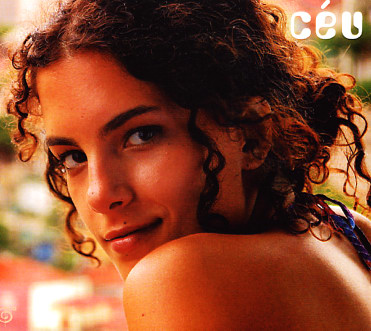 8 "Comadi" (3.33) by Céu from album "RG to Brazilian Café" (Network)
.
.
Mention Home Festival again. . . and Seckou 50% of sales to Red Cross charity. Explain 'Silimbo'.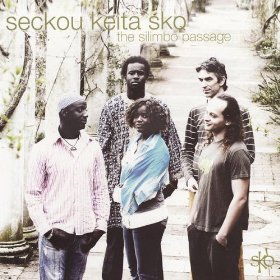 9 "Mande Arabe" (6.08) by Seckou Keita Quintet from the album "The Silimbo Passage" (World Artventures)
Flag up Rory McLeod at the Kitchen Garden Café - Sunday 3rd July - Rory McLeod - Kitchen Garden Cafe, 17 York Road, KH, Bham (World Unlimited) 7.30pm
.
Here's what I said about RORY MCLEOD a few weeks ago, worth repeating:
"He carries with him that same mixture of idiosyncracy and integrity as people like Ash Mandrake, Roy Harper etc. I think it's safe to say that Rory is an underground legend. Described variously as an amazing folk artist, traveller, troubadour extraordinaire and a one-man folk orchestra, Rory plays a multitude of instruments including trombone, harmonica, spoons, djembe, bandorea, guitar, finger-cymbals and tapshoe-driven stomp-box! He's played and recorded with people like Ani Di Franco, Taj Mahal, Kathryn Tickell and Ali Farka Toure amongst many others.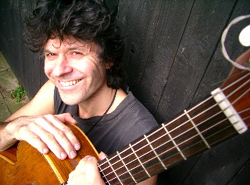 I had the pleasure of performing with him back in the 90s right here in Birmingham - a great musician, and a true gent to boot. Luckily for us here in Brum he's come down from the Orkneys and will be performing on Sunday 3rd July at the Kitchen Garden Café, Kings Heath, courtesy of World Unlimited.
I urge you to go along - you will be drawn into his unique world and emerge with your senses buzzing."
10 "Going Song" (5.52) by Rory McLeod from the album "Travelling Home" (Cooking Vinyl)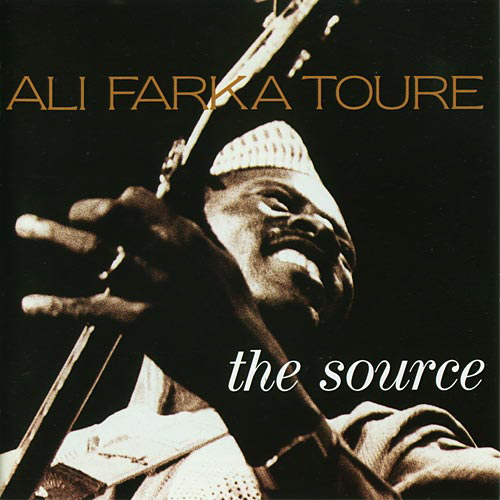 Here's Rory with Ali Farka Toure:
11 "Roucky" (8:19) by Ali Farka Touré from the album "The Source"
The Source = the source of the blues and here's how most of us remember the blues - BB King and the "Thrill is Gone"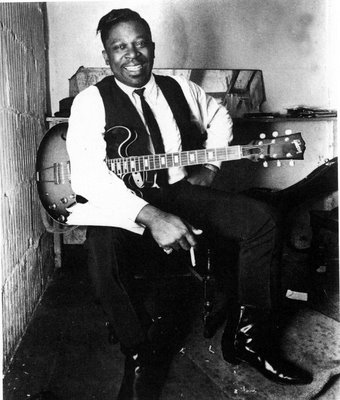 12 "The Thrill is Gone" (4:58) by B.B.King from the album "The Best Of Blues"
.
.
.
.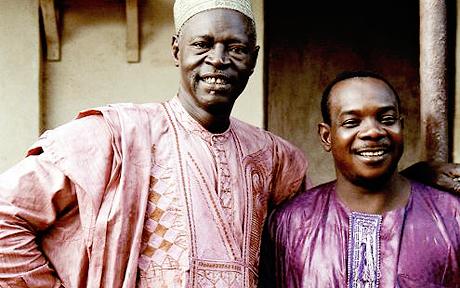 Back to Africa and Ali Farka Toure - combined with the King of Kora, Toumani Diabate - the last album they recorded together ...
13 "Sabu Yerkoy" (4:09) by Ali Farka Touré & Toumani Diabaté from the album "Ali & Toumani" (World Circuit)
FLAG UP: Monday 4th July - Vieux Farka Toure - UK release, new album "The Secret" on Six Degrees Records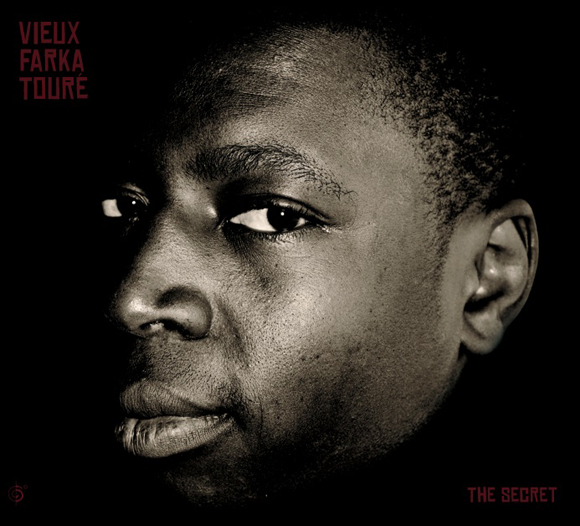 14 "The Secret" (6:51) by Vieux Farka Touré from the album "The Secret"
.
.
.
[CHANGE THE CD!!]
- - - - - - - - - - - - - - - - - - - - - - - - - - - -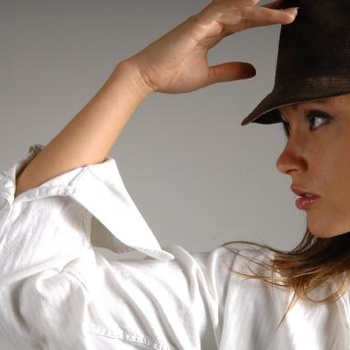 Change of mood and pace - leave Africa and come back to the UK - explain about Alexandra and her fusion stuff - here more latiny
(1) 15 "Time to Go" (3:33) by Alexandra Legouix & the Sunflowers from the album "Lola"
Flag up SUBVERT at the W&H: this Saturday 2nd July- Johnny Kowalski and the Sexy Weirdos (Balkan Gypsy with brass and fiddle, and the Damnbusters (Ska Classics), Lobster (Ska/punk, Sam Maloney (acoustic) plus DJs… 8 til late (£2 b4 10pm / £4).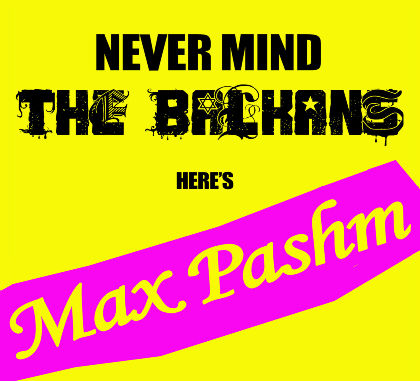 Balkan bit leads into Max Pashm (& replug Home Fest)
(2) 16 "Manea K" (4.47) by Max Pashm from the album "Never Mind the Balkans"
[CONTINUOUS]
.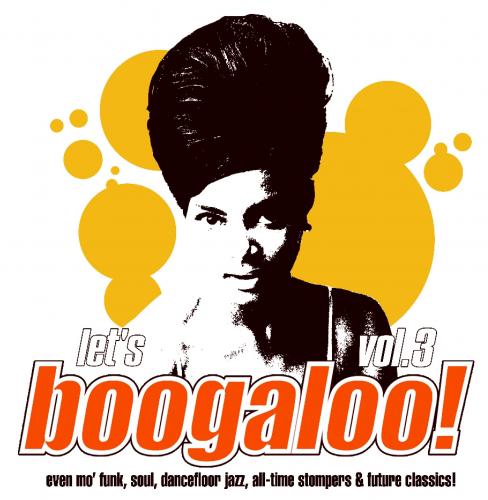 (3) 17 "Gettin Down" (3.06) by The Brand New Rhythm from the album "Let's Boogaloo Vol 3"
Last one just a bit of fun - no plugs to do for the rest of the night; so over to Brazil first for Zeca Pagodinho and his song "Vai Vadiar" which roughly translates as 'going astray'.
.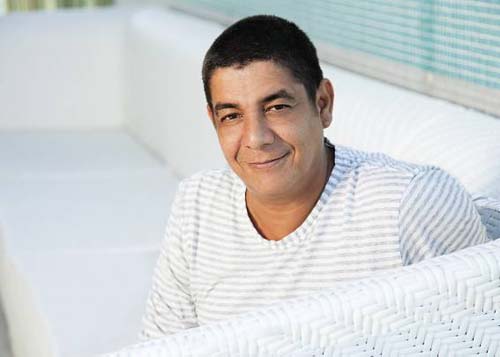 (4) 18 "Vai Vadiar" (4.07) by Zeca Pagodinho from the album "Serie Sem Limite" ()
.
.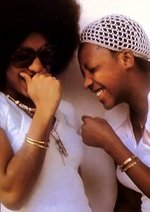 (5) 19 "Rude Love" (4.57) by Althea & Donna vs Rihanna (Outsider 8301 remix)
.
.
.
[SHOUTOUTS, thank yous, announcements, etc]
Happy Birthday to Lewys!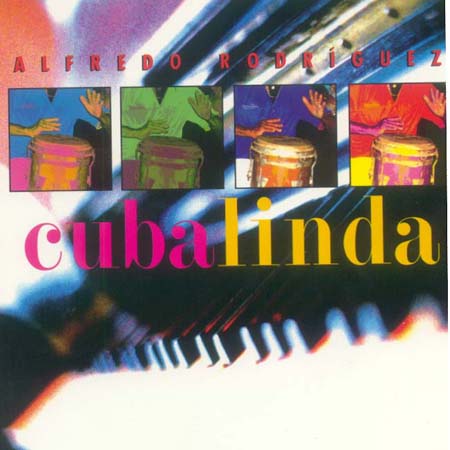 (6) 20 "Tumbao a Peruchin" (4.40) by Alfredo Rodriguez from the album "Cuba Linda" (Hannibal / Rykodisc 1996)
Womex 2010 - Editor's Highlights (Pt 3)
Tagged with: Womex Copenhagen Koncerthuset N'Faly Kouyate LaBrass Banda Blink Bomba Estereo Colombia Karina Buhr Dobet Gnahoré Mabon Wales Henrik Jansberg Baba Zula Denmark Baltic Nordic Emilia Amper Nyckelharpa Brazil Turkey Glyn Phillips Review
This is the third of my Editor's Highlights blogs from Womex 10 - the World Music Expo held in Copenhagen, Denmark last month. It deals with the third day of the expo - Sat 30th Oct 2010.
"... as if a whole battalion of brass bands was invading the hall"
"The daytimes at Womex were spent intensively networking at the Trade Fair, where we met some absolutely fascinating people and organisations; however whilst doing this there were often impromptu musical displays happening around the Forum. N'faly Kouyate, normally with the Afro Celt Sound System, was to be found at the Belgian Walloon stand playing his kora, the gentle sounds rippling out from his corner of the fair; two or three members of LaBrass Banda started a near stampede when they began to play in one of the stands - just they alone sounded as if a whole battalion of brass bands was invading the hall; a trio of what I think were very young musicians from the Lithuania/Latvia/Estonia area played some great music on bagpipes, guitar and tambourine, amongst other musical displays.
In particular a very sotto voce performance on the 'grassy hillock' at the centre of the Forum (in reality a mound of pallets covered over with rolls of real grass!) by the young Nordic folk quartet Blink was especially enjoyable. These "four women from five countries" - their own words - played a beautiful blend of music from their respective traditions, combining the voices of Danish-Norwegian Jullie Hjetland (a girl with a jaw-dropping length of hair in an enormous rope-plait) and the Finnish Lotta Hagfjors, with the Estonian fiddle of Johanna-Adele Jüssi and the Swedish nyckelharpa of the lovely Emilia Amper.
(www.myspace.com/musicblink)
(www.myspace.com/johannaadele)
(www.myspace.com/emiliaamper)
"... an energy level that could power the National Grid."
Sadly, I missed the young Welsh band, Calan, that night at the Koncerthuset (it was the turn of Wales to showcase its best in the offWomex Stage in Studio 2), which was a real pity since I'd very much enjoyed their 2008 album "Bling" and was looking forward to seeing them. However, I was able to catch and photograph the Colombian band Bomba Estéreo, a small band with an energy level that could power the National Grid. There was something about the intensity of the lead singer's performance that meant my camera was absolutely glued to her almost the entire time - even though she moved about so much it was difficult to get any decent pictures. Although they had a full-on punk and rock attitude and definitely a crowd-pleaser if placed in a festival type setting, I wasn't sure afterwards if I was even aware of the actual music they played. Certainly not music to put your feet up to . . .
(www.bombaestereo.com)
Brazilian art-rock-pop singer Karina Buhr's set was marred by the fact that for almost the entire time you couldn't see her, since the only lighting seemed to come from the intense red back-lighting. The whole concert seemed to be given in silhouette. Again I can hardly remember the music, just the frustration of trying to work out what the cat-suited singer was doing with the large blow-up plastic props in her hands that looked huge spiky dumb-bells.
(www.karinabuhr.com.br)
"beautiful voice, graceful movements, and trademark painted face"
On safer ground was the striking Ivorian singer, Dobet Gnahoré, who delivered a show full of confidence, artistry and grace in the main hall of the Koncerthuset (Studio 1). With her beautiful voice, fluid movements, and trademark painted face she held the concentration and the hearts of the packed hall. Too pregnant to safely dance - a big part of her show usually - she had one of the backing singers dance for her - and what a surprise that was. Dobet seated herself on a high stool at the back with the musicians and almost conducted the dance performance with her hands, whilst her singer leapt and swooped and spun and dropped with increasingly wild abandon to the music, getting more energetic and daring as the music took her someplace else. A great show that I wish I was able to see more of. But so many things to cover . . .
(www.dobetgnahore.com)
"A great live act, they were confident, professional and very tight"
Downstairs again to the very bowels of this amazing building and this time to see the last Welsh folk band of the night, Mabon. Although mostly Welsh, their approach is more accurately described as inter-celtic, since they weave many different strands and cultures into their music. Again, another exhilarating performance from a band I'd never seen before and had little idea what to expect. A great live act, they were confident, professional and very tight, accordion, fiddle, bass, guitar and drums working as one. The band's leader and main composer, the accordionist Jamie Smith, managed to dominate the stage even though he barely moved from his spot. Mabon soon had the crowd on their feet and there was a full-scale twmpath going on beneath the enormous Welsh Dragon pinned to the wall at the side of the auditorium. The Welsh supporters were obviously determined to show the rest of the world how to party and linked hands to dance like a huge human snake through the crowd. But Mabon are more than just a great live band; their album "Live at the Grand Pavilion" is as enjoyable played at home alone as it would be performed live at a venue (just close the curtains so the neighbours don't see your dodgy dance moves!).
(www.mabon.org/)
"How much exhilaration can a man take?"

I wandered out of Studio 2, slightly shell-shocked and somehow found myself in Studio 4 where the Nordic Club was based. I seemed to walk into the Danish equivalent of Mabon! Full house and mad dancing everywhere by the home crowd and a band that swung every bit as much as the one I'd just seen. I only found out later that it was the award-winning Danish fiddler Henrik Jansberg and his band (two guitars, double bass and percussionist - cajón, washboard and assorted cymbals and lumps of metal). Again: tight, confident, professional and with an enthusiastic band of supporters egging them on. How much exhilaration can a man take?
(www.jansberg.com/)
"I can hear all the festivals ringing their manager right now…"
Upstairs now to catch Turkish psychebelly trance masters, Baba Zula, the inventors of Oriental Dub. All efforts to pigeon-hole this legendary Anatolian band are pretty much worthless, since they pull in so many influences from psychedelic rock through electro-beat and trance to whistles, spoons, darbuka and electric-saz. Frontman, Murat Ertel, and spoon-clacking, cymbal-basher Levent Atman, both sported impressive moustaches - which got my vote straightaway! Then out came the dancers - whirling around the stage in colourful psychebelly outfits - as if Hawkwind had been transported to Istanbul. The whole show was a full-on audio-visual assault - and Baba Zula most certainly came out the conquering heroes. I can hear all the festivals ringing their manager right now…"
(www.babazula.com)
Glyn Phillips
WorldMusic.co.uk
Womex 2010 - Editor's Highlights (pt 2: Sexto Sentido)
Tagged with: Sexto Sentido Cuba Arlety Valdes Yudelkis LaFuente Eliene Castillo Wendy Vizcaino Chucho Valdes Guajiro The Way Bossa Cubana Mi Feeling RnB Soul Jazz Latin Womex Charlie Scotts Melvis Estevez Joao Donato Jorge Baglan Glyn Phillips
This is the second of my blogs about Womex 10, the World Music Expo, held in Copenhagen, Denmark, last month (Oct 2010). Here are some more of my highlights.
"On the Thursday I came across an all-girl Cuban group, Sexto Sentido, who were promoting their music from one of the Trade Fair stands. Unusually the girls were doing the entire promotion themselves with the aid of a German friend and, unable to secure a slot in the official Womex showcase, he had procured them a last minute offsite showcase gig at Charlie Scott's Jazz Club in the centre of Copenhagen. What was really different about this band was that the girls were at great pains to distance themselves from the stereotypical Cuban touring groups. This was evident not only in what they said, but in their posters and videos which owed more to Destiny's Child, TLC and a whole host of RnB singers than to what Europeans have come to expect of this magic isle.
"The most sublime contemporary soul and RnB, rich harmonies, jazzy licks, funky drums and bass and lyrics delivered perfectly in English as well as Spanish."
Confused, but intrigued, I popped on the headphones they proffered to me and was hit by the most sublime contemporary soul and RnB, rich harmonies, jazzy licks, funky drums and bass and lyrics delivered perfectly in English as well as Spanish. Wow. Not what I expected at all. So, if these girls were turning out Western commercial music (which coincidentally they wrote - lyrics and music - themselves), then what's the point? Why not just listen to the thousands of RnB stars (and wannabe's) out there who already sing this stuff in English? Ahh, but there you have it - not only are these four girls every bit as good as any of the best chart-toppers they have something that their North American neighbours don't have - and that's 'sabor'. There is an innate 'cuban-ness' to their music, a certain 'swing' that's incredibly subtle yet sets their music apart. I wasn't sure whether they even realised it, yet there it was - a warmth and sway that permeates the music and makes it stand out from the 'me too' RnB brigade . . .
"Trust me, these ladies are special. Very special indeed."
Trust me, these ladies are special. Very special indeed. The more I listened, the more I saw just how determined they are to do everything their own way, without reference to what people expect them to do. The music stopped being great soul, great jazz, great RnB, great bossa etc, but just great music. Period. Arlety Valdés, Yudelkis LaFuente, Eliene Castillo and (new girl) Wendy Vizcaíno are a force to be reckoned with. Imagine if Beyoncé, Mary J Blige, Mariah Carey and Alicia Keys were born and raised in Cuba, and had been friends since 13 years old. Because that's basically the story of Sexto Sentido. The four friends (which included their original singer Melvis Estevez) met at one of Havana's elite conservatoires designed to pick up emerging talent from a young age and nurture it no matter the child's background. They formed their band soon after and became unstoppable, receiving numerous awards and being sent by the Government all over the world as well as working with the cream of Cuban musicians such as Chucho Valdés. Melvis recently left and was replaced by the 21 year old Wendy (the other girls are all 28).
"... the ineffably groovy "Guajiro" had been a number one hit in Cuba this summer, making them millions of fans ..."
They can still do more typically Cuban music and told me their latest single, the ineffably groovy "Guajiro" had been a number one hit in Cuba this summer, making them millions of fans and reaching 90% of the population; the spin-off video from that remained high in the video charts for weeks on end too - making even the 'extras' into mini-celebrities!
Their first album, "Bossa Cubana", had a Russian producer and was supported by the Brazilian musician João Donato. It gave them their first hit (title track) and was a mix of international songs (included two intriguing Beatles covers) with their own compositions. The second album "Mi Feeling" was rooted in Cuba's indigenous jazz movement ('fílin') of the 60s and although a niche market, was rated as one of the best jazz CDs in the USA (2008) and is still often played on American jazz radio stations. Sadly though, Sexto Sentido don't own the copyright to these. The Cuban government record company do, as well as certain foreign producers - who bought the rights from Cuba to sell them in the US market. Hence their presence in Copenhagen to promote their own independent production of their third album "The Way" (written completely by them) and to look for opportunities to tour in Europe and take back control of their music.
I was invited to their one and only performance in Copenhagen the next night (Friday 29th October), yet this meant I would miss the vast majority of the other showcases that night over in the Koncerthuset. I 'ummed' and 'aahed' all the next day, but in the end I was too intrigued to see what they would be like live and decided to head over for an hour just to check them out and take some photos.
Charlie Scott's (no relation I think!) Jazz Club is run by an ex-patriate Scot (called Charlie, I suppose!) and is a friendly, atmospheric, upstairs club with a minuscule stage facing the bar (which was barely a yard or so in front!); most of the audience sat to the one side of the stage and the others on the other side of the bar. When I got there and went up the stairs, the door opened almost straight onto the drummer; the band - all brought over from Cuba and using borrowed instruments - consisting of a kit drummer, conguero, saxophonist, keys, bass and electric guitar and completely filled the stage - and that was minus their trumpeter (the amazing Thommy Lowry - Buena Vista & Afro-Cuban Allstars)! I wondered where the four girls were going to stand. The mike stands were placed on the floor since the singers couldn't fit anywhere else. I found myself standing almost face to face with them and was forced to find somewhere else to watch and listen.
"Their backing band alone were incredible! "
The performance was delayed by 20 minutes or so as they all struggled with the PA system and appalling feedback - an object lesson in the difference between the Cuban system they are used to and the capitalist. In Cuba, they earn next to no money at all (and don't own the copyright to their own music, only getting paid a single recording fee) yet at every concert there are highly trained sound engineers and roadies - the girls just have to turn up and start singing. Realising that they were suddenly responsible for having to do their own sound on borrowed equipment (and that Western bands even have to bring their own PA often just to do a gig) was a bit of a jolt it seemed. Still, everybody was patient and professional and it was eventually sorted out and the band went into an instrumental to warm up and set the scene. Believe me, just that first 'throwaway' tune would have been worth going off the beaten track for. Their backing band alone were incredible! I later found out that it wasn't surprising since they were all top musicians in Cuba, the drummer Jorge Baglan coming from NG La Banda and Paulito FG and the award-winning saxophonist Michel Herrera having performed with Winton Marsalis, to name just two.
"Their voices are pitch perfect, smooth as butter, rich as chocolate, and as for the harmonies . . . "
For the next hour Sexto Sentido delivered a set of music that blew the audience away. Their voices are pitch perfect, smooth as butter, rich as chocolate, and the harmonies .. complex, yet somehow natural, instantly comforting, yet constantly surprising. Just when you thought you'd got the measure of them, they explored another angle of the song. I kept wondering if the regulars there had ever heard anything like it. The standard was incredible! In Cuba, the girls have often played in big concert halls and gigs to thousands of people at a time, and yet here they were singing their hearts out to this small yet packed room of musos, jazzers and locals.
"The first set was a masterclass in soul, jazz, RnB, bossa, latin jazz and beyond."
The first set was a masterclass in soul, jazz, RnB, bossa, latin jazz and beyond. I was blown away by their version of The Beatles "Come Together" - I really didn't see that one coming! They said they'd take a five minute break and then be back. I didn't want the music to stop, but quite literally five minutes later, they took to the stage again (other less professional musicians take note!) and then really let rip for the remainder of the night. The second set started to mix in son and rumba and a hip-swinging version of their hit "Guajiro". By this time the standing crowd were dancing in every square inch they could find. Just when you thought it couldn't get any better than this, it did, Eliene throwing back her head, opening her lungs and letting rip like a true Soul Diva. I'd long since abandoned any thoughts of seeing the rest of the showcases that night (apologies to all the amazing bands I missed), but I knew that right at that moment there was nowhere else I'd rather be than standing in front of such consummate musicianship and singing.
"Just when you thought it couldn't get any better than this, it did ..."
So, are they really "world music"? Some other Womex delegates I spoke to were equally impressed by their abilities (besides being singers, songwriters, arrangers and choreographers the girls are all multi-instrumentalists in their own right - planning soon to release an album with every single thing written and performed by them); but these promotors struggled to conceptualise marketing an outfit like them. "So what are they: Salsa or Soul?", they'd say, "If only they'd do one or the other!". I think these delegates missed the point. Sexto Sentido are all of these things and more, much more. Imagine if people had said to Cuban super-group Irakere: "Just stick to doing versions of Guantanamera" . . .
"You see, it's not about "World Music"; it's about World Class Music. And Sexto Sentido are world class."
Who would like the music of Sexto Sentido? The short answer is anybody who likes fabulously sung music. Certainly anybody into jazz, soul, RnB, and all their affiliates would like it; anybody that likes Cuban music or indeed most latin american musics would like it. But their appeal is far wider than that: Pop? Certainly. Cutting edge Dance? Yep? Fusion? Of course. Tropical? Por supuesto! World Music? Undoubtedly. You see, it's not about "World Music"; it's about World Class Music. And Sexto Sentido are world class.
"… these four talented and truly gorgeous women deserve to go all the way."
My belief is that they're only just starting to explore their capabilities musically. They've already collaborated with Norman Cook and Guy Sigsworth on some House and Dance tracks, and are able to truly tackle anything they set their minds to. What I'm interested in is what they'll create themselves as they mature and synthesise their many influences. In a way they could end up with real world music: globally recognisable, yet - I fervently hope - without losing their idiosyncratic Cuban 'sabor'. I hope my 'sixth sense' is correct, because these four talented and - I can't hold back any longer, I just have to say it - truly gorgeous women deserve to go all the way. I hope they find 'the way', without losing their way."
Glyn Phillips
WorldMusic.co.uk
Womex 2010 - Editor's Highlights (part one)
Tagged with: worldmusic.co.uk world music Womex Copenhagen Denmark Koncerthuset Antonio Zambujo Papa Wemba LaBrass Banda Tremor ZZK Las Migas Criolina Glyn Phillips Reviews
Here at WorldMusic.co.uk we've recently returned from Womex 10 - the world's leading World Music Expo held this year in Copenhagen, Denmark. Over the space of five days it's a chance for the globe's leading movers and shakers in the sphere of world music to get together, meet new people, network, do deals, hear new bands and recordings and talk about the future of world music. We've had a great time with the other 2400 odd delegates, 1360 companies, 850 Festival and Concert bookers, 600 labels and distributors, 350 journalists and broadcasters and 300 artists.
Enough stats! Here is the first blog of my Womex 2010 highlights, taking in the first full day and night. Of the 40-50 official showcases, the 9 official 'unofficial' off-Womex showcases and the many unofficial showcases you can only take so many acts in no matter how hard you try and how organised you are. Of the ones I did manage to take in these are my standouts…
"a voice as pure as an angel's"
Antonio Zambujo currently Portugal's number one male fado singer - I've already writing a separate concert review of this (see under Reviews), but just to say, if you ever get the chance to see this man - go! Exquisite artistry and a voice as pure as an angel's - he had the audience utterly entranced and bewitched from the moment the first notes shimmered across the Koncerthuset. This guy and his band are stunning. (www.antoniozambujo.com)

"dancing in the aisles in musical ecstasy"

Later on that night in the same venue Papa Wemba the veteran Congolese rumbero had the audience dancing in the aisles in musical ecstasy - special mention must go to his solo encore track. Trust me, this guy didn't need a band behind him - he stood alone in front of a microphone at the edge of the stage and took us into his song; just Papa and his voice stripped naked. Once again the power of the human voice to haul our hearts up to new levels never ceases to astonish me. The audience of seasoned world music industry insiders agreed and clamoured for more. But there was no need for more - he'd said it all. Papa had sung his heart out. He bowed, turn around and walked off-stage. Priceless moment. (www.papawemba.fr)
"Great live band!"
Germany's LaBrass Banda take 'Oompah' music to a new level too! Ditching the unintentionally quasi-comic image of traditional Bavarian brass they come nearer to the Balkan heavy brass vibe (even in leiderhausen!) crossed with some heavy rock attitude. Difficult to describe, all I can say is that, as a live band these guys are very exciting indeed. Great live band! (www.labrassbanda.com)

"an utterly impelling groove"
Another band taking the traditional music of their country and giving it some serious 'rockismo' are the Argentinian band, Tremor. These three young guys, (Leonardo Martinelli, Camilo Carabajal & Gerardo Farez), mix the many elements of their country's rich musical heritage (Argentina's not all tango guys!!) and play charangos (tiny 10-string instruments - originally made from armadillo shells, now of wood), t'arkas (wooden flutes with a particularly harsh sound) and bombo legüero (the deep bass goatskin drum) with electric guitar, keys, loops and melodica! They take what seems a very unusual mix of instruments and what at first seems to be a sparse set and sound and create an utterly impelling groove powered in particular by Camilo's thundering bombo rhythms and punk attitude. As their press release said: "This is no languid lounge music . . . digital folklore for a new generation". Great festival band - and lovely guys offstage too! (www.zzkrecords.com/artist/tremor)

"a voice that could floor a man at a hundred paces . . . "
I only managed to catch the dying notes of Galician bagpiper Cristina Pato on the Sounds from Spain stage, but made sure I was well in place for the multinational Barcelonian flamenco band Las Migas. This was definitely one of my highlights of Womex: four beautiful - and extremely talented - women on violin/accordion, two Spanish guitars and cajon/vocals (accompanied by Andalucian percussionist Carlos Cortés Bustamante). The musicianship evident on-stage would be enough to make it to my highlights list on its own, but what really catapults them above other similarly talented bands is the stage presence of their lead singer, the cantaora Silvia Pérez Cruz. Seated upon her cajón centrestage, she is like a magnet to the eyes and ears - no mean feat considering the skills and charisma of her compañeras - and certainly for me that night she had the elusive duende so sought after in flamenco. Posture, grace, facial expression, delicate hand-movements and a voice that could floor a man at a hundred paces . . . She effortlessly travels between flamenco and jazz in the most subtle nuances of her voice. Offstage she is tiny compared to the brilliant guitarist (and curvaceously statuesque beauty!) Marta Robles Crespo, but onstage Silvia is like a queen holding court. As you can tell, she ruled my head, ears and heart that night. The reality is that the whole band were stupendous, the playful Lisa Bause (from Germany) swapping between violin and accordion, the slightly more serious Isabelle Laudenbach (France) on guitar, the effortless fluidity of Marta Robles and not forgetting the sympathetically subtle percussion of Carlos Cortes. I came not knowing at all what to expect - I left utterly converted. ¡Viva Las Migas! (www.lasmigas.com)

"Criolina rock!"
That first night finished off with a DJ set from three DJs (Oops, Pezao & Barata) from the Brazilian collective, Criolina. Hailing from Brasilia, the capital of their country, they have been together for five years, playing every Monday and pulling an average audience of 700 a time (yes, on a Monday!) with spin off nights in São Paulo and Rio de Janeiro. Only three of the five main guys came over for this, but what a show. It's not easy to get a large room of world musos rocking at 1.45 in the morning after they've worked all day long and then seen half a dozen or more amazing bands already that night, but these guys pulled it off. Working as one they selected, dissected, tweaked and twiddled over and around each other without let up as they shared one musical vision and one brain split between three bodies. What truly made them good was not so much the technical virtuosity they displayed whilst setting bits of one tune against the rhythm of another, but the choice of raw material they sourced it all from (and it wasn't just Brazilian music either). This was no boringly predictable mishmash of pre-programmed loops and beats from the myriad of DJ-software out there, but authentic tunes - real music - that would probably sound perfect played with no cutting and splicing anyway; and it's that quality that shone through - these guys really love the tunes they played. That's the way I like to DJ myself - if you can't get excited about the music yourself, how can you expect the audience too. It worked. I was knackered beyond belief when they came on and yet within a few minutes I was gyrating round the floor as if I'd just stepped out fresh and ready. By the time they hit the cumbias, I was good to go all night. Criolina rock! (www.criolina.com) - for a taste of what they actually played that night go to: soundcloud.com/criolina/sets/sistema-criolina-live-copenhagen-womex-2010

Glyn Phillips
WorldMusic.co.uk
1