Bomba Estereo sign to Soundway for "Elegancia Tropical"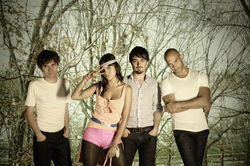 "Elegancia Tropical", the forthcoming album (early 2013) from Colombia's Bomba Estereo has been recently signed to Soundway Records. The album combines cumbia and hip-hop with champeta, electro-chicha, and chill-wave.
Day-Glo Electronics and Earthy Rumbles: The Elegant Return of Bomba Estéreo
The long awaited, full-length follow up to Blow Up refines Colombian band's electro-tropical sound.
"It's all about the happiness," Bomba Estéreo's incandescent vocalist Liliana Saumet likes to exclaim. And the cumbia-powered, electro-shimmering party now continues on " Elegancia Tropical", the long-expected album from Bogotá's hottest band, named for the bad-ass sound systems that are the heart of local parties.
'"Elegancia Tropical" stretches in multiple directions. It forges alliances — via hybrid beats and flirtatious lyrics — with the Brazilian rapper BNegão and the Angolan and Portuguese group Buraka Som Sistema. It courts international listeners with the synthesizer swoops and pushy rapping of "Pure Love" and "Caribbean Power." But for nearly half the album, Ms. Saumet also gets to drop her party-girl duties in lovelorn pop songs like "Bosque," "Sintiendo" and "El Alma y El Cuerpo," showing some tenderness as sinuous guitar lines share far more private grooves.'
- Jon Pareles, The New York Times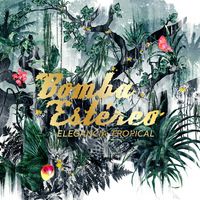 Recorded beachside, Elegancia Tropical takes a deeper dive into Colombia's Afro-Latin roots and beats, without losing the edgy drive and good times that propelled Bomba Estéreo up charts and onto hip festival stages from Coachella to Bonnaroo.
Building tracks from the purest Afro-Colombia beats up, Bomba Estéreo organically transforms the traditional into the fresh, jumping from chicha and champeta to dancehall vibes and epic ambient moments ("Pa Respirar").
'Bomba Estéreo broke through on the strength of a dynamic mix: electronics, cumbia, soaring guitars and impassioned vocals, performed with raw intensity but also an eye toward maturity and growth… Life is more than a party this time, as the band takes on thought-provoking themes and examines subtleties of pulse and tempo. Even a sweaty dance-floor cooker like "Rocas" conveys a deeply sensual sway.'
- Felix Contreras, NPR Music
With the perfect balance of day-glo electronics and earthy cumbia rumbles, the band keeps it bold and bright, rocking club-friendly but clever party anthems ("Pure Love"), grabbing groundbreaking Brazilian MC BNegao for a hard-hitting track ("Rocas"), and swaying with sweet Afro-Caribbean funk ("El Alma y El Cuerpo").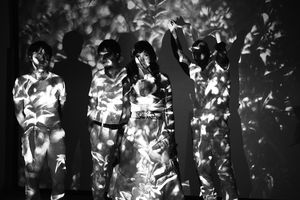 "We were just hanging on the beach," recalls Simón Mejía, Bomba's bassist and musical mastermind, reflecting on time the band spent not far from Saumet's hometown of Santa Marta.
"We weren't really thinking about anything. Just making nice music. A couple of songs came through that process of being very relaxed, 'El Alma y El Cuerpo' and 'Pure Love.' We didn't think or care too much about making some big hit like 'Fuego,' just about having a good time."