BRASS BAND BATTLE WORLD PREMIERE - MEXICO vs BALKANS
Two super heavyweight enormous brass bands go head to head, side by side, mano a mano, on the same stage to decide whether it's Mexico or the Balkans that can blow the hardest!
Live in London - A World Premiere: BRASS BAND BATTLE - MEXICO vs. BALKANS:
Banda Estrellas de Sinaloa de Germán Lizárraga vs. Boban & Marko Markovic Orkestar
Sunday, 14 April 2013, 8pm
Barbican Hall, Silk Street, London EC2Y 8DS
Tickets: £15.50 - £24 - on sale now from the Barbican, Ticketmaster and SEE Tickets.
Box office: 020 7638 8891
http://www.barbican.org.uk/music/event-detail.asp?ID=14216
Facebook event page: http://www.facebook.com/events/307023776080503/

Part of La Linea 13
Produced by La Linea (lalineafestival.com) in association with the Barbican (barbican.ork.uk)
Whilst in the East father and son band leaders Boban and Marko Markovic from Serbia have become the gyspy brass kings of the Balkans, in the West, Germán, leader of the Lizárraga dynasty of Banda musicians from Northern Mexico has blown his way to ascendancy with the Estrellas de Sinaloa.

London, as ever, is the place where these things are laid to rest. Mexico vs. Balkans Brass Band Battle is a World premiere title decider, produced by La Linea, the London Latin Music Festival, in association with the Barbican.

Thirty musicians on one stage, a clash of Mexican banda and Serbian gypsy brass, and a white-hot-brass-knuckle ride not to be missed with the audience the only guaranteed winner.

Get ready to raise a glass of Slivovitz or Tequila to the gladiators.
Meet the contenders

Boban & Marko Markovic Orchestra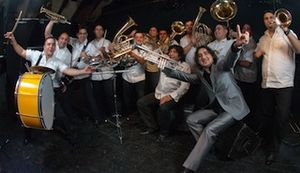 The quintessential Balkan brass band from Vladicin Han, in Southern Serbia, has once again captured the mantle of 'Leading Band in Serbia', a title for which they have been crowned many times since the late 1980s. Their music, performed by a thirteen-piece strong orchestra, is wholly defined by their own gypsy lineage, whilst giving a knowing nod towards other musical and cultural backgrounds closely related to Romani traditions. Boban and his Orchestra have won all of the most prestigious accolades available to players in Serbia: 'Trumpet Maestro' (2 times), 'Golden Trumpet', 'First Trumpet', 'The Best Orchestra', ' The Best Concert'.

Marko, Boban's son and now the band's primary soloist and arranger, has collaborated heavily, as both as a soloist and co-arranger, with Shantel on his well-received new album 'Disco Partizani' and has performed with the Bucovina Orchestra. They return to the Barbican after their spectacular 2009 concert in the Hall and a double bill with the legendary Taraf de Haidouks at Hackney Empire in 2010.

Website: http://www.boban-and-marko-markovic.com/?lang=en
Facebook: http://www.facebook.com/pages/Boban-Markovi%C4%87/103737526331173?rf=118553098156074
Twitter: @BobanMarkoMarko

Live at New Morning, Paris: http://youtu.be/Z_596mvbdgY
Live on Hungarian TV show: http://youtu.be/4Mxrcr1jFCM
"Sljivovica" (music video): http://youtu.be/Lk1l2x46HO4

Banda Estrellas de Sinaloa de Germán Lizárraga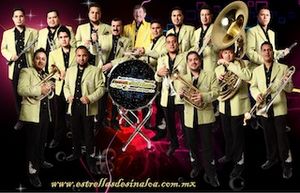 Germán Lizárraga's career spans over 60 years and 194 records. He started playing very young in Banda El Recodo, founded by his father Don Cruz Lizárraga in his hometown of Sinaloa. That is how his music reached the United States and Europe for the first time and the band became the 'mother of all brass bands'.

In his quest to revolutionise brass band music, Germán decided to split from Banda el Recodo to pioneer a new concept called 'Sonido Turbo', using harmonics and clarinets in the rhythmic section - and that's how the Germán Lizárraga y su Banda Estrellas de Sinaloa was born. Combining the traditional style with the melodies and the classical clarinet of his 'Sonido Turbo', Germán and his sixteen talented musicians have toured the Mexican Republic at large, in addition to European countries such as Spain.

Website: http://www.estrellasdesinaloa.com.mx
Facebook: http://www.facebook.com/bandaestrellasoficial
Twitter: @bandaestrellas

"Ando Bien Atravesado" (music video): http://youtu.be/6BPPQdwtgYI
"Cielito Lindo" (music video): http://youtu.be/CCqLdylzJXs

***************

The background

There may be over 6,500 miles between Mexico and the Balkans but musically this distance that has been shortened over the years.

In fifties Yugoslavia, when relations with the Soviet Union were broken, it was - somewhat bizarrely - Mexico that was looked to for importing entertainment, starting with films. The Mexican films featured musica ranchera thus making it very popular in Yugoslavia. Inviting these musicians to come and perform would have been difficult, so many local Yugoslavian musicians started making Mexican music - and even dressing like Mexicans.
Find out more about this phenomenon here:
http://music.remezcla.com/2012/latin/borderline-latin-nevenka-arsova-ranchera-yugoslava/
http://www.mihamazzini.com/ovitki/default.html

Unconnected to the love for Mexican music in the former Yugoslavia, is that of Balkan music in Mexico. Balkan music is getting bigger and bigger in Mexico right now, local Mexican bands playing Balkan music at events across the country.
Coincidentally just one day ahead of the Brass Band Battle in London, there is a big Balkan festival, the Festival Balagan Balkan 2013, taking place in Mexico City: http://corason.com/festivalbalaganbalkan2013/

With this culture exchange taking place it will be fascinating to witness the historical Brass Band Battle of Mexico vs. the Balkans at London's Barbican on 14 April.


***************

This event is part of LA LINEA.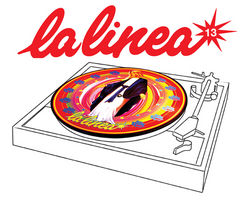 LA LINEA is The London Latin Music Festival which takes place each April in a range of venues across central London from clubs to concert halls. Now in its 13th year, it is a twenty first century presentation of all that is best and current in contemporary Latin music, from hip-hop to classical and all manner of points of connection in between.

LA LINEA was created by Como No in 2001 to showcase the Latin contribution to the wider musical world and to celebrate new artists, new collaborations and new projects. It also recognises and responds to London's growing status as one of the world's great Latin cities, home to many Latin artists and a hungry and diverse audience.
LA LINEA is supported using public funding by the National Lottery through Arts Council England.

"La Linea has built an impressive international reputation as one of the world's most eclectic celebrations of Latin music." Time Out

Find La Linea on Facebook http://www.facebook.com/LaLineaFestival
Follow on Twitter http://www.twitter.com/lalineafest
Explore the full festival http://www.lalineafestival.com
For more info on Como No visit http://www.comono.co.uk
Check out the La Linea 13 one hour mix: http://www.mixcloud.com/LaLineaFestival/la-linea-festival-2013-mix/