Bristol Folk Festival returns in May 2012

Bristol Folk Festival - brought back to the city after an incredible 32 years this year - will return in May 2012, with Early Bird tickets already on sale.
Confirming its place on the UK festival calendar, the festival will be buzzing in Bristol over the early May Bank Holiday of May 5th-7th 2012, and it's a guaranteed "rain free" event as it returns to one of the city's flagship venues, the Colston Hall.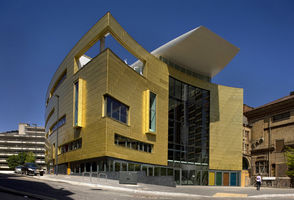 And organisers have revealed that one of the three headliners of the indoor festival will be powerhouse band, and 2010 BBC Radio 2 Folk Awards double winners, Show of Hands – in a year that will see Steve Knightley and Phil Beer celebrating 20 years of their incredible partnership that has put them right at the top of British folk.
Together with regular double bass player Miranda Sykes, singer songwriter Knightley and multi-instrumental wizard Beer will mark their milestone year with a fourth return to the Royal Albert Hall next Easter before heading to Bristol to headline the festival on Saturday, May 5.
Says Steve: "Bristol is meaningful to us for many reasons. It's one of the musical strongholds of England and was the first city to really embrace Show of Hands. We're delighted to have been asked to headline the opening night of 2012 Folk Festival - it will be great to see the festival back in town for the second year running after its successful debut."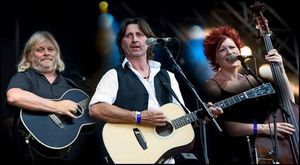 Voted a resounding success this year, the inaugural three-day Bristol Folk Festival 2011 fielded some of the biggest names in folk as its headliners, drawing some 2,000 people - from all over the South West to as far afield as Scotland - to the revamped Colston Hall venue, with its stunning £20m new glass-fronted foyer. It ended with a bang as glitter and confetti cannons showered the Colston stage at the end of supergroup Bellowhead's flourishing finale.

Jan Ayers, who is co-organising the event with Bristol Music Trust says: "Bristol Folk Festival had disappeared for more than three decades so it's great to be back again in 2012 and show we mean business! We're delighted that the hugely popular Show of Hands have agreed to headline at Bristol in what should be a massive year for them."

• See Show of Hands performing their BBC award-winning, "constantly refreshed by headlines" Arrogance Ignorance and Greed -a mighty swipe at bankers and bonuses, MPs and expenses www.youtube.com/watch?v=T-n8ITk6UWM
The festival has another hot property in its patron - former Mercury Prize nominee Seth Lakeman. Seth will be on a UK tour in December and will release his new studio album Tales from the Barrel House this autumn. . Recorded at Morwellham Quay in Devon, the album is something of a one-man tour de force. Seth has not only written, sung and played all the instruments on every track - he's also recorded and mixed the whole album himself! www.sethlakeman.co.uk
Early Bird tickets for the festival went on sale on Monday October 17, at the special price of £65 for the three days (concessions £55). Family tickets are £200 (2 adults and two children aged 5-15) but under 5s go free. Book via Colston Hall box office on 0117 922 3686 or online at www.colstonhall.org.

Those wanting to camp for the festival will be able to stay just a minute's walk from the venue at the impressive St Mary-on-the-Quay church. The church in Colston Street will welcome campers to its hall for just £12 a night (*under 15s accompanied by a responsible adult are full price but under 5's go free.) Camping tickets are available from the Colston Hall box office.

As well as up to 40 top acts, the festival will feature Morris dancers, mummers and maypoles, ceilidhs, workshops, singalong sessions, a market and "posh loos"!
Sunday and Bank Holiday Monday headliners will be announced soon.
More information at www.bristolfolkfestival.com
What the media said about Bristol Folk Festival 2011:
"A stellar line-up" – Max Reinhardt, BBC Radio 3
"Festival returns to a storming success" - Bristol Evening Post
"Proved itself a world-class event" - Taplas