CAIPIRINHA APPRECIATION SOCIETY - the full breadth of Brazilian music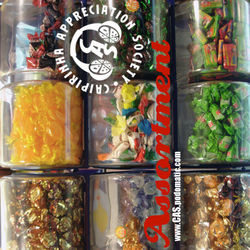 Brazilian music is so cherished around the world that most people are surprised to learn how much of it never gets heard outside Brazil.
Only a small fraction of Brazilian artists actually make it to specialist radio shows and international record-stores. Yet the country's musical tradition is so much vaster and more diverse than that!
The CAIPIRINHA APPRECIATION SOCIETY Show sets that record straight by exploring the full breadth and width of the Brazilian musical universe.
Their podcast produced in Rio de Janeiro for London's OPEN AIR RADIO, brings you under-exposed BRAZILIAN MUSIC of all styles, regions and time-periods, from vintage sambas to modern blends.
To listen to their podcasts go to
Each episode is packed full with the finest music there is to be found - present, past and future. You can listen to them online or download them for free from their website.
MOST IMPORTANTLY: you can join them in their efforts to make cliché-free Brazilian music known to people around the globe. Here's how.

SUBSCRIBE WITH I-TUNES:
bit.ly/CAS_on_iTunes
INVITE FRIENDS TO JOIN GROUP:

http://www.facebook.com/group.php?gid=22073676132
POST THEIR LINK TO YOUR FB PROFILE:
http://CAS.podomatic.com/
There are a myriad of talented Brazilian artists who are not getting half the attention they deserve! Can the CAS help them crawl out of the underground so their music can be enjoyed by a global audience? Find out at the Caipirinha Appreciation Society!