Colombian Salsa Dura outfit "La 33" at Womad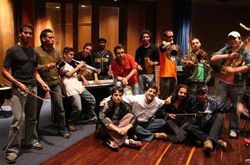 La 33 return to the UK to play at this year's Womad Charlton Park bringing their own brand of high energy salsa dura ('hard' salsa) - they will be appearing on the Open Air Stage at 7.15pm on Sunday, 25th July and also doing a workshop at 3pm (in the Real Ale Bar) on the same day. They will almost certainly be performing songs from their latest album "Ten Cuidado!".
Described as the toughest, most swinging salsa crew around, they take their name from la Calle 33, their home street in the Colombian capital (of Bogota); this can sometimes causes confusion in English as the pronunciation should be 'La Treinta y Tres', rather than 'La thirty-three' or worse 'L.A. 33' . . . This will be their only date in the UK this summer as their Womad appearance is part of their European Summer Tour (with one-off concert in India).
WorldMusic.co.uk are expecting our very own Tessa Burwood to be doing an interview with them when they come over here next week, so watch this space!
"Most young salsa-influenced bands coming out of the Latin world are overwhelmingly eager to mix and match styles, to liberally draw from predominant styles from elsewhere - a little reggaeton here, a little ragga there, a lot of hip-hop everywhere. Not so La-33. Instead, this 12-piece from Bogota churn out tough, gritty salsa from start to finish, all swinging horns and unbreakable rhythms. Not that they're a mere revival act, though, one unconcerned with moving tradition along. They're the product of 21st-century urban life, after all, as proved by their streetwise, youthful exuberance. , their live shows are never anything less than barnstorming. Indeed, if these chaps treat us to their rip-roaring version of Henry Mancini's Pink Panther theme this weekend, expect the whole of Charlton Park to explode in a stampede of dancing moves. (Biography by Nige Tassell 2010 taken from the Womad site)