Coming Soon: Staff Benda Bilili - The Film!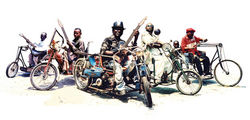 "Benda Bilili - The Film
Some *Stop Press* news here as the Kinshasa ghetto stars, Staff Benda Bilili, will be performing live in support of a very special pre-release screening of the documentary of their life: "Benda Bilili" (which goes on general release in cinemas on 18 March).
This unique occasion will take place on Friday 11th March 2011 at The Union Chapel, Islington, London. The directors of the film, Renaud Barret and Florent de la Tullaye will be in attendance too.
Billed as a "real-life world music fairytale," and "an inspiring tale of triumph over adversity, from the mean streets of Kinshasa to worldwide acclaim." this is the incredible true story behind Kinshasa's ghetto stars, STAFF BENDA BILILI.
The MOBO nominated band (Best African Act 2010) and winners of the 2009 Womex Artists Award are known for their distinctive musical style; a seductive mix of Congolese rumba, James Brown-esque funk, Cuban mambo, ancestral trance and Jimi Hendrix-esque flourishes.
"Ricky has a dream: to make Staff Benda Bilili the best band in Congo, Kinshasa. Roger, a street child, more than ever wants to join these stars of the ghetto, who get around in customized tricycles. Together, they must avoid the pitfalls of the street, stay united and find the force to hope in music."
For six years, from the first rehearsals to the release of their acclaimed debut album and triumph at international festivals, BENDA BILILI! (literal translated as "to look beyond appearances") is the story of this dream come reality.
The film was chosen for the Opening NIght of the 'Directors Fortnight' at the Cannes Film Festival last year.
Renaud Barret and Florent de la Tullaye's uplifting film is a frank and intimate portrait of the band, their musical energy and social observation of the realities of life in Kinshasa.
BENDA BILILI! is a rare cinematic discovery, like BUENA VISTA SOCIAL CLUB, the film is set to lift the lid on the Congolese music scene, revealing a hotbed of extraordinary talent and creativity.
Running Time: 86 minutes / Cert: PG/
BENDA BILILI! will be released by Trinity in cinemas
18 March 2011
www.bendabilili.co.uk