Dagadana - "Malenka"
Tagged with: Dagadana Malenka Daga Gregorowicz Dana Vynnytska Miko Pospieszalski Poland Ukraine Offside Records WorldMusic.co.uk world music Review CD Glyn Phillips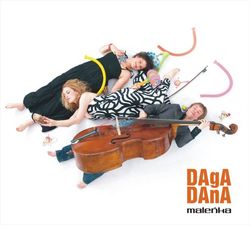 Dagadana - "Malenka" (Offside Records 005; 2010)

"If this is the new face of Poland, then I want to kiss it."

This a confident album full of beguiling, quirky tunes from these three young Poles/Ukrainians, mixing a seeming endless amount of genres and influences into wonderfully accessible music. It's almost pop music sometimes, at others art house, with warps and wefts spun from jazz, tango, hip-hop, film noir, funk, samba, traditional musics, classical . . . If this is the new face of Poland, then I want to kiss it.

Sadly I can't understand any of the sleeve notes (apart from the only lines in English: "Friendship can cross borders and overcome obstacles. Poland Ukraine. Love and music. Dreams do come true!"), but there's lots of lovely pictures of children's toys like plastic dinosaurs, a wind-up crocodile, a wooden tortoise, a child's windmill and Thunderbirds dolls to go with the sight of Daga, Dana and Miko rolling about on the floor hitting each other with a plastic mallet and having a lot of fun! And that shines through the music. Very enjoyable album.
Glyn Phillips
WorldMusic.co.uk