Diabel Cissokho - UK Tour and New CD "Kanbory Siyama"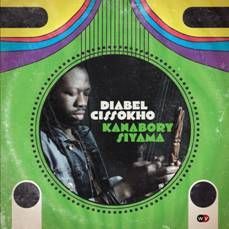 Diabel Cissokho's new album, "Kanbory Siyama" which is being released today (16/4/12) was recorded with his family band in London and Dakar and is a fresh take on traditional Senegalese village music – elementally funky, a great life affirming sound. "Kanbory Siyama" is released by World Village and coincides with Diabel's UK tour (see below for remaining dates):
TOUR DATES UK 2012 (dates still left)
18 April 2012: Carnegie Hall, Glenrothes
21st April 2012: 'ALOMO!' night at Hackney attic, London
26 April 2012: The Canteen, Bristol
27 April 2012: Marine Theatre, Lyme Regis
2 May 2012: The Chichester Inn with Roots Around the World, Chichester
24 May 2012: Galeri Caernarfon, Gwynedd, Wales
15 June 2012: The Green Note, London
24 June 2012: Africa Oye Festival, Liverpool
3 Aug 2012: Band on the Wall, Manchester
Full details of the tour and forthcoming events:

http://www.facebook.com/Diabelcissokho
http://www.diabelcissokho.com/

Singer, songwriter, kora player, multi-instrumentalist, producer Diabel Cissokho is part of the great line of Cissokho griots. Growing up in Dakar, surrounded by a rich musical heritage and a family of musicians, Diabel began playing a number of traditional instruments. However, Diabel's affinity with the kora was clear from an early age.
Diabel's musical pedigree is exceptional. International tours with his family's band Bannaya led to a long stint as Baaba Maal's kora player, as well as with acclaimed musicians such as Kandia Kouyate, Pee Wee Ellis, Nuru Kane, Daby Balde, Omar Pene and Abdou Diop.
Now well established in the UK, Diabel's virtuosic talent, his "resonant voice and rocking kora style" (Songlines), have been welcomed everywhere from WOMAD and Glastonbury to London's Barbican, where he performed alongside Femi Kuti, Cheikh Lo and Manu Dibango.
Diabel's success with bluesman Ramon Goose (resulting in the album "Mansana Blues") cemented his reputation as a versatile musician, able to effortlessly cross cultures.
A 2010 European tour culminated in the DNA Culture Project with Ramon, Robert Plant guitarist Justin Adams, Gambian riti player Juldeh Camara and bassist Julian Joseph at Dakar's renowned venue Just4You.
"Nearly 30 years after first hearing the sounds of a kora, I found myself in Dakar for the first time last year, invited to the compound of the famous Griot family, the Cissokhos. In a sandy side street lit by bright sunlight was a band overflowing from the compound-drums of every shape and size, a whole kora section, balafons, ngonis and guitars plugged into a makeshift P.A., a beautifully dressed female backing chorus, and formidable lead singers with voices of poise and power. Another wave of humanity surging into the street was a dance troupe of teenage girls, whose gymnastic energy was propelled by explosions from the drummers.
The music on this album represents what was so moving about that visit. The Cissokho family have the benefit of a deep culture that goes back to the Middle ages where music occupies a central, life affirming position in society, along with a 21st century youthful dynamism that defies the world to ignore them. Groove, melody and soul, and those voices hitting you like an Atlantic wave, it's irresistible." (Justin Adams)
Diabel's upcoming album marks a return to his roots. Recorded in the UK and Dakar and featuring members of his own family, the album draws on Diabel's rich musical heritage, blending beautiful Mandinkan melodies with an upbeat West African groove.