Diablos del Ritmo - The Colombian Melting Pot (Analog Africa) - Review
Tagged with: Diablos del Ritmo Analog Africa Samy Ben Redjeb Colombia afrobeat afro-funk puya porro chande cumbiambe gaita mapalé terapia palenque Barranquilla Lucas Silva Peter Wade world music worldmusic.co.uk Glyn Phillips review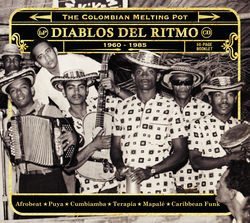 "a monster compilation of previously hidden gems!"
Once again Analog Africa have pulled it out of the bag! Or in this case the mochila colombiana! 32 tracks of devilishly good music from the melting pot of 1960s, 70s and early 80s Colombia that you've almost certainly never heard before. This is a monster compilation of previously hidden gems!
"Once again Analog Africa have pulled it out of the bag!"
Essentially the double album is a collection of little known, yet stunning cuts made mostly during the 1970s (with some 60s and 80s tracks) when Northern Colombia was experiencing great influxes of African music (and Haitian) which cross-fertilised with the already fecund african-descended musics of this incredible country.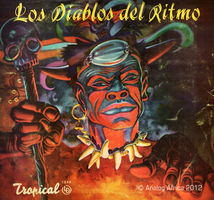 And once again the port city of Barranquilla on Colombia's Caribbean coastline was at the heart of it, receiving music from ships and planes from all over the world. These albums and new styles were received with relish by the music-hungry DJs, musicians and dancing public of 'La Puerta de Oro' (The Golden Gate, Barranquilla's nickname).
I won't go any more into the history of the music since the amazingly detailed and authoritative liner notes (by Lucas Silva, Peter Wade and Samy Ben Rejeb amongst others) and collections of interviews can do that far more effectively than me. It's almost worth buying the CD for the booklet alone - practically a book in itself and a goldmine of information for those who, like me, like their music placed well within context.
The album is divided into two CDs. The first covers the afro-centric, funk and fusion based material as well as the more psychedelia-inspired offerings. Afrobeat and terapía rub shoulders with the thick, muscular bass-heavy sounds of palenque. CD2 takes us to the slightly more well-known yet still startlingly distinct indigenous sounds of gaita, puya, porro, mapelé, chandé, cumbiambe and cumbia etc.
Internationally recognised names such as Calixto Ochoa, Andrés Landero, Ramiro Beltrán, La Sonora and Alfredo Gutierrez sit next to artists like Wganda Kenya, Myrian Makenwa, Peyo Torres, Julian, Piano Negro and the Wasamaye Rock Group.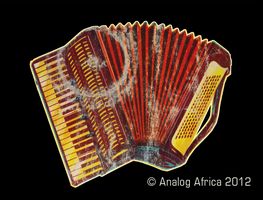 There are a few tracks with names that might be familiar to 'cumbiaholics' and salseros such as "La Pava Congona", "El Garabato", "Cumbia Cincelejana" (sic), "Sabrosón" and "Lluvia" (aka 'Lluvia Con Nieve') a demon of a track. There's even a cut which also appears on Soundway's "Cartagena!" compilation - the sublime "Santana en Salsa" by Cresencio Camancha.
But there's also Wganda Kenya's "Shakalaodé" and their seven and a half minute reworking of a Fela Kuti tune as well as Myrian Makenwa's "Amampondo" (based on Miriam Makeba's hit). And what about Grupo Folclorico's trance-like "Juipiti", Grupo Abharca's afro-funky "Shallcarri", or the spacey experimentations of La Sonora Dinamita on "Eco en Stereo" and Abelardo Carbono's quivering "Quiero Mi Gente"?
"Dancefloor heaven!"
And did I mention the groovalicious "Enyere Kumbara" by Julian y su Combo? The sub-spaghetti-Western-meets-60s-St Tropez-nonchalance-meets-weird-woman's-vocals of "Amor Salvaje" by Los Salvajes? Or the frankly crazy and annoyingly-catchy "Pégale a la Nalga" (literally: Beat the Buttock!) by Fuentes All Stars? (dancefloor heaven!). There's an awful lot to listen to here.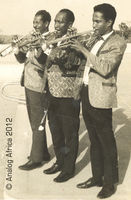 This is a fabulous album, chock-full of melds and clashes, flowerings and fruits, and more rhythmic grooves than a roomful of guacharacas. If you've no idea what Colombia can offer the musically-jaded then this is a timely tonic. Waft some of these cuts under the noses of the musically malnourished and this afro-colombian dose of smelling salts will have them on their feet and ready to dance till dawn.
But equally, this is one for the serious collector and connoisseur of Colombian music - or indeed any tropical music, whether from Africa or the Caribbean or anywhere between Cancer and Capricorn. Great notes, great music. This is another one that works both on your library shelf and on the dancefloor.
"Analog Africa have provided yet another must-have compilation"
With Diablos del Ritmo, Analog Africa have provided yet another must-have compilation for devotees of la buena musica!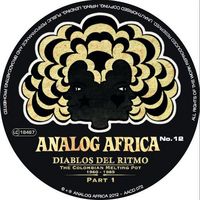 If you liked the fabulous Soundways' "Cartagena!" compilation, then you'll love "Diablos del Ritmo".
In fact this album has given me a problem: they are BOTH now strong contenders for WorldMusic.co.uk's Award for Compilation Album of the Year 2012 . . .
You'll just have to wait until January to find out how they place!
Glyn Phillips
WorldMusic.co.uk
(15 Oct 2012)