Ebo Taylor (Womad 31/7/11)
Tagged with: Ebo Taylor Ghana Afrobeat Highlife Africa Strut Soundways Analog Africa Fela Kuti Womad Charlton Park WorldMusic.co.uk World Music Glyn Phillips C K Mann Pat Thomas
Ebo Taylor - Sun 31 Aug 2011 - Open Air Stage, Womad (Charlton Park)
Say the word 'afrobeat' to world musos and the name most likely to spring to someone's lips is Fela Kuti - the Nigerian who throughout his high-profile, drama-filled life dominated not just Africa but the world's afrobeat consciousness (like Marley for reggae). However, there were always other serious contenders apart from Fela and one of those is - at a ripe old age admittedly - finally getting the exposure he deserves.
"Firing on all cylinders!"
Ebo Taylor was a contemporary, fellow college student and friend of Fela Kuti back in the day and has a prodigious pedigree both in afrobeat and highlife. Ebo was already a major figure in Ghana during the Highlife boom of the 50s and 60s and played with such bands as Stargazers and Broadway Dance Band where he began to establish a name for himself as a composer as well as a frontman. During this period he studied in London in 62 whilst also playing jazz and highlife with the Black Star Highlife Band before becoming an in-house arranger and producer for Essiebons and working with the likes of C.K. Mann, Uhuru Yenza, Apagya Show Band and Pat Thomas. Throughout the 70s and 80s he experimented with many different elements such as afrobeat, jazz, soul, funk and traditional Ghanaian musics and came up with the wonderful track "Heaven" (often cited as one of the greatest Ghanaian afrobeat tracks of all time - and I completely agree!).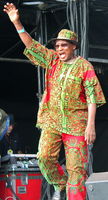 Now 74, Ebo Taylor is back on the road and back in the studio (with a new album on Strut called "Love and Death"). His work has appeared in compilations from both Soundways and Analog Africa as well as a two-CD retrospective of his work put out this year by the Strut Records label ("Life Stories - Highlife and Afrobeat Classics 1973-1980") which contains hits like "Heaven", "Victory", "Love and Death" and "What is Life?" amongst others.
So it was with great excitement that I claimed my place at the front of the Open Air Stage at Womad this year and stood my ground, determined to get every ounce of pleasure at the performance of this living legend!
"irresistible charm"
And I wasn't disappointed. Right from the start he cast his charisma over the audience and pulled us in all the way. What a performer! Ebo has an irresistible charm, the cheekiest of smiles and a cat-that-got-the-cream ambience that practically pours off him. He came on stage dressed head-to-toe in matching hat, top and baggy trousers all in the same red and green paisley and foliage design and hammed it up from the off, waving at the crowd and beaming away whilst doing little shuffles and dance moves.
"that kind of happiness bathes the souls of everyone around"
Throughout the gig it was obvious he was lapping it all up and having a whale of a time and that kind of happiness bathes the souls of everyone around. Taylor was an instant hit with the crowd beside being a shameless poser to boot! Of course this is all brilliant stuff from a photographer's point of view - and he knew it - often coming up to the front of the enormous stage and engaging the crowd, hands in the air, waving at the audience, or strutting up and down with his guitar. God bless him for it too!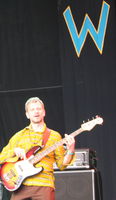 Ebo tried to get the crowd into some call and response singing quite soon into the show, but the majority did not seem to understand the rhythmic stress of the music (ie they need to wait for the pattern to finish and come back to the 'one' before responding). Similarly his strong accent when speaking meant that much of what he said to the audience during the set got lost. I didn't catch the titles of most of the tunes although one seemed to be about a trickster called Kofi (but I might have heard wrong!). Sadly the same awful sound problems that had hit previous performances at Womad this year came to dog this concert as well. And what a pity, because Ebo's band were outstanding in a festival already full of outstanding musicians.
"The basslines were both wonderfully elastic and 'on-the-money' supertight"
Consisting of Taylor himself on vocals and intermittent lead guitar, he was backed by electric bass, electric guitar, keys, drumkit, hand-drums, tenor sax and trumpet. And these guys were good.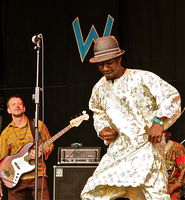 Very good! Raised upon his high podium, the kit-drummer, (like so many this Womad) was definitely in the driving seat, almost controlling the band. The interplay between the drummer and the percussionist was a joy to hear - the hand-drums being not only beautifully carved but tuned exquisitely as well. These two also provided the majority of the backing vocals along with the keyboard player and the three of them turned in some strong rich harmonies like a bedrock. The keyboard player also did a stint dancing at the front during one number. The bass and electric guitar were excellent too. The basslines in particular were both wonderfully elastic and 'on-the-money' supertight at the same time.
"the tightest, funkiest, most bad-ass horn-figures you could imagine!"
Yet, for me, it was the two-man horn section (Ben on tenor sax and Philip on trumpet) who were the stars of the band - not only great solos (sax particularly) but the tightest, funkiest, most bad-ass horn-figures you could imagine! Some very good arrangements and a huge sound too, as if there were half a dozen of them not just two.
"one long, warm, bubbling groove ... on a deep current of love and life."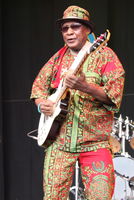 The highlight of the show was probably Ebo's "Love and Death" which he described as a being written after "a personal experience" following the death of his first wife when he broke down and cried for the loss. "So you see, Love and Death". The tune is one long, warm, bubbling groove that wraps you up and carries you along on a deep current of love and life. And those horns again!
"the joy spread like hot sun on a summer's day"
Tune after tune of highlife and afrobeat rolled out and the joy spread like hot sun on a summer's day. We basked in the music as Ebo Taylor and his band brought Ghana to Charlton Park. In fact it felt like Ebo was only just getting warmed up and settled in (despite hitting the floor running) when the sax player reminded him that it was time for the last number!
"sheer talismanic quality ... a top-flight band and a totally joyous experience.
Ebo was definitely the star on stage, but it was really all about the music and the band. Firing on all cylinders! Taylor's guitar skills might not be at the level they once were but his vocals, songwriting and sheer talismanic quality provided a great focal point and frontman for what was essentially a top-flight band and a totally joyous experience.
Glyn Phillips
WorldMusic.co.uk