FINAL WARA SHOW OF 2011 at THE ROUNDHOUSE: 7th Nov
Movimientos present Wara's final gig of 2011 on Monday 7th November at the Roundhouse, London. (click the image above for more details)
These 21st Century latin revolutionaries will also be promoting their EP (see below for details).
Wara will be supported by Ruby and the Vines (a unique fusion of afro-rock, soul and reggae) and also Fur (UK hip-hop with West African, Ethio-Jazz and Dub rhythms).
It's all in support of the Asylum Support Appeals Project (ASAP) and the first 50 tickets are £5 in advance and afterwards just £7. Doors open at 7.30pm Organised by Movimientos (www.movimimentos.org.uk)
"Wara are young musical revolutionaries who simply ignore convention and bring together latin funk, cuban timba, underground hip-hop, leftfield jazz, rumba, reggae and dubstep..." Lubi Jovanovic

Wara are a hot melting pot of identities, living in London with backgrounds from all over the world: Cuba, Argentina, Venezuela, Chile, Ghana, Congo, Spain and the UK. They've concocted a musical genre of their own with strong Cuban roots. Taking influences from Timba, Afro Cuban styles and the new Cuban funk-fusion bands, as well as other Latin and African rhythms and fusing them with a distinct London sensibility. With contagious, in-your-face vocals from Congolese-Argentinean lead Juanita Euka (niece of legendary Congolese musician Franco), inspired keyboard flourishes from MD Eliane Correa, MC Murmur quick on the rhymes and a super tight Latino / UK mix on the rhythm section - their musical energy is palpable.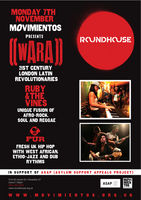 .
.
.
.
.
.
Tickets available here:

http://www.roundhouse.org.uk/whats-on/productions/wara-ruby-and-the-vines-fur
Wara EP – 4 track EP:
'Flesh and Bone' / 'Pretty Cliche' / 'Caprichoso' / 'Ojos Que No Ven'

Download on I-TUNES - itunes.apple.com/gb/album/wara-ep/id458675012
Download on AMAZON - http://www.amazon.co.uk/Wara-EP/dp/B005IA80RC/
Download on MOVIMIENTOS RECORDS BANDCAMP - movimientosrecords.bandcamp.com/album/wara-ep