Gypsy Queens and Kings - European Tour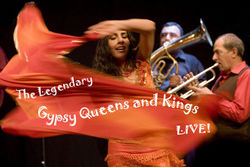 Fans of Gypsy music will be pleased with the news that Asphalt Tango are sending their "Gypsy Queens and Kings" artists on tour in Europe starting on 31st Jan in Riga (Latvia) and continuing throughout February into France, Holland, Germany and Switzerland.
Sadly no UK dates have been announced, but Asphalt Tango will be recording the concerts in La Rochelle in France (4th & 5th Feb) with a view to releasing a live album in September later on this year.
The line up includes Esma Redzepova, Mahala Rai Banda, Jony Iliev, Kaloomé and Florentina Sandu.
The confirmed dates so far are:
31.01.11 Riga (LV) Opera House
04.02.11 La Rochelle (F) La Coursive Scène Nationale
05.02.11 La Rochelle (F) La Coursive Scène Nationale
06.02.11 Poitiers (F) TAP Scène Nationale
07.02.11 Cenon (F) Le Rocher Palmer
09.02.11 Loerrach (D) Burghof
10.02.11 Groningen (NL) Oosterpoort
12.02.11 Den Haag (NL) De Paard
13.02.11 Amsterdam (NL) Melkweg
15.02.11 Narbonne (F) Le Théâtre Scène Nationale
16.02.11 Sète (F) Le Théâtre Scène Nationale
18.02.11 Bern (CH) Dachstock
19.02.11 Zug (CH) Theater Casino
For more details try the following links:

www.asphalt-tango.de
www.myspace.com/asphalttangorecords
www.facebook.com/pages/Asphalt-Tango/44947584355
www.youtube.com/user/AsphaltTangoRecords