Home Festival, Dartington (22-23/6/12) - Review
Tagged with: HOME Festival Dartington Devon World Music Roots Folk Acoustic Reviews Photos Glyn Phillips WorldMusic.co.uk Thomas Brooman Show of Hands Ryoko Nuruki Sir Ali Tashi Lhunpo Dhol Foundation SANS Krar Collective Charlotte Church Romany Diamonds Jackie Oates
"packs a musical punch far above its weight"
The 15th Century manor of Dartington Hall is probably one of the most beautiful and the most unlikely of venues for a world music festival. Home Festival (22 & 23 June) is certainly small, niche and bijou, but packs a musical punch far above its weight.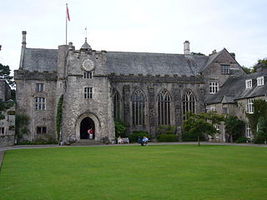 "a commitment to delivering the vision"
In part this is due to the Artistic Director, Thomas Brooman (co-founder of Womad), who has programmed this festival since it's inception three years ago. With a little black book of contacts that others can only dream of, Brooman can access the talent of the world music scene just by picking up a phone. Partnered with the skill, enthusiasm, and organisation of Dartington's Director of Arts, David Francis and his team, there's a commitment to delivering the vision. But equally important is the unique style and musical delivery of the Home Festival.
It offers two main stages: a medium sized outside one set within the magical courtyard of Dartington Hall, which offers a performance area for bands requiring standard amplification and lighting needs; and the other - the real gem - the 15th C Great Hall of Dartington.
"the sonic quality of the hall is quite unique."
This is a magnificent medieval hall with a roof space as high as a church's, great gothic windows pouring in the most benign of lights onto the wooden floor and a low stage set against a huge fireplace.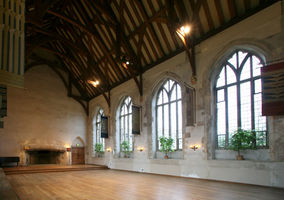 But not only is the setting spectacular, the sonic quality of the hall is quite unique. And it is this that allows Home Festival to programme acts that would be completely lost or poorly served on a conventional stage.
In previous years artists performing in the Great Hall were encouraged to perform entirely acoustically - or in other words only to mic them up if absolutely necessary, and that included vocals. It was a brave, even daring, decision by the organisers, but entirely the right thing to do. You were exposed to a quality of sound and a style of performance delivery that goes back centuries - and the experience was nothing short of exhilarating. Even artists who had never done this before were astonished at the purity of the sound, the ambient acoustics, the intimacy, the artistic liberation even, as the artificial barriers of microphones, speakers and effects were stripped away between artist and audience.
This year's programme offered less in this vein, which I think was an opportunity missed, but the emphasis in the Hall was still on minimal interference with the natural sounds.
Notable performances for me in the Great Hall this year were by the phenomenal Japanese pianist Ryoko Nuruki (completely acoustic) and the international collaboration of musical innovators that is SANS (sympathetically miked).
With only about 18 hours in total (over Friday night and Saturday) to deliver a festival, there was a lot to cram in.
A large part of Friday evening was taken up by the Tashi Lhunpo Monks of Tibet.
Currently over in the UK at the same time as the Dalai Lama, the monks are part of the celebrated Tashi Lhunpo temple - now rebuilt in exile in Southern India.
They delivered a two-hour combined sound-and-sight spectacle in the Great Hall. It is a performance, a religious affirmation and a sacred ceremony all at the same time.
A photo gallery of the Tashi Lhunpo Monks can be seen here:
(http://www.worldmusic.co.uk/tashi_lhunpo_monks_home_festival_22-23612)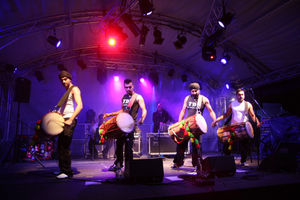 In complete contrast the high energy Johnny Khalsi and The Dhol Foundation rocked up the outdoor stage with their bhangra fusions (folk, reggae, celtic, etc).
They even managed to get everyone bouncing up and down, hands in the air pumping the offbeat and 'changing lightbulbs' like it was going out of fashion.
Photo gallery here: www.worldmusic.co.uk/the_dhol_foundation_home_festival_dartington_22.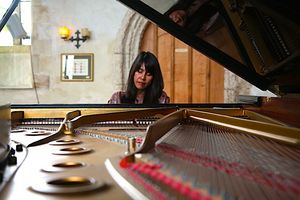 However, the outstanding concert for me at HOME Festival 2012 was the sublime Japanese pianist and vocalist Ryoko Nuruki.
She takes a lifetime's study of Jazz, Western Classical, Japanese Classical, Contemporary, Experimental and music from all over the world and feeds it into the white hot crucible of her imagination where, like the alchemist's base metals they are deconstructed, melted down, fused together and ultimately transmuted into musical gold, to be poured into the ears of those lucky enough to be in the same room as Ryoko and her piano.
That is all I intend to say at the moment apart from to ask you to read my full review of her Friday night concert here:
www.worldmusic.co.uk/_ryoko_nuriki_home_festival_dartington_22_23612
and to see the photo gallery for her here.
(http://www.worldmusic.co.uk/ryoko_nuruki_home_festival_dartington_22-23612)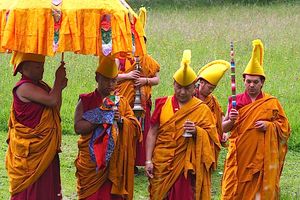 The music, workshops and other artistic happenings restarted on Saturday with a ceremonial blessing by the Tashi Lhunpo Monks, before they resumed their creation of a sacred mandala.
This was made with unbelievable skill out of coloured sand - a painstaking process requiring steady hands, patience, artistry and concentration - to all be ceremonially destroyed a mere two hours later after completion, representing the impermanence of life!
Buddhists create, hold and then let go constantly, a very difficult concept for those of us with naturally archival tendencies!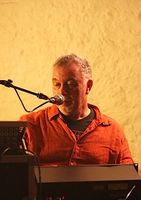 Over the weekend there were workshops in various spaces and studios within the Dartington complex on songwriting (with Patrick Duff, and Show of Hands), Ethiopian dance (with the Krar Collective), Guinean dance (with Ballet Nimba), making of sand mandalas and prayer flags, gamelan, reggae rhythms, taiko drumming and mbira playing.
There were also talks on the Armenian duduk by Tigran Aleksanyan, journeys in world music by Andrew Cronshaw, and a fascinating one entitled "Crossroads of Jazz" with journalist/radio DJ/music producer, Sir Ali.
As part of the Festival many young artists from the South West England area were invited along to perform, most of them being presented in The Barn (which usually serves as Dartington's cinema).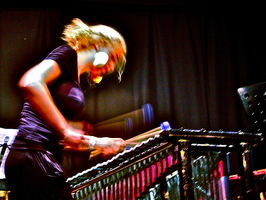 I was only able to catch one act from all this, the delightful duo, Malleticious, (Harriet Riley, 20, and Molly Lopresti, 18) who, as the name suggests perform using vibes, metallophones and assorted percussion - including a gong dipped into a bucket of water (it changes the pitch in case you're wondering).
Their programme ranged from Evelyn Glennie's moving "Little Prayer" to Mozart's 'Piano Sonata in B flat', as well as tackling works by Steve Reich, Kerryn Joyce and original material by Riley and Lopresti.
The two girls (who have only been duetting together for about a year) were good, especially on the tuned percussion.
My only criticism was that I felt their other percussive output needed to loosen up a lot - untuned percussion should flow and feel every bit as lyrical as tuned percussion and melodic pieces. I wanted to suggest that they play them with their eyes closed and hear and the feel the difference in the flow!
A small photo gallery of their concert can be found here: worldmusic.co.uk/malleticious_home_festival_dartington_23612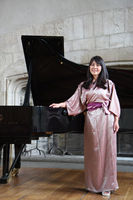 However, this all clashed with Ryoko Nuriki's second concert, so after their encore I hot-footed it over to the Great Hall but only managed to catch the last two numbers. What a pity I missed the rest of it! But Ryoko was gracious enough to allow myself and WorldMusic.co.uk's main photographer to have a special photo session afterwards and even proceeded to deliver a private mini-concert to us - just for the sheer joy of it! As the ad says: Priceless...
It was lovely and warm outside and the Bristol Reggae Orchestra from St Paul's gradually got themselves into the zone and after a few tracks people stated loosening up. As I wandered across the lawn and listened to an audience from between the ages of teenage and old age all singing "Don't worry… about a thing… Cause every little thing… is gonna be alright", I mused on the spread of Marley's legacy and how much it's become our common heritage.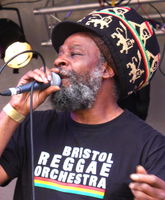 In fact as part of the festival the Dartington Barn Cinema was due to screen the new mainstream 'authorised' biopic about Bob ("Marley" [15]) by Kevin MacDonald.
I haven't seen the film so I can't personally comment on it. However, I must admit if you're at all interested in the life of the world's foremost reggae icon, then you should also check out Esther Anderson's "Bob Marley: The Making of a Legend" which I was lucky enough to see at Birmingham's Reggae Film Festival a few months ago and indeed to meet Esther herself. It gives a fascinating alternative view of his rise, from his days of obscurity to the birth of a global superstar from someone who was literally in the middle of Bob's story as both his girlfriend and a documentary film-maker. Worldwide streaming of "The Making of Marley", utilising amazing unseen original footage taken by Anderson, begins on August 6th. Link here:
www.facebook.com/groups/bobmarleyfilm/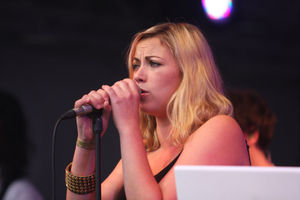 One of the more unexpected parts of the HOME Festival was the late addition of Charlotte Church (yes, the Charlotte Church) and her new band to the programme. Like almost everybody attending I was intrigued as to just what she was doing at what is ostensibly a world music festival. Hmmmm… Church has been hard at work putting together not just new material and a new band, but a whole new sound and musical direction and this was her fourth gig of a summer-long tour of small festivals and small venues, effectively starting from scratch. It turned out to be very interesting indeed.
For a full review of what she came up with, click here:
http://www.worldmusic.co.uk/charlotte_church_home_festival_dartington_23612
and for photos, here:
(www.worldmusic.co.uk/charlotte_church_home_festival_dartington_236121)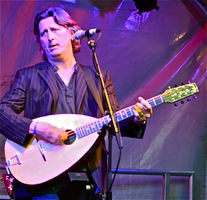 Just before she started, the now cloud-covered sky began to deliver the long threatened showers. As the afternoon progressed so the rain got gradually heavier and heavier, although headliners Show of Hands still managed to hold on to its audience despite this.
I can't comment too much on this particular performance since I was queuing up for food (a rumour had gone round that it was running low by this time!); the queue lasted almost the entire length of their set and I only got out - with a ridiculously hot and spicy veggie curry in hand as they were already halfway through their last number, "Now You Know".
Apologies to them for not being able to review the gig, but my body was severely complaining about the lack of food in it by this time (although you can read my review of their November 2011 concert at Birmingham Town Hall here:
www.worldmusic.co.uk/show_of_handsrichard_shindell_birmingham_241111 ).
Can someone please invent a food pill that tastes great, does the job and doesn't entail queueing, chomping, cleaning up and generally wasting time having to deliver the fuel our bodies need to run!
Well, I needn't have worried, the crowd loved Show of Hands - and rightly so. Their encore was a tune that they and various participants from the public had written in a workshop that afternoon. I think it was called "King of the World". It was set to a zydecajun rhythm that, according to Steve Knightley, was based on an old rhythmic style pioneered by the Devonshire fishermen from the South Ham village of Kingsbridge whilst shivering on a cold February morning!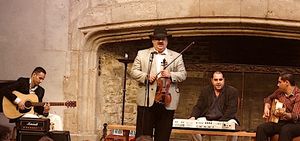 Back into the dry of the Great Hall and to a performance from the Polish gipsy ensemble, The Romany Diamonds, based around father and son team Marek Ricardo Czureja and Benjamin Czureja on violin and acoustic guitar respectively with second guitar, accordion and organs.
For a full review of their virtuoso romp through the Romany traditions of Europe, see here:
www.worldmusic.co.uk/romany_diamonds_home_festival_dartington_23612
and for the photo gallery, here:
www.worldmusic.co.uk/romany_diamonds_photos_home_festival_dartington
By this time it was so wet outside that all external gigs had been cancelled and hasty preparations were being made to host the rest of the night in the Great Hall.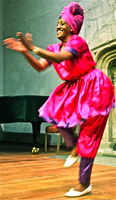 I caught the Krar Collective (from Ethiopia originally, now based in London) and was struck by the amazingly full sound they got from just one guy playing four small drums, a singer and the hand-held krar (a form of lyre). You have to keep looking to convince yourself there were no more musicians or any backing tapes, but there they all were!
Singer/dancer Genet Assefa is both charming and charismatic and acts like a magnet to pull in an audience with a smile and personality that just radiates warmth and friendliness.
Running on and off stage to change costumes, she worked her butt off and put her heart into the performance - as indeed did the other two.
Genet had already become a firm favourite with the Home Festival crowd when leading the dance class earlier on, so by this time she had everyone on their feet, dancing like there was no tomorrow, grooving to the Ethiopian rhythms, including Charlotte Church who I spotted mingled in with the rest of us.
To see photo gallery of the Krar Collective, click here:
(www.worldmusic.co.uk/krar_collective_photos_home_festival_dartington)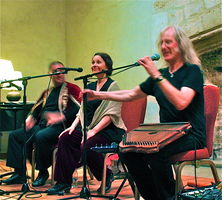 The final act I saw that night was the new quartet, SANS, made up of:
long-term explorer and musical innovator, Andrew Cronshaw (on a variety of fascinating new and old instruments from around Europe),
Tigran Aleksanyan on the Armenian duduk,
Ian Blake on soprano sax and bass clarinet
and the Finnish singer Sanna Kurki-Suonio.
A wonderful way to finish the night (sometime after midnight).
For a full review of SANS, click here:
www.worldmusic.co.uk/_sans_home_festival_dartington_22_23_june_2012
and for a small gallery of photos, click here:
www.worldmusic.co.uk/sans_home_festival_dartington_23612
Technically there was still another act to go, Solarference, who create traditional folk songs but using modern technology and live electronics intertwined with their own vocals - but I was too tired to keep my eyes open any longer and my brain was advising imminent shutdown, so regretfully I headed out into the pouring rain and shuffled off to bed! Next time…
Thanks to David Francis, Katrina Hurford and the rest of the Dartington team, Home Festival's publicist Jane Brace, and to all the wonderful artists who took part and the fascinating conversations we had. Best wishes to Thomas Brooman who was unexpectedly taken ill the day before the festival - here's hoping for a speedy recovery. Definitely looking forward to next year!
For a general photo gallery of the Home Festival at Dartington which encompasses both various acts not covered in separate galleries as well as crowd shots and pictures of Dartington and its grounds, click here: www.worldmusic.co.uk/home_festival_general_photos_dartington_22_2361. There's also a separate gallery for Jackie Oates here: www.worldmusic.co.uk/jackie_oates_home_festival_dartington_23612
Glyn Phillips
WorldMusic.co.uk
(26 June 2012)