Home Festival (UK's best unplugged roots festival) returns!

Now in its third year, the Home Festival - the UKs best unplugged roots festival - returns to the idyllic surroundings of Dartington Hall in Devon on 22nd and 23rd June 2012.
One of the themes this year is East meets West at HOME and to this end Tibet's Tashi Lhunpo Monks will appear as well the UKs and Devon's very own Show of Hands (for an in-depth review of a recent concert click here: www.worldmusic.co.uk/show_of_handsrichard_shindell_birmingham_241111).
"the UKs best unplugged roots festival"
Following a sell-out inaugural year in 2010, as a one day event, and an even bigger two-day festival last year headlined by U.S star Suzanne Vega, HOME - with its "unplugged" reputation - returns this year with a packed programme celebrating a dazzling range of cultures, languages and sounds, starting with a special curtain raiser on the Friday evening and running all day Saturday.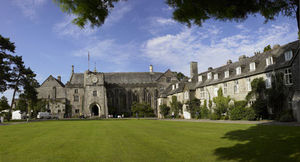 One of the most beautiful festival sites in the country, Dartington is just two miles from Totnes in South Devon and has been described as "a bit of English magic", with its magnificent gardens, 14th century medieval hall and courtyard, rolling farmland and ancient deer park.

Into this idyllic setting, Tibet's exiled Tashi Lhunpo Monks will bring a flavour of their own sacred world from more than 4,000 miles away. Offering a rare opportunity to witness a unique and endangered culture, the performance will transport the HOME audience to Asia in a dramatic presentation of music and dances, punctuated with mantras, bells, cymbals, drums and booming long horns.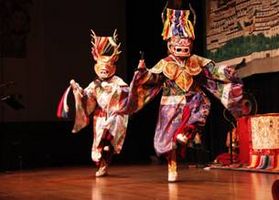 Tashi Lhunpo Monastery, founded by the first Dalai Lama in the 15th century, is one of the most important monasteries in the Tibetan Buddhist tradition, now re-established in exile in India. Headlining the Friday programme the monks will appear in spectacular ceremonial masks and costumes to create a peace mandala or sand picture which will be blessed and later destroyed in a moving ceremony on Saturday. They will also be leading an open-to-all workshop on Saturday afternoon which will include prayer-mat making and children's activities. See the monks in performance here http://www.youtube.com/watch?v=1vL-8zDXXeE&feature=related

The Sand Mandala is an important part of the unique Tibetan Buddhist culture. The intricate designs are made up with millions of grains of coloured sand to depict the palace of the Buddhas. Afterwards the mandala is destroyed, in a ceremony of special prayers and music, to illustrate the impermanence of existence and to release the Buddhas back to their realms.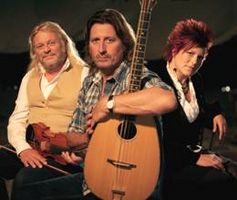 In striking contrast, the HOME Festival has announced Devon's own homegrown "folk legends" Show of Hands as the Saturday headliners. The phenomenally popular Exeter duo have become one of the most successful ever acoustic acts on the British folk roots scene.
Triple BBC Radio 2 award winners Steve Knightley and Phil Beer (Best Live Act, Best Duo, Best Original Song) hail from rock backgrounds but today their engaging music dodges the genres, dipping and diving through roots, rock, blues, country and traditional genres to make an unmistakable signature sound played out on a wealth of instruments from slide guitar to mandocello, fiddle to South American cuatro.
They have already scored three sell-outs at the Royal Albert Hall, where they return this Easter to celebrate an incredible 20 year partnership. At Dartington they promise a harmony-rich programme of punch-packing original songs, joined by striking double bassist and vocalist Miranda Sykes.
An alchemist couldn't have come up with a more potent, magical mix than that of Beer, who can, as The Scotsman observed, "play nearly every stringed instrument known to man" and the inspired Knightley, described by Radio 2's Mike Harding as "one of England's greatest singer songwriters".
Two of the most popular ambassadors for acoustic music, their music loses nothing in translation and they have taken it all over the world, from Australia to India, Germany to Canada, the Netherlands to Hong Kong plus key festival appearances including Glastonbury, WOMAD, Cambridge and Celtic Connections.
Despite all their success, which includes appearances with Peter Gabriel and Jools Holland, they have never turned their backs on the West Country and continue to reflect the region in song including the anthemic Cousin Jack which tells the tale of exiled Cornish miners. More universally Knightley's award-winning title track of their last studio album Arrogance Ignorance and Greed - a no-holds-barred lyrics about bankers and bonuses, MPs and expenses- continues to strike a chord with media and public alike.
See http://www.youtube.com/watch?v=T-n8ITk6UWM
Artists from Armenia, Finland, Poland and Ethiopia are due to join the diverse HOME line-up as well as more of the UK's top roots acts – and some from Dartington's own doorstep.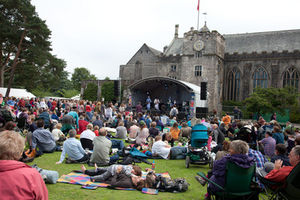 There will be three stages including a main outdoor stage in the medieval Dartington courtyard and the exquisite performance space of Dartington's Great Hall - which forms part of the original 1388-built manor house - and where all performances are unplugged.

HOME's artistic director Thomas Brooman says: "We are delighted that we are able to bring two such contrasting headline acts to Dartington from opposite ends of the world. Show of Hands are a unique and hugely popular West Country act who have played all over the world while the Tashi Lhunpo Monks are simply extraordinary and their performance will give the HOME audience a rare insight into the diversity of their astonishing culture."

As well as outstanding international artists the family-friendly festival will also feature food, films, workshops, craft and market stalls and children's activities including a popular discovery trail in Dartington's glorious gardens.
A limited number of great value Early Bird festival tickets for Friday/Saturday combined are now on sale, until March 22 (or until sold out), price £48.50. (Concessions apply for over 60s, unwaged and students over 18). Full price Early Bird tickets for Friday are just £20 and £40 for Saturday.Under 5s go free but must be booked in.
An exceptional offer will provide one free Under 18 ticket with any adult ticket purchase.

Full details and booking information are available online at www.dartington.org/home
* See a short film of the first HOME festival www.youtube.com/watch?v=ypbqhvD91E4

About Dartington
Dartington is a pioneering charity − a place of experiment, education and enterprise, where the arts, social justice and sustainability come together. In our charitable activities, we work to create social change in collaboration with pioneering thinkers, artists, entrepreneurs and activists in the UK and around the world. Our enterprise activities include The Shops at Dartington with 15 boutique shops, a conference centre with accommodation and the award-winning White Hart restaurant and bar. Over 1 million visitors annually come to visit Dartington. For more information, visit www.dartington.org