Joe Arroyo dies in Colombia (26/7/11) - Obituary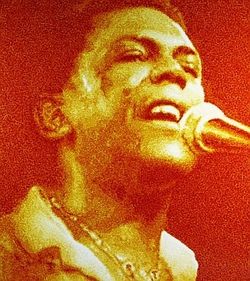 The great Colombian singer Joe Arroyo (Álvaro José Arroyo González) died of heart failure today (26 July 2011) at 7.45am (Colombian time) in La Asunción Hospital, Barranquilla in northern Colombia. He was 55 years old. He had been in the hospital for many weeks suffering from multiple organ problems (heart, lung, kidneya as well as emphysema, diabetes and a cardiac condition that limits the amount of blood received by his heart muscles). Arroyo also underwent a tracheotomy a week ago. Arroyo's wife said that he died "peacefully".
virtually a national icon for Colombia
Over the length of his career Joe came from lowly beginnings to being virtually a national icon for Colombia and for Colombians all over the world. Joe Arroyo had one of the most distinctive voices in Tropical Latin American music - instantly recognisable by hispanic and non-hispanics alike. There can also be few salseros over the last four decades that have not danced to his music either. His songs became anthems all over the latin world and in particular the track "La Rebelión", which spoke about slavery, tyranny and the black experience and in the process captured the spirit of a pan-latin identity and shared experience. It is probably one of the greatest salsa tracks of all time. He even merged latin and non-latin caribbean rhythms into a new tropical music form which he called: 'joesón'
one of the greatest salsa tracks of all time
Joe was born in Cartagena, the son of Guillermo Arroyo and Angela González, on 1st November 1955. Arroyo grew up in a poor family with no less than 39 siblings and half-siblings. Legend has it that he began singing in brothels there at the age of eight and by the age of ten he was already singing in one of Cartagena's popular music halls. However he also formed part of the choir in the city's cathedral aged 12 and recognition of his beautiful and unique voice led him to being invited to play with a group at "El Hotel Americano" with whom he stayed for four years. He moved from Cartagena to Barranquilla (further up the Caribbean coast) during his teenage years and made it his base for the rest of his life.
In 1971, Joe was discovered by Julio Ernesto Estrada Rincon, (better known as Fruko), the bass player and singer of the band Fruko y sus Tesos and signed up with Colombian record label Discos Fuentes. He performed with them for ten years (with such hits as "El Negro Chombo", "Manyoma" and "Catalina del Mar") and the band became the most famous salsa group of Colombia during that period. Later on he became vocalist for another legendary band, the Latin Brothers.
In 1981 he began his solo career fronting his own band: La Verdad (The Truth) earning himself the title "el Sonero de la Salsa" and allowing his true genius to shine through. As well as drawing upon the deep heritage of afro-colombian rhythms and forms, Arroyo also mixed salsa, merengue, soca, kompa, zouk and other tropical music from the diaspora into his own unique sound. He composed over 100 songs in his lifetime.
The 80s were golden years for Arroyo with slews of great songs such as "Mary" (written for his wife Maria), "Echao Pa'lante" (literally 'thrown forward', ie 'ready for action'), "En Barranquilla Me Quedo" (I´m staying in Barranquilla), "Por Ti No Morirè" (I Will Not Die For You), "Son Apretao", "La Noche" (The Night), "La Guerra de los Callados" (The War of the Voiceless Ones) and many, many others. And of course the immortal "Rebelión" (often referred to as "No Le Pegue a La Negra" - 'Don't Hit The Black Woman'). His version of "Yamulemau" became a dancefloor and dance-class staple all over Europe as well. He really started to achieve international recognition during this period and into the 90s too and toured in Europe and North America.
During the annual Carnival of Barranquilla there is also a prestigious musical festival during which the best band is presented with the highly sought after "Conga de Oro" (Golden Conga) Award. Joe won it so many times (8!) that in 1990 the organisers had to invent the Super Conga de Oro Award just for Joe, to allow the other bands the chance to try and win the original Conga de Oro!
The whole of Colombia held its breath . . .
He often lived the life that his songs spoke about and sadly problems with drugs and a 'colourful' lifestyle took their toll on him. His career was interrupted various times due to his health problems and there was often speculation whether he was still alive due to his absences (also often related to problems with his legs as well as stress, drug use and partying). On 7th September 1983 he really did almost die after going down to only 42kgs in weight when he fell into a coma for weeks due to drug abuse. The whole of Colombia held its breath and he finally came round and was allowed to leave hospital on 23rd October. The experience had a profound effect on him and after recovering he wrote the song "A Mi Dios Todo Le Debo" (I Owe Everything To My God).
Power and ... sonorous clarity
During the latter years, his voice lost much of its power and its incredibly sonorous clarity, but Joe remained a much loved and respected figure all over the world. He was due to be awarded a Lifetime Achievement Award at this year's Latin Grammy celebrations in November.
In recent weeks Arroyo's life has been the subject of Colombia's highest-rated primetime soap opera, "El Joe, La Leyenda", which has been airing since May. The drama is based on Arroyo's music and colourful life including his heavy drug use, various women and previous brushes with death. Due to the immense interest this has generated there has been a reissue of much of Arroyo's amazing back catalogue - over 150 recorded songs - much of it released on Colombia's own Discos Fuentes label.
Tributes have begun to pour in from all sectors of Colombian society and from all over the world, including the President of Colombia, Juan Manuel Santos (and also a fan of Joe's music), who described Arroyo's death as "a great loss for music and for Colombia" on Twitter and his predecessor Alvaro Uribe tweeted: "may Joe Arroyo sing to the soul of the nation from heaven." Crowds of mourners have started gathering outside the Hospital of La Asunción where 'El Joe' spent the last weeks of his life. As one fan tweeted "Carnival has started in Heaven".
Glyn Phillips (WorldMusic.co.uk)