JuJu announce live UK dates ahead of WOMAD!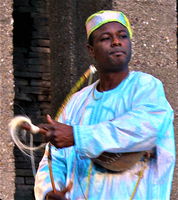 Probably one of the most exciting acts around at the moment, JuJu (featuring Gambia's Juldeh Camara and the UK's Justin Adams) are set to deliver a string of UK concerts in May, June and July (including Borderline and BT River of Music) ahead of their much anticipated WOMAD appearance with Robert Plant.
[Full details of tour at bottom of this page]
"trancey rhythms from traditional Africa, leftfield jazz and the wilder end of rock."
JuJu is Justin Adams (electric guitar, bendir, backing vocals), Juldeh Camara (lead vocals, ritti, talking drum), Billy Fuller (bass) and Dave Smith (drums, percussion).
Their latest album 'In Trance' (out now on Real World Records) has been recorded live to capture the spirit of JuJu's electric performances on stage - channelling trancey rhythms from traditional Africa, leftfield jazz and the wilder end of rock.

JuJu have been busy breaking new territories recently with their live shows (including Reunion Islands, Benelux and Spain), whilst Justin Adams has also been producing new albums by Terakaft and Rachid Taha this year and Juldeh Camara has been touring and promoting his collaboration with Griselda Sanderson in the band Julaba Kunda and their new album "Traders".
JuJu UK Tour - Overview
(full listings info at bottom of this page!)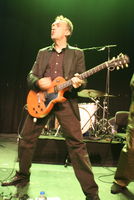 12 May - Norfolk & Norwich Festival, Norwich
17 May - The Borderline, London
19 May - Pontardawe Arts Centre, Neath Port Talbot
8 June - Hay on Wye Festival
9 June - Wychwood Festival
23 June - Rosita Trust Midsummer Festival, Lewes
13 July - Frome Festival
14 July - Rhythms of the World Festival, Hitchin
21 July - BT River of Music Festival, London Pleasure Gardens, Royal Victoria Docks
29 July - WOMAD Charlton Park *
.
Highlights:

"the most ambitious musical event ever staged in the capital"
On the 21st of July, JuJu will be taking part in the BT River of Music event. A spectacular global summit of rhythm and song, the two-day free event will act as a curtain-raiser for the sporting celebrations to follow and will feature artists representing all Olympic and Paralympic nations, from the largest nations to the tiniest ocean island speck.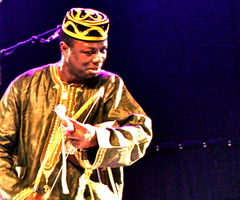 Arguably the most ambitious musical event ever staged in the capital, BT River of Music will present the city's residents and visitors with a unique opportunity to sample a kaleidoscope of the world's most vibrant contemporary music. Established, award-winning and emerging artists from every part of the globe will be performing on stages at six iconic sites along the length of the River Thames each hosting music from a different continent.
JuJu will be representing Africa at the event, with Justin curating their set, entitled 'The Invisible Republic of Juju'. He explains: "History teaches us an unremitting story of domination and conquest - but music points to another story where cultures have been in dialogue for thousands of years."
"21st Century psychedelic griot groove"
"The Invisible Republic of Juju" presents a show beyond borders , where the trance connections between Africa, the Arab world, and the spirit of Rock and Roll are riotously celebrated. Justin Adams and Juldeh Camara's 21st Century psychedelic griot groove is augmented by seven of North Africa's finest musicians, taking deep tradition and infusing it with the energy of the Arab Spring."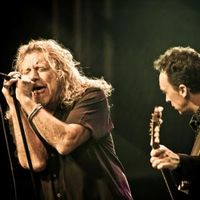 * At this year's WOMAD Charlton Park festival, on 29 July, JuJu will perform with Robert Plant (vocals) and Patty Griffin (vocals, guitar) as part of The Sensational Space Shifters, a unique collaborative line-up drawing inspiration from the roots music of Mississippi, Appalachia, Gambia, Bristol and the foothills of Wolverhampton.
(The Sensational Space Shifters will also perform at The Sunflower Blues & Gospel Festival in Mississippi, USA, 10 - 12 August.)

*********************************************************************

Videos, audio, social media etc.

"Nightwalk" music video: http://youtu.be/UTQprlBAmKQ

Listen to "Nightwalk" on SoundCloud: http://soundcloud.com/realworldrecords/01-nightwalk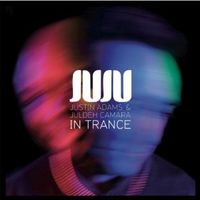 Watch JuJu live:
http://youtu.be/RiaxAix7aI4 ("Nightwalk", live in Paris, Kham Meslien on bass)
http://youtu.be/uNyUY6sQ7Uc ("Nightwalk", AVO Sessions in Basel)
http://youtu.be/kKLWvwaoOIg ("Mariama", AVO Sessions in Basel)
http://youtu.be/uF1bdRpSii0 ("Deep Sahara", AVO Sessions in Basel)
http://youtu.be/tcO5kDXk7YA (Justin Adams & Juldeh Camara with Robert Plant at WOMAD Abu Dhabi)

Facebook: http://www.facebook.com/jujuband
Twitter: @juju_band
Further info: http://www.realworldrecords.com/juju

*********************************************************************

JuJu live in the UK - May/ June/ July 2012
(all dates are dates with JuJu's 4 piece line-up unless otherwise indicated)

Saturday, 12 May, 7.30pm
Norfolk & Norwich Festival, Spiegel Tent, Chapelfield Gardens, Norwich NR1 3BF
http://www.nnfestival.org.uk
Tickets: £15
Box office: 01603 766 400 1930
(JuJu with John Blease on drums)

Thursday, 17 May, 7pm
The Borderline, Orange Yard, Manette Street, London W1D 4JB
http://venues.meanfiddler.com/borderline/home
Tickets: £14
Box office: 0843 221 0100 1900

Saturday, 19 May, 7.30pm
Pontardawe Arts Centre, 54 Herbert Street, Pontardawe, Neath Port Talbot SA8 4ED
http://www.pontardaweartscentre.com
Tickets: £9
Box office: 01639 686868

Friday, 8 June, 10pm
Hay on Wye Festival, Cymru Stage, Dairy Meadows, Hay HR3 5PJ
http://www.hayfestival.com
Tickets: £12.25
Box office: 01497 822 629 2200

Saturday, 9 June
Wychwood Festival, Cheltenham Racecourse, Prestbury Park, Cheltenham GL50 4SH
http://www.wychwoodfestival.com
Tickets: £115
Box office: 01993 772580
Other acts include James, Hawkwind, Sharon Shannon etc.

Saturday, 23 June
Rosita Trust Midsummer Festival, Mount Harry House, Offham, Lewes BN7 3QW
http://www.rositatrust.org/
Tickets: £70
(JuJu with Kham Meslien on bass)

Friday, 13 July, 8pm
Frome Festival, Cheese & Grain, Market Yard, Frome BA11 1BE
http://www.cheeseandgrain.co.uk/
Tickets: £14
Box office: 01373 455420 2000

Saturday, 14 July
Rhythms of the World Festival, Hitchin Priory, Tilehouse Street, Hitchin SG5 2DL
http://www.rotw.org.uk/
Tickets: £10
Other acts include The Damned, Young Knives etc.

Saturday, 21 July
BT River of Music Festival, London Pleasure Gardens, Royal Victoria Docks, London E16 2BS
http://www.btriverofmusic.com/
Tickets: http://www.btriverofmusic.com/page/tickets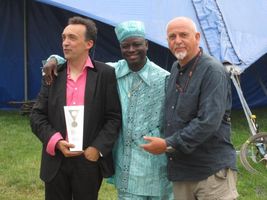 Sunday, 29 July
WOMAD Charlton Park, Malmesbury SN16 9DG
The Sensational Space Shifters (Robert Plant, Patty Griffin and JuJu)
http://www.womad.org
Tickets: £135

For more info and the international dates:
http://www.realworldrecords.com/tours/artist/juju
"Spectacular … They are gripping to watch and thrilling to listen to with the music always sounding rough, ready and right."
Evening Standard
"Nightwalk" - http://youtu.be/UTQprlBAmKQ