Julaba Kunda at Birmingham (19/2/2012)
Tagged with: Julaba Kunda Kitchen Garden Café Birmingham Juldeh Camara Griselda Sanderson Amadou Diagne Traders Waulk Music World Unlimited Gambia Scotland Devon Senegal riti ritti nyanyeru fiddle kologo kpanlogo djembe calabash nyckelharpa jig reel Fula Wolof JuJu
Julaba Kunda at the Kitchen Garden Café, Kings Heath, Birmingham (Sun 19 Feb 2011) - Concert Review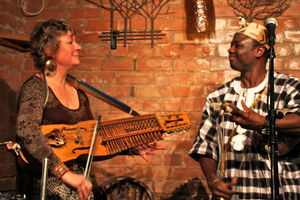 In the Kings Heath suburb of Birmingham, just off the High Street and not far from the legendary Hare & Hounds venue is an arched iron gate and a little alleyway leading to an old hidden yard. It's lined with plants for sale and garden items, but at the end is the wonderful Kitchen Garden Café - all Victorian red bricks, blue bricks, tiled floors and wood. By day a café, but in the evenings one of a number of venues used by the roots music promotors World Unlimited. An unusual venue maybe, but as is so often the case, you have to dig for gems in unlikely places.
Julaba Kunda is a band and project that is still sending out shoots and gradually unfurling its leaves. The seed for the band was sown some seven years ago when Juldeh Camara, the Gambian maestro of the nyanyeru or riti - a traditional one-string fiddle, happened to visit Dartington College in Devon. Resident music tutor at the time there was the Scottish fiddler Griselda Sanderson. Both are repositories and exponents of ancient fiddling traditions, but thousands of miles apart geographically and culturally. And yet, each was attracted to the other's music and heritage.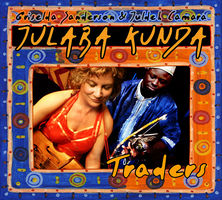 The two became friends, with Juldeh teaching Griselda the riti and she in turn teaching him about the Celtic musical world. However, it wasn't until Jan 2010 when Griselda was returning from Scotland to Devon complete with her recording equipment that she called in on Juldeh and, kept indoors by the snow, they turned their energies and talent into creating what they had so long talked about - a fusion of North European and African folk musics: Julaba Kunda (Fulani for 'Trading Company').
In July of that year Dartington College closed down and Griselda found herself with the time to devote to exploring with Juldeh the pentatonic scale families of two continents. This method of trading knowledge and ideas and history between each other led to the name of their debut album "Traders" (released on Waulk Music in October 2011 and achieving a place on WorldMusic.co.uk's TOP 20 Best World Music Albums of 2011).
I was lucky enough to see them as a duo last year at the Home Festival and so was quite excited to see them again - especially as they'd brought with them the Senegalese musician Amadou Diagne on percussion and backing vocals.
"incredible technique and artistry"
Juldeh is acknowledged as a master of the one-string fiddle (nyanyeru in Fula, riti in Wolof). It's a relatively simple instrument in design - a hollowed-out half-gourd with a 'rope' of horse hair as the string fastened to a wooden neck placed through the fiddle and going across a porcupine quill laid on top of the stretched lizard-skin resonator - but with no fretboard, the notes being stopped by placing the fingers and thumb at different places along the string itself. And yet the sound is amazing - testament to Juldeh's incredible technique and artistry. Juldeh had brought two riti with him, for ease of use when using the different keys required on the more traditionally Scottish based numbers, one with a calabash back and the other, possibly unique, made from cottonwood, which is more stable in our climate. He also plays the kologo - a two stringed guitar-like instrument which is acknowledged as the precursor of the banjo; again a fabulous sound. And then he sings in the Fula and Wolof languages too...
"a strange, rich, dense sound"
Griselda plays not just the traditional European fiddle, but is one of the few people in this country that plays the Swedish nyckelharpa fiddle - a strange beast probably dating from the Middle Ages, that looks like a cross between a sarangi and a long violin on a diet (think stretch limousine!) - and again has no fretboard but stops the notes using a series of keys that push little wooden pegs against the sides of the 4 strings that are played. There are also another 16 'sympathetic' strings that are tuned to resonate in sympathy when certain fundamental notes are bowed. This gives it a strange, rich, dense sound. It's normally employed in Nordic folk and classical music, but here Griselda is utilising it in very different contexts.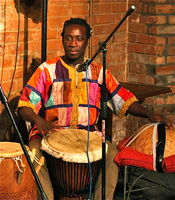 Amadou (in his very first live appearance with the band) brought with him a West African djembe drum, a Ghanaian kpanlogo drum (a sound reminiscent of a conga) and a half calabash turned upside down and laid on a pillow and taped to a chair. This latter was played by Amadou's left hand utilising a whole array of techniques from fingernail taps through claps and slaps to mighty bass booms using his fist. Amadou also supplied occasional Wolof backing vocals to Juldeh.
Seconds after I took my seat in the Kitchen Garden Café, Julaba Kunda took to the stage (really the corner of the room) and launched into, Pijin Jalen a wedding celebration jig in 6/8 time driven by a repeated riff with Griselda on fiddle and Juldeh on riti.
This was all done in darkness, all we could see was Juldeh and Griselda silhouetted against the brick wall. It was only at the end that someone remembered to turn on the stage lights…
Swopping instruments (onto nyckelharpa and kologo) for the next two numbers Julaba Kunda kicked back and really started to enjoy themselves. On Sademi (a song of love and tenderness) Amadou added backing vocals - a beguiling mix of thin, reedy falsetto and pithy earthiness - a fantastic foil for Juldeh's lead. Massina, a tribute to the Fulani people, is like an African blues and for me was outstanding on a number of levels. Juldeh's attack on the kologo was exhilarating over the drone-like quality of Griselda's nyckelharpa and was all topped off with Amadou's imaginative and dynamic flourishes on the calabash and djembe. It was on this track that I noticed the peculiar manner in which Juldeh sings - as if he's a trying to hypnotise a bee that's sitting on top of his microphone… The song is about the travelling tendencies of the Fulani, and certainly after it had finished I felt like I'd just been led through a landscape of forests, fields, hills and rivers.
"a percussionist of great sensitivity and skill"
One of the really interesting points about Julaba Kunda's music is the interplay between the two fiddlers with a repetitive riff often cycling throughout the pieces, building and building until you don't know who has the main melody and who the echo or answer. It's a stunning effect that sweeps you up in a gently swirling musical whirlpool. You could see this in slow tracks like Balatara Canto (great riti solo by Juldeh - simple but intense) and the gentle Village Salaam (dedicated to the inhabitants of the tiny Devon village of Berry Pomery!) and in particular the jaunty Working Song - originally from Barra in Scotland, used to keep the wool-fullers in time, but, as Griselda pointed out to us, definitely Fulani-ised by Juldeh and Amadou! Here the riffs and rhythms chased each other like a pair of playful kittens and Amadou showed himself to be a percussionist of great sensitivity and skill with lovely dynamics and subtle colourings counterpointing the other two.
"two fiddles weaving in and out of each other, denser than a Harris Tweed"
Julaba Kunda finished off the first set with their homage to the Dorset coastal town of Lyme Regis! As Juldeh remarked: "Went there and dreamed this melody - lots of poets in my head" - "Nice place, the beach, nice people too". This turned out to be a tour-de-force piece with the two fiddles weaving in and out of each other, denser than a Harris Tweed. It was hard to tell where one fiddle starts and the other ends. There was a skin-tingling ending as Juldeh declaimed his love for Lyme Regis against a slow mournful terraced descent by the fiddles. Gorgeous.
After the break, it got better if anything, as everybody relaxed and we were taken through Juldeh's haunting herdsman's song Gainako (again played on the bluesy kologo) and Griselda's White Wood (a jig inspired by the songbirds of a Devon wood) before all strings were put down and we were treated to an impressive unnamed drumming showdown with Griselda on bodhran, Juldeh on talking drum and Amadou on his motley collection, with Juldeh once again stealing the stage with his blistering displays of talking drum and facial gurning!
"hooks you in and doesn't let go"
However the last four tracks really hit home with my favourite from their album ("Traders"), Julaba Kunda's homage to Griselda's home country, Scotland. This is a reel but with a real blues undercurrent, that hooks you in and doesn't let go. Juldeh sings it with such passion that you really wish you could understand what he's saying - always the little half-smiles as if it's all a great private joke and his unexpected foot-stamps and the way he lifts his foot off the ground and holds it there when he's enjoying a particular passage. As he says: "Ah, yes, very nice, Eh-Scotland!". The only thing missing was for me was the hypnotic Hammond organ vamp which is on the album version. Definitely my favourite track.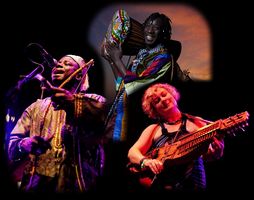 Another Scottish reel followed, with an insistent rhythm that hits on the 1, this time based on a theme by Ali White (Battlefield Band). Juldeh said that he had heard it from Griselda and it reminded him of a rain dance song performed by the farming women back in the Gambia. When there is a drought they don their husbands' clothes, strap on drums around their waists and dance for rain to a similar melody. They combined the two and called it The Weatherwomen. Once the tune was finished Griselda remarked jokingly to Juldeh "OK, you're free to improvise again now!". I think the restrictions placed on the Gambian when doing traditional Scottish tunes were a little frustrating for him! Well, if you're going to trade, then you have to learn to compromise!
This was followed by another hypnotic tune, Bambado, with another fabulous bubbling rhythm, Amadou Diagne playing all three of his instruments at once in one seamless groove as the fiddlers wove colours of sounds into the tunes, repeating riffs slightly offset from each other like the patterns on an ancient tartan, all nuanced soft tones, heathers, berries, grasses and rain . . .
"like two swooping swallows, chasing around the endless blue of the sky"
And to finish? A tune that by their own admission they'd not played for a long while, entitled Devil's Reel. All I can say is that by now the fiddles were like two swooping swallows, chasing around the endless blue of the sky - darting all around in close formation at high speed. Just beautiful.
"if you get a chance to see Julaba Kunda live, jump at it"
Juldeh is currently riding high with his incredible collaboration with blues-rock guitarist Justin Adams in the band Juju, (the two of them now also part of Robert Plant's new band to be unveiled at Womad later this year, the Sensational Space Shifters!), but if you get a chance to see Julaba Kunda live, jump at it too. Both Sanderson and Camara are great fiddlers, but together they're something else.
In the future we can expect to see an expanded form of Julaba Kunda featuring some great young musicians in the form of Issiaka Dembele from Burkina Faso on balafon, Louis Bingham on Irish bouzouki, tenor banjo and bodhran and Riaan Vosloo on double bass. A new album is currently being recorded.
Julaba Kunda's debut album is called "Traders" and is on Waulk Music, (2011). Don't forget Amadou Diagne has his debut solo album out too this year (2012) on World Music Network called "Introducing… Amadou Diagne", which showcases his vocals and guitar. Well worth checking out too.
Glyn Phillips
WorldMusic.co.uk