Katzenjammer - "A Kiss Before You Go" - Album Review
Tagged with: Katzenjammer A Kiss Before You Go Norway folk pop acoustic country bluegrass rhythm and blues cabaret Propellor Recordings Rock Paper Scissors Cherry Pie Glyn Phillips Review CD WorldMusic.co.uk world music
"highly polished album"
The all-girl outfit, Katzenjammer from Norway have recently released (May 2012) their highly polished album "A Kiss Before You Go" (Propellor Recordings).
The whole album is sung in English and comes across as an uplifting blend of pop, folk, acoustic, country, bluegrass and rhythm'n'blues with a sprinkle of balladry, whimsy, acapella and rock, and it's all laced through with a healthy dose of idiosyncratic eccentricity and sonic cabaret theatricality.
"enough singalong lyrics to keep you going all through the summer"
However, it is also all bound together with very credible pop production values, accessible melodies and enough singalong lyrics to keep you going all through this summer's festival season (especially the tracks "Rock-Paper-Scissors" and "I Will Dance When I Walk Away").
I must admit, I was slightly dubious as to whether or not I'd like Katzenjammer at first, since their music is far more 'poppy' than I'm used to writing about or even listening to, but a bit of suspended disbelief paid dividends and I'm now quite happy to recommend them. And can I just say - absolutely love the album cover photo!
Formidable ladies, these Katz . . . !
Glyn Phillips (WorldMusic.co.uk)
- - - - - - - - - - - - - - - - - - - - - - - - - -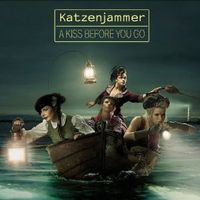 Here's a link to their website and other contact points:
www.facebook.com/katzenjammerne //
and also to some YouTube Videos:
www.youtube.com/watch?v=WqmbqnjbLc
www.youtube.com/watch?v=YZEDMIZZSug
See the RPS video here: www.youtube.com/watch?v=WqmbqnjbLco
Host RPS here: www.soundcloud.com/yourfriendbam/katzenjammer-rock-paper
and don't forget you can get a Free Download of "Cherry Pie" here: