Krar Collective Launch debut album and start UK tour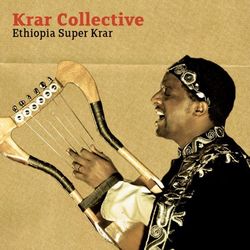 UK-based Ethiopian band the Krar Collective's star continues on the ascendent during 2012. After many concerts to great acclaim and an appearance as part of the Africa Express recently, they are due to launch their new album "Ethiopia Super Krar" (Riverboat Records/ World Music Network) tomorrow (Thu 20th Sept) at Rich Mix in London (35, Bethnal Green Road, E1 6LA) with various guest artists and DJ Russ Jones.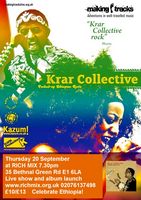 "Led by Temesgen Zeleke, a former star pupil of Ethiopian legend Mulatu Astatke, Krar Collective perform a rootsy yet contemporary take on traditional music from Ethiopia based on other-worldly modes and driven by hypnotic rhythms. The 6-stringed krar lyre is associated with the azmari minstrel tradition; in the hands of Zeleke it becomes a gritty, ancient rock guitar.
Accompanied just by drums and fronted by the stunning, soaring voice of Genet Assefa, Krar Collective create a surprisingly big sound, leading one critic to name them 'The Ethiopian White Stripes'.
With a varied repertoire from gentle ballads to high-energy dance tunes, and following their recent participation on Damon Albarn's Africa Express where they worked with Africa stars such as Baaba Maal, Rokia Traore, and Amadou & Mariam as well as British bands such as Rizzle Kicks and Temper Trap, Krar Collective are set to surprise and delight wherever they go."
Launch Night - Rich Mix - 20/9/12: Tickets are £10 in advance / £13 on the door.
Doors open 7.30pm Thursday 20th Sept 2012
Tickets: https://uk.patronbase.com/_RM/Seats/NumSeats?prod_id=AG86&perf_id=1&section_id=BAR&seat_type_id=S
Details of the rest of the Krar Collective UK Tour:
UK TOUR DATES
20 Sep London Rich Mix 020 7613 7498
30 Sep Gateshead The Sage Gateshead 0191 4434661
02 Oct Cambridge The Junction 01223 511511
04 Oct Birmingham mac 0121 4463232
05 Oct York NCEM 01904 658338
07 Oct Milton Keynes The Stables 01908 280800
09 Oct Bury St. Edmunds the apex 01284 758000
10 Oct Bristol Colston Hall 0117 0223686
11 Oct Swansea Pontardawe Arts Centre 01792 863722
12 Oct Poole Lighthouse 0844 4068666
This Tour is part of the Making Tracks initiative.
Krar Collective perform Guragigna live: http://youtu.be/lGFrPGSWi4E
https://www.facebook.com/KrarCollective
http://www.myspace.com/krarcollective
http://www.makingtrackslive.org.uk/
To see a photo gallery of Krar Collective at the 2012 HOME Festival click here:
www.worldmusic.co.uk/krar_collective_photos_home_festival_dartington