Krar Collective - mac, Birmingham - 4/10/12 - Review
Tagged with: Krar Collective Temesgen Zeleke Genet Assefa Robel Tesfaye Krar Kebero Ethiopia Super Krar Riverboat World Music Making Tracks mac Birmingham Glyn Phillips WorldMusic.co.uk Review Kazum
"traditional Ethiopian music styles ... for a global 21st century audience"
Currently on tour promoting their album "Ethiopia Super Krar", the East African trio reached the mac in Birmingham on Friday 4th October 2012 as part of the Making Tracks initiative, barely days after taking part on the Africa Express.
"more wardrobe changes than Eva Longoria at an awards ceremony…"
The Krar Collective take traditional Ethiopian music styles and instruments and effectively reinvent and represent them for a global 21st century audience. The stage set up is minimal: on the left the man with the melody, singer and krar maestro, Temesgen Zeleke with two different versions of the krar (5-6 stringed Ethiopian lyre). On the right the man with the rhythm, Robel Tesfaye on the Ethiopian kebero drums. Occupying the centre stage is the lovely Genet Assefa, singer and dancer, with nothing but herself, a big smile and more wardrobe changes than Eva Longoria at an awards ceremony…
"Temesgen Zeleke's mastery of the krar is astounding"
The instrumentation might be minimal, however the sound is anything but. Temesgen Zeleke's mastery of the krar is astounding, it's very hard to believe that such a simple instrument (only 6 strings, no frets) can produce such a full, resonant sound. Quite incredible. He does, though, make good use of foot-pedals and electronics and it's not for nothing that the ubiquitous moniker "the Hendrix of . . ." is often applied to him. He hasn't started using his teeth yet but, still, you only have to watch his fingers to see why he's so rated. He alternates between plucking and strumming his krar, exploring the full sonic potential of this African lyre, sometimes playing at the very top just below the crossbar, at other times right over the pickups down the bottom, his left hand stopping the strings with the merest touch of his fingerpads.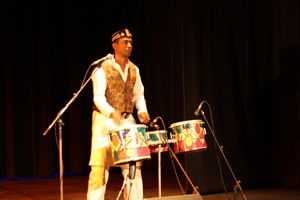 Add to that Robel Tesfaye's constantly bubbling and everchanging rhythms on the kebero drums and you already have the two-man equivalent of a large orchestra. The kebero drums are traditionally double-headed and conical, although I have seen images of them more closely resembling tiny kettle drums; but here they were in the form of cylindrical, single-headed toms in a family of four - two small high-pitched ones, and two low-pitched medium size ones. That's it. No bass drum, no cymbals, bells, shakers, scrapers, just four simple 'down-home' drums played with a pair of ordinary drumsticks. But, again, what a sound! Robel is like some kind of restless demon, as constant yet complex as the waves crashing on the shore.
"Genet's personality alone is enough to fill the stage"
And of course, then there's Genet Assefa… Genet's personality alone is enough to fill the stage, let alone her full-on energetic dancing and amazing voice. She's very talented, wonderfully endearing and the perfect foil to Temesgen and Robel.
The Krar Collective can go from simple, pastoral folk-pieces via sombre haunting, trancelike numbers, to effects-heavy krar dance creations full of rolling, rollicking, thundering drums, virtuoso electrified krar playing, ululating vocals and head-banging dance moves. Here's how it unfolded at at the mac...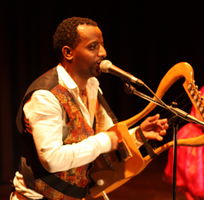 The concert started with Temesgen and Robel carrying on the two krar. The main krar has curved, almost baroque, arms which support the cross bar and are set into a soundbox which has a rectangular face, straight sides and a curved back. This is fully set up to make best use of Temesgen's foot-pedals and FX units. The other krar is the more traditional style with straight arms at a v-shaped angle and a dish-shaped sound box.
Very slowly Temesgen started to tune up the main krar which seamlessly led us into a haunting piece entitled "Zelesegun". Robel's kebero drums came in holding down the sombre atmosphere and Genet slowly walked on in a deep indigo-blue cape embroidered in gold over a dark blue gold-edged floor-length gown all topped off with her huge afro and started singing, whilst remaining quite still. The effect was trance-like, quivering and intense. With a simple 'thank you' the song ended and they went straight into the next number "Yeni Hasab", a piece with a heavier beat and backing vocals from Temesgen.
The third song "Oromigna" was from south Ethiopia and for this Genet reappeared in a sleeveless, figure-hugging brown skirt and top and in contrast to the formality of the cape she stands there with her hand on her ample hips, all girly smiles and coquettishness.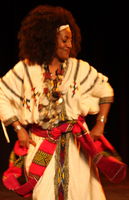 After a rhythmless intro, the song becomes a boppy duet between the two singers with Temesgen taking the verses and Genet the choruses. She started to dance - essentially a series of stamped footwork (a bit similar to the latin american zapateo style).
The rhythm changed into a slower 3 time and then Temesgen accompanied his playing with some throaty buzzing and thrumming sounds whilst Genet shook her head vigorously in circles and her afro became ever wilder. It's a wonder her head didn't fall off before she resumed her stamping dance and then ran off stage as the song ended for another costume change.
"Tizita" was a solo 'memory' piece played upon the older more traditional krar. Temesgen used just his left hand, the right holding the frame steady, simply plucking the strings with one hand and no stops. The song was very plaintive and the whole thing reminded me of Andean shepherding music or Chinese pastoral music. There were no effects at all, just the acoustic qualities of the dish-shaped krar - a rippling sound with a slightly raw resonance.
"Genet seems to almost sing in 3D!"
For "Wello" Temesgen swapped back to the other krar and Robel and Genet returned, the latter now in a blue-grey smock with a long, thick, woven red belt/scarf wrapped around her middle and arms and loads of necklaces made from shells draped around her neck. There seemed to be a lot of playful and flirtatious behaviour between the singers.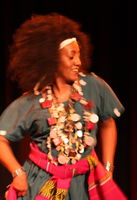 The song was full of ululations. It struck me that her voice is quite hard to describe, sometimes high-pitched but with a sharp, buzzy edge, at others full of quivers and tremelos. Genet seems to almost sing in 3D!
For this concert, they had a special guest: Hassan Saleh Nour a Sudanese oud player and singer who came on and did a solo number in 6 time and then, joined by krar and drums, performed a bouncier bluesy piece, making good use of the quasi-rototom sound of the smaller kebero drums.
After the break, the Krar Collective began with another broody number entitled "Ambassel" which was slow, dark and insistent, followed by a jauntier offering (called, I think, "Gonder") with both Temesgen and Robel providing backing vocals for Genet. She was now in a long thick white woollen dress with the long red scarf/belt wrapped around her waist and over both shoulders, clapping, dancing and jiggling, which eventually encouraged some of the seated theatre audience to clap along and even to get up and dance too.
"like an earthier Ethiopian version of Edith Piaf."
Once again yet another aspect of her voice struck me as it seemed to flutter like a little bird. Genet Assefa is at times like an earthier Ethiopian version of Edith Piaf.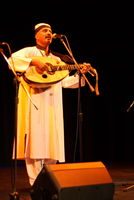 After another rocky, rollicking dance number with loads of rolling kebero drums, Hassan Saleh Nour came back on and did another delicate solo number from the west of Sudan followed by a more danceable tune backed by krar and kebero again.
For the final three numbers of the night, the Krar Collective went into party mode - a bit difficult in the sterile environment of the mac's theatre and with an audience of only about 40 people - but they achieved something.
"Welaita" was all rolling drums in a 2/4 time reminiscent of samba. There was plenty of call and response vocals and Temesgen started dancing too. Genet was back on in a short white outfit with a thick woven bundle wrapped around her waist to accentuate her hips and as the beat quickened and became more insistent she was to be found mucking around running up to the blokes and bumping them with her generous backside. For "Shururu" the krar and thundering keberos performed a duet. All very insistent and pounding featuring a drum breakdown, a bit like a fast samba reggae rhythm.
For the final song, "Guragigna", it was full-on dance time as Genet in a shocking pink silk outfit and with her voluminous hair tied up in a vertical matching wrap was joined onstage by five members of the audience and they all proceeded to dance like skipping ponies, which then led into a mad stepping dance by Genet. I'm surprised she had any energy left! The night ended with no encore but a pleasantly sated feeling.
Glyn Phillips (WorldMusic.co.uk) - October 2012
The Krar Collective have their debut album "Ethiopia Super Krar" out on Riverboat (part of World Music Network) and are on tour in the UK during October 2012. Check their site for details.
https://www.facebook.com/KrarCollective
http://www.makingtrackslive.org.uk/#/krar-collective/4565375248