Krar Collective to premier their Olympic World Music Performance at Rhythm Tree Festival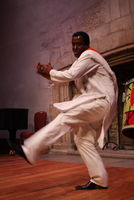 Rhythm Tree Festival have just announced that the Ethiopian band the Krar Collective will be performing their Olympic performance show as a special premier at the world music festival on the Isle of Wight on Sat 21st July.
The Rhythmtree stage will burst into vibrant colour, movement and rhythms later this month with the appearance of Krar Collective premiering their extraordinary BT River of Sound performance which is part of the Olympic celebrations this July.
Organisers have revealed 'We booked Krar Collective back in January for our Sunday stage and a few months ago their manager phoned to ask for a change of date to Saturday .
He couldn't give too many details but indicated it was to do with a major world music event being organised as part of the build up to the Olympic Games.
Then the message came through that Krar had been selected to showcase the music of the Horn of Africa and the main Olympic organisers had given permission for the whole show to be premiered at the Rhythmtree'.
The original three piece band will be joined by eight singers and dancers from Somalia, Ethiopia, Eritrea and Djibouti to provide an unforgettable display of the music, dance and culture of the area.
The Saturday 21st July main stage will now be the highlight of the Rhythmtree weekend with Krar joining top Afrobeat big band Yaaba Funk, Hungarian jaw harp, beatbox and didge players AIRTist, Congo Dia Ntotila who are preparing for an up coming African tour, the legendary world percussionist Pete Lockett, Bhundu Boy Kadousha Matimba and his new jit-jive band Harare, and the award winning Zydeko band Elvis Fontenot and the Sugar Bees.
To see full weekend line-up and buy week-end and day tickets for the event visit www.rhythmtree.info