Lee Perry/Upsetters New CD/Vinyl Release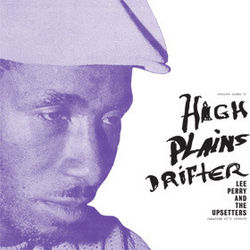 Reggae and Dub Specialists Pressure Sounds have announced that they are today (Friday 27th January 2012) releasing a new CD and Double Vinyl LP from Lee Perry and the Upsetters showcasing previously undocumented singles and a dub plate. These musical gems come from some the Upsetter's most creative years.
Rare as they come and very funky.
The album is called "High Plains Drifter - Lee Perry and the Upsetters: Jamaican 45s 1968-73" and is released by Pressure Sounds (PSCD73 - 2012)
All the tunes are from Jamaican releases and most tracks were never released in the UK. Rare as they come and very funky. Lee Perry has given Pressure Sounds lots of help with this fabulous compilation of his pre-Black Ark productions.
Both the CD album and the Vinyl LP releases have 20 tracks (see list below) and there's also a Special Limited SILKSCREEN PRINTED Edition (only 150 - all numbered) of the Double Vinyl album!
VAL BLOWS IN - VAL BENNETT & THE UPSETTERS
BOSS - COUNT STICKY & THE UPSETTERS
HIGH PLAINS DRIFTER - THE UPSETTERS
ITS GROWING - BUSTY BROWN & THE UPSETTERS
THE MAN WITH NO NAME - THE UPSETTERS
DON'T WANT TO LOSE YOU - THE UPSETTERS
WHAT'S WRONG WITH YOU - THE BLEECHERS
WHAT A BOTHERATION ( PAN MIX) - THE MELLOTONES
HE DON'T LOVE YOU - THE SILVERTONES
NEXT TO YOU - DAVE BARKER & THE UPSETTERS
SITTING AND WAITING - DAVE BARKER & THE UPSETTERS
AWAKE - THE ETHIOPIANS
AMIGO - THE UPSETTERS
AIN'T NO LOVE - JIMMY & THE INSPIRATIONS
ROCKFORT PSYCHEDELION - COUNT STICKY & THE UPSETTERS
A BIG JOKE - LEE PERRY & THE UPSETTERS
BUTTOO GIRL - THE INSPIRATIONS
THANKS WE GET - THE VERSATILES
INIQUITY WORKERS - THE FAITHFUL BROTHERS
RUB UP FESTIVAL '71 - JUNIOR BYLES & THE RIGHTEOUS UPSETTERS
The years 1968 to 1973 were truly extraordinary for Lee Perry: He founded his own Upsetter imprint, had UK Top 5 chart success, toured the UK & Europe, and released a staggering 280 plus singles and over twenty albums. High Plains Drifter rides in with saddle bags of lost musical gems from these creative years.
High Plains Drifter rides in with saddle bags of lost musical gems

At the start of the 1960s Lee Perry was new to the music business. He began at Studio One recording sides that drew heavily on US R'n'B, Jamaican folk music and had already showed his love of the sexually charged stanzas with songs like Roast Duck and Dr Dick. Since leaving Dodd's set up he had continued to record sides as an artist but had been learning the production side of the business including stints at WIRL and Joe Gibbs.

Perry's move into production was not only commercially successful and prodigious but saw his music became a key element in the burgeoning Skinhead scene in the UK: His 'Tighten Up' (Inspirations) was used to name a series of cheap compilations that helped spread reggae across the working class in many urban cities & towns – the cheesecake covers with semi naked women helped! Tracks like 'Live Injection' became anthemic, as the orange & white UK 'Upsetter' imprint became iconic in the UKs Youth culture.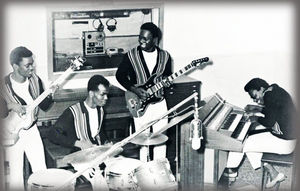 From his beginnings as an artist Scratch drew from a range of influences – both musical and cultural but it was his desire to push musical boundaries that set him apart from other Reggae producers and artists. Musically Scratch not only used traditional Jamaican music but had a love of US R'n'B that could be picked up from US based radio stations and heard at Sounds on 78's.
Perry loved to reference street culture in his productions and thus Westerns figured strongly in his musical mix in the years covered by High Plains Drifter, as Spaghetti Westerns were extremely popular in down town Kingston with screenings having bands like the Upsetters, opening the show. Later when Kung Fu films became the craze, Perry unreleased a batch of singles, and albums, inspired by the genre.

It was Perry's passion for Spaghetti Westerns that gave birth to his UK Top 5 'Return of Django' as well both the fine 'Val Blows In' and the eponymous 'High Plains Drifter'. Val's R'n'B influenced horns were a trade mark on many of Perry's early productions and here he's given full reign on this cut of Sir Lord Comics classic 'Django Shoots First' ( 'Bronco' in the UK). Our title track puts you right in Sergio Leone territory – eyes blinking from the scorching sun. 'Amigo' is a cut of 'Sipreano' with a lovely Perry cod spaghetti western intro.

This album pulls together undocumented Jamaican singles (& one dub plate) that beautifully showcase all these influences and Perry's development as a producer. It was his desire to push musical boundaries that set him apart from other Reggae producers. Original rhythms and a head full of musical ideas pretty much defined Lee Perrys productions from his first attempts in the early 60s right up to the chaotic closing of the Black Ark in the late 1970s.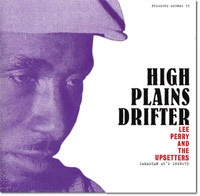 High Plains Drifter comes in a single CD format and double vinyl LP. The usual high quality packaging and graphics are all secondary to a great set of productions from the Upsetter.

Also check out Pressure Sounds 2011 release of Upsetters material: "Return of Sound System Scratch"
For more details visit the Pressure Sounds website http://www.pressure.co.uk