Little Axe (Skip MacDonald)
Tagged with: Little Axe Skip McDonald Blues guitarist Sugarhill Grandmaster Flash Daby Toure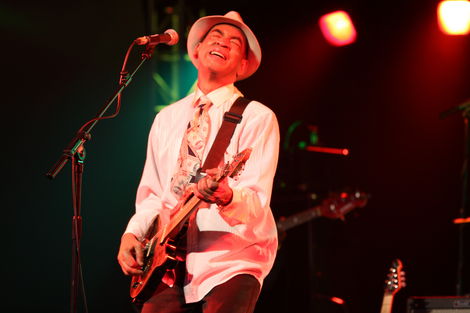 Little Axe is the stage name of Skip McDonald (born Bernard Alexander, 1949, Dayton, Ohio) an American musician. McDonald played jazz, doo-wop, and gospel when young, and relocated to New York City as a teenager with his band of friends, called The Entertainers.

Axe joined the group Wood Brass & Steel in 1973 with bass guitarist Doug Wimbish and drummer Harold Sargent. The group recorded two albums before their 1979 breakup. Axe then became one of the members of the house band for Sugarhill Records and appeared as a session player on many early rap albums, one of which was The Message by Grandmaster Flash and The Furious Five.
After leaving Sugarhill, McDonald, Wimbish, and drummer Keith LeBlanc began working with Adrian Sherwood, and eventually formed the trio into the group Tackhead, initially fronted by Gary Clail, but later, vocalist Bernard Fowler.

It was not until the 1990s, McDonald assumed the moniker "Little Axe" as he began moving from a hip hop sound to music drawing from an array of musical influences. Blending genres including such diverse musical influences as R&B, gospel, Dub music, and jazz has led some music reviewers to describe his overall sound as that of World music.
However, it was the sound of the blues that is most woven throughout his music since the early 1990s. He has been working steadily as a studio musician, recording both his own blues albums, continuing to appear as a guest act on other artists' albums as well. Recent albums have been released on Real World Records. Alan Glen is featured on harmonica on the albums.

In 2009 he collaborated with Mauritanian musician Daby Touré to produce a record titled Call My Name.
Discography
The Wolf that House Built (Okeh/Epic, 1994)
Slow Fuse (Wired Records, 1996)
Hard Grind (Fat Possum, 2002)
Champagne & Grits (Real World, 2004)
Stone Cold Ohio (Real World, 2006)
Bought For A Dollar, Sold For A Dime (Real World, 2010)
If You Want Loyalty Buy A Dog (2011)
(From Wikipedia)
alternative bio from his Myspace page:
Born Bernard Alexander on 1 September 1949, Dayton, Ohio in the USA. Skip McDonald learned to play the blues on his father's guitar from the age of 8, although by the time he was 12 years old he had opted to perform doo-wop. Though says Skip:
"It was really the blues that impressed me. My father played blues, he was from Tuskeegee, Alabama. He listened to Muddy Waters, Blind Boy Fuller, Bo Diddley, and to gospel like the Soul Stirrers, the Swan Silvertones. As a teenager I got away from it, but I think I've found my way back with Little Axe."
Having completed his high school education Skip left Dayton with a band called the Ohio Hustlers, which broke up not long after relocating to New York City. His first professional work as a musician began when he formed the Entertainers who toured the east coast through to the mid-70s:
"I ended up moving to New Haven, doing a bit of lounge work, then moving to Hartford. That's where I met Doug Wimbish, in a band called Wood, Brass & Steel. It was a progressive funk band with hints of jazz. We played the college circuit, a few clubs, and we recorded one-and-a-half albums for All Platinum Records, Sylvia and Joe Robinson's label. It was 1976, and the Robinsons were hot with the Moments, Shirley & Company. In the years that followed me and Doug really learned how to play together, in every little club and college around New York, New Jersey, Connecticut and Massachusetts."
"The Message" LP by Grandmaster Flash & The Furious Five In 1979, Skip and Doug Wimbish teamed up with Keith LeBlanc and collectively they began working for Sylvia Robinson's Sugarhill Records as their house band:
"We had added Keith LeBlanc when we came back to the Robinsons and began playing on rap records for their new Sugarhill label: Grandmaster Flash & the Furious Five, Funky Four + I More, Sequence, Crash Crew, Treacherous Three. The benefit of that experience was in the knowledge of the studio. The bad side, at the end of the day, was who got paid and who didn't. But it was a learning process, and I learned a lot about the side of music that's not about playing the instrument."
The trio played on some of the earliest rap hits such as "The Message" and "White Lines (Don't Do It)" with Grandmaster Flash. While they worked at Sugarhill, LeBlanc also freelanced at Tommy Boy records where he first met Adrian Sherwood. LeBlanc introduced his colleagues to Sherwood and the trio were persuaded to relocate in London. Skip recalls:
"We were working on a studio project with a horn section called Chops, who worked with the Police and others. That fell through, but it initiated our exit from Sugarhill. We ended up in London with Adrian Sherwood, whom we'd met at the New Music Seminar. About six months later we came over to England and just started experimenting."
Upon their entry into the On-U Sound fold, the group formed a production team: "Programming was coming in heavily and the studio work was falling off. That kinda pushed us into writing and recording, and putting out these little obscure records. 'Stormy Weather' under the name Fats Comet was our first project. We recorded as Dub Syndicate, African Head Charge, Barmy Army, then Tackhead, the Strange Parcels and now Little Axe."
The partnership developed and metamorphosed into a fully-fledged band, Tackhead. Though good working relationships remain to this day, the dispersion of Tackhead in the early 1990s saw Keith and Doug pursue more of their own projects and play less often together. For Skip the time since has seen him work ever more closely with Sherwood, both on his own projects and as a musician or guest vocalist on many other of Adrian's On-U Sound productions - such as by Junior Delgado, Bim Sherman, Dub Syndicate and African Head Charge, sometimes along side Keith and / or Doug.
"The Wolf That House Built" album Skip has been the prime mover behind Little Axe since around 1992. Providing guitars, bass, keyboards, vocals and co-production, Little Axe is Skip's return to the blues that are his roots. Under a name inspired by Bob Marley's "Small Axe" and gospel singer Willmer "Little Ax" Broadnax, the debut album "The Wolf That House Built" was a personal take on blues and dub, and was released to critical acclaim in 1994. This had followed a partial release in Japan compiled in a slightly different form and with a different title ("Never Turn Back" (ON-U LP 62)) the previous year:
"We were working on the last Tackhead album, and [Tackhead vocalist] Bernard Fowler had a vast collection of blues, various tapes and things. I listened to all this stuff and really liked it. After Tackhead, Adrian and I started talking about the blues and he said 'let's delve into that, the best of your blues, the best of my dub.'"
The album that resulted was a much looser environment than traditional blues in which pungent percussion, creepy guitar, keyboard loops, thick ambience, and pithy vocal samples move freely, nodding to one another as they move through Sherwood's hallucinogenic soundscapes. It would later be credited as having been an important influence on Moby's highly successful album "Play". The second Little Axe album "Slow Fuse", perhaps stood in the shadow of its predecessor but was still well received and promoted at festivals in the UK and across Europe.
The "Hard Grind" album In 2002, after several years of on-and-off work and convoluted attempts to gain major label backing, Skip's third Little Axe album "Hard Grind" (ON-U CD 1001) became the first release for four years on Sherwood's revived and re-launched On-U Sound label with a mixture of raw blues and reggae, and guest appearances by Ghetto Priest and Bim Sherman. The album takes pleasurable, unexpected twists and turns as it takes the listener on a haunting and spiritual journey of blues history with a mystical and lingering blend of synthetic and organic instrumentation.
The recording commences with a read of Blind Willie Johnsons "Dark As The Night Cold Is the Ground", where the legendary blues pioneer speaks of the blues. On "All Night Party", the late Junior Kimbroughs voice is mixed with absent friends, preachers and black historians with harmonica fills provided by Alan Glen. While "Hard Grind" will no doubt will also draw comparisons to Moby's "Play", it was Skip who pioneered the fusion of Blues and Electronic music with Little Axe. Moreover, he understands the Blues as he has actually played it.
By the time 2004's "Champagne & Grits" album (ON-U CD 1006) was released, Skip was starting to get the recognition and promotion his music deserved. This was evident, and in no small part helped by air-play and invited session recordings for BBC national radio in the UK on more than one occasion. There have also been a raft of compilation appearances in recent years and a track of his even featured on the soundtrack of the 2003 major release film "Holes".
Skip McDonald's prolific involvement in On-U Sound productions for many years means it is hard to imagine the label without him. That said, there will surely be plenty more to be heard.
.. ..
2005 saw Little Axe opening on the West Coast leg of the American Tour of Robert Plant.

Albums by this Artist
Bought For A Dollar Sold For A Dime

CALL MY NAME

STONE COLD OHIO
Management Details