London Remixed Festival - Great Line Up (26/11/11)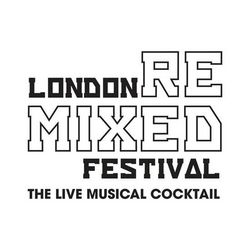 The London Remixed Festival
Global Local and Continental Drifts have announced their brand new winter event in the form of the London Remixed Festival - an all day and night extravaganza of killer live festival bands remixing global London. It takes place on Saturday the 26th of November 2011.
They describe it as a City Festival complete with an indoor Acoustic Boutique "Camp Site" with artisan ales and farmer's cider, disco lift, musical portaloos, walkabout mayhem, a deep down and dirty BASSment and the "REMIXED Arena"
In the daytime there will be a bespoke winter fair with beautiful stalls and gifts, as well as workshops and open mic sessions.

But it's the eclectic killer line-up of acts that really make it worthwhile:

Los Chinches – Cumbia !!!!
Sheelanagig – Hoedown gypsies
AJ Holmes and The Hackney Empire – The New Electric Hi-Life
Polina Skovoroda & Fanfara – Storming Balkan brass
Mavrika – Ancient Greek Rembetika remix
Romani Rad – Flamboyant Roma
Last Mango In Paris – Desi remix and poetry
Franky and The Jacks – Hoedown reworked
Urusen – 21st Century folk
Perhaps Contraption – Twisted brass band
Scarlett and the Wilderness – Gypsy folk rewound
The Loose Moose String Band – Hoedown-tastic!
Katy Carr – Supreme alt-folk songstress
Cut-a-Shine - Anarchic Hoedown
Stompin' Dave – Stomping Bluegrass
DJ Cal Jader – Latin and Cumbia remix
DJ Bobby Gandolf – Afro Dancehall funky bass
DJ Chris Tofu – Gypsy soundclash
DJ BanJoe – Nu Folk, Old Folk, No Folk
In the BASSment:
Blue Lotus Music Group presents BASS CULTURE
DJ Policy + guests

And now YOU can WIN 2 tickets to a major 2012 festival, including Bestival, Lovebox, The Big Chill and Kendal Calling, courtesy of London Remixed Festival. All you need to do is 'like' their facebook page and upload your favourite festival photo to our wall with your name, email and short description. Photo must be yours and 1 photo per person. Those photos will go onto their gallery wall at the London Remixed Festival where attendees will vote for their favourite.

So get yourself and all your friends down to London Remixed Festival on the 26th of November for a day fueled by fun and for your chance to win this amazing prize.
First 250 tickets sold to London Remixed Festival receive a FREE CD!
Tickets £7 in advance and before (6pm), £11 on door (after 6pm)
boxoffice@richmix.org.uk

Venue Address: Rich Mix, 35-47 Bethnal Green Rd, London, E1 6LA

Nearest Tube Liverpool Street or Shoreditch Highstreet Overground
Contact us
E:music@continentaldrifts.co.uk
T: 020 8365 9555