Los Chinches - UK tour starts today!
Los Chinches the psychedelic Peruvian cumbia and chicha band start their 2013 UK tour today in Brighton.
Album Teaser here:
http://soundcloud.com/loschinches-uk/chinches-album-fongo-teaser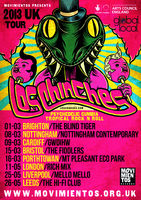 Live in the UK:

1 March - The Blind Tiger Club, Brighton
8 March - Nottingham Contemporary
9 March - Gwdihŵ, Cardiff
15 March - The Fiddlers, Bristol
16 March - Mount Pleasant Ecological Park, Porthtowan, Cornwall
11 May - Rich Mix, London
25 May - Mello Mello, Liverpool
26 May - The HiFi Club, Leeds
(full listings info at bottom of page + more dates tba)
The band that began as a sweet dream in a jungle hut will be touring in advance of releasing their long-awaited debut album "Fongo" on 1 April (Movimientos Records). Formats: CD / Digital - Catalogue number: MOV003 - UK distributor: Proper Music Distribution
Drawing upon the retro style of Chicha from 1960s Peru, Los Chinches' epic new sound harnesses the psychedelic twists of Peruvian Cumbia as well as the Punk and Ska spirit of London. This, along with their rocking tropical energy, makes for blistering live performances interlaced with feverishly addictive melodies. Their sound stays faithful to the original bands from the era, such as Juaneco y Su Combo and Los Mirlos, whilst taking influences from 60s garage rock and surf guitar and bringing it bang up-to-date with a distinctly London attitude.

Los Chinches' line-up reflects the melting pot of the city from which they emerge, and with Peruvian food and culture currently booming in the capital, now is the time for London's very own Chicha band. Consisting of four Europeans (three from England, one from France) and four Latin American percussionists (three Peruvians and a Colombian), they offer up a unique blend of Chicha with hot Peruvian rhythms going head to head with the amped-up melodies of the London-born keyboard and guitar players.

Since forming in 2009, Los Chinches have blazed a trail across the London scene at an eclectic array of club nights, folk events and rock'n' roll venues. They have been part of the prestigious Latin music festival La Linea with a performance at the Barbican, they've packed dance floors at venues such as Cargo and Rich Mix and they've rocked festival stages at Glastonbury, Bestival, The Big Chill and WOMAD. Last year, whilst working on the album, their busy schedule included a tour in the Netherlands, a show at BT London Live (Victoria Park) alongside Ska Cubano and a sell-out gig at the Village Underground in Shoreditch.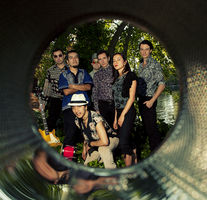 Gareth Finnegan, rhythm and lead guitarist, first heard the sounds of Chicha whilst lost in the Peruvian Amazon. After many days spent in the company of three mystic Shamans, he ended up in a small bar by the side of the river. Suddenly emanating from the radio, he heard strange and enchanting melodies, tropical rhythms and fuzz guitar, the vibe as hot and sordid as the jungle heat. Finnegan was hooked. "This is Chicha", explained the owner of the bar, who was also the local mechanic.

Back in London. Finnegan joined forces with principal songwriter Marty Shtrubel (guitar/ vocals), and virtuoso keyboardist Eleni Hassabis (Katy Carr, Johnny Borrell). Soon they met güiro player and frontman Carlos "Kanti Kena", who was already active in the London scene with his own Andean fusion band, Lokandes.

After a couple of personnel changes, the band finally added three of London's top Latin percussionists to their line-up: renowned Colombian timbale player Alejandro Martinez (Roberto Pla), legendary Peruvian percussionist Kieffer Santander on congas (Susanna Baca, Manos Negras) and consummate DJ/producer Nelson "Papa Chango" Marquez on bongos. On electric bass, they are joined by Thibault Remy, a multi-instrumentalist and bandleader/songwriter for Afro fusion band Awalé.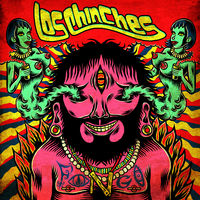 Now in 2013, they are ready to unleash their debut album Fongo onto the world. Its title, Los Chinches explain, is taken from the name of "a mysterious deity, a visionary and a clown with a taste for jungle liquor and Amazonian beauties". It is, they continue, "through Fongo that we channel the spirit of Chicha who acts as a spiritual councillor and a guide for Los Chinches. We ask Fongo to bless us all with good vibrations. There is a Fongo in all of us and our quest is to bring out the spirit of Fongo in everyone who hears our sound. I am Fongo...you are Fongo...we are all Fongo!"

The album also includes specially commissioned artwork from Bolivian illustrator, graphic designer and artist Marco Toxico, http://divinogolfo.blogspot.co.uk/ .

File under: Tropical/ Peruvian/ Cumbia/ Psychedelic/ Ska - and most definitely London.

Links:
http://loschinches.com
http://www.movimientos.org.uk/los-chinches-latino-cumbia-chicha-peruvian-band-London.html
Facebook: http://www.facebook.com/LosChinchesMusic
Twitter: @loschinches

Videos:
"Fongo" (live): http://youtu.be/tiVTG1DAjrg
Introducing … Los Chinches (EPK): http://youtu.be/5XUcfgk1wZA

Audio:
Los Chinches SoundCloud: http://soundcloud.com/loschinches-uk
Fongo album sampler (6:49 mins): http://soundcloud.com/movimientos/sets/los-chinches-single/s-X0tWN
Fongo teaser mix (7:52 mins): http://soundcloud.com/loschinches-uk/chinches-album-fongo-teaser
"La Serpiente Negra" (4:02 mins): http://soundcloud.com/loschinches-uk/serpiente-negra

"La Serpiente Negra" mixtape by DJ Cal Jader vs Papa Chango, featuring excerpts from the Los Chinches album and some exclusive Chinches remixes mashed together with classic Chicha edits from Papa Chango and a few other Chicha-influenced productions (35:26mins): http://soundcloud.com/movimientos/los-chinches-la-serpiente
Free download of "La Serpiente Negra": http://loschinches.bandcamp.com/track/serpiente-negra


Los Chinches - UK Tour Dates 2013

Friday, 1 March 2013, 10pm - 2.30am (band onstage at midnight)
The Blind Tiger Club, 52-54 Grand Parade, Brighton BN2 9QA, http://www.playgroupbrighton.org
Los Chinches (live) + King Lagoon's Flying Swordfish Dancing Band + DJ Cal Jader (Movimientos) + special guests
Tickets: £3 / £5

Friday, 8 March 2013, doors 8pm
Nottingham Contemporary, Weekday Cross, Nottingham NG1 2GB, http://www.nottinghamcontemporary.org
Los Chinches (live) + DJs
Tickets: £6 in advance
Box office: 01159489750

Saturday, 9 March 2013, 8pm - 2am (band onstage 11pm)
Gwdihŵ Café Bar, 6 Guildford Crescent, Off Churchill Way, Cardiff CF10 2HJ, http://www.gwdihw.co.uk
Fat City with Los Chinches (live) + DJs
Tickets: £3 on the door
Box office: 029 2039 7933

Friday, 15 March 2013, 9pm - 2am
The Fiddlers, Willway Street, Bedminister, Bristol BS3 4BG, http://www.fiddlers.co.uk
Los Chinches (live) + Oncartel + DJ
Tickets: £5 advance / £7.50 on the door
Box office: 01179873403

Saturday, 16 March 2013, doors 7.30pm
Mount Pleasant Ecological Park, Chapel Hill, Porthtowan, Cornwall TR4 8HL, http://www.mpecopark.co.uk/?p=2808
Los Chinches (live)
Tickets: £8 advance / £10 on the door
Box office: 01209 891500/ http://www.wegottickets.com/event/203655

Saturday, 11 May 2013, 8pm - 1am
Rich Mix, 35-47 Bethnal Green Road, London E1 6LA, http://www.richmix.org.uk
Los Chinches (live) + special guests
Tickets: £7 advance / £10 door
Box office: 020 76137498/ boxoffice@richmix.org.uk

Saturday, 25 May 2013, 8pm - late
Mello Mello, 40-42 Slater Street, Liverpool L1 4BX, http://www.mellomello.co.uk/
Los Chinches (live) + DJs
Tickets: £4 (tbc)
Box office: events@mellomello.co.uk

Sunday, 26 May 2013, 10pm-4am (band onstage 11pm)
The HiFi Club, 2 Central Road, Leeds LS1 6DE, http://www.thehificlub.co.uk/
Sunday Joint with Los Chinches (live)
Free entry
Tel: 0113 2427353

More dates to be announced.
With thanks to Arts Council England.