Martin Alvarado, Birmingham (20/11/11)
Tagged with: Martin Alvarado tango Mikko Helenius bandoneon Argentina Finland mac Birmingham concert review Glyn Phillips zamba milonga Midnight Tango Gardel Piazzolla Blazquez Exposito Ferrer Ramirez Luna Alfonsina Le Pera World Music WorldMusic.co.uk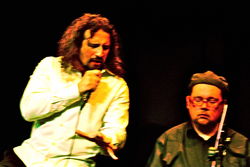 Martin Alvarado at the mac, Birmingham (Sun 20/11/11) - Review
It's not often at all that we get to hear tango singers in this country, let alone of singular quality. So when I heard that the Argentine tanguero Martin Alvarado was coming to the UK in his first official solo tour, I was especially eager to go and see him. He had been in the UK earlier on in the year as a part of the show "Midnight Tango" at Birmingham Hippodrome which featured Strictly Come Dancing's dancers Vincent Simone and Flavia Cacace, but this was a completely different kettle of fish - a tour of the UK with just a guitar and Finnish sideman Mikko Helenius on bandoneon and keyboards, and of course that fabulous voice!
The concert I went to was in the intimate setting of the Hexagon Theatre part of Birmingham's art centre, mac. Intimate, but cold. Very cold. For some reason the air conditioning was blowing cold air from under our seats onto the back of our legs. Not the best of starts. However, with very little fuss or fanfarra Martin and Mikko walked on and began, kicking off with a traditional tango, "Volver", by the most famous and legendary of all tangueros, the iconic Carlos Gardel. I must admit I've never been overly fond of Gardel's voice (I can already hear a chorus of abuse being thrown at me from 8,000 kms away!) and part of that was to do with the pitch of it. For me I much preferred singers like 'El Polaco' Roberto Goyeneche or 'El Varón del Tango' Julio Sosa. However, I'm always willing to re-evaluate my opinions and that night I was to be taught a 24 carat lesson in the beauty of the higher registers. And the man to deliver that class was Martin Alvarado.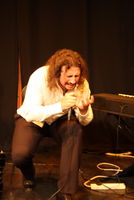 The quality of his voice is something very special indeed. Light, supple, full of subtle colours and nuances, free to fly like a bird, or to hit home like an arrow to your soul. He uses it like a delicate instrument to paint emotions in your heart, a curious bittersweet sensation, a mixture of honey and mate amargo.
This was illustrated by the next pair of tangos, written by such great tango poets as Eladia Blázquez (probably the most important female tanguera) with "El Corazon al Sur" and Homero Expósito's "La Misma Pena" (beautiful and with heartfelt delivery). In between songs Martin spoke to us (in quite excellent English) making every effort to put us at our ease and comfort, often creating comic situations (for instance getting the audience to cheer him on as if we were at a rock concert!) to counter the effects of what can at times be quite austere music, stripped back and sparse with minimal accompaniment.
Aah, but such accompaniment! His musical partner for the night was the diffident and oft-times saturnine Finnish bandoneon and keyboard player, Mikko Helenius. Together they were like magicians Penn and Teller, with Mikko taking the non-speaking part but creating quite a comic effect with his little hat and rather fey and mercurial facial expressions. Luckily none of this detracted from his real talent - Mikko Helenius is one gifted musician, with a delicacy of expression, quirkiness of invention and intuitive sympathy for Alvarado's changes of voice and pace.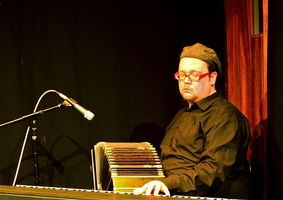 As the night progressed Mikko showed us more and more of his abilities, for instance accompanying himself on bandoneon during the beautiful "Milonga Triste" by virtuoso whistling - a quite startlingly rich sound with some fabulous harmonies. I must also mention Mikko's again quite jaw-dropping ability to play keyboards and bandoneón at the same time! It was like listening to two completely different people playing each instrument and yet was no mere party-trick - his interpretation of Piazzolla's instrumental work "Oblivión" with the skin-tingling use of vibrato was a highlight for me.
In fact in a show with so many highlights it's difficult to pick out just a few to illustrate the experience. I have to include Alvarado's rendition of Ariel Ramírez and Féliz Luna's "Alfonsina y El Mar" about the suicide of the celebrated Argentine Poet Alfonsina Storni who - after having posted off her final poem "Voy a Dormir" (I'm Going to Sleep") to the La Nación newspaper - walked into the sea . . . Martin performed this as a zamba (a form of Argentine folklore more associated with the north of the country), accompanying himself just on acoustic guitar. I felt like I was standing on the shore watching her frail body disappear inch by inch into the waves.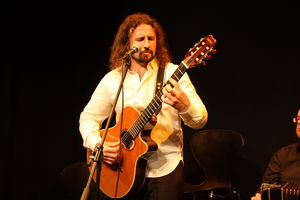 In Demare and Manzi's "Malena" Martin showed what amazing control he has over that fabulously mellifluous voice. We were also treated to Gardel and Le Pera's anthemic "El Dia Que Me Quieras", Troilo's "La Ultima Curda" and Ferrer and Piazzolla's "Chiquilín de Bachín" (a story about a young boy who in his poverty has to sell roses in clubs and low dives to survive).
Talking to Martin afterwards I asked him how he chooses his playlist for each night (it can change from concert to concert and is a curious selection of big names and unknowns). His answer was that it was all about the poetry of the piece - each song has to speak to him at a personal level and to be beautifully written. I suppose it is this integrity that makes him so special. Each night isn't just a show, for Alvarado, it's a work of art, an artistic experience in itself. What matters is that something special has been created, no matter how fleeting and transient in time, it's about touching someone's soul, a unique experience to be found somewhere between the throat, the ear, the mind and the heart. Now, that's an artist.
His commitment to the poetry and lyricism of the pieces was shown by the song "Liljankukka", originally a Finnish tango (Finland being probably the largest tango country outside of Argentina and Uruguay) by Kärki and Mustonen. Martin was asked to write new lyrics for it in Spanish and he now performs it under the name "Quédate Por Siempre" (Stay For Ever). Interestingly, as he and Mikko entered into the song, Martin remarked that often did not know what to expect when they play together and he had no idea what it was going to sound like as his accompanist has a picaresque sense of humour that means he's likely to mess around. And so it was, with Mikko changing the timings and modulations and teasing Martin with plenty of false starts, trying to throw his partner off.
This led into another highlight which was their rendition of Violeta Parra's classic song - and an anthem of all latin america - "Gracias a La Vida" in which Mikko unexpectedly opened his mouth and launched his voice - bel canto style - into the song. Didn't see that one coming!
And so the performance drew to an end, with Mores and Discépolo's "Uno" and to finish off, Ferrer and Piazzolla's "Milonga del Trovador". As Martin explained, it is about a man who uses his guitar and voice as a weapon. It occurred to me that in a way it is similar to how Alvarado uses his voice, although not so much a sword as a ploughshare, tilling the ground and planting the seed… and creating exquisite musical moments along the way.
Of course we demanded en encore and were rewarded with two: "Que Te Vaya Bien" (written by Alvarado himself), a song all about his hairy ex-girlfriend (no, really!) set to a candómbe rhythm, to which we all sang along (instructed by Alvarado); and Dames and Manci's "Fuimos".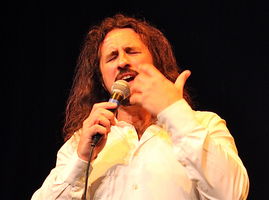 After the show I spoke with Martin at some length covering a whole gamut of subjects including his opinions on whether Melingo was or was not a tanguero, the current state of tango and it's many new manifestations, the future of tango, how he sees his path in life and as an interpreter of tangos, how it's enabled him to visit, perform in and learn about countries he'd never even heard of before leaving Argentina and of course most importantly of all the place of Deep Purple's "Burn" within the pantheon of great rock albums…
Martin Alvarado is engaging, intelligent and passionate about his art. He eschews all the stereotypical conventions of tango, the bombast, the over-dramatisation, the myths and prefers to let his voice and interpretations of the songs tell the stories for him. In Martin Alvarado's hands - and moreover, his voice - tango has found not just a curator but an innovator to carry it forward. If you get the chance to see this man, grab it with both hands, you won't see many of his like.
Glyn Phillips
WorldMusic.co.uk