MARTYN JOSEPH with Mason Neely UK Spring Tour - April 2013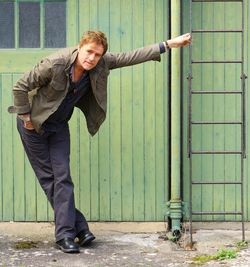 In the world of folk music Martyn Joseph as been described as the "Welsh Springsteen". Joseph along with U.S. album producer Mason Neely and special guest, the BBC Radio 2 Folk Awards Double Nominee, Luke Jackson, will be on tour in the UK this April (for details see bottom of page).
Bob Harris has compared him to the finest of wines while Classic Rock has described his powerful and prolific material as "As honest as music can get".


A gifted guitar player with a juggernaut voice, he has an enviable high-level connectivity with his audience whether it's an arts centre in his native Wales or a 5,000 strong crowd at the Royal Albert Hall.

Three decades, half a million album sales and 31 albums on, Cardiff's charismatic and unstoppable Martyn Joseph continues to garner fans everywhere with his uncanny melting pot of both robust and fragile material - roots to rock, blues to jazz, Americana to folk.
He won the Best Male Artist title in the BBC Welsh Music Awards whilst his wistful 'There's Always Maybe' from penultimate album 'Under Lemonade Skies' won the global Independent Music Awards Best Folk Song category.

In demand on both sides of the Atlantic the ever inspired singer songwriter will return from another North American tour to launch into a spring tour of England and Scotland, running from April 9-21, kicking off with a capital performance at London's Green Note and taking in cities from Bath to York.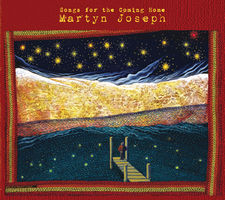 Martyn will be showcasing one of his most affecting albums to date
'Songs for the Coming Home', released last autumn.
Hear his acoustic version of album track 'Beyond Us' http://youtu.be/vJ5YRURqoBI
"Springsteen-indebted Americana, suspended folk chords glistening beneath
troubadour tales, his lyrical eloquence still inspired almost 30 years on from his debut" MOJO January 2013

"Stunning, heartfelt music" - Bob Harris BBC Radio 2

"A great album from a consummate artist who just gets better and better." Maverick magazine

Martyn, who has toured both solo and with the likes of Ani DiFranco, Art Garfunkel and Jools Holland has five Top 50 hits to his name (including Dolphins Make Me Cry and Please Sir).
For this tour he will be joined by the American-born producer of 'Songs for the Coming Home' – the UK based drummer and multi-instrumentalist Mason Neely, who has also worked with artists including Cerys Matthews.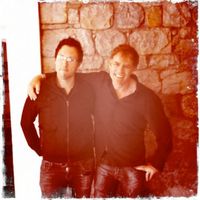 Neely (left, with Joseph) was responsible for the big, lush arrangements on 'Songs for the Coming Home' which contrasted sharply with earlier sparse, stripped back albums.
On the road they should prove a fascinating and organic partnership – with Joseph's gigs often a disarming rollercoaster ride and Mason excelling as a multi instrumentalist on any given night anything could happen!

Mason will appear at seven of the April shows whilst opening all bar the Scottish shows will be fast-rising 18 year old singer songwriter Luke Jackson.

Signed to Joseph's Pipe Records label Kent-based Luke was a double nominee at January's 2013 BBC Radio 2 Folk Awards - shortlisted for the Horizon Award (Best Emerging Talent) as well as the Young Folk Award – thought to be an unprecedented "double" in the same year. He has enjoyed national airplay from the likes of Bob Harris and Mike Harding, been a studio guest of Aled Jones on Radio 2's Good Morning Sunday and appeared on BBC South East TV.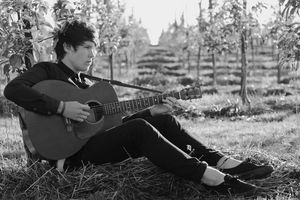 Luke Jackson – a "must see" young performer

In a busy year with innumerable gigs and festival appearances, including one-off support dates with Oysterband and Karine Polwart , Luke will continue to showcase his critically acclaimed debut album More Than Boys on the tour, providing a perfect opportunity to catch one of the new "must see" young acts on the roots scene.
See Luke performing Father's Footsteps Blues:
www.youtube.com/watch?v=VMUgawxZJNM

"There is no doubt that Luke Jackson has an enormous amount of talent and promise and a fantastic gift. He delivers his songs and messages with a passion and commitment that can't be taught" – Martyn Joseph

www.martynjoseph.com
www.myspace.com/masonneely


MARTYN JOSEPH UK SPRING TOUR

* All dates with Mason Neely except April 12, 13, 14 and 21. Luke Jackson opens all shows except April 13 and 14.

09 April 13 -LONDON Green Note @ The Old Queen's Head, 44 Essex Road, London, N1 8LN
Tel: 020 7485 9899 | Website: www.greennote.co.uk

10 April 13 - BIDDULPH Biddulph Up In Arms, Biddulph Arms, Congleton Road, Biddulph, North Staffordshire Tel: 01782 523277 | Website: www.biddulphupinarms.com
11 April 13 – LEICESTER The Musician, Clyde Street, Leicester, LE1 2DE
Tel: 0116 251 0080 | Website: www.themusicianpub.co.uk
12 April 13 - KIRKBY STEPHEN, CUMBRIA The Acoustic Tearoom, The Masonic Hall, North Road, Kirkby Stephen, Cumbria
Tel: (01768) 372123 | Website: www.acoustictearoom.com
13 April 13 - KINROSS, Nr PERTH Backstage@The Green Hotel, Kinross, KY13 8AS
Tel: 01577 863467 | Website: www.mundellmusic.com
14 April 13 - TURRIFF, ABERDEENSHIRE The Crown Inn,1 Crown Street Turriff, Aberdeenshire AB53 4DN

Tel: 01888 562466 / 07714705460 | Website: http://www.wegottickets.com/event/208584
17 April 13 - YORK The Duchess, Stonebow House, The Stonebow, York, North Yorkshire YO1 7NP
Tel: 01904 641413 | Website: www.theduchessyork.co.uk

18 April 13 - GLOUCESTER - Friars Folk & Roots, Blackfriars Priory, Ladybellgate Street, Gloucester GL1 2HN Tel: 01452 503050 | Website: www.gloucester.gov.uk/Freetime/Guildhall/home.aspx

19 April 13 - BATH Chapel Arts Centre, St James Memorial Hall, Lower Borough Walls, Bath, Avon BA1 1QR Tel: 01225 461700 | Website: www.chapelarts.org
20 April 13 - HAILSHAM Hailsham Pavilion, George St, Hailsham, E Sussex, BN27 1AE
Tel:01323 841414 | Website: www.spyboy.co.uk or www.pavilionhailsham.co.uk
21 April 13 - WALLINGFORD, OXON - Corn Exchange, Market Place, Wallingford, Oxon, OX10 0EG

Tel: 01491 825000 | Website: www.cornexchange.org.uk